Joseph Alphonse Camille Adelard Paquin R189579
August 23, 1916 - October 7, 1943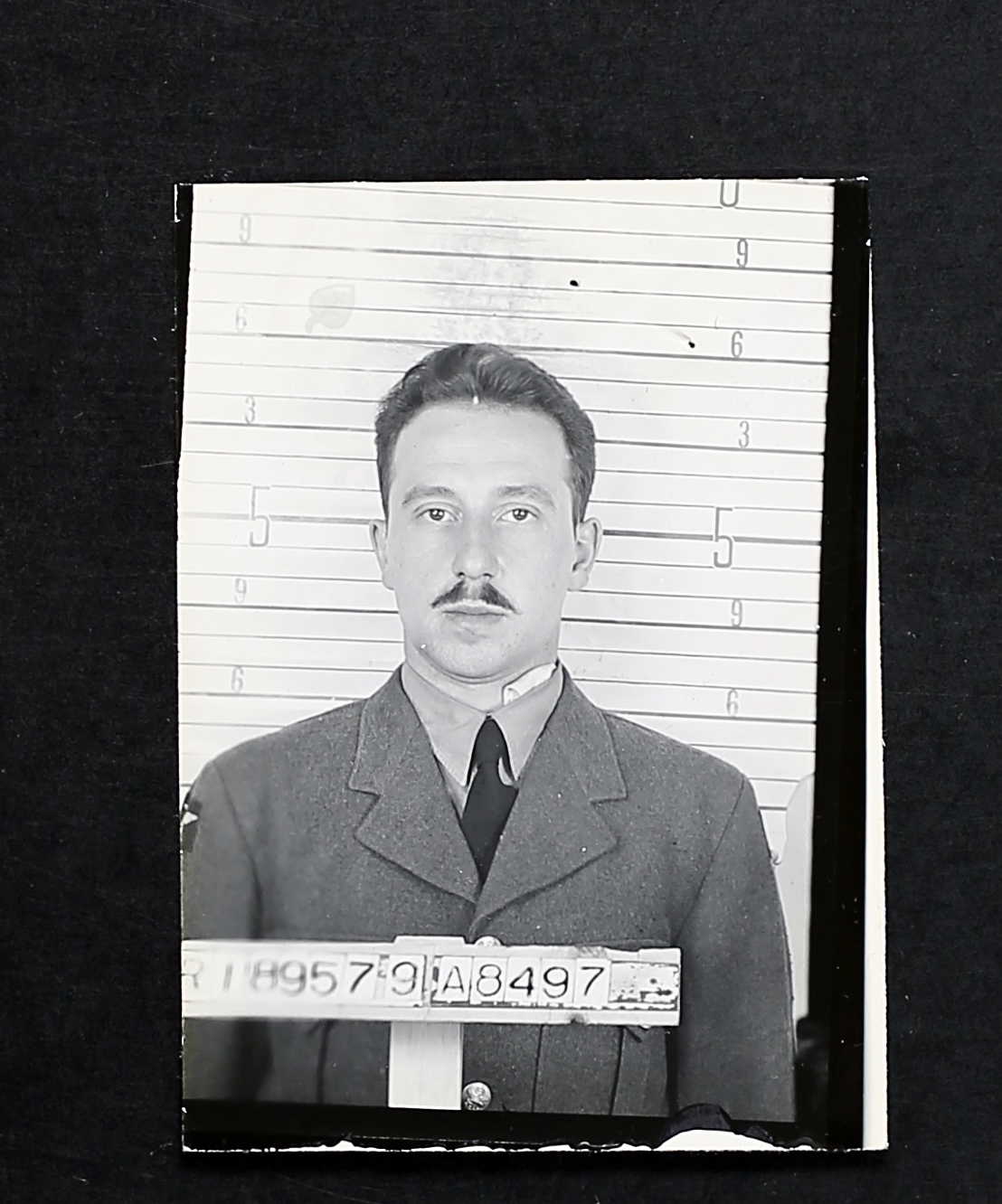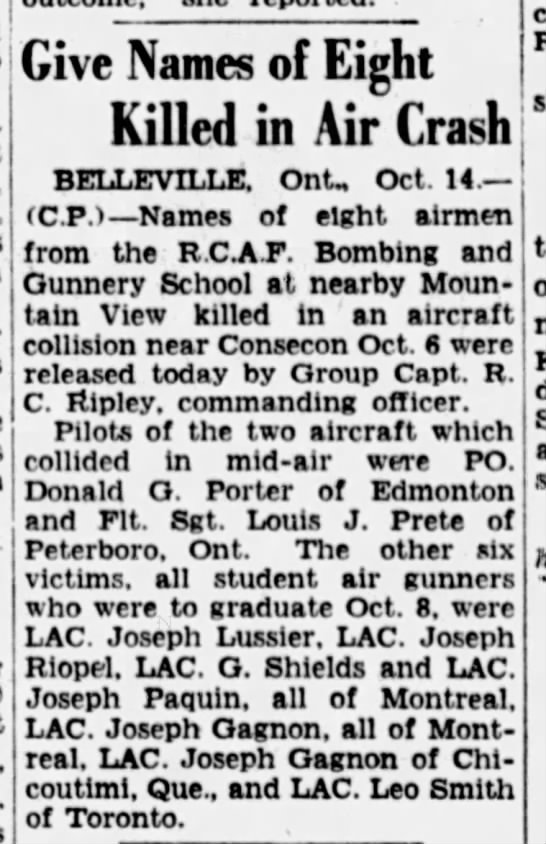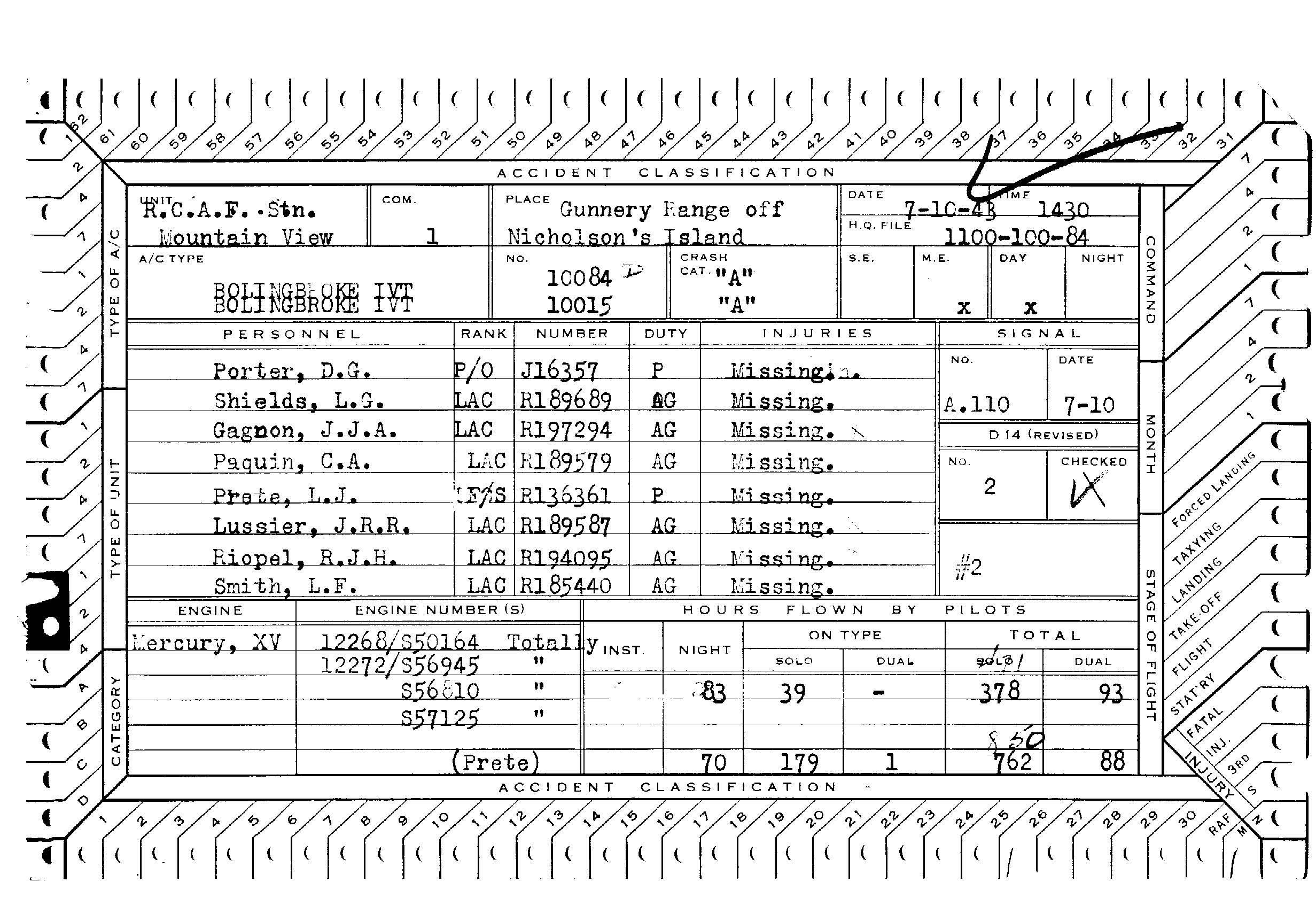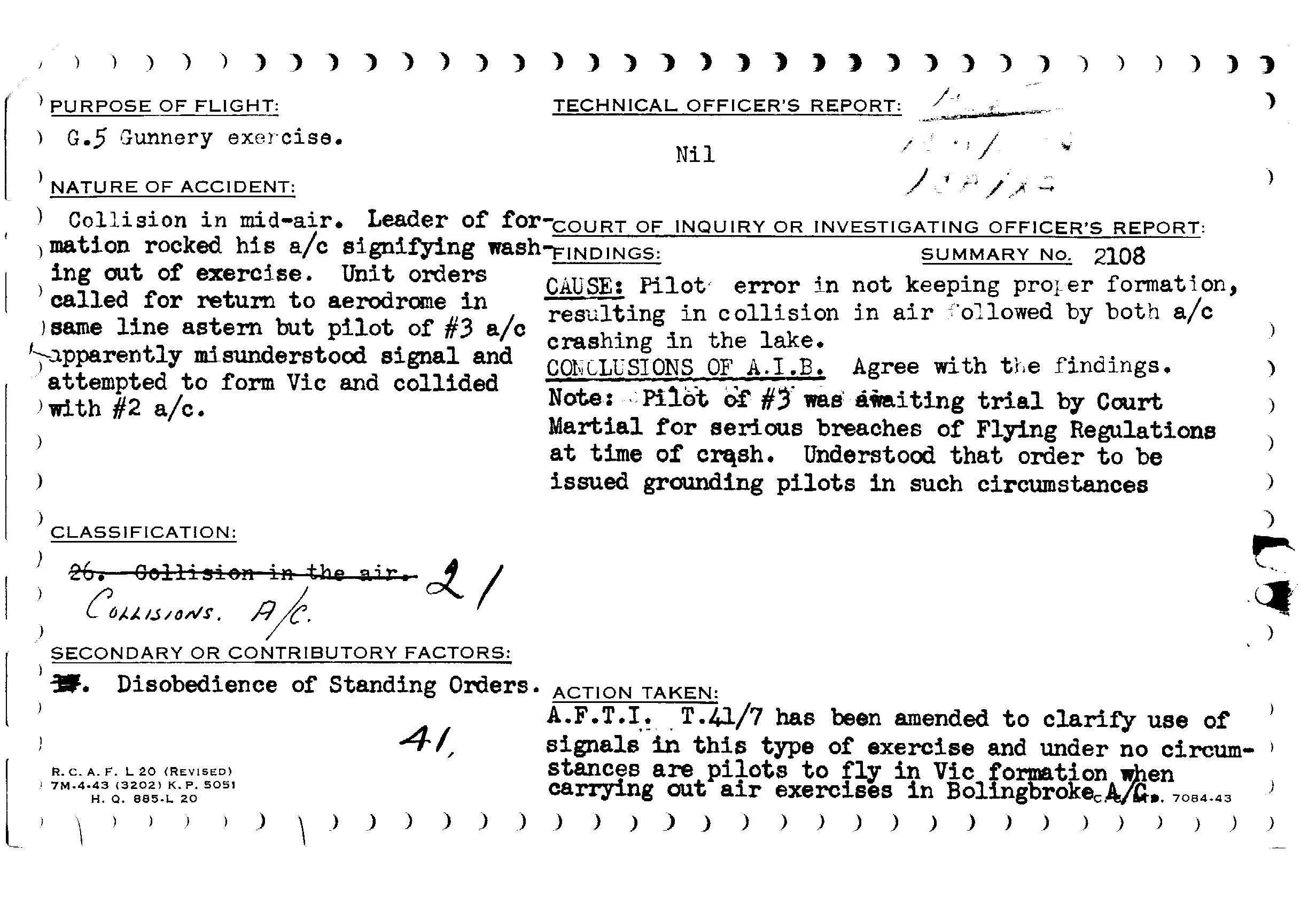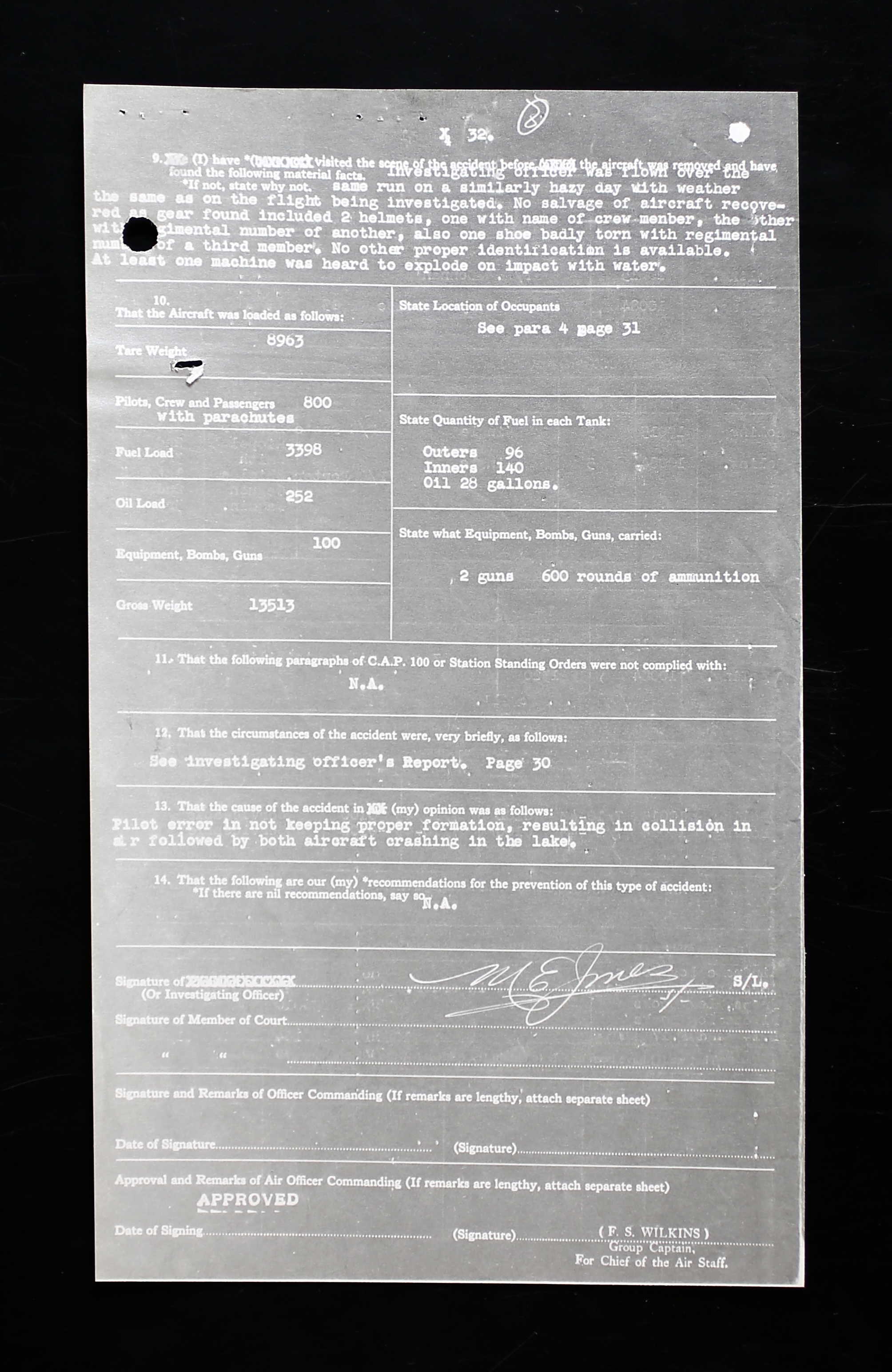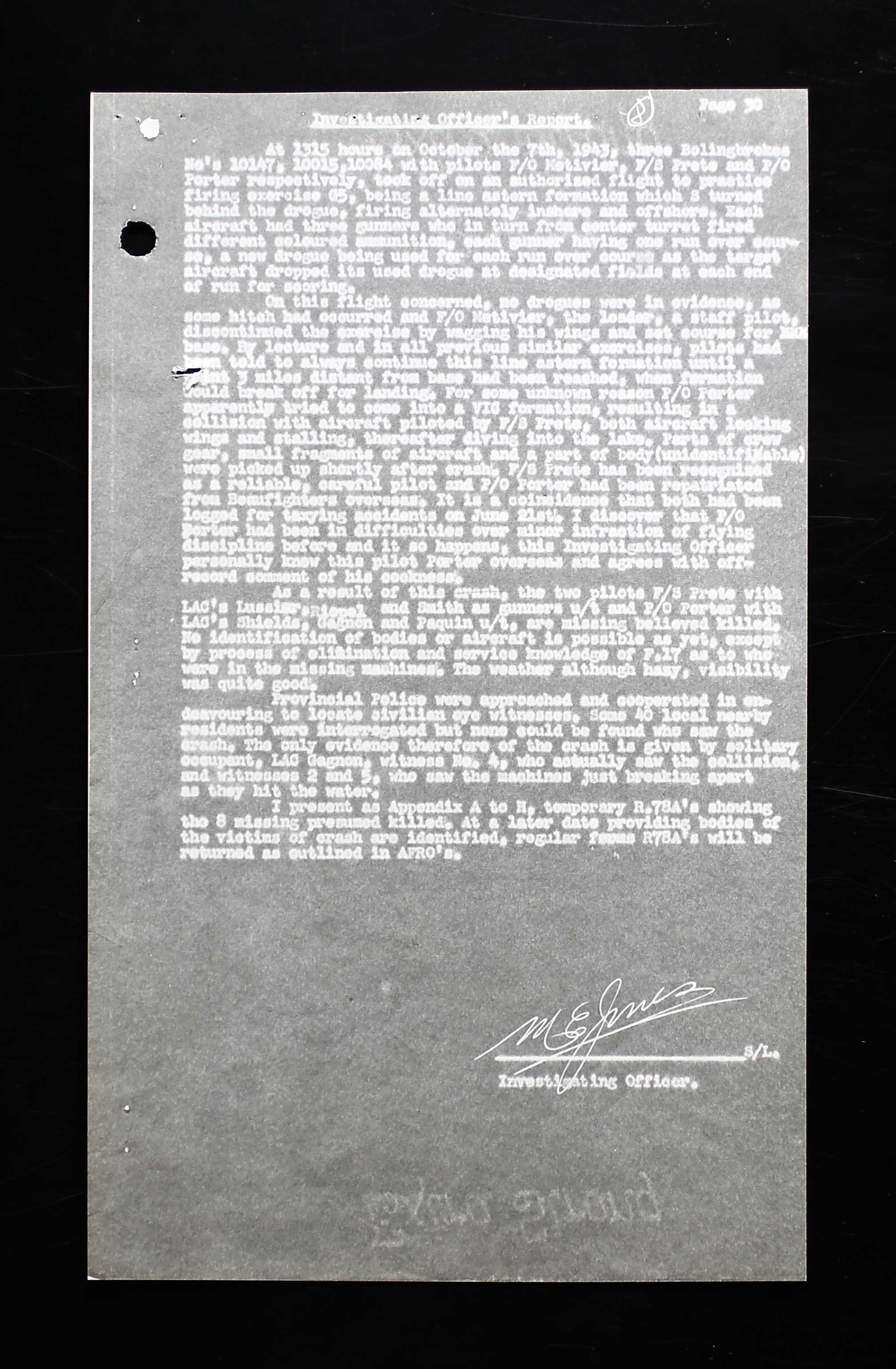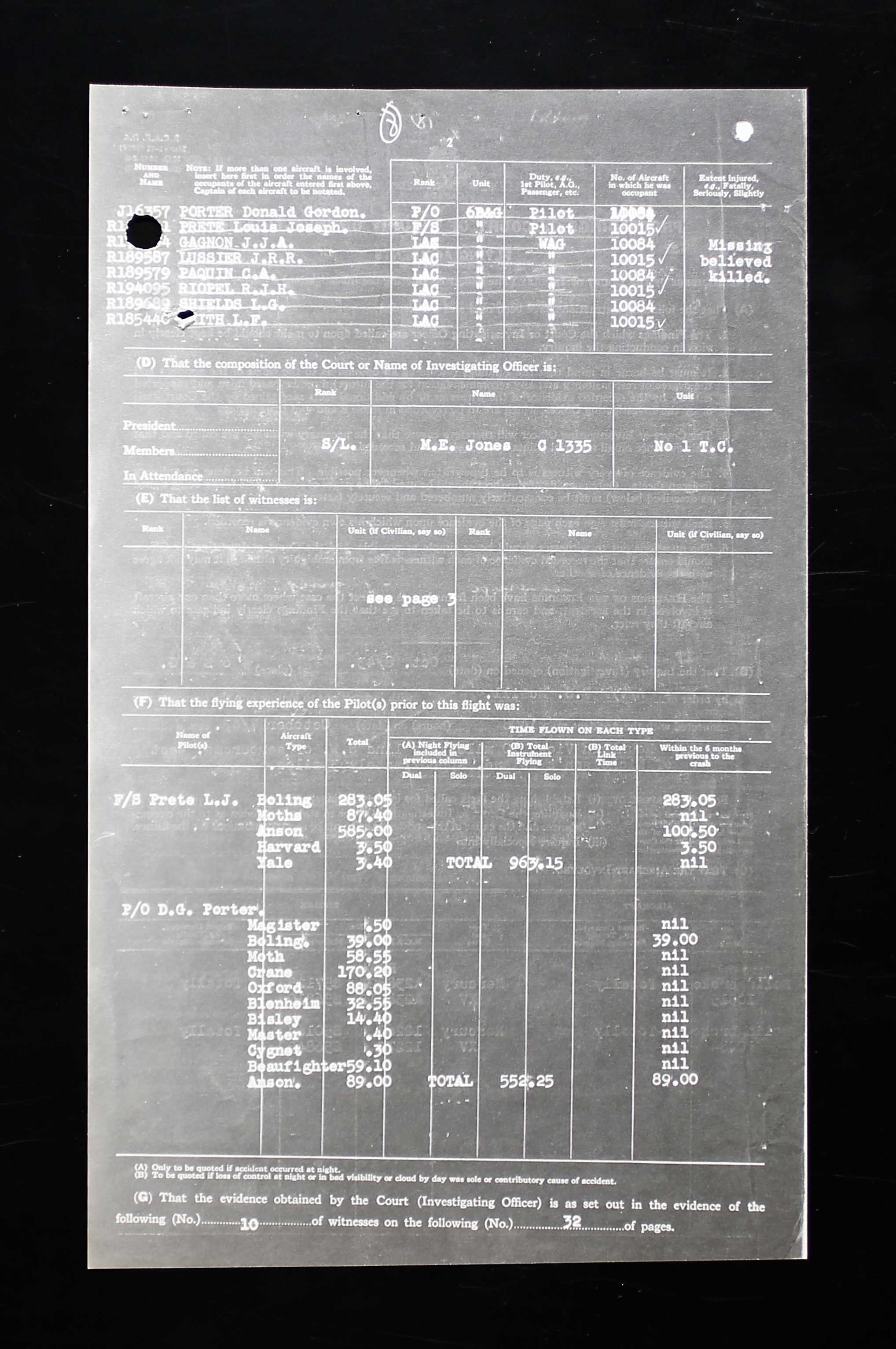 Bi-lingual store manager joined RCAF and became Wireless Gunner. Bolingbroke aircraft 10084 and 10015 collided out of No. 6 B&G School, Mountain View, Ontario. Both crews were killed over Lake Ontario. Five bodies were recovered, three were not.
Joseph Alphonse "Camille" Paquin was the son of Adelard Paquin, manager, and Claire Ida (nee Durocher) Paquin of Montreal, Quebec. He had two brothers, Jean-Paul and Rene, plus one sister, Claude. She died as an infant at five months of age. The family was Roman Catholic.
Camille was fluent in French and English. He had previous military experience with COTC, University of Montreal as a cadet from 1941-1942. He had been a manager for Dominion Stores in Montreal as well as Stop and Shop Stores from 1934. His hobby was photography. He enjoyed many different sports. He stood 5'4 ½" tall and weighed 140 pounds. A faint scar over his right eyebrow and one on his right wrist were noted. He wore a lower partial denture. He had brown eyes and brown hair, with a dark complexion, smoked three cigarettes a day and claimed he did not drink alcohol. On his interview sheet: "Commercial high school. C.T. score too low for aircrew. Holds fairly responsible position and creates good impression. May be given a chance as WG, CAT satisfactory." The medical officer wrote: "Good material. Should make good at WG." Other comments: "Driven a car and motorcycle for three years. Repaired both himself. COTC for one year. Quite mature and will likely need a refresher before being fully qualified." He was accepted into the RCAF August 31, 1942.
He started his journey through the BCATP at No. 5 Manning Depot, Lachine, Quebec on August 31 1942 until sent to take the Pre-Aircrew Education Course, McGill University, December 29, 1942 – February 19, 1943. He earned 73% in Science, 56% in Mathematics and 90% in Signals. He married Marie Marguerite Ernestine 'Alice' Motard on May 30, 1942, in Montreal. They did not have children.
Camille was sent to No. 4 Wireless School, Guelph, Ontario until September 3, 1943. While here on April 26, 1943, he was absent without leave from 0200 hours until 1045 hours the next day – one day, eight hours, 45 minutes. He was confined to barracks for three days. He scored 67.7% in air training, 57% in qualities of character and leadership, 80.2% in ground training and was 57th out of 110 in his class. He was then taken on strength at No. 6 B&G School, Mountain View, Ontario September 4, 1943.
On October 7, 1943, two Bolingbroke aircraft, 10015 and 10084 from No. 6 B&G School, Mountain View, Ontario, collided. All men were killed. LAC Joseph Alphonse Camille Adelard Paquin, Air Gunner; F/O Donald Gordon Porter, Pilot; P/O Louis Joseph Prete, Pilot; Sgt. Joseph Jean Andre Gagnon, Air Gunner; Sgt Joseph Raoul Rene Lussier, WAG, LAC Joseph Henri Rosaire Riopel, Air Gunner; LAC Leo Gerard Shields, Air Gunner, LAC Leo Smith, all RCAF. See CASPIR link below for photos and more details. Prete, Paquin and Porter's names are on the Ottawa Memorial. The other five men were buried in their hometown cemetery: Gagnon: St. Francois Xavier Roman Catholic Cemetery, Chicoutimi, Quebec; Lussier: Cote Des Neiges, Montreal, Quebec; Riopel: Cote des Neiges, Montreal; Shields: St. Patrick's Cemetery, Quebec City.
From the Court of Inquiry: "Three Bolingbroke aircraft (10147, 10015, and 10084) with pilots F/O Metivier, F/S Prete, and P/O Porter, respectively, took off on an authorized flight to practice firing exercise G5, being a line astern formation, which S turned behind the drogue, firing alternately inshore and offshore. Each aircraft had three gunners who in turn from centre turret fired different coloured ammunition, each gunner having one run over course, a new drogue being used for each run over course as the target aircraft dropped its used drogue at designated fields at each and of run for scoring. On this flight concerned, no drogues were in evidence, as some hitch had occurred and F/O Metivier, the leader, a staff pilot, discontinued the exercise by wagging his wings and set course for the base. By lecture and in all previous similar exercises, pilots had been told to always continue this line astern formation until about 3 miles distant from base had been reached, when formation could break off for landing. For some unknown reason, P/O Porter apparently tried to come into a VIC formation, resulting in collision with aircraft piloted by F/S Prete, both aircraft locking wings and stalling, therefore diving into the lake. Parts of crew gear, small fragments of aircraft and a part of body (unidentifiable), were picked up shortly after crash. F/S Prete has been recognized as a reliable, careful pilot, and P/O Porter had been repatriated from Beaufighters overseas. It is a coincidence that both had been logged for taxiing accidents on June the 21st. I discovered that P/O Porter had been in difficulties over minor infractions of flying discipline before and it so happens, this investigating officer personally knew this pilot Porter overseas and agrees with off record comment of his cockiness. As a result of this crash, the two pilots, Prete and Porter, with their crew are missing believed killed. No identification of bodies or aircraft is possible as yet, except by process of elimination and service knowledge of F.17 as to who were in the missing machines. The weather although hazy, visibility was quite good. Provincial police were approached and cooperated in endeavoring to locate civilian eyewitnesses. Some 40 local nearby residents were interrogated but none could be found who saw the crash. The only evidence therefore of the crash is given by sole occupant, LAC Gagnon, witness number four who actually saw the collision and witnesses 2 and 5 who saw the machines just breaking apart as they hit the water."
"Investigation Officer was flown over the same run on a similarly hazy day with weather the same as on the flight being investigated. No salvage of aircraft recovered as gear found included two helmets, one with name of crew member, the other with regimental number of another, also one shoe badly torn with regimental number of a third member. No other proper identification is available. At least one machine was heard to explode on impact with the water. CAUSE: Pilot effort in not keeping proper formation, resulting in collision in air followed by both aircraft crashing in the lake."
In late 1955, Camille's mother received a letter informing her that since her son had no known grave, his name would appear on the Ottawa Memorial. Camille's family held a church service for him on July 6, 1944 at the Parish St. Cecile. $100 was noted as a funeral expense on his estates form.
LINKS: