Joseph Edmond Ouellette R84524
December 4, 1918 - January 28, 1943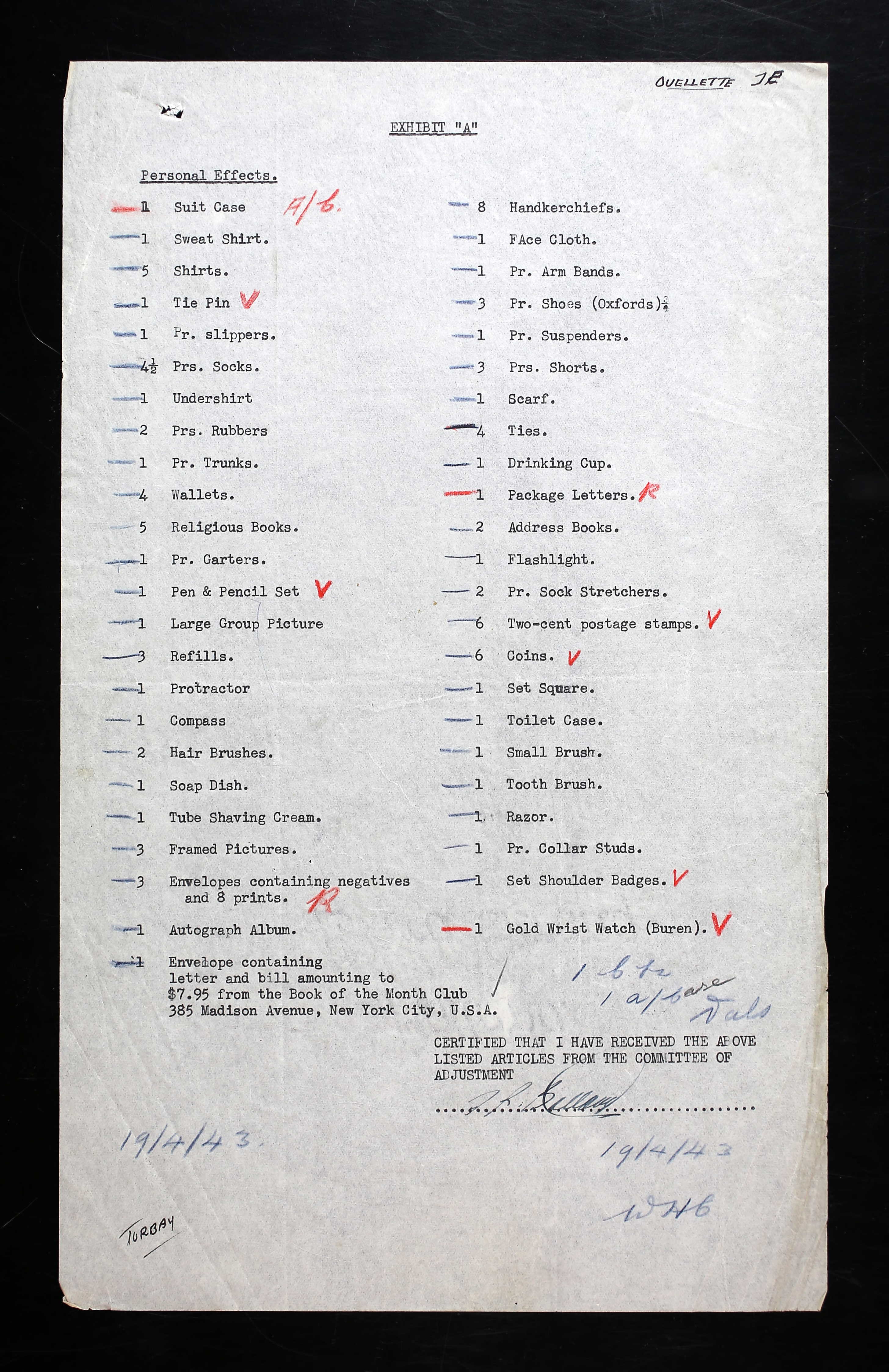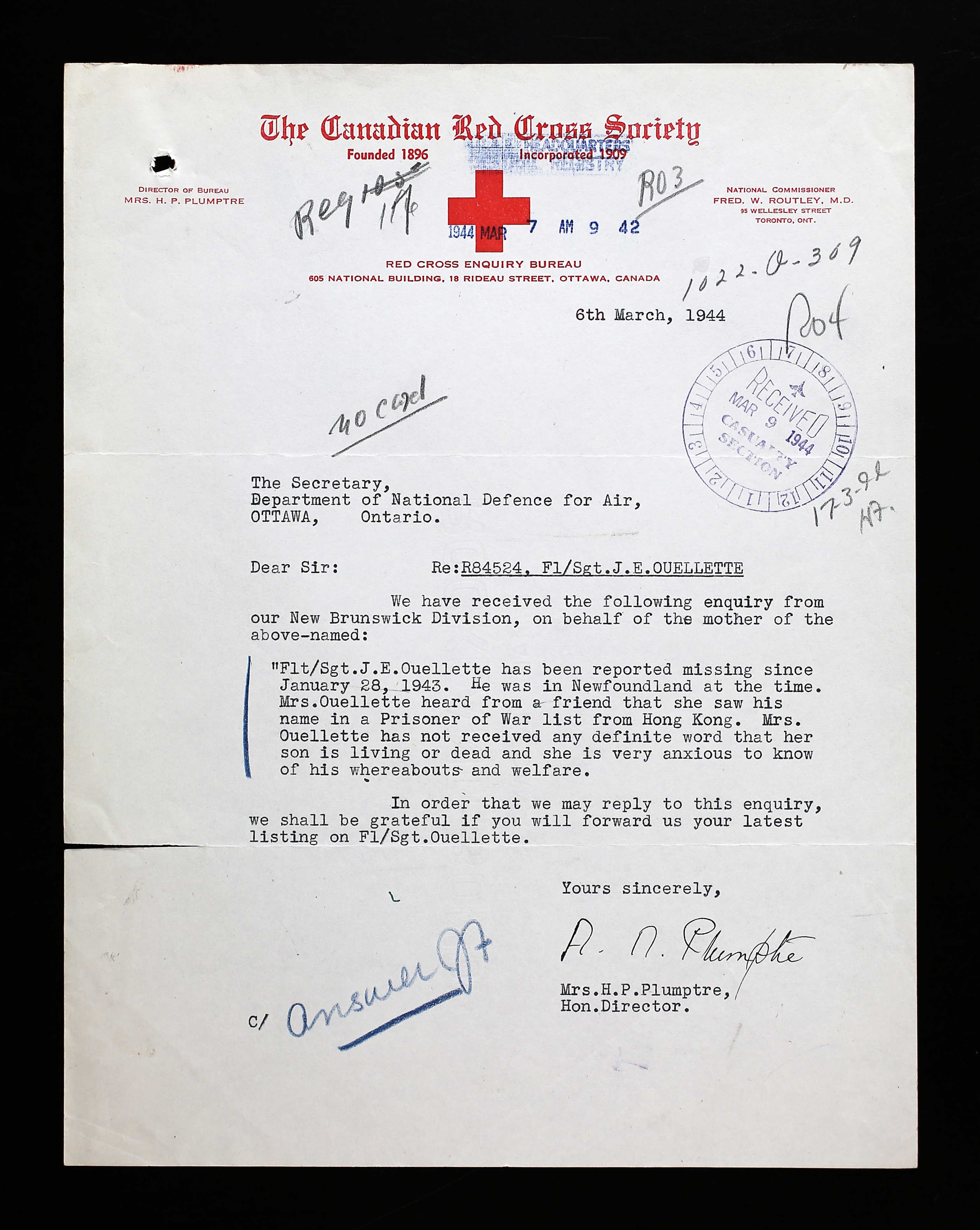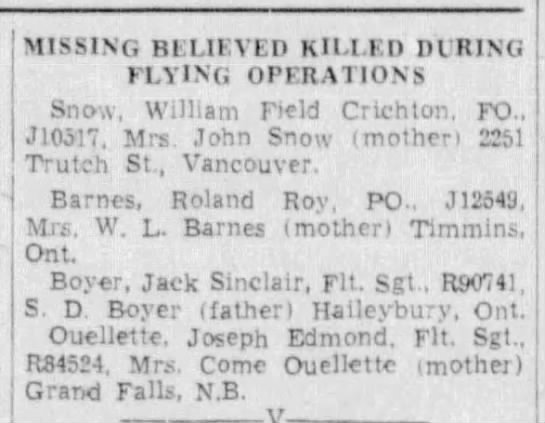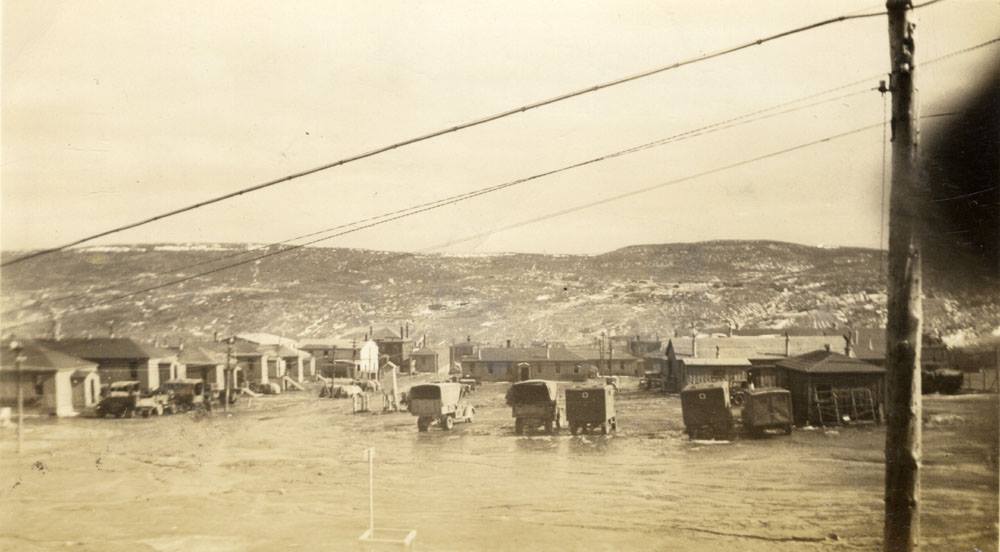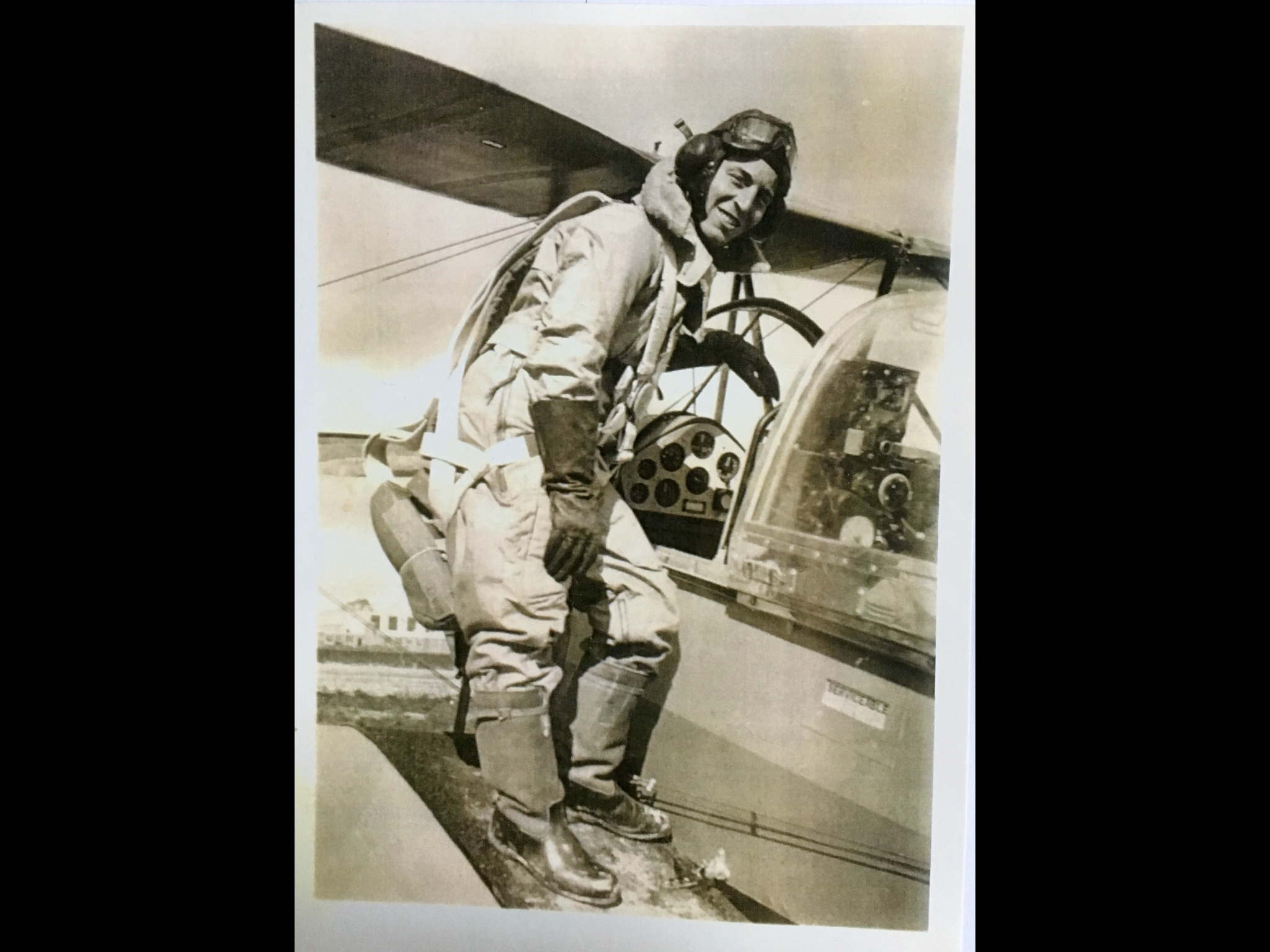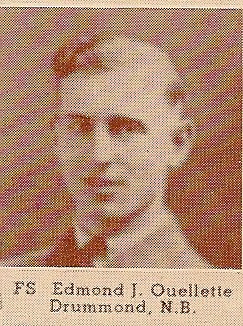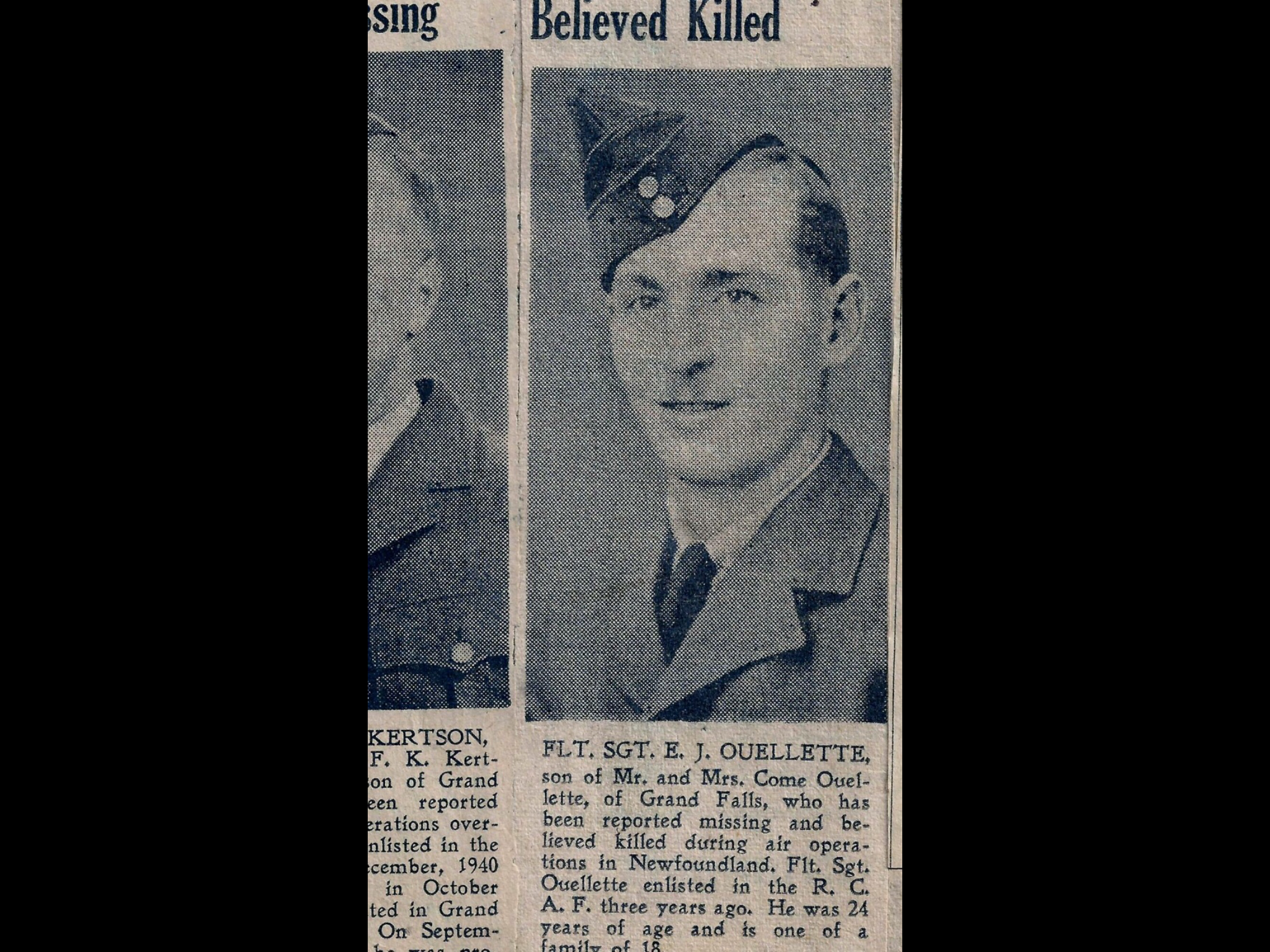 Francophone from NB became air gunner. Lost on convoy patrol over Atlantic Ocean.
Joseph 'Edmond' Ouellette, born in Drummond, NB, was the son of Come Ouellette (1895-1971), farmer, and Marie (nee Bourgoin) Ouellette (1898-1985) of Grand Falls, New Brunswick. He had twelve brothers and three sisters, ranging in age from 3 to 26 in 1943. Two brothers enlisted with the Canadian Army. (See Find a Grave under Sgt. Edmond Joseph Ouellette for his family.). The family was Roman Catholic.
Edmond was a member of the Book-of-the-Month Club, New York, NY. He had been working as a farmhand when he was not in school at the time he enlisted with the RCAF in December 1940. "Normal physique. Dull mentality." He liked baseball, hockey, handball, softball, and volleyball. At that time, he thought he might like to be a wireless operator, ground. "Deliberate in his speech, keen to fly, good type of French lad, clear eye, intelligent. Should make good material after training for pilot."
He stood 6' 5" tall, weighing 134 pounds, had hazel eyes, blonde hair and a fair complexion. He had a scar on his forehead. "Physically fit. Do not feel is dull, but is only average mentality. Satisfactory on tests. Understands English only fairly well. Would like to be a bomber pilot. Only average pilot material." Other comments: "Eyes poor. Wants pilot; average intelligence; not particularly impressive, but may be satisfactory pilot material."
Edmond had a life insurance policy with Crown Life Insurance Co, for $1500, his mother the beneficiary. His father was the beneficiary to his estate.
Edmond had a girlfriend in Newfoundland. She claimed Edmond had a bank account, some War Bonds and certificates. (There was no trace, according to the Estates Branch.) He assigned some of his pay to his mother for the purpose of educating a younger brother at St. Basile Covenant School.
At No. 1 ITS, April 22 to May 28, 1941: "121 out of 126 in class. 76%. Cool, quiet young French Canadian with plenty of spirit and determination. Reliable and dependable. Working hard on his ITS course and applies himself well. Has plenty of confidence in himself and shows a fine spirit of co-operation. Second aircrew recommendation: Air Observer."
At No. 7 EFTS, Windsor, Ontario, from May 28 to July 15, 1941, Edmond was assessed. "46%. Tense and nervous. Inability to judge height and distance. Would not complete course on time. Fail." In Ground Training: "Below average student. Very poor in navigation. Class conduct good."
Edmond was sent to No. 1 KTS (Composite School), Trenton, Ontario where it would be decided how next to train him for a position with the RCAF.
The RCAF sent Edmond to No. 4 Wireless School, Guelph, Ontario, from July 7 until November 22, 1941. "75.3%, 78th out of 106 in class. Below average." He forfeited some pay due to being AWL.
At No. 3 BGS, MacDonald, Manitoba, December 8 to 22, 1941: "Language a definite handicap. Good education, not overly interested. Average." He earned his Air Gunner's Badge.
By December 24, 1942, he was in Halifax, then on the 28th, he was in Dartmouth. With 11 BR Squadron. By May 18, 1942, he was with No. 145 Squadron at Torbay, Newfoundland.
From June 14 to 24, 1942, Edmond was at Lester's Field Military Hospital in St. John's, Newfoundland.
On January 28, 1943, Hudson 760, No. 145 Squadron, crew F/O William Field Creighton Snow, Captain, J10517, F/O R. R. Barnes, WAG, J12549, F/Sgt Jack Sinclair Boyer, Navigator, R90741, and F/Sgt Joseph Edmond Ouellette, WAG, R84524, took off for a routine convoy patrol. Snow had about six months on convoy duty and was assessed as an average pilot. Observer was in nose, pilot in position, WO between spars and 2nd WAG in co-pilot's seat. Four -250-pound depth charges were on board as were four Brownings, fully loaded. This aircraft was detailed to provide protection to an east-bound convoy which was in a danger area.
Memo: "A/C dived into the sea and blew up on contact two miles ahead of convoy and 200 miles from base. Bodies not recovered."
A Court of Inquiry was struck, and fifteen witnesses were called. F/O L. T. Ross, pilot in the convoy noted that his crew had contacted the convoy escort, exchanging recognition signals, experiencing considerable difficulty in counting the ships in the convoy due to poor visibility. The sea was very rough and the air above the sea was also very rough. There were snow squalls, fog and intermittently poor visibility and bumpy air conditions.
Description of Flight: "F/O Snow and crew of three took off in Hudson 760 at 0935 hours authorized to carry out a routine convoy patrol. Aircraft was to pick up the convoy approximately 170 miles east of base. As no word was received at base from Hudson 760 since takeoff, a signal was transmitted requesting the position. No reply and no further word were received from Hudson 760. At approximately 1135 hours, persons [Navy] on the escort of the convoy saw an aircraft crash about 2 miles ahead of them and saw a bomb or depth charge explode when aircraft struck the water. There were no survivors. The senior officer of the escort reported by signal the text of which was as follows: "Height 100 to 200 feet. Course NW, a/c banked to starboard away from wind, flattened out on course of 050 degrees and plunged nose first into the sea. Machine looked unsteady but no distress signal. Had recently passed call signs by V/S on request. Snow squalls, 3 miles rough sea; air temperature 26F." Searching aircraft were dispatched but no trace of the missing aircraft and occupants was found and nothing had since been heard of from Hudson 760 and its crew.
"Maintenance to the effect that about January 10th 1943, Hudson 760 was brought into maintenance squadron with a report that the air crew anti-icer system was not functioning. Upon investigation it was found that the piping system was completely plugged up by a gummy substance with about the same consistency as thick mud, and there are also certain definite signs of corrosion inside the tank and pipelines. A sample of this deposit was sent to Government laboratories for analysis which disclosed the substance was probably hydrochloric acid. The anti-icer system and tank from this aircraft were removed and completely replaced by new parts. The system was flushed through and checked and found to be perfectly serviceable."
FINDINGS OF THE COURT: A. Failure of one or both engines. B. Failure of fuel supply in one tank and the momentary distraction of the pilot's attention from his instruments while changing over to another tank may have caused a stall, or a stall may have been caused during a turn downwind. Carburetor icing does not appear to be involved. The Court finds that the occupants of Hudson 760 were on Air Force duty when they crashed into the sea; they are missing and must be presumed dead."
"Scene of crash not visited because it was unknown. Approximate locality in ocean known only. Until more detailed information of aircraft's attitude at time of crash is received, it is not possible to even hazard a guess as to cause of crash. Cause of depth charged exploding is not clear unless they were torn loose from carriers on impact."