Joseph Orr Gilmour R50522
October 6, 1904 - February 14, 1943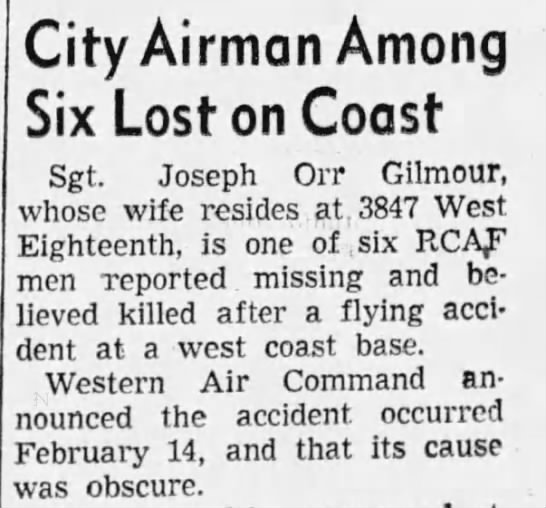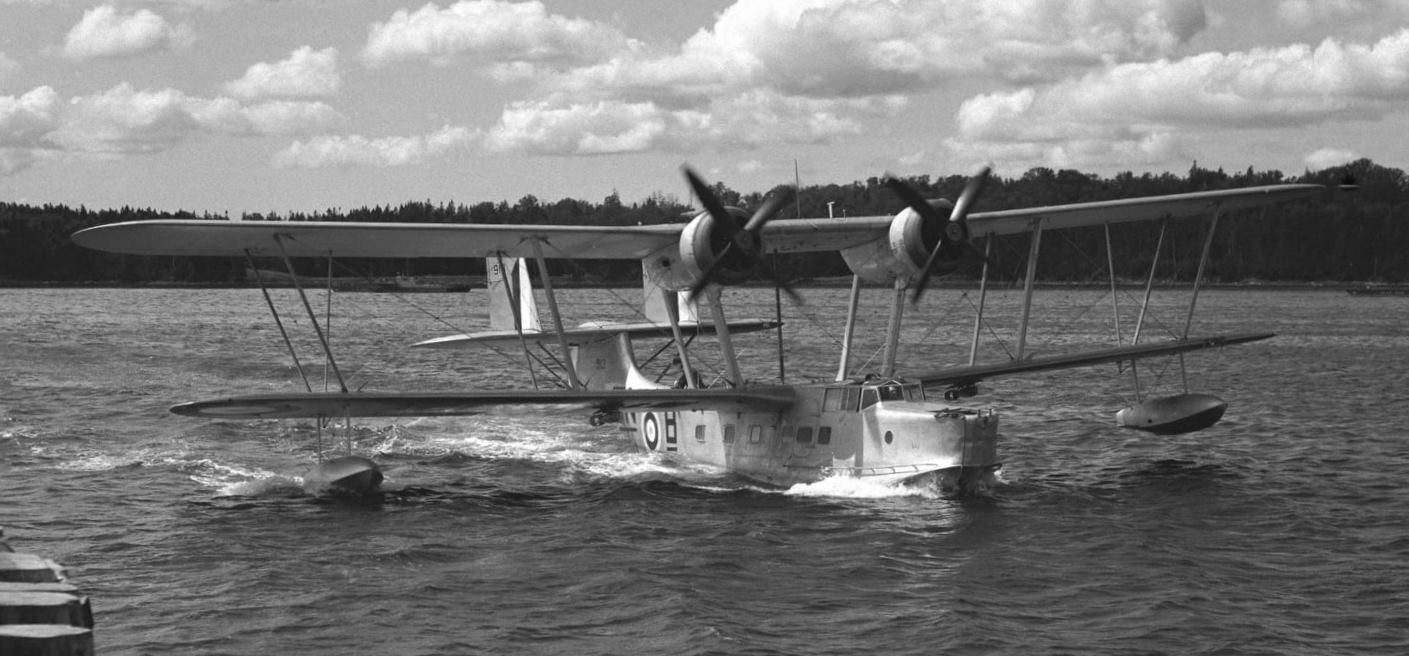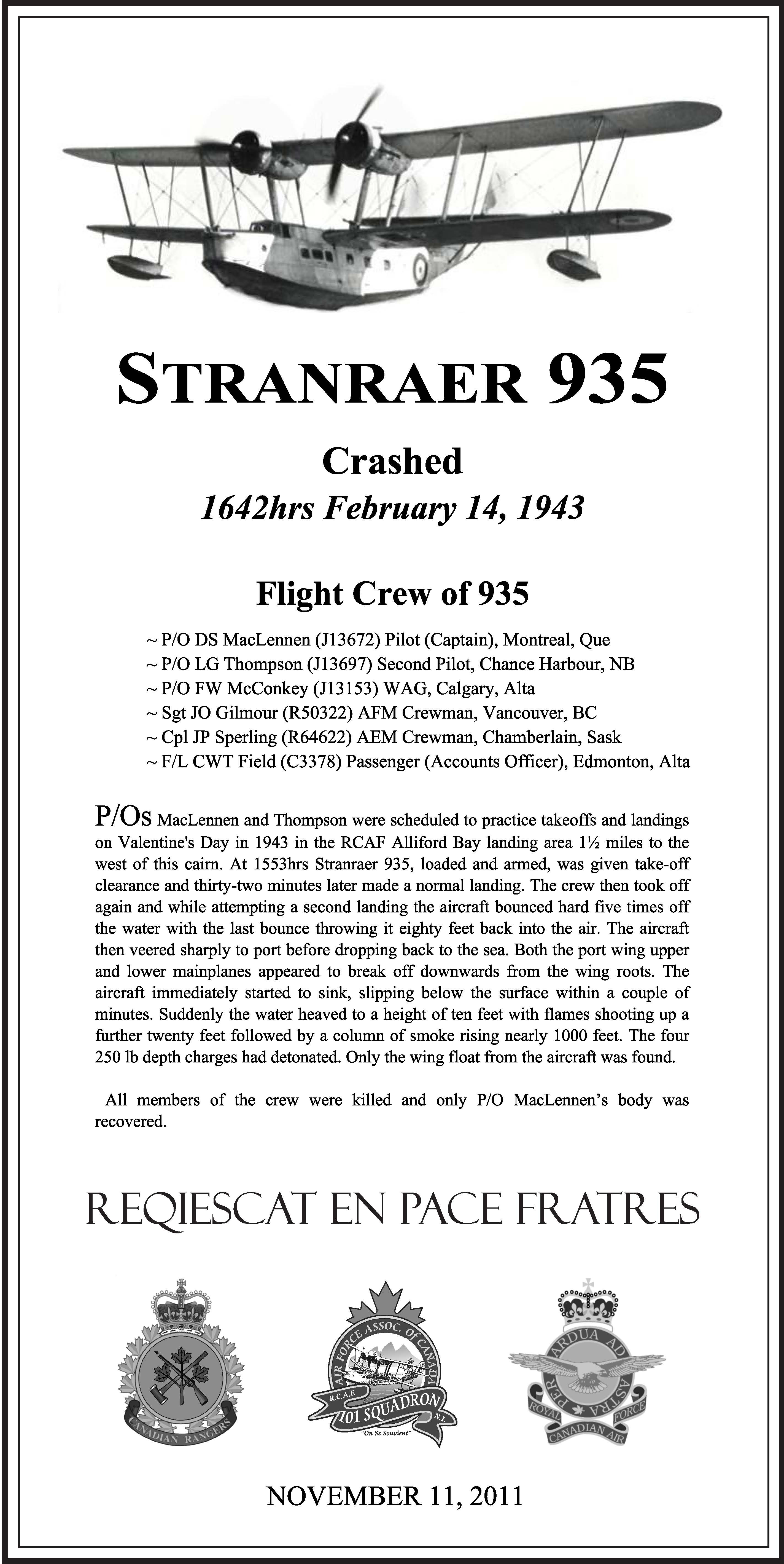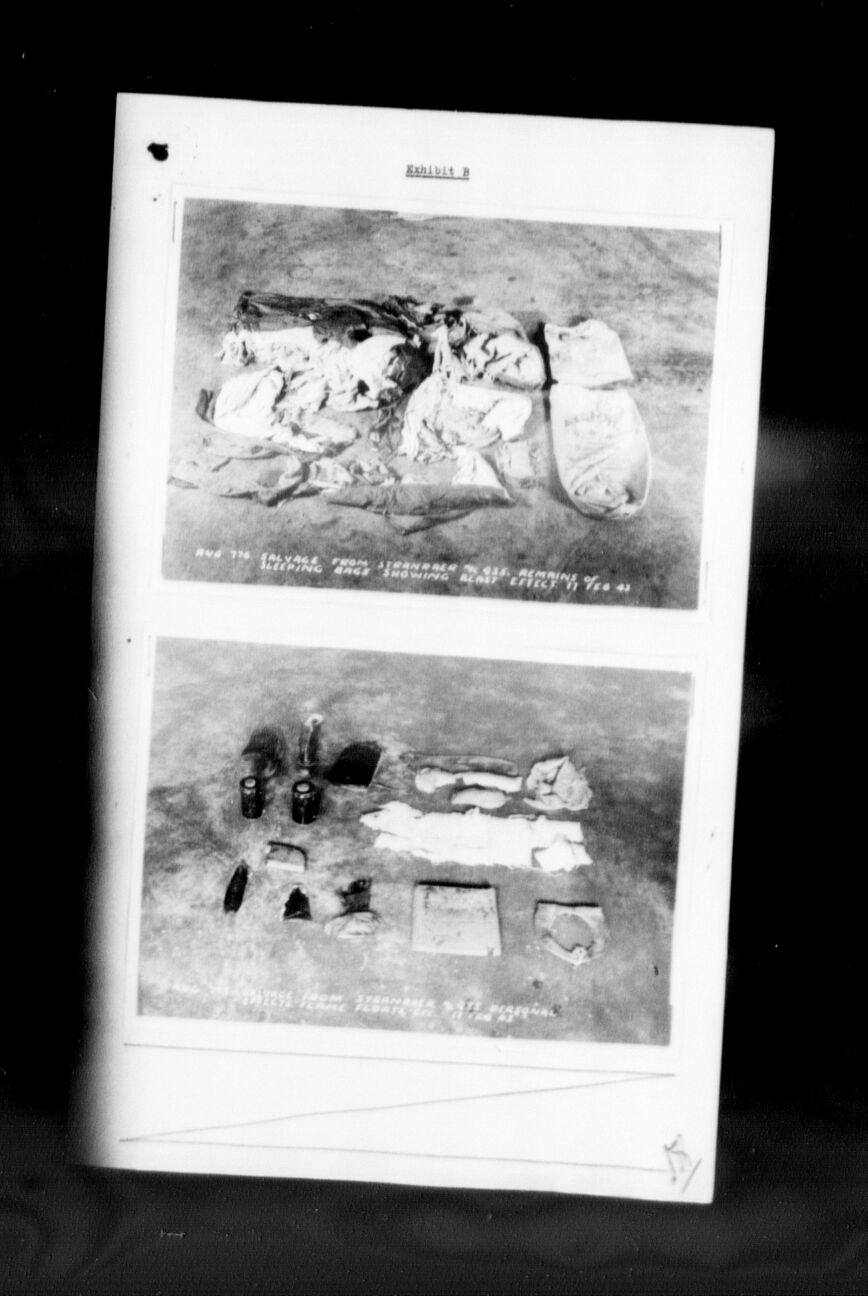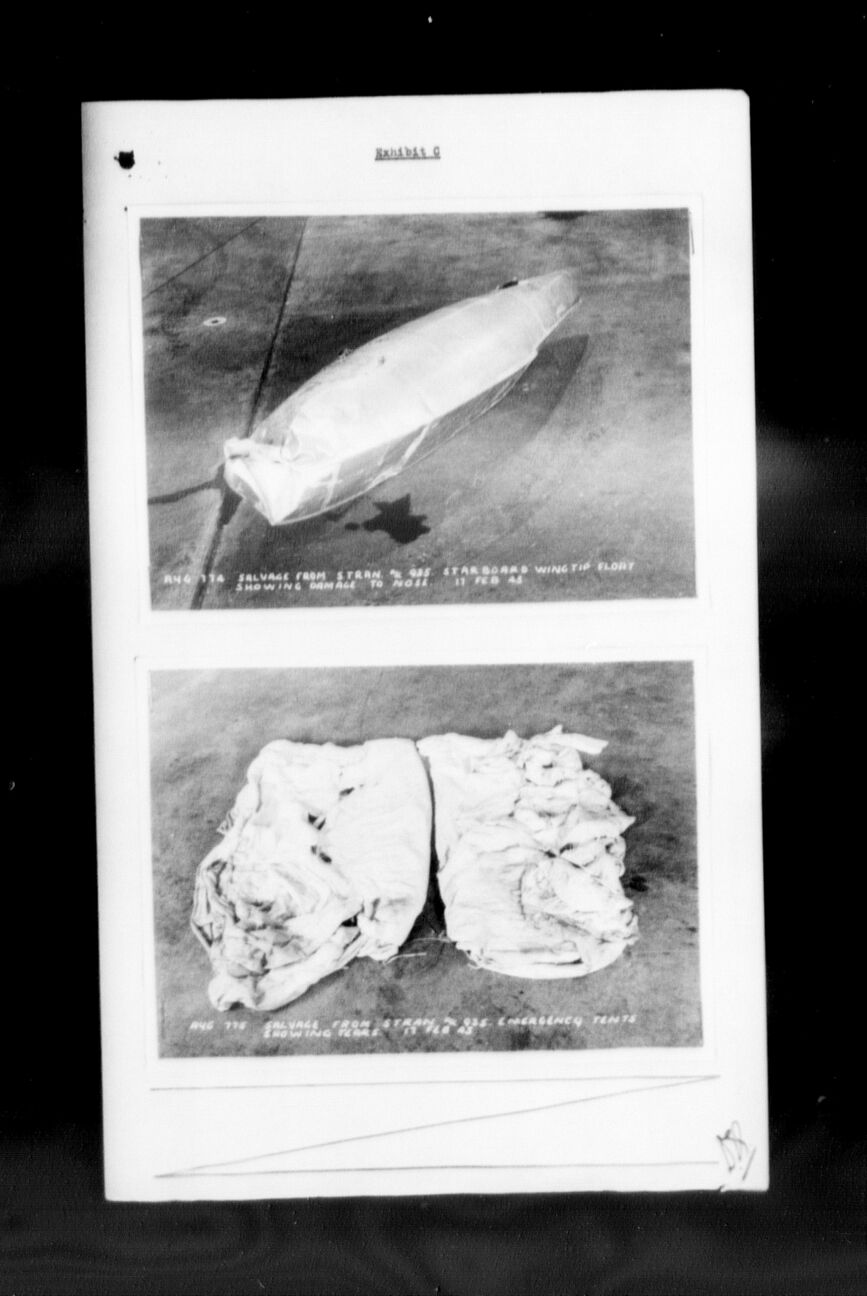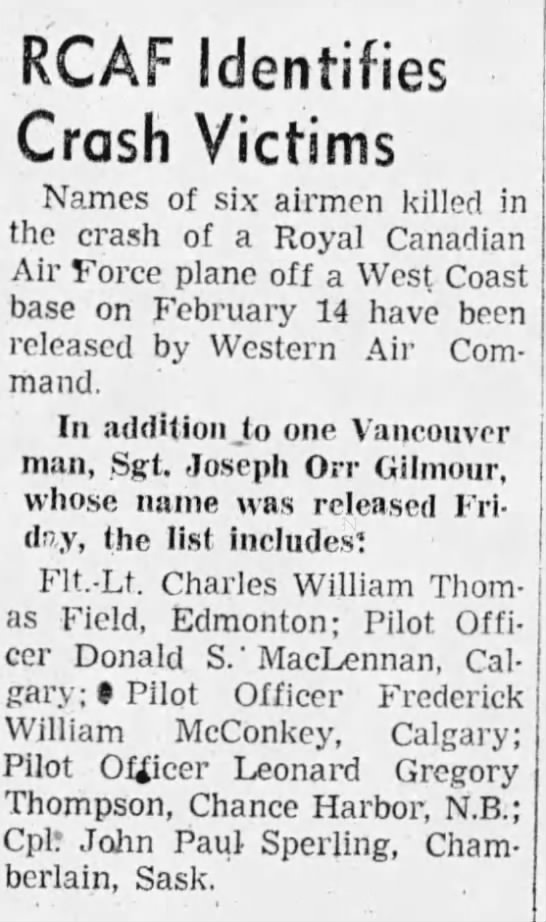 Metal worker joined RCAF in October 1939 and became an AFM. He was lost aboard Stranraer 935 in the Haida Gwaii.
Joseph Orr Gilmour, born in Glasgow, Scotland, was the son of Alexander and Sarah 'Sadie' (nee Orr) Gilmour of London, Ontario. He had two brothers and three sisters. One brother died in an accident and a sister died in infancy. The family was Presbyterian.
He married Mary Veronica Mulvihill (aka Vera Mary), a nurse, on April 23, 1931 at Wesley United Church, Vancouver. They had two daughters: Patricia Elenore, born September 23, 1932, and Shirley Ann, born August 14, 1936.
Joseph was a metal worker (auto metal mechanic) when he enlisted with the RCAF in October 1939. He stood 5' 7½" tall and weighed 125 pounds. "Wiry." He had a dark complexion with brown eyes and dark brown hair. A mole on his right upper arm as was a scar on the left side of his head. He wore a military moustache. By October 1941, he had put on 15 pounds. He played hockey and soccer and was "outstanding" in the latter. He smoked cigarettes and a pipe. He indicated he drank alcohol moderately.
He started his journey at No. 1 Manning Depot, Toronto, Ontario on October 17, 1939. He was then sent to RCAF Station Trenton, then to No. 3 Repair Depot, Vancouver, BC. He was then sent to No. 6 Squadron, Alliford Bay Station October 21, 1942. He was an air frame mechanic.
On an evaluation form from CFS, Trenton, dated January 9, 1941: "A good airframe mechanic, specializing in Fleets. Not very reliable as an NCO. Character: Fair." In February 1941, Joseph earned marks in the low 80's in drill and ceremony. "Average in deportment, dress, and personal appearance."
Joseph was AWL six times, three times while at Trenton, two at No. 3 RD, Vancouver and once at Alliford Bay, BC: August 1940, December 1941, and December 1942/January 1943. He forfeited a total of thirteen days' pay, seven days confined to barracks, and was severely reprimanded. A letter found in his files dated September 1, 1942 stated that Joseph was under close arrest for being drunk in the Sergeant's Mess. The Service Police returned him to the guard house. "Sgt. Gilmour questioned my authority…was being argumentative...he stated the would not go to the barrack block and insinuated he would fight first…he was placed in cells at this office." RCAF Station, Vancouver. Sgt. Kinghorn
On February 14, 1943, Stranraer 935 was scheduled for a training mission between Maude and Lina Islands in the Skidegate Channel, Haida Gwaii, BC.
Aboard RCAF Stranraer 935: Pilot P/O D. S. MacLennan, J13673, Montreal, Quebec; Second Pilot, P/O L. G. Thompson, J13697, Chance Harbour, NB; WAG P/O F. W. McConkey, Calgary, AB; AFM Sgt. J. O. Gilmour, R50322, Vancouver, BC; AEM Cpl J. P. Sperling, Chamberlain, SK; and Station Accounts Officer F/L Charles William Thomas Field, Edmonton. All crew were killed. P/O MacLennan's body was the only body recovered (April 26, 1943).
Both pilots were scheduled to practice take offs and landing. "At 1553 hours, Stranraer 935, loaded and armed, was given take-off clearance and thirty-two minutes later, made a normal landing. The crew then took off again and while attempting a second landing, the aircraft bounced hard five times off the water with the last bounce throwing it eighty feet back into the air. The aircraft then veered sharply to port before dropping back to the sea. Both the port wing upper and lower mainplanes appeared to break off downwards from the wing roots. The aircraft immediately started to sink, slipping below the surface within a couple of minutes. Suddenly, the water heaved to a height of ten feet with flames shooting up a further twenty feet followed by a column of smoke rising nearly 1000 feet. The four 250-pound depth charges had detonated. Only the wing float from the aircraft was found."
Pilot error was the cause of the accident. "Insufficient experience on part of the pilots in that they failed to correct sufficiently after the initial bounce." The Court of Inquiry commented that dummy depth charges during that type of exercise be used instead of live depth charges. "It is appreciated that with very few operational aircraft available, it is desirable to have as many as possible ready for instant action in the event of enemy activity. However, armed aircraft in the hands of partly trained crews have proved very costly, and whenever operational conditions permit, live depth charges should be removed when practice flights of a local nature are being made by other than qualified captains." Other comments: "Obscure. Probable misuse of controls trying to correct for the bounce. Gustiness in the channel' other pilots up at the same time report that the air was turbulent. Similar accidents might be avoided if pilots were instructed in how to control the bounce once a bad landing has been made."
The full Court of Inquiry can be found on microfiche T12341, starting at image 1364.
A ceremony to remember the crew of Stranraer 935 took place on November 19, 2011 in Alliford Bay. Please see link below for photos and more information.
LINKS: