Joseph Armand Jacques Chevrier C856
October 7, 1917 - July 6, 1942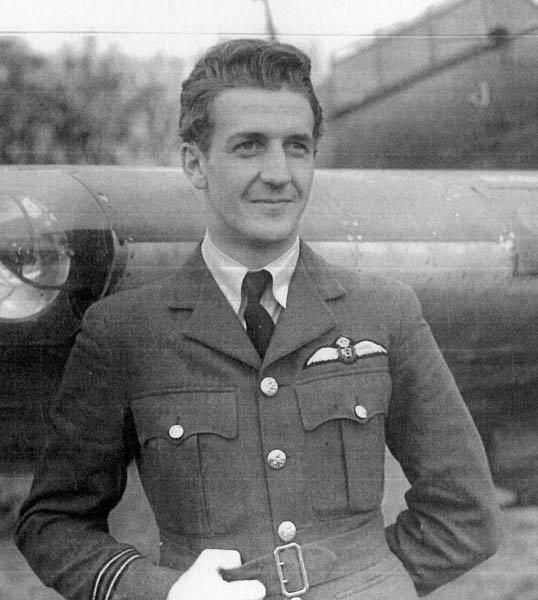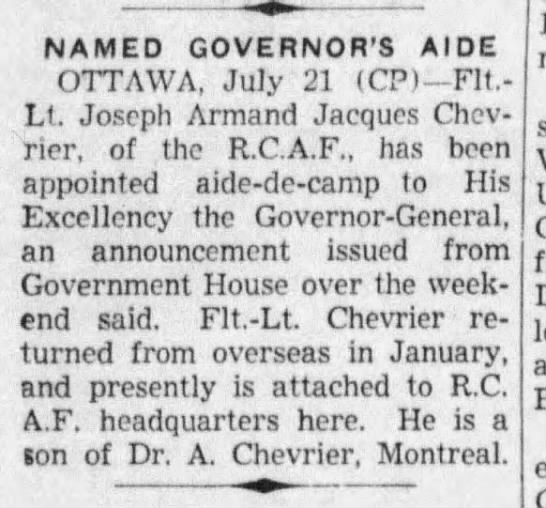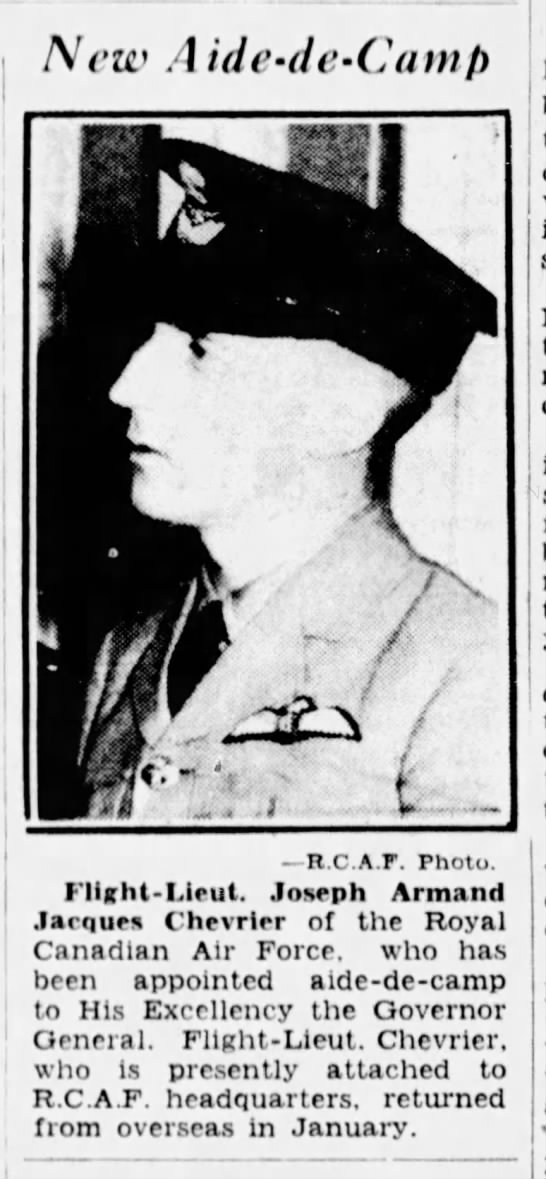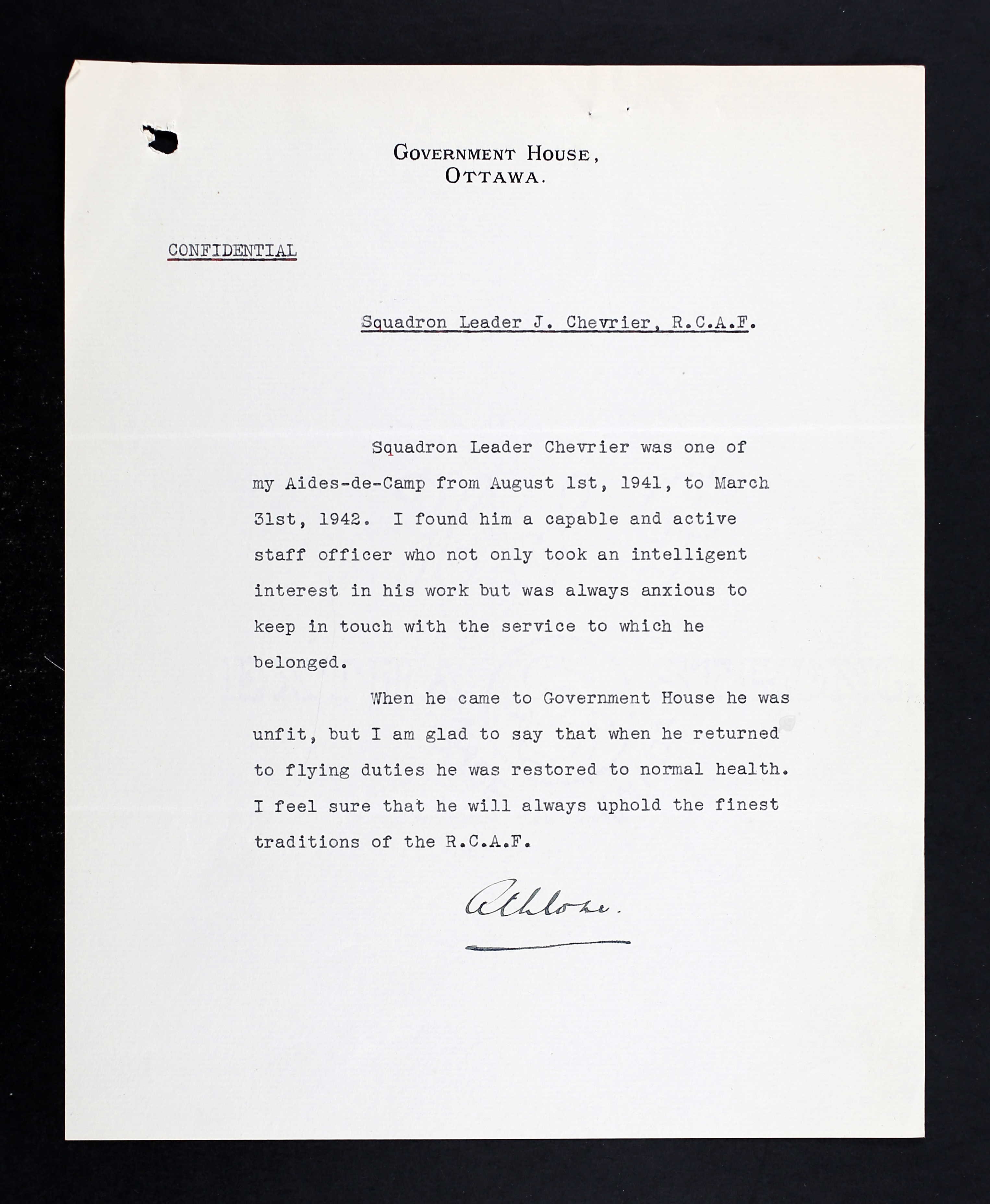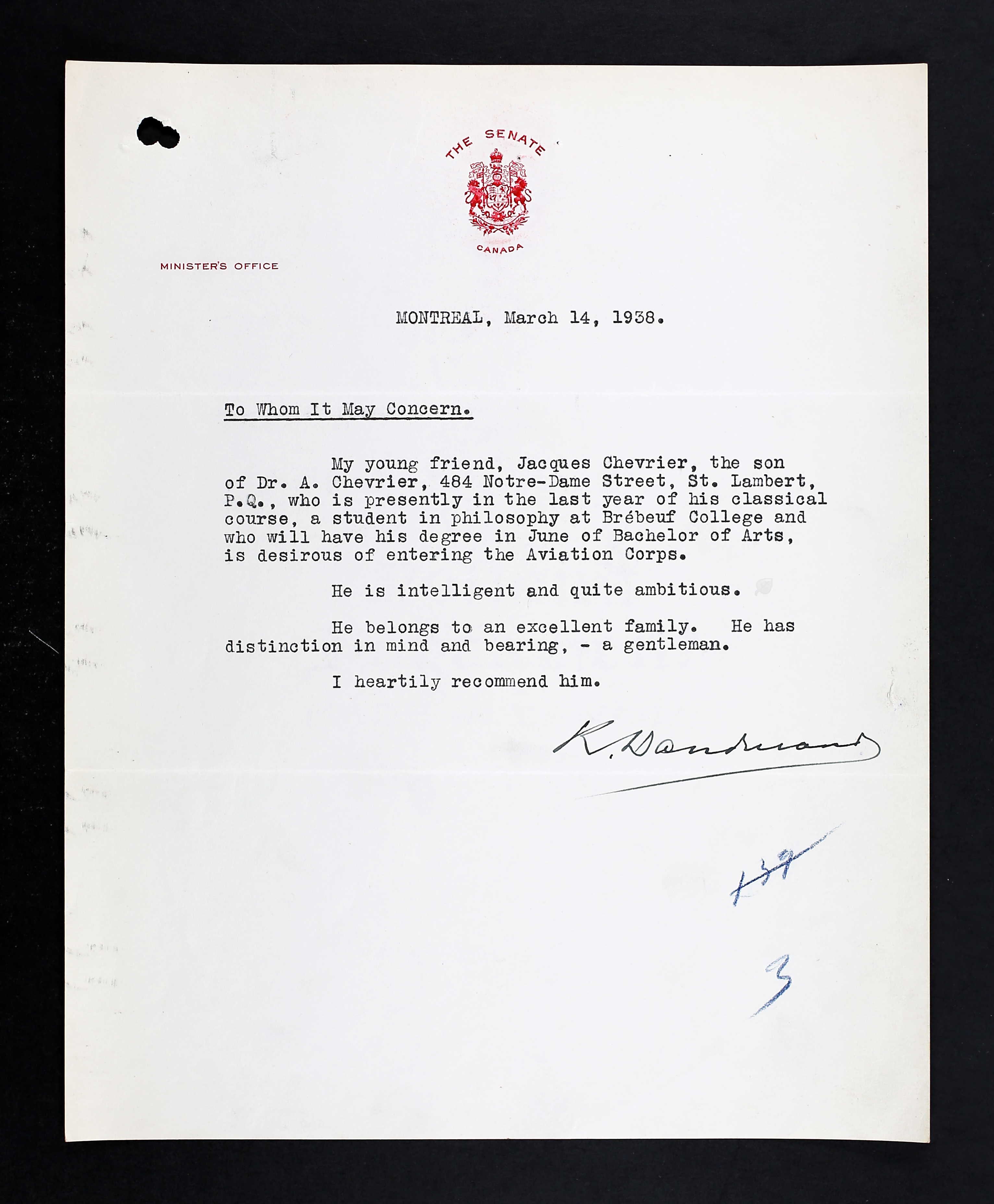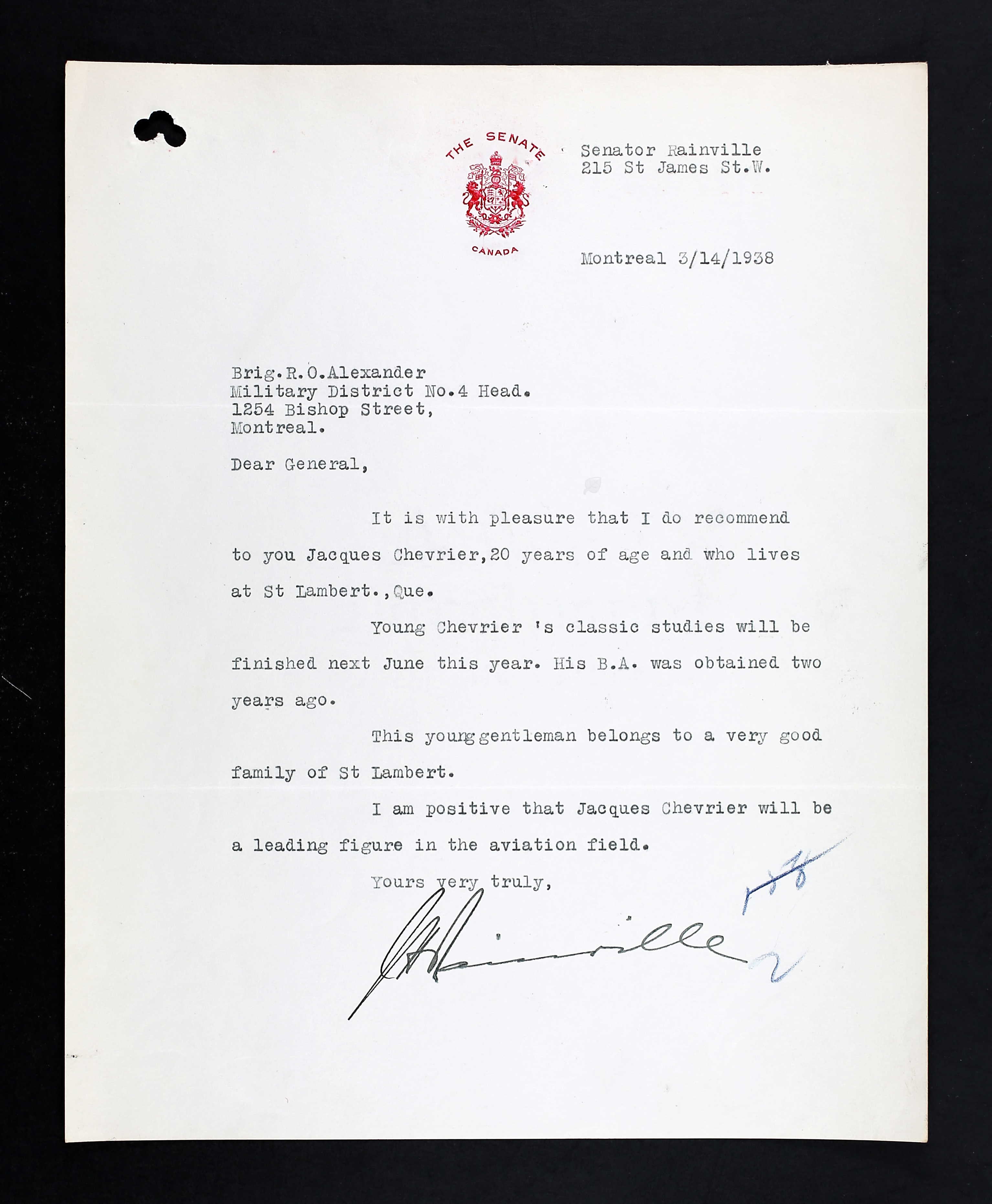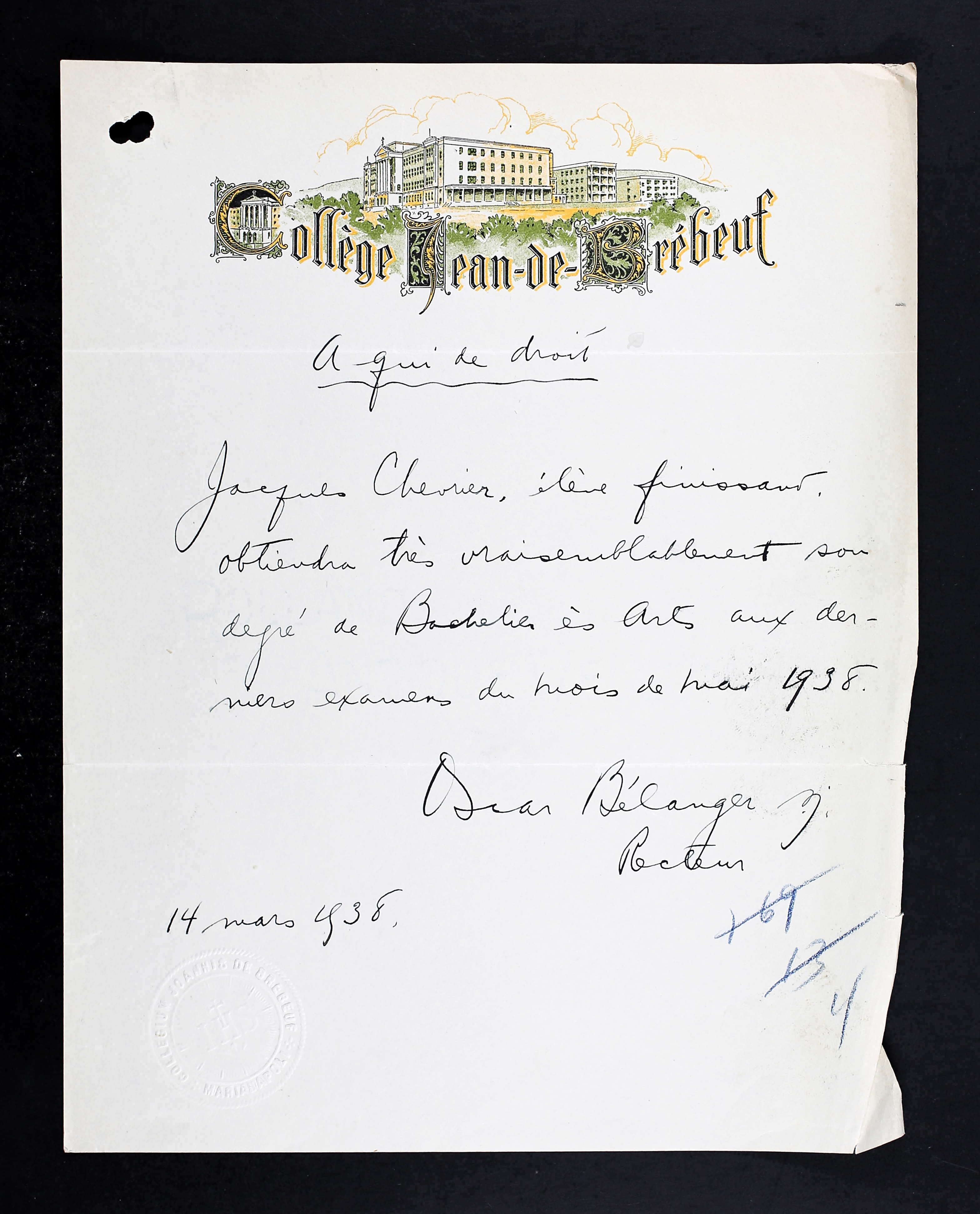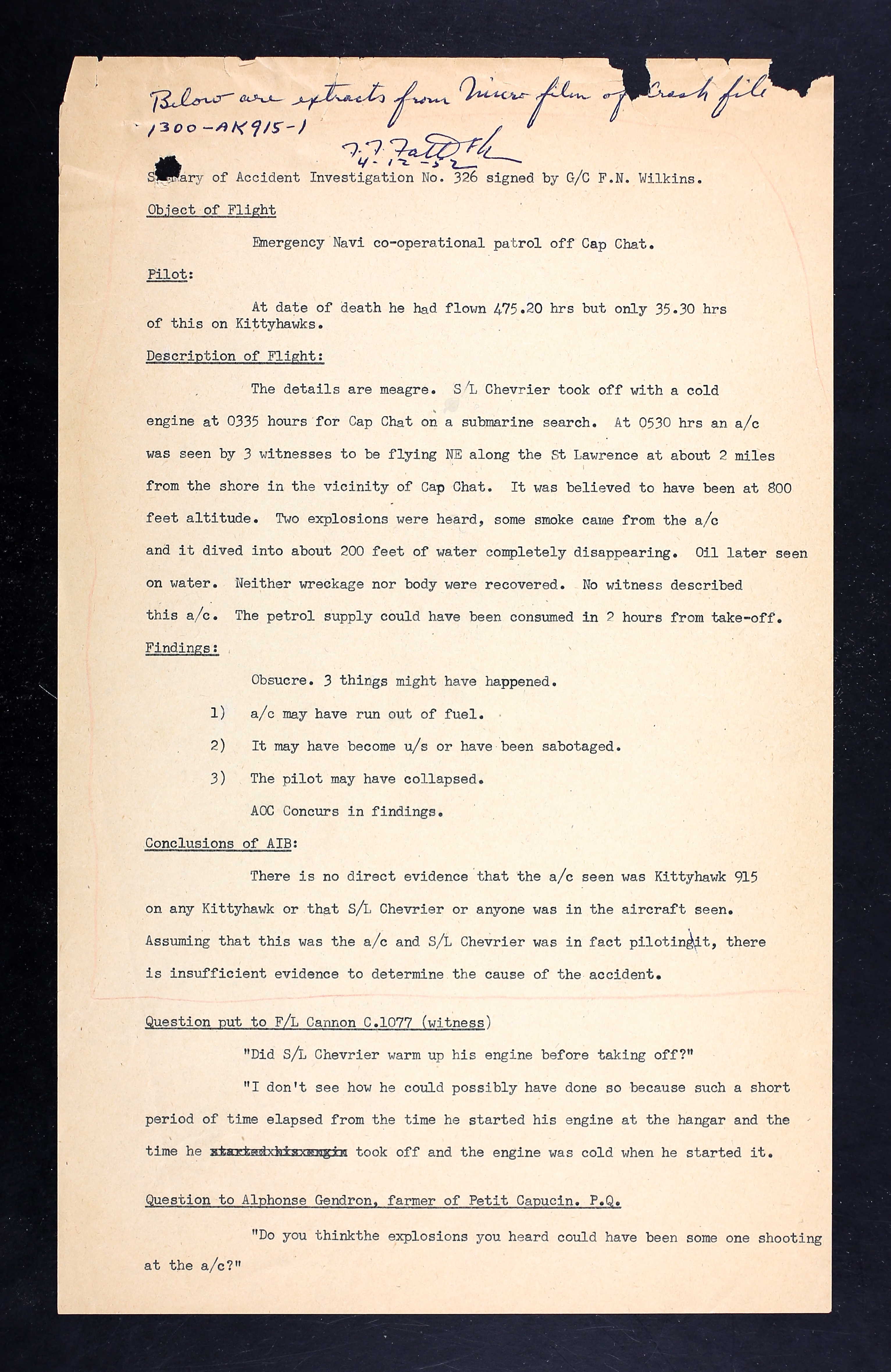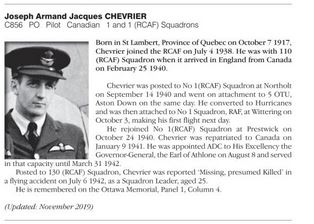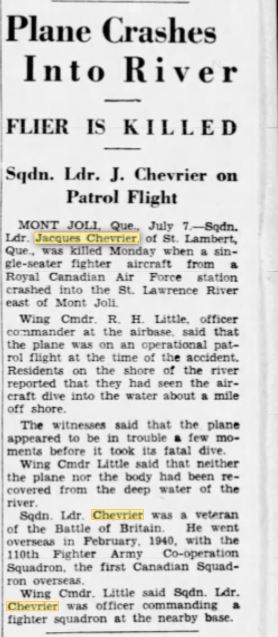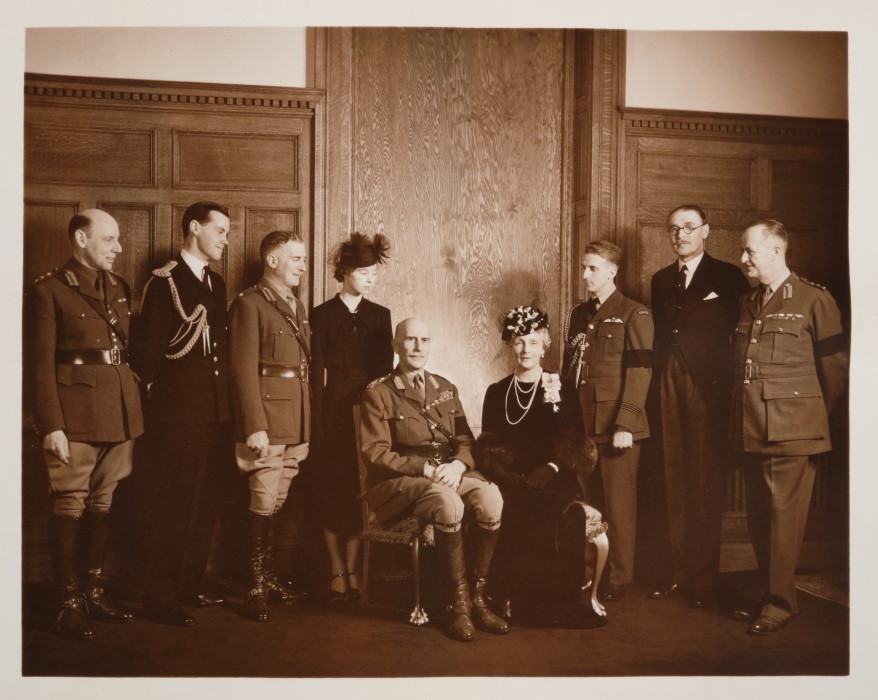 French Canadian pilot repatriated to Canada; Aide-de-camp to Earl Athlone; then was CO of 130 Squadron. While flying Kittyhawk AK915, killed when plane ditched into St. Lawrence River.
Joseph Armand Jacques Chevrier, known as Jacques, was the son of Dr. Aurele Chevrier (d. 1962) and Florina (nee Cadieux) Chevrier (d. 1932), of St. Lambert, Quebec. He had two brothers, Claude and Andre, and one sister, Gisele Morais. The family was Roman Catholic.
He had prior military experience being in COTC in 1936 to 1938.
When Jacques was being interviewed March 15, 1938, he "appears to be the right type of officer. Neat, well dressed. Pleasing personality, good manners. Will obtain BA in June. Now attending College Jean de Brebeuf. Hobbies: photography. Is keen on flying and should make good pilot. Appears to have the right background and bringing up to produce a promising officer." [He received his BA June 10, 1938.]
Jacques had two letters of recommendation from two Senators from Quebec.
He received flying instruction from October 2 to November 11, 1938, in Fleet, Wapiti and Fairchild aircraft. He earned a 73% grade. "This pupil's progress has been good throughout his training. Keen, hard worker. Supplemental exam in administration. 59%. Appearance: smart, neat. 80%. Conduct: good. 75%. Total Assessment: 72% Average."
In March 1939, Jacques contracted pleurisy and broncho-pneumonia in the right lung with a temperature of 104. He remained in hospital for two weeks and made an excellent recovery, given three weeks' leave.
By June 1939: He was 25th out of 31 in his class with an overall mark of 67% on his examinations. "Generally an average pilot with no outstanding faults. General remarks: very keen; shows good promise but at present in somewhat handicapped by lack of knowledge of English language. Reliable. Alert."
In February 1940, he was posted to RAF Station, Old Sarum with 110 Squadron until September 14, 1940. He was posted to No. 1 Squadron, Wittering, Occtober 3, then moving to Prestwick on the 21st.
In November 1940, he again developed pleurisy with right sided broncho-pneumonia, with ten days' hospitalization, then given fourteen days' sick leave. He was noted as weak and somewhat anaemic and 31 days' sick leave was recommended. Jacques was then sent back to Canada.
January 25, 1941, Ottawa, Ontario: "This officer appears well-nourished, well-developed, somewhat pale. There should seem, at this time, to be no definite evidence of abnormalities of the right lung."
From February 4 to May 19, 1941, he completed a course of instruction as Specialist Armament Officer at Air Armament School, RCAF Station Mountain View, Ontario, obtaining a 70/6%, average assessment. "Conscientious and keen. Displayed a determination to succeed."
Aides-de-camps to His Excellency the Governor General, the Earl of Athlone, from August 1, 1941 to March 31, 1942.
The Earl of Athlone wrote a confidential letter indicating that when Jacques served as his aides-de-camp, he was unfit, "but I am glad to say that when he returned to flying duties, he was restored to normal health."
Jacques was posted to the Special Duties Branch of the Air Force Headquarters' Administrative Unit (Camp Commandant).
On July 6, 1942, J. A. J. Chevrier, in Kittyhawk AK915, 130 (F) Squadron, No. 9 B&G School, at approximately 03:30 hours crashed 1 ½ miles off shore at Cap Chat, Quebec. He was reported missing during air operations and presumed dead.
From www.bbm.org.uk: "Chevrier was posted to be the first CO of 130 Squadron, taking command at Mont-Joli, Quebec on May 1, 1942. On 6th July 1942, the Squadon scrambled to search for U-boats after a freighter was torpedoed 10 miles off Ste. Anne-des-Monts. Four Kittyhawks were launched. Several survivors of the sunk ship were located, but no U-boat. Chevrier ran out of fuel on the return to Mont-Joli and died when his Kittyhawk AK915 ditched in the St. Lawrence just off Ste. Anne-des-Monts. His body was not recovered and he is commemorated on the Ottawa Memorial."
Dr. Chevrier received a letter from the Administration of Estates dated November 27, 1942. "On September 24th last I advised you that I would be unable to take any action in connection with your son's personal effects until his death had been established or presumed for official purposes. Subsequently upon learning that it was your wish that his automobile and bicycle be released to you, I prepared a form of undertaking for your signature and forward it to the Air Secretary for submission to you. It is my understanding that the automobile and bicycle are in storage at Mont Joli and they will be released to immediately upon the return of the undertaking."
November 25, 1952, a memo from H. L. Cameron, Brigadier for Defence Secretary wrote: "The minister is in receipt of representations in connection with the death of the above officer on anti-submarine operations in 1942. Doctor Aurele Chevrier, this officer's father, claims that he never obtained satisfaction in his efforts to clarify the circumstances which accompanied his sons' loss. He states in particular that Jacques, who was the only Canadian killed in active service on Canadian soil, has always been ignored. Without knowing all the circumstances of the case, Dr Chevrier would like to establish definitely that his son was shot down by this submarine. Further he would like to know whether this submarine in question returned to its base. Would you please look into this matter and forward some information which the minister could use in replying to his correspondent."
A summary of the crash was found in Jacques's files. Accident Investigation No. 326, signed by G/C F. N. Wilkins. "OBJECT OF FLIGHT: Emergency Navi co-operational patrol off Cap Chat. PILOT: At date of death, he had flown 475.20 hours, but only 35. 30 hours of this on Kittyhawks. DESCRIPTION OF FLIGHT: The details are meager. Squadron Leader Chevrier took off with a cold engine at 0335 hours for Cap Chat on a submarine search. at 0530 hours, an aircraft was seen by three witnesses to be flying NE along the Saint Lawrence at about 2 miles from the shore in the vicinity of Cap Chat. it was believed to have been at 800 feet altitude. Two explosions were heard, some smoke came from the aircraft, and it dived into about 200 feet of water completely disappearing. Oil later seen on water. Neither wreckage nor body recovered. No witness described this aircraft. The petrol supply could have been consumed in two hours from take-off. FINDINGS: Obscure. Three things might have happened: 1. Aircraft may have run out of fuel. 2. It may have become unserviceable or have been sabotaged. 3. The pilot may have collapsed. AOC concurs in findings. CONCLUSION OF AIB: There is no direct evidence that the aircraft seen was Kittyhawk 915 or any Kittyhawk or that Squadron Leader Chevrier or anyone was in the aircraft seen. Assuming that this was the aircraft and Squadron Leader Chevrier was in fact piloting it, there is insufficient evidence to determine the cause of the accident." QUESTION PUT TO F/L CANNON C1077 (Witness): "Did S/L Chevrier warm up his engine before taking off?" "I don't see how he could possibly have done so because such a short period of time elapsed from the time he started his engine at the hangar and the time he took off and the engine was cold when he started it." QUESTION TO ALPHONSE GENDRON, FARMER OF PETIT CAPUCIN, PQ: "Do you think the explosions you heard could have been someone shooting at the aircraft?" "No. The water was calm and there was no boat in the neighbourhood. The aircraft was too far from shore for someone to hit it from shore." QUESTION TO CPL PATTON (Witness): "Did you check the gasoline supply?" "Yes, I made a visual check and saw that the fuel tanks were full." Another witness says he was wearing his Mae West.
In late October 1955, Dr. Chevrier received a letter informing him that since Jacques had no known grave, his name would appear on the Ottawa Memorial.
INFORMATION COURTESY OF LEE WALSH, CAHS Toronto Chapter: "Squadron Leader Joseph Armand Jacques Chevrier C/856 had joined the RCAF in 1938 and after finishing training at Trenton went on to serve with No. 110 City of Toronto AUX Squadron and was transferred overseas in February 1940. By September 1940 he and 5 other pilots has volunteered to be transferred to fighter command and eventually flew in the Battle of Britain. Chevrier completed nearly 27 sorties with No. 1 (f) RAF Squadron before being transferred back to No. 1 (f) RCAF Squadron just days before the battle ended. He remained with No. 1 RCAF Squadron until February 1941 when he came down with pneumonia. While back in Canada recovering, he was attached to RCAF/HQ and in July 1941 was appointed as an aide to the Governor General. In January 1942 he was promoted to Squadron Leader and later took command of No. 130 Squadron at Mont Joli. Sadly, on July 6th, 1942 he and his Kittyhawk aircraft suddenly ditched while orbiting the small hamlet of Les Capucins, Quebec. Despite a lengthy search for his missing aircraft, he remains missing to this day. Locals have been quoted as saying they have spotted Chevrier's missing aircraft on the river bottom while fishing.
"As of October 2021, he is one of the 113 Canadians that flew in the Battle of Britian and fully qualifies for the 1939-45 Star with BoB Clasp. But sadly, due to a number of errors this medal along with others were never given to his late father, Dr. Aurele Chevrier who passed away in the early 1960s.
"Photo attached is of F/O Chevrier the day he transferred back to the Canadians on October 24th, 1940. The other photo show F/O Chevrier as an ADC to the Governor General of Canada in late 1940."