Joseph Cletus Allen C6555
March 16, 1908 - August 10, 1943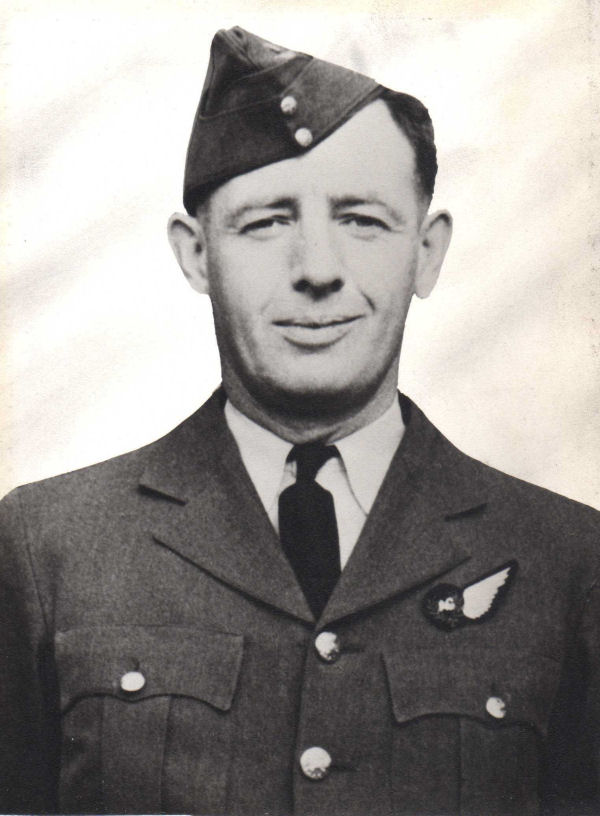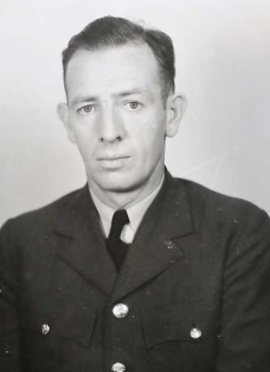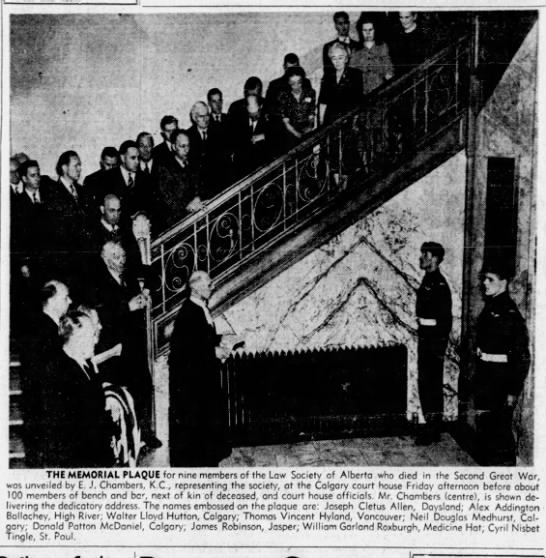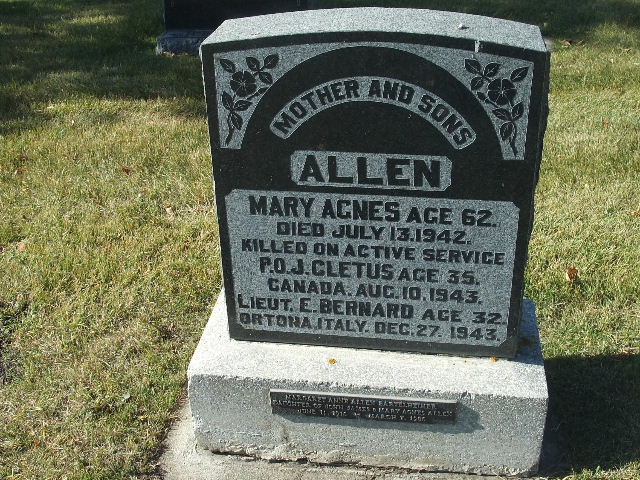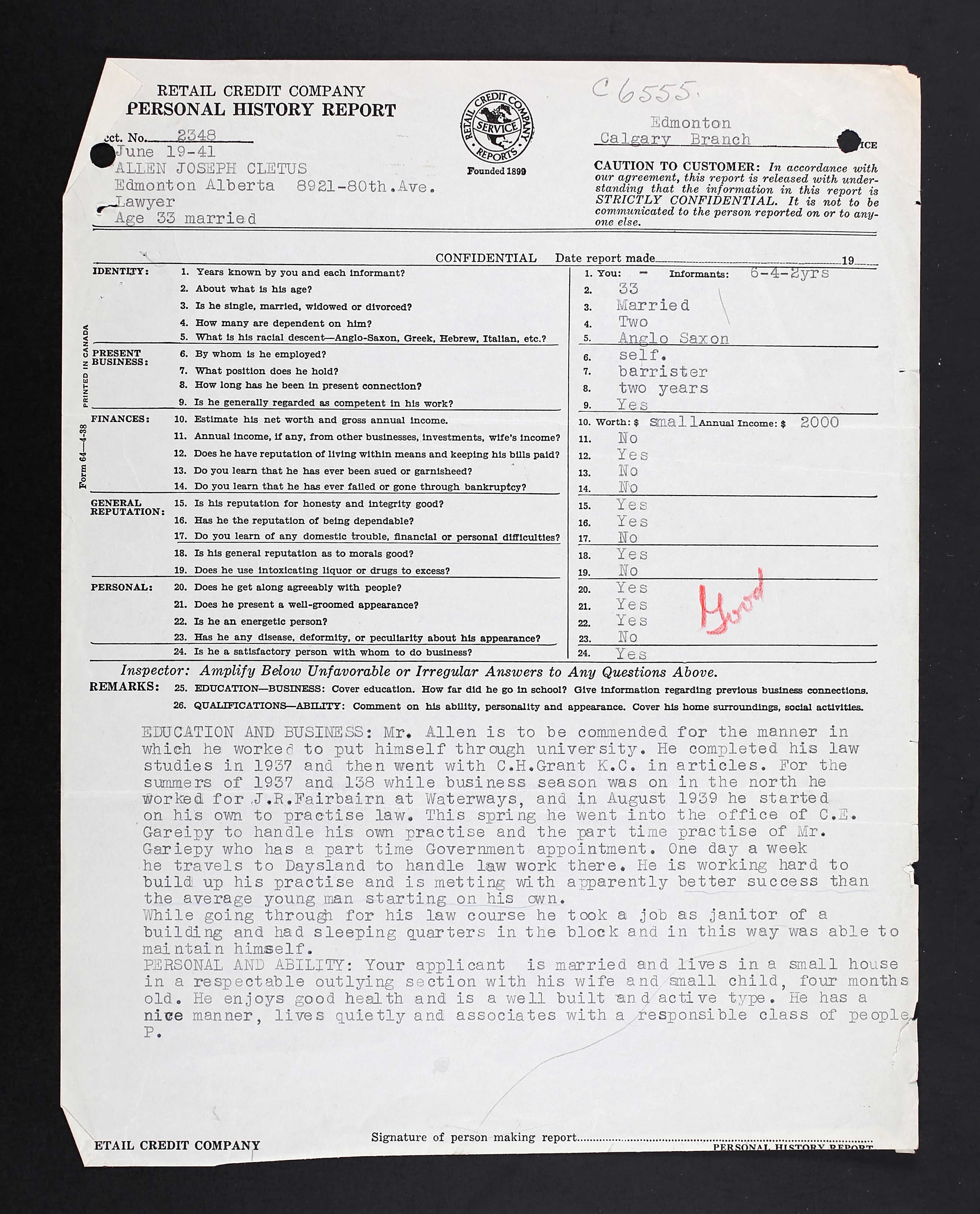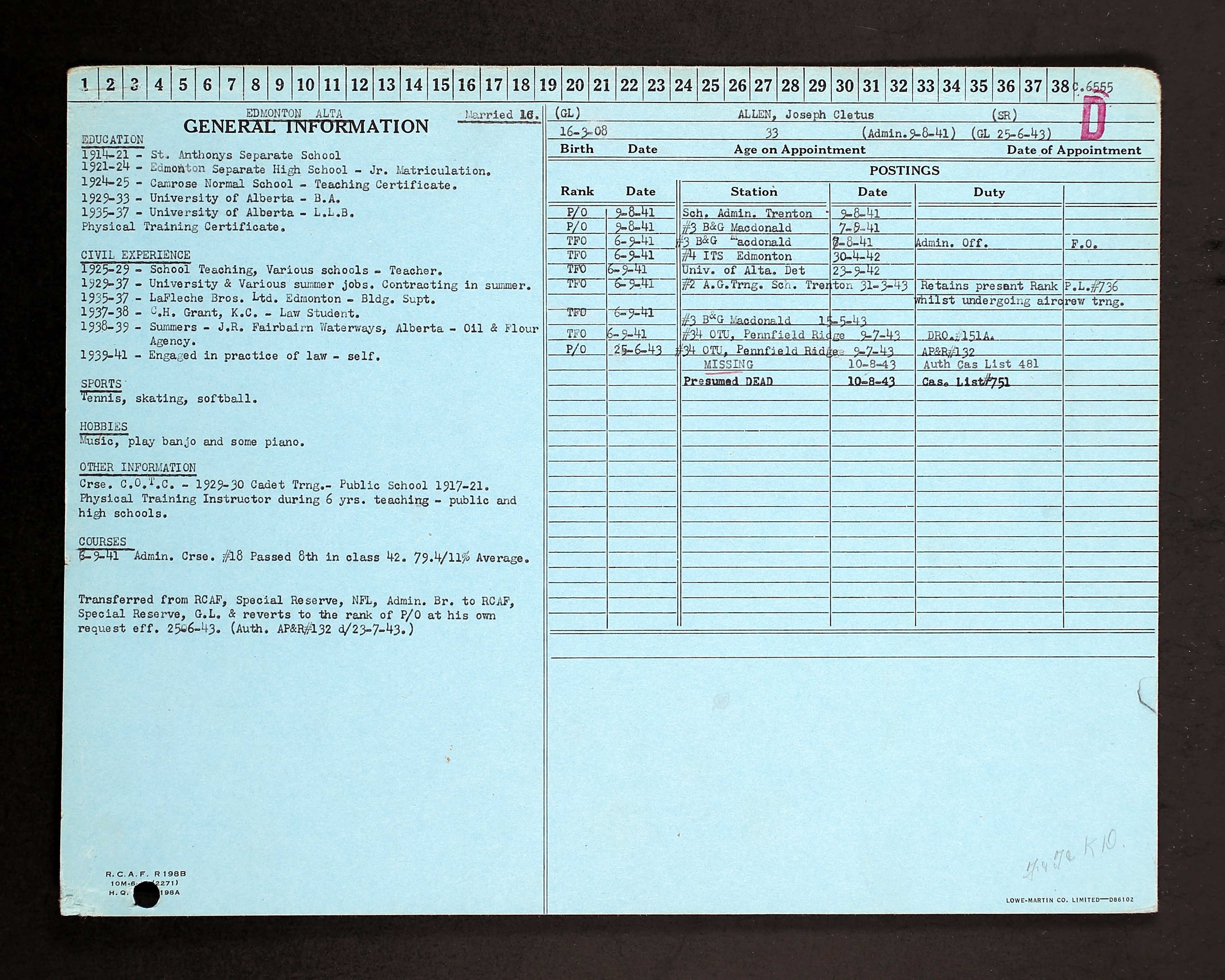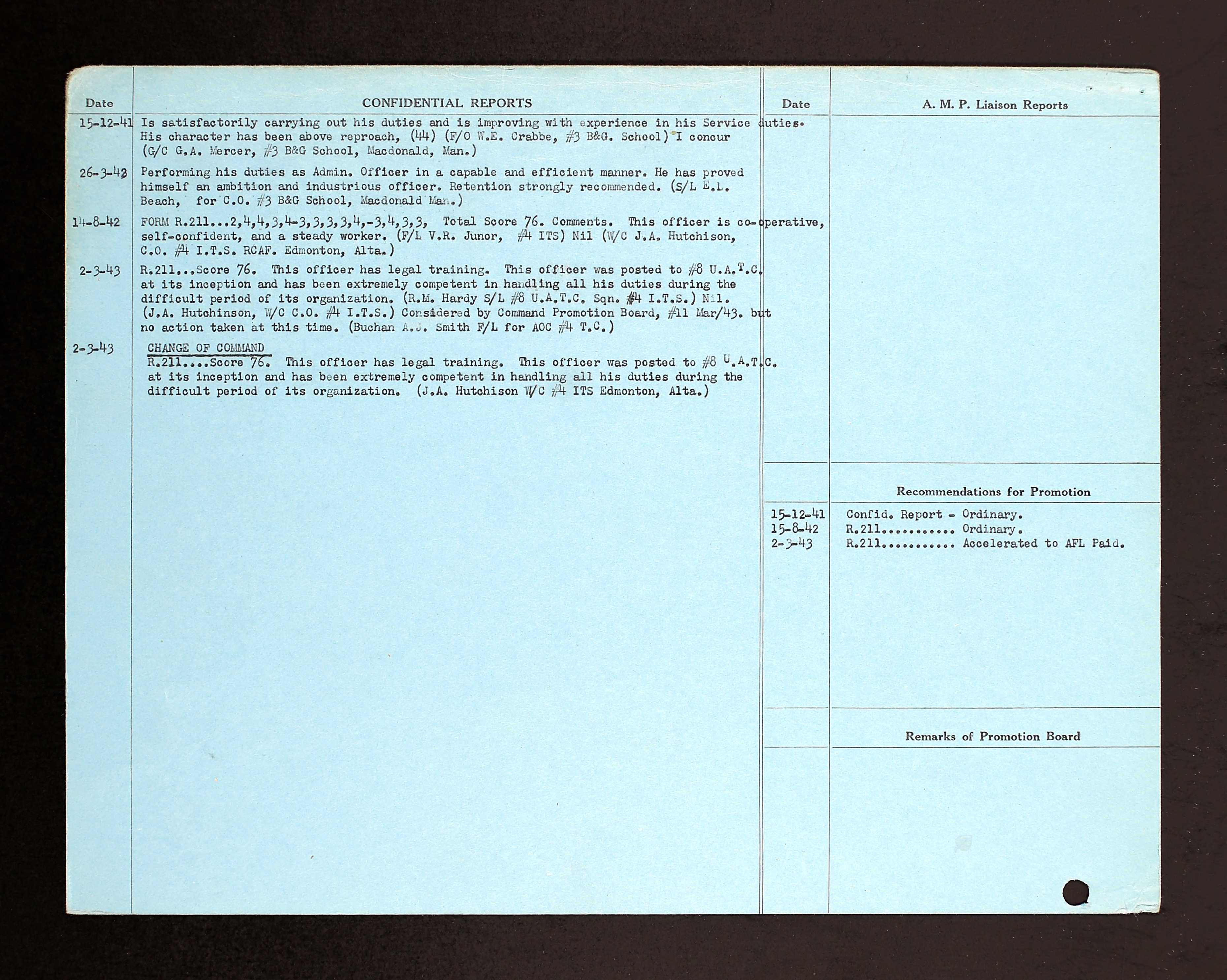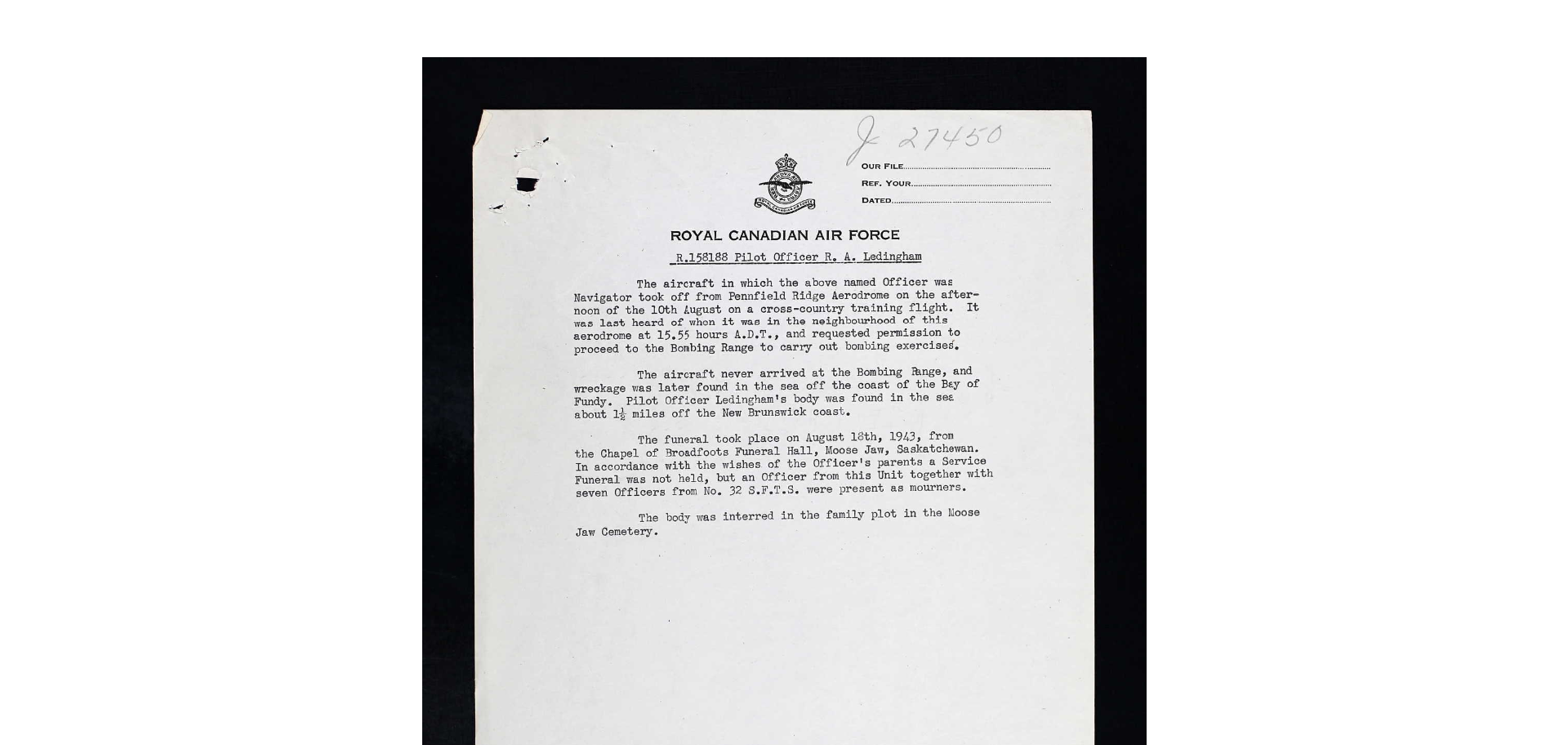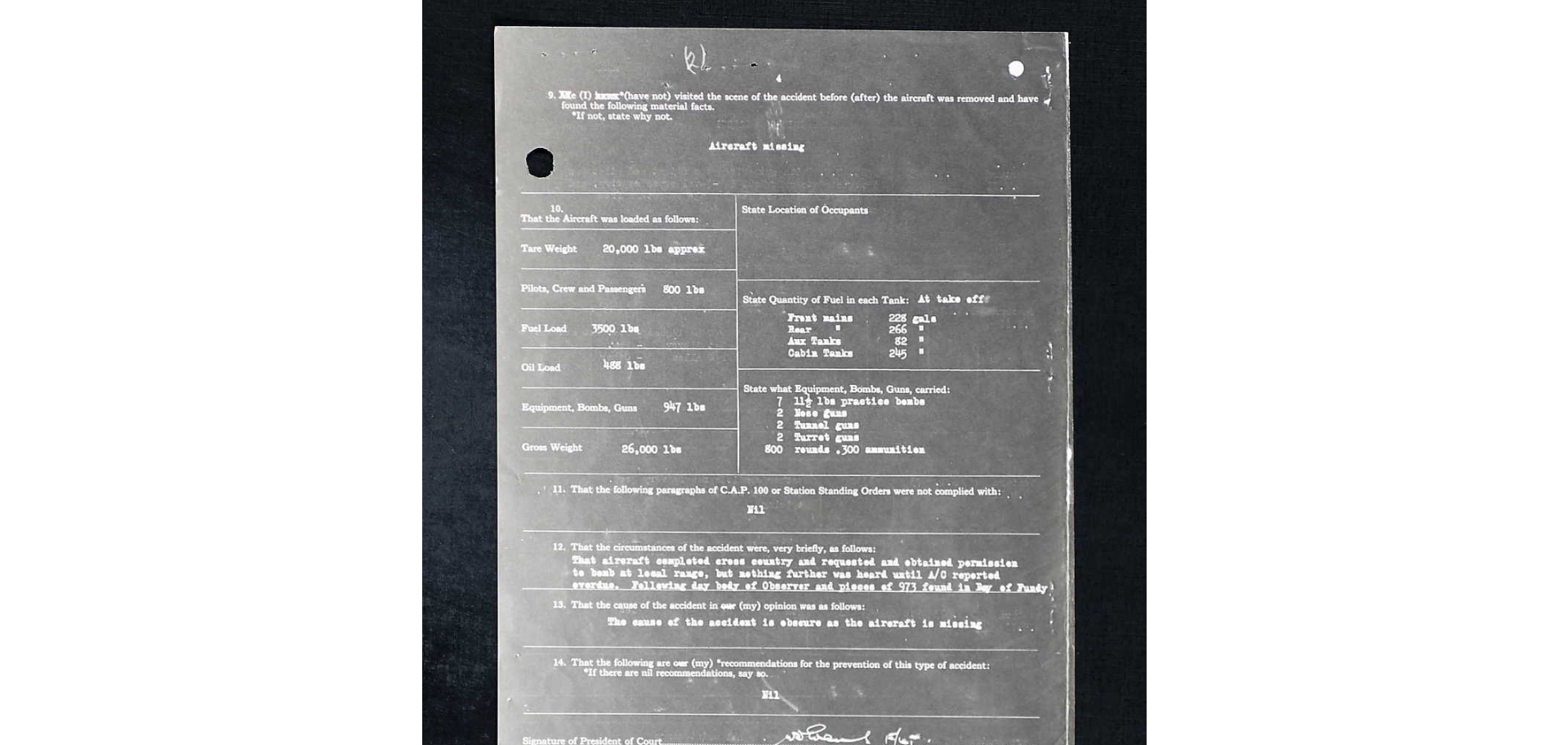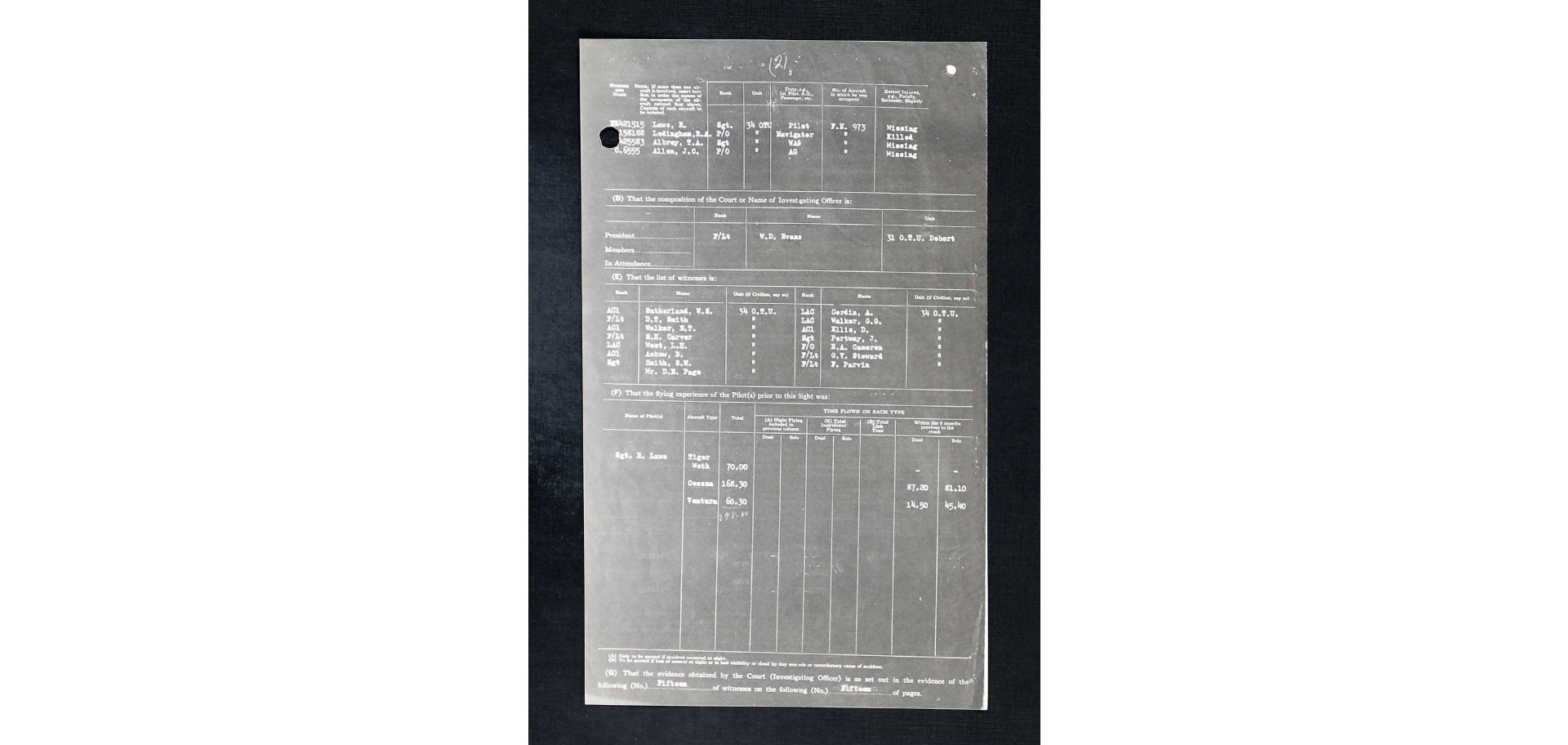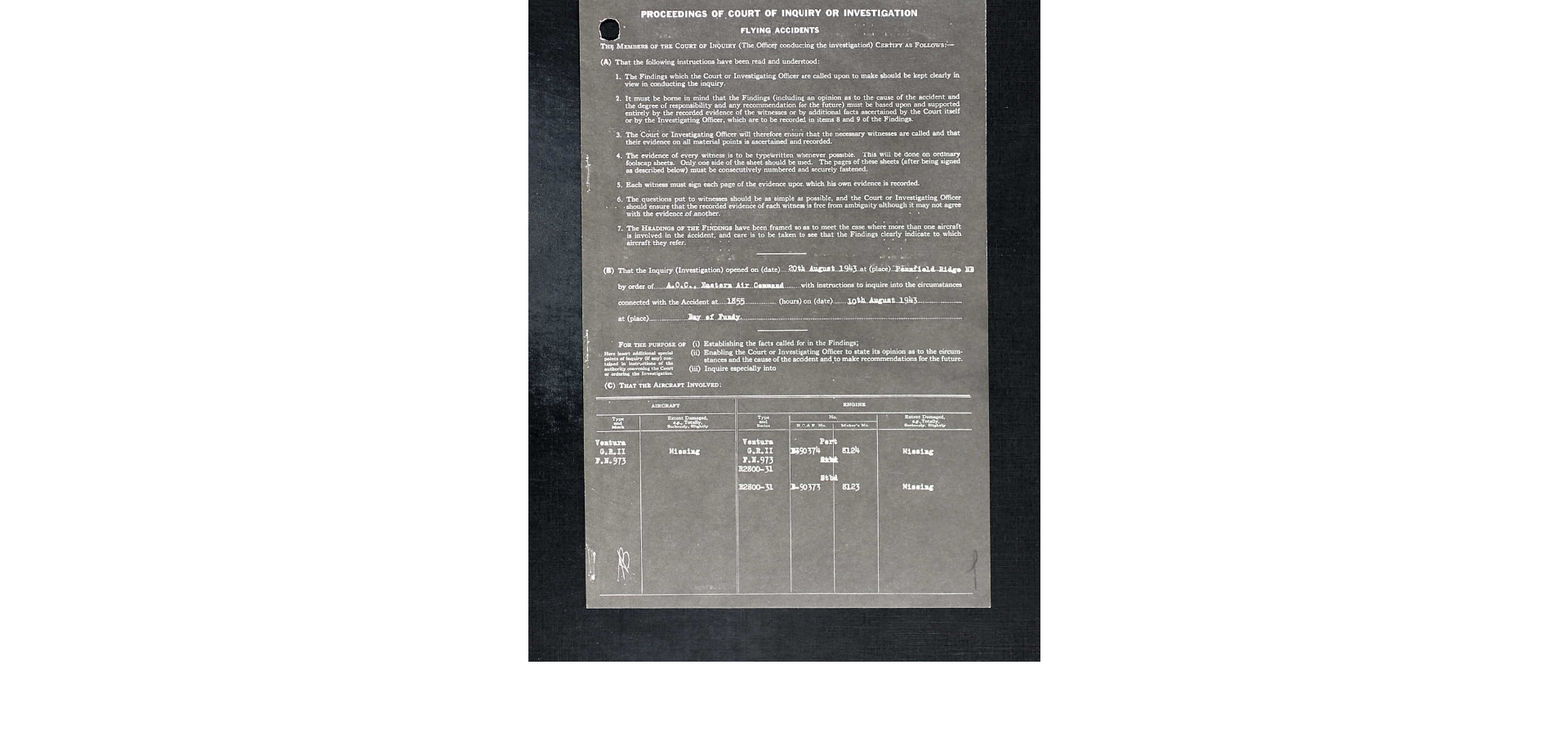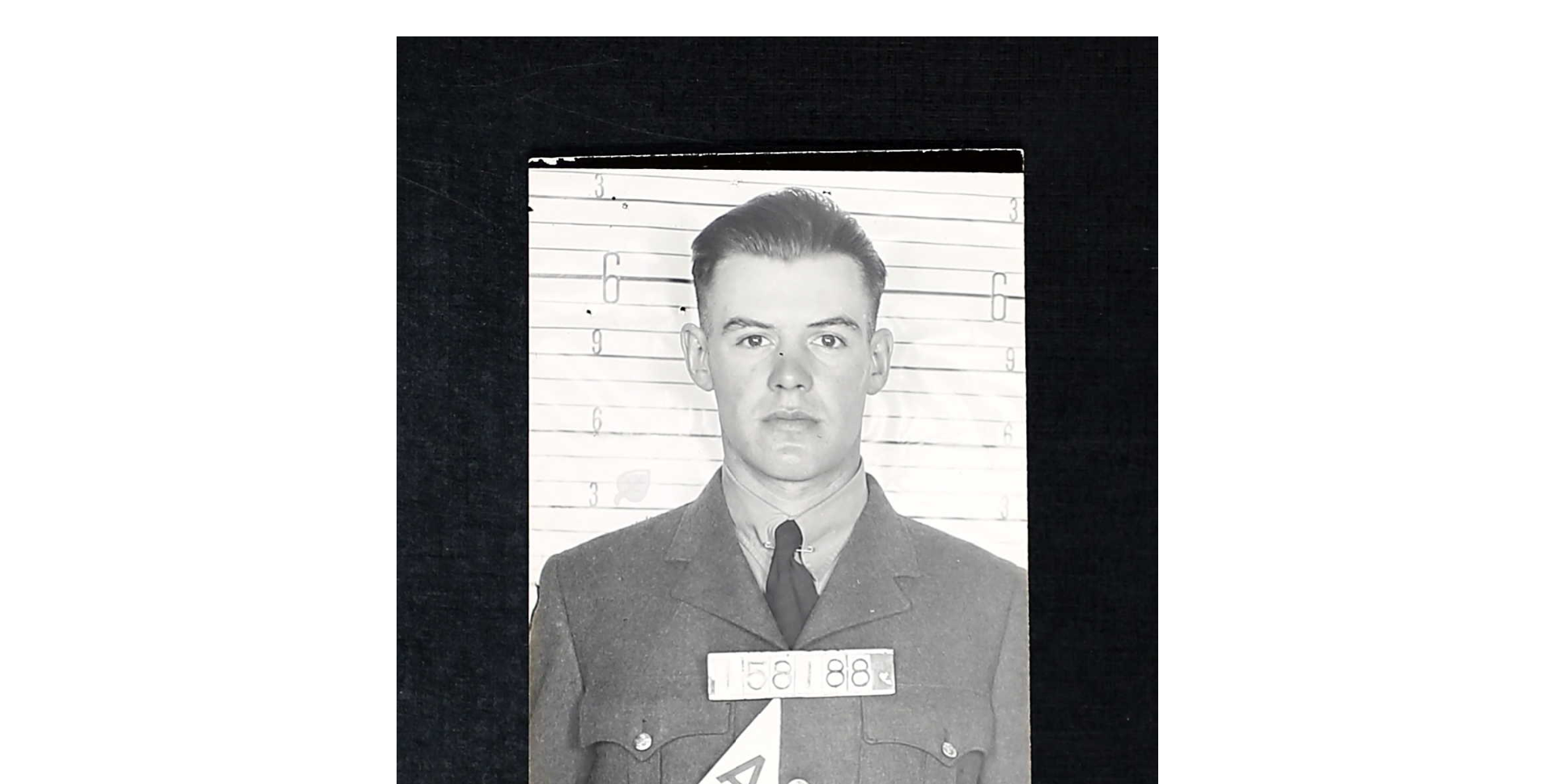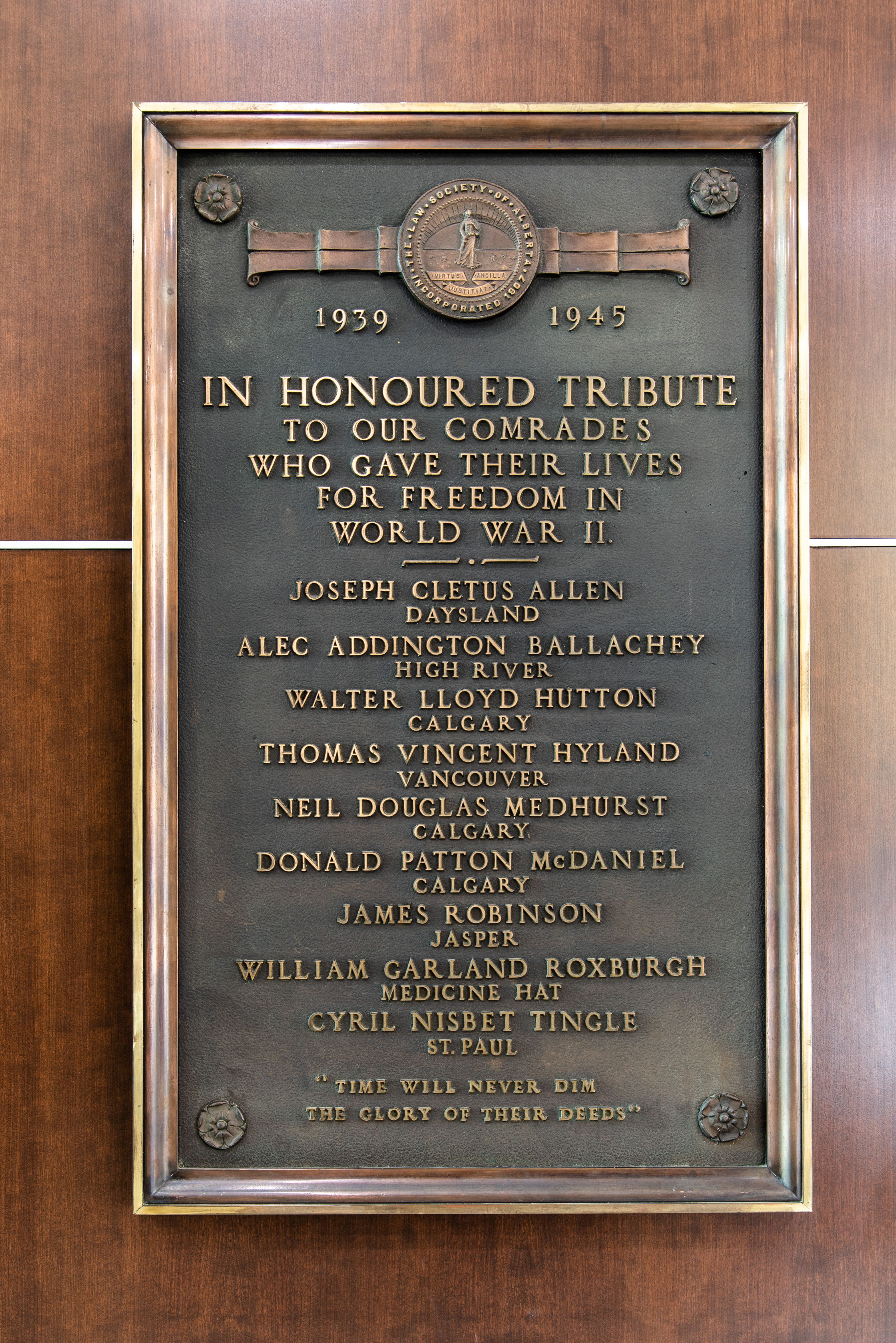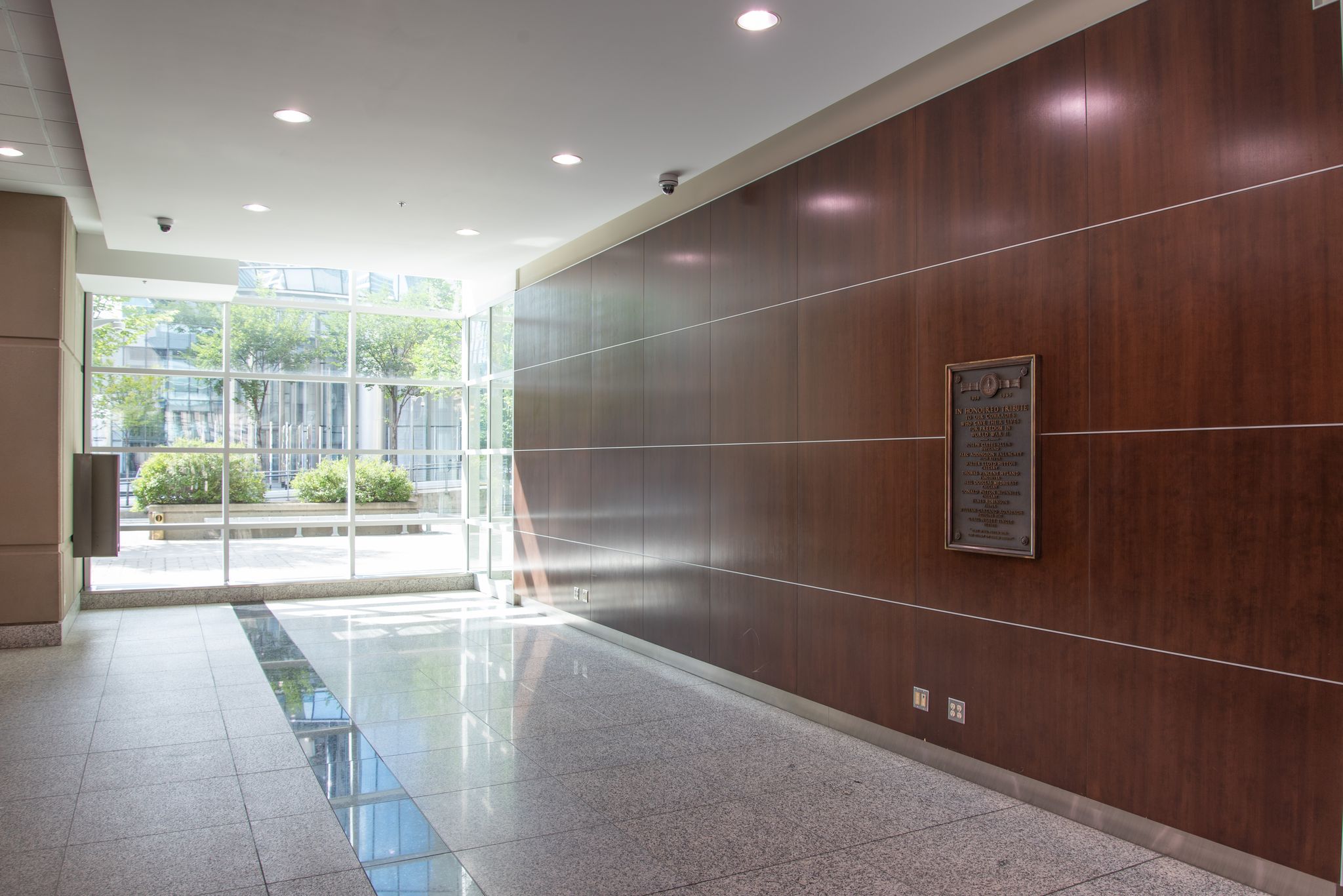 Teacher who became lawyer enlisted with RCAF as Adminstrative Officer; remustered to be air gunner. Died aboard Ventura FN973, Bay of Fundy crash.
Joseph Cletus Allen, born in Douro, Ontario, was the son of John James Allen, who resided in Peterborough, Ontario and Mary Agnes (nee Leahy) Allen (d. 1942 of anemia) of Edmonton, Alberta. He had a brother, Edmond Bernard Allen (1911-1943). Edmond was killed in Ortona, Italy, December 27, 1943, a member of the 1st Btn, Loyal Edmonton Regiment, RCIC. Joseph and Edmond had five sisters, all in Edmonton: Mrs. Lefleche, Mrs. Chisholm, Mrs. Pickford, Mrs Watson, and Miss Margaret Allen. Another brother was stillborn. The family was Roman Catholic.
Joseph graduated from the University of Alberta law school in 1937, admitted to the bar in August 1939. He had been a teacher prior as well as a member of the staff of Imperial Oil Ltd. in Edmonton and Waterways, in northern Alberta. He received his teaching certificate in 1924-25 at Camrose, Alberta.
He was a cadet at high school, then attended COTC at the University of Alberta; he practiced law for four years in his own practice, and also did some insurance sales. After the war, he wanted to be employed by the government in a legal capacity.
Joseph married Ruby Maude McCaskill (1912-1978) on July 16, 1938 at Ft. McMurray, Alberta. They had two sons: Derek Duncan (b.1941) and David Bruce (1942-1979), both born in Edmonton. Ruby had been a nurse, receiving her diploma in May 1933 from the University Hospital, Edmonton. (David was a school teacher.)
On his personal history report dated June 19, 1941: "Mr. Allen is to be commended for the manner in which he worked to put himself through university. He completed his last studies in 1937 and then went with C. H. Grant, KC, in articles. For the summers of 1937 and 1938 while business season was on, in the north he worked for J. R. Fairbairn at Waterways, and in August 1939 he started his own law practice. This spring he went into the office of C. E. Gareipy to handle his own practice and the part time practice of Mr. Gareipy who has a part time government appointment. One day a week he travels to Daysland to handle law work there. He is working hard to build up his practice and is meeting with apparent better success than the average young man starting on his own. While going through for his law course, he took a job as a janitor of a building and had sleeping quarters in the block and in this way was able to maintain himself. The applicant is married and lives in a small house in a respectable outlying section with his wife and small child, four months old. He enjoys good health and is a well built and active type. He has a nice manner, lives quietly, and associates with a responsible class of people."
Tennis, skating, hockey and softball were sports he enjoyed, and he liked music (banjo and piano) and reading. "Not strong in mathematics or technical matters. Keen type, well balanced mentally and of good appearance and demeanor. Is suitable only for Administration work as his experience is somewhat limited. Average only."
Joseph enlisted with the RCAF in Edmonton on August 8, 1941. He stood 5'10" and weighed 165 pounds. He smoked twelve cigarettes per day but indicated he did not to drink alcohol. He had a scar on his left eyelid and was noted as having an athletic physique and standard mentality.
Joseph was at the School of Administration, Trenton, Ontario. On an assessment form dated August 11 – September 6, 1941: "8th out of 42 in class; passed course; average; a good type officer with legal experience; should develop into sound Administrative Officer." December 15, 1941: "Is satisfactorily carrying out his duties and is improving with experience in his Service duties. His character has been above reproach."
At No. 3 B&G School, MacDonald, Manitoba where he was an Administrative Officer: "Above average student; keen and quick learner; can rely upon him to carry out his duties efficiently; applies himself diligently; possesses leadership qualities; should make a fine crew member." He then went to No. 4 ITS, Edmonton, then to No. 2 University of Alberta Detachment until September 23, 1942.
Joseph asked to be remustered. He had to undergo a medical examination. "Slight deviation of nasal septum to right. Nasal passage borderline fit. Glasses for astigmatism. Could lose weight for gunner but because of glasses should be navigator or pilot." On April 21, 1943: "Allen to continue to as air gunner due to glasses."
"This Officer's application for aircrew training has been approved as air gunner. Retains present rank until successful completion of training at which time he will revert to rank of Pilot Officer on transfer to the General List." March 24, 1943.
He returned for training at No. 3 B&G School Macdonald, Course 54 by May 15, 1943 being at No. 2 AG Training School, Trenton (March 31, 1943). He was 20th out of 122 in his class with 80.4% and 75.8%. "Above average student; showed no particular difficulty with course; should be good material." Joseph earned his Air Gunner's Badge on June 25, 1943.
Then Joseph was sent to No. 34 Operational Training Unit, Pennfield Ridge, New Brunswick, Course 14 (AGs) which ran from July 12, 1943 to September 1943. He did not complete the course.
Joseph was aboard Ventura GRV FN973 on August 10, 1943 along with (Wireless Air Gunner) Sergeant Trevor Alexander Albrey, RNZAF, (Pilot) Sergeant Russell Laws, RNZAF, and (Navigator) Pilot Officer Robert Alexander Ledingham, RCAF, for a three hour low level cross country flight.
From sites.rootsweb.com:
Object of Flight: Low level cross country at 250 ft. above the ground and sea. Base - Quance Head - Base. Duration 3 hrs.
Weather: At base 3 to 6/10 cloud at 3500 ft. Visibility 12 miles. Low stratus cloud reported more than 20 miles S. of the aerodrome, height unknown.
Description of Flight: The aircraft took off at 1655 hrs. GMT, the presence of the crew in the aircraft being established by the evidence. At 1855 hrs. it returned from the cross country and contacted the control tower requesting permission to bomb Utopia range. The Aircraft was not seen by the Range crew. At 1853 hrs. and at 1900 hrs. a Ventura was seen by two other Venturas heading out to sea. At 2330 hrs. a searching aircraft returned to base and reported sighting a yellow object in the sea 8 miles East of North Head. On the 11th August a search in this area resulted in a water container, 3 ration boxes, 1 sleeping bag, all marked No.973 being found as well as the body of P/O Ledingham. Sundry small pieces of broken aircraft flooring were also found in the area but none of it actually could be identified as part of the aircraft.
Findings of Investigation: Circumstances: That aircraft complete cross country and requested and obtained permission to bomb at local range, but nothing further was heard until a/c reported overdue. Following day body of observer and pieces of 973 found in Bay of Fundy.
Cause: The cause of the accident is obscure as the a/c is missing.
Remarks by C.O.: There is insufficient evidence to show why this a/c crashed into the sea. The a/c and three members of the crew are still missing.
Conclusions of Accidents Investigation Branch: Cause obscure. Aircraft missing.
Note: The three missing members of the crew may reasonably be presumed dead.
SOURCE: File 1300-FN973-1/ Library and Archives Canada/ Copy Number C-5937.
Station ORBs 10-August-1943: Five aircraft took-off for a navigation cross country flight with bombing and air firing exercise on return. Four aircraft completed the exercise but the fifth, Ventura GRV. FN973 failed to return. The last communication from this aircraft was received by R/T after the cross country had been completed and permission to proceed to the Bombing Range was requested and given. The crew are missing, their names being as follows:- Pilot - NZ421515 Sgt. Laws R., Navigator - R158188 P.O. R.A. Ledingham, W.A.G. - NZ425583 Sgt. T.A. Albrey, A.G. - C6555 P.O. J.C. Allen, all were members of No.16 Course. 10-August-1943: Two aircraft and two marine craft searched for FN973 without results, and a further search was organized to commence at first light on the 11th. 11-August-1843: Search for FN973 was continued with nine aircraft from Pennfield, 8 from Summerside, 9 from Moncton, 72 from Yarmouth, 8 from Debert, 9 from Darmouth, 1 from Saint John and 4 from Bar Harbour. The following marine craft also searched:- Pennfield Crash Boat, 1 Coastguard Cutter from Bar Harbour and 1 Navy Patrol Boat and 1 Coastguard Cutter from Eastport. Wreckage from FN973 was found by the Pennfield Crash Boat, M413 south of the Wolves. 12-August-1943: The body of P.O. R.A. Ledingham, Navigator of FN973 was picked up by fisherman, south of the Wolves and was brought into Black's Harbour by our crash boat. 14-August-1943: F.O. K.M. MacMillan left on temporary duty, escorting the body of P.O. R.A. Ledingham, to Moose Jaw, Sask. SOURCE: No.34 OTU Daily Dairy/ Library and Archives Canada/ Copy Number C-12364
Ledingham's body was the only one recovered and he was buried in the Moose Jaw Cemetery. Albrey and Laws names also appear on the Ottawa Memorial.
Ruby was the sole beneficiary. (Joseph had 6x$100 Victory Bonds. He also had $1100 in life insurance.). They were residing in Edmonton at 8921 – 80 Avenue. His net worth was "small" and his gross annual income: $2000. By 1954, she resided in Prince Rupert, BC, in 1964, she was in Campbell River, and at the time of her death in 1978 she was living in Vancouver.
In March 1950, a newspaper article indicated that a memorial plaque for nine members of the Law Society of Alberta who died in WWII was unveiled at courthouses in Calgary and Edmonton, including Joseph.
In late October 1955, Ruby received a letter from W/C W. R. Gunn, RCAF Casualties Officer for Chief of the Air Staff, informing her that since Joseph had no known grave, his name would appear on the Ottawa Memorial.
LINKS: