Jonathan Charles Slater R128695
April 11, 1907 - July 24, 1943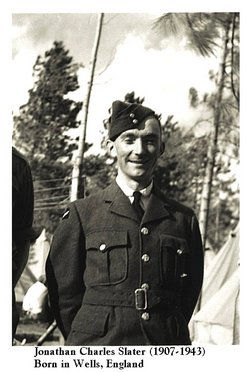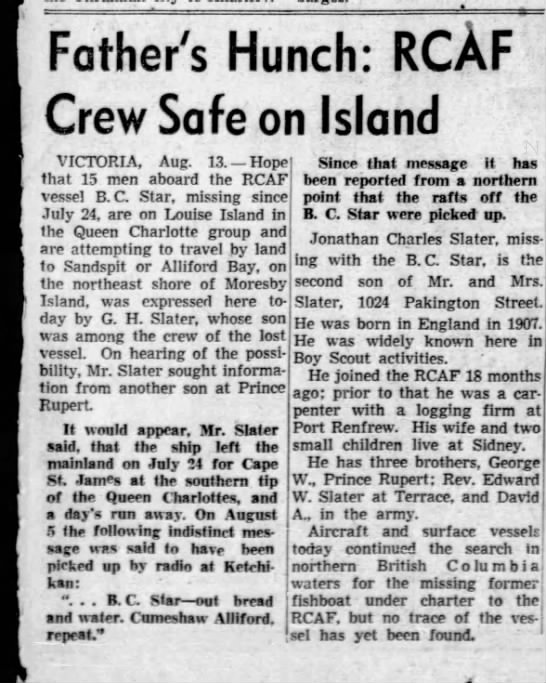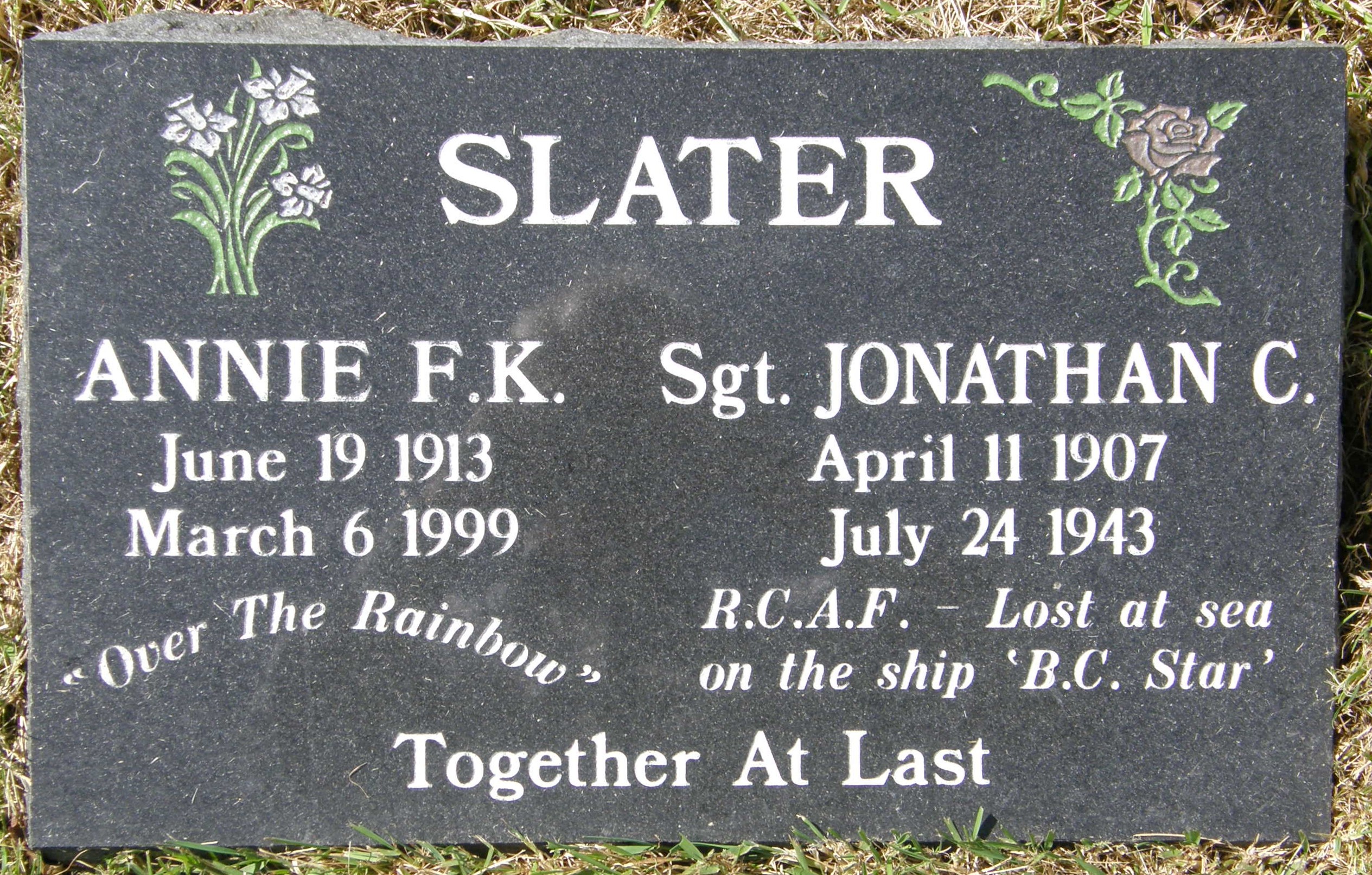 Married with two children, enlisted with RCAF as carpenter. Died as passenger aboard the BC Star.
Jonathan Charles Slater, born in Wells Somerset, England, was the son of George Hollis Slater (1876-1961), retired farmer, and Catherine Hill (Wickham) Slater (1872-1965). He had three brothers: George, Edward, and David. The family lived in England, then immigrated to Canada, settling in Alberta, then in British Columbia. The family was Anglican.
The majority of his education was had in Alberta. He attended Victoria High School from 1926-1930, night school, studying architectural drawing.
Jonathan was known as Jonty.
He enjoyed collecting stamps, swam, played some tennis and was very involved in the Boy Scouts.
He was the husband of Annie Florence Kate (nee Bosher) Slater (1913-1999). They were married on October 3, 1937 in Sidney, British Columbia by Reverend Cecil S. Quainton. They had two children: Catherine Anne, born 1939 and Jonathan Ernest, born 1941. Annie was the beneficiary of his estate, having joint accounts at the Bank of Montreal and Huron Erie Trust Co., $150 in the safety deposit box. Jonty had four life insurance policies with Annie as the beneficiary to three valued at $3128. His mother was the beneficiary of one worth $1000. Their home and lot on Shore Acre Road in Sidney, BC was worth $1,300.
In August 1941, Jonty enlisted in the RCAF. He had been working as a cabinet maker/carpenter/joiner prior with the Department of National Defence, Patricia Bay, hoping to return to this trade after the war. His previous military experience was with the 11th Bn. CMGC, "A" Coy, Victoria in 1926 and the 2nd BN (MG) Canadian Scottish Regiment in 1937.
The RCAF tested Jonty in the trade of carpenter. "Highly recommended, 16 years carpentry experience."
Jonty wore glasses for reading. He had fractured his left humerus in February 1921, and healed well. He stood 5'5" and weighed 131 pounds. He had hazel eyes and brown hair, with a dark complexion. A small scar was noted on his left thumb.
Jonty traveled east to Toronto to No. 1 Manning Dept from August 30 to November 24, 1941, then was with attached to the CWAAF in Toronto, and then attached to No. 6 Maintenance Depot (Repair Depot), Toronto in June 1942 before returning to Vancouver attached to the Work Construction Unit, then the Construction Maintenance Unit. He was in the station hospital from August 1 -13, 1942 in Toronto.
He was up at Alliford Bay and at Prince Rupert, then at No. 9 CMU Sandspit by April 1943, where he received an above average rating on his dress and personal appearance on duty, with an average off duty. His deportment was also rated as average. He earned an 82.7% overall in his tests to be promoted to Sergeant from Corporal. "Experience of 10 years in army. Requires refresher course only."
Sergeant Slater was a passenger aboard the BC Star, an RCAF supply ship on his way to Cape St. James; on July 24, 1943, the ship sunk. Life rafts were the only wreckage found. Theories as to the cause of the sinking of the BC Star included the ship was overloaded, it was torpedoed by a Japanese submarine, or it hit a mine. Please see links below for more information.
In March 1944, Annie Slater received a letter from S/L W. R. Gunn informing her that her husband was now, for official purposes, presumed to have died on active service on July 24, 1943. In October 1955, she received a letter from W/C Gunn telling her that since Jonathan had no known grave, his name would appear on the Ottawa Memorial.
In 1969, son Jonathan Ernest Slater earned a scholarship in mechanical engineering in 1963 and then was granted a Doctor of Philosophy from UBC. Daughter, Catherine Anne Slater won a $100 bursary when she was in high school in 1956.
LINKS: