John Walter Wood J29175
December 9, 1916 - October 17, 1944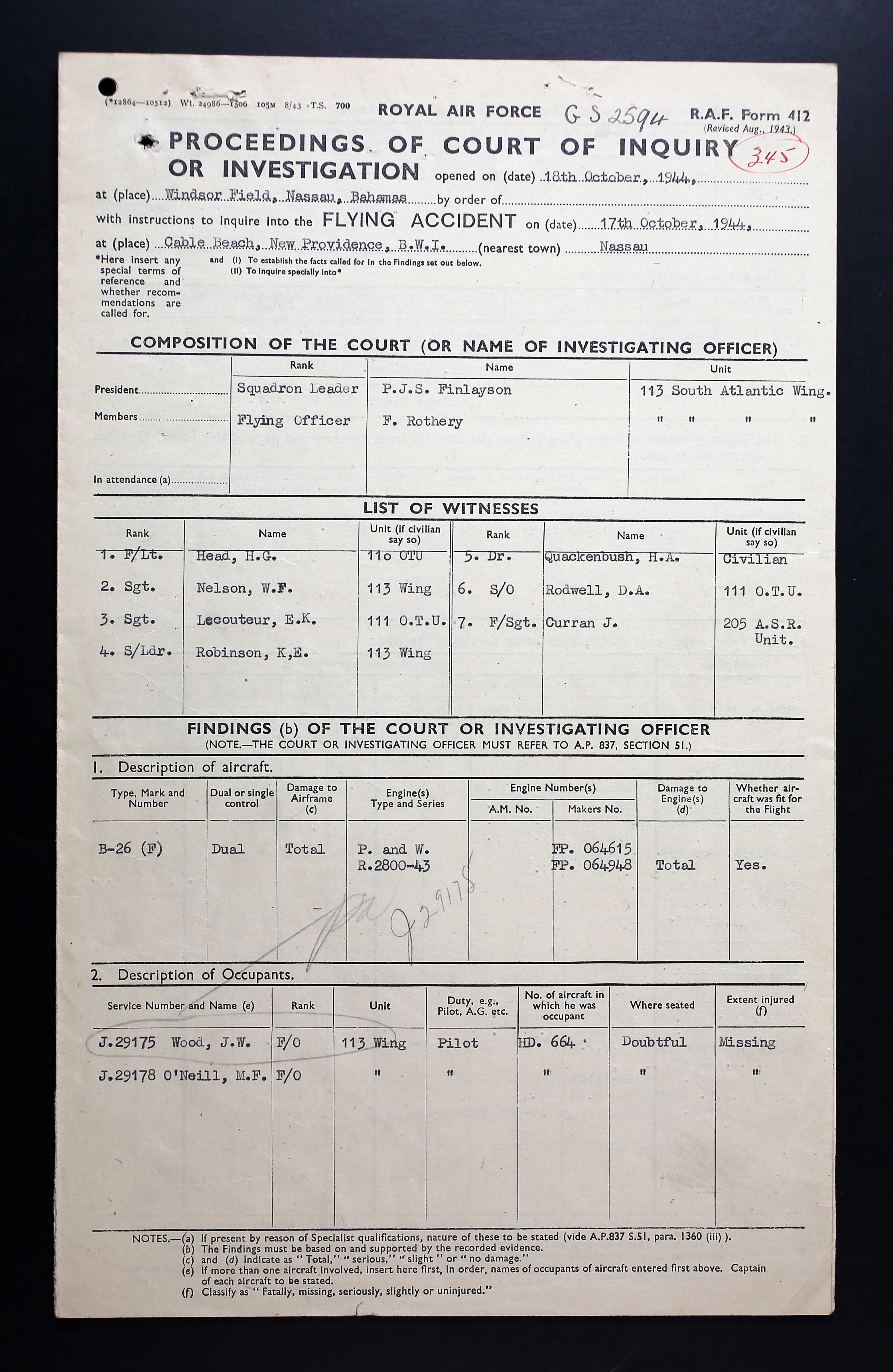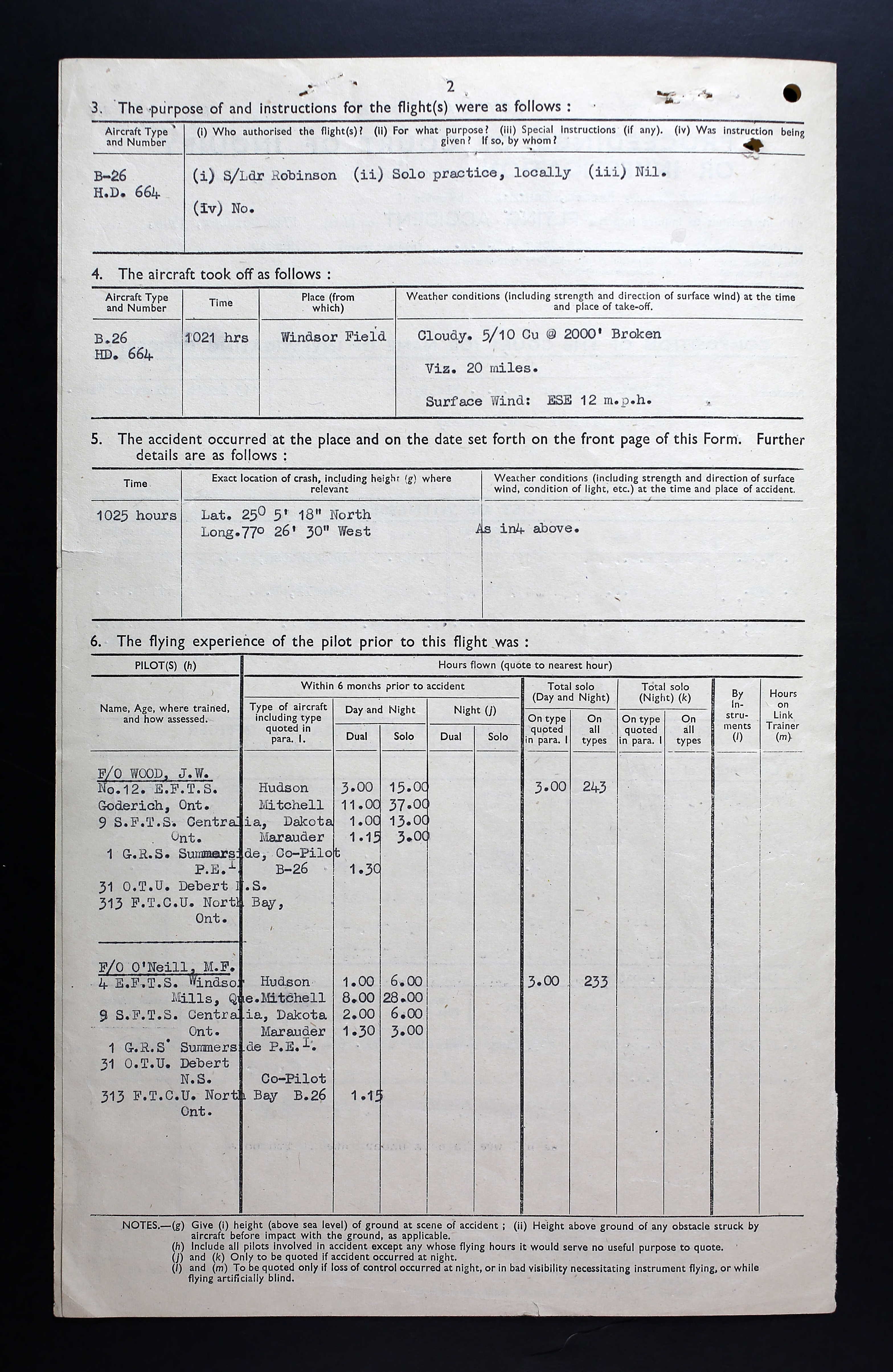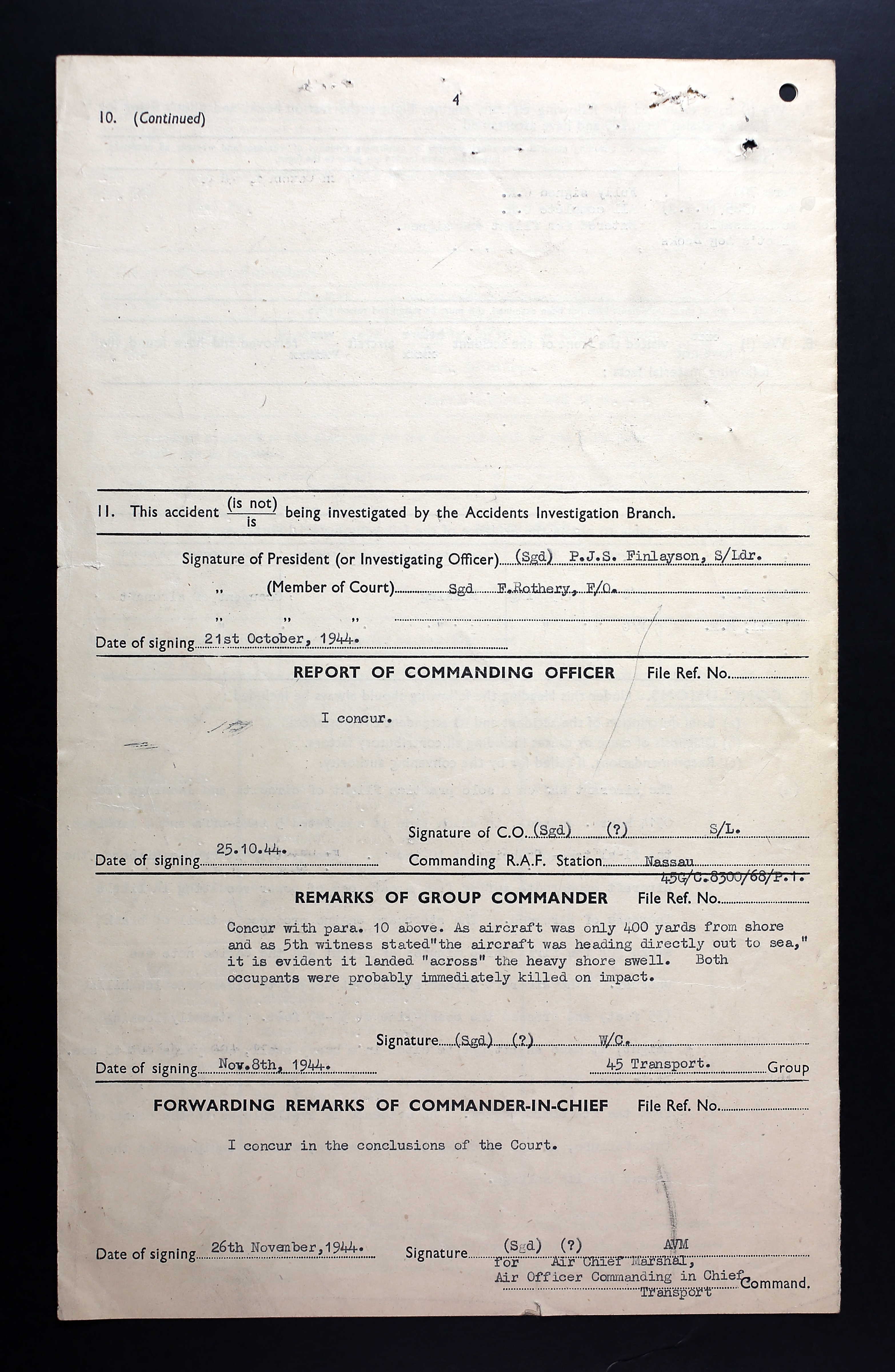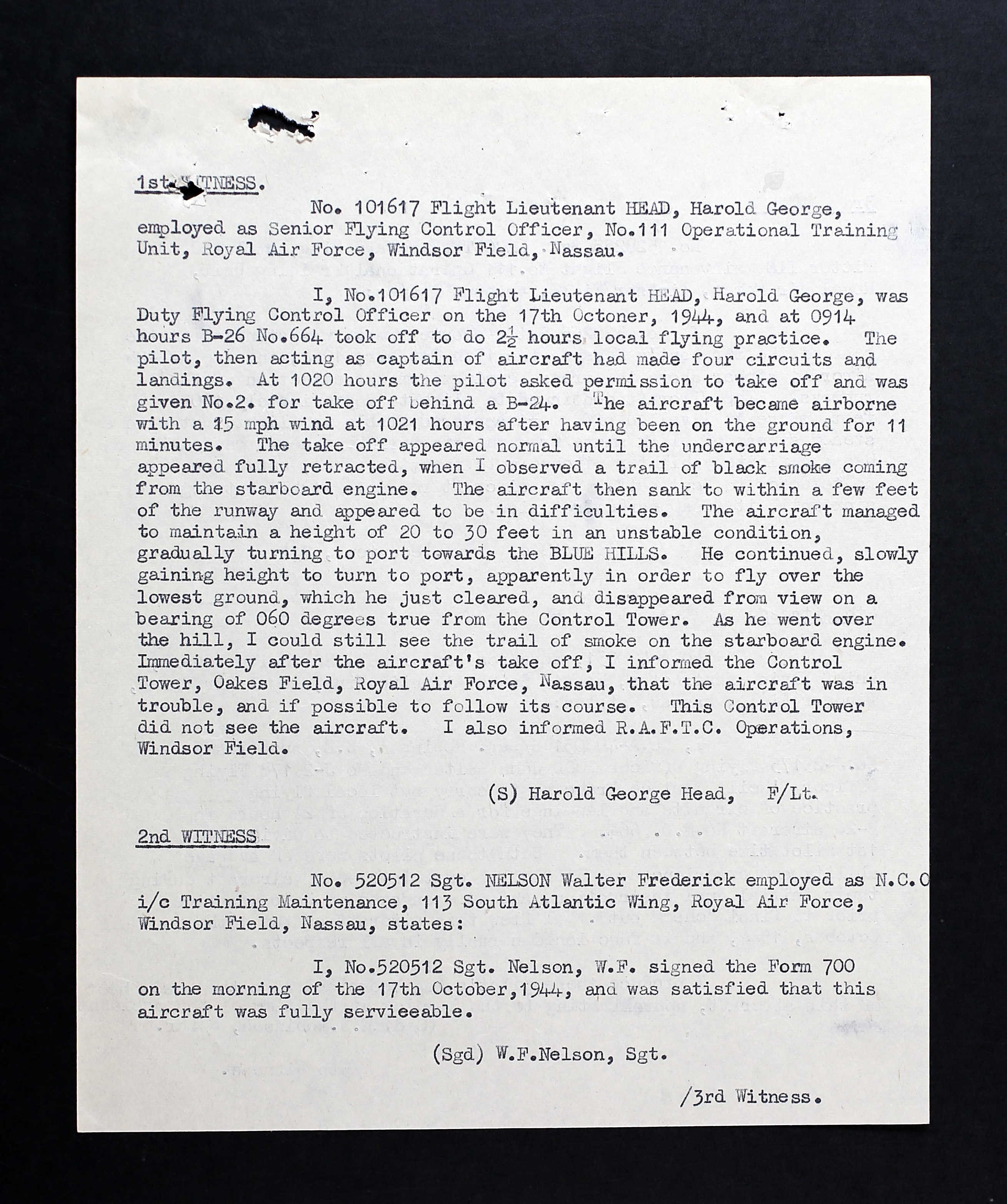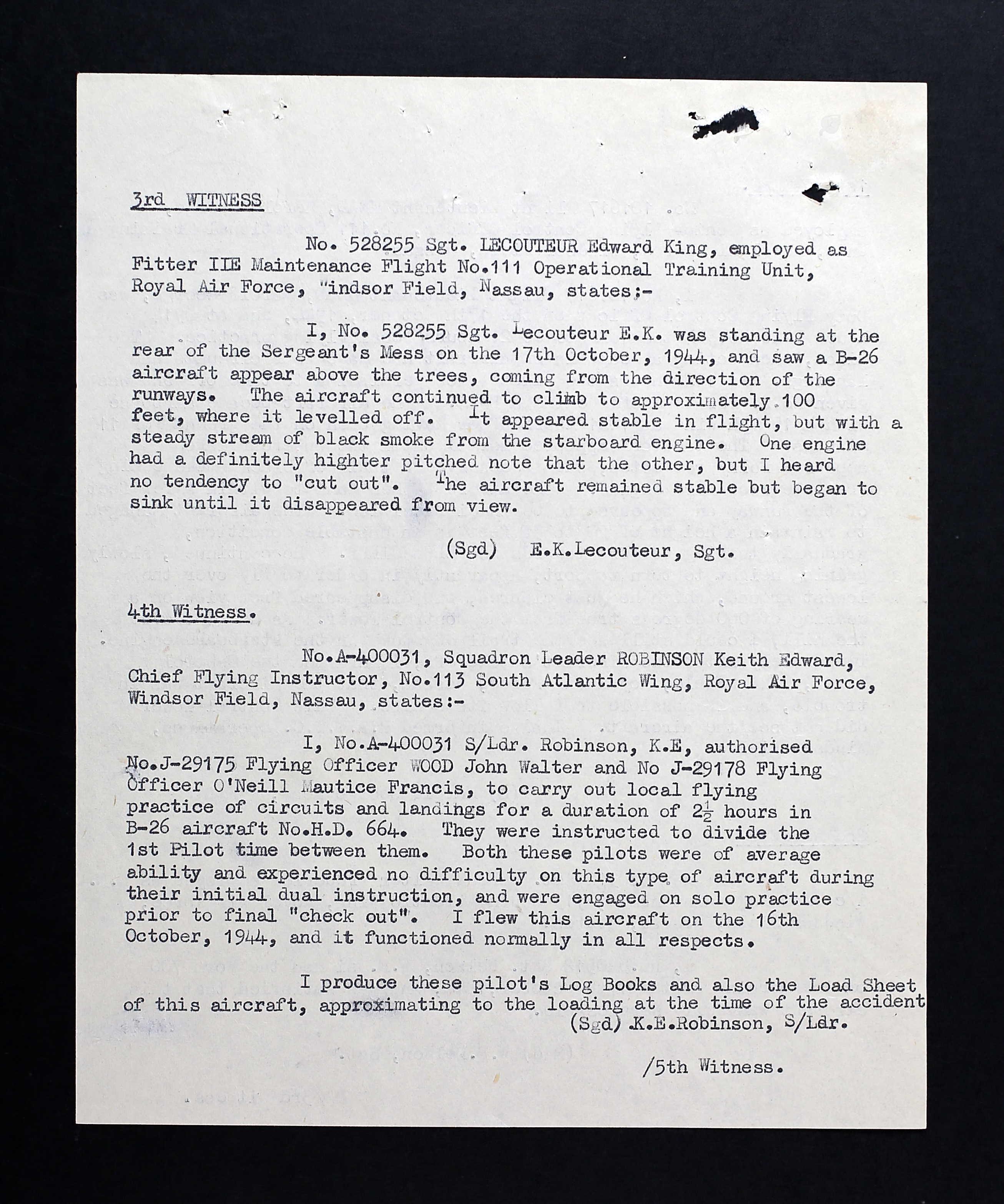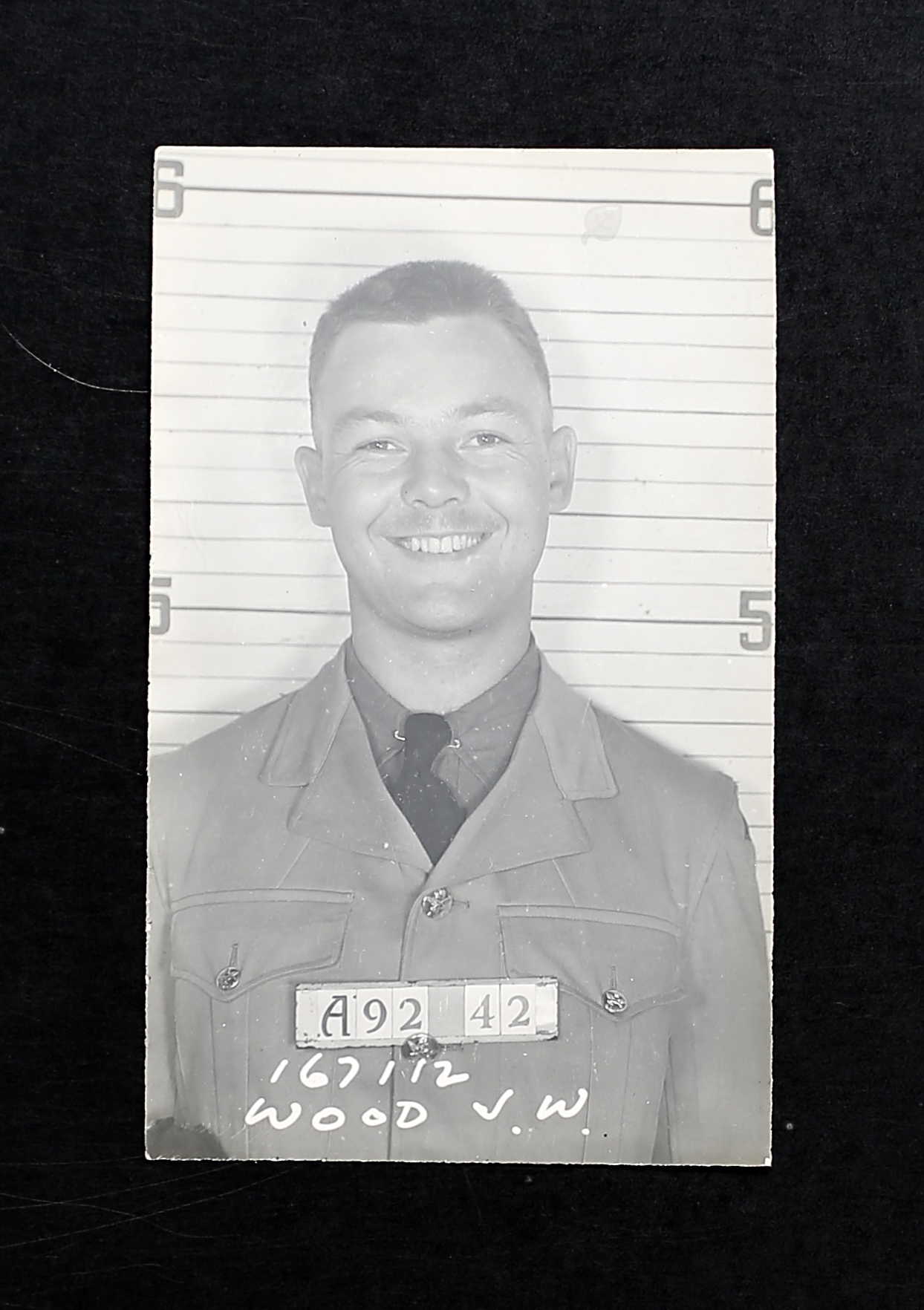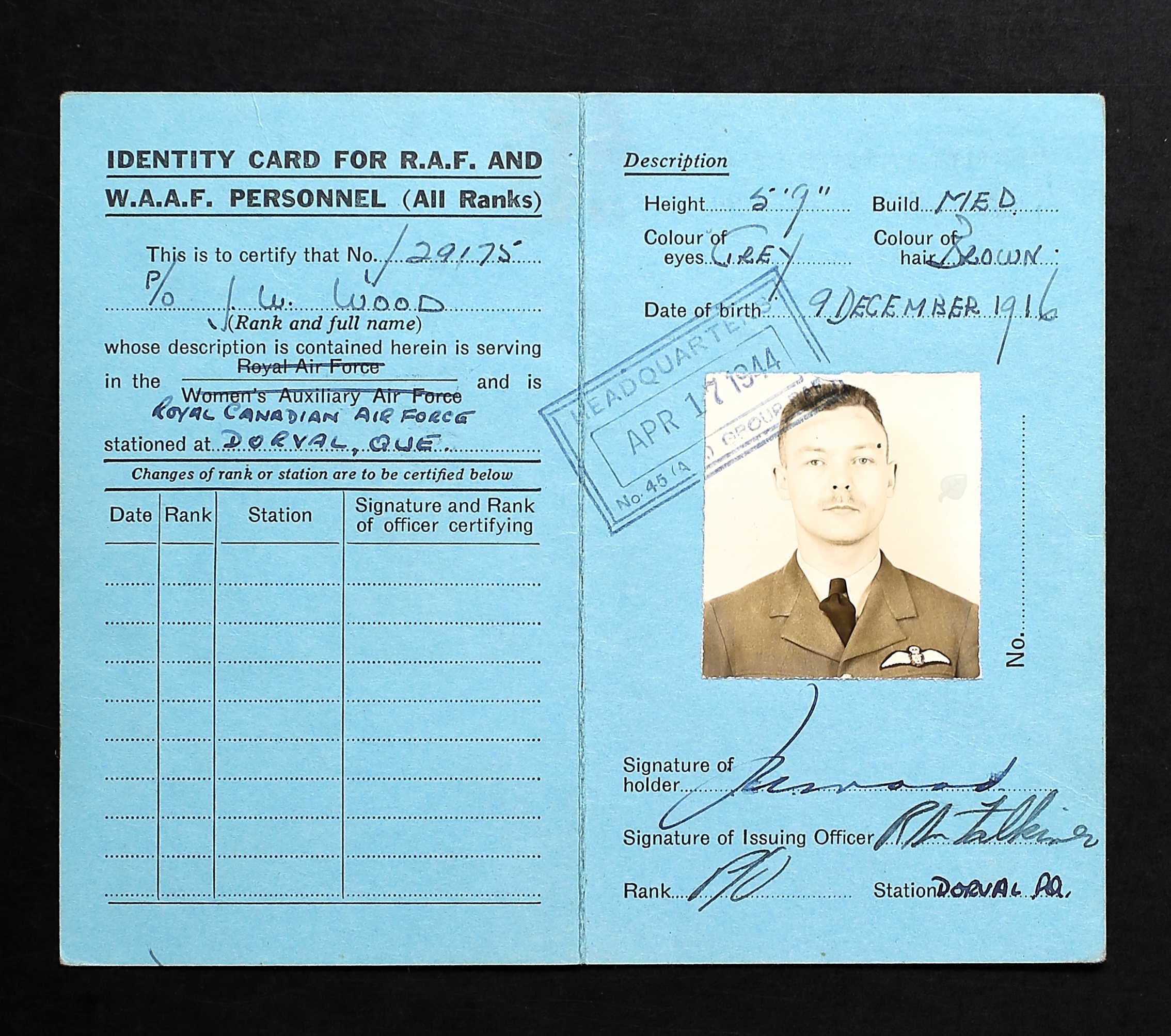 Dress buyer for Robt Simpson Co. joined RCAF and became pilot. During a routine practice flight in the Bahamas, he and Maurice Francis O'Neill crashed in Marauder HD664. Wreckage found, but no sign of the crew. Both men trained together since SFTS.
John Walter Wood was the son of Walter Wood (1886-1950), office manager, collector, and Elsie (nee Wilde) Wood (1892-1983) of Toronto. He had one sister, Kathleen Wood. They attended the Church of England.
He was an assistant manager and dress buyer for Robt Simpson Co., prior to his enlistment with the RCAF. On his interview report: "Medium height, heavy set, neat, clean, good appearance, pleasant personality. Confident, sincere, keen, Sr. Matric 1935, engages in swimming and bowling moderately, has been driving cars five years; average family background; employed continuously since leaving school in Department Store, being promoted to Asst buyer. Organized, stable, mannerly, courageous, good aircrew material." He had previous military experience: OTC, Hamilton, Ontario, as a cadet from 1932-1933.
He had grey eyes and brown hair. He stood 5'9" tall and weighed 155 pounds. He smoked a pipe moderately and drank beer occasionally. John liked a variety of sports and gardening. A brown mole (3m) middle medial border right scapula was noted. April 27, 1942: "Incomplete physical examination. Coryza, impacted wax right ear external canal – tendency to faint on ear examination; UNFIT; to recover from Coryza, to have wax removed from right ear canal and return." On November 6, 1942, John did return and was seen as a "good physical specimen, physically fit. Alert, keen individual, motivation obscure, but eager to learn. Reactions good, intelligence good. Wants pilot." His night vision was above average.
John married Grace Edwina Ruth Moffatt in Etobicoke, Ontario on September 6, 1941. They had a son, John Walter Wood, Jr., born January 12, 1944, and they resided in Toronto.
At No. 6 ITS, Toronto, he was 20th out of 122 in his class with 87%. "Excellent type of young man. Does everything well. Good motivation. Well-liked. Confident and cheerful. Second aircrew recommendation: navigator." At No. 12 EFTS, Goderich, Ontario, he was 4th out of 34 in his class with 85.6%. "A very keen and intelligent student, aggressive and confident. Had tried hard from the start and should develop into a good service pilot. Instruments average. Slow grasping aerobatics and weak on landings at first."
On August 6, 1943 at No. 9 SFTS, Centralia, John earned 87.5% in ground examinations and 73.3% in flying tests. "Extremely conscientious; high average flying ability; good knowledge of flying; make good service instructor."
Maurice Francis O'Neill graduated with John from Centralia, and they continued on together through No. 1 GRS, 31 O.T.U., and No. 313 FTU, North Bay, Ontario before heading down to the Bahamas.
At GRS: 6th out of 20 in class. "Shows great determination. Has good qualities of leadership. Above average air navigator." He was recommended for flying boats or land based GR. "Very good work in the air. A well-mannered young officer with a pleasing personality. Should be very popular on a Squadron."
According to the book They Shall Not Grow Old: "No. 113 Wing, Nassau, Bahamas. F/O O'Neill and F/O J. W. Wood were engaged in practice circuits and landings and had the starboard engine fail after take-off. They were both killed when their Marauder aircraft failed to maintain height and crashed into the sea 400 yards offshore. Flying Officer O'Neill has no known grave, and his name is inscribed on the Ottawa Memorial, Ottawa, Ontario." They were aboard Marauder III HD664. See Court of Inquiry documents for more details as well as O'Neill's story.
In a letter dated October 18, 1944: "F/O Wood was Pilot and F/O O'Neill was Co-Pilot on Marauder HD664 which was scheduled to make circuits and landings on the 17th of October 1944. According to the report so far received it was noticed immediately after the aircraft took off that the starboard engine was running badly; the aircraft failed to maintain height and crashed in to the see about four hundred yards off short. Neither the aircraft nor the bodies of the occupants have yet been recovered. Telegraphs were sent on 17th October 1944…and letters have been sent to all three persons mentioned." Wood was married. In a letter dated October 24, 1944, the families learned that the accident occurred at 10:30 in the morning. "Your son was the pilot of an aircraft on a normal training flight and just after take-off, the aircraft was noticed to be in difficulties. It crashed shortly afterwards in the sea about ¼ mile from shore, but although rescue craft were on the scene extremely quickly, it is deeply regretted that there was no trace of any survivors, and it is believed that both members of the crew must have been killed instantaneously. The cause of the accident is not known. Every endeavour has been and is still being made to recover the body of your son, but rough seas have hindered this task. If successful, your son will be buried in the RAF Cemetery, Nassau, receiving full-Service honours. If unsuccessful, it is proposed to hold a memorial service at sea at the place where the aircraft disappeared. In either event, a full description of the ceremony, together with photographs, will be forwarded to you."
In a later memo: "Further…examination made by divers still no trace of bodies aircraft completely wrecked and now disintegrated by rough seas nothing worth salvaging."
LINKS: