John Edward Whelan R115316
September 16, 1918 - May 17, 1943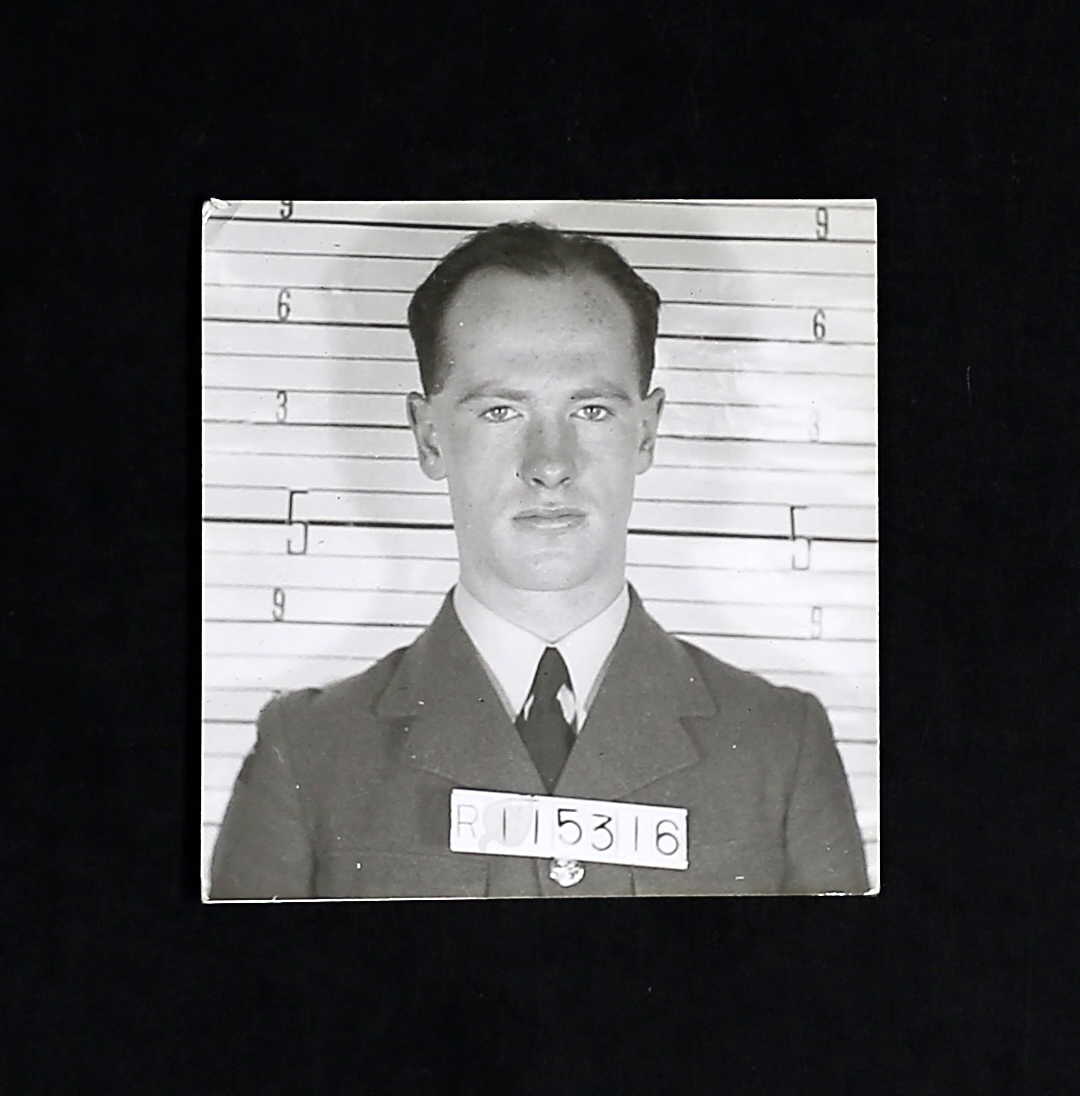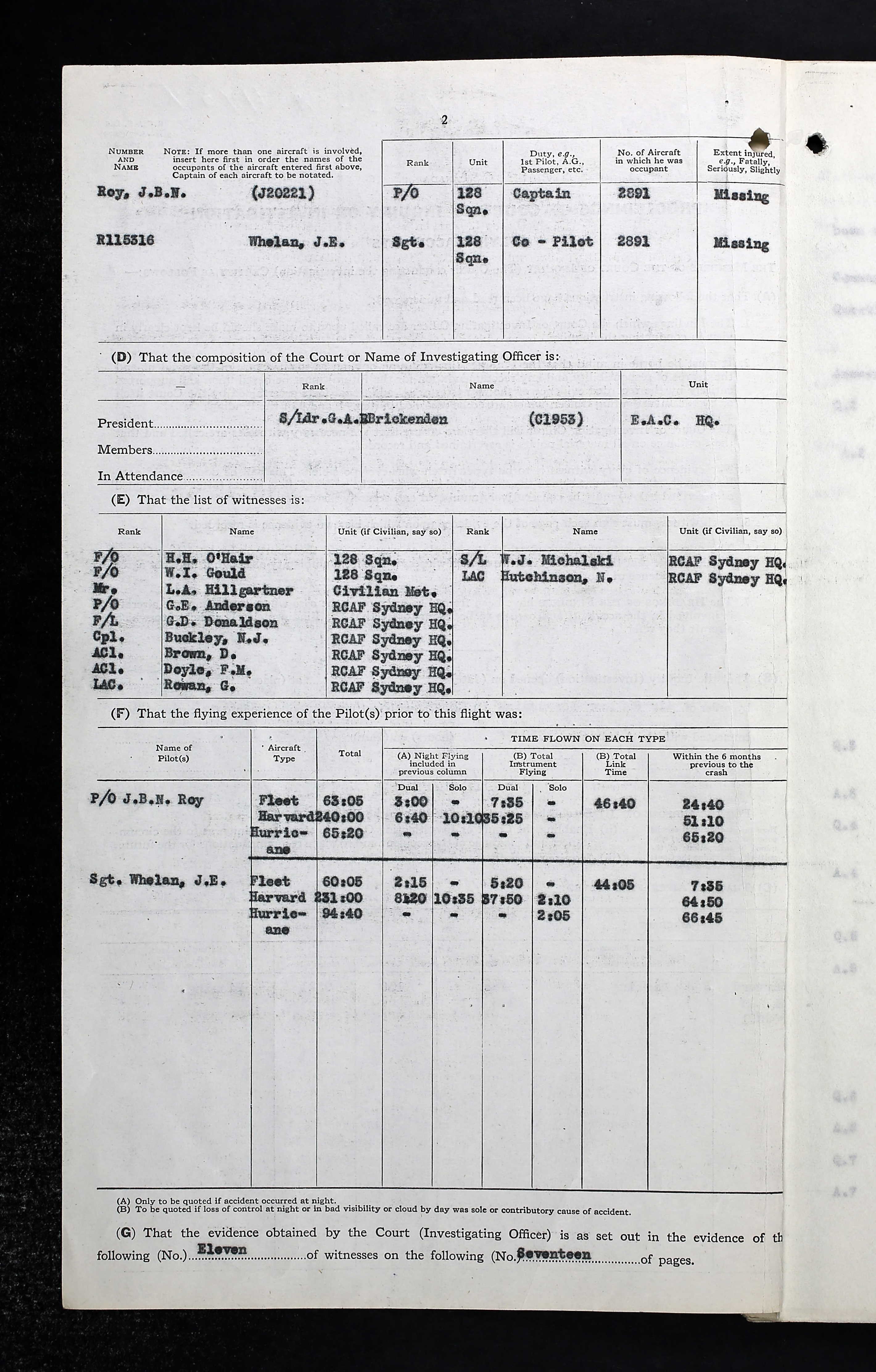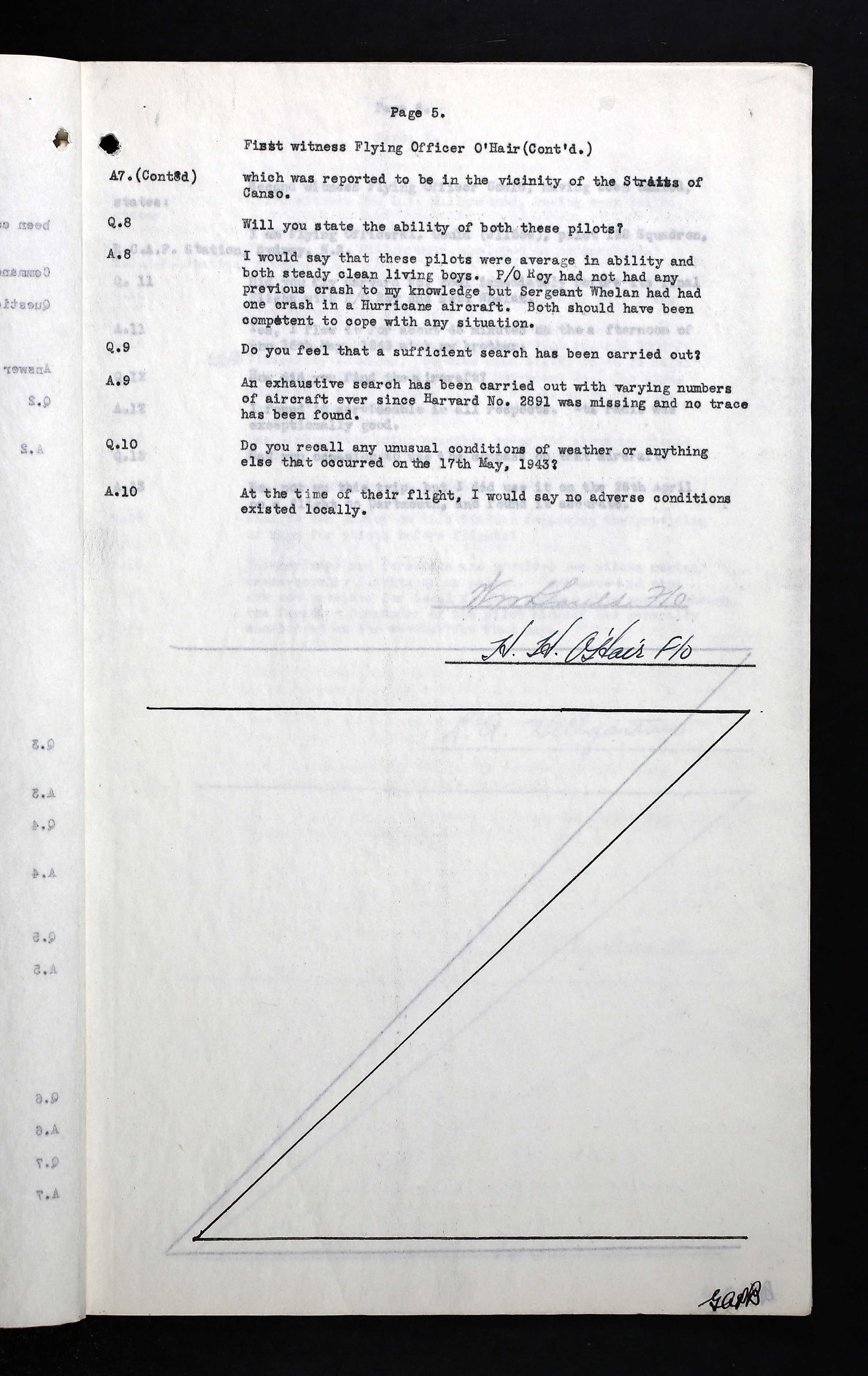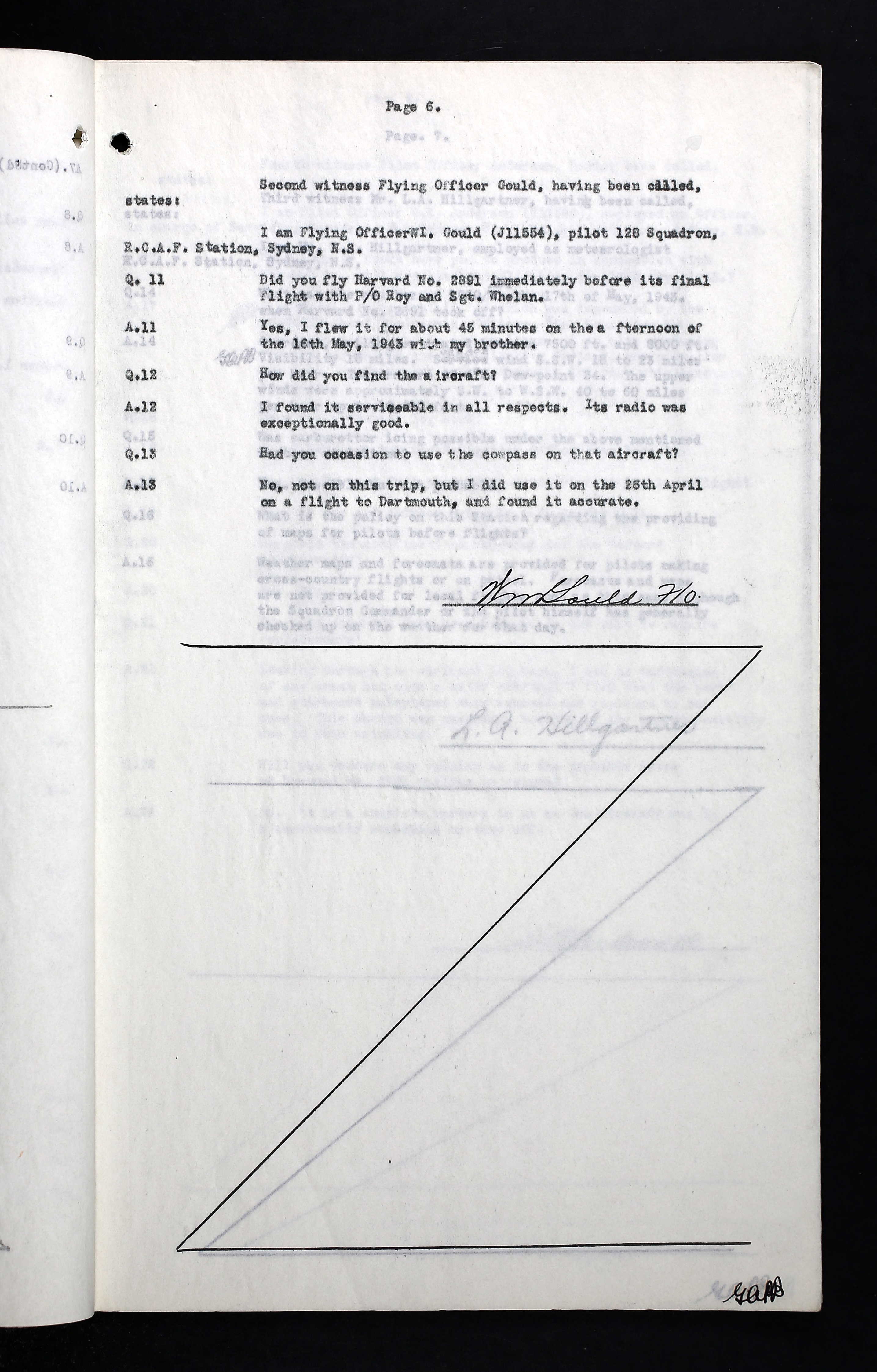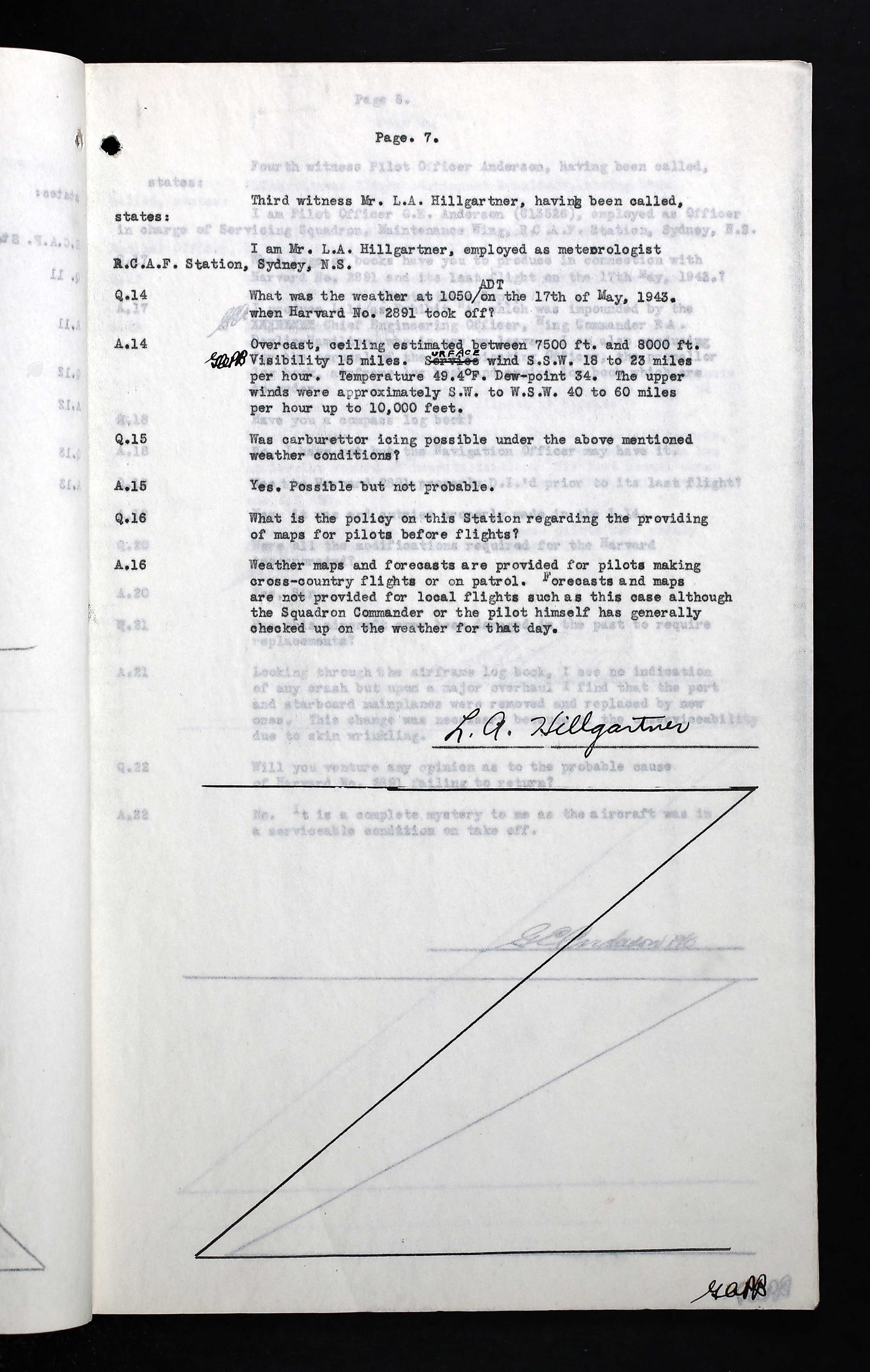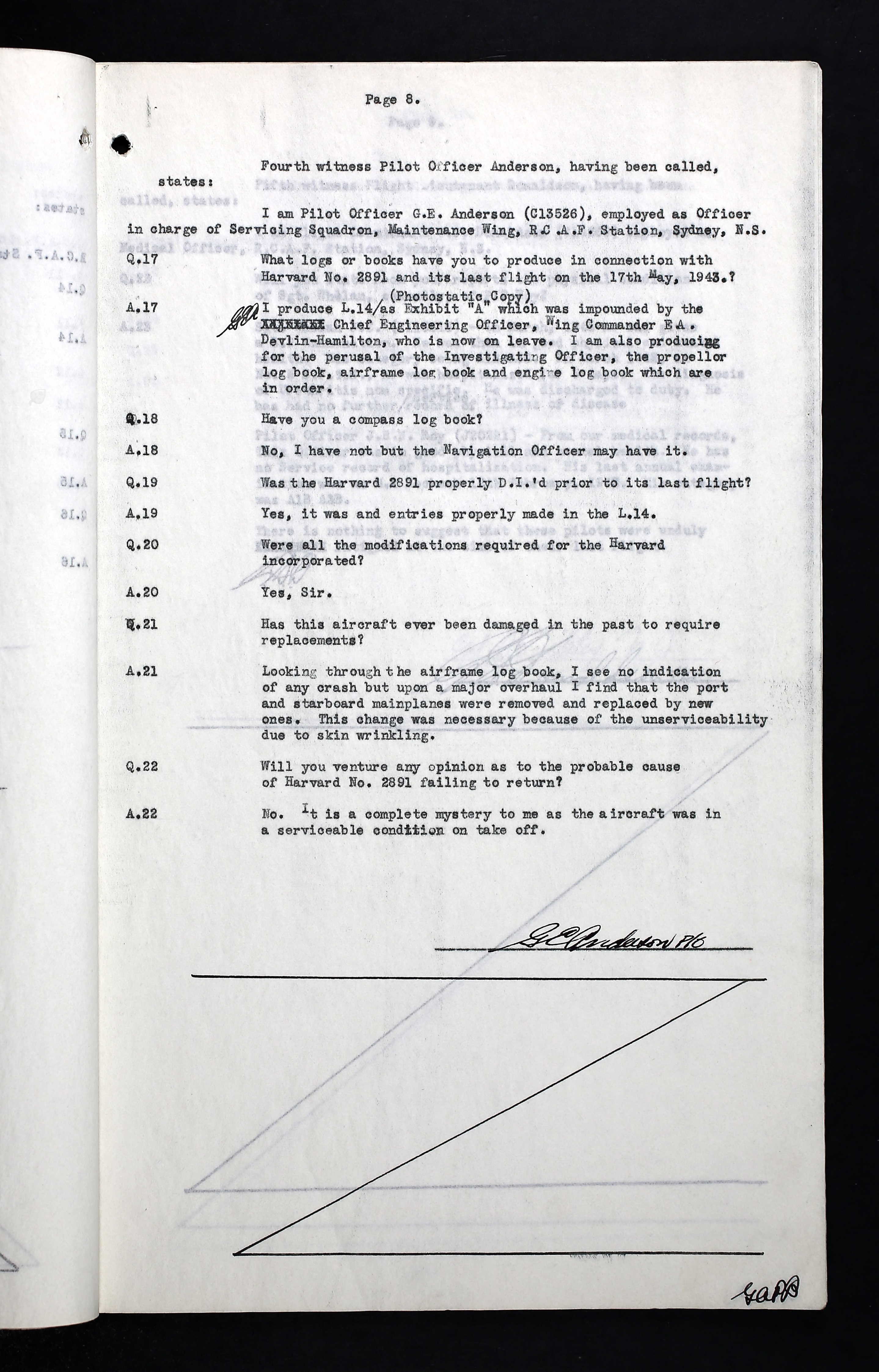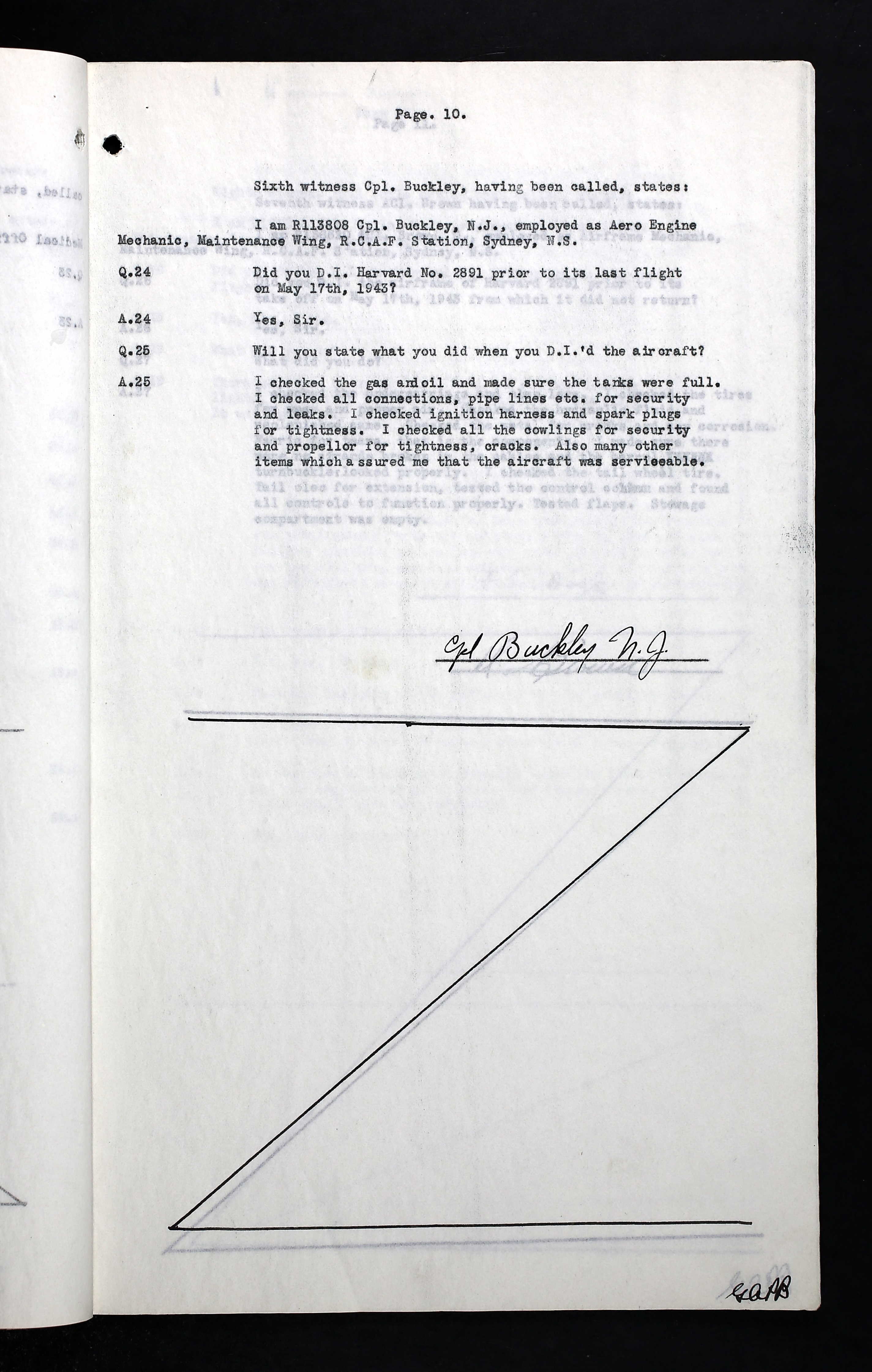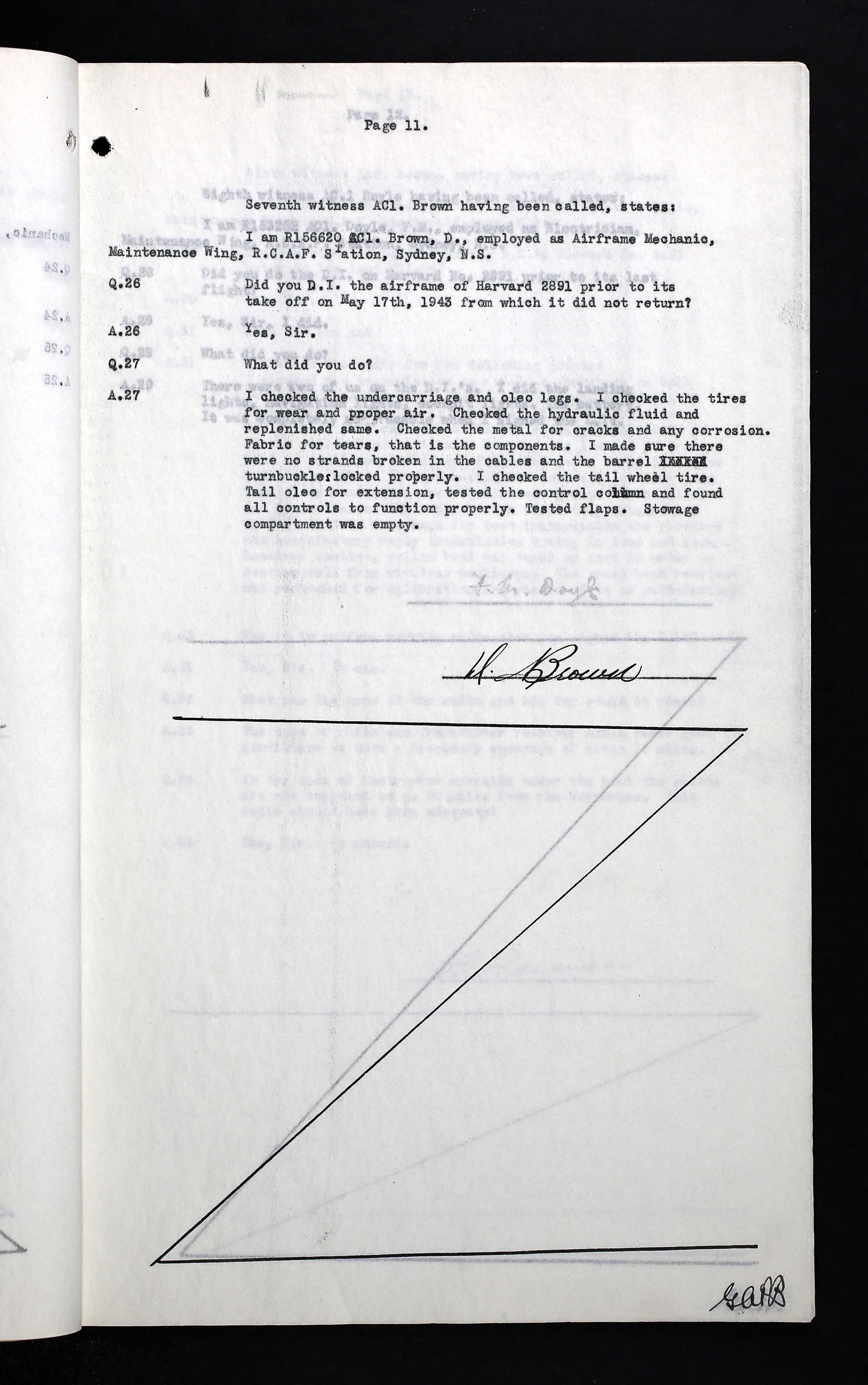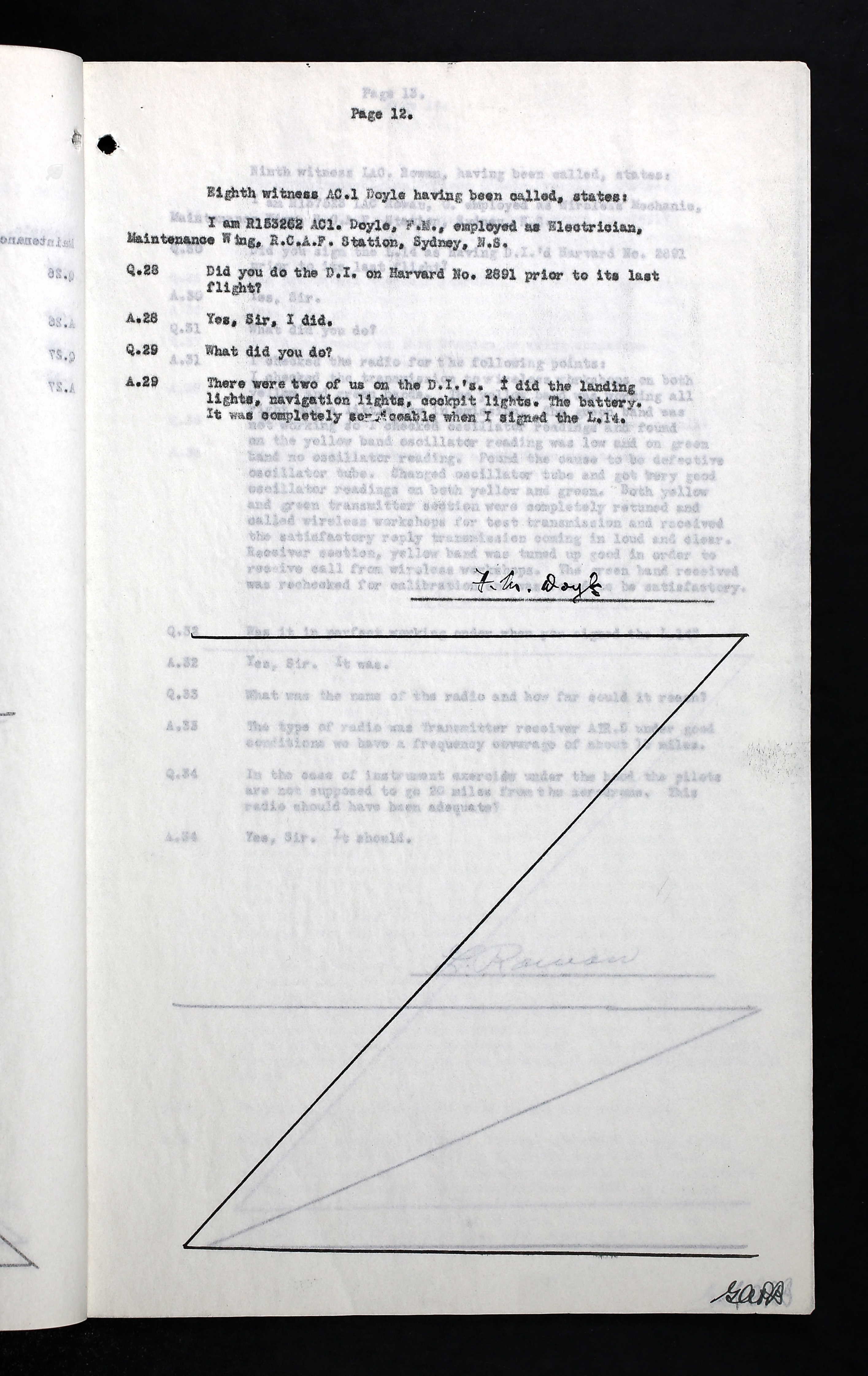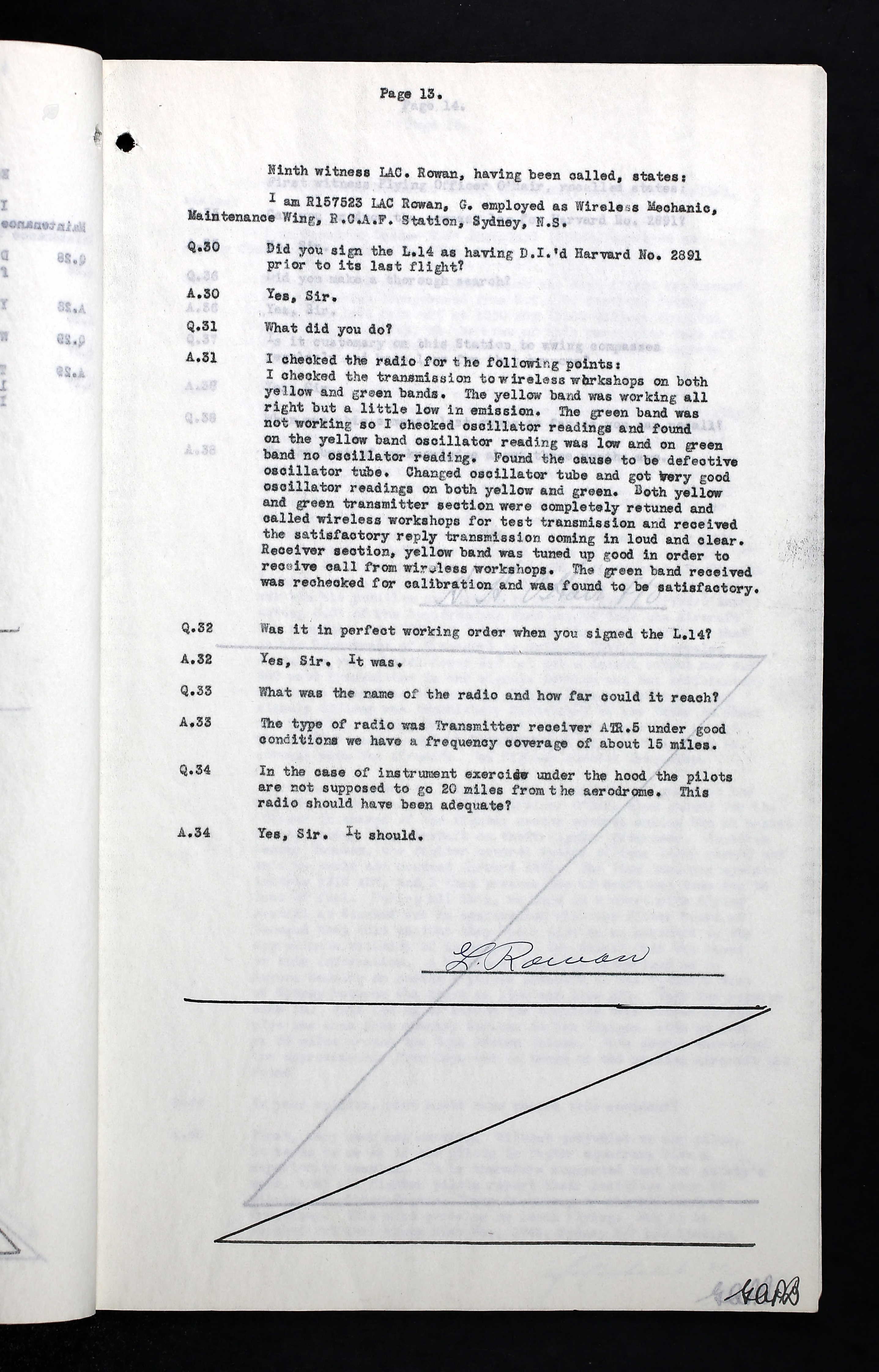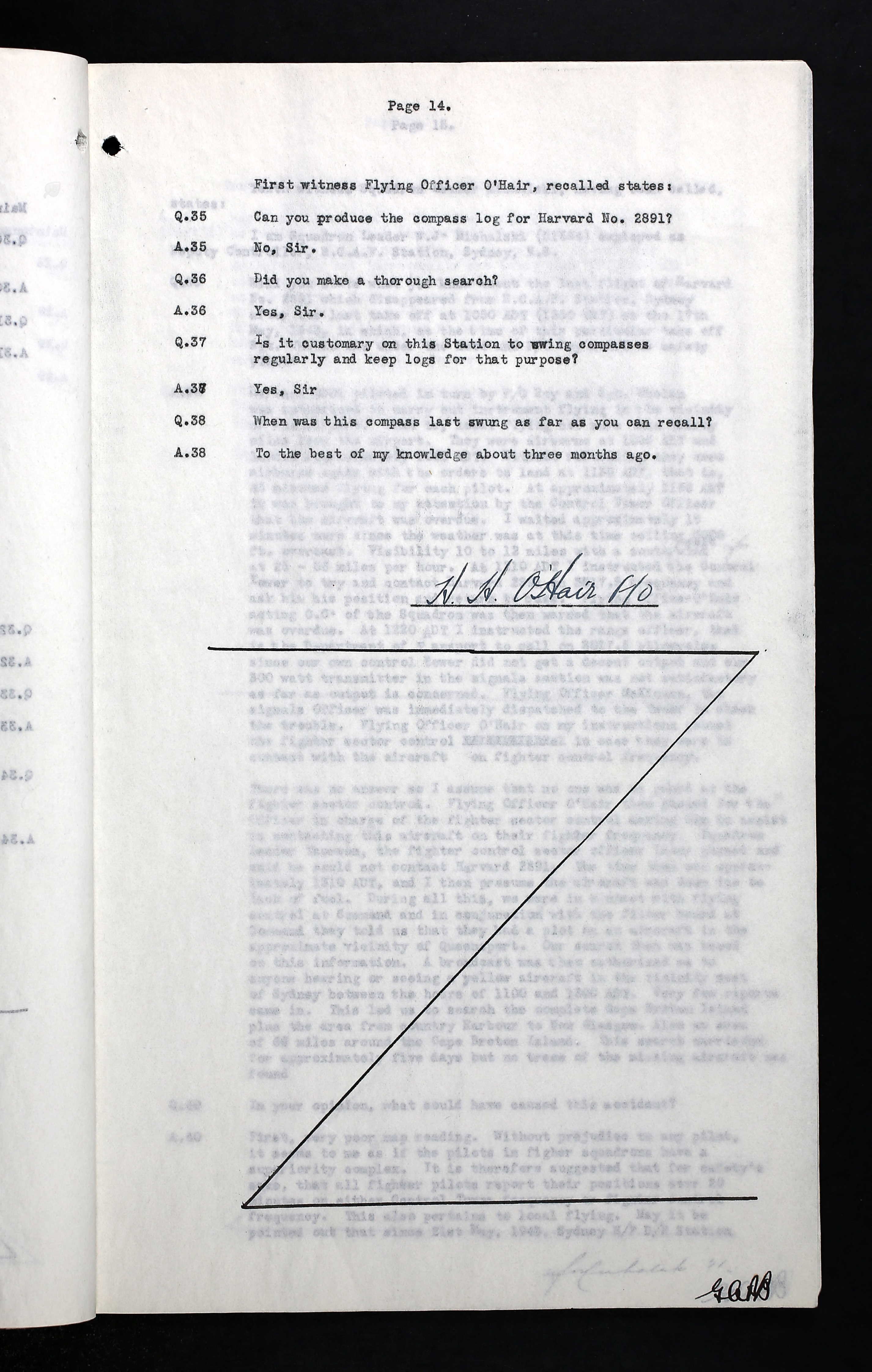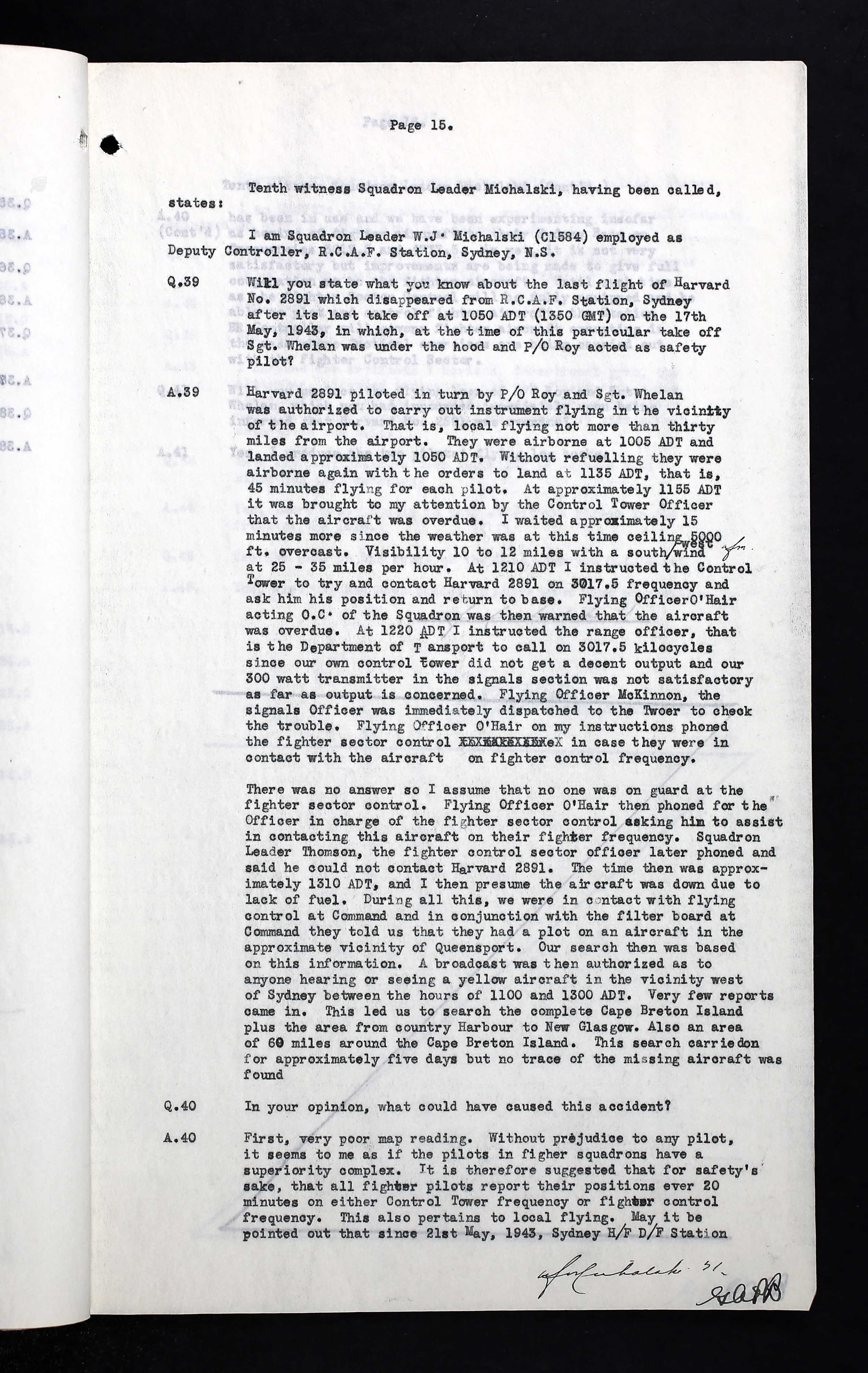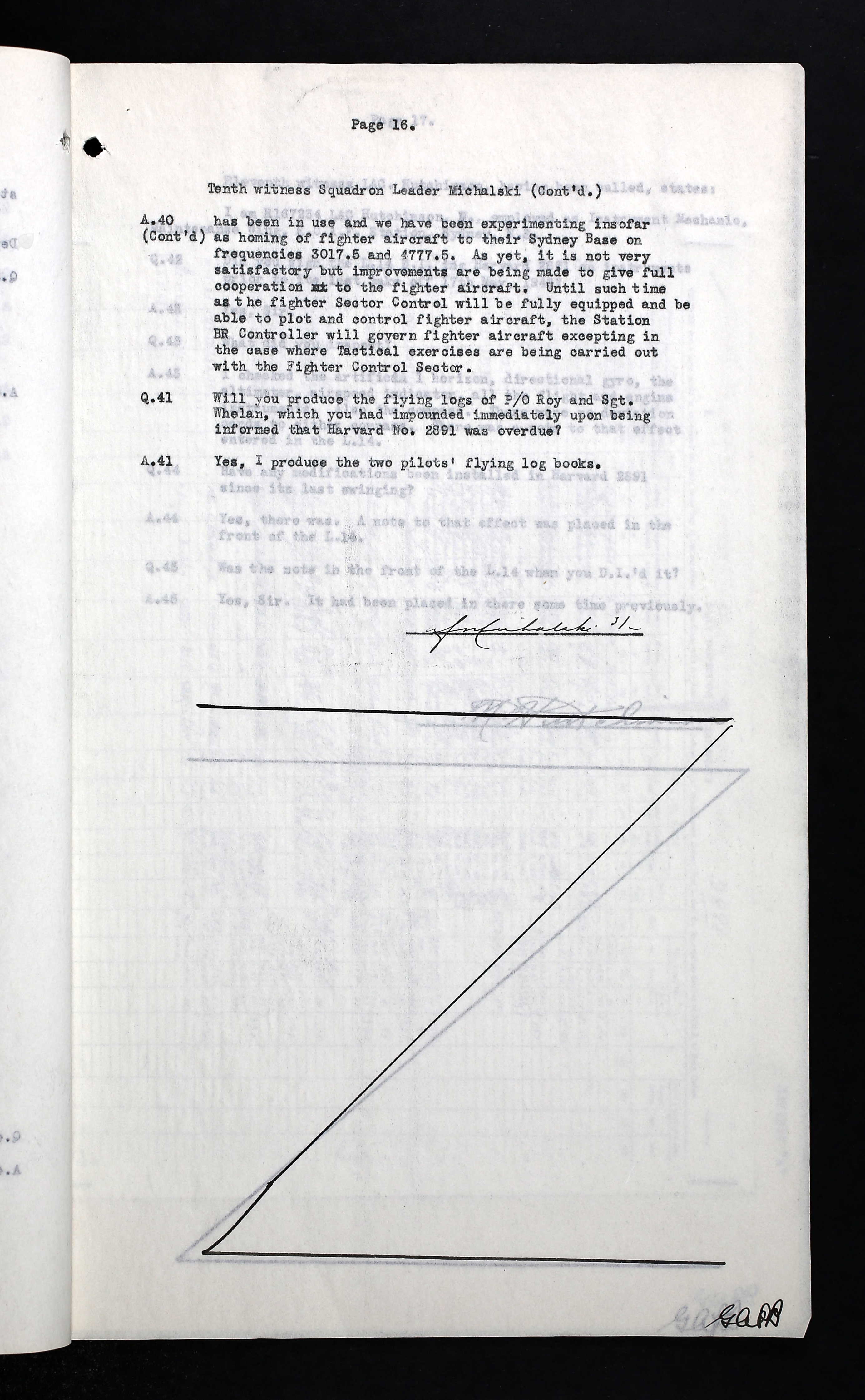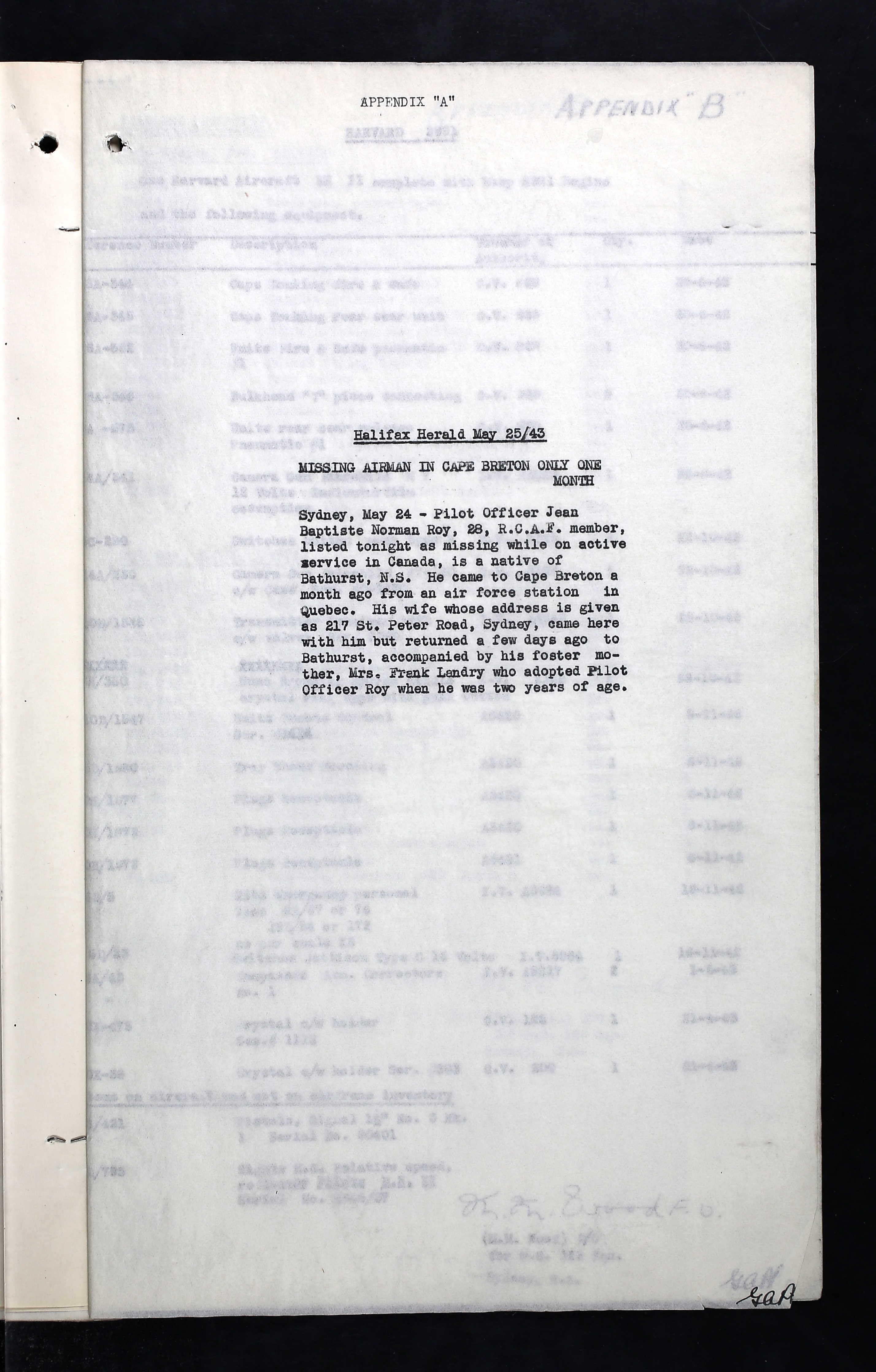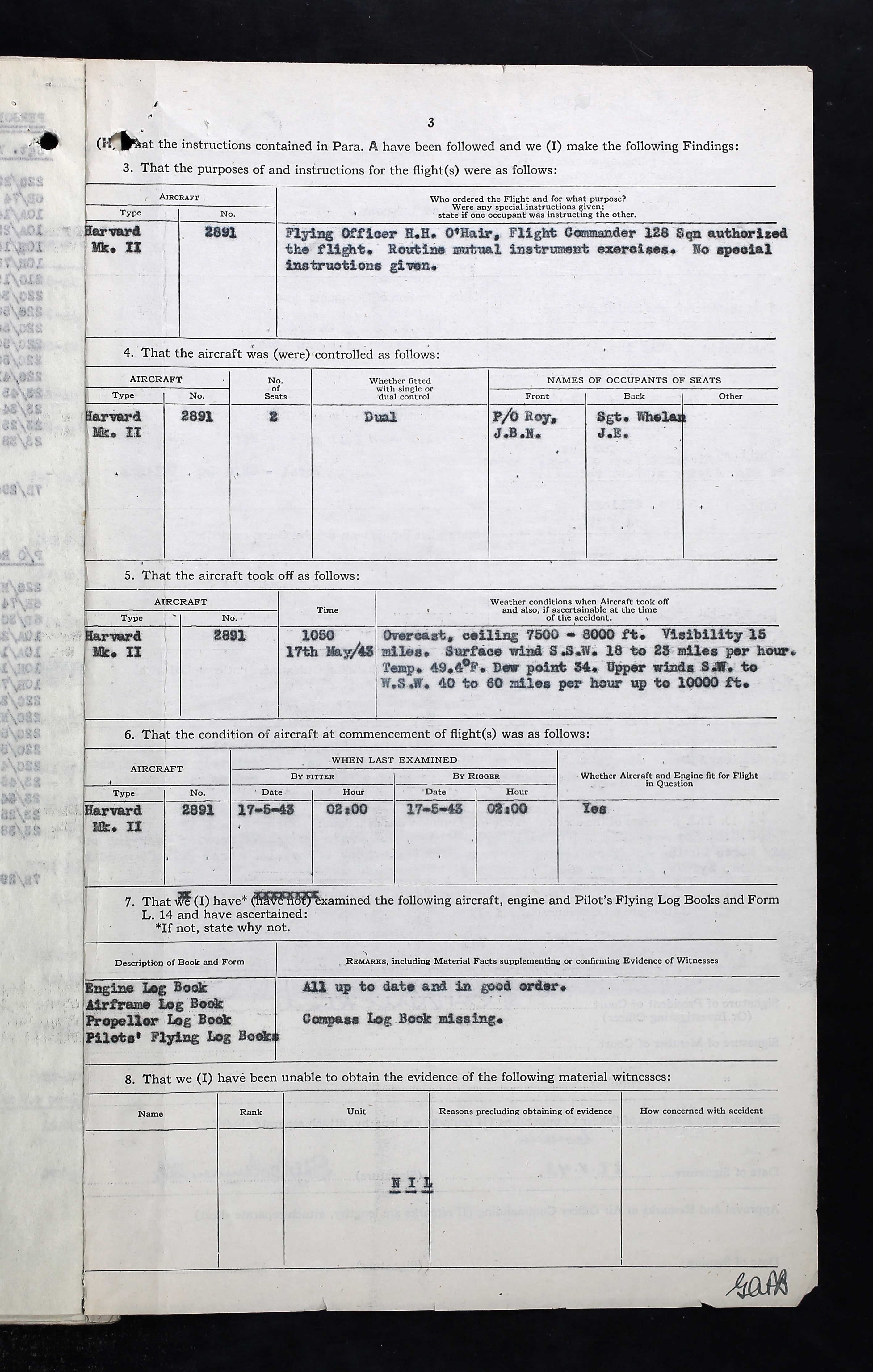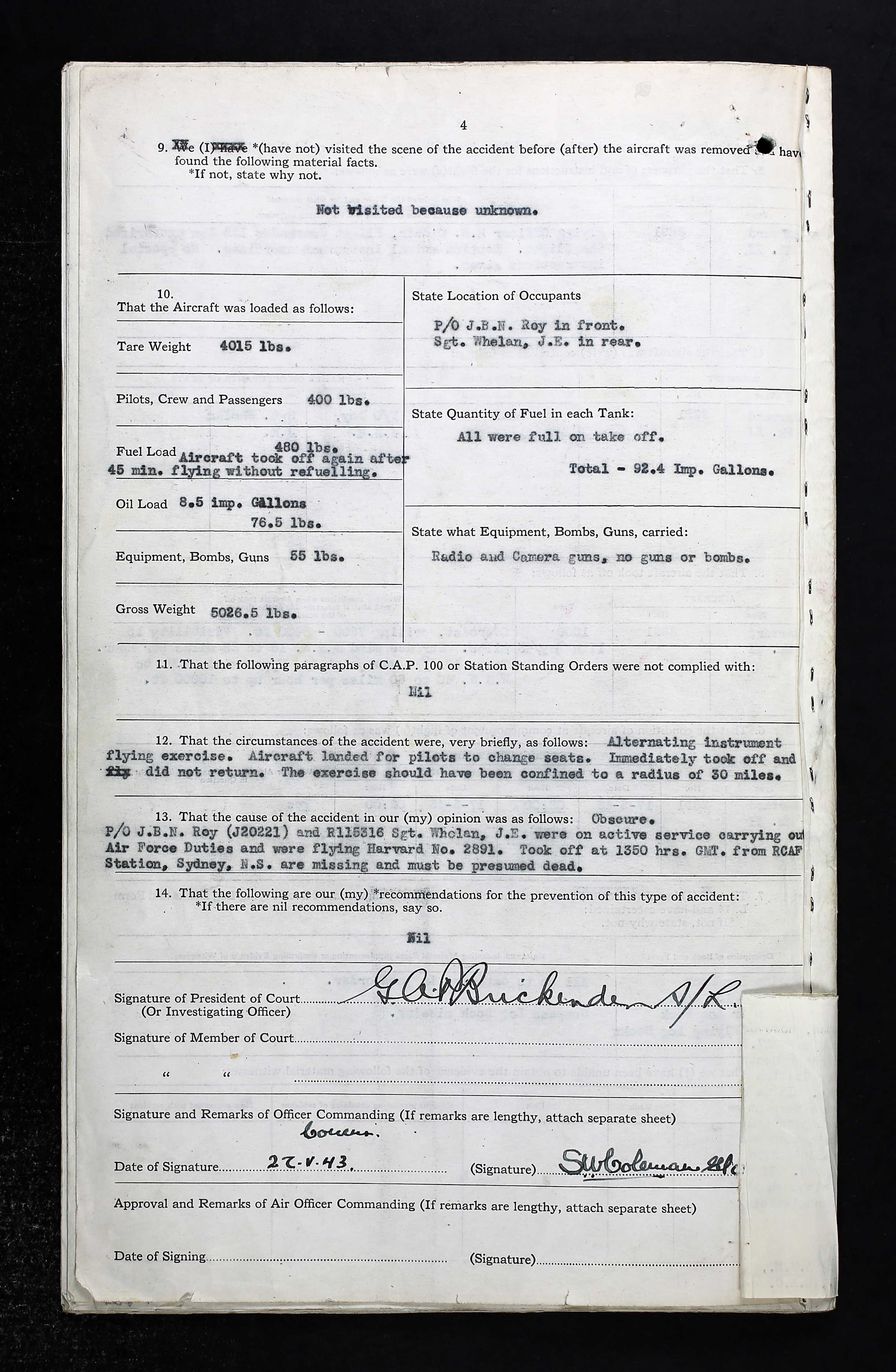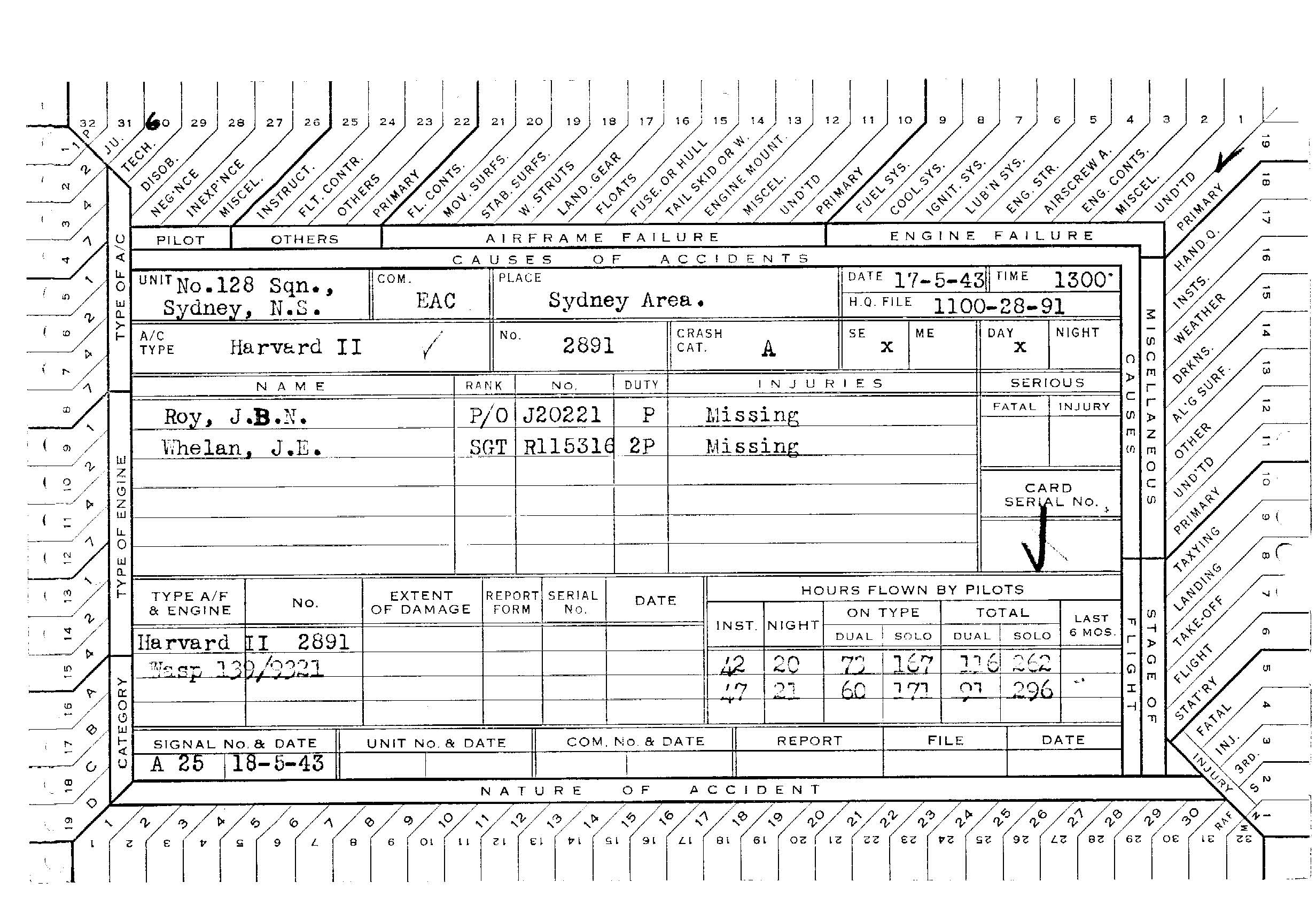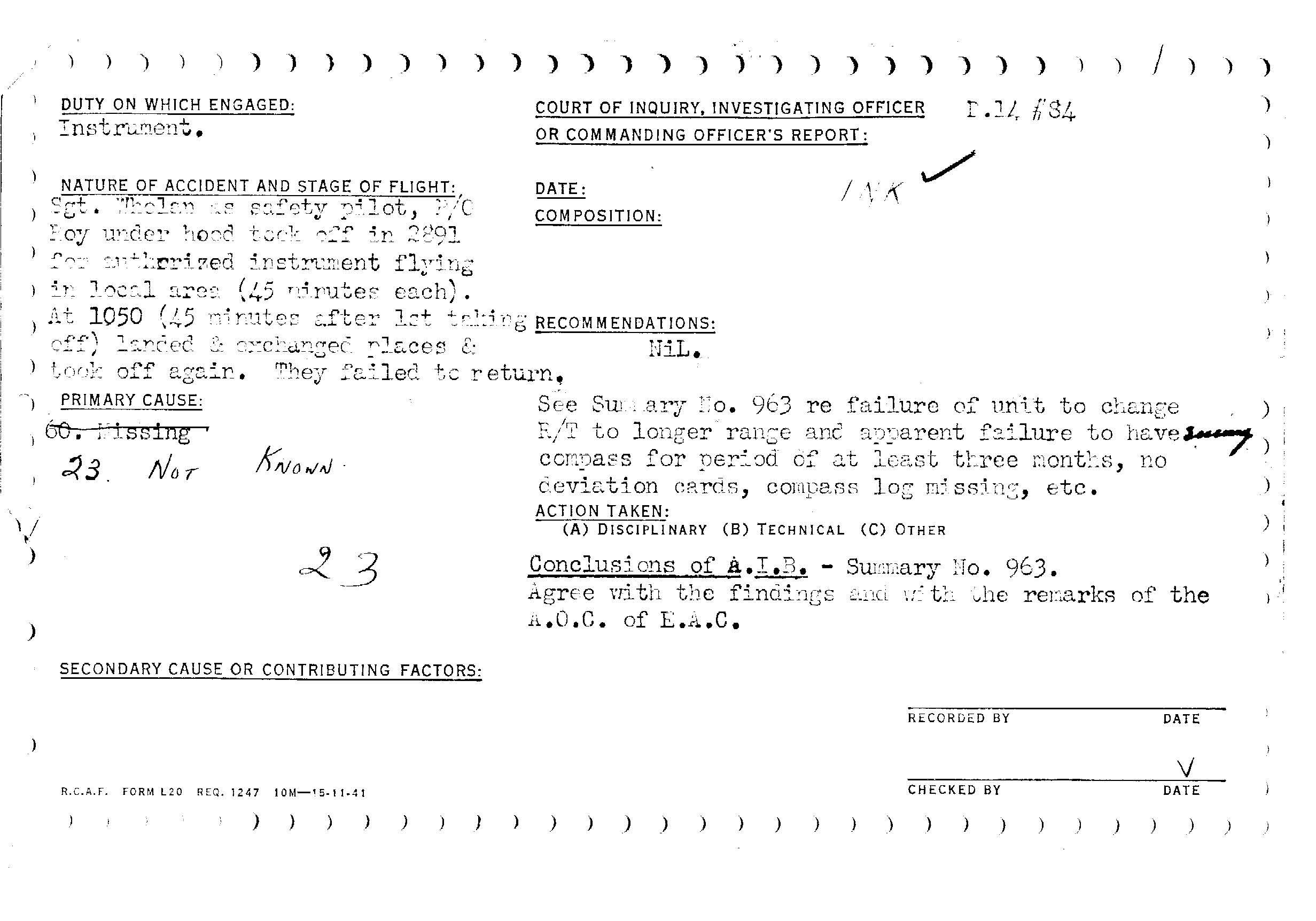 Mill operator/miner joined Canadian Army, then the RCAF and became a pilot. Aboard Harvard 2891, he and another pilot during a flying exercise out of 128 Squadron, Sydney, Nova Scotia were lost in May 1943. About three weeks prior, he was disciplined for flying beyond the recognized limits of the area during a patrol.
John Edward Whelan, born in Toronto, Ontario, son of Joseph John Whelan, office manager, and Margaret (nee Devine) Whelan who died of cancer in 1939. The family was Roman Catholic. He noted his next of kin as his sister, Miss Margaret Whelan, at St. Joseph Hospital, Hamilton, Ontario, who later became Mrs. George Lambertus. He had one brother, William, who had enlisted in the Royal Canadian Navy. A second sister, Helen Whelan, died November 30, 1941, possibly of diabetes, as John noted one sister took insulin and had diabetic diets.
He first enlisted in the Canadian Army in March 1941. He had blue eyes and brown hair, stood 5' 8 ½" tall and weighed 144 pounds. He had been a machine grinder/mill operator and preferred to be part of the engineers in the army. He was discharged by the Canadian Army on July 18, 1941, so he could join the RCAF. On his enlistment papers with the RCAF, he noted he was a miner. John liked to play baseball, hockey, rugby, lacrosse, and swam, moderately. He was accepted into the RCAF on July 19, 1941. "Solid type, rather quiet manner, sincere; would finish any job assigned to him." He smoked between five and eight cigarettes a day and occasionally drank alcohol. A 2" scar was noted under his chin. "Seems good average type. Quiet. Steady. Not particularly quick in answering."
He started his journey through the BCATP at No. 1 Manning Depot, Toronto, August 4 – 20, 1941, then was sent to TTS, St. Thomas from August 21 to October 10, 1941. From there, he was sent to No. 4 ITS, Belleville, Ontario until December 5, 1941. "Shy, retiring lad, very conscientious." He was 11th out of 107 in his class.
His next posting was at No. 17 EFTS, Stanley, Nova Scotia until February 28, 1942. "Good average. Appearance good. Discipline good. Good all-around student. No particular faults. 70%." GROUND: "16th out of 28 in class. Good average student. Of average intelligence and ability. Is very conscientious, hardworking and resourceful. Learns slowly but very well and is dependable. 66.8%." He was then sent to No. 8 SFTS, Moncton, NB March 1 until July 12, 1942. Other comments: "Satisfactory progress and average in ability. Needs to apply himself to further his capabilities. However, with more experience, he should prove quite satisfactory." More comments: "Good average pilot both clear hood and instrument. Should develop into very good service material." John was involved in an accident and inexperience was noted. "Just average as a student," in Ground.
He was then sent to No. 1 (F) O.T.U., Saguenay, Quebec, July 13. He was then posted to No. 128 Squadron, Sydney, Nova Scotia October 25, 1942.
John married Marjorie Thecla McNeil (aka Margaret Marjorie McNeil) on June 23, 1942 in Hearst, Ontario. They had a daughter, Patricia Louise, born March 19, 1943. Marjorie indicated that her husband had planned on making Kirkland Lake, Ontario their home after the war.
John was AWL in December 28-31, 1941 and forfeited three days' pay as he absented himself without leave and was confined 14 days to barracks. He was at the station sick quarters on March 24, 1942. At RCAF Sydney, NS, on April 25, 1943, "conduct to the prejudice of good order and Air Force discipline in that he on April 25, 1943 between 1915 and 2020 hours when authorized to flying a dusk patrol deliberately flew beyond the recognized limits of the area prescribed." He reverted to rank of Temporary Sergeant.
Aboard Harvard 2891 from 128 Squadron, F/O Jean B. N. Roy, J20221, RCAF, was lost on May 17, 1943 along with F/S John Edward Whelan, R115316, RCAF. P/O Roy was the Captain of the aircraft and F/S was the co-pilot.
The Court of Inquiry was held on May 25-26, 1943 at Sydney, Nova Scotia. Eleven witnesses were called. See the attached images for the transcription of the Court of Inquiry.
Both pilots received verbal instructions before they left and they were to fly for 45 minutes on instruments each. F/O Roy was under the hood first, with Sgt. Whelan acting as safety pilot in the front seat. At the end of 45 minutes, they changed places. The aircraft took off at 10:05, landed, changed places at 1050 and took off again at 1050 hours. The plane was noted overdue by 1215. "Immediately, all efforts possible were made to contact the aircraft by R/T. Upon failing to do so, S/L Michalski organized a search consisting of two Hudson aircraft which were sent to search for this aircraft," stated F/O H. M. O'Hair (C12546), Flight Commander 128 Squadron, Sydney, Nova Scotia. He rated the pilots' abilities as follows: "average in ability and both steady, clean living boys. P/O Roy had not any previous crash to my knowledge but Sgt. Whelan had had one crash in a Hurricane aircraft. Both should have been competent to cope with any situation…an exhaustive search has been carried out with varying numbers of aircraft ever since Harvard 2891 was missing and no trace has been found." The two pilots who flew Harvard 2981 prior, F/O William Gould and his brother, LAC Gould, and stated that the aircraft was serviceable "in all respects. Its radio was exceptionally good. I did not use the compass on this trip, but I did use it on the 25th of April on a flight to Dartmouth and found it accurate." The third witness, Mr. L. A. Hillgartner, meteorologist, RCAF Station, Sydney, NS stated that carburettor icing was possible but not probable. "Weather maps and forecasts are provided for pilots making cross-country flights or on patrol. Forecasts and maps are not provided for local flight such as this case although the Squadron Commander or the pilot himself has generally checked up on the weather for that day." The fourth witness, P/O G. E. Anderson, C13526, Officer in charge of Servicing Squadron, Maintenance Wing, RCAF Station, Sydney, NS stated "It is a complete mystery to me [as to the probable cause of Harvard 2891 failing to return] as the aircraft was in a serviceable condition on take-off." The fifth witness, F/L C. D Donaldson C14268, Medical Officer stated that Sgt. Whelan "in March 1943 was given a B2 examination. He was then in good physical and mental health…In March 1942, at No. 8 SFTS, he was hospitalized for five days, diagnosis urethritis non-specific. He was discharged to duty. He has had no further service record of illness or disease. P/O Roy from our medical records, was in good physical and mental health. He has no service record of hospitalization…There is nothing to suggest that these pilots were unduly fatigued at the time of their last flight." The first witness, F/O O'Hair was recalled and stated that the aircraft's compass was "last swung to the best of my knowledge about three months ago." The tenth witness, S/L W. J. Michalski, C1584, Deputy Controller, RCAF Station, Sydney, NS said that in his opinion what could have caused the accident was "Firstly, very poor map reading. Without prejudice to any pilot, it seems to me as if the pilots in fighter squadrons have a superiority complex. It is therefore suggested that for safety's sake, that all fighter pilots report their positions over twenty minutes on either Control Tower frequency or fighter control frequency. This also pertains to local flying. May it be pointed out that since May 21, 1942, Sydney H/F D/F Station has been in use and we have been experimenting insofar as homing of fighter aircraft to their Sydney Base on frequencies 3017.5 and 4777.5. As yet, it is not very satisfactory, but improvements are being made to give full cooperation to the fighter aircraft. Until such time as the fighter Sector Control will be fully equipped and be able to plot and control fighter aircraft, the Station BR Controller will govern fighter aircraft excepting in the case where Tactical exercises are being carried out with the Fighter Control Sector."
"CIRCUMSTANCES: Alternating instrument flying exercise. Aircraft landed for pilots to change seats. Immediately took off and did not return. The exercise should have been confined to a radius of 30 miles. CAUSE: Obscure. P/O Roy and Sgt Whelan were on active service carrying out Air Force duties and were flying Harvard 2891. Took off at 13350 hours from RCAF Station, Sydney, NS are missing and must presumed dead."
FINDINGS OF THE COURT: "the finding of the investigation officer is can curd in. It is noted, however, that the aircraft was being controlled by the tower, whose R/T transmission on 3017.5 is known to be of much shorter range than transmissions on 4777.5 by fighter control. It therefore seems that there was bad organization on the part of Sydney station in not changing over to fighter control as soon as the aircraft was airborne. It is also noted that there was apparent negligence concerning the compass; there were no deviation ____, the compass log was lost and it appears that the compass had not been swung for at least three months. The failure to maintain R/T communication was not the cause of the accident but if communication had been maintained, the pilot might have been able to send out an SOS which would have led to his being found. If the compass was faulty, this may have had some bearing on the accident, although it seems unlikely as the flight was supposed to be strictly local. The station is being required to account for both of these apparent failures."
In John's personal belongings, photos of his wife and one of his sister were found.
LINKS: