John Lorne Westphal J36036
April 28, 1923 - November 14, 1944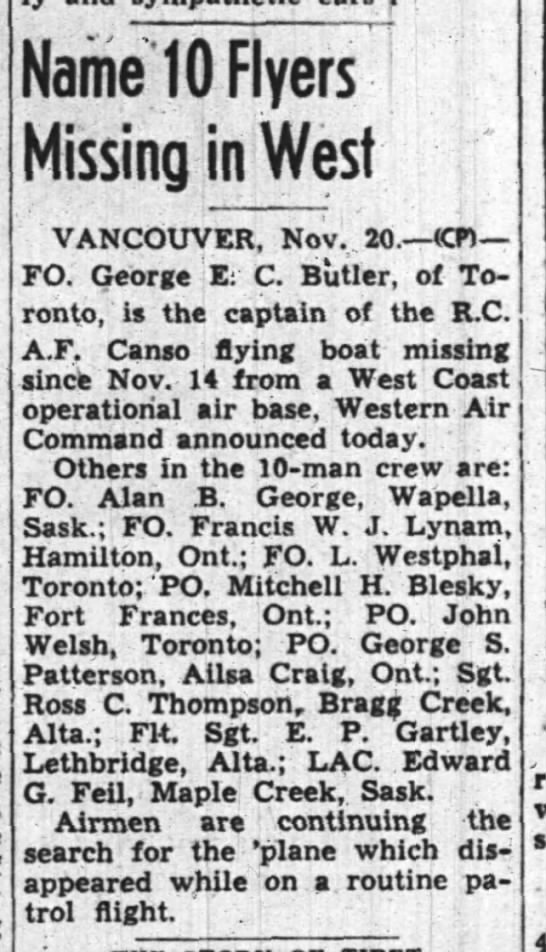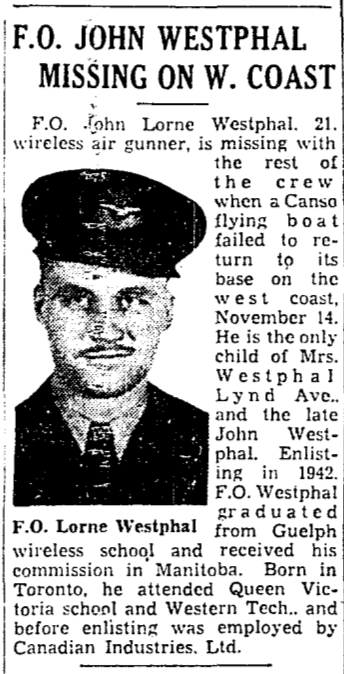 Varnish cook from Toronto became WAG. Lost aboard Canso 11017 with nine other crew.
John Lorne Westphal, born in Weston, Ontario, was the son of John Harry Westphal (d. 1925), mechanic, and Pauline Nellie (nee Drinkwalter) Westphal of Toronto. (On his birth certificate: Lorne John.) He had one brother, William Clifford, who died in November 1927. The family attended the United Church.
John was a 'varnish cook' at Canadian Industries, Toronto from 1941-1942 prior to enlistment. He stood 5'9 ½" tall and weighed 175 pounds. He had brown eyes and brown hair. A cyst was removed from his cheek in July 1942. He listed rugby as a sport he participated in during school. He had some machine shop training.
On his personal record dated October 7, 1942: "Of average intelligence. Co-operative, fairly friendly. Movements slow and deliberate and does not stir self more than necessary. Appears to have good opinion of self. Of good aircrew material, if discipline accepted. 19 years of age. Husky type of lad; good appearance, pleasant, quiet manner. Willing to take what comes in way of selection, believe he is sincere. No outstanding qualifications, but regard him as solid material."
John started his journey through the BCATP in Toronto at No. 1 Manning Depot, October 29, 1942, then traveled to No. 4 Wireless School, Guelph, Ontario, where he studied from January 25 until August 6, 1943. He was 12th out of 103 in his class. He earned his Wireless Badge on August 6, 1943.
He was then sent to No. 2 B&G School, Mossbank, Saskatchewan August 9 until October 1, 1943. He earned his badge on September 20, 1943.
Patricia Bay, BC and No. 31 O.T.U. was his next destination, taken on strength with No. 4 Squadron January 9, 1944.
He sent $40/month to his mother for her partial support, as Mrs. Westphal worked part-time. He had $75 in War Savings Certificates and $850 in Victory Loan Bonds, plus had paid premiums on life insurance policies.
In late November 1944, Mrs. Westphal received a letter. "Your son was a member of a crew which left the Station on Tuesday morning, November 14, on a regular patrol. A message received from their aircraft indicated that everything appeared to be proceeding normally. After a period of silence, an intensive and widespread search was instituted the same day…. both day and night, but so far without success. Please be assured that everything humanly possible is being done to find your son, and his fellow airmen are working themselves without stint both in time and energy to that end."
In August 1946, Mrs. Westphal received a letter from Wing Commander Gunn. ""Some weeks ago, wreckage consisting of a number of small parts which were thought to be from a RCAF aircraft were recovered by the US Coast Guard at Ketchikan, Alaska, and these parts were forwarded to our Headquarters where it was determined that they were from a Canso aircraft, and on contacting the manufacturers of Canso aircraft, they were identified as parts from Canso A 11017 which was the aircraft that your son was on when it went missing from a sea patrol flight from Tofino, British Columbia, November 14, 1944….there is no indication where the crash may have occurred. Such articles as were recovered could travel far driven by wind and tide."
In late October 1955, Mrs. Westphal received a letter from W/C Gunn informing her that since John had no known grave, his name would appear on the Ottawa Memorial.