John Welsh J48662
December 10, 1923 - November 14, 1944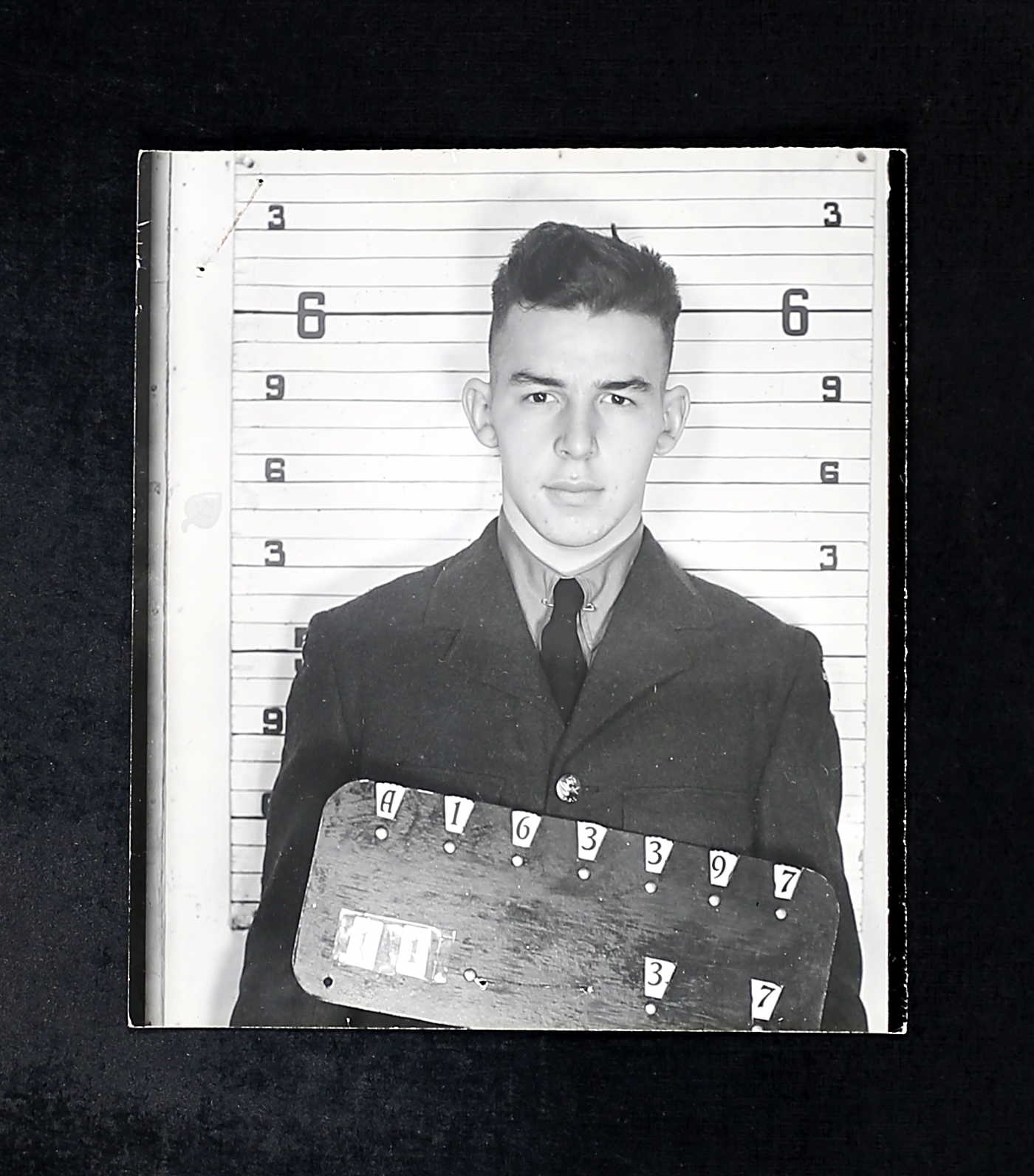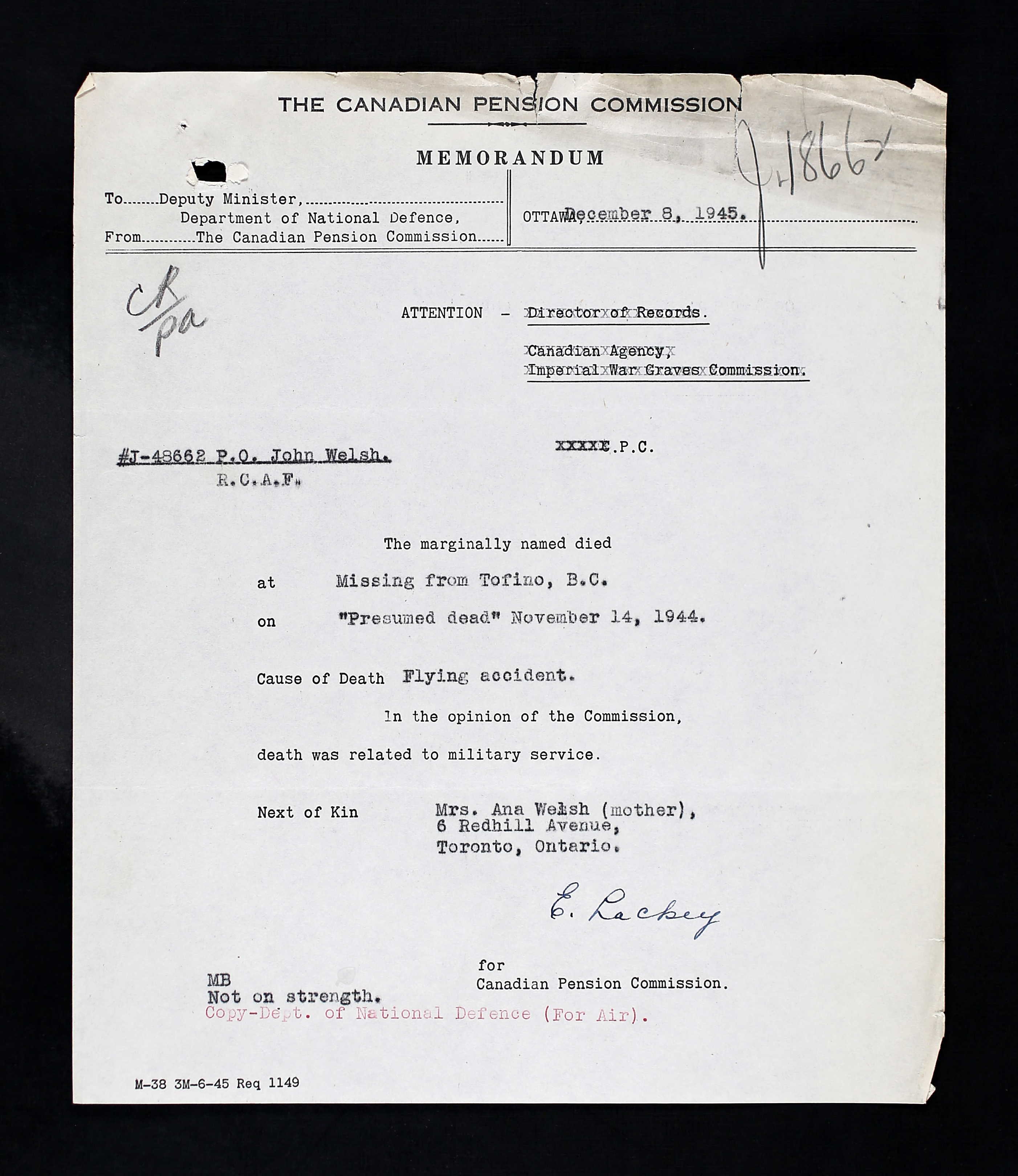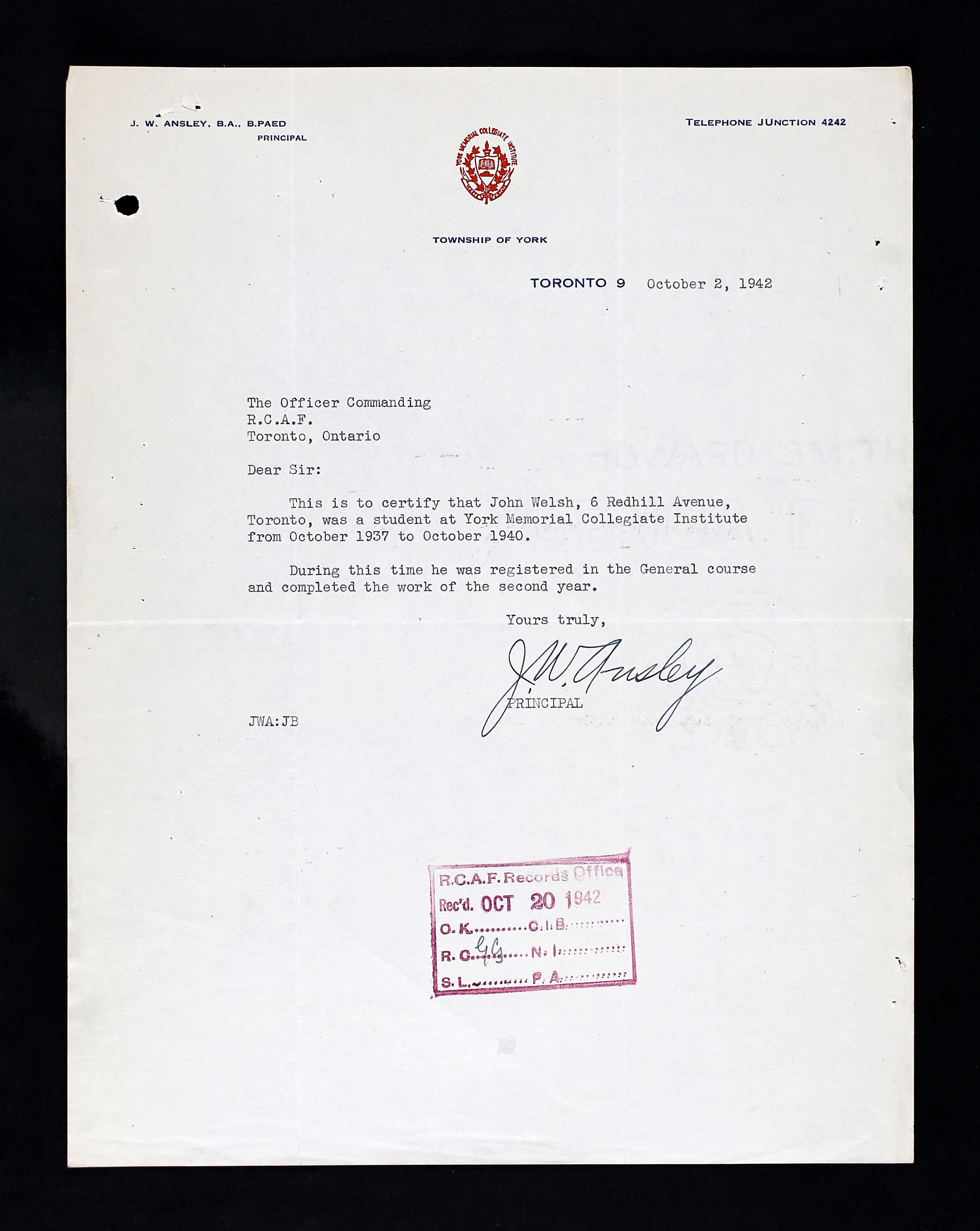 Mailing clerk from Toronto became a wireless air gunner. Aboard Canso 11017 was lost on the west coast of BC.
John Welsh was the son of John Welsh (1890-1944), painter and decorator, and Ana (nee Hugill) Welsh (1898-1988) of Toronto. He had one brother, Kenneth, and one sister, Jean. The family was Presbyterian.
From 1940-1942, John was a mailing clerk (Life Underwriter Association of Canada) with two and a half years of high school, prior to his enlistment with the RCAF. He liked woodworking and studying electricity, plus hockey and golf. He had some typing instruction. His physique was considered wiry and his mentality standard. He had a 1/8" scar on his right humb and amole on his left elbow. He had brown eyes and black hair, stood 5'11 ½" tall and weighed 137 pounds. "Keen, alert, capable, stable, courageous, good aircrew material."
On his Personal Record, dated October 2, 1942: "18 years of age, tall, slender lad, pleasing disposition, youthful features. Happy as long as he will be in Aircrew. Young, enthusiastic boy with an engaging personality. Presently employed as a clerk…no outstanding qualifications but believe he will succeed at his job."
John started his journey through the BCATP on October 15, 1942 at No. 11 Recruiting Centre, Toronto, then was transferred to No. 1 Manning Depot, October 28, 1942.
He was sent to No. 4 Wireless School, Guelph, Ontario, January to August 1943, then to No. 2 B&G Mossbank, Saskatchewan August to October 1943. He wore the Wirelesss Operator's Badge and the Air Gunner's Badge in the summer of 1943.
John was then sent to No. 3 O.T.U. Patricia Bay, BC by October 1943, then to No. 4 Squadron, Ucluelet and Prince Rupert, BC by January 1944.
He received his commission August 15, 1944.
John had $70 in War Savings Certificates and $50 in Victory Loan Bonds. He also had a life insurance policy. Only the premiums would be repaid if John died in service. John's estate owed David Spencer Ltd. $250.15, Victoria, BC and the Officer's Mess $30.47, Tofino, BC.
In late November 1944, Mrs. Welsh received a letter. "Your son was a member of a crew which left the Station on Tuesday morning, November 14, on a regular patrol. A message received from their aircraft indicated that everything appeared to be proceeding normally. After a period of silence, an intensive and widespread search was instituted the same day…. both day and night, but so far without success. Please be assured that everything humanly possible is being done to find your son, and his fellow airmen are working themselves without stint both in time and energy to that end."
In August 1946, Mr. Welsh received a letter from Wing Commander Gunn. ""Some weeks ago, wreckage consisting of a number of small parts which were thought to be from a RCAF aircraft were recovered by the US Coast Guard at Ketchikan, Alaska, and these parts were forwarded to our Headquarters where it was determined that they were from a Canso aircraft, and on contacting the manufacturers of Canso aircraft, they were identified as parts from Canso A 11017 which was the aircraft that your son was on when it went missing from a sea patrol flight from Tofino, British Columbia, November 14, 1944….there is no indication where the crash may have occurred. Such articles as were recovered could travel far driven by wind and tide."
In late October 1955, Mrs. Welsh received a letter from W/C Gunn informing her that since John had no known grave, his name would appear on the Ottawa Memorial.