John Henry Warman R84897
April 1, 1919 - January 17, 1943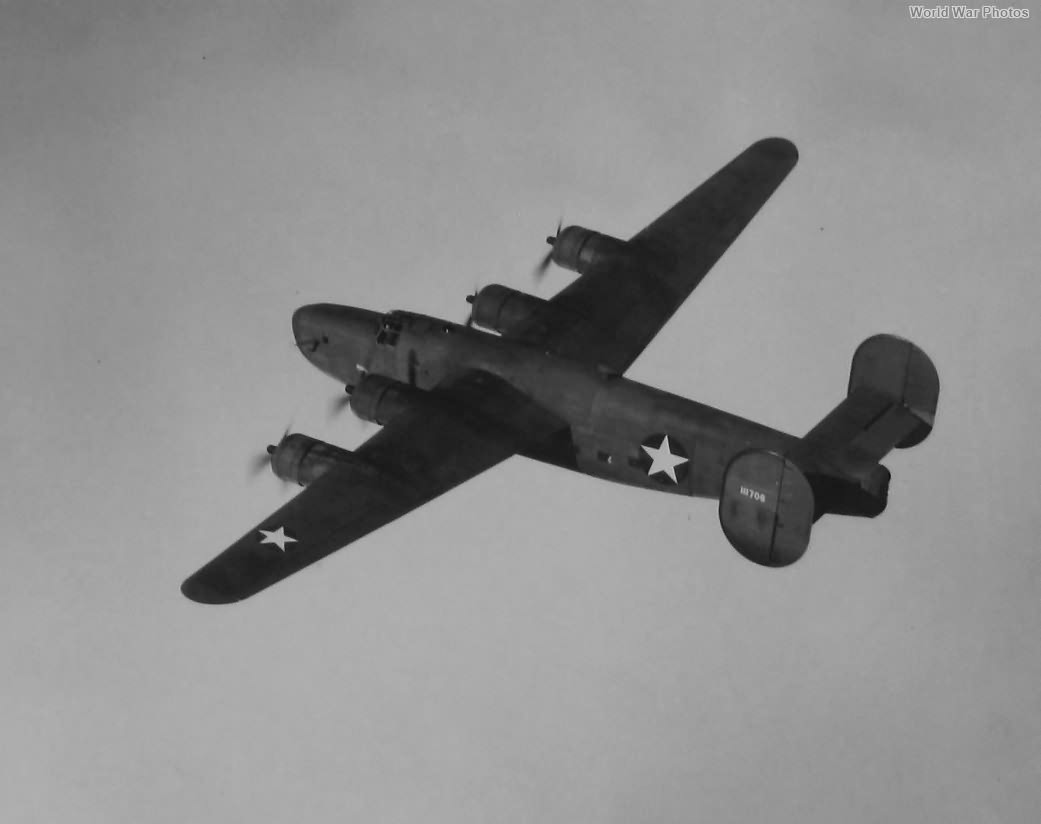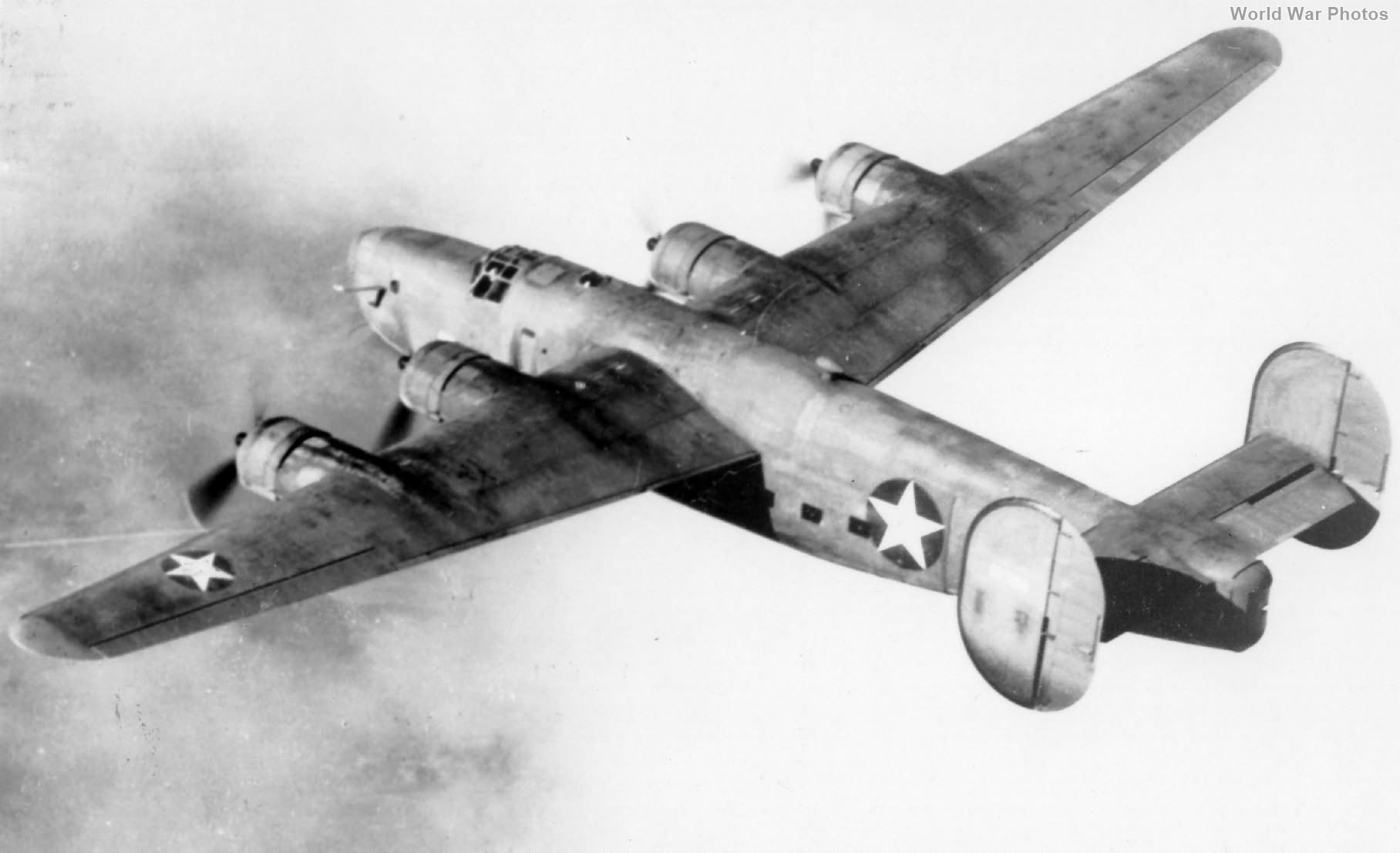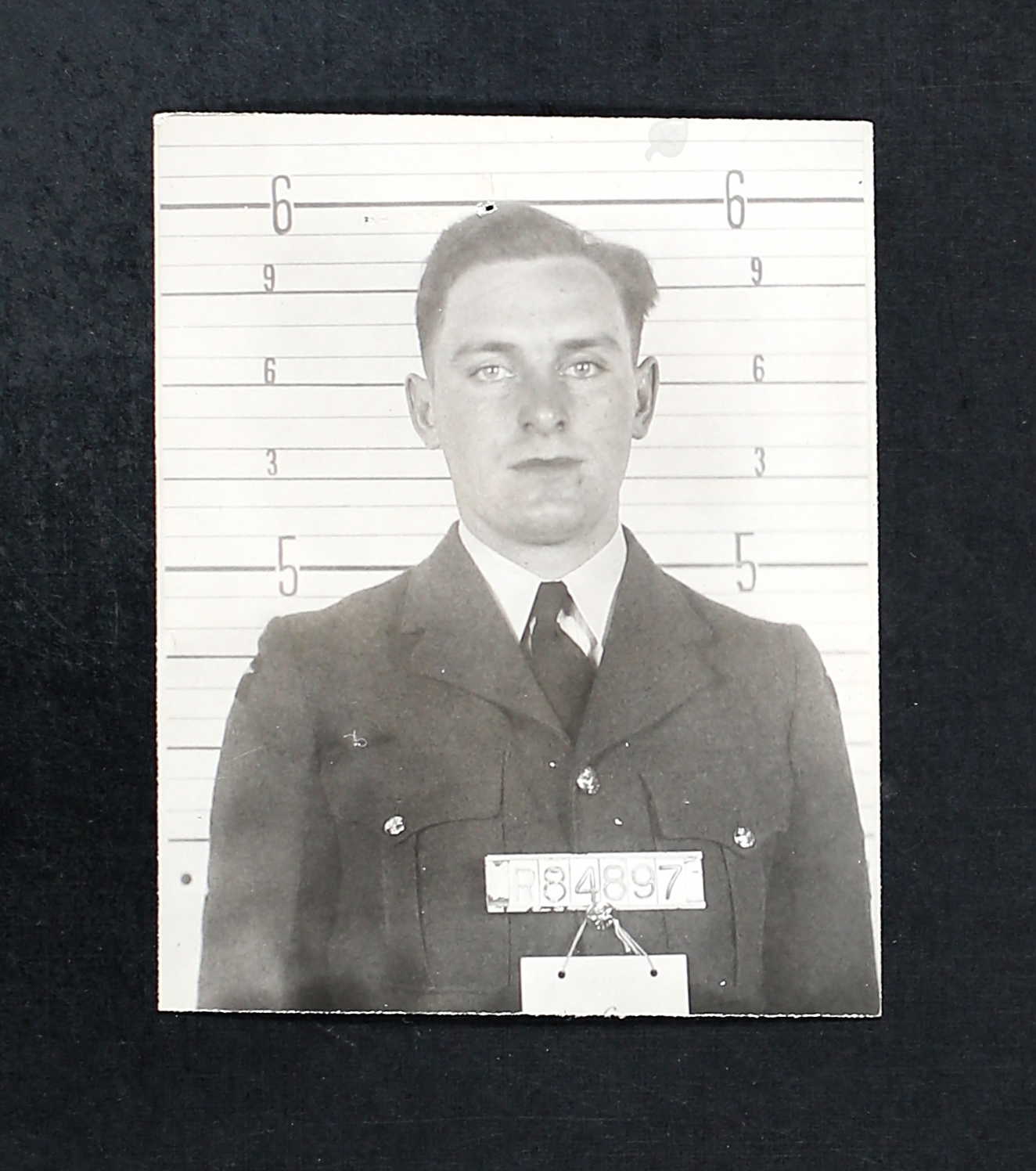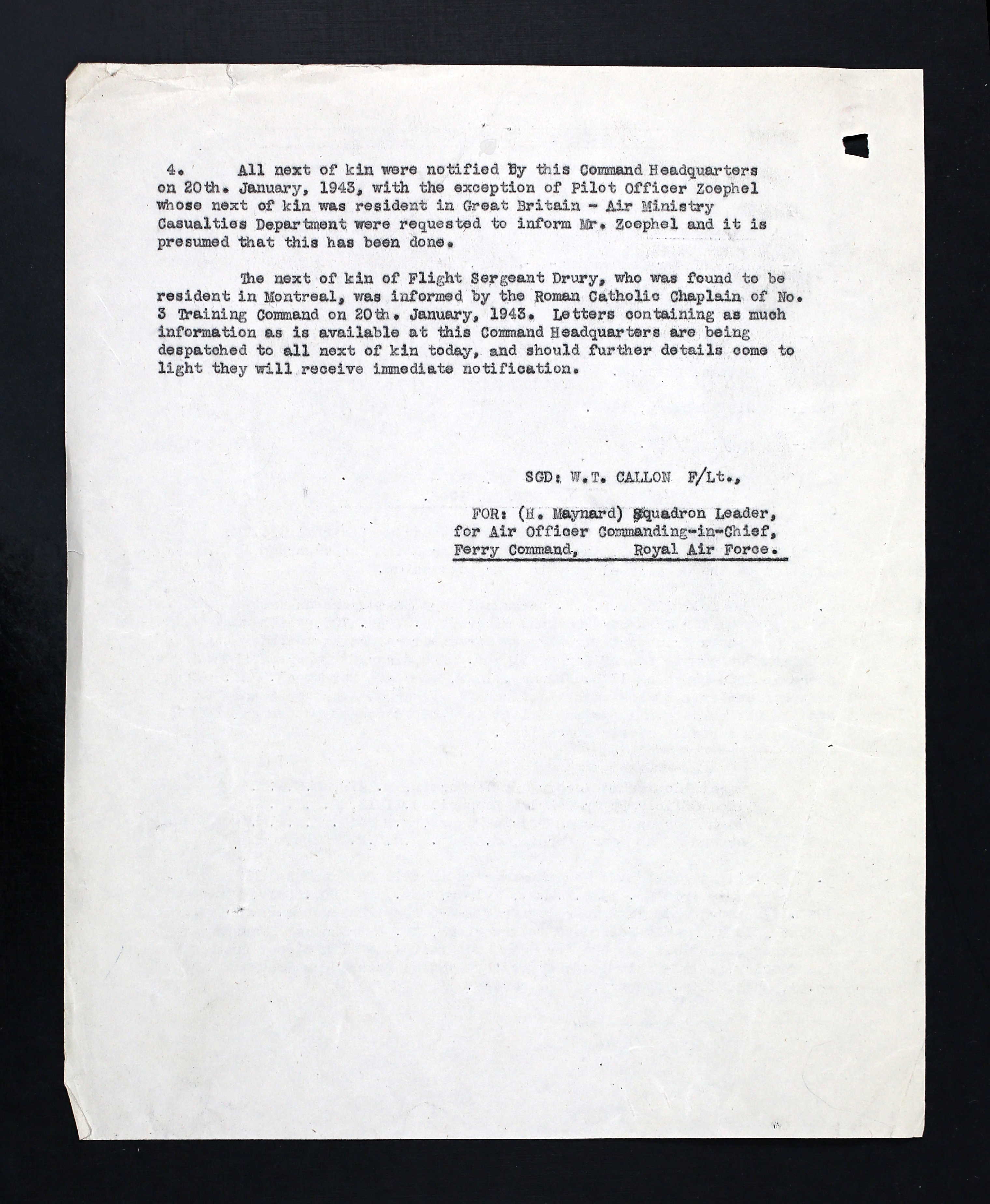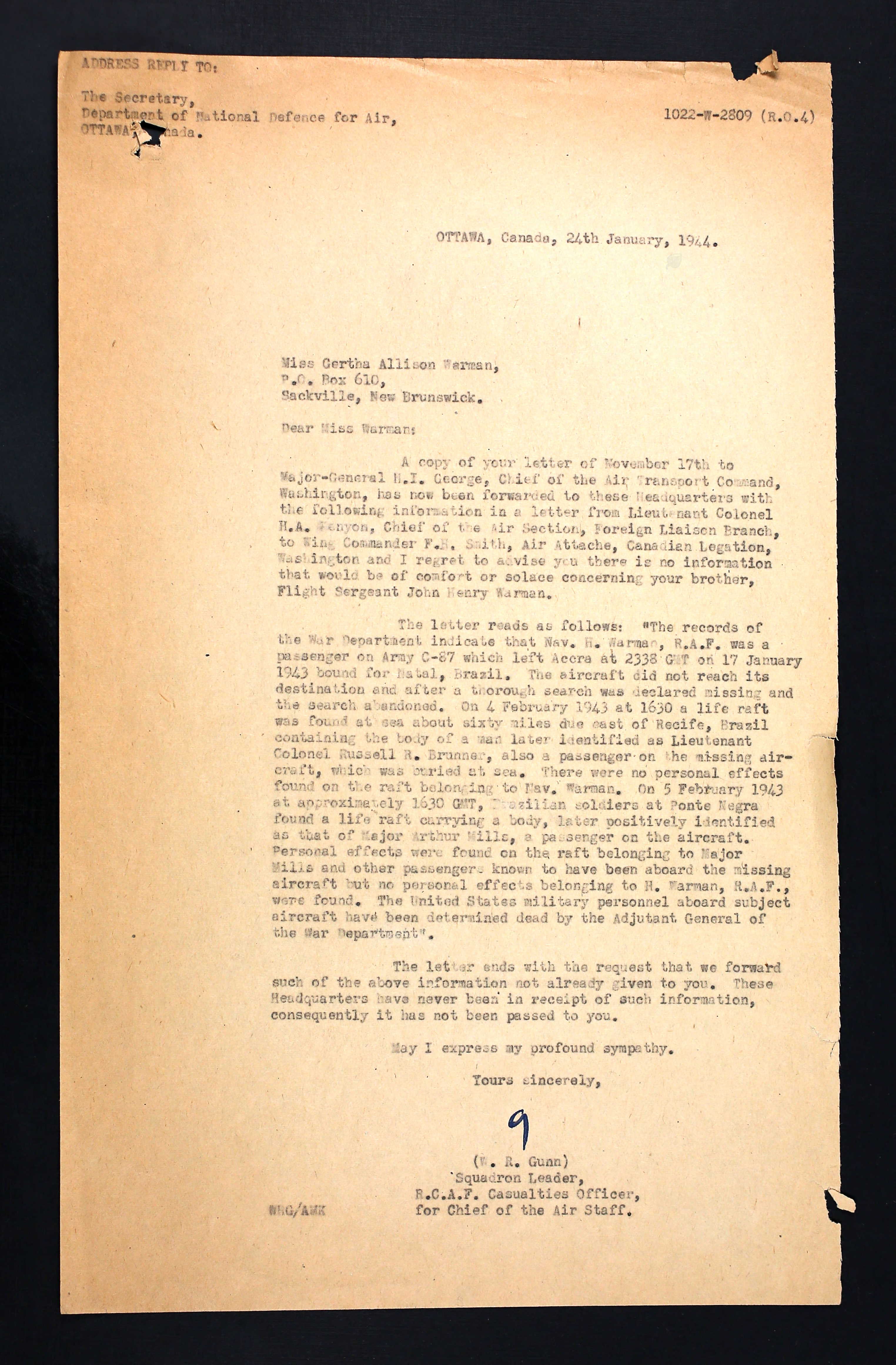 Credit manager joined RCAF as navigator. He, along with 25 others were lost aboard Liberator 41-11708 off the coast of Brazil during a ferry flight.
John Henry Warman, born at Bass River Point, New Brunswick, was the son of George Edwin Warman (1862-1936), farmer and WWI veteran, and Mary Mabel (nee Campbell) Warman (1877-1954). He had five siblings: Edna, Gertha, Borden, Lena, and Edith. They attended the United Church.
John completed Grade XI and had one year of business college, working as a credit manager at the Lounsbury Company Limited since June 1939. He liked to read, play basketball, and swim. He did not smoke or drink alcohol. He was athletic and alert. He weighed 174 pounds and stood 6' tall, with blue eyes and brown hair. He had a pigmented mole upper part of natal cleft. March 6, 1941: "This is a very likable intelligent chap who is quite anxious to fly. He said he is not in good shape at present for endurance tests, but I believe with training, he will do all right." "Wants pilot. Self-reliant. Good appearance. Appears to have all qualifications for air crew."
At No. 1 ITS, from July 4 to August 8, 1941: "Keen enthusiastic type of trainee. Second aircrew recommendation: Air Observer. 82%. 106 out of 132 in class."
At No. 10 AOS, November 10, 1941 to February 16, 1942: "This man is an unfortunate examination candidate. He knows the work better than his marks indicate. Average in bombing. Supplementary examination in D.R., Theory and D/F. WT Mark 127. Well liked, pleasing personality, good appearance and bearing. 19th out of 19 in class with 63.7%."
At No. 6 B&G School, from February 16 to March 28, 1942: "Average as bomb aimer. Average as air gunner. Good sense of responsibility. Neat appearance. Worked hard. Very good type. 67.6%, 20th out of 24 in class."
At No 2 ANS, March 30 to April 27, 1942: "Air work very good. Ground work better than exams indicate. 68%. 50 out of 97 in class. Above average as navigator. Good officer material. Find appearance, responsible type."
He sent $10/month to his mother. His brother helped out, as well.
John was attached to RAF Ferry (Transport) Command as of July 1942 with headquarters in Dorval, Quebec, later stationed at West Palm Beach, Florida. He was considered to be a keen worker, neat and tidy. "This NCO has made two North Atlantic and three Middle East Transocean flights. as of January 15, 1943.
Gertha received a letter from S/L W. R. Gunn, RCAF Casualties Officer dated January 24, 1944, acknowledging her letter dated November 17th. "I regret to advise you there is no information that would be of comfort or solace concerning your brother…The records of the War Department indicate that Nav. H. Warman, RAF, was a passenger on Army C-87 which left Accra at 2238 on 17 January 1943 bound for Natal, Brazil. The aircraft did not reach its destination and after a thorough search was declared missing and the search abandoned. On 4 February 1943, at 1630, a life raft was found a sea about sixty miles due east of Recife, Brazil containing the body of a man later identified as Lt. Col. Russell R. Brunner, also a passenger on the missing aircraft, which was buried at sea. There were no personal effects found on the raft belonging to Nav. Warman. On 5 February 1943, at approximately 1630, Brazilian soldiers at Ponte Negra found a life raft carrying a body, later positively identified as that of Major Arthur Mills, a passenger on the aircraft. Personal effects were found on the raft belonging to Major Mills and other passengers known to have been aboard the missing aircraft but no personal effects belonging to H. Warman, RAF were found. The United States military personnel aboard subject aircraft have been determined dead by the Adjutant General of the War Department. The letter ends with the request that we forward such of the above information not already given to you. These Headquarters have never been in receipt of such information consequently it has not been passed to you."
From RAAFA Aviation Heritage Museum: "On January 17, 1943, Liberator 41-11708 went missing on an operational flight. The aircraft departed from Accra, Ghana, at 2330 hours on a flight to Natal, Brazil, but failed to reach its destination. The aircraft was crewed by personnel from US Transport Command and carried RCAF, RAAF and civilian passengers, a total of 26 men. One body may have been found on a life raft in the vicinity of Natal, but no trace of the other passengers or crew was found. In 1948 it was recorded that the missing personnel had lost their lives at sea."
Another account: The night of Jan 18th the Consolidated C-87 Liberator 41-11708, with a crew of six and 20 passengers left Acrra-Kotoka Airport in Ghana for Natal Airport in Brazil. It crashed into the sea. On Feb 5th one of the passengers, Major Mills, washed ashore in a raft at Natal, Brazil. Major Mills had died two days prior. Six dog tags and a notebook belonging to 1Lt. Byler were found with Major Mills' body.
The links below provide further information within the men's Find a Grave pages.
CREW: 1. Capt. Orval Eknes, Scanlon Minn. pilot of the transport. 2. Capt. Felton B. Lancaster, Mexia, Tex. co-pilot. 3. Second Lt. Joseph F. Peoples, Jersey City, N.J. navigator. 4. Master Sgt. Alvin A. Young, Bossier City, La. radio operator. 5. Sgt. James N. Clauss, Washington, Ind. crew member. 6. Master Sgt. Charles W. McKain, Franklin, Pa. crew chief.
PASSENGERS: ATC PERSONNEL: 7. First Lt. John A Byler, navigator 8. First Lt. Hugh P. Minor, Co-Pilot 9. Major Arthur Mills, 1st Pilot (These men were returning from having delivered a B-17 to Africa from Miami.) 10. Corporal Joseph P. Braniff 11. Corporal Grover K. Trees (Board at St. Erval, United Kingdom) 12. Lt. Col. Russell Reed Brunner 13. Col. Douglas C. MacKeachie RAF and RCAF: 14. F/L H.J. Martin 15. RO Sergeant H.V. Lamb (ferry command for 8 months) 16. Navigator John Henry Warman 17. Captain Paul Bleecker Makepeace 18. RO Clinton Berry 19. Navigator P.C. Zoephel 20. Captain G.A. Clegg 21. RO N. Drury 22. Navigator Pilot-Officer W.T.B. Smithson 23. Sergeant John Lowery Bell (107899) (RAFVR) 24. Mr. William Richard Nixon (Pilot) Canadian Civilian 25. Air Commodore Desmond Herlouin De Burgh (RAF) -- on the Alamein Memorial, Egypt 26. RO Otway Cecil McCombie -- also remembered on his family's headstone in New Westminster, BC.
From Bureau of Aircraft Accidents Archives: While overflying the Atlantic Ocean by night, on the leg from Georgetown (Ascension Island) to Natal, while on a flight from Accra to Natal, the aircraft disappeared into the Ocean around 2300LT. SAR operations were conducted for several days but eventually suspended as no trace of the aircraft nor the crew was found. Two life vests were discovered on a Brazilian beach few days later. Probable cause: US military authorities reported that at the time of the accident, whose causes remain unknown, weather conditions prevailing above the center of the Atlantic Ocean were marginal due to the presence of thick clouds and heavy rain falls. It is also reported that lifeboats were found on seas nearly 100 km east of Recife on February 4, 1943, with dead bodies on board. This means that some passengers escaped the accident and managed to take refuge in dinghies. Analyses carried out on the bodies determined that the last survivor died of fatigue, hunger and thirst on February 3, 1943, two weeks after the accident. Without concrete elements, no part of the aircraft having been found, investigators were unable to determine the exact cause of the accident.
John is remembered on the Ottawa Memorial as well as on his family headstone in St. Stephen's United Church Cemetery, Molus River, New Brunswick.
For more information, please see the links below.
LINKS: