John 'Jack' Vallance J20984
October 11, 1923 - April 21, 1943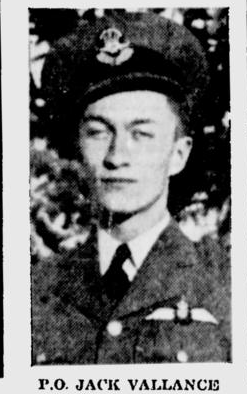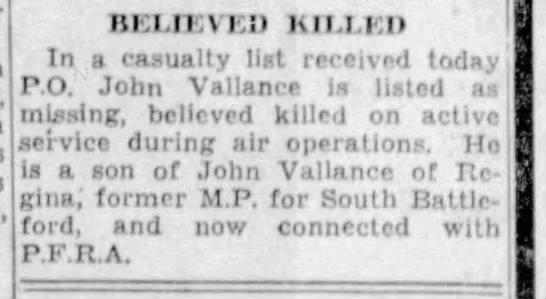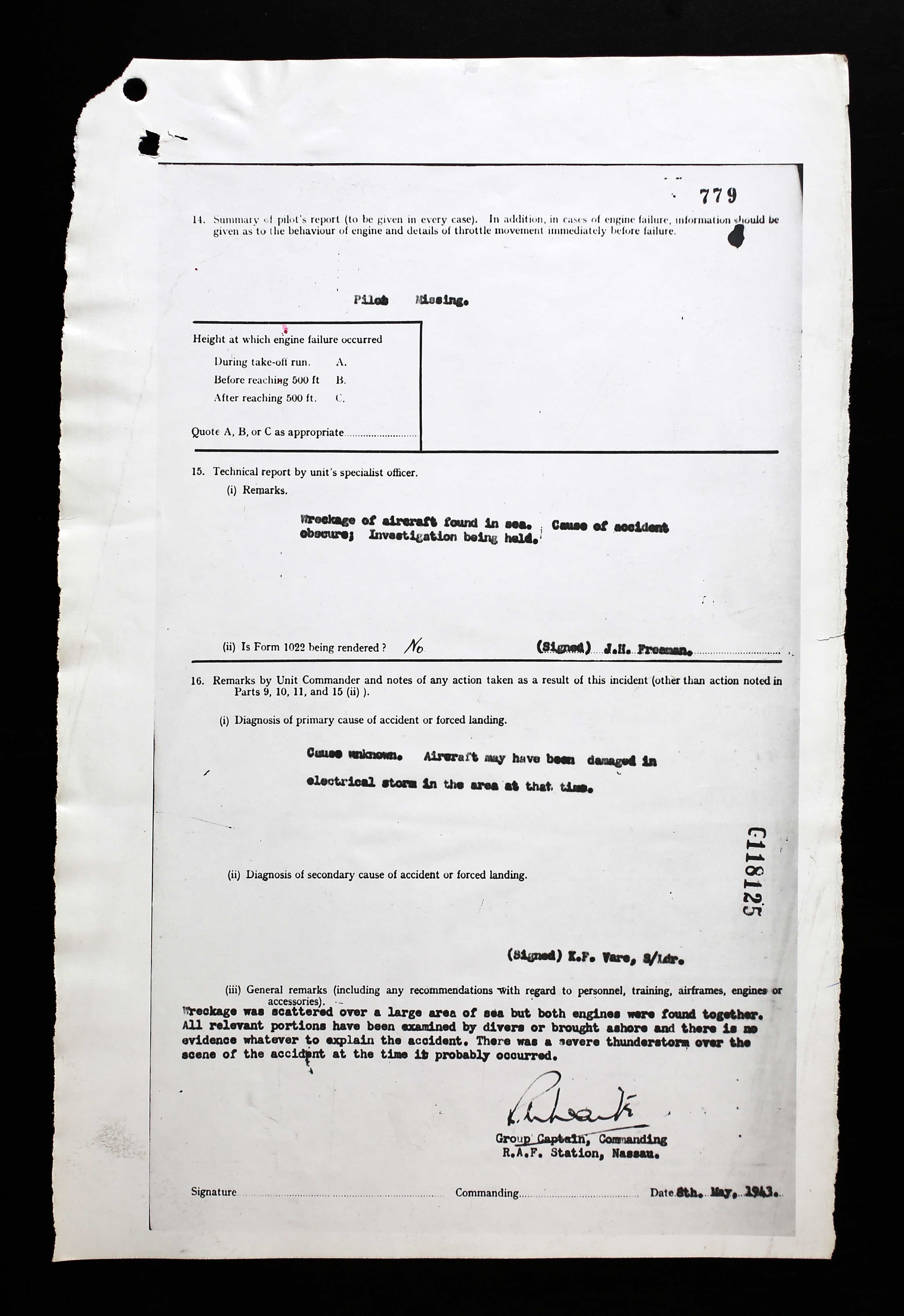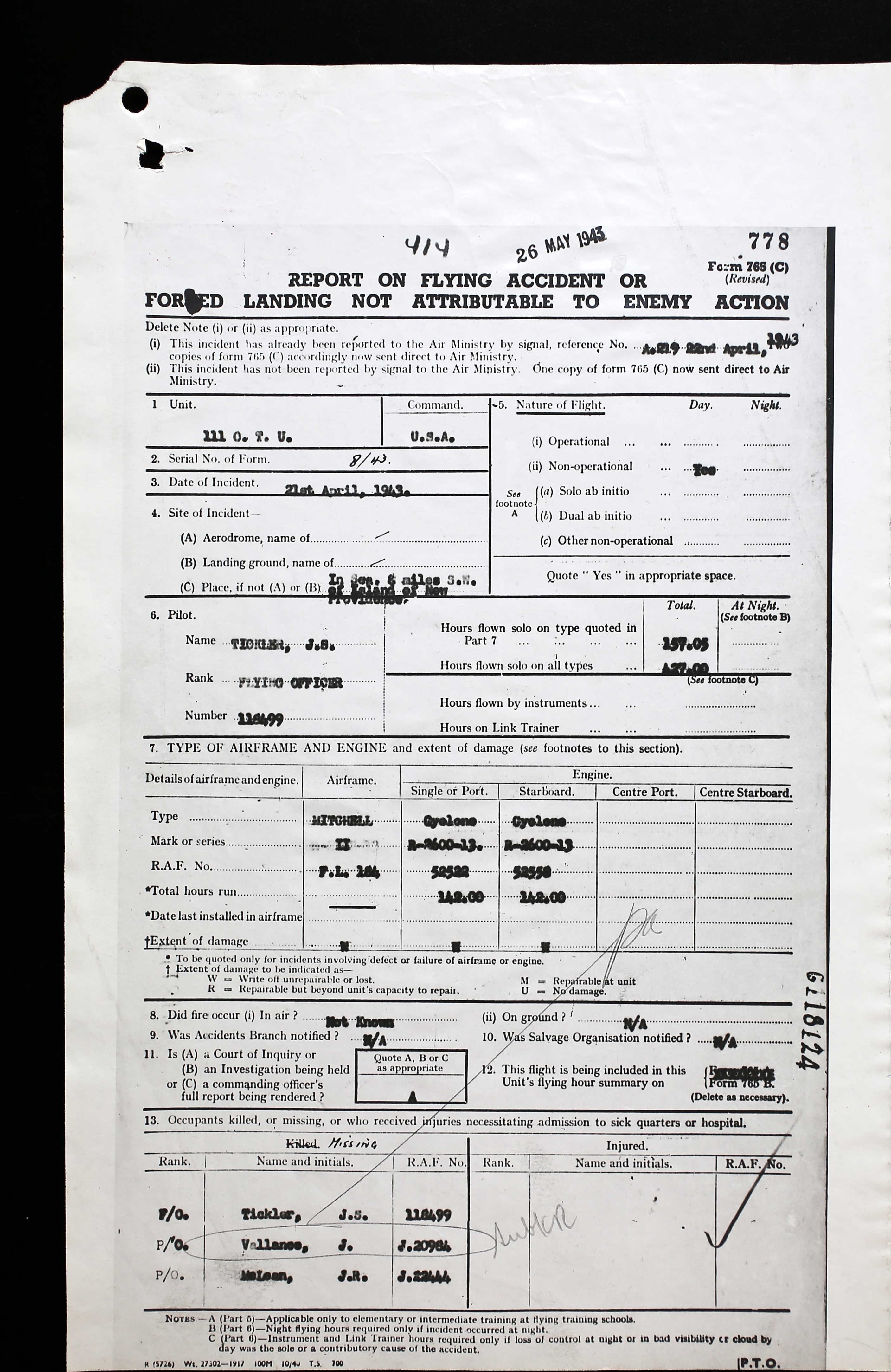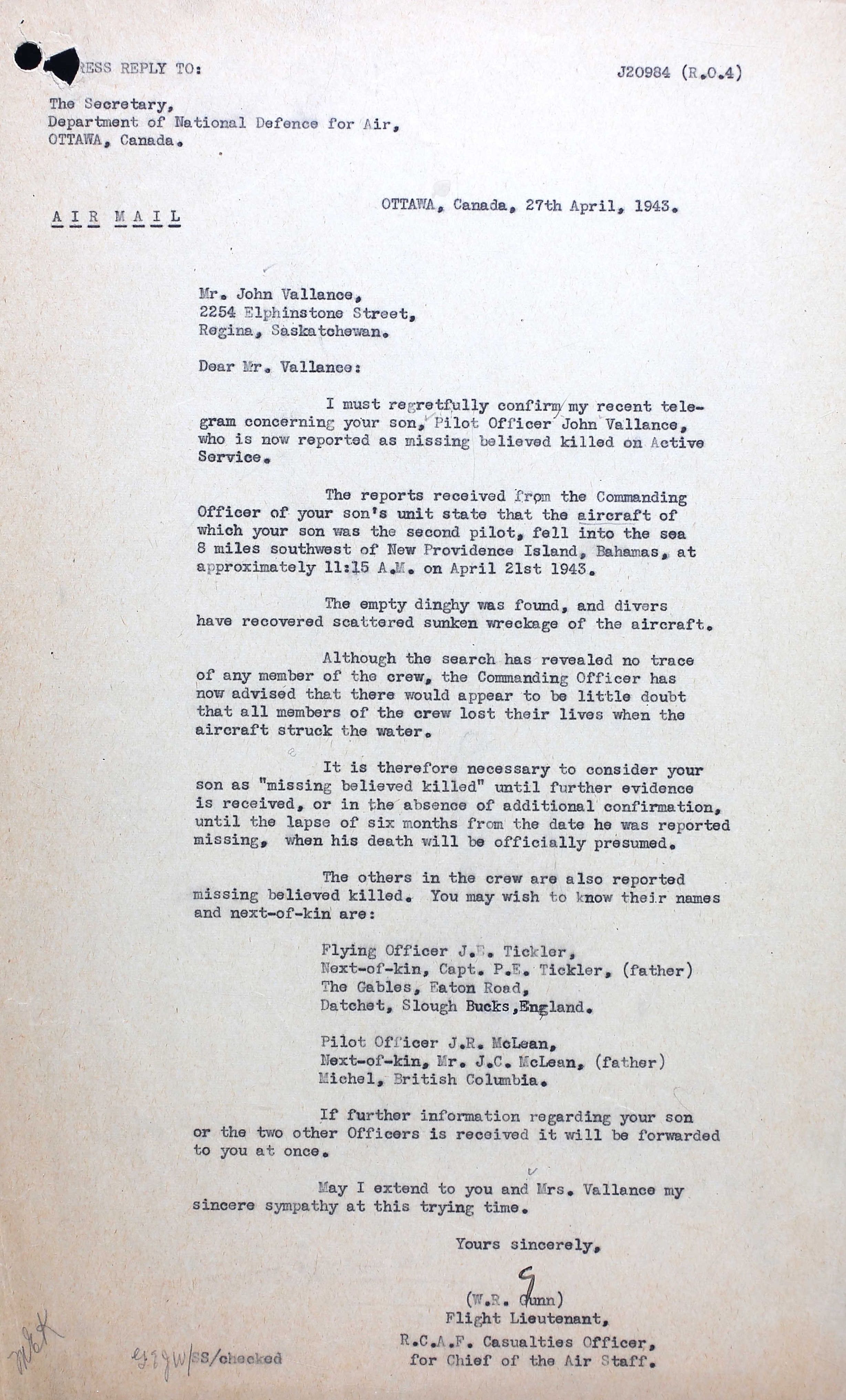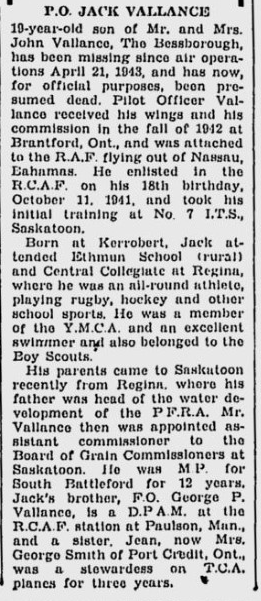 Student/busboy joined RCAF and became pilot. Aboard Mitchell FL184, the plane fell into the sea eight miles southwest of New Providence Island, Bahamas during a severe thunderstorm. Wreckage and empty dinghy found, but no survivors.
John 'Jack' Vallance was born on October 11, 1923 at Kerrobert, Saskatchewan and was educated at Ethmuir, Saskatchewan. He was the son of John Vallance (1883-1963), Assistant Commissioner, Board of Grain Commissioners for Canada/Superintendent of Water Development, and Ethel (nee Potticary) Vallance (1881-1961), later of Regina, then Saskatoon, Saskatchewan, then Vancouver, British Columbia. He had a brother, George Potticary Vallance (1914-1991), also with the RCAF, and one sister, Mrs. Jean Smith, living in Port Credit, Ontario. The family was Presbyterian.
John had blue eyes and brown hair, weighing 145 pounds and standing 5' 10 ½" tall. He was working in Lake Louise, Alberta at the Chateau Lake Louise as a bus boy prior to enlistment in October 1941. He hoped to continue his education studying aeronautics. He enjoyed golf extensively, swimming moderately, and hockey occasionally.
Jack started his journey through the BCATP at No. 3 Manning Depot, Edmonton, Alberta on November 4, remaining there until December 20, 1941. He was then sent to No. 4 SFTS, Saskatoon until March 15, 1942.
From there, he was at No. 7 ITS, in Saskatoon until June 6, 1942. He was in the hospital from May 11 – 30, 1942. He was then sent to No. 2 EFTS, Fort William, Ontario to start his pilot training on June 7 until August 1, 1942. Jack was then at No. 5 SFTS, Brantford, Ontario from August 2 to December 4, 1942. He was then at No 31 GRS, Charlottetown, PEI December 5, 1942 until February 27, 1943. He earned 74.6% and was eleventh in his class. Jack made his way to Moncton and then to Nassau, Bahamas by late March 1943.
Pilot Officer James Robert McLean, J22444, navigator, along with his pilot F/O John Earle Tickler 118400 RAF, and student pilot P/O John Vallance, J20984, headed out for a daytime flight on April 17, 1943 aboard Mitchell FL194, 111 O.T.U., crashing ten miles east of Nassau, Bahamas (8 miles southwest of New Providence Island).
From a letter that Mr. Vallance received dated April 17, 1943: "The aircraft, which your son was the second pilot, fell into the sea eight miles southwest of New Providence Island, Bahamas, at approximately 11:15 am. Although the search has revealed no trace of any member of the crew, the Commanding Officer has now advised that there would appear to be little doubt that all members of the crew lost their lives when the aircraft struck the water. It is therefore necessary to consider your son as 'missing believed killed' until further evidence is received, or in the absence of additional confirmation, until the lapse of six months from the date he was reported missing, when his death will be officially presumed." The names and next of kin of the other crewmembers were provided.
An investigation ensued and a Court of Inquiry was struck. "On inspection, we found the main wreckage to be badly broken up, indicating that the aircraft struck the water at high speed." Both engines were found. "All relevant portions have been examined by divers or brought ashore and there is no evidence whatever to explain the accident. There was a severe thunderstorm over the scene of the accident at the time." The aircraft was "flying in the area of the storm. The reason why the aircraft was at this altitude is not known. Cause of accident: unknown. Aircraft may have been damaged in electrical storm in the area at that time. Stress has been laid on the danger and violence of electrical storms in this area." By October 12, 1943, the crew was presumed dead.
Mr. Vallance wrote on the Estates form on January 24, 1944, "We are of the opinion that he had insurance but do not know where policy is. The deceased informed me he was taking both war savings certificates and bonds on the pay deduction plan. I would suspect them to be amongst his belongings." Jack had a seventeen shillings and sixpence debt at the time of his death at the Windsor Hotel in Nassau, Bahamas. Four shillings and sixpence were found in his personal effects.
Jack is remembered on the Ottawa Memorial as well as on his grandparents' headstone in Kerrobert, Saskatchewan.