Richard 'John' Tyler J24537
May 11, 1917 - April 22, 1943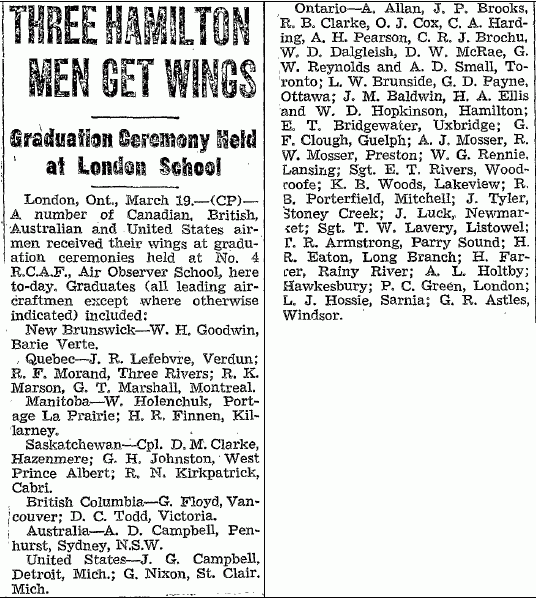 Keen to be a pilot, he became an air bomber.
Richard John Smart Tyler, born in Folkestone, England, was the son of Richard Owen Tyler, carpenter, in Stoney Creek, Ontario, and Martha Jane Smart. (She was deceased.) Ivy Tyler was his step-mother. He had two younger brothers, Denis, 11, Robert, 9, and three sisters. Jean, 25, Frances, 14, and Elizabeth, 6, all at home as of February 1944. The family was Anglican.
Richard changed his name to John Tyler.
He worked at CIL, a chemical plant in the maintenance and repair department. His father noted that John worked in munitions in Hamilton. Another list of jobs: truck driver, sandblaster/lathe operator, steel worker and shipper with Firestone Tire and Rubber Co, Hamilton, Ontario until he enlisted. He hoped to become a tool and die maker after the war. "Good mechanic, understands steel construction, can operate various machines."
John had two years of high school and took part of a year in a commercial course. "He was a very fair student, interested in his work and well behaved." On his interview report dated September 1941: "Maths: 53%, Physics 61%, English 72%. Assessed a pass for Aircrew at Delta Collegiate, Hamilton. This lad is keen to be a Pilot." John had been going to night school (pre-enlistment class) to bring his education up to required standard." By March of 1942, he had had a re-examination. "Poor physical condition. Believe he will improve in service. Only a fair bet for aircrew."
John smoked ten cigarettes per day and said he did not drink alcohol. He stood 5'10" tall and weighed 142 pounds. He had brown eyes, black hair and a medium completion. Mechanics was listed as his hobby; he liked baseball occasionally. He had a wiry physique, a mole above his naval, and a 'standard' mentality. In July 1942: "Fit. Average stability." The RCAF accepted John to train as a navigator.
John was sent to No. 1 Manning Depot from March 16, 1942 to May 22, 1942, then to No. 5 ITS, Belleville, Ontario, Course 57 from July 6 to August 29, 1942. "Quiet, unimpressive, lacks assurance, mechanically inclined. Good lather. Neat in appearance. 76 out of 85 in class. 69%."
John was sent to No. 8 AOS, L'Ancienne-Lorette, Quebec, Course 58, from August 31 to December 21, 1942. "This man did not show much interest in the course. Could have done better, but did not work hard enough. Would like to remuster to Air Bomber." He was 25th out of 26 in his class and achieved a 50.1%.
John was sent to Trenton for a month, before being sent to No. 4 B&G School, Fingal, Ontario on November 22, 1944 until February 6, 1943.
He finished his training at No. 4 AOS, London, Ontario on April 3, 1943. John was awarded his Air Bomber's Badge on March 19, 1943 as well as a commission.
John had $60 in savings and $60 worth of War Savings Certificates. His father was sole beneficiary.
John traveled to Halifax and was taken on strength at the Y Depot April 4, 1943. By April 13th, he was attached to the RAF Trainees' Pool, awaiting transportation overseas.
On April 22, 1943, John was aboard the Amerika, British Motor merchant ship. It was on its way from Halifax, Nova Scotia to Liverpool. It was torpedoed as the ship was heading to Britain. It was a straggler in convoy HX-234. Thirty-seven men, all officers in the RCAF, were presumed missing as a result of enemy action at sea; sixteen were landed at a British port after their ship was sunk by U-306, south of Cape Farewell, off Greenland. Forty-two crew members and seven gunners were also amongst those who were lost. The master, Christian Nielsen, 29 crewmembers, eight gunners, and sixteen passengers were picked up by the HMS Asphodel, and landed at Greenock. General cargo, including metal, flour, meat and 200 bags of mail were also lost.
In late June 1943, Mr. Tyler received a letter from F/L Gunn, including a list of the names and next-of-kin of the sixteen RCAF Officers who survived. "Since my letter of May 6th, no additional news has been received. Attached is a list of the names and next-of-kin of sixteen Royal Canadian Air Force officers who embarked on the same ship as your son and following enemy action at sea were safely landed in the United Kingdom. The following official statement was made in the House of Commons....'I have been in receipt of communications from a number of members of this house and from people outside with reference to rumours regarding the recent loss of a number of members of the RCAF by the sinking of a ship in the north Atlantic and I desire to make the following statement on the facts. The vessel in question was a ship of British registry of 8,862 tons, designed for peace-time carriage of both passengers and freight, and having a speed of fifteen knots. She carried a crew of 86 and the passenger accommodation consisted of 12 two-berth rooms with bath and 29 other berths, providing cabin accommodations for 53 passengers. She was fitted with lifeboat capacity for 231 and travelled in naval convoy. Under the recently revised regulations agreed to by the United States authorities, the joint United Kingdom and United States shipping board, the Admiralty, the Air Ministry and the Canadian authorities, a vessel of this description travelling in convoy is permitted to embark as crew and passengers a maximum of 75% of the lifeboat capacity. The lifeboat capacity as stated above was 231, 75% of which is 173. Personnel on board consisted of the crew of 86, and RCAF personnel numbering 53, a total of 139, well within the prescribed limits. Because of the superior type of available passenger accommodation, the speed of the ship and the provision of naval convoy, the offer of the entire available space to the RCAF was immediately accepted. Rumours to the effect that this was a slow freighter not suitable for passenger accommodation are, of course, not in accord with the facts. Every precaution was taken to safeguard the lives of these gallant young men. It should be pointed out that on account of the serious shipping shortage every available berth on such ships must be used, and had the space not been taken up by the RCAF officers of the other arms of the services would have been placed on Board. It should also be stated again that the submarine is still the enemy's most powerful weapon and that the Battle of the Atlantic is not yet won. Any ocean trip today in any part of the world is fraught with danger and I think I safely say that our record in transporting our soldiers and airmen to the United Kingdom is one of while we may all be proud. No one deplores more than I do the loss of 37 of the finest of our young men who gave their lives for their country as surely as if they had done so in actual combat with the enemy, and I extend my deepest sympathy to their loved ones in their bereavement.' If further information becomes available, you are to be reassured it will be communicated to you at once. May I again extend to you my sincere sympathy in this time of great anxiety.
In January 1944, Mr. Tyler received a letter from Air Marshall Robert Leckie informing him that John was now officially presumed to have died on Active Service on April 22, 1943.
In October 1955, a letter addressed to Mr. Tyler arrived from W/C Gunn stating since that John had no known grave, his name would appear on the Ottawa Memorial.