John Moody Smith C1006
June 24, 1916 - February 3, 1945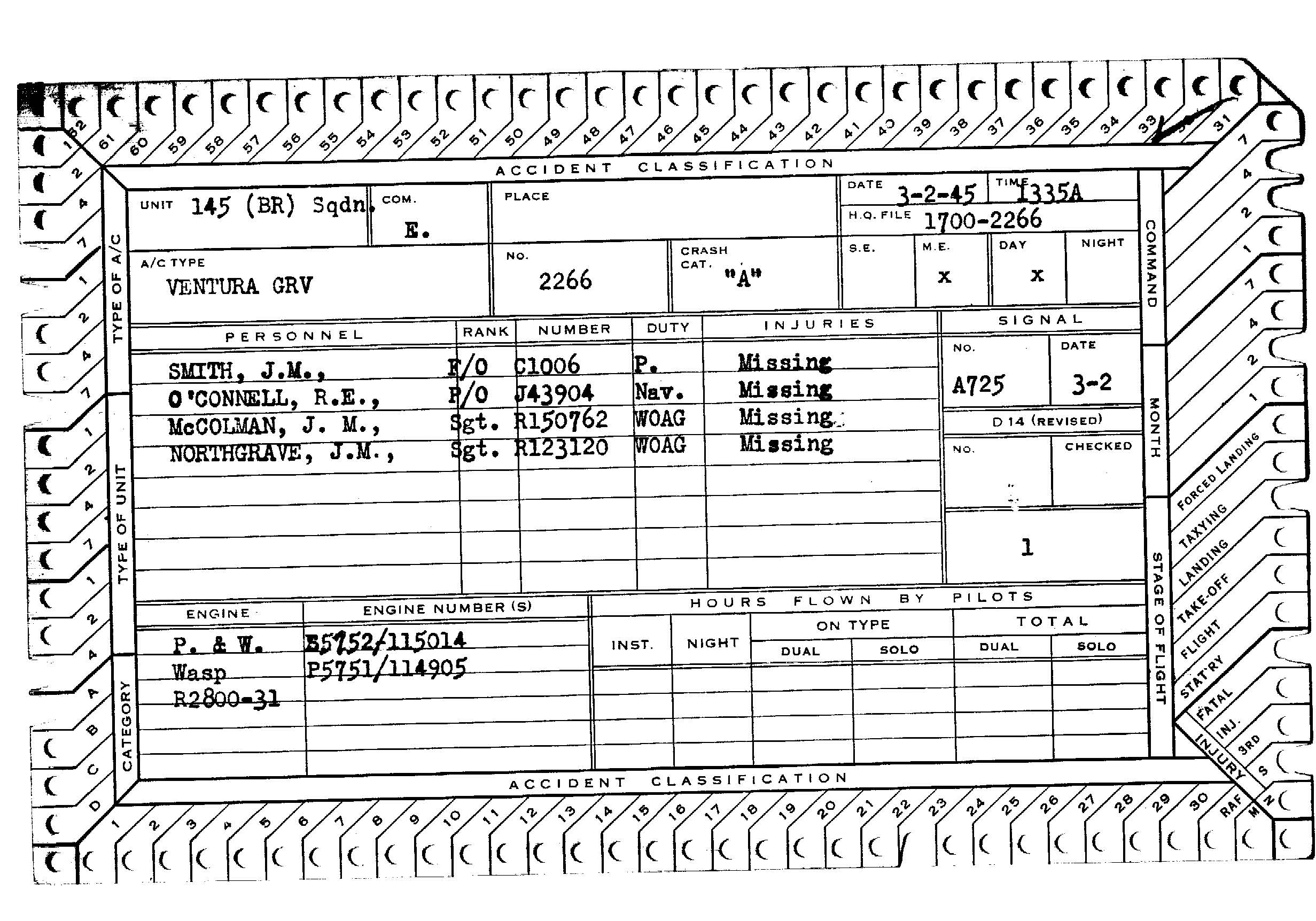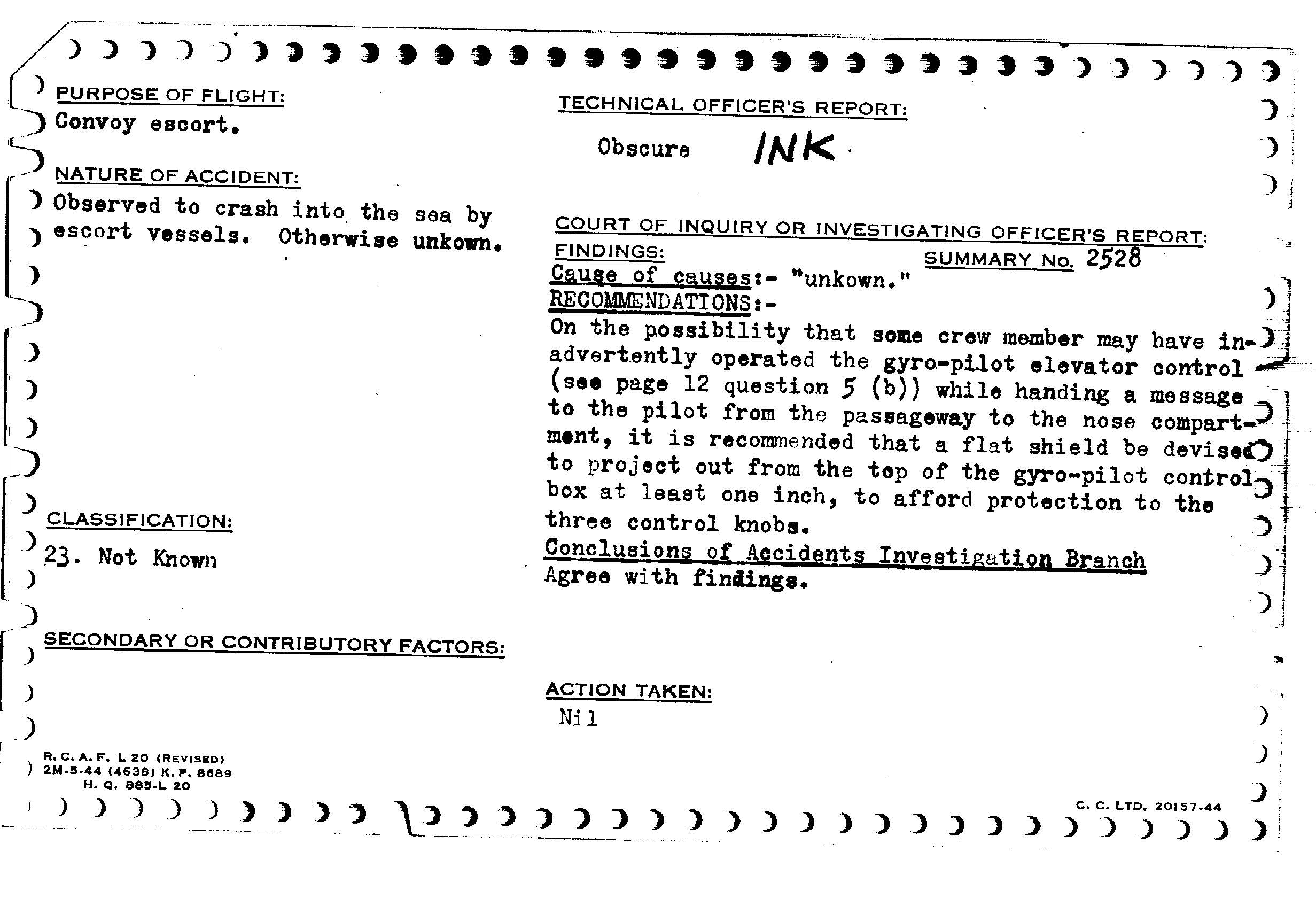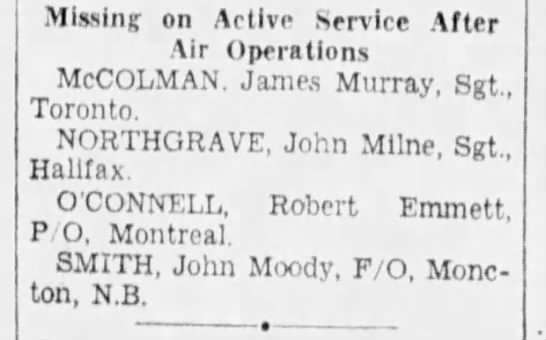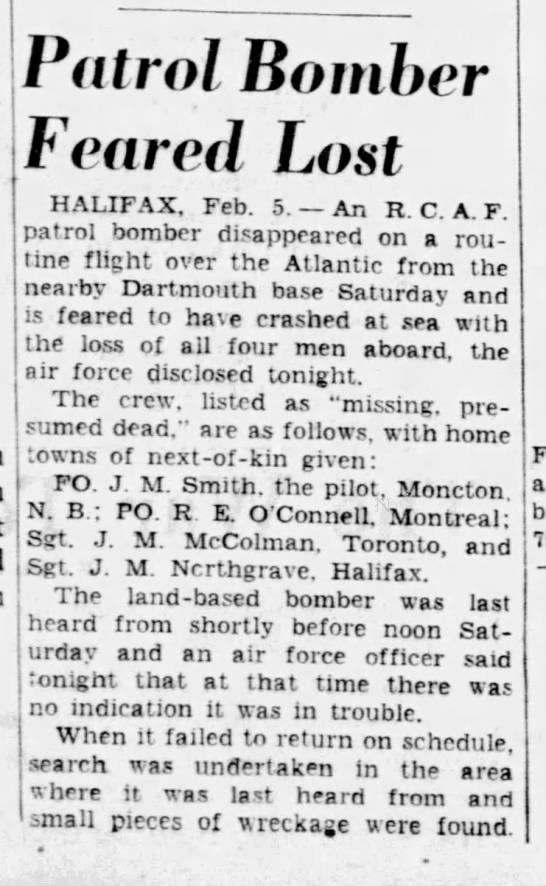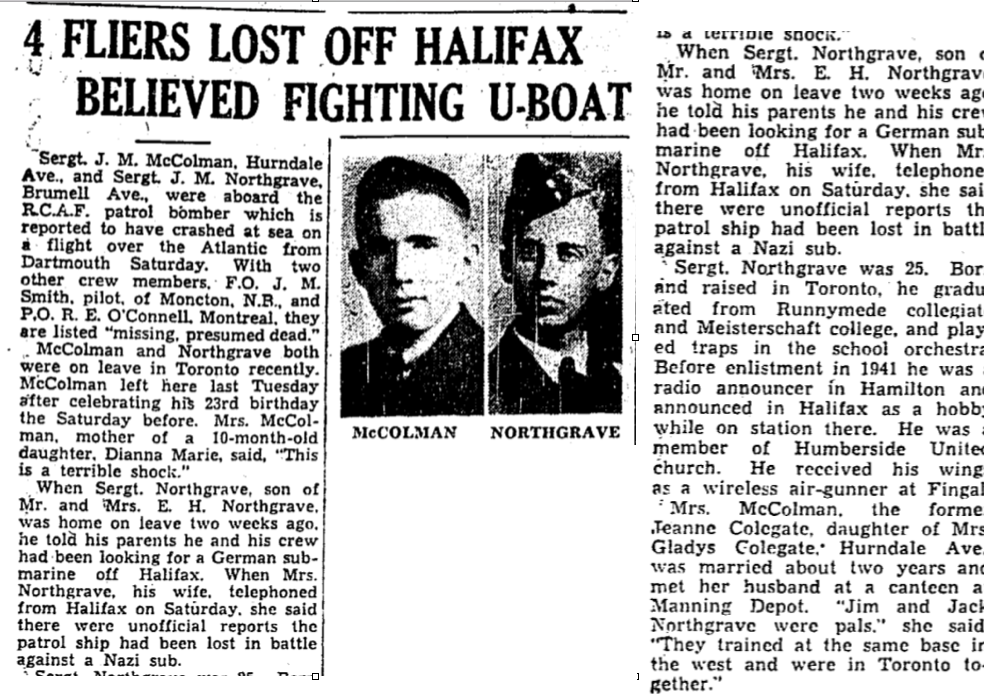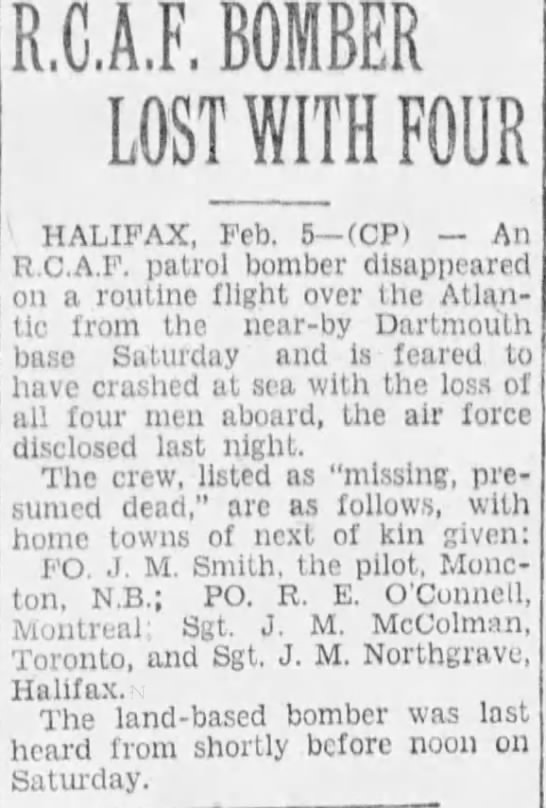 Credit clerk first enlisted with RCAF in equipment and accounting, then remustered to aircrew training, becoming pilot. Aboard Ventura 2066, he and crew were lost off Dartmouth during a routine convoy escort flight when it crashed and exploded.
John Moody Smith, born at Grosse Island, Quebec, was the son of Edward Smith and Annie Ellen (nee Urnlah) Smith of Halifax, Nova Scotia. He had one brother, George Edward Smith. The family. Moved to Halifax when John was five years old. The family was Protestant.
John earned a Bachelor of Commerce degree at St. Mary's College, Halifax, Nova Scotia, working at T. Eaton Co. (Maritimes), as a credit clerk. He was a corporal (RCAMC) from 1935-1939 and enlisted in the RCAF in 1939. John had completed a course of instruction for the RCAF in equipment and accounting at No. 1 Technical Training School, St. Thomas, Ontario from December 12, 1939 to February 28, 1940 earning 77.1% [above average] when he remustered for aircrew training.
He liked swimming, squash and tennis, indicating he had no hobbies when he filled out his enlistment papers in July 1940. He was considered muscular and alert. A long scar on his left forearm and scar on his left ankle were noted. He stood 5'5" tall and weighed 140 pounds, had grey eyes and fair hair. He had worn glasses since 1938, but "not much lately." Other comments: "History of bronchitis as a child. No subsequent symptoms. Eye strain, now wears glasses occasionally, but visual acuity is 20/15 and 20/15 without them. Brother in Canadian Navy contracted tuberculosis four months ago, discovered by x-ray. He has visited him since (this was only a small spot in upper lobe with no symptoms) and this is the only contact with his brother that he has had. Vision and eye muscle balance are normal. Leg length is 38 ½" and tests in a service aircraft should be done."
John was at No. 3 ITS, Victoriaville, Quebec, from July 20 to September 11, 1942. He was 27th out of 87 in his class with 89%. "This officer took a keen interest in his ITS course. He is cooperative and efficient. Highly recommended."
He then was at No. 17 EFTS, Stanley, NS, September 14 to November 6, 1942, passing with 84.4%, fifth in class of 13. Here, he was involved in an accident in Fleet Finch 4758 on November 5, 1942, at 1945 hours. "Coming in for a landing, levelled off too high. A/C stalled at about 25 feet, dropped heavily and swerved to right, and right wing dropped. Officer attempted to correct by applying right rudder and throttle." It was a dark, clear night, with no wind. "Very conscientious and able student. Mature. Keen and reliable type. No outstanding weaknesses."
He then was at No. 8 SFTS, Moncton, NB, November 9, 1942 to March 5, 1943. He passed with 71.4% and was 18nd out of 65 in his class. "An average student. A little erratic and over-confident." He received his Pilot's wings on March 5, 1943.
He married Elaine Louise Tingley in Moncton, NB on September 18, 1943. They had one son, John Gregory Smith, nine months old, living with his mother in Halifax, Nova Scotia in August 1945. By 1950, she was living in Moncton, NB.
John had a variety of assets including $495 in War Savings Certificates, $600 in Victory Loan Bonds, plus life insurance.
John was sent to No. 3 FIS, Arnprior, Ontario March 19, 1943. Then was posted to No. 17 EFTS, Stanley, NS in April 1943 until January 6, 1944 when he was at No. 10 EFTS, Pendleton, most likely as an instructor.
March 16, 1944, he was sent to No. 1 GRS Summerside, PEI, until June 25, 1944. He was then sent to RCAF Pennfield Ridge July 1, 1944 and then to 145 Squadron October 31, 1944.
On February 3, 1945, Ventura 2266, 145 BR Squadron was on a routine flight [convoy patrol] over the Atlantic from Dartmouth and was thought to have crashed at sea. CREW: Sgt. James Murray McColman (R150762), WOAG, Toronto, Sgt. John Milne Northgrave (R123120), WOAG, Halifax, F/O Robert Emmett O'Connell (J43904), Navigator, Montreal, F/O John Moody Smith (C1006), pilot, Moncton, NB.
According to the newspaper, "searchers for the plane found only small pieces of the wreckage. Unofficial reports said the aircraft was lost as the result of action against a German submarine."
All men's names appear on the Ottawa Memorial.
The full Court of Inquiry can be found on Microfiche T12343, Image 246. Transcription can be found on James Murray McColman's page, as well as additional photos.