John Allen Ovens J27170
June 4, 1917 - November 7, 1943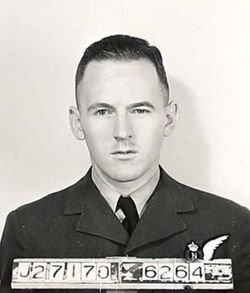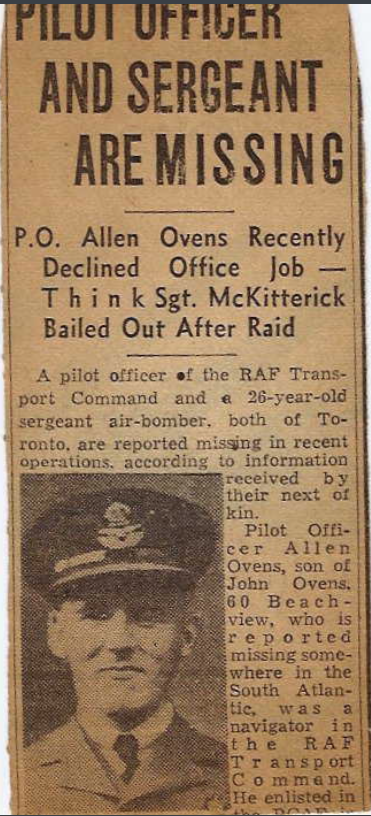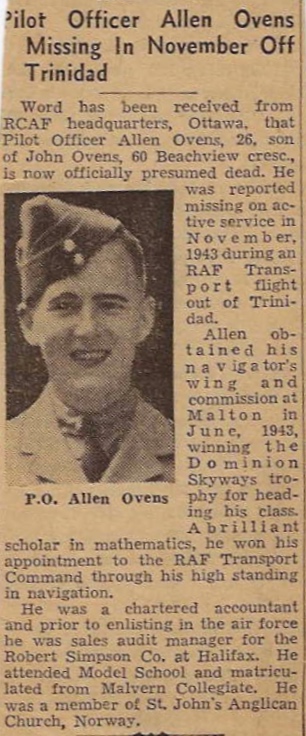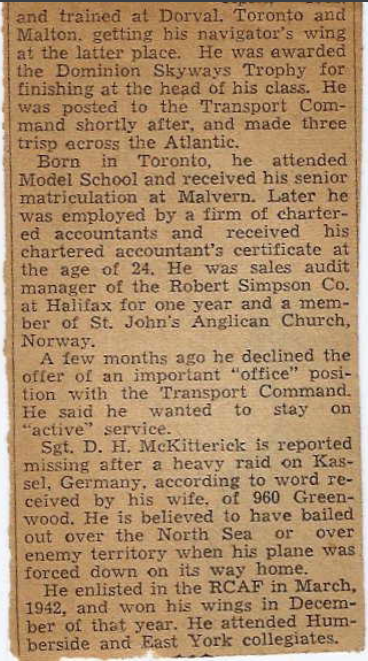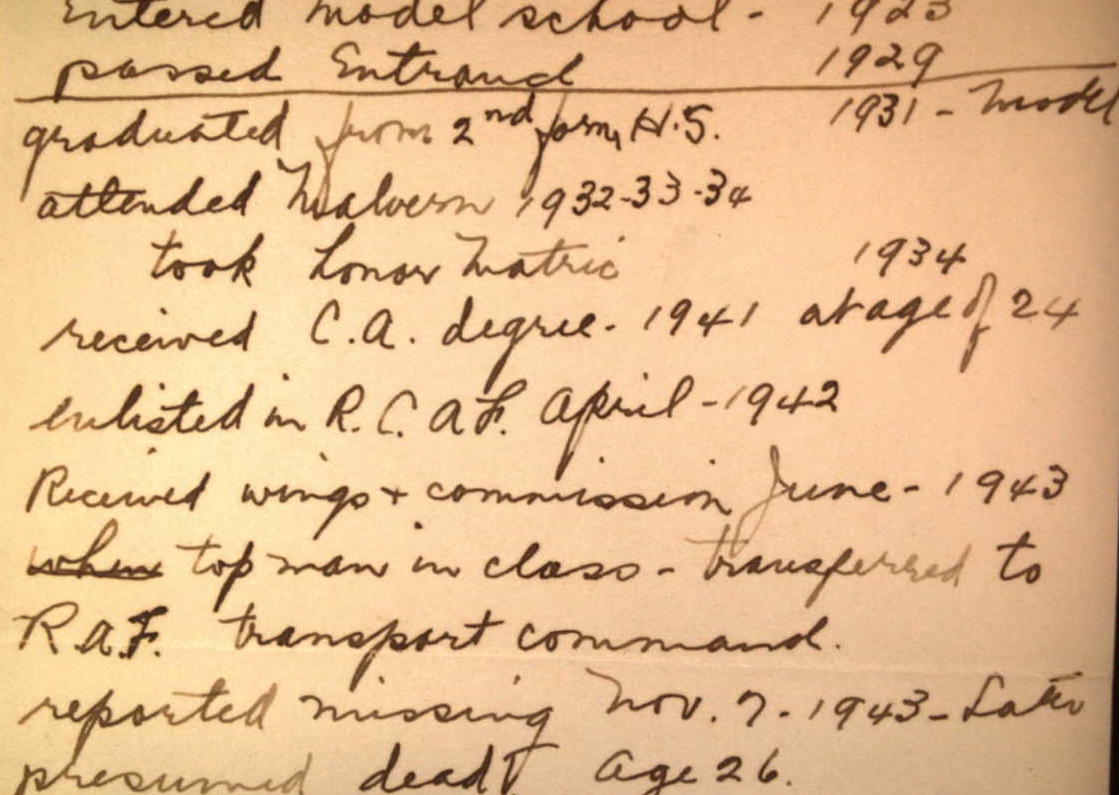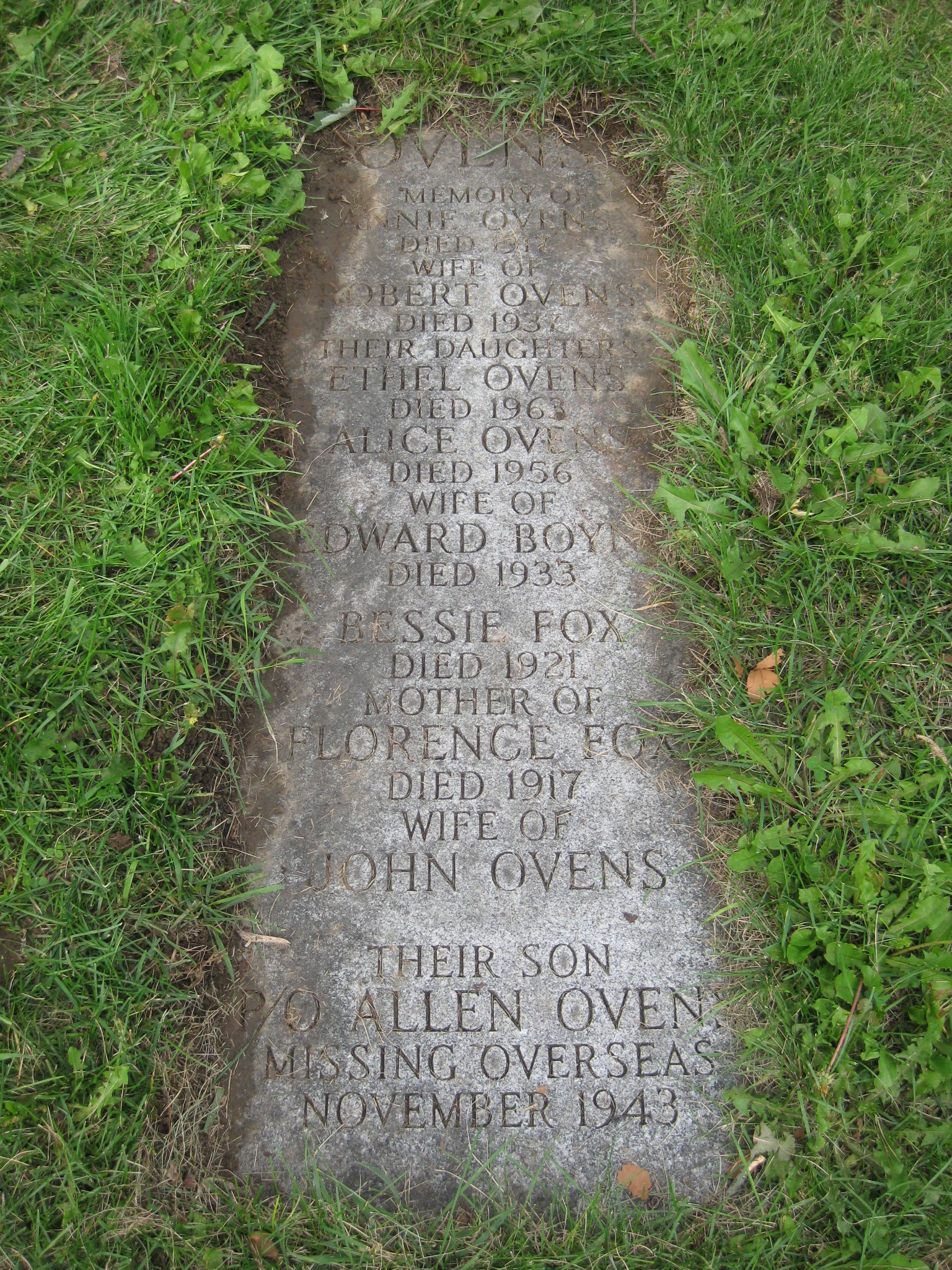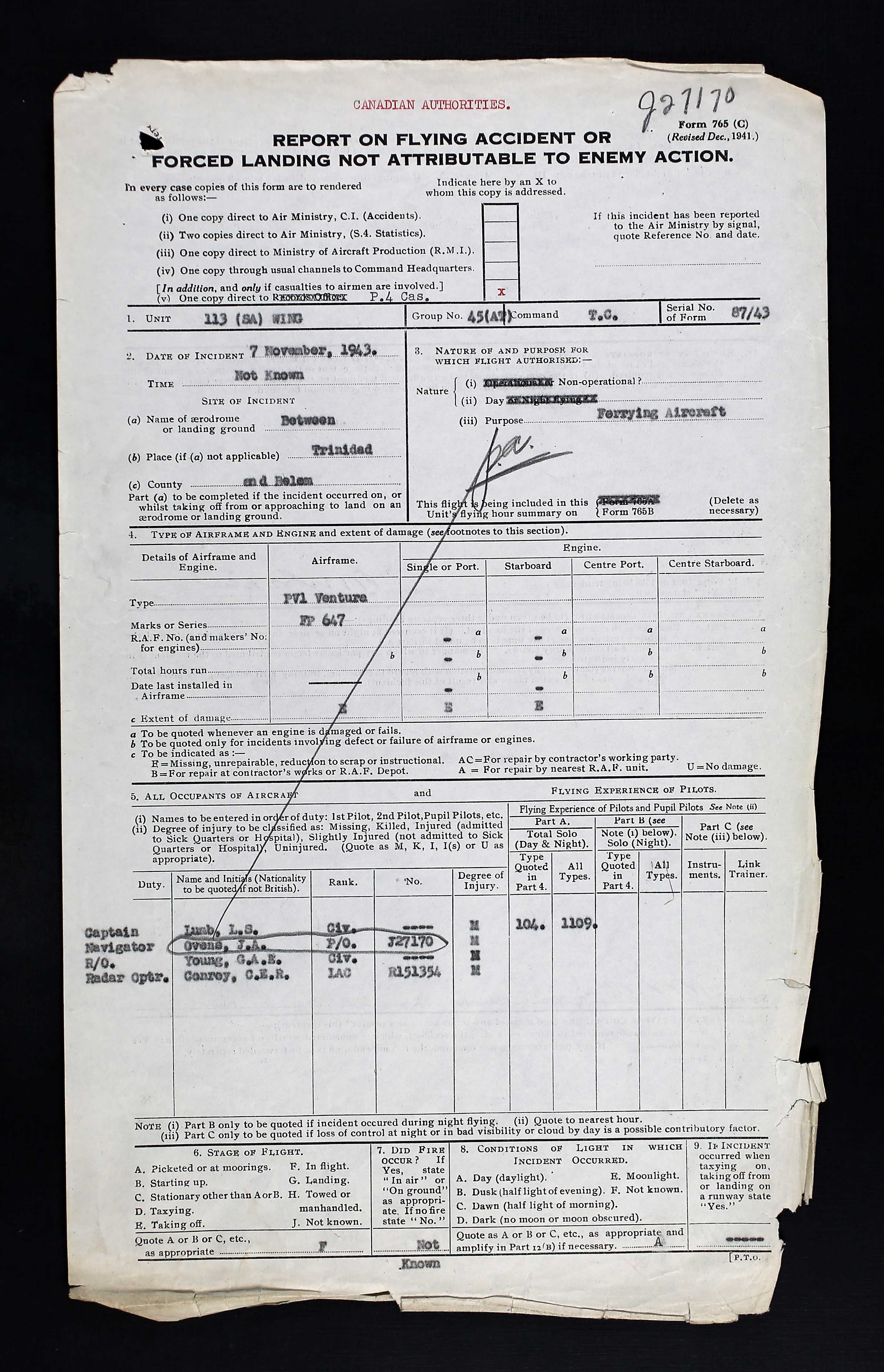 An accountant became navigator for RAF Ferry Command. On flight from Trinidad to Belem, Brazil, Ventura V FP647 went missing.
John Allen Ovens was the only child of John Ovens, a bookkeeper/office manager based at the Canadian National Institute for the Blind, and Florence Bell (nee Fox) Ovens of Toronto (1890-1917). Mrs. Ovens died during childbirth. The family was Anglican.
John, known as Allen, was a chartered accountant, receiving his education at Queen's University from 1935-1941. He worked as a stock clerk for a tobacco company for a short time, then an auditing clerk from 1935-1941, then a sales audit supervisor from 1941-1942. He lived in Toronto for 24 years and Nova Scotia for one year. He had $601.90 plus $60.80 in bank accounts, plus had $350 in War Savings Certificates, plus life insurance policies. He also had $112.90 in Dominion Government Annuity. His assets totaled $4,395.98.
He liked tennis, badminton, golf, baseball, swimming, skiing and skating. He collected stamps and liked to read and play the piano. He did not smoke, nor drink alcohol. He stood 5' 5 ½" tall, weighing 133 pounds. He had hazel eyes and reddish hair, with a fair complexion. "Two carious teeth, which require extraction. No molars in lower left. Gums healthy. Flat feet, asymptomatic in spite of a fair amount of athletics. Tenderness in RLQ, mild suggesting mild appendicitis. Wiry. Phimosis of mild degree." Other comments: "Temperament: alert, pleasant, cooperative. He is mature mentally, appears well-balanced. He is holding a responsible job at present and appears to be a capable chap. Should make good a/c. Appendix will probably have to be removed before active flying engaged in. Motivation fair. Ambitious. Intelligent, reactions good. Wants navigator."
Allen started his journey through the BCATP at the Halifax, Nova Scotia Recruiting Centre on April 30, 1942. He was then sent to No. 5 Manning Depot, Lachine, Quebec on June 11 until October 24, 1942.
He was then sent to No. 6 ITS, Toronto until January 23, 1943. He was 9th out of 122 in his class with 89%. "Studious and a hard worker. An example in deportment and application. Bright, very keen, tries to excel, looks like a good bet for any part of aircrew, but definitely prefers navigator."
From there, he was sent to No. 1 AOS, Malton, Ontario until June 25, 1943 where he became a navigator, first in his class with 86.9%. He was sent to RAF Ferry Command, Dorval, Quebec June 27, 1943.
Crew of Ventura V FP647 on their way from Trinidad to Belem, Brazil: • RCAF, LAC Charles Ewart Conroy, R151354, passenger, radar mechanic, Stratford, ON • RAF, Captain Leonard Sylvester Lumb --Canadian civilian pilot with RAF Ferry Command, Toronto, ON • RCAF, Pilot Officer, John 'Allen' Ovens, J27170, navigator, Toronto, ON • RAF, Radio Officer, Eugene Gilbert Young -- Canadian civilian, radio operator, Moncton, NB
Destined for South Africa, according to the book "British Purchasing Commission," the plane was lost out of Trinidad. In RAF Commands Forum, "the direct line between Waller Army Airfield, Trinidad and their next stop in Belem was two-thirds over land, including Suriname, French Guiana, and Brazil…could the plane have crashed in a jungle?"