John William Newman J38970
July 7, 1919 - March 28, 1945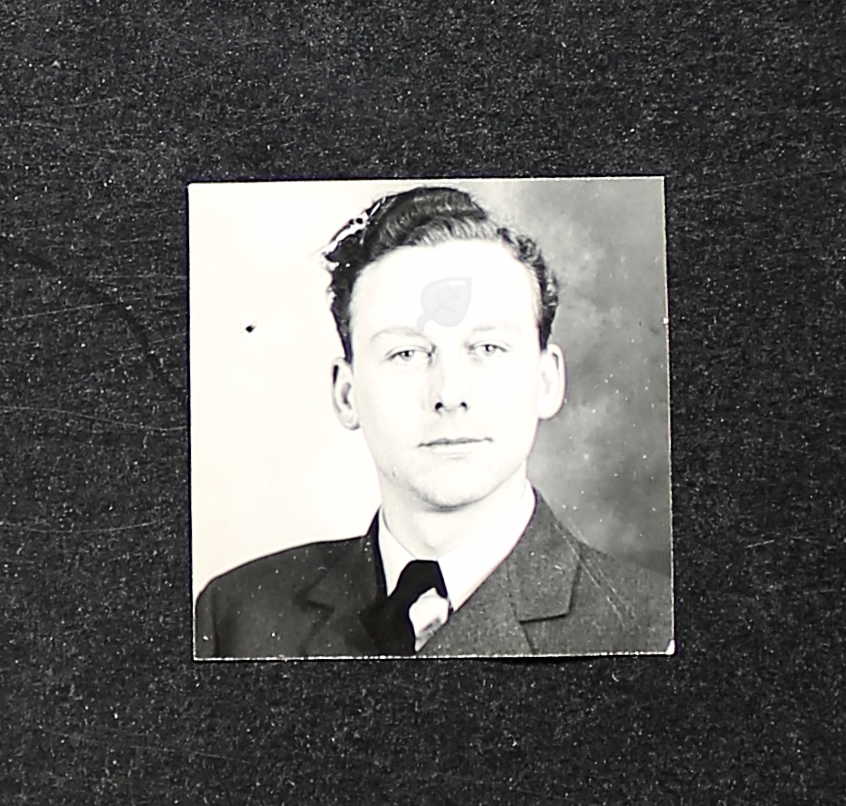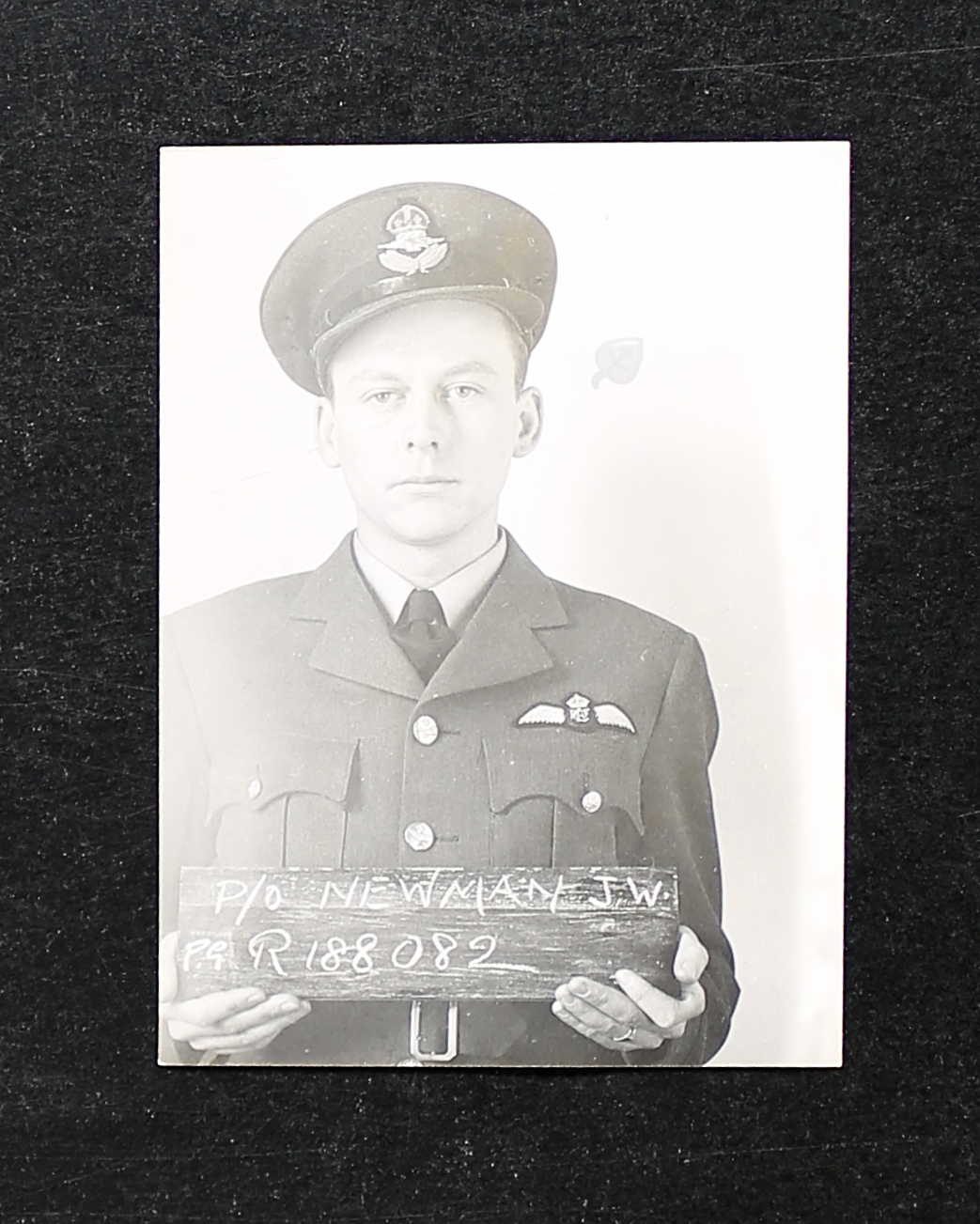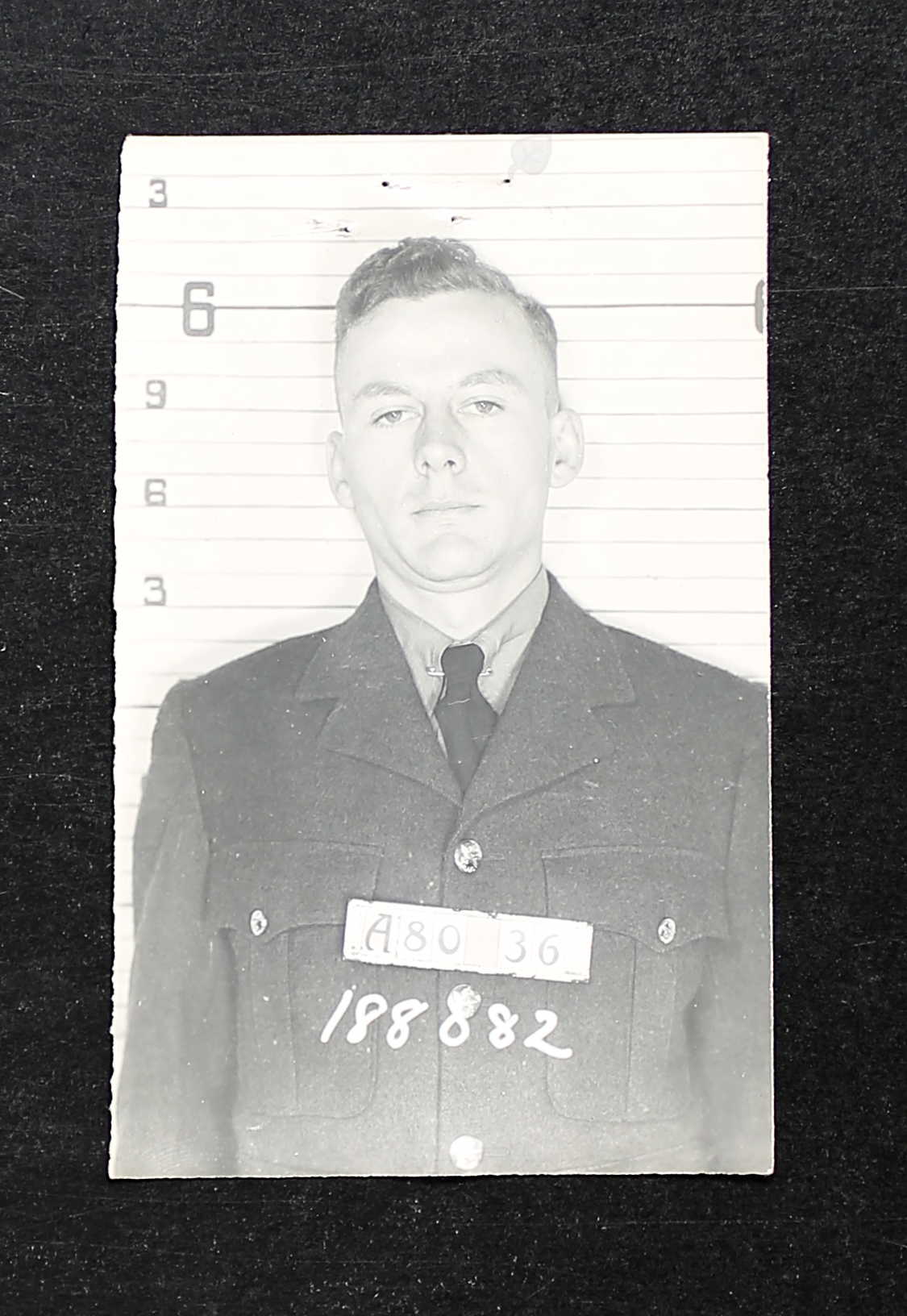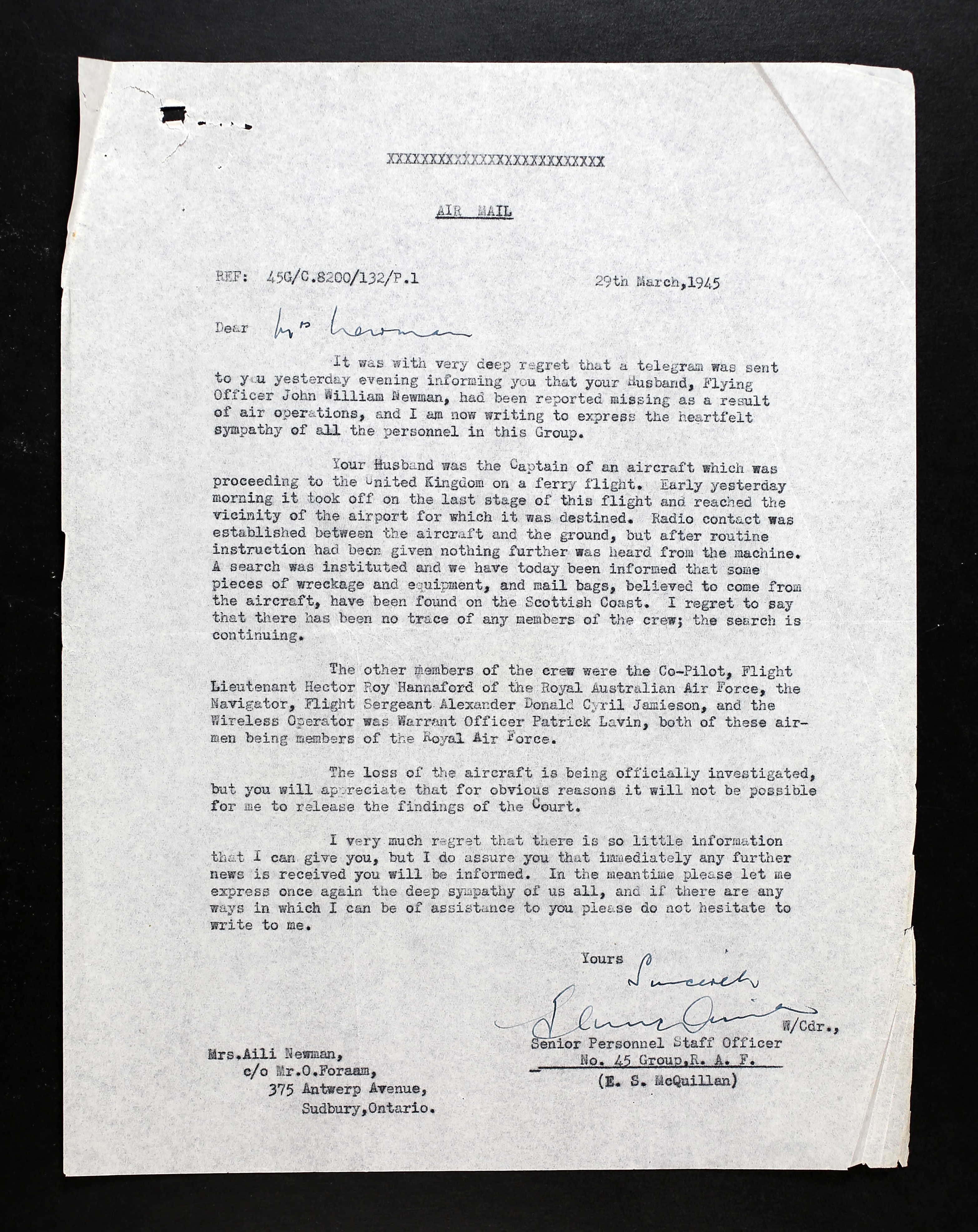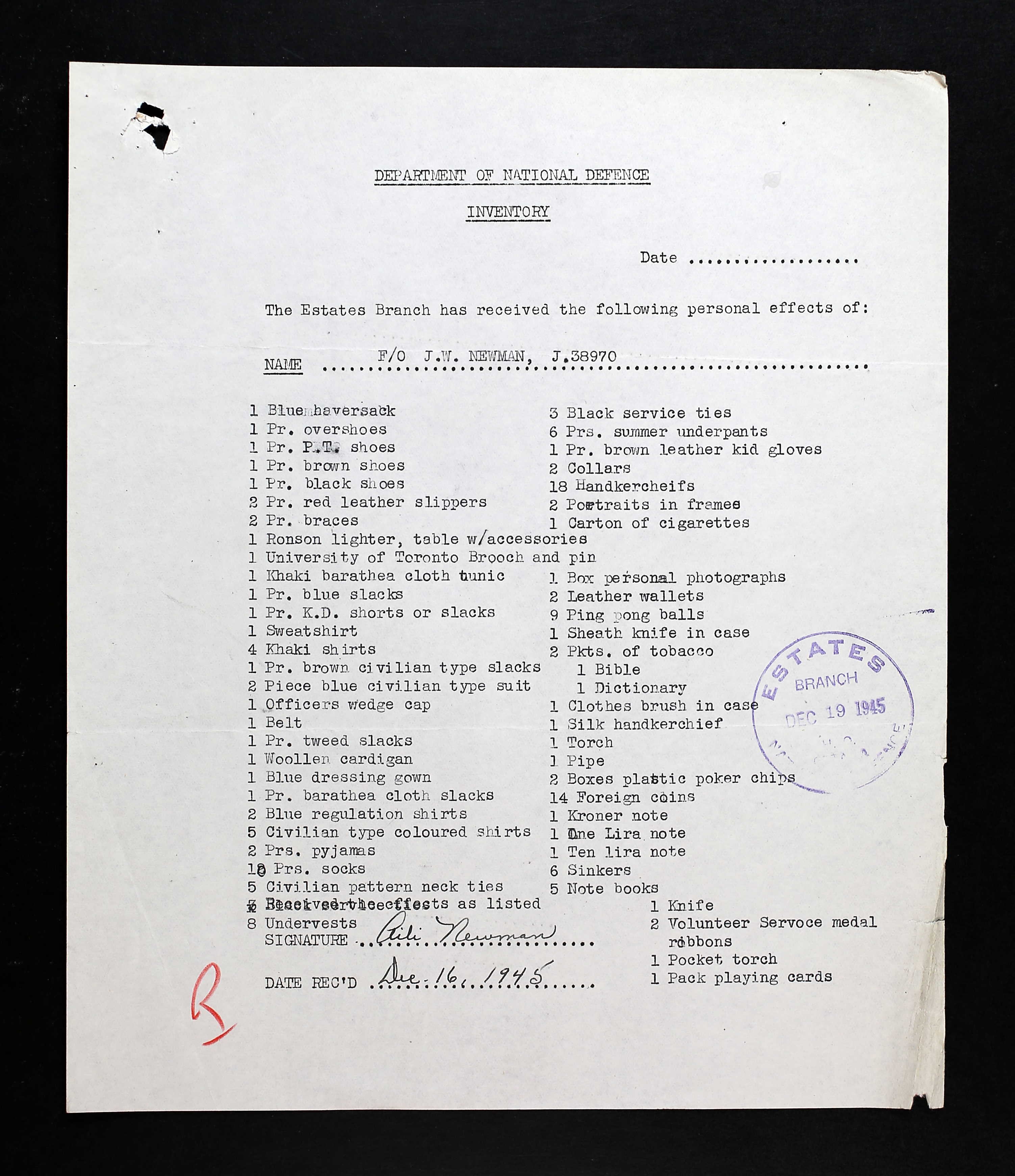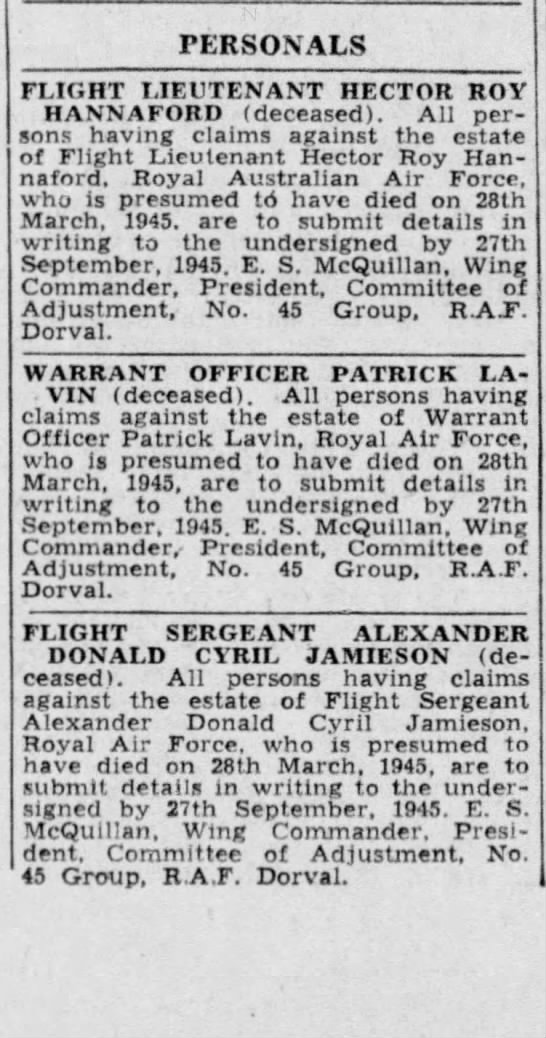 Butter maker planning to become provincial dairy inspector became pilot, taken on strength with Air Transport. He and crew of three were lost near the coast of Scotland in March 1945. Wreckage and mail found, but no sign of the crew.
John William Newman was the son of Harper Francis Newman (1887-1977) and Laura Mabel (nee Westcott) Newman (1881-1944) of Gamebridge, Ontario. He had a sister, Bessie Elma Johnstone (1917-2012). The family attended the United Church.
In 1930, he had a severe eclipse blindness and due to that, he had slight excessive pigment in his right macula. John had pleurisy ten months prior to his enlistment with the RCAF in August 1942. An operation where a bone was removed from his left knee due to a previous small fracture had fair results. "Occasional stiffness on standing long time but is game." In April 1943: "No trouble at present with left knee. Exostosis is not any larger, so trainee states."
John enjoyed hockey and baseball. He attended U of T and earned a Bachelor of Science, then attended the Ontario Agricultural College in Guelph, Ontario. John had previous military experience in COTC. He was working at a creamery as a butter maker when he enlisted and planned to return to dairy plant work after the war. He had a position waiting as a creamery inspector with the Department of Agriculture. He stood 70 ¾" and weighed 144 pounds. He was considered athletic. A ½" horizontal scar on his right cheek was noted. John was recommended for aircrew ITS. "Very promising material. Mature. Resolute manner. Calm and composed. Smart appearance and bearing. Has just completed BSA course successfully. Strong desire to fly. Good build. Desirable type."
John's journey through the BCATP began at No. 11 Recruiting Centre in August 1942, then went to No. 1 Manning Depot, Toronto in October. From there, he was sent to No. 9 SFTS in Exeter, Ontario December 1942. He was admitted to the station hospital January 18 – 22, 1943, then sent to No. 9 SFTS Centralia, Ontario, and No. 6 ITS Toronto by April 1943. John was 47 out of 112 in his class with 82%. April 13, 1943: "Good physique. Quiet. Has very little to say. Normal interests; is probably a hard worker. Stable and mature. Motivation is fair to better. Seems a dependable and adaptable lad." His night vision was exceptional. "Good all-round type. Well educated, possessing good manners and has shown excellent conduct and application to work throughout course. Second aircrew recommendation: Air Bomber." By June 1943, he was at No. 12 EFTS, Goderich, Ontario, then sent to No. 9 SFTS, Centralia, again in August 1943. He earned his commission on November 26, 1943. John was at No. 34 O.T.U. Pennfield Ridge, NB until posted to No. 45 Air Transport, Dorval, Quebec, March 28, 1944. John was again at a station hospital September 4 – 14, 1944.
He married Aili Tuulikki Forbom, on January 28, 1944 in Saint John, New Brunswick. They had a son, John Harper William Newman, born in 1944. They resided in Sudbury, Ontario. John had about $400 in Victory Loan Bonds and $13760 in life insurance. He had no assets except personal effects with RCAF, Aili noted.
Aboard Dakota KN409, he was the captain which was proceeding to the United Kingdom on a ferry flight. In a letter dated March 29, 1945 addressed to Aili written by W/C E. S. McQuillan, Senior Personnel Staff Officer No. 45 Group RAF: "Early yesterday morning it took off on the last stage of this flight and reached the vicinity of the airport for which it was destined. Radio contact was established between the aircraft and the ground, but after routine instruction had been given come, nothing further was her from the machine. A search was instituted an we have today been informed that some pieces of wreckage in equipment, and mail bags, believed to come from the aircraft, have been found on the Scottish coast. I regret to say that there has been no trace of any members of the crew; The search is continuing. the other members of the crew were the co-pilot, Flight Lieutenant Hector Roy Hannaford of the Royal Australian Air Force, the navigator, Flight Sergeant Alexander Donald Cyril Jamieson, and the wireless operator was Warrant Officer Patrick Lavin, both of these air men being members of the Royal Air Force. The loss of the aircraft is being officially investigated, but she will appreciate that for obvious reasons it will not be possible for me to release the findings of the court. I very much regret that there is so little information that I can give you, but I do assure you that immediately any further news is received you will be informed. In the meantime, please let me express once again the deep sympathy of us all, and if there are any ways in which I can be of assistance to you please do not hesitate to write to me."
PREVIOUSLY REPORTED MISSING March 29/45. DELIVERY FLIGHT, DORVAL, GOOSE, BLUIWEST, REYKJAVIK, PRESTWICK. NOW PRESUMED DEAD MARCH 28/45 FOR OFFICIAL PURPOSES.
The crew members of KN409 were: *Flight Lieutenant Hector Roy Hannaford DFC (407427) (Co-Pilot) *Flight Sergeant Alexander Donald Cyril Jamieson (1391066) (RAFVR) (Observer) *Warrant Officer Patrick Lavin (981512) (RAFVR) (Wireless Operator) *Flying Officer John William Newman (J/38970) (RCAF) (Pilot)
In late October 1955, Aili received a letter informing her that since John had no known grave, his name would appear on the Ottawa Memorial. His crew's names are also on the Ottawa Memorial.
LINKS: