John Earl Moon C24441
July 17, 1916 - September 16, 1944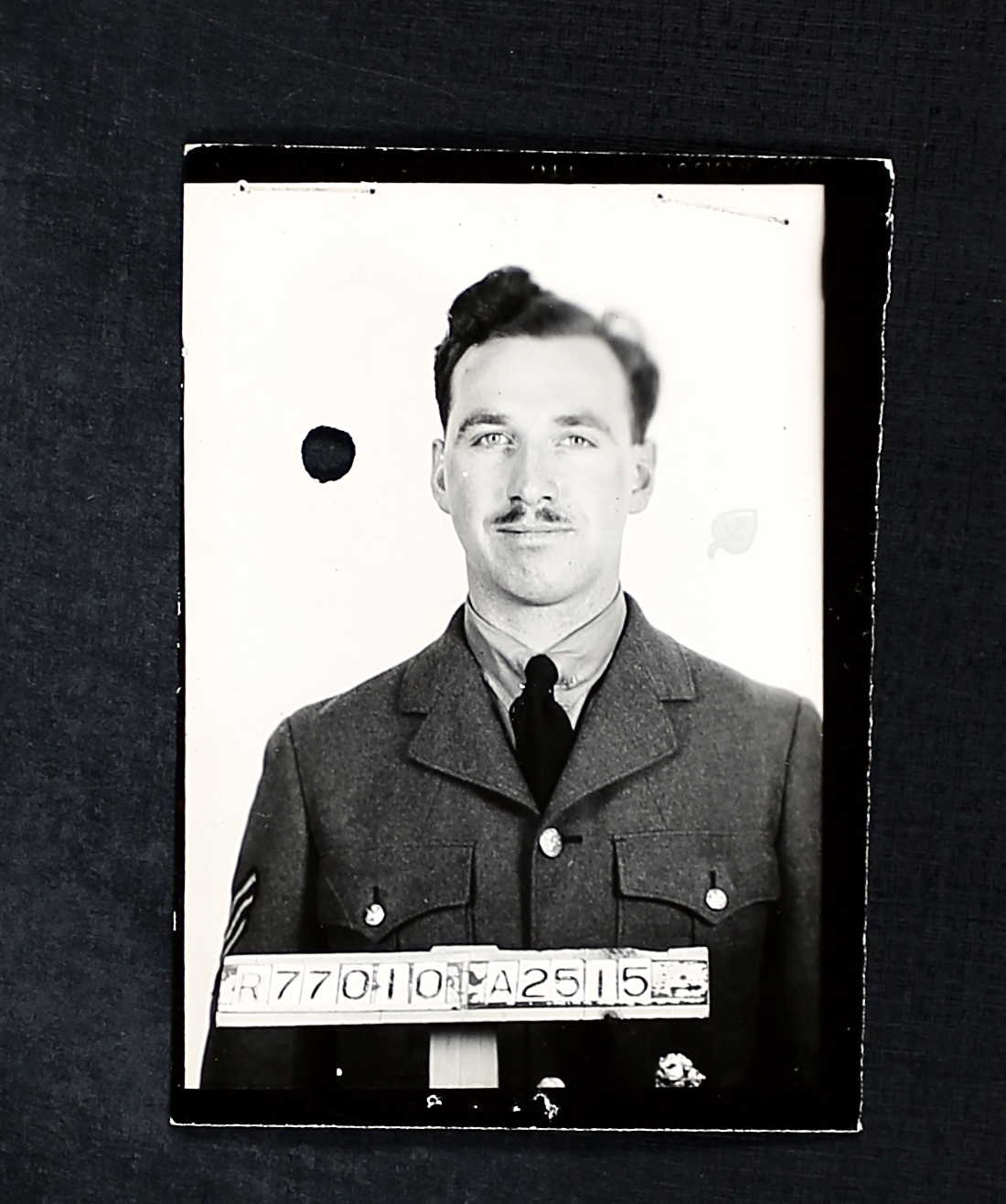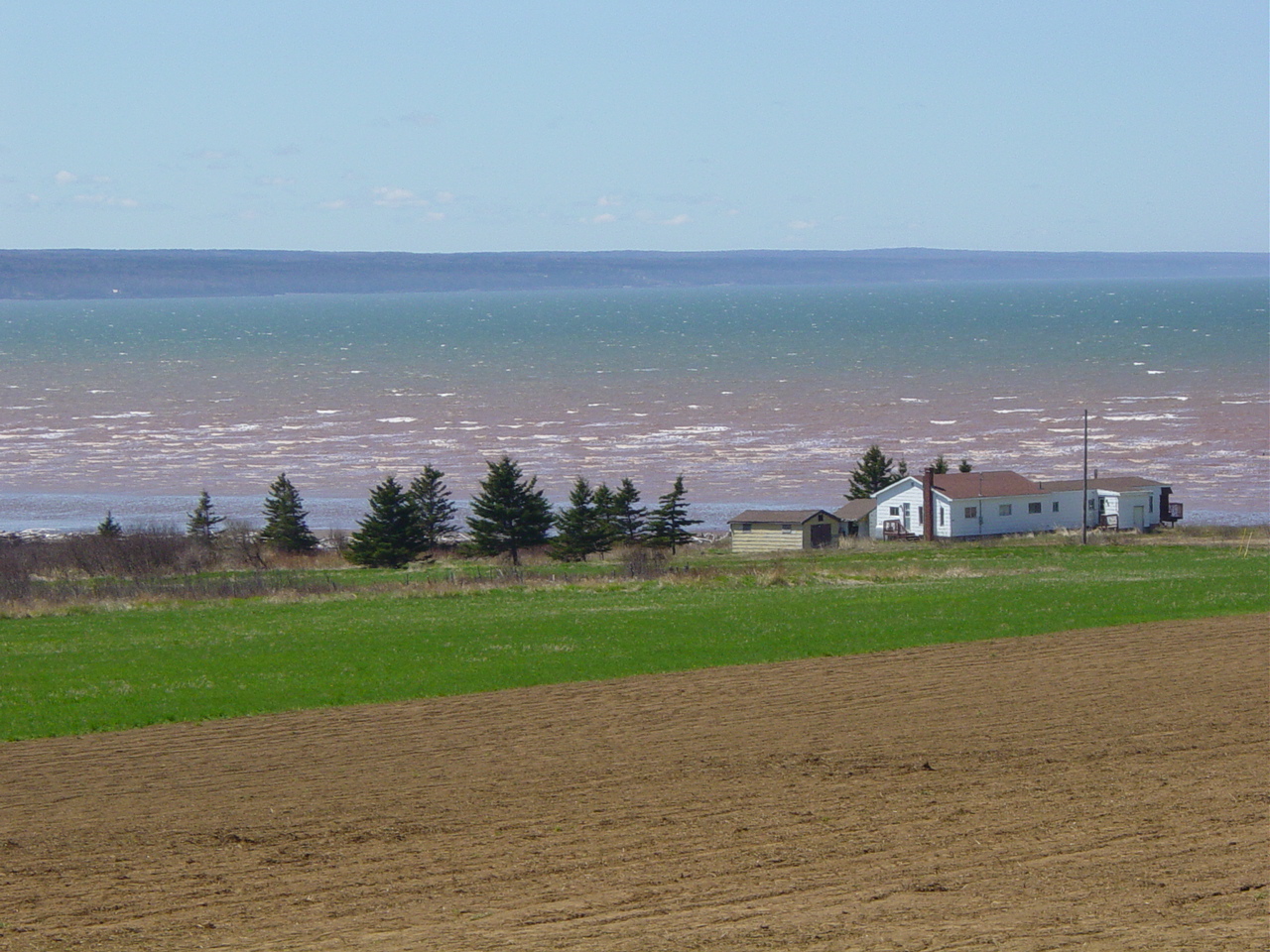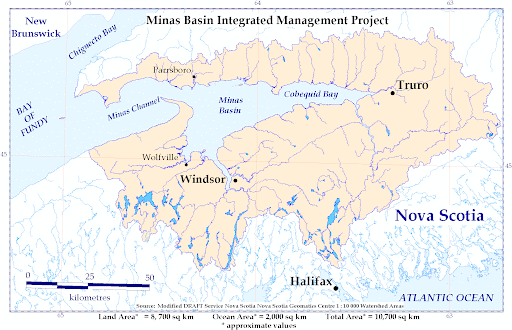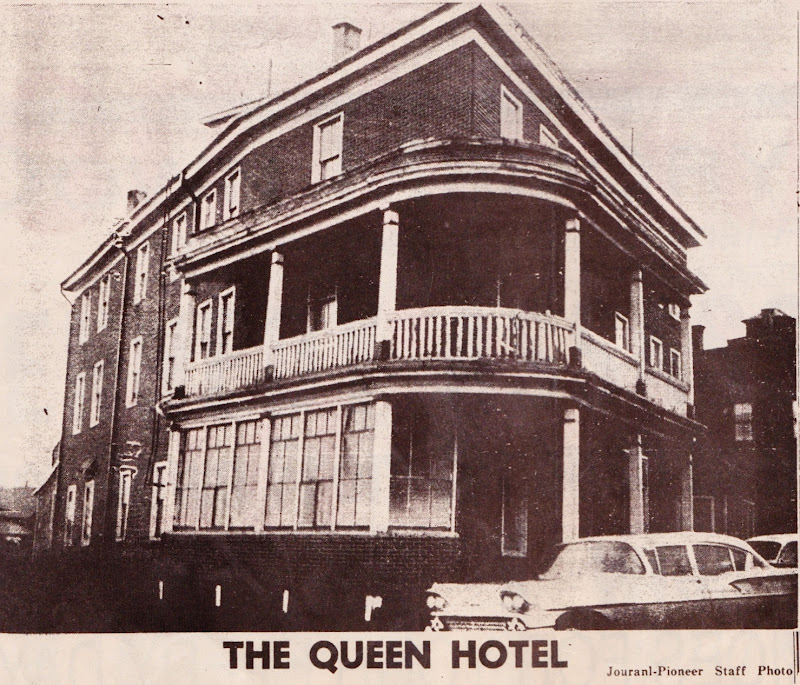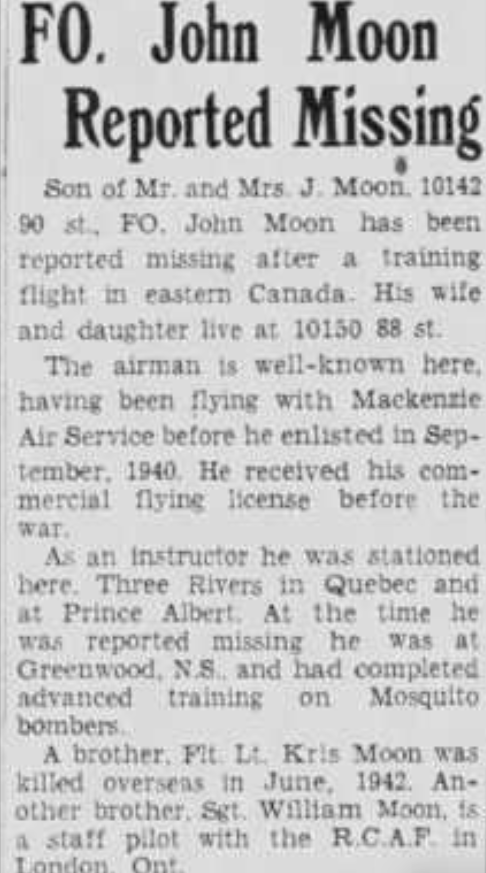 With private pilot's license, he joined RCAF as an instructor, then trained to become an operational pilot. Flying Mosquito KB248, he and his navigator were killed while on a navigation exercise, over the Bay of Fundy.
John Earl Moon, born in Toronto, Ontario, was the son of John Moon (1890-1961), CPR employee, and Mary Alice (nee Hiscock) Moon (1890-1974) of Edmonton, Alberta. He had three brothers, Kris Herbert Moon (1914-1942) killed overseas, William Edward Moon (d. 1997), also in the RCAF, Robert George Moon, and two sisters, Vivien M. Moon (1929-2009) who married Douglas Gaudin in 1950) and Carole Ann Moon who died at the age of 6 in Dawson Creek, BC. The family attended the United Church.
He had a Grade XIII education with an additional three years at tech school (building construction, drafting). His hobby was cartooning. He liked tennis, hockey, baseball, all non-competitive. He said he did not smoke, nor drink alcohol. He was considered athletic and alert. He stood 5'9 ½" tall and weighed 145 pounds. John had $45 in War Savings Certificates. He had no other assets.
He had been with Consolidated Optical Co. as a lens grinder from 1934 to 1938, leaving it to "get into flying with Mackenzie Air service; he was an engineer and co-pilot for McKenzie Air Service from December 1938 to July 1940 "to take an instructor's course for elementary flying." He also worked at the Macdonald Hotel.
John noted he had 101 hours 20 minutes solo and fifteen hours dual flying. Special qualifications: "Commercial pilot's license, air engineers' certificate, 940 hours co-pilot on heavy machines. 70 hours co-pilot on twin-engined aircraft." He hoped the RCAF would accept him as an Elementary Flying Instructor. "Good type. neat appearance, upright, courteous, should develop to be a good flying instructor. Recommendable."
In August 1940: "Poor cardiac response to 40 mm test." A week later: "Cardiac response improved some. Otherwise, fit."
He married Edith Lilian Quilley (1916-1994) August 31, 1940, just before John was sent east for flying duties. They had a daughter, Sandra Lee, born on June 28, 1942 in Edmonton.
John was first in Montreal, Quebec by September 20, 1940, then in Trenton, Ontario by October 13, 1940. John was on course at No. 11 EFTS, Cap de la Madeleine, Quebec April 1941. "A very keen and capable instructor."
He was also at No. 16 ETS, Edmonton, Alberta from July 9, 1942 then to No. 6 EFTS, Prince Albert, Saskatchewan, then at No. 5 Manning Depot, Lachine by November 1942. He was taken on strength at No. 6 SFTS, Dunnville, Ontario December 6, 1942. By March 5, 1943, he was wearing his Pilot's Badge, no longer an instructor, but a pilot readying for flying overseas, but he needed more training.
While he was at No, 1 GRS, Summerside, PEI from March 20, 1943, Edith and Sandra moved to Summerside, PEI, residing at the Queen's Hotel.
He was then posted to No. 36 O.T.U. and then No. 8 O.T.U., by July 1, 1944, at Greenwood, Nova Scotia.
On September 16, 1944, as a result of a flying accident (navigation and searchlight exercise) over the Gulf of St. Lawrence and the Bay of Fundy, John was killed flying Mosquito KB 248, with his navigator, Pilot Officer J. A. Walker J45527 from Perth, Ontario.
The theory is that the airplane disintegrated or exploded in flight, crashing several miles north of Harbourville, Nova Scotia. In a memo dated September 20th, "Further to my Sept 17 memo, Mosquito wreckage has been found floating in Bay of Fundy area near Advocate, NS. Wreckage has not been positively identified as belonging to missing aircraft as yet, but it is directly on track and has not been in sea water very long. Flying Officer Moon and crew still missing believe killed. Next of kin have not yet been advised of wreckage discovered but will be when definite identity is ascertained."
The tail wheel and tire were washed up along the shore of the Bay of Fundy and the serial numbers confirmed that this was John's plane. "This would appear to be indisputable evidence that the aircraft had fallen into the sea."
COURT OF INQUIRY: October 5th, 1944 OBJECT OF FLIGHT: Night cross country exercise. WEATHER: 1/10 cloud at 7000 feet; visibility 12 miles; over the first leg of the exercise, conditions varied up to 10/10 cloud north of PEI. PILOT: Flying Officer Moon, pilot under instruction, total flying time on service aircraft 2939 hours 50 minutes, time on type 51 hours 20 minutes, consisting of eight hours 50 minutes dual: 42 hours 30 minutes solo. Flying Officer Moon was considered an above average pilot and his instructor at No. 8 O.T.U. stated that he had found him a high average pilot, capable on Mosquito aircraft with no outstanding faults. Subsequent to leaving the conversion flight, his procedure was in the above average bracket. Pilot Officer Walker, student navigator, was also considered above the average in ability.
DESCRIPTION OF FLIGHT: F/O Moon was airborne in mosquito KB 248 at 2010 hours. The aircrafts callsign was Salvo 59 and at 2014 hours, it set course on the exercise after testing all radio channels. The first leg of the exercise lane northeast of the base across Prince Edward Island to a point in the Gulf of Saint Lawrence. At 2037 hours, Salvo 59 called base and requested a homing which he was given. Constant and clear contact was maintained between basin salvo 59 for the following 14 minutes during which Salvo 59 advised that he was flying at 4500 feet and was returning because conditions were unfit. During this. A recall was issued to all aircraft on the exercise and at 2046 hours, Salvo 59 signalled that he was flying at 4500 feet and was not in cloud. At 2050 hours, base called Salvo 59 and requested him to give his position which he did, but it was not understood. Finally at 2051 hours, base again asked Salvo 59 for his position and also if he could see base. Salvo 59 commenced in reply saying, 'This is Salvo 59…" he broke off at this point in the transmission and was not heard again. No distress signal of any kind was heard from him and the last communication with him, which was by R/T as were all the others, was quite normal and gave no indication of panic. The crew and aircraft have been missing since an extensive search for them was fruitless. On 20th September 1944, a piece of wing spar from a Mosquito was found washed up on shore of Cape split on the north side of Minas Basin and since no other Mosquito was known to have crashed in Minas Basin for a considerable time, the piece of wreckage was presumed to be from KB248. The aircraft had been test flown for night flying by Flying Officer Moon and he had reported no unserviceability following the flight. The L.14 and other logbooks of the aircraft indicated that it was serviceable for the flight."
FINDINGS OF THE INVESTIGATION: 'Obscure.' "The investigating officer found that the weather while originally causing the pilot to set course for base, was not a factor. This finding was based on the evidence of other pilots as well as on the statement made by Salvo 59 to base after turning back." RECOMMENDATIONS: None. The investigating officer, who had at one time been closely associated with flying officer moon, stated that in conversation with flying officer moon about two weeks prior to this incident, flying officer moon had shown a keen interest in recent accidents at this unit involving mosquito aircraft and flying officer moon had intimated to the investigating officer that if he were confronted with any unusual emergency while in a mosquito, he would endeavour to get his navigator out so that the navigator could be able to tell later what had happened. When the occasion arose, he was unfortunately unable to carry out his plan. The cause of this accident is obscure and the tests of the parts recovered from the sea throw no light on the matter.
Edith wrote to the Director of Estates in Ottawa in November 1944. "As yet, I have not received any of [my husband]'s personal belongings but I know it takes a while to settle each estate. However, I know he did not receive his two last pays as he was saving it for his embarkation leave. While I do not want to seem mercenary, I would like to know if I will receive this money? Could you supply. me with any information as to my husband's service pay?"
She also wrote to the RCAF Benevolent Fund seeking advice on how to apply for gratuities. She outlined her husband's service in detail. [See letter above.]
A memo dated November 6, 1944: "A piece of spar believed to belong to the above aircraft was found floating in Minas Basin. I had this timber forwarded to this headquarters so that it could be tested by forest products laboratories. It is probable that some of the glue joints were affected by their immersion in seawater but there is one paragraph that suggests that the material was not a first grade. This report read in conjunction with another form, definitely suggests that workmanship and material put into Mosquitoes is not always 100%. Report 'B' was on a spar taken from a Mosquito that broke up in the air at No. 45 group; also sent one of their spars from the aircraft R.A.E. Farnborough so that we have a good cross check from the reports from two different sources on the same aircraft. I am afraid much of this is due to wartime conditions but it does leave Mosquito construction open to suspicion." G/C F. S. Wilkins, Chief Investigator Accidents.
A letter to the Chief Inspector of Accidents AIB, Ottawa, dated May 15, 1945: "The findings of the Investigating Officer in regard to the subject accident included the probability that the aircraft had crashed in the Minas Basin. This finding was based on the washing ashore of various bits of Mosquito wreckage during several days succeeding that on which the aircraft was posted as missing. None of these could be positively identified as being from that aircraft. During a recent visit to No. 8 O.T.U. the undersigned was advised by an engineering officer and certain others of the staff of that unit that a tailwheel and attire had been washed up along the Bay of Fundy shore and that checking of the serial numbers with the manufacturer established that these had been fitted to KB248."
In August 1945, some of John's personal belongings were missing including a tennis racquet, alarm clock, pigskin leather photo holder, two pairs of uniform pants, a movie camera, and a small Air Force duffle bag. "His widow states that she knows that he would not have had these articles on his person at the time of his being missing."
In May 1951, a letter written by John's mother, Mrs. Moon arrived in Ottawa. "We had two sons lost in the last war. Kris, our eldest, was buried in England. We have pictures of his grave, but John was missing here in Canada…We received word that he was missing on September 16, 1944 from Greenwood, NS over the Bay of Fundy. Now a mother's heart is a queer thing I guess, but in my heart, I feel that John is still alive somewhere. His wife and little girl feel the same. Can you give me any information about Johnny? Have you any proof of his death? Have you any clue at all? Please tell us straight from the shoulder for that is the way we like things done. We miss him terribly and if he is alive, want him home no matter what. Hoping you will answer me soon and have good news for us."
A letter arrived in Edith's mailbox in late October 1955 informing her that since John had no known grave, his name would appear on the Ottawa Memorial.
Edith later married James. W. Dakin, who died in 1988. Sandra married David Harwyluk in August 1964.