John Charles McLean J28658
September 15, 1915 - December 22, 1943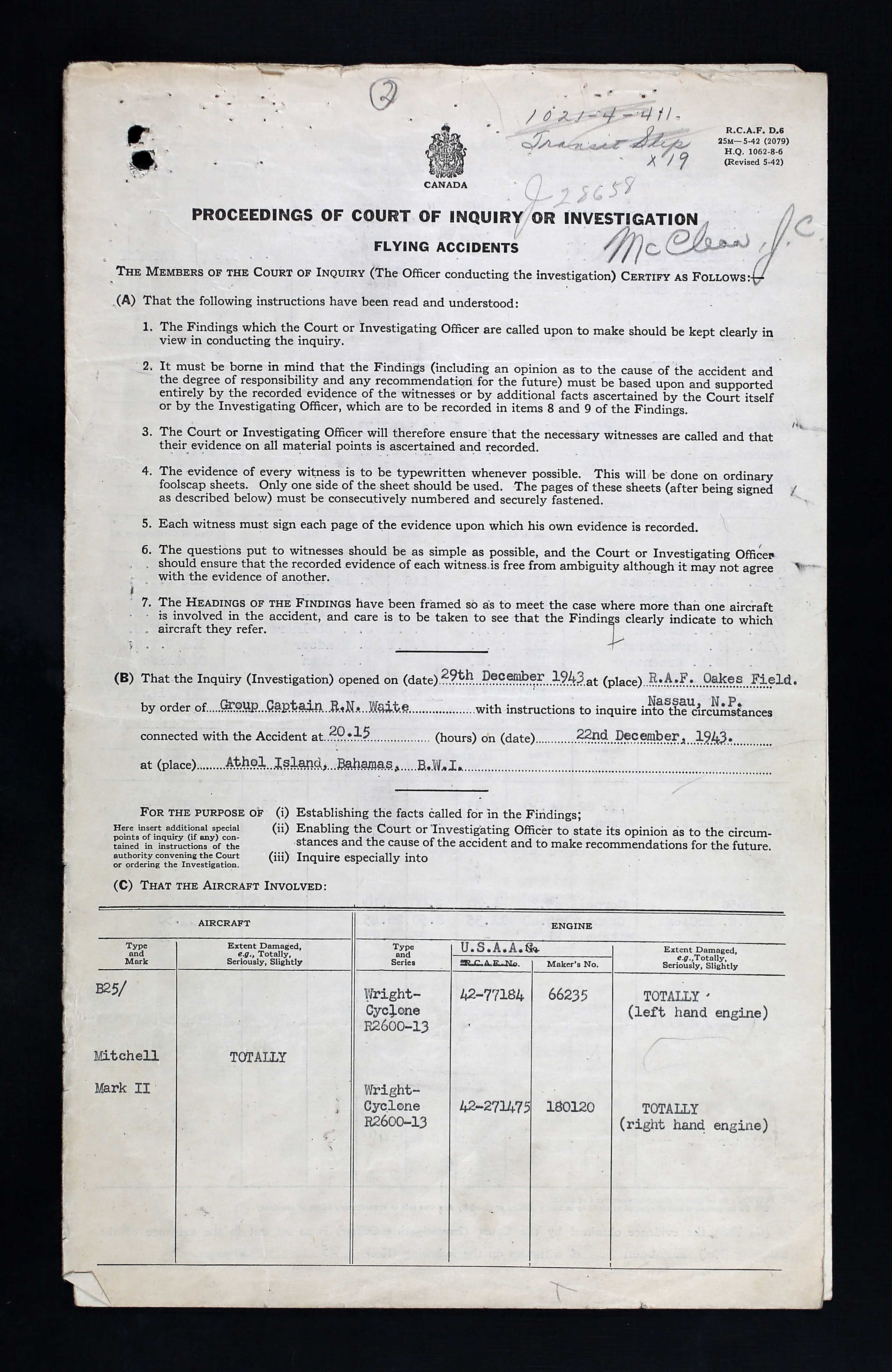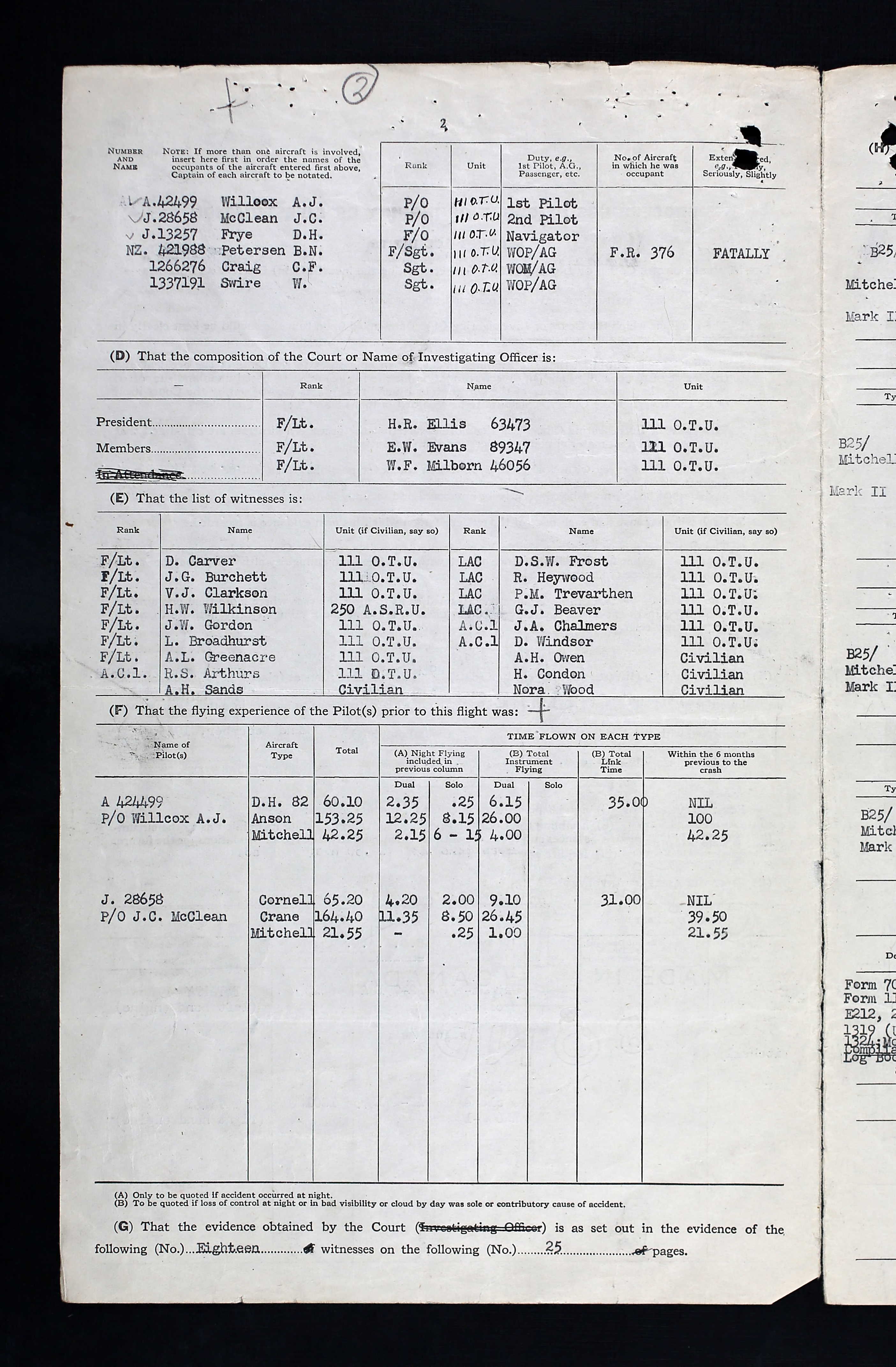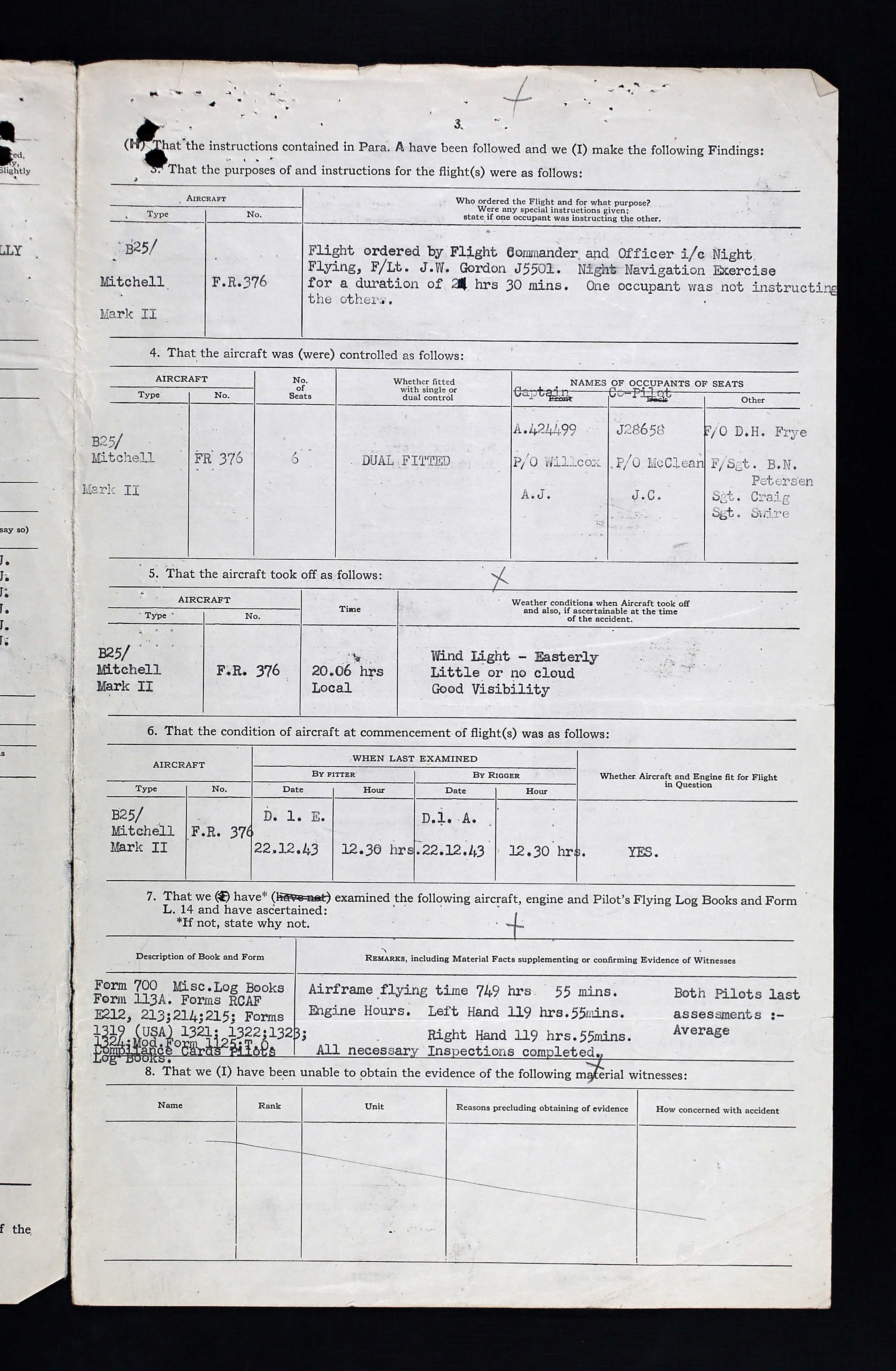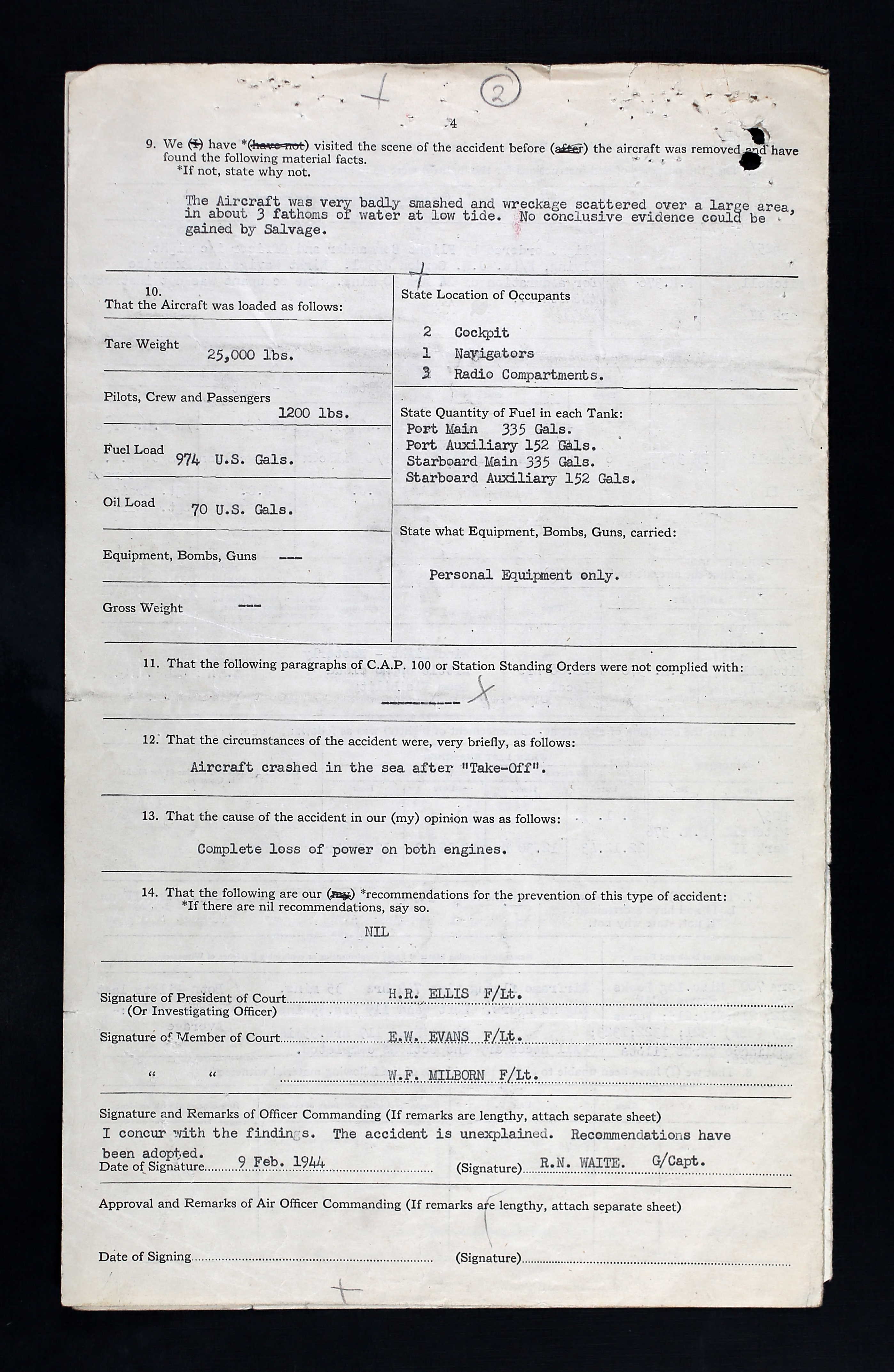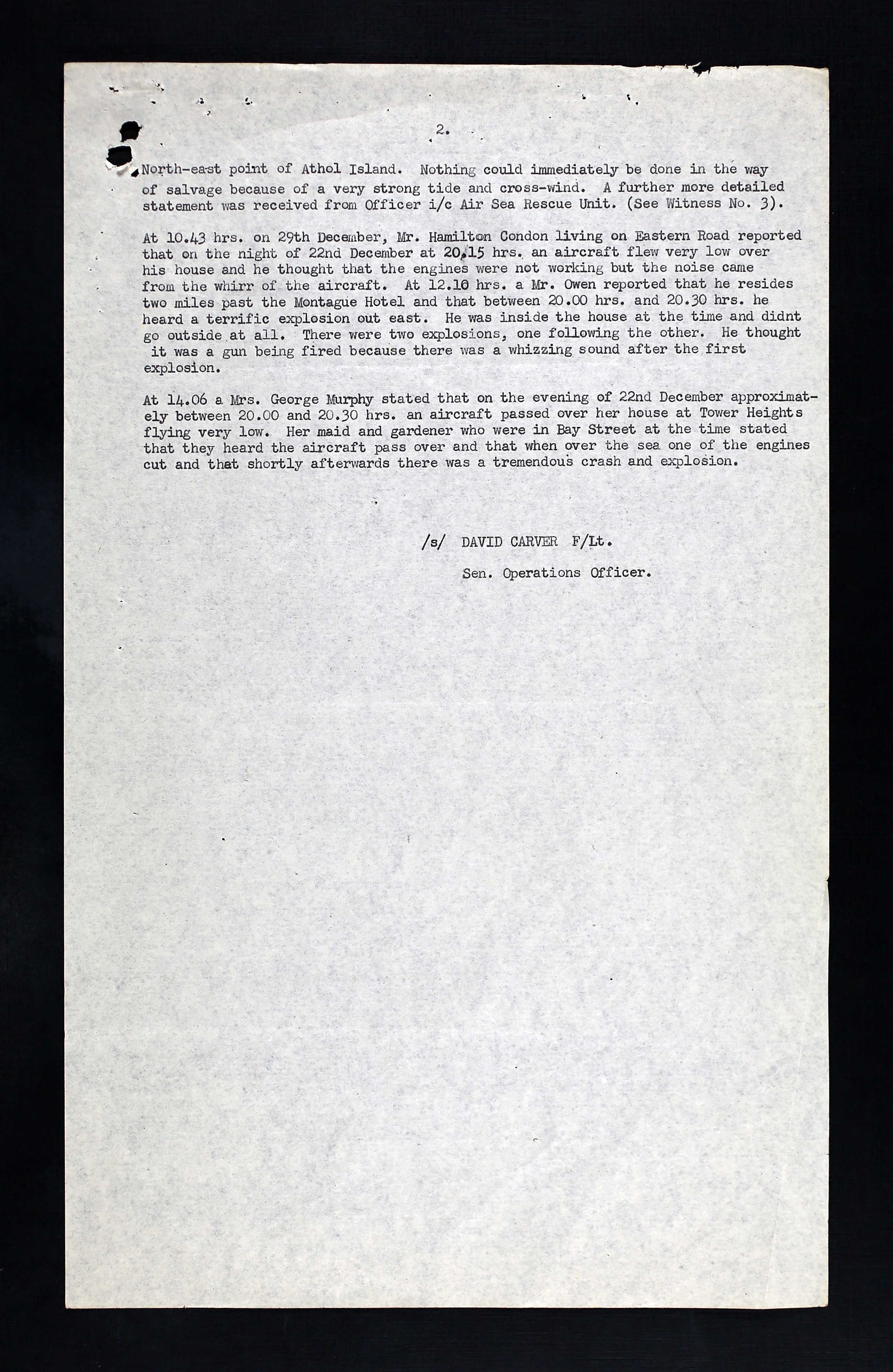 Department head at HBC joined RCAF and became a pilot. During a night navigation exercise, Mitchell FR376 lost power and crashed into the sea between Andros and Exhuma Islands. Wreckage was found, but no survivors.
John Charles McLean was the son of Cleaver James McLean (1889-1959), superintendent of CNR, and Bessie Alvina (nee Waddell) McLean (1893-1973) of Charlottetown, PEI. He had four brothers, Cleaveland Murdock McLean, Donald Kenneth McLean, Robert Gordon McLean, and Wendell Norman McLean, and three sisters, Mrs. Marjorie Louise Sumpter, Esther Lowther McLean, and Glenda Jean McLean, ranging in age from 4 years to 32 years of age. A sister Allison Rolland McLean died April 1929. The family attended the United Church. [The spelling of McLean and MacLean were seemingly interchanged.]
John married Edith Helen Shaw (d. 2002) on October 15, 1941, in Victoria, BC, and they had a son, John Shaw McLean, born on June 27, 1944. They resided in Charlottetown, PEI. He had lived in PEI for 23 years and in BC for four years. They had a joint bank account with $412, plus had life insurance. Their other assets included household furniture estimated at about $300, plus he had a $500 bond from Bowater, Newfoundland Pulp and Paper Mill. They were renting a home. They lived in Calgary when John was at No. 3 SFTS.
John had four years of education at Queen's University in Kingston, Ontario in Commerce. He worked as a buyer and manager of major appliances at Hudson's Bay Company in Victoria, BC for four years prior to enlisting in Vancouver, BC on June 25, 1942. In February 1942, he had his appendix removed. "Candidate is intelligent, fit, and alert. A superior type of aircrew material. Should do well." John smoked a pipe and drank alcohol moderately. He stood 6' tall and weighed 145 pounds. He had hazel eyes and dark hair. "Athletic. Alert." A large scar on the back of his right hand was noted. In November 1942: "Age 27. Married. Poor physique. Preference of service. Well educated. Prefers observer. A low average pilot material. Average observer material." Other observations: "Underweight. Fit. Acceptable."
At No. 4 ITS, Edmonton, Alberta, John was 20th out of 57 in class with 82%. "Grade XII and pre-enlistment school. Four years Prince of Wales College, Queens University. Extensive sports. Very good type. Intelligent. Keen and active. The outstanding airman in 'L' Flight."
At No. 5 EFTS, High River, Alberta, John was 12th out of 32 in class with 82%. "Average flying ability but is thoughtless in some of his sequences. Lacks precision in general flying. Should be fairly good instrument pilot at Service. High average ground school. Conduct very good. Has no solo NAV due to field being U/S during last ten days of course."
At No. 3 SFTS, Calgary, John was 23rd out of 58 in class with an 80%. "Above average at GIS. Average clear hood and instrument pilot. Average pilot nav test. Above average in pilot bombing. Nervous but inclined to be careless in the air."
At No. 1 GRS, Charlottetown, PEI: October 15, 1943: "A good pupil. Capable and hardworking. He will make a good GR Pilot. A capable navigator who has done quite well in most subjects. A neat worker should be suitable for long range work." He was 11th out of 23 in his class with 75.1%. He was recommended also for flying boats.
John was posted to Nassau, Bahamas November 19, 1943 with 111 O.T.U.
From RAAFA Aviation Heritage Museum's website: "Mitchell FR376 took off from Oakes Field at 2000 hours on a non-operational flight on 22 December 1943 with a student crew to do a routine 2.5-hour navigational night exercise. A ground test of the radio before take-off was the last contact with the aircraft which did not use radio after take-off, and it did not return to base. The wreck of the aircraft was subsequently discovered in 10 feet of water, seven miles east of Nassau, Bahamas, and about 6.5 miles from the airfield. The aircraft had completely disintegrated, and there was no trace of any survivors. There were strong tides running in the crash area. In 1949 it was recorded that the missing crew had lost their lives at sea. Their names are commemorated on the Ottawa Memorial, Canada." Another document indicates that the flying accident occurred between Andros and Exhuma Islands. P/O Willcox had 42.25 hours experience flying the Mitchell aircraft. P/O McLean had 21. 55 hours.
Crew aboard Mitchell FR376 that were lost off the Bahamas on December 22, 1943: *Sergeant Charles Fairweather Craig (1266276) (RAFVR) (Wireless Operator/Air Gunner) *Flying Officer Hibbert Douglas Frye (J/13257) (RCAF) (Navigator) *Pilot Officer John Charles McLean (J/28658) (RCAF) (Second Pilot) *Flight Sergeant Bernard Norman Peterson (421988) (RNZAF) (Wireless Operator/Air Gunner) *Sergeant William Swire (1337191) (RAFVR) (Wireless Operator/Air Gunner) *Pilot Officer Arthur Jack Willcox (424499) (Pilot)
A Court of Inquiry was held, and eighteen witnesses were called. The court of inquiry noted that the aircraft crashed in the sea after take-off and that a complete loss of power on both engines was the cause. [See documents above.] Witnesses heard a tremendous crash and explosion. "It is considered possible that either the master switch was knocked to the off position or the mixture controls were moved back in mistake for the pitch controls."
Fellow crewmember, Hibbert Douglas Frye, attended Queen's University and earned a B.Comm.
Edith married Charles Alexander Marshall by April 1950, residing in Halifax, Nova Scotia. They had a daughter, Margaret.
In late October 1955, Mrs. McLean received a letter informing her that since John had no known grave, her son's name would appear on the Ottawa Memorial.
LINKS: