John Barth Koepke R16372
October 14, 1920 - July 13, 1943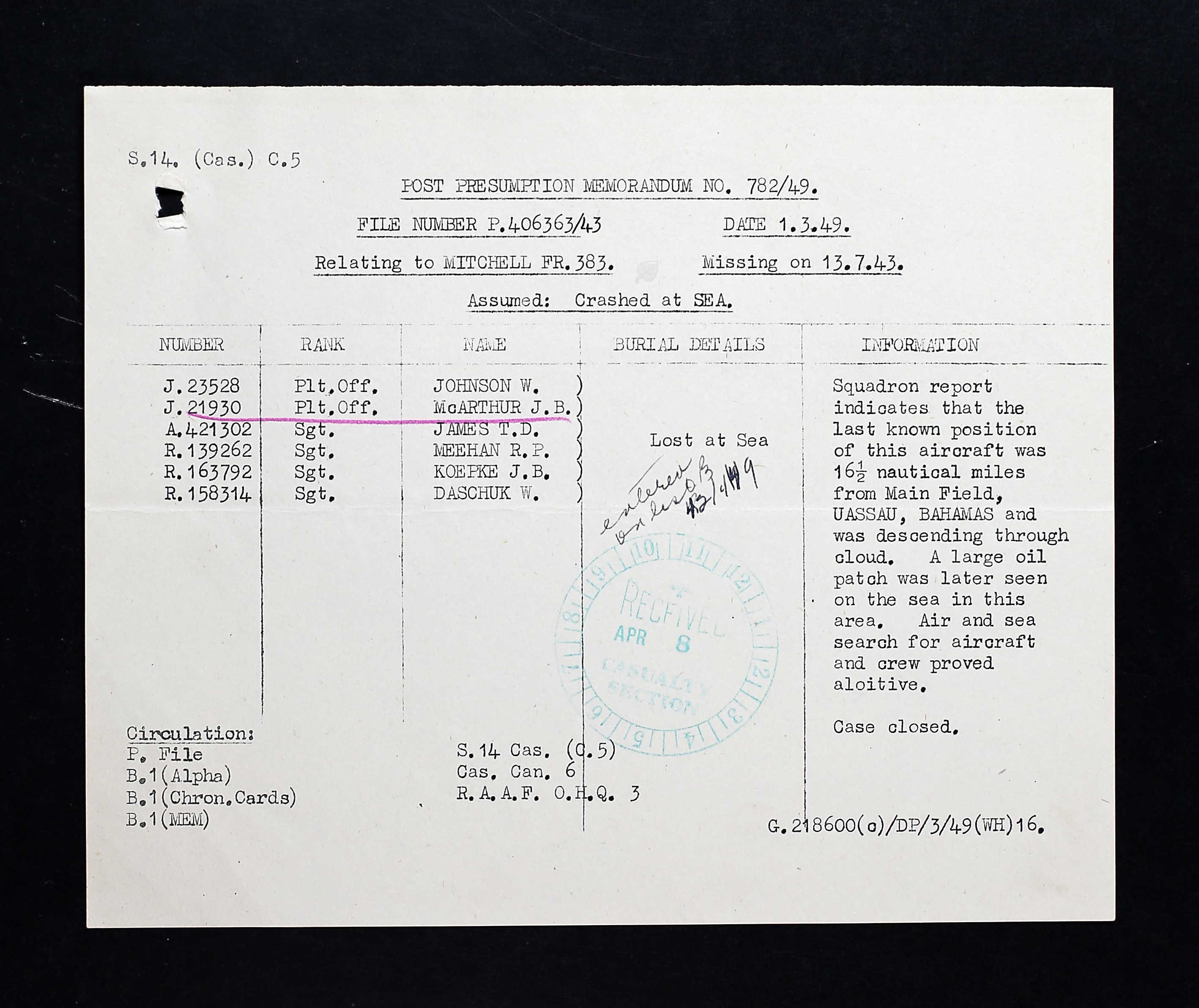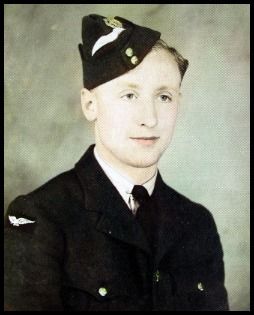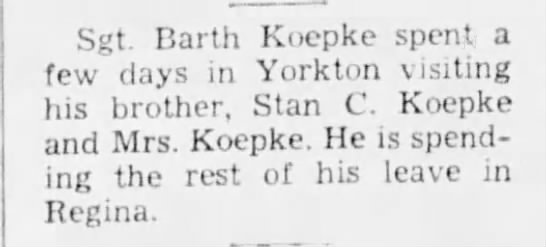 Purchasing agent wanted to be meteorologist. He was a WOAG aboard Mitchell. FR383 when it went missing during a five-hour navigation and patrol flight out of Nassau, Bahamas.
John 'Barth' Koepke was the son of John Koepke (1880-1957), carpenter and contractor, and Johanna Gertrude (nee Barth) Koepke (1883-1930) of Regina, Saskatchewan. He had a sister, Margaret who married in 1942. Barth was one of the ushers. He also had one brother, Stan (1913-1991) and a sister, Helen Magdalene Stevens (1918-2014). They attended the Evangelical United Brethren Church (Calvary Temple - Salvation Army).
Barth attended the Regina Central Collegiate Institute, his name noted in 1939 and 1940 for Grades XI and XII. He was a purchasing agent with Regina Industries Ltd., prior to his enlistment with the RCAF in October 1941. He had been with the Regina Rifles August 15, 1940. He liked basketball, hockey, tennis and swimming. He thought he might like to be a meteorologist/ground duties. "Intelligence good. General appearance good. Qualified for training as a meteorologist. Knowledge of bookkeeping. Types at 35 wpm and takes shorthand at 60 wpm." Barth was accepted into the RCAF in May 1942. He stood 5'6" and weighed 130 pounds. He had blue eyes and light brown hair. Scars on his left eyebrow and his neck were noted. This was due to a lymph gland removed when he was one year old. He smoked the occasional cigarette and drank alcohol once in a while. "Good air crew material. If desire to fly is created, should make good material. Composed. Confident. Physically fit."
Barth's journey through the BCATP began at No. 2 Manning Dept, Brandon, Manitoba from May 30 to July 24, 1942. He was then sent to 14 X Depot, July 25 to August 1, 1942, in Regina, then sent to Winnipeg and No. 3 Wireless School from August 2, 1942 until February 19, 1943. Barth was 49th out of 64 in his class with 73.2%. He was then sent to Lethbridge and No. 8 B&G School February 20 to May 1, 1943 where he earned his WOAG badge. "Did average work in ground training. 17th out of 17 in class overall with 65.7%. Somewhat handicapped during course by illness. Practical work average. Not particularly industrious." He was at the station hospital from March 8 - 12, 1943. He was then sent to Lachine and then to Nassau, Bahamas by mid-May 1943.
At 1200 hours on 13 July 1943, Mitchell FR383 took off from Nassau detailed to carry out a five-hour navigation and patrol flight. Wireless communication with the aircraft ceased at 1545 hours and the aircraft failed to return to base. Searching aircraft located an oil patch and wreckage in the sea five miles southwest of Clifton Point, but no survivors were found. A surface vessel recovered small pieces of wreckage only. All the crew members are lost at sea.
The crew members of FR 3983 were: *Sergeant Billy Daschuk (R/158314) (RCAF) *Sergeant Thomas David James (421302) (Observer) *Pilot Officer Wilfred Johnson (J/23528) (RCAF) *Sergeant John Barth Koepke (R/163792) (RCAF) *Pilot Officer James Brewer McArthur (J/21930) (RCAF) *Sergeant Robert Paul Meehan (R/139262) (RCAF)
Barth had a Brownie camera in his list of personal effects. $50 work of War Savings Certificates, $50 worth of Victory Loan Bonds and bank balance of $70 with RBC. He also had a life insurance policy, his father the beneficiary. On the estates form, Mr. Koepke wrote, "In regard to personal belongings, the officer at Nassau Bahamas sent me a long list and asked me what to do with them. So I wrote and told him to send them back. Of course, this was months ago. But have heard no more about it. Was wondering if you have any record of it. I am not anxious to have everything back, but would like some of it. Would be pleased to hear from you. Also of his bank account mentioned on this form."
Stan Koepke named his son, Charles Barth, after his brother.