John Hetherington JC4674
November 23, 1909 - April 22, 1943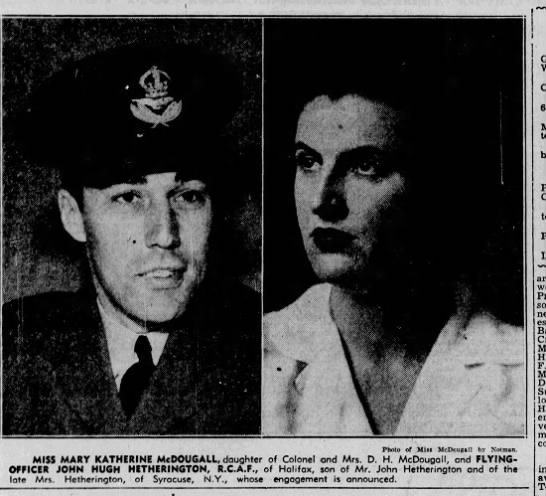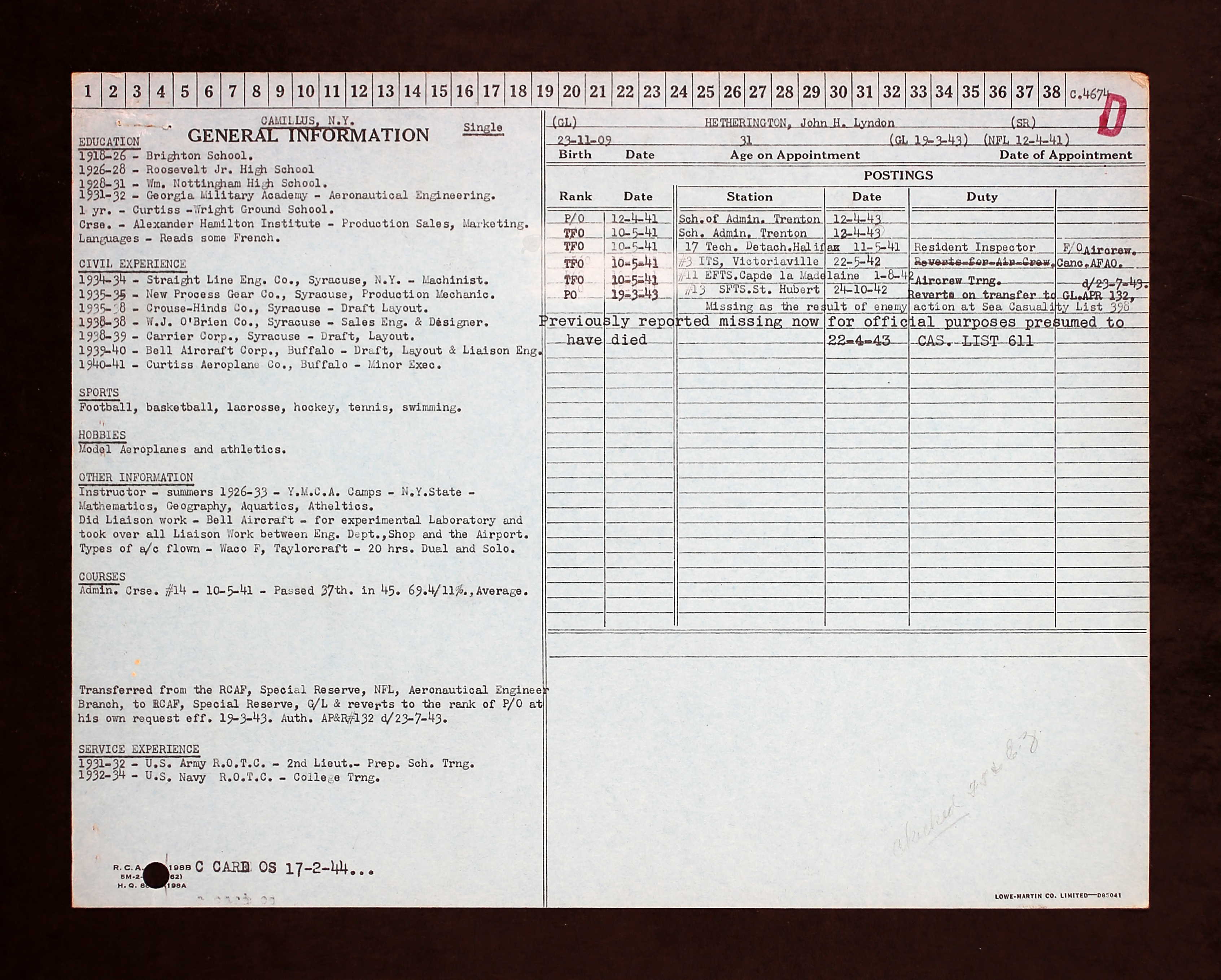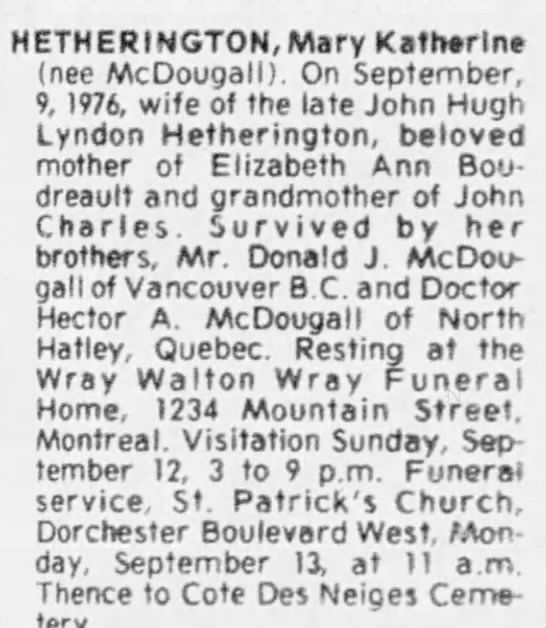 American engineer joined as inspector, remustered to pilot. He never met his daughter.
John Hugh Lyndon Hetherington was born in Syracuse, New York, USA, the son of John Hetherington, Sr., boiler inspector, and his wife, Elnora Letitia (nee Best) Hetherington. John had one sister, Jean Crossley, who lived in Pennsylvania with her husband, Robert. His mother had passed away by 1942. The family was Episcopalian.
He attended Brighton School, Roosevelt Jr. High, and Wm Nottingham High School, finishing in 1931. He then attended Georgia Military Academy, studying Aeronautical Engineering. He was at Curtiss-Wright Ground School for one year and took a course at Alexander Hamilton Institute, studying production sales and marketing.
He served in the US Army from 1931-1934, ROTC, while in school and college. He was an instructor at YMCA Camps in NY as a young man.
He worked in Syracuse, NY at a variety of jobs, including as a machinist, production mechanic, draft layouts, sales in engineering and design. In 1940-41, he was a minor executive at Curtiss Aeroplane Co. in Buffalo, NY. He did some liaison work for Bell Aircraft: experimental laboratory and took over all the liaison work between the engineering department, shop and the airport.
He enjoyed football, basketball, lacrosse, hockey, tennis and swimming. His hobbies were athletics and model aeroplanes. After the war, he intended to return to the USA. He did not smoke and drank alcohol occasionally. He had a rugged athletic physique and his mentality was above average. He had a scar above his right knee.
John had flown a variety of aircraft: Waco F and Taylorcraft, 20 hours dual and solo.
At the age of 31, John applied to the RCAF in November 1940 and was assessed on the 23rd of that month in Niagara Falls, Ontario. "Fine type American. Sincere in his offer to serve. Efficient. Well regarded and capable. Officer calibre. 6' and 187 pounds. Congenial and pleasant manners."
John wrote to Acting Captain A. De Niverville, Department of National Defence, Air Service, Ottawa, Canada in late November, 1940. He was living at 240 Parkwood Avenue, Kenwood, NY.
"At this time it becomes essential that a decision be made regarding my immediate future. As you already know my desire is to aid your cause in a capacity which will allow the greatest use of my particular ability; however complications have occurred of my being offered a more lucrative position, with the substantial salary increase, by another company. Should I accept the position I would no longer be free to join the Royal Canadian Air Force.
"In case the duties of my present position or not submitted, as they were given verbally, I shall present them at this time. As you found out from my application, I am a minor executive in charge of two departments. One department compiles, rights, and edit all pilots, service, and overhaul handbooks for the US Army and Navy and export airplanes. Consequently to supervise this department it becomes necessary that I have complete knowledge of different types and models of the airplanes produced not only by Curtiss but by other companies as well.
"The second department is writing of Spare Parts Lists for Export airplanes. Due to the experience we have received along this line from other countries which have waged war recently, we have a fairly complete knowledge of the spare parts necessary to keep an airplane in the air under constant gunfire. In fact, I compiled the entire spare parts catalog for one of the airplanes for England. I feel that my knowledge of the above field might prove of great value to your country.
"I am extremely sorry that I have not had the pleasure of meeting you and discussing this personally but with the pressure brought to bear by our National Defense Program, it has been impossible for me to leave Buffalo during these trying times.
"Insomuch as I must make a decision by Friday, January 17, I would appreciate an answer at your soonest opportunity In order to make my decision accordingly."
On January 22, 1941, John wrote to G/C W. A. Curtis, Department of National Defence, Air Service, Ottawa: "I am delighted to have received my commission as a Special Reserve Officer in the Royal Canadian Air Force and I look forward to active duty. However, certain difficulties have been encountered inasmuch as the department, of which I am the head, is preparing Spare Parts Catalogs and Price Lists on the H-81A-2 airplane for Great Britain. My leaving at this particular time would hinder the work of the department greatly and necessitate quite a delay in the shipping of spare parts to Great Britain. Thus I ask for a postponement in the date which I am to report for duty from February 14, 1941 until April 4, 1941, at which time my work will be finished up."
John wrote to Wing Commander R. A. Delharpe on February 5, 1951 and March 22, 1941. "To confirm our telephone conversation of January 31, I understand that I am to report to No. 1 Manning Depot, Toronto, Ontario, April14, 1941 and while there to undertake certain courses which will prepare me for the work to come. It if it possible, I would like an outline of the course in order that I may go thru my files for corresponding or similar information which I shall bring with me for reference. Due to the extent of my filing and reference systems, it will be impossible to bring anything but the most pertinent information, therefore any information on the course is desirable. Your letter of March 19 just received and contents read. However, I finished my service with the Curtiss Aeroplane Company yesterday in order to spent the next three weeks straightening out my personal affairs before reporting for duty at Trenton on April 12 as per your letter of February 21. If possible I would still like to report April 12th or sooner due to the necessity of being busy. May 9th would mean practically a month and a half of idleness. Please advise immediately as to what can be arranged as I do not wish to accept any position with a company for such a short time and then leave for the Air Force. It is not exactly fair to the company which employs me."
April 12, 1941, John was at the School of Administration, Trenton, then at No. 17 Tech, Detachment, Halifax, Nova Scotia, May 11, 1941, as a resident inspector. John's results on a course were 69%, 37th out of 45 in his class. "A hard working officer who should be able to perform Administrative work in a satisfactory manner."
"Has been on strength of this until since May 12, 1941. Energetic and industrious. Possesses initiative and is eager to increase his knowledge, but is impulsive." S/L A. Crossland, June 16, 1941
October 15, 1941: "Has shown average ability and his conduct has been satisfactory in all respect. Retention is recommended." October 28, 1941: "Change of command. Possesses energy and initiative, but is impulsive. Has a good engineering knowledge but is lacking in service experience and administrative ability. Shows promise of becoming a good resident inspector." December 12, 1941: "Concur with outgoing CO's comments, but am inclined to believe this officer is better fitted to a Squadron Engineer Officer." F/L J. S. Motherwell.
In January of 1942, John became engaged to Mary Katherine McDougall, daughter of Colonel and Mrs. D. H. McDougall. They married in Montreal on February 14, 1942. By March 1942, she resided in Camillus, New York. By April 1943, she had returned to live in Montreal, as she was expecting her first child. Mary Elizabeth Ann was born November 8, 1943. (When filling out the Estate form, Mary indicated that John was born in 1911, not 1909.)
In March of 1942, John wanted to be remustered, thus began his aircrew training. "This candidate an excellent type. Physically and mentally very fit and with vast air experience should be a very good prospect for P or O."
John started his journey through the BCATP at No. 3 ITS, Victoriaville, May 22, 1942, then sent to No. 11 EFTS, Cap de la Madelaine, August 1, 1942, then to No. 13 SFTS St. Hubert, Quebec by October 25, 1942, where he received his Pilot's Flying Badge on March 19, 1943. On April 13th, 1943, he posted overseas.
In April 1943, John made his way to Halifax awaiting transport overseas. He boarded the Amerika. On the 22nd of that month, a German U-Boat, off the southern tip of Greenland, torpedoed the ship. John was not one of the survivors.
On May 5, 1943, Mary received a telegram. "REGRET TO ADVISE THAT YOUR HUSBAND FLYING OFFICER JOHN HUGH LYNDON HEATHERINGTON (sic) C FOUR SIX SEVEN FOUR IS REPORTED MISSING AS A RESULT OF ENEMY ACTION AT SEA. STOP. LETTER FOLLOWS."
In late June 1943, Mary received a letter from F/L W. R. Gunn. RAF Casualty Officer, for Chief of Air Staff, providing more information about the circumstances of John's death. "Since my letter of May 6th, no additional news has been received. Attached is a list of the names and next-of-kin of sixteen Royal Canadian Air Force officers who embarked on the same ship as your son and following enemy action at sea were safely landed in the United Kingdom. The following official statement was made in the House of Commons....'I have been in receipt of communications from a number of members of this house and from people outside with reference to rumours regarding the recent loss of a number of members of the RCAF by the sinking of a ship in the north Atlantic and I desire to make the following statement on the facts. The vessel in question was a ship of British registry of 8,862 tons, designed for peace-time carriage of both passengers and freight, and having a speed of fifteen knots. She carried a crew of 86 and the passenger accommodation consisted of 12 two-berth rooms with bath and 29 other berths, providing cabin accommodations for 53 passengers. She was fitted with lifeboat capacity for 231 and travelled in naval convoy. Under the recently revised regulations agreed to by the United States authorities, the joint United Kingdom and United States shipping board, the Admiralty, the Air Ministry and the Canadian authorities, a vessel of this description travelling in convoy is permitted to embark as crew and passengers a maximum of 75% of the lifeboat capacity. The lifeboat capacity as stated above was 231, 75% of which is 173. Personnel on board consisted of the crew of 86, and RCAF personnel numbering 53, a total of 139, well within the prescribed limits. Because of the superior type of available passenger accommodation, the speed of the ship and the provision of naval convoy, the offer of the entire available space to the RCAF was immediately accepted. Rumours to the effect that this was a slow freighter not suitable for passenger accommodation are, of course, not in accord with the facts. Every precaution was taken to safeguard the lives of these gallant young men. It should be pointed out that on account of the serious shipping shortage every available berth on such ships must be used, and had the space not been taken up by the RCAF officers of the other arms of the services would have been placed on Board. It should also be stated again that the submarine is still the enemy's most powerful weapon and that the Battle of the Atlantic is not yet won. Any ocean trip today in any part of the world is fraught with danger and I think I may safely say that our record in transporting our soldiers and airmen to the United Kingdom is one of while we may all be proud. No one deplores more than I do the loss of 37 of the finest of our young men who gave their lives for their country as surely as if they had done so in actual combat with the enemy, and I extend my deepest sympathy to their loved ones in their bereavement.' If further information becomes available, you are to be reassured it will be communicated to you at once. May I again extend to you my sincere sympathy in this time of great anxiety."
John's will was in the care of Mrs. Miriam Best, Camillus, New York, possibly his aunt.
In November 1944, lawyers in Syracuse, NY, representing John's father's claim against the Travelers Insurance Co. wrote a letter to the RCAF in Ottawa arising from two insurance policies on John's life. "Mr. Hetherington wanted to learn what insurance or pension benefits had been paid to Mary, plus her child, and what benefits they would expect to receive as a result of John's death. Mr. Hetherington had some time ago received certain information to the effect of the some of $15,000 dollars payable by the Canadian government or indirectly through some insurance arrangement under similar circumstances. We would like to learn if this information so received by Mr. Hetherington Senior, is correct and if so, whether such payment has been made to his son's widow have been or will be paid to the widow and child by the Canadian government or through any governmental insurance payment.In the event that a payment to the widow and child of any benefits is not adequate, my client may wish to make some payment to them out of the proceeds of the policies which repayable to him upon his son's death. We would be very grateful to receive this information promptly in order that we may complete collection collection and disposition of the funds here."
On December 1, 1944, Mary wrote to the Records Office, RCAF Headquarters in Ottawa to make application for the war service gratuity payable to her and their daughter.
In late October 1955, Mary received a letter from W/C Gunn informing her that since John had no known grave, his name would appear on the Ottawa Memorial.
Elizabeth Ann married in 1963 and had a son, John Charles. Mary, who never remarried, passed away on September 6, 1976 and is buried in Cote Des Neiges Cemetery, Montreal.