John Dickson Grant J11855
January 23, 1923 - April 19, 1943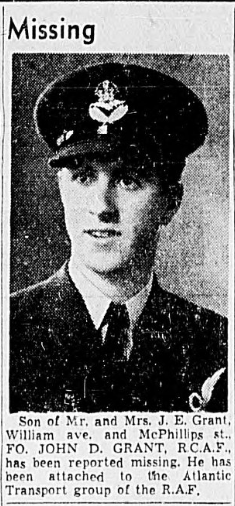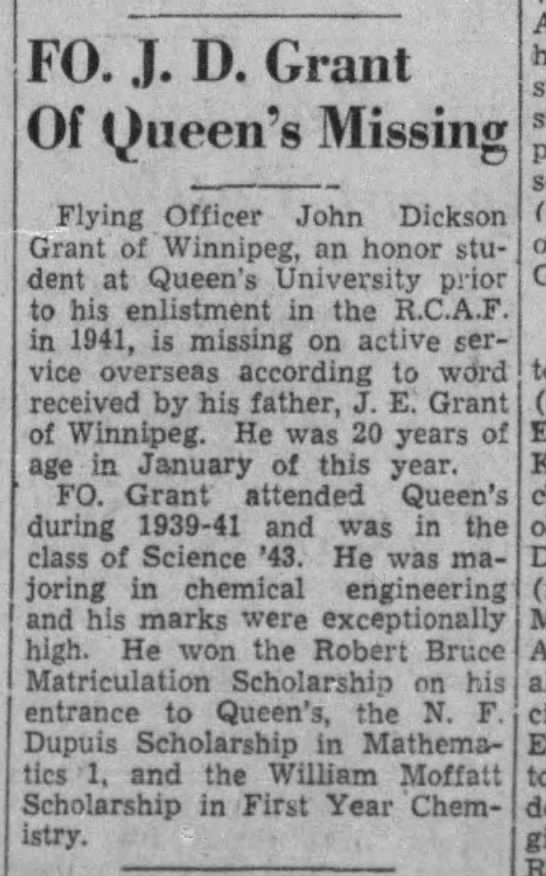 Top engineering student at Queen's University joined RCAF; started pilot training, then remustered to Air Observer. Posted to Ferry Flight and lost aboard Baltimore FA330.
John Dickson Grant, born in Winnipeg, Manitoba, was the son of John Edward Grant (1889-1974), manager, and Elizabeth Myrtle (nee Dickson) Grant (1888-1984) of Winnipeg, Manitoba, later of Toronto, Ontario. He had a brother, James Cummings Grant who was 18 in 1943. The family was Anglican.
He was an honour student at Queen's University in Kingston, Ontario, recipient of the Robert Bruce Matriculation Scholarship, the N. F. Dupuis Scholarship in mathematics and the William Moffatt Scholarship in first year chemistry. He was majoring in chemical engineering. John had worked as a woodworker on aircraft (May-June 1941), at MacDonald Bros. Aircraft Col. Ltd. in Winnipeg. He enjoyed swimming, water polo, baseball, and rugby, plus listed fishing and photography as hobbies. John stood 6' ½" tall and weighed 154 pounds. He had blue eyes and dark brown hair. He had a scar on the left side of his forehead at his hairline. After the war, he wanted to complete his engineering degree. "Wants pilot; asthenic [a body type characterized by a frail, long-limbed, narrow-chested physique]. Cheerful, intelligent, somewhat tense, but well-controlled. Seems well-adjusted. Keen to fly. Good effort. Likes service."
He enlisted with the RCAF in Winnipeg on July 16, 1941 and was commissioned on May 25, 1942. John began his journey through the BCATP at No. 2 Manning Depot, Brandon, Manitoba on July 16, 1941. From there, he was sent to No. 2 ITS, Regina, Saskatchewan on August 21, 1941. "An outstanding young airman, who has all the desirable qualities for choice aircrew. He has had two years in Queens University and in the COTC. Stood 4th out of 130 with 90% in his class and is recommended for a commission."
From there, he was sent to No. 19 EFTS, Virden, Manitoba on September 25, 1941. "Keen and willing but lacks natural flying aptitude. Judgment poor and flying in general poor." GROUND TRAINING: "Class work and attendance highly satisfactory and class tests uniformly very good. This pupil seems to have an excellent background and good academic training. His deportment is correct." He discontinued pilot training and was sent to Composite Training School (KTS), Trenton on November 5, 1941. "This airman's flying training has been discontinued owing to fact that his progress was not sufficient to warrant further training. After 20 hours dual and seven hours solo, he failed his 20-hour test. His landings were unsafe and his air work shows a definite lack of air sense and consistent judgment…He has asked to be remustered to an Air Observer and in view of the fact that his ground school work while at this unit and at ITS had been high average, this request is concurred in by this unit."
He was remustered to No. 5 AOS, Winnipeg on December 6, 1941. "NAVIGATION: Not very neat, but is fast-keen and anxious to improve. Needs more practical experience. ARMAMENT: Appears to get a little confused. Understands requirements and is adaptable. Will improve with experience. Academic work very good. GENERAL: Learns very quickly. Conscientious and persevering. Very good grasp of all theory." John was first in his class of 24 with 84.2%.
From there, he was sent to No. 7 B&G School, Paulson, Manitoba mid-March 1942 until April 25, 1942. "BOMBING: Very good bomb aimer. Has had some bad results due to haphazard errors. GUNNERY: Good average ability. Reliable and competent in the air. GENERAL: Above average. Exceptionally quick and keen to understand. Quick to take the initiative." John was 2nd out his class of 22 with 81.3%. He was awarded his Air Observer's Badge on April 25, 1942.
John was then taken on strength at No. 1 ANS, Rivers, Manitoba April 26, 1942. He was in the hospital April 9 - 14, 1942. "Works quite hard in the air; groundwork fair; very good type." He was 7th out of 34 in his class with 73.2% and assessed as an above average Air Navigator.
He was sent to No. 31 O.T.U. Debert, Nova Scotia June 1942, then attached to RAF Transport Command.
John had a bank account with Canadian Bank of Commerce, balance: $709.40, $100 in War Savings Certificates, and $1000 worth of Victory Loan Bonds. He also had a life insurance policy.
Aboard Baltimore FA330: *Captain Jack Groover Durham, RAF, *F/O John Dickson Grant, J11855, RCAF, *Radio Officer Harold Alfred Picher, RAF. Durham (1919-1943) was born in Alabama.
"Missing 19 April 43 en route Natal, [Brazil] last contact 0615 hours after air operations, ferry flight."
Mr. Grant, in October 1943 and then again in March 1944, wrote letters asking about John's personal belongings, in particular his fishing outfit (two rods) and camera. "One of the rods is a Heddon Pal and the other is a casting rod my son purchased in Montreal. He took the rods and camera with him to Nassau and the rods were very highly valued and we are anxious that they be located and returned…My son used the rods in sword fishing trips while stationed at Nassau." John's great coat and a raincoat were both missing as well.
LINKS: