John Archibald Gillis R104470
March 7, 1912 - April 19, 1943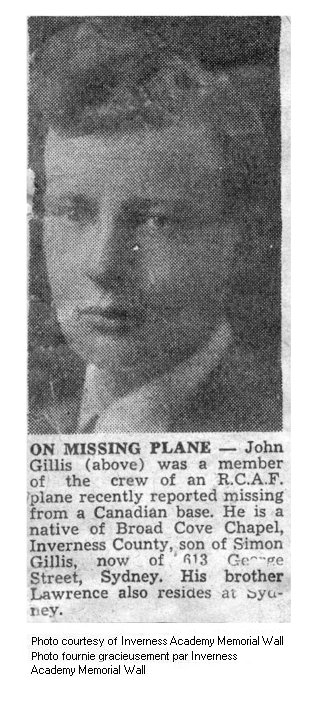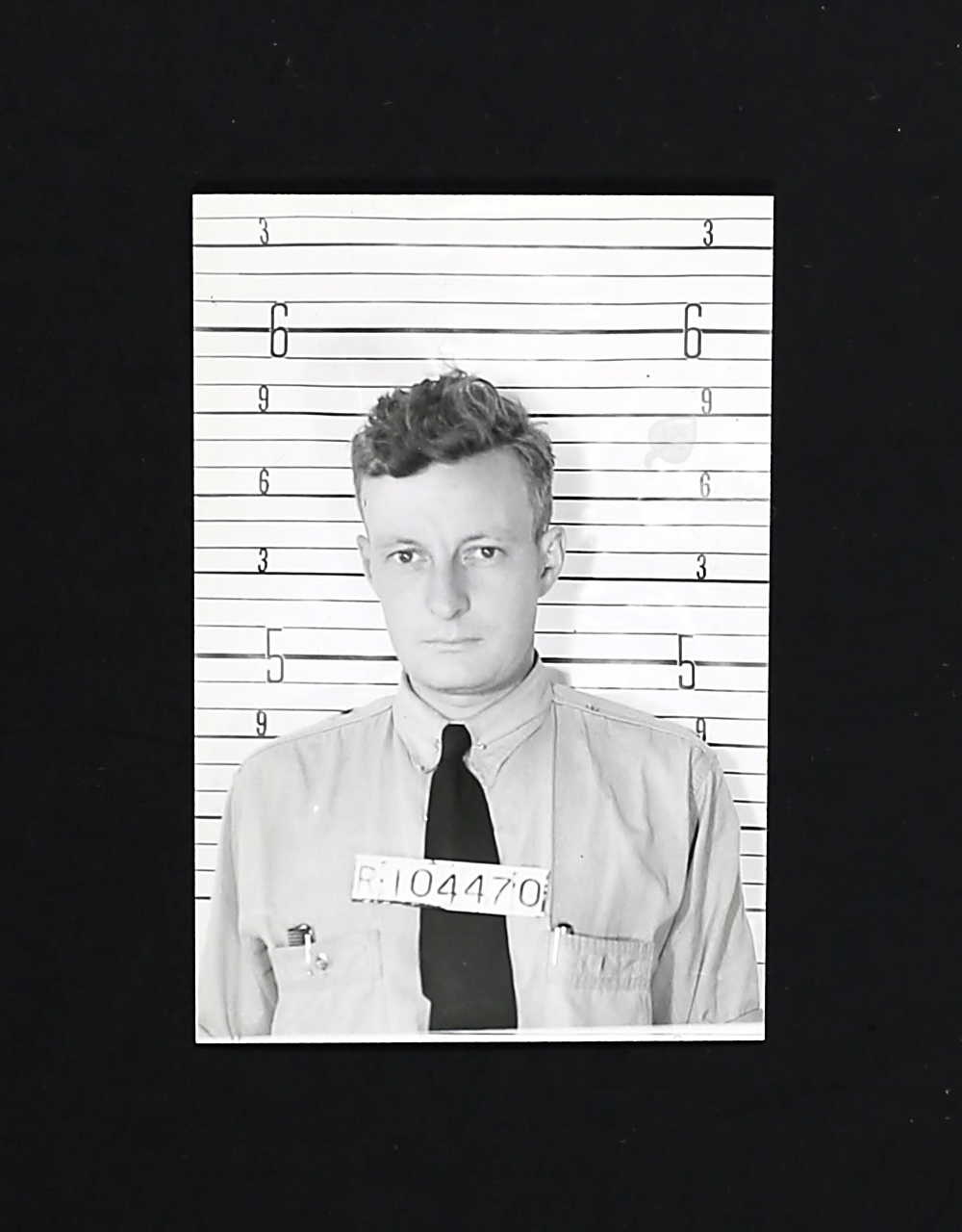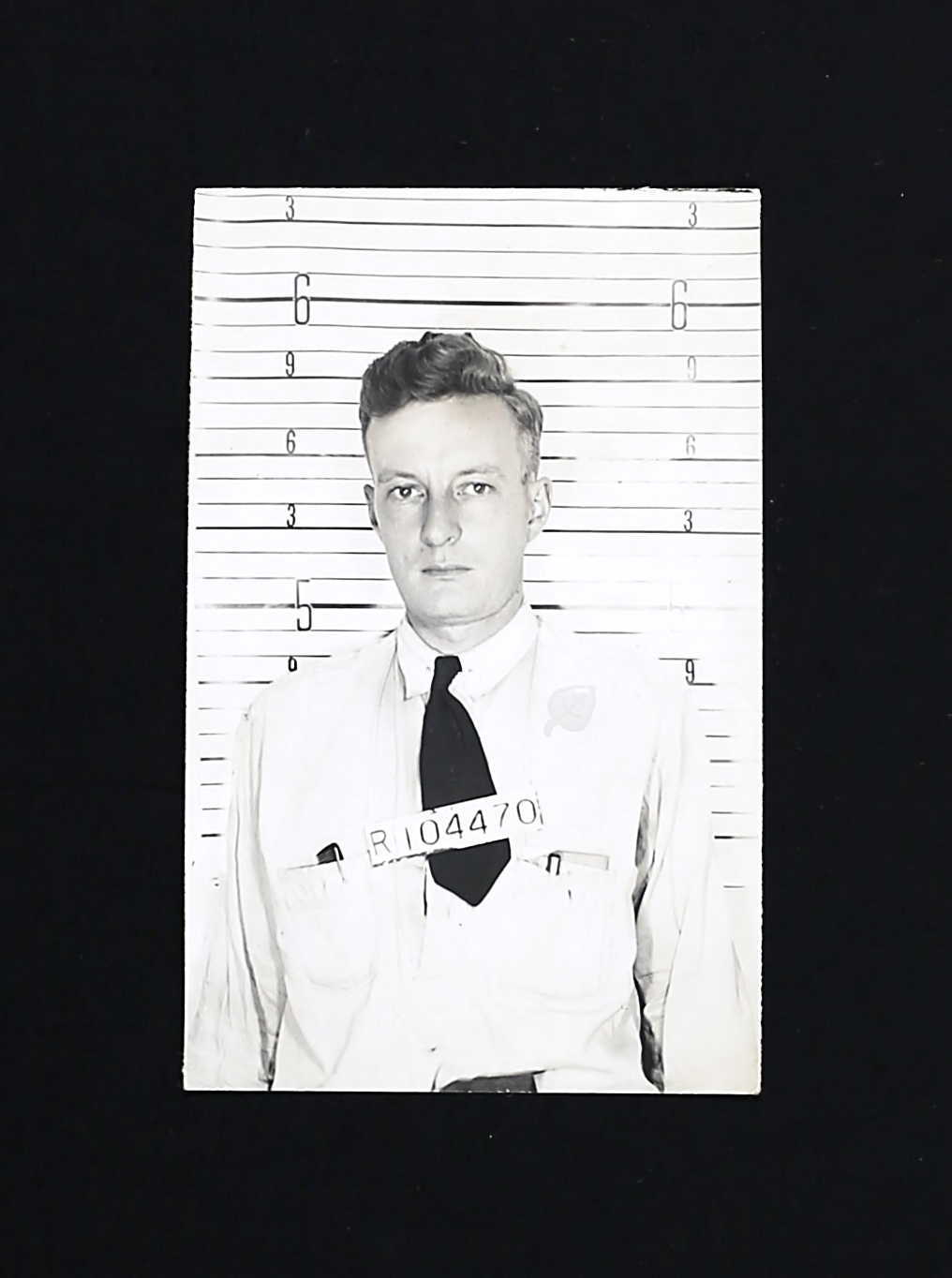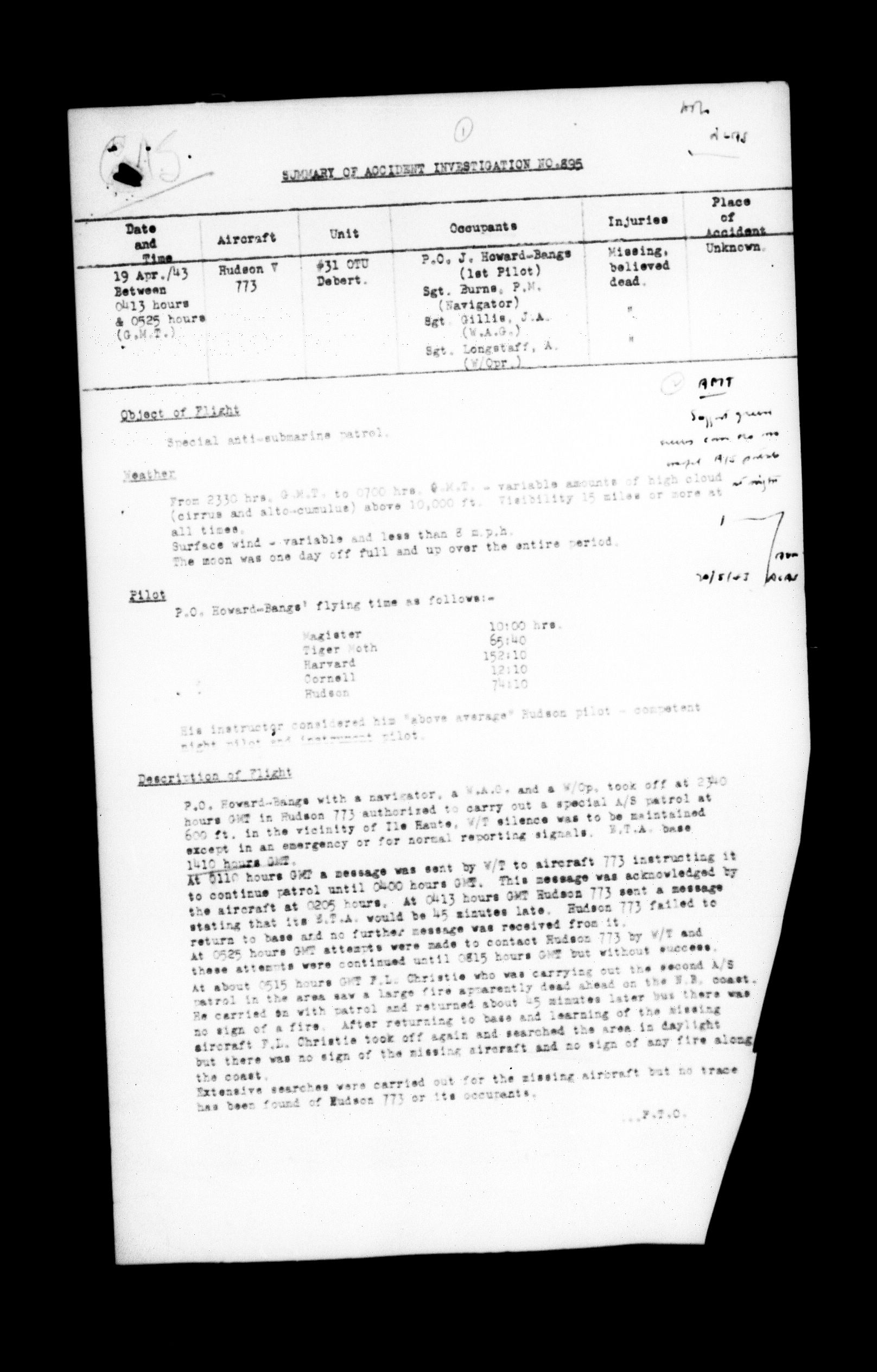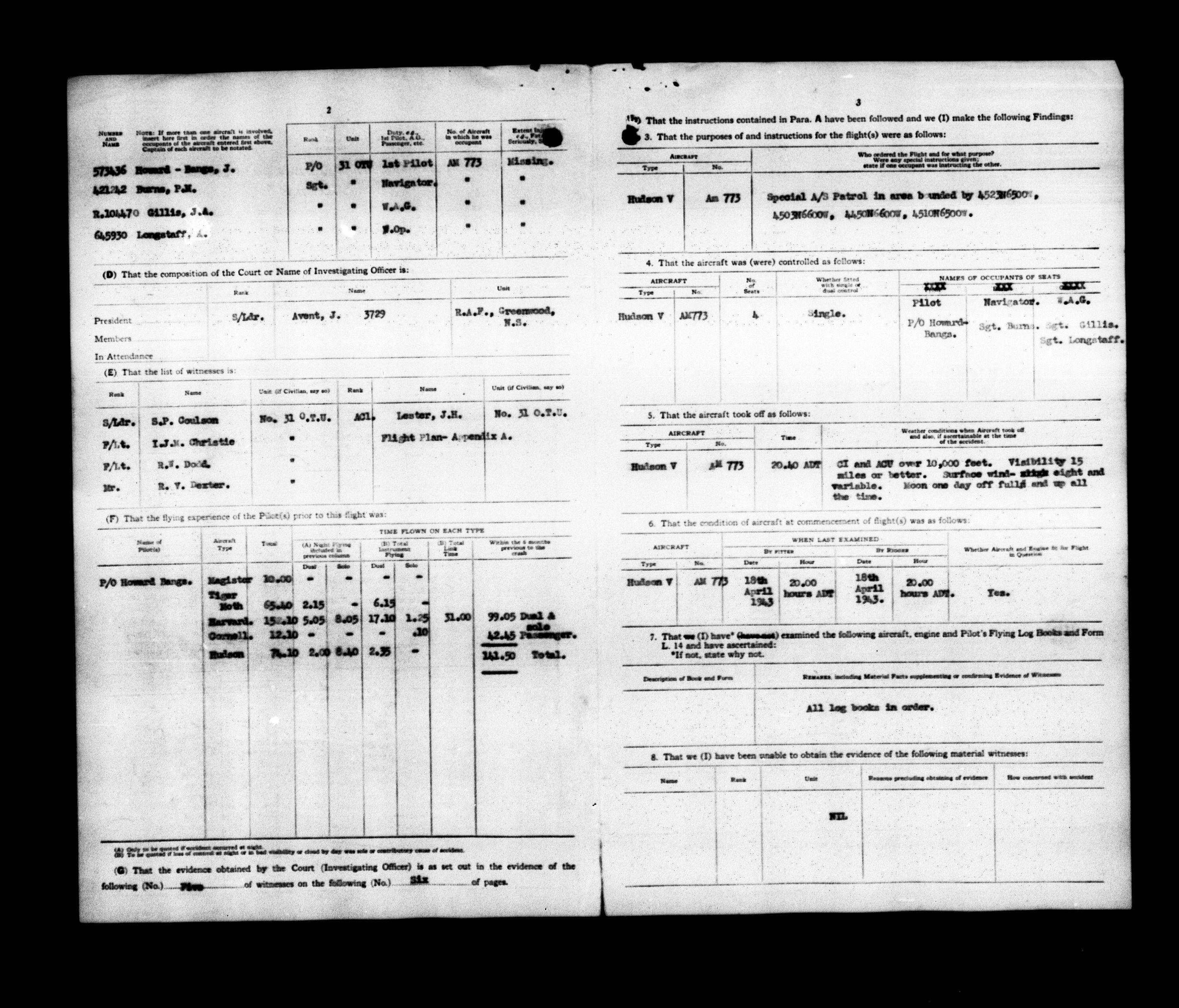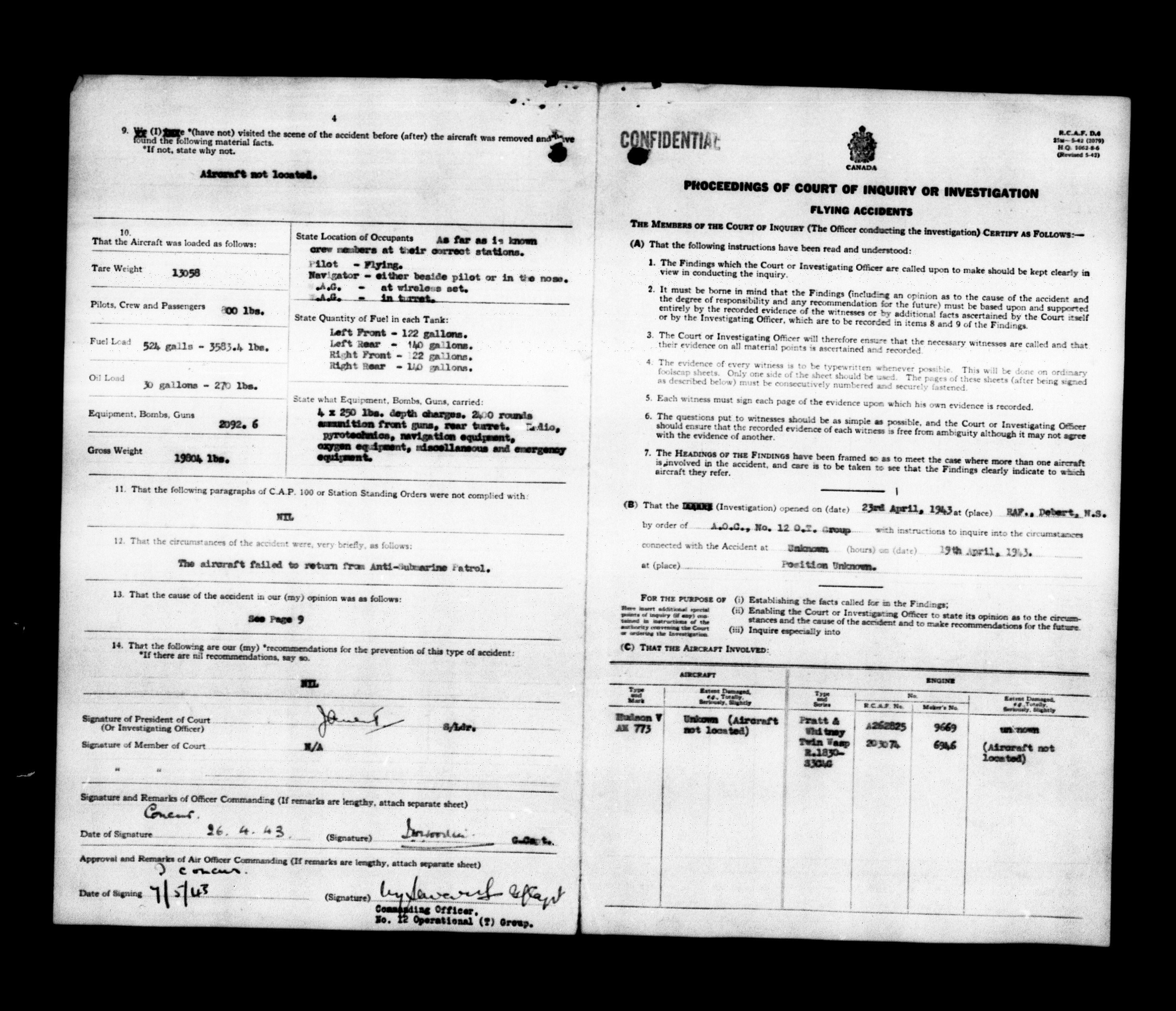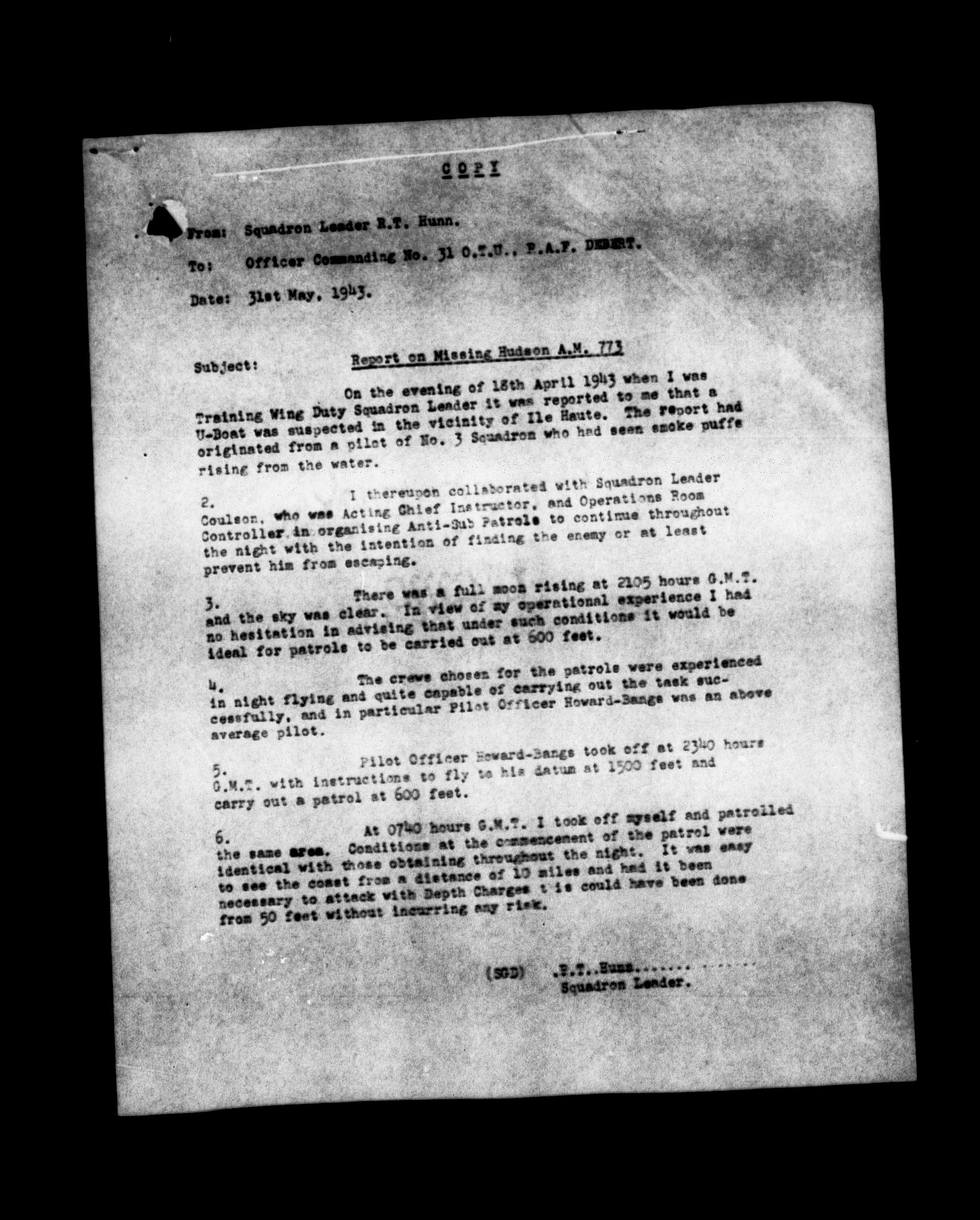 Teacher enlisted with RCAF, hoping to be pilot; was remustered to Air Observer, then to Wireless Air Gunner. Aboard Hudson AM773, he and crew were lost during a special anti-submarine patrol during an almost full moon.
John Archibald Gillis was born in Beverly, Massachusetts, USA, the son of Simon Gillis, carpenter, and Catherine (nee MacDonald) of Inverness Corner, Nova Scotia, later of Sydney, NS. He had one brother, Angus L. Gillis, who was living in Halifax, Nova Scotia, possibly with the Canadian Army. The family was Roman Catholic. The family moved to Nova Scotia in 1933.
John had a Grade XII education and one year Normal School to become a teacher from 1937-1941, teaching at Broad Cove School, Dunvegan School, and Big River School. He had worked as a labourer to go to Normal College. He hoped to become a civil engineer after the war. John listed music as a hobby and running as a sport when he filled out his papers in June 1941. "Excellent prospect for pilot." The RCAF accepted him on August 1, 1941.
John stood 5' 8 ½" tall and weighed 148 pounds. He had hazel eyes and medium brown hair. Two scars on his left forearm were noted as was a small scar on the bridge of his nose.
At No. 5 ITS, Belleville, from September 25 to November 21, 1941: "Quiet. Hard to talk to. Unimpressive but may do a good job."
While at No. 13 EFT, St. Eugene, Ontario, from November 22 to December 31, 1941, he failed and discontinued his pilot's training. "Slow to progress. Soloed for 1:50; lost judgment on height above ground after snow covered ground; did not become consistent after that; good air work, but landings very poor." John was not considered for commission. "Ability fair. Conduct good."
On his RCAF Medical Officer's Report, dated January 1, 1942: "Age 29. Civil occupation: Teacher. Borderline findings: 1. Absent abdominal reflexes MSB. 2. Doubtful type mentally. 3. Poor accommodation and convergence. Ground school: Ability fair. Flying course: Progressed slowly and erratically. Chief trouble was landings. He would usually level out all right but balloon. Froze on controls a couple of times. Seems too old for pilot material. Considered doubtful type. This student pilot is rather dull and not very stable emotionally. Slow to learn flying. Difficulty with landings. A little below average intelligence and somewhat schizoid. Careless personal cleanliness. Liked flying well, but not really keen. Recommended for Air Observer."
John was remustered as an Air Observer. From January 31 to May 9, 1942, he was at No. 4 AOS, London, Ontario. "24th in air work. Logs and charts incomplete. Map reading poor. Older and slow to learn. Inaccurate in his work. Did not attempt any application exercises in armament. Transferred from Course 42 for extra instruction but was unable to qualify. Recommended as a WAG." Assessment as A/O: Below average. 54%. 23rd out of 24 in class. From March 14-23, 1942, he was in hospital.
The RCAF felt John was still capable of serving with them as a WOAG. John was sent to No. 4 Wireless School, June 8 to December 21, 1942, Guelph, Ontario. He earned 71.6% and was 91 out of 105 in his class. He was then sent to No. 6 B&G School, Mountainview, Ontario, from December 29, 1942, to January 25, 1943. "This airman's air firing results were below average. This airman is rather quiet and reserved. He has worked faithfully throughout the course and has given good co-operation. He should make a good NCO." John was 28th out of 30 in his class.
John was sent to 31 O.T.U. February 6, 1943, Debert, Nova Scotia.
Crew aboard Hudson AM773 out of 31 O.T.U., April 19, 1943: *Navigator, Sgt. Philip Maxwell Burns, 421242, RAAF, *WAG, Sgt. John Archibald Gillis, R104470, RCAF, *First Pilot, F/O Jeffrey Howard-Bangs, 49980, RAF, and *WO Sgt. Arnold Longstaff, 645930, RAF.
"It is requested that you will inform this Headquarters of the circumstances attending the ordering of an anti-submarine patrol to be carried out at a height of 600 feet during the hours of darkness, having regard to the total flying experience of the pilot of the aircraft i.e. 314 hours and 10 minutes." P/O Howard-Bang's instructor considered him to be above average Hudson pilot competent on night and instruments.
Weather: Surface wind variable and less than 8 mph. The moon was one day off full and up over the entire period. Visibility 15 miles or more at all times.
Description of Flight: Hudson AM773 was authorized to carry out a special anti-submarine patrol at 600 feet in the vicinity of Ill Haute. Wireless transmission silence was to be maintained except in an emergency or for normal reporting signals. ETA base 1410 hours. At 0110 hours, a message was sent to the aircraft to continue patrol until 0400 hours. This message was acknowledged y the aircraft at 0205 hours. At 0413 hours, Hudson 773 sent a message stating that its ETS would be 45 minutes late. Hudson 773 failed to return to base and no further message was received from it. At 0525 hours attempts were made to contact the aircraft and these attempts were continued until 0815 hours without success. At about 0515 hours, F/L Christie who was carrying out the second anti-submarine patrol in the area saw a large fire apparently dead ahead on the New Brunswick coast. He carried on with patrol and returned about 45 minutes later but there was no sign of fire. After returning to base and learning of the missing aircraft, F/L Christie took off again and searched the area in daylight, but there was no sign of the missing aircraft and no sign of any fire on the coast. Extensive searches were carried out for the missing aircraft but no trace has been found of Hudson 773 or its occupants.
It was assumed that the pilot had been briefed to return to base at a height of 1500/2000 feet. "It is logical to assume that the accident happened during the return flight to base."
Later, the bodies of two of the crew were found.
Findings: Cause of the loss or location of probably wreckage is unknown. Group Captain F. S. Wilkins, Chief Investigator of Accidents stated, "A very obscure accident as the flight was carried out in good weather with a full moon. Reported by radio at 0415 hours and apparently at that time all was well." May 17, 1943. "I cannot even guess at the cause of the accident," Wilkins wrote.
On May 31, 1943: Report on Missing Hudson AM773: "On the evening of 18th April 1943, when I was Training Wing Duty Squadron Leader, it was reported to me that a U-Boat was suspected iin the vicinity of Ile Haute. The report originated from a pilot of No. 3 Squadron who had seen smoke puffs rising from the water. I collaborated with S/L Coulson…in organizing Anti-Sub patrols to continue through the night with the intention of finding the enemy or at least prevent him from escaping…the crews chosen…were experienced in night flying and quite capable of carrying out the task successfully and in particular P/O Howard-Bangs was an above average pilot…at 0740 hours, I took off myself and passed over the same area. Conditions at the commencement of the patrol were identical with those obtained throughout the night. It was easy to see the coast from a distance of 10 miles and had it been necessary to attack with depth charges, this could have been done from 50 feet without incurring any risk." S/L Raymond Thomas Hunn, 39528, RAF. [Aboard Hudson BW777, he , aged 29, and P/O Walter Geoffrey Macauley Papworth, 15120, RAF, were killed on July 20, 1943. Hunn is buried at Northchurch, England in St. Mary's Churchyard. Papworth is buried in Truro, Nova Scotia at Terrance Hill Cemetery.]
Sgt. Burns, a former bank clerk from Kogarah, New South Wales, Australia, was buried at the Terrace Hill Cemetery in Truro, Nova Scotia. Sgt. Longstaff, from Surrey, England, is buried at the Old Holy Trinity Cemetery, Middleton, NS. The names of Sgt. Gillis and F/O Howard-Bangs are found on the Ottawa Memorial.
In John's personal belongings, two rosaries were noted, as were two prayer books. He had a book of French (self-taught), and two books, the works of Robert Burns.
In late October 1955, John's brother, Angus, residing in Hants, England, received a letter informing him that since his brother had no known grave, his name would appear on the Ottawa Memorial.
Full Court of Inquiry can be found on microfiche C-5935, starting at image 28.
LINKS: