John Findlater R110760
March 13, 1920 - February 16, 1943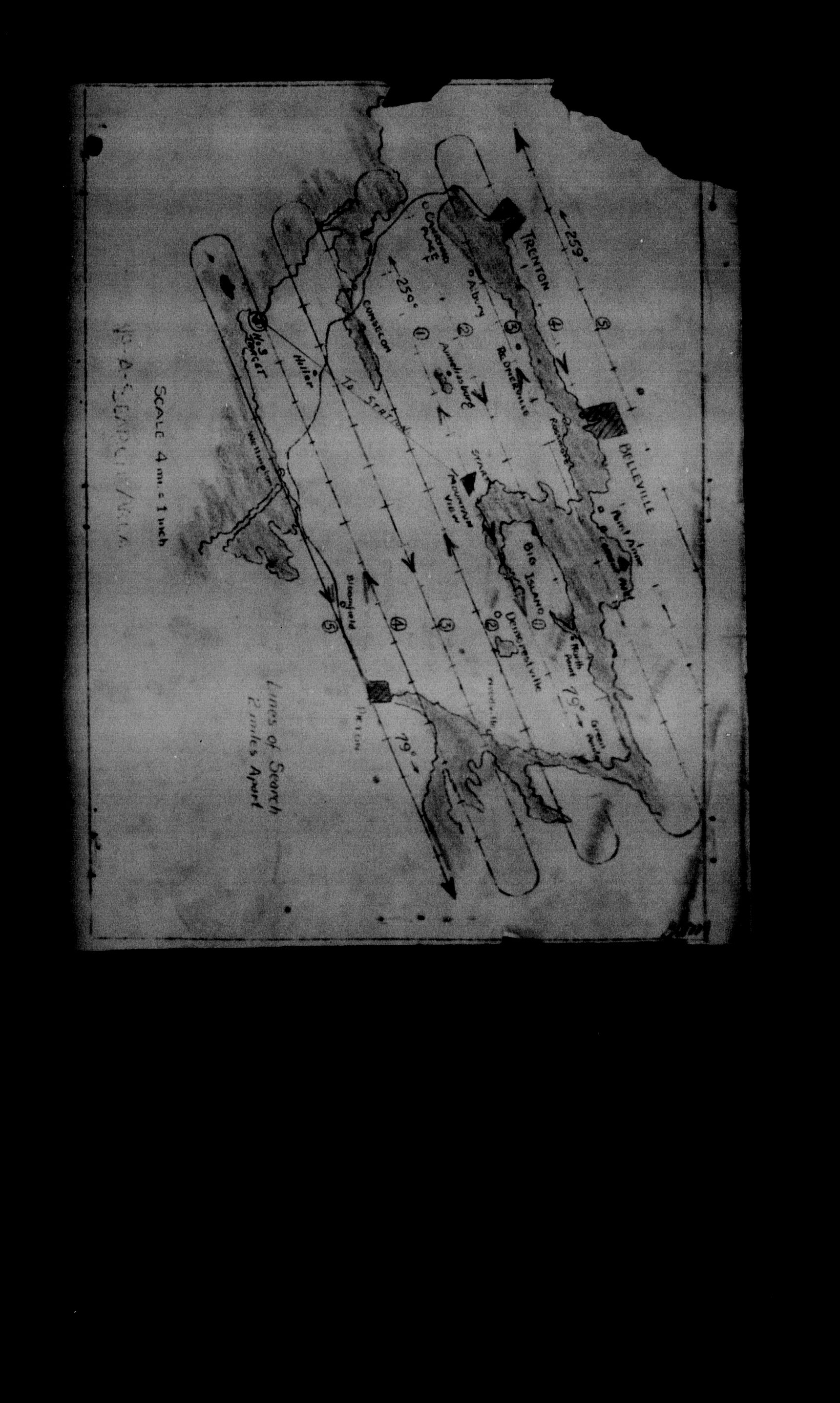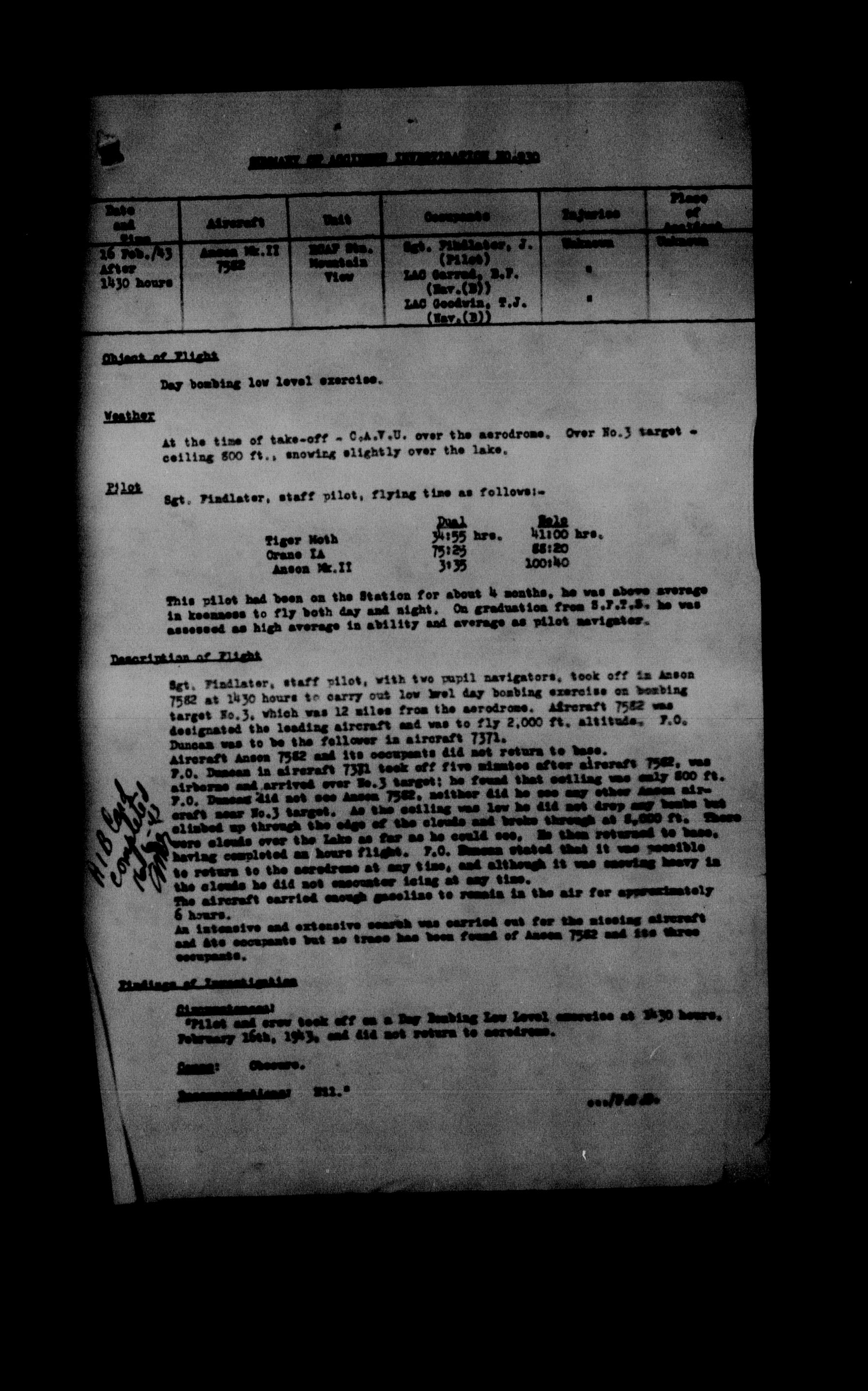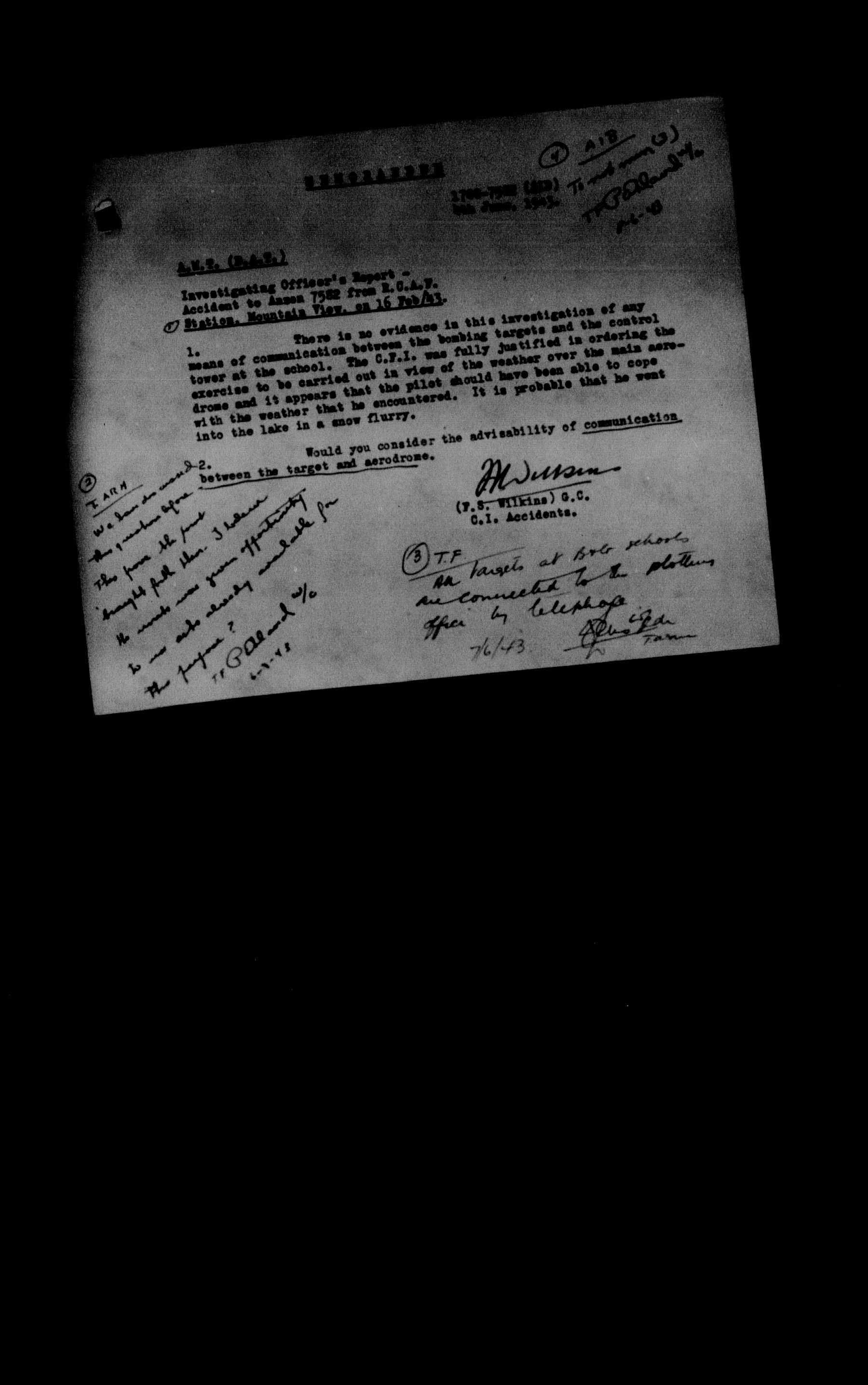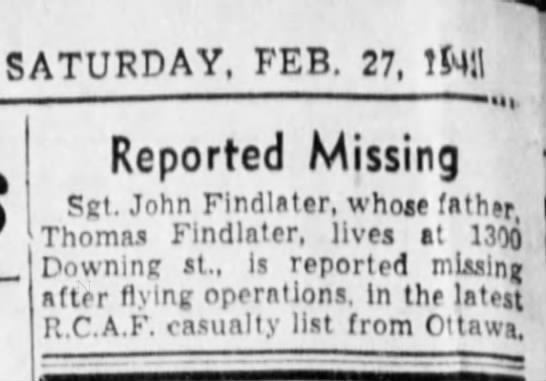 Steelworker became staff pilot at No. 6 B&G School with RCAF. During low level bombing exercise, under snow squall conditions, he and two other crew were lost over Lake Ontario in Anson 7582.
John Findlater was the son of Thomas Wilson Findlater, structural foreman, (1883-1950) and Ida Evelyn (nee Haywood) Findlater (1894-1959), of Winnipeg, Manitoba. He had a sister, Doreen Helen Findlater Menrad (1921-2002). They were Seventh Adventists.
John was working at A. C. Campbell (Dominion Bridge), a structural steel company, as a labourer for two years prior to his enlistment with the RCAF in Winnipeg on July 15, 1941. John had tried to enlist in September 1940. "Keen to serve. Should prove good material for air crew. Athletic type." However, the medical examination found that John's "endurance and cardiovascular efficiency poor. Return for repeat 40 mm test." He had a Grade XI education. After the war, he hoped to be a machinist. He liked working with wood, football, and hockey. He stood 5' 7 ½" tall and weighed 160 pounds; he had brown eyes and brown hair, with a fair complexion. He had a scar at the outer corner of his left eye. May 1941: "Re-examination shows satisfactory response to all tests with improvement in performance of 44 mm test. Physical condition is good but overweight by 27 pounds." John had numerous fillings in his teeth, but his overall dental health was considered to be good. December 1941: "Slow, hesitant. Does not impress as highly intelligent. Did not fly on guard duty. Minimal 40 mm test. Nervous, restless gestures. Doubtful pilot material."
John had 10-$5 War Savings Certificates. He had given $20 a month to his parents prior to enlistment and continued to assign $20 to them after he enlisted.
At No. 2 ITS, Regina, SK, December 20, 1941 to February 11, 1942: "80%. 90th out of 176 in Pilot's Class. "Posted to No. 16 EFTS, Edmonton, Alberta Eff. 13-3-42. Comparatively slow in thought. Very anxious to be a fighter pilot and is concentrating his studies towards that end. He should make a very good aircrew." At No. 16 EFTS from March 16 to May 22, 1942: "Average. Shows no interest in aerobatics. Weak on landings. Final test: 65%. Ground training: 32nd out of 54. 71.9%. Ability average. Conduct good." At No. 4 SFTS, May 25 to September 11, 1942: "An average student. No outstanding faults in his flying. Perhaps did not make the effort he could have to perfect his flying and correct his errors. Ground Training: Doesn't work any harder than he has to. Has the ability but does not apply it. This student is an average pilot. Slow to learn. Took considerable time on sequences and should improve with experience."
While at No. 16 EFTS, he was AWL 13 hours and 22 minutes. He was given 72 hours' detention. At No. 4 SFTS, he was AWL for three hours and thirty minutes. He was given ten days R.P. John was taken on strength October 15, 1942 at Mountain View, Ontario, No. 6 B&G School. On February 16, 1943: "Pilot and crew took off on a day bombing, low level exercise at 1430 February 16, 1943 and did not return to the aerodrome." Those aboard Anson 7582, attached to No. 6 B&G School, Mountain View, Ontario: Sergeant John Findlater, R110760, pilot, LAC Barry Fitzgerald Garrad, 1802764, RAF, navigator, LAC Thomas Joseph Goodwin, 1467928, RAF, navigator.
"Sgt. Findlater, staff pilot, with two pupil navigators, took off in Anson 7582, at 1430 hours to carry out low level day bombing exercise on bombing target No. 3 which was 12. miles from the aerodrome. Aircraft 7582 was designated the leading aircraft and was to fly at 2,000 feet altitude. F/O Duncan was to be the follower in aircraft 7351. Aircraft Anson 7582 and its occupants did not return to base. P/O Duncan in aircraft 7351 took off five minutes after aircraft 7582, was airborne and arrived over No. 3 target; he found that ceiling was only 800 feet. P/O Duncan did not see Anson 7582, neither did he see any other Anson aircraft near No. 3 target. As the ceiling was low, he did not drop any bombs but climbed up through the edge of the clouds and broke through to 8000 feet. There were clouds over the lake so far as he could see. He then returned to base, having completed an hour's flight. P/O Duncan stated that it was possible to return to the aerodrome at any time, and although it was snowing heavy in the clouds, he did not encounter icing at any time. The aircraft carried enough gasoline to remain in the air for approximately six hours. An intensive and extensive search was carried out for the missing aircraft and the occupants, but no trace has been found of Anson 7582 and its three occupants."
One witness felt that Sgt. Findlater was an average bombing pilot who enjoyed receiving low bombing ____ by his bomb aimers. After sufficient day bombing experience, he was cleared out for night flying as well as night bombing. Sgt. Findlater was above average in ability to fly both day and night. I cannot attest to his ability as an instrument pilot under unfavourable conditions although his classmates at Service School who are at present member of Bombing Flight will vouch that he was above average as an instrument pilot."
The full Court of Inquiry, held March 1, 1943, can be found on microfiche T-12351, starting at image 2700. Seven witnesses were called. G/C Wilkins, CI Accidents commented, "There is no evidence in this investigation of any means of communication between the bombing targets and the control tower at the school. The CFI was fully justified in ordering the exercise to be carried out in view of the weather over the main aerodrome and it appears that the pilot should have been able to cope with the weather that he encountered. It is probably that he went into the lake in a snow flurry." The weather at the time of take-off over target No. 3: ceiling 800 feet, snowing slightly over the lake. "Sgt. Findlater, staff pilot, flying time as follows: Tiger Moth: Dual: 34:55 hours, Solo: 41 hours; Crane: Dual: 73.25 hours; Solo: 88:20 hours; Anson Mk. II: Dual: 3:35 hours, Solo: 100:40 hours."
In late October 1955, Mrs. Findlater received a letter informing her that since John had no known grave, his name would appear on the Ottawa Memorial, along with Garrad, 19 years old, son of Barry L. and Cicely M. Garrad of Golder's Green, Middlesex, England, and Goodwin, 22 years old, son of Thomas and Ruth Elizabeth Goodwin from Bedfordshire, England.