John Robert William Craig J12717
September 3, 1919 - December 30, 1942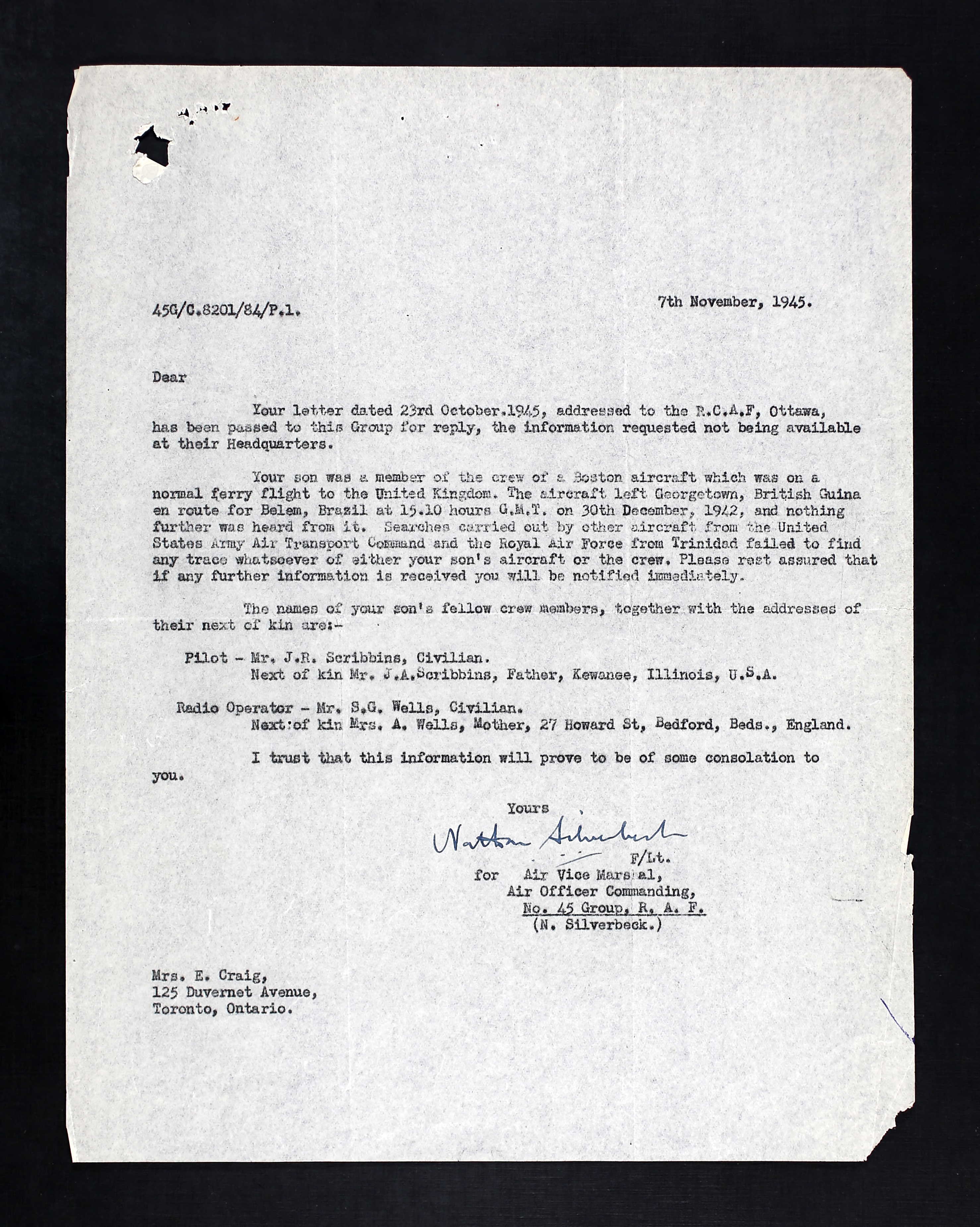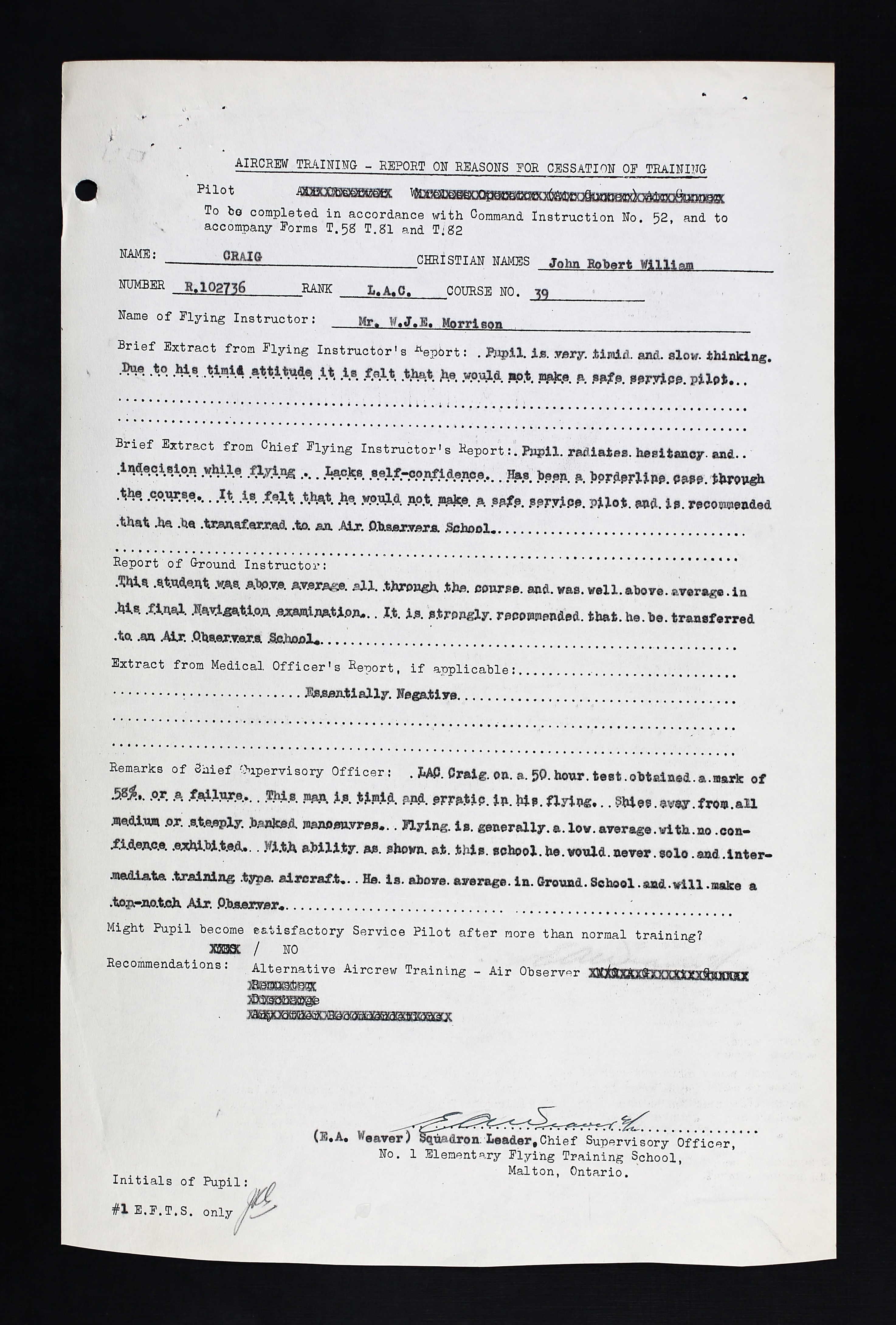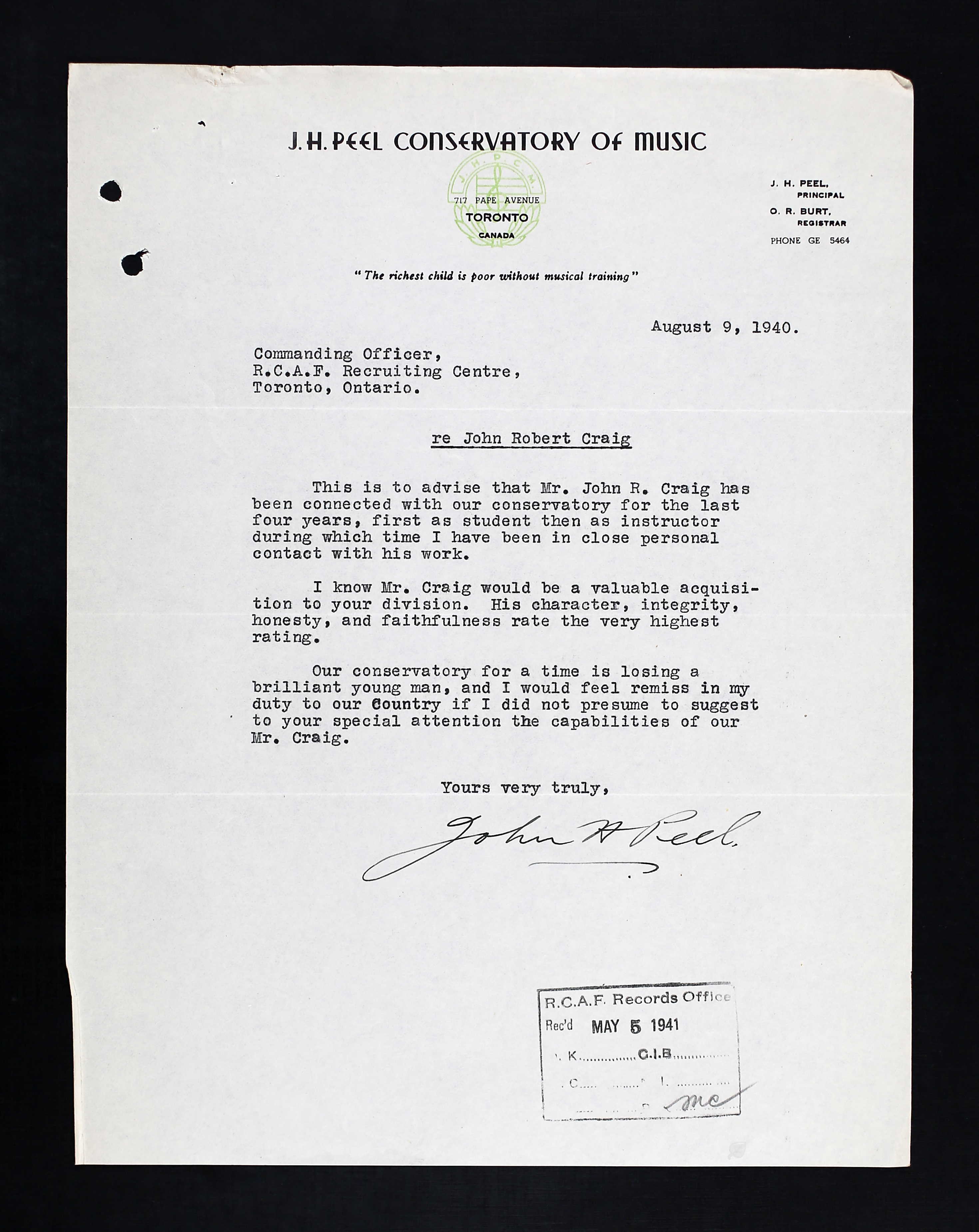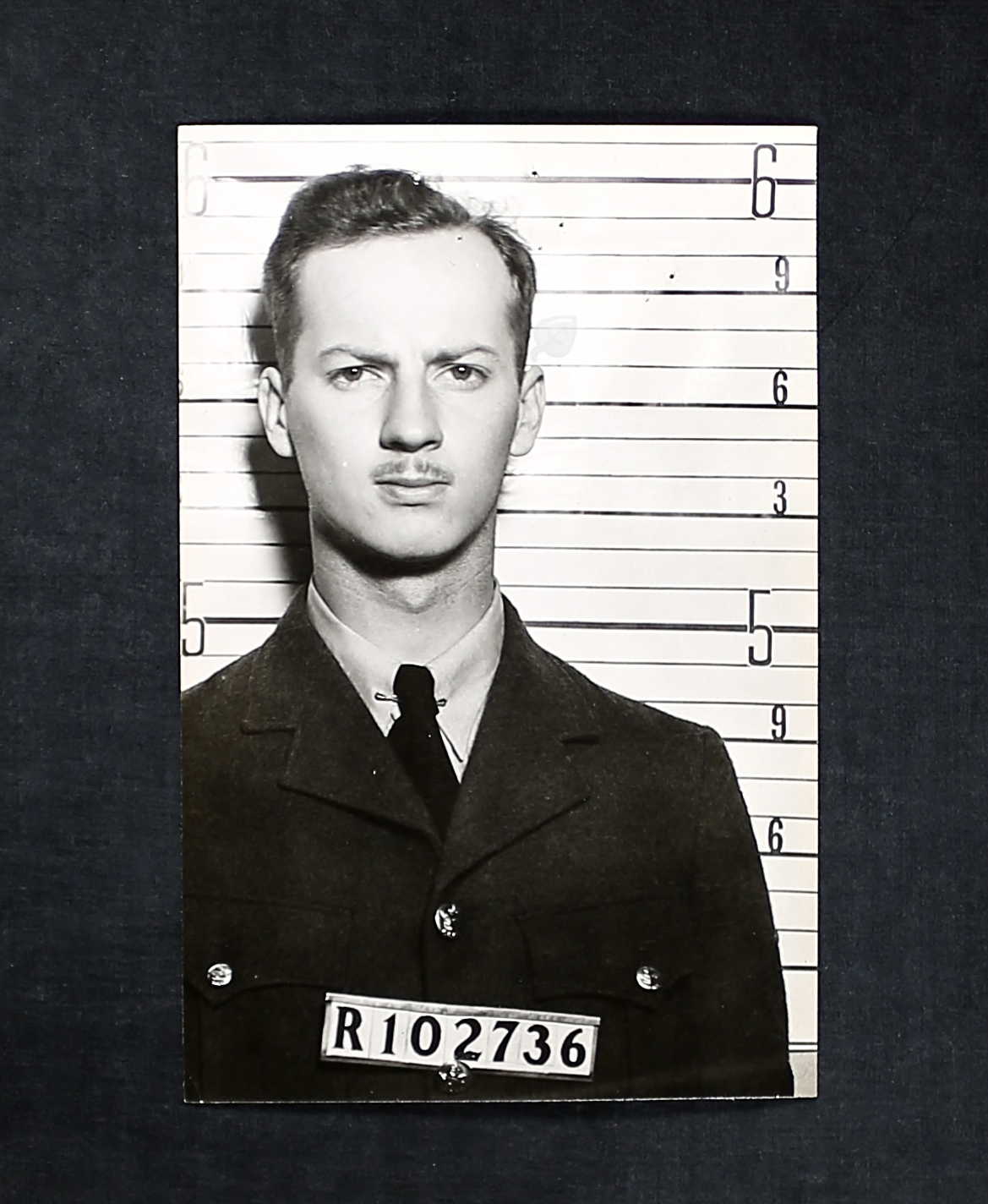 Guitar teacher started out training as pilot; became navigator. Aboard Boston BZ238, he and two other crew were lost on a ferry flight towards Belem, Brazil, from New Guinea.
John Robert William Craig was the son of Robert Vernon Craig, warehouse worker, and Edith (nee Gadsby) Craig of Toronto, Ontario. He had one brother, Frank Gerald Ferguson Craig (1924-2017), also in the RCAF. The family was Anglican.
John was a music teacher, working at Peel Conservatory of Music, a manager of a branch studio, specializing in guitar prior to his enlistment with the RCAF. "Efficient on piano and guitar." His hobbies included music and sports, playing the Hawaiian and Spanish guitar. He played rugby and baseball at school and swam to relax. He smoked 5-6 cigarettes per day and did not drink alcohol. He stood 6' tall and weighed 136 pounds. The top of his right ear was flattened, noted on his medical form. When he was twelve years old, he broke his left humerus, lower, in a fall. "Choice: Pilot. Observer. Good average. Bright cheerful chap, good average intelligence." More comments April 28, 1940: "Mentally, applicant is alert, cooperative, well oriented, and has quick perception and reaction. personality is pleasant, cooperative. Physically, applicant is poor developed muscularly especially in arms and shoulders. There is a large varicocele in left scrotum with bogginess on left testicle so that it is thought advisable to have condition remedied, surgically. Pulse is fast and blood pressure is relatively low. Responses and 40 millimeter Hg test is poor and presumed due to poor condition. He is underweight by 16 pounds." On April 15, 1941: "Varicocele corrected satisfactorily. Will return later for complete examination." April 18, 1941: "Rechecked. Left varicocele well repaired. Satisfactory." After the war, John wanted to study aeronautical engineering.
He began his journey through the BCATP at No. 1 Manning Depot, Toronto, May 28, 1941 until June 13, 1941. He was sent to No. 14 SFTS, Aylmer for about seven weeks before being sent to Belleville, Ontario. At No. 5 ITS, August to September 1941: "87%. 58 out of 224 in class. "Good dependable type with a find sense of responsibility."
John was at No. 1 EFTS, Malton, Ontario, September 25 to November 21, 1941. "This pupil radiates hesitancy and indecision while he is flying. Admits himself that he lacks self-confidence, knows how the various manoeuvres should be done but is timid about his ability to carry them out. Has been a borderline case throughout the course. Would not make a safe service pilot. It is recommended that he be transferred to an Air Observers School." GROUND TRAINING: "Conduct, dress, and discipline excellent. Very conscientious and hard working. Well above average is Ground School theory. Definitely wishes to do his part in aircrew. Flying ability below average. Very timid as a pilot when in control of an aircraft." While here, he was AWL on October 26, 1941 and forfeited one day's pay. REMARKS: "LAC Craig on a 50-hour test obtained a mark of 56% or a failure. He is timid and erratic in his flying. Shies away from all medium or steeply banked manoeuvres. Flying is generally a low average with no confidence exhibited. With ability as show at this school, he would never solo and intermediate training type aircraft. He is above average in Ground School and will make a top-notch Air Observer." S/L E. A. Weaver.
John was sent to KTS, Trenton November 24, 1941 until January 3, 1942 until he was sent to No. 1 AOS, Malton, Ontario, January 4 to April 12, 1942. "Navigation: Ground and air work very satisfactory. Quick to learn. Armament: Very good in ground work and more than average in his aptitude for application of knowledge in the air. General: Very good observer material. First choice of class as an officer; likeable personality; very responsible; excellent officer material." John was 4th in his class of 21 with 83.7%.
He was sent to No. 1 B&G, Jarvis, Ontario, from April 13 to May 23, 1942. "Good worker and good student. Capable. 3rd out of 24 in class. 72.4%."
From there, he was at No. 1 CNS, Rivers, Manitoba, May 25 to July 3, 1942. (John married Audrey Irene Johnston on June 26, 1942.) "AIR: Developed into a good practical navigator. Very efficient in use of astro even in poor weather conditions. GROUND: A good man. Possibly a trifle overconfident at times." He was 11th out of 23 in his class with 76.6%. "Clean cut in appearance. Intelligent and very popular with classmates. interested in his work. Recommended for commission."
John was serving with No. 31 O.T.U., in Debert, Nova Scotia, an RAF unit in Canada within the combined training organization when he went missing.
Boston BZ238, RAF Ferry Command, was piloted by John Robert Scribbens, RAF, son of John A. Scribbens, architect, Kewanee, Illinois, USA. John Robert William Craig RCAF was the navigator and the radio officer aboard was Sidney George Wells, RAF, son of Sidney Rolland Wells and Ada Wells. His wife, Claire Devine Wells was from Montreal. According to a newspaper report, Scribbens was "on his maiden flight in which he was in command."
In August and September 1943, Audrey wrote to Ferry Command, requesting information. In one letter, she wrote, "As it is now nearly nine months since my husband was reported missing, I can see no harm in my receiving information as to who he was flying with, and if they were in trouble when last heard of. Other friends, who are in similar circumstances as myself, received full information a few months after their husbands' disappearance, however I have received none, other than my husband was reported missing on December 30, around South America. Any information that you may give me would be appreciated very much and kept strictly within the family circle."
In early November 1943, Audrey wrote a letter informing the Estates Branch that her husband's personal belongings had arrived with the exception of his P/O ring. "Would you be so kind as to find out just whether that is a signet ring my husband had or whether it is just a ribbon of some official type." She also received John's guitar in a case.
John had $2500 in life insurance as well as another almost $600 in more insurance.
On November 7, 1945, addressed to John's parents, a letter was written by F/Lt Nathan Silverbeck. "Your son was a member of the crew of a Boston aircraft which was on a normal ferry flight to the United Kingdom. The aircraft left Georgetown, British Guiana en route for Belem, Brazil, at 1510 hours on December 30th, 1942 and nothing further was heard from it. Searches carried out by other aircraft from the United States Army Air Transport Command and the Royal Air Force from Trinidad failed to find any trace whatsoever of either your son's aircraft or the crew. Please rest assured that if any further information is received, you will be notified immediately. The names of your son's fellow crew members together with the addresses of their next of kin are: Pilot, Mr. J. R. Scribbens, civilian, next of kin Mr. J. A. Scribbens, father, Kewanee, Illinois, USA ad Radio Operator, Mr. S. G. Wells, civilian, next of kin, Mrs. A. Wells, mother, 27 Howard Street, Bedford, Beds, England."
In late October 1955, Audrey, ow Mrs. Caruso, received a letter informing her that since John had no known grave, his name would appear on the Ottawa Memorial.
(The name of Wells appears on the Runnymede Memorial. Scribbens's name also appears on the Ottawa Memorial.)