John William Borum J10554
December 29, 1912 - April 22, 1943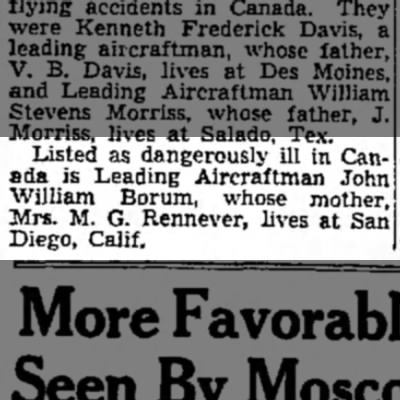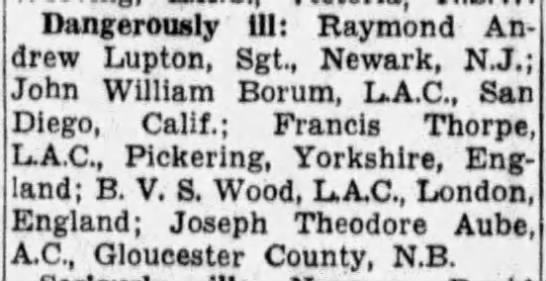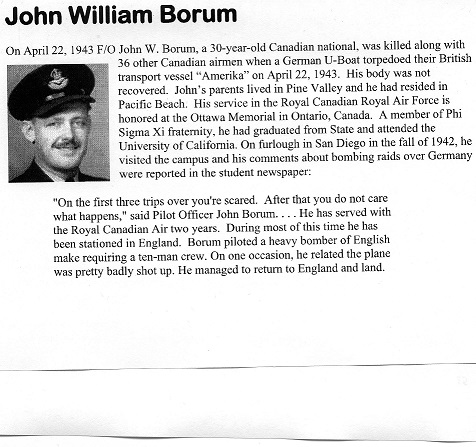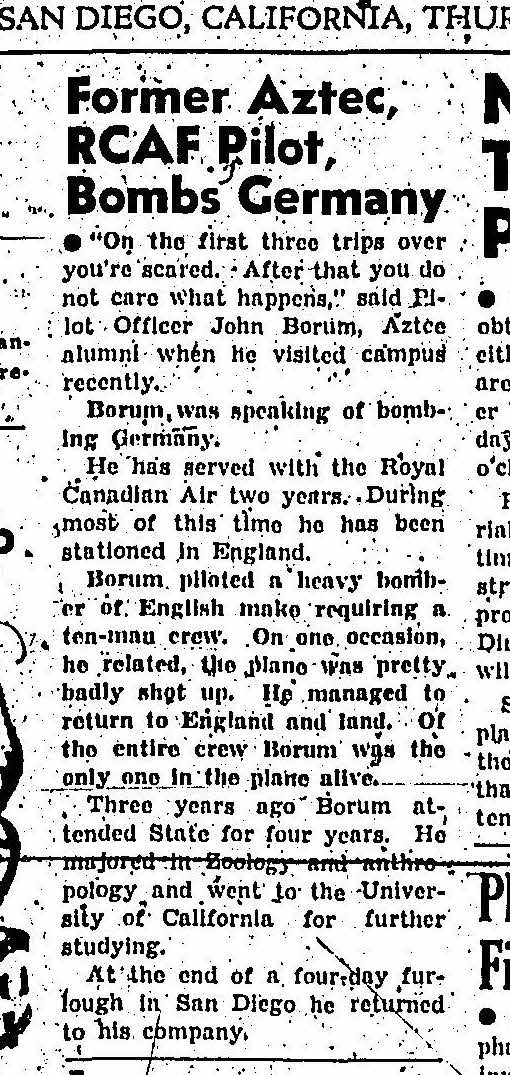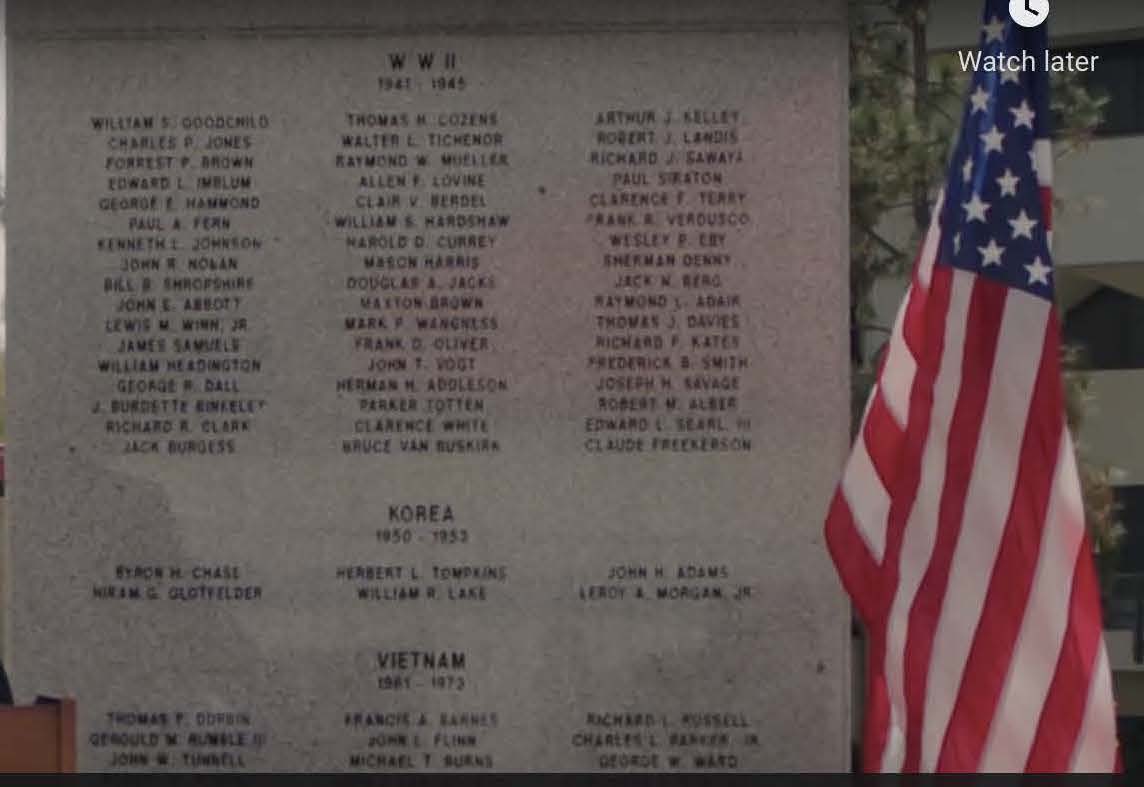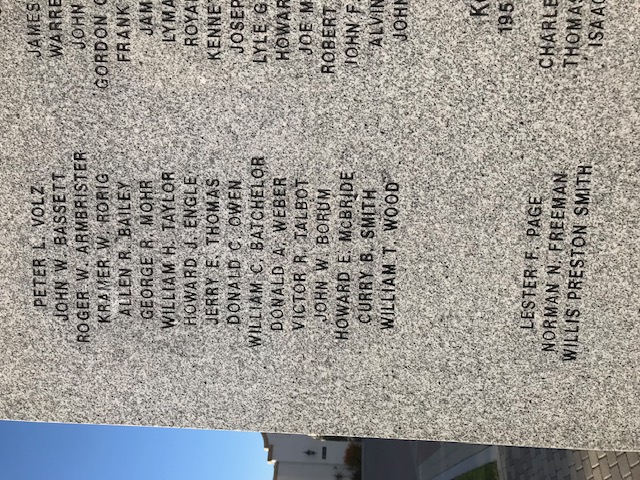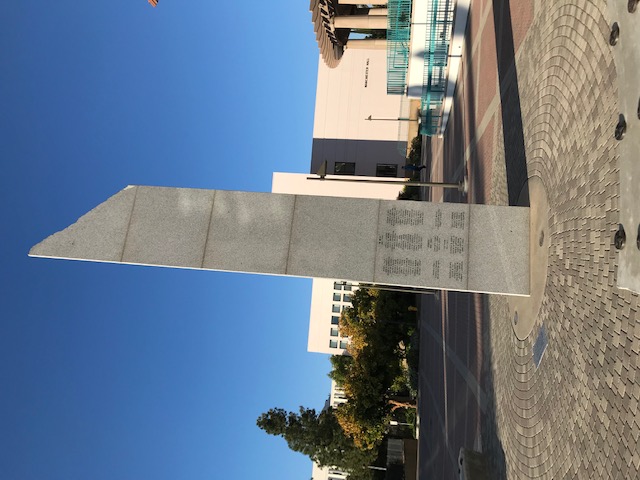 An American with unbelievable resume becomes pilot
John William Borum was born in Flagstaff, Arizona to William Selby Borum (1885-1940), salesman/broker/clerk, and Mary Garnet (nee Riley) Renneker, who later married Fred Renneker of San Diego, California. John had one brother, Charles Edward Borum.
John had been living in San Diego, California when he moved to the YMCA at Windsor, Ontario where he enlisted on May 13, 1941. He claimed he had been attending the University of California, Berkley, working on his Ph. D. thesis. Prior, he had been an embalmer. He indicated on his Occupational History form that he had been teaching for three years. He said that he would like to engage in farming after the war, but had no prior experience.
His school experience: San Diego State College, 1936-1939, Biology, Pre-Medical; University of California, 1939-1940, psychology; correspondence school while in Navy studying French and Math; Naval Training courses, 1930-1934, studying Engineering and fire control.
He had glowing reference letters from San Diego State College and California-Western States Life Insurance Company, Sacramento, California.
Employment: 1934-1935: mechanic; 1939-1940: University of California, research in psychology; 1935-1937: apprentice embalmer at Benbough Funeral Parlours, then briefly at Sante Fe Station, San Diego, then at Consolidated Aircraft, 1940, in San Diego for one month. On this form, he said he had no flying experience solo, but 8 hours dual.
On another form, he said that he was a biologist. He also wrote that he earned a good conduct medal with the US Navy, connected to the USS Saratoga, San Pedro. His rank was fireman and his trade was radioman (September 1928-August 1934).
On one form, dated May 6, 1941: "a different type, no doubt of account of his US Navy and varied school work. An older type. Quite courteous, suggested by Clayton Knight Committee, Hollywood, California, Mr. J. J. Ince. Appears sincere and will probably make a pilot, if not too old. Be certain to check all references. With training, should be satisfactory."
At the Medical Board, Windsor, Ontario, May 8, 1941, John indicated that he needed glasses for reading in 1935 and 1936, had some stomach troubles when he was ten, and had his tonsils out as a child. He listed he was a graduate of high school, had four years college and was in pre-med studies and that languages (speaking German and English -- from the standpoint of structure -- semasiology) and travelling were his hobbies. He played fullback on his college football team, did track, pole vault and sprints. He said he was in the US Navy for six years, fireman 2nd class. He smoked 20 cigarettes per day and drank the occasional beer and spirits. He was waiting to get a lower denture. He had tattoos on his left and right upper and lower arms.
Remarks: "July 1941: Alert, physically fit. Capable. Experienced. Tries hard. American. Motives fair. Pilot or nothing. Seems like good material. Satisfactory pilot material. HISTORY: Has flown. No ill effects. Scarlet fever at 10 years of age. Two years college. Pre-medical. Previous naval training, 6 years. Good athlete. PHYSICAL: Medium well-developed, sturdy build. General physical condition is good. Response to tests good. Mentality alert. EYES: Fit. Glasses worn for studying 1935 to 1936. ENT: Fit. Complete upper denture. Partial lower denture. SUMMARY: Candidate is considered to be mentally and physically fit for all aircrew duties. He appears like good material and with training should do well."
John stood 5'9 ½" tall, weighed 156 pounds, had blue eyes, brown hair, and a medium complexion.
He was taken on strength at No. 1 Manning Depot, Toronto, Ontario on May 13, 1941, then sent to No. 5 E. D. Moncton, New Brunswick until July 1, 1941, when he returned to attend No. 1 ITS, Toronto until August 8, 1941. From there, he was sent to No. 7 EFTS Windsor, Ontario until November 22, where he was sent to No. 14 SFTS Aylmer, Ontario until April 10, 1942. He earned his wings here. He was sent then to No. 31 GRS, Charlottetown for six weeks, then to Rivers, Manitoba May 28, 1942. March 23, 1943, he was in Halifax and was ready to head overseas by April 1943.
At No. 1 ITS: "Keen enthusiastic above average type of traineed who showed good results at this school. Commission material. Second aircrew recommendation: Air Observer. 17th out of 132 in class. 90%."
At No. 7 EFTS: FLYING: "Slow in learning. Is pleasant and likes his work. Likes to fly. Nervous on acrobatics. No outstanding difficulty. 71.5%" GROUND SCHOOL: "8th out of 29 in class. 72%. Unsatisfactory for commission. Quiet, even disposition. Good student. Studious."
At No. 14 SFTS: "Very eager to learn, very punctual and obedient. Careful of his appearance. A very good type, this student stood second in his class. Excellent commission material. Link Navigation: Exceptional. A capable pilot appears to have no dangerous faults but requires polish on some details. Assessment above average. Instrument flying high average. A very good type who can adapt himself to any place of service flying. Progress -- satisfactory. GROUNG TRAINING: An extremely industrious and ambitious student. Able to accept responsibility. A credit to the Service."
On John's last will and testament, dated February 16, 1942, he noted his address was formerly Inglewood, California. By this time, he was living in Aylmer, Ontario, and was an RCAF pilot. He gave all of his property and life insurance to Baylor Howard Maynard, Jr. and his wife, Betty Morgan Maynard, Jr., plus their daughter, Suzanne Maynard. John's brother, Charles Edward, as well as Baylor Maynard would be the executors.
John was sent to a Navigation Reconnaissance Course in Charlottetown, PEI April 1942, but ceased training as he only received 55%.
G/C W. A. Murray, Commanding Officer, No. 1 Central Navigation School, Rivers, Manitoba, on February 24, 1943 wrote: "The above-mentioned officer has been a staff pilot at this school for approximately 9 months, having been an assistant flight commended for seven months. He has over 600 hours on the Anson aircraft. F/O Borum is a steady, conscientious officer, and has given every satisfaction as a staff pilot and Assistant Flight Commander."
F/O Borum's record shows that he obtained above average marks in EFTS and SFTS and at G.R. School, he was assessed as 'keen and ambitious', but temperamentally unsuited for G. R. work, and consequently, was recommended for heavy bombers.
"This officer is keenly anxious for operational duty overseas, and he strongly is recommended for posting of this nature. If this cannot be done, it is recommended that he be posted to a ferry command."
On April 22, 1943, John Borum was aboard the Amerika, British Motor merchant ship. It was on its way from Halifax, Nova Scotia to Liverpool. It was torpedoed as the ship was heading to Britain, a straggler in convoy HX-234. Thirty-seven men, all officers in the RCAF, were presumed missing as a result of enemy action at sea; sixteen were landed at a British port after their ship was sunk by U-306, south of Cape Farewell, off Greenland. Forty-two crew members and seven gunners were also amongst those who were lost. The master, Christian Nielsen, 29 crewmembers, eight gunners, and sixteen passengers were picked up by the HMS Asphodel, and landed at Greenock. General cargo, including metal, flour, meat and 200 bags of mail were also lost.
On June 25, 1943, Mrs. Renneker received a letter from F/L Gunn, RCAF Casualties Officer, for Chief of the Air Staff: Since my letter of May 6th, no additional news has been received. Attached is a list of the names and next-of-kin of sixteen Royal Canadian Air Force officers who embarked on the same ship as your son and following enemy action at sea were safely landed in the United Kingdom. The following official statement was made in the House of Commons....'I have been in receipt of communications from a number of members of this house and from people outside with reference to rumours regarding the recent loss of a number of members of the RCAF by the sinking of a ship in the north Atlantic and I desire to make the following statement on the facts. The vessel in question was a ship of British registry of 8,862 tons, designed for peace-time carriage of both passengers and freight, and having a speed of fifteen knots. She carried a crew of 86 and the passenger accommodation consisted of 12 two-berth rooms with bath and 29 other berths, providing cabin accommodations for 53 passengers. She was fitted with lifeboat capacity for 231 and travelled in naval convoy. Under the recently revised regulations agreed to by the United States authorities, the joint United Kingdom and United States shipping board, the Admiralty, the Air Ministry and the Canadian authorities, a vessel of this description travelling in convoy is permitted to embark as crew and passengers a maximum of 75% of the lifeboat capacity. The lifeboat capacity as stated above was 231, 75% of which is 173. Personnel on board consisted of the crew of 86, and RCAF personnel numbering 53, a total of 139, well within the prescribed limits. Because of the superior type of available passenger accommodation, the speed of the ship and the provision of naval convoy, the offer of the entire available space to the RCAF was immediately accepted. Rumours to the effect that this was a slow freighter not suitable for passenger accommodation are, of course, not in accord with the facts. Every precaution was taken to safeguard the lives of these gallant young men. It should be pointed out that on account of the serious shipping shortage every available berth on such ships must be used, and had the space not been taken up by the RCAF officers of the other arms of the services would have been placed on Board. It should also be stated again that the submarine is still the enemy's most powerful weapon and that the Battle of the Atlantic is not yet won. Any ocean trip today in any part of the world is fraught with danger and I think I may safely say that our record in transporting our soldiers and airmen to the United Kingdom is one of while we may all be proud. No one deplores more than I do the loss of 37 of the finest of our young men who gave their lives for their country as surely as if they had done so in actual combat with the enemy, and I extend my deepest sympathy to their loved ones in their bereavement.' If further information becomes available, you are to be reassured it will be communicated to you at once. May I again extend to you my sincere sympathy in this time of great anxiety."
On the Estates Branch form, Mrs. Renneker wrote, "When my son was home March 29, 1943, he told me had war savings certificates and Victory Loan bonds. He did not state where they were or how much but told me was attached to his record in Ottawa. When he was in Halifax getting ready for overseas duty, he had a power of attorney made over for me." Notes on the form stated that there were no Victory Loan bonds, but there were war savings certificates. John had a document created on April 10, 1943 giving his mother power of attorney.
Baylor H. Maynard (1917 or 1918-1994), noted as a' friend,' was issued John's Memorial Bar. Another document showed that Baylor was John's half-brother, but was not mentioned on his Estate form filled out by Mrs. Renneker after John's death. (Maynard was a pole-vaulter, too. One address was Toronto, but a letter he wrote to the Estates Branch in Ottawa, noted he was living in Des Plaines, Illinois. He had been married to Bette Jane Morgan in September 1939, who divorced him in February 1940, charging that he gave up a 'lucrative position' as a real estate salesman to enter the University of California, Berkley, to engage in athletic competition. Another article stated that Baylor had walked away from a service station job. One newspaper photo showed that Baylor, too, enlisted in the RCAF, in 1941, service number J12058.)
Maynard wrote, "I would like to know if you were able to contact my former wife, Bette June Maynard, or any progress has been made regarding John William Borum's will. I fully realize the extra amount of work that you must have now that world peace has been won. Any further information that I might be able to give, I will do so at your request. I would appreciate an answer before the 15th of September because we are planning on moving from this address that day. I will furnish you with my new address as soon as it is known to us. Thank you.
In 1966, Baylor made the newspapers in connection with a Canadian-based company who manufactured shelters, which were to be shipped and used in Turkey after a severe earthquake. Baylor second wife, Jean, was charged with larceny in 1973. At that time, Baylor had been noted as being the owner of the defunct construction company, Baylor Maynard Associates Construction Company, which had merged with another company in 1971 building boats. Mrs. Maynard received six years' probation. They divorced in 1974.
(Digging further into a possible biological connection between Borum and Maynard, Maynard Baylor Sr (1885-1974) married Edith Lee Dunn (1893-1953) on September 10, 1911. Edith was 18 and Maynard was 25. Maynard Baylor Jr. was born on July 6, 1918 in Dallas, Texas. He died in Bean Station, Grainger, Tennessee on February 25, 1994. In Edith's obituary, May 27, 1953, it was noted that Maynard Jr was living in Toronto.)
In October 1955, Mrs. Renneker, residing in Pine Valley, California, 70 kilometres west of San Diego, received a letter from W/C Gunn stating since that John had no known grave, his name would appear on the Ottawa Memorial.
John Borum's name is mentioned in a document featuring the people whose names are inscribed on the San Diego State University War Memorial. An excerpt from The Aztec Volume 22, Number 4, Thursday, October 8, 1942 from San Diego State University has an interesting story shared by John Borum. See images above. A thank you to Robert Fikes for the photos of the SDSU Memorial and the close up showing Borum's name.