John Haythornthwaite Bateman R103889
May 23, 1923 - September 19, 1943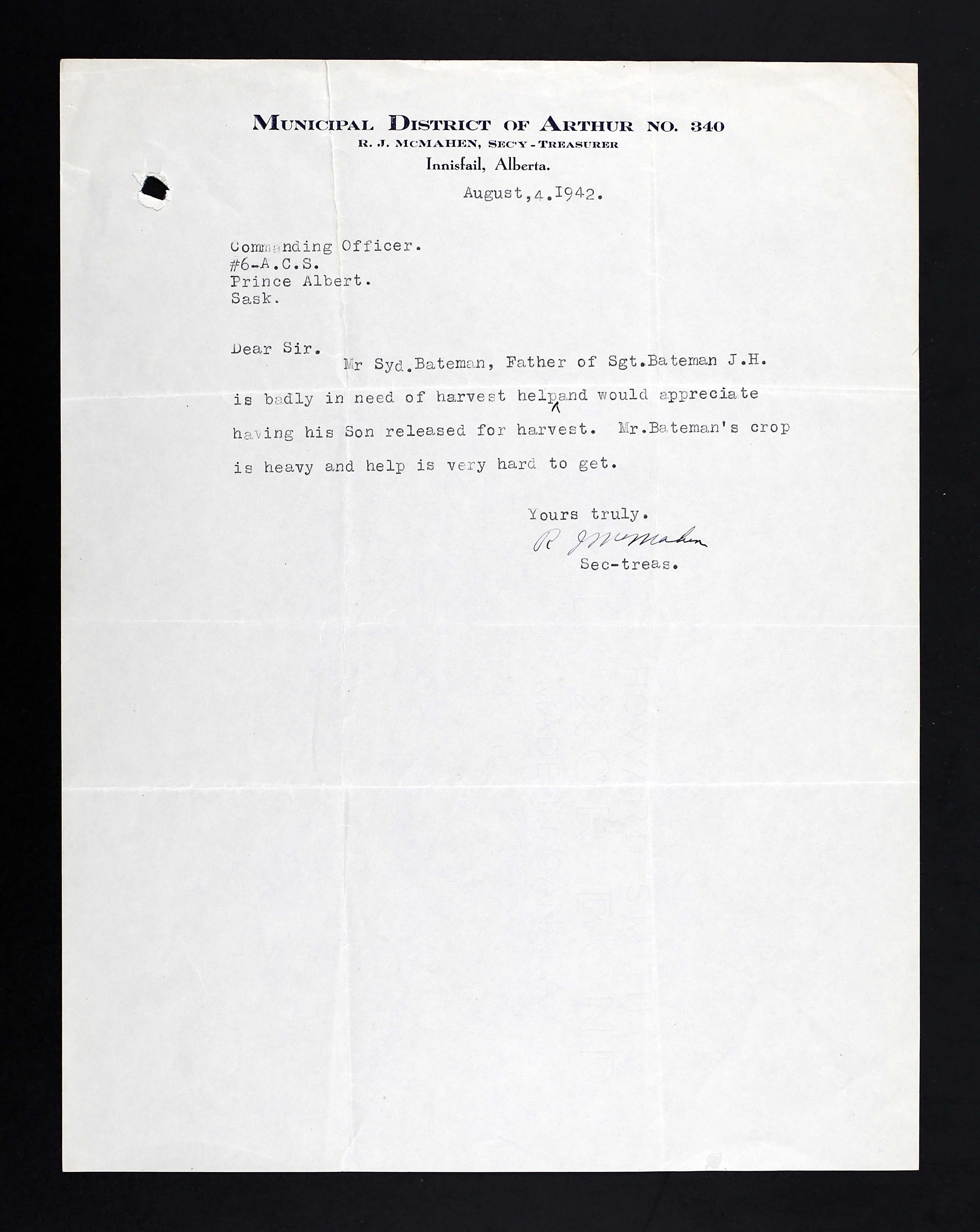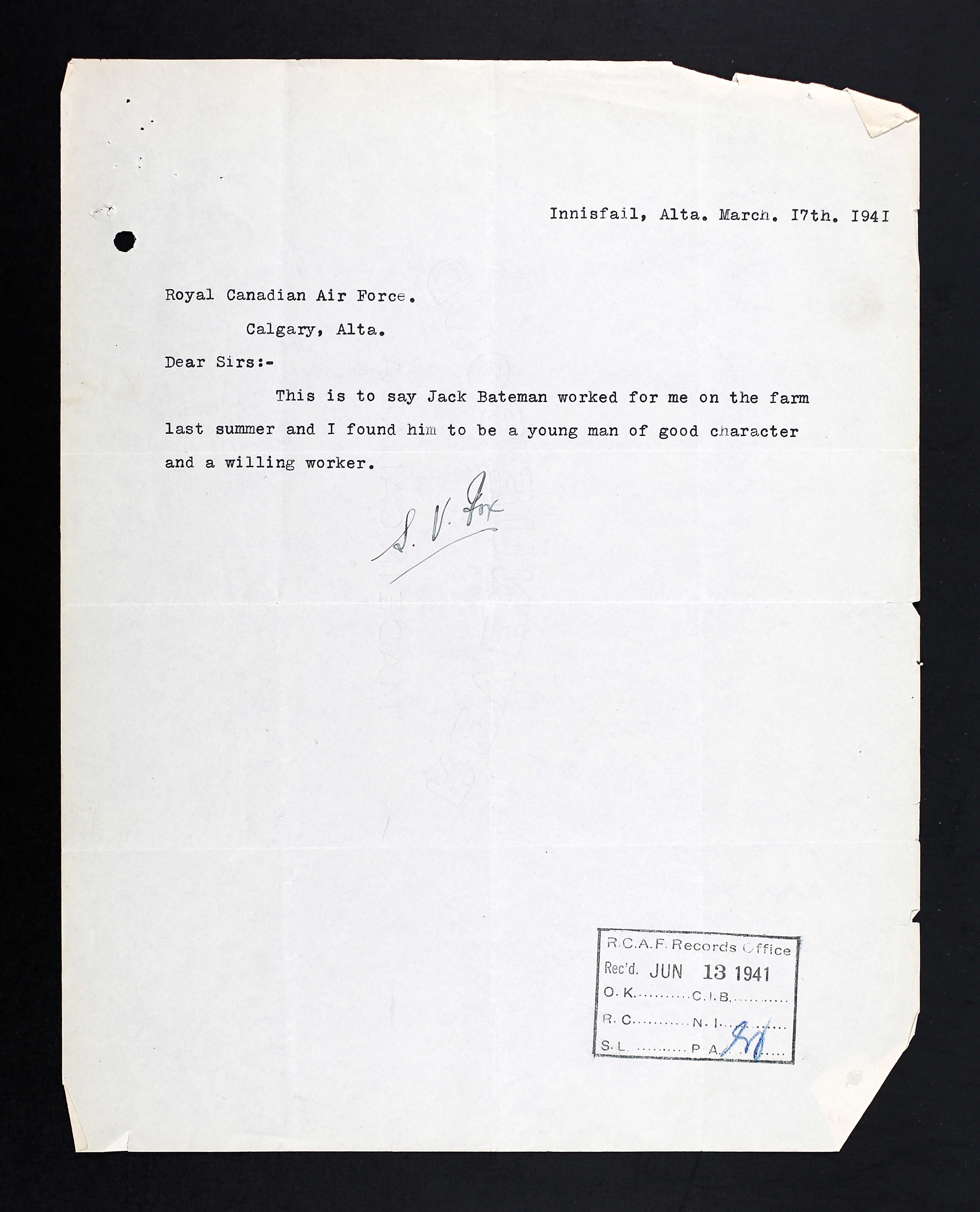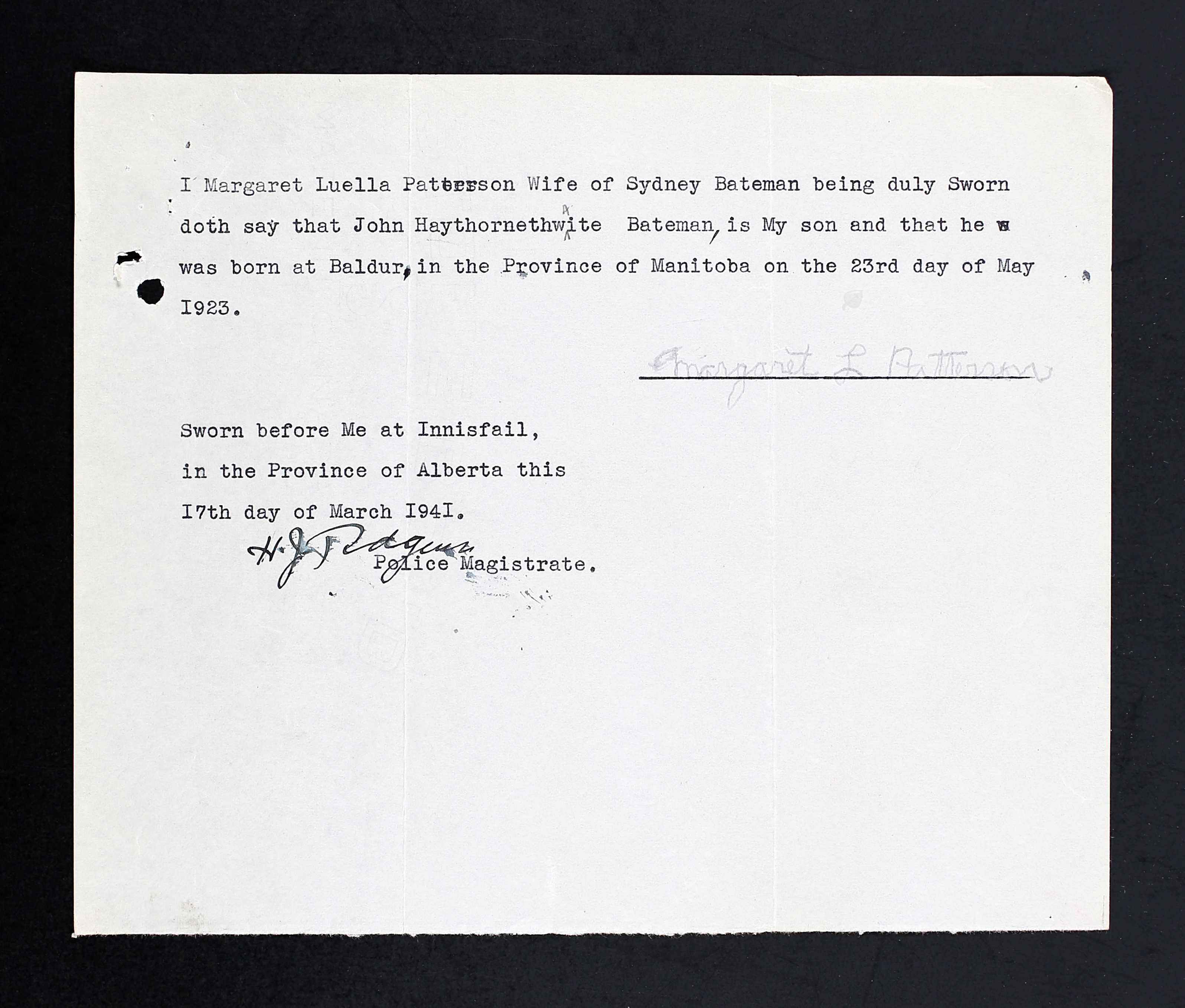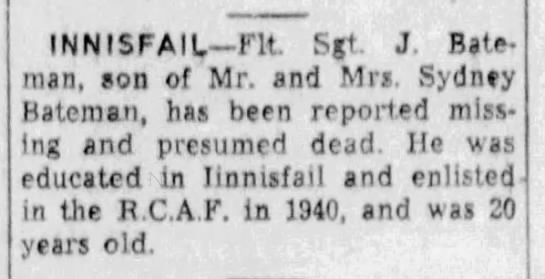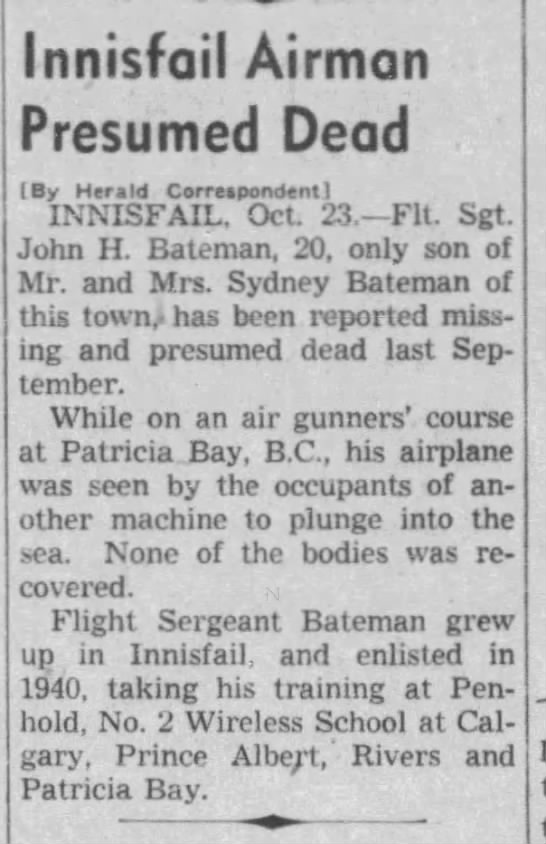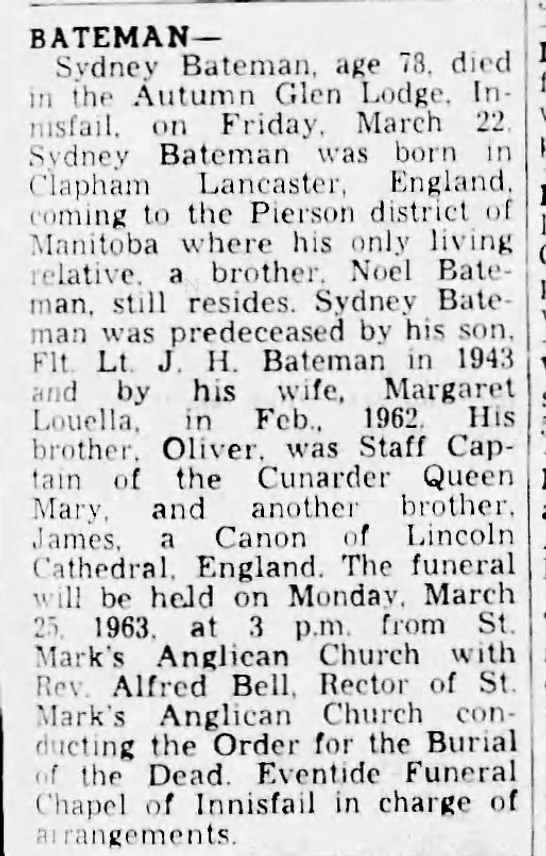 Student and only child of farmers from Innisfail, Alberta became a WAG. During navigation exercise over the Juan de Fuca, Hampden AJ993 dove into the sea in bad weather. All four men lost.
John 'Jack' Haythornthwaite Bateman, born in Baldur, Manitoba, was the son of Sydney Bateman (1884-1963), farmer, and Margaret Luella (nee Patterson) Bateman (1881-1962) of Innisfail, Alberta. He was an only child. A brother died in infancy. The family was Anglican.
When Jack first filled out his attestation papers, he was not yet 18, still a student, working part time on a neighbour's farm. He had been with the 15th Alberta Light Horse as a trooper in Innisfail from May 27, 1940 to June 4, 1941. On March 31 and June 6, 1941, "Candidate is found fit." He was wiry. He had a small, scalded area above his right knee, plus an appendectomy scar. He stood 5'10" tall and weighed 135 pounds. He liked to swim, play hockey, tennis, badminton, and basketball. He also liked to read and shoot. "Rather good type lad, full of pep. Not nervous. Should be OK for air gunner."
Jack had ten War Savings Certificates made out to his mother, plus $50 in a Victory Loan Bond also in his mother's name. He took out $1000 life insurance policies with two different agencies.
Jack started his journey through the BCATP at No. 2A Manning Depot, Penhold, Alberta from June 23 to August 20, 1941. He was then sent to Regina, Saskatchewan for guard duty at No. 3 SFTS. He was then sent to No. 2 Wireless School, Calgary October 14, 1941 until April 25, 1942. "65.1%, 84th in class of 120."
From there, he was sent to No. 8 B&G School, Lethbridge, Alberta April 26 to May 26, 1942. "25th out of 26 in class. Armament work fair. Failed final signalling check and returned to Wireless School. Average ability as an Air Gunner."
He returned to No. 2 WS May 27, 1942 until July 7, 1942: "Has passed the prescribed signalling tests and is authorized to wear the Air Gunner Badge effective 26-6-42." John was then sent to No. 6 AOS, Prince Albert, Saskatchewan July 8 until September 12, 1942, then sent to No. 1 CNS, Rivers, Manitoba September 13, 1942.
A letter was written to the CO of No. 6 AOS, Prince Albert dated August 4, 1942. "Dear Sir, Mr. Sydney Bateman, father of Sgt. J. H. Bateman is badly in need of harvest help and would appreciate having his son released for harvest. Mr. Bateman's crop is heavy and help is very hard to get."
In July 1943, Jack was sent to No. 32 O.T.U., Patricia Bay, BC.
Jack was in station hospitals three times: November 25th to December 8, 1941, January 22 to 26, 1942, and April 25 to 29, 1942.
On the morning of September 19, 1943, Hampden Mark 1 AJ993 from No. 32 O.T.U., Patricia Bay, BC had set out on a navigation exercise over the Juan de Fuca at a height of 500 feet. Bad weather rolled in and the aircraft was seen to dive into the sea from a turn at approximately 400 feet at 0813 hours.
Jack, WAG, along with a second WAG, Sgt. Albert Sidney Dobie, RAFV 1324459, WO Albert France, Navigator, R113446, and P/O Harry Haig Frost, J24373, perished. A dinghy and one wheel were recovered by an American patrol boat, but no sign of the men was found.
They are all remembered on the Ottawa Memorial.
For details of the crash and more about the crew aboard Hampden AJ993, please visit the links below courtesy of the British Columbia Aviation Museum:
LINKS: