John Hamilton Barrett J14556
January 18, 1922 - October 14, 1942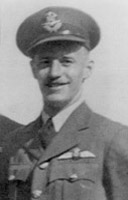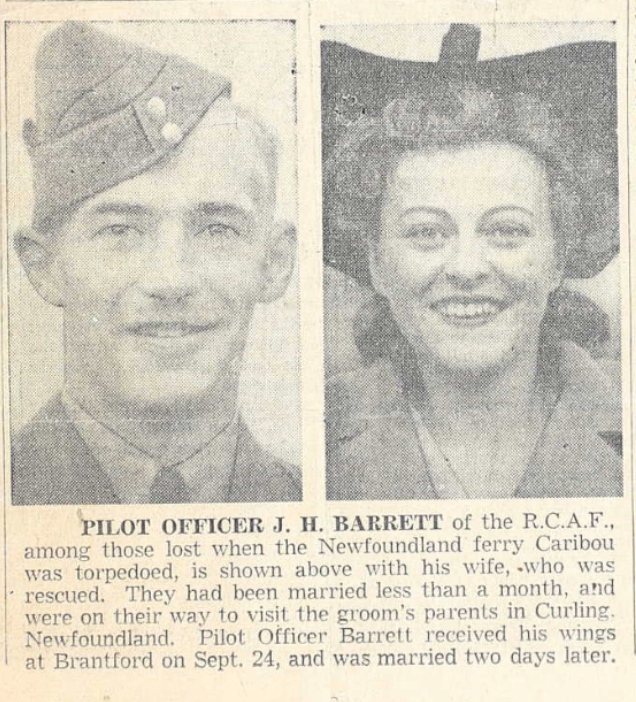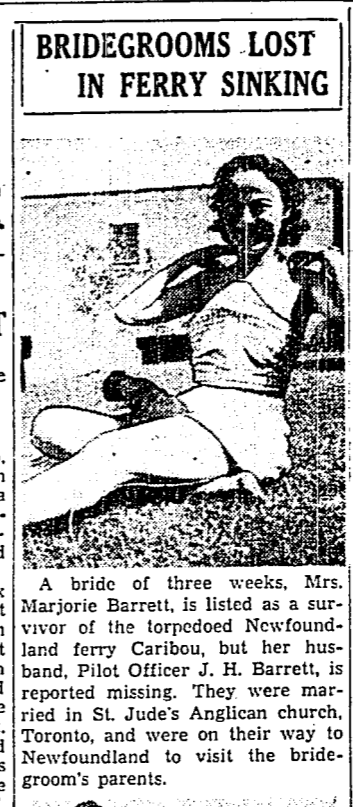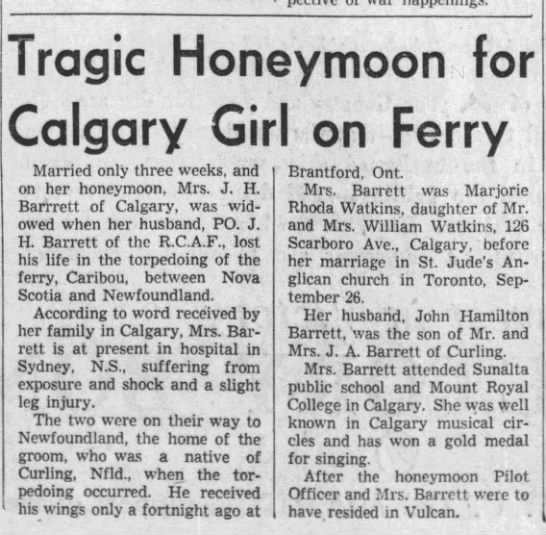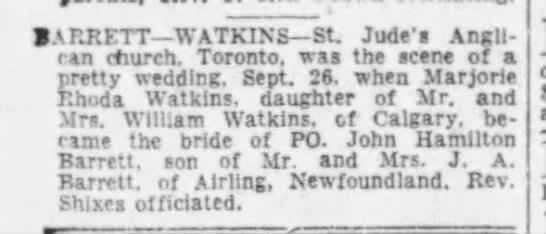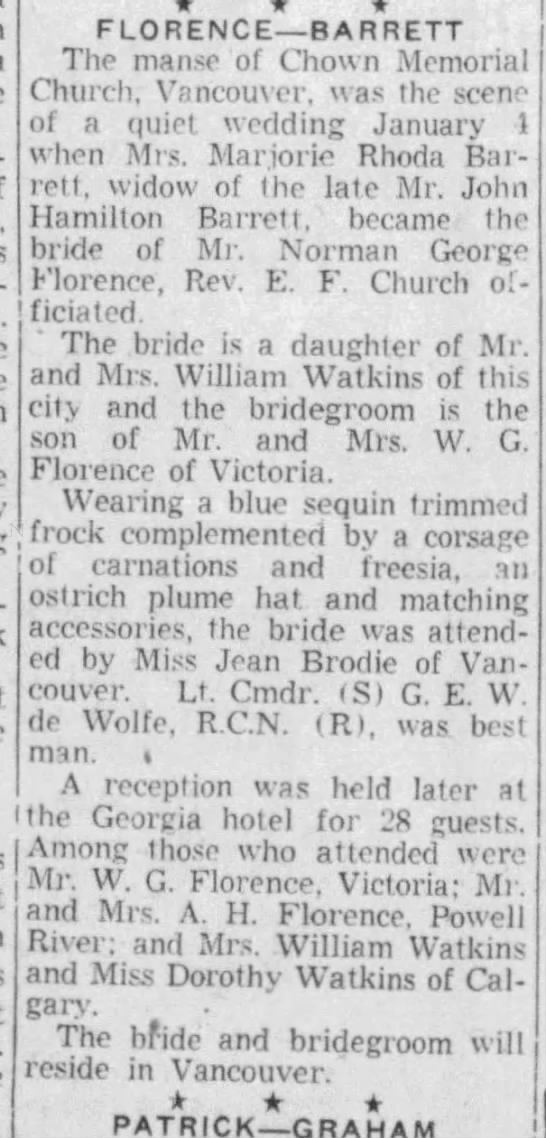 University graduate became pilot. On a trip with new wife to visit his family in Newfoundland, he perished as the SS Caribou was torpedoed. His wife survived.
John Hamilton Barrett was born in Dunkeld, Scotland to John Arshbraus Barrett and Ena Constance (nee Culbard) Barrett. Mr. Barrett was originally from Newfoundland, Mrs. Barrett from England. John had two younger brothers, Arthur and David and a younger sister, Rose. The family lived in Curling, Newfoundland. They attended the United Church.
John wore glasses while at high school for reading only. He had an appendectomy in 1939 with a good recovery.
He had a Grade XI education and had his B. Sc. (1937-1941) from Dalhousie University, Halifax, Nova Scotia, with one year of COTC. He enjoyed photography, basketball, hockey, and tennis. John smoked between 10-12 cigarettes a day and drank the occasional beer. He worked for the Newfoundland Government in the summer of 1938 as a surveyor and for the Standard Paving Ltd. in the same capacity in the summer of 1941.
He enlisted with the RCAF in September 1941 in Halifax. "Desirous of serving, and applied for commission in Navy, but would have to wait too long. Wants to fly. Intelligent and has god educational qualification. Quiet mannered, should make good aircrew." He was assessed as having a wiry, athletic physique and an alert mentality. He had two scars. He stood 5'7" tall and weighed 150 pounds. He had blue eyes and light brown hair. "Wants Pilot or Observer. Rather surprising lad. One would not suspect him of having a B. Sc. He is not as careful about his personal cleanliness as he might be. Not particularly aggressive or forceful. He is not interested in flying as a career. Not impressed with him. This man could probably do a better job in his own line and serve the country to better advantage." "F/L C. S. Barker.
F/O Stewart: "Carried out all tests well. Intelligent answers to questions. Medically fit. Candidate should do well. Accommodation borderline."
John was accepted by the RCAF and started his journey through the BCATP at No. 1 Manning Depot, Toronto, Ontario October 23, 1941, remaining there until November 20. He was then sent to No. 31 O.T.U., Debert, Nova Scotia until January 26, 1942. He was reprimanded at Debert for having his bayonet in a rusty and unclean condition on rifle inspecton on January 17, 1942.
The RCAF found room for him at No. 5 ITS, Belleville, Ontario. He was there until March 28, 1942. Here he received a 90% and was first in his class.
Then he was sent to No. 22 EFTS, Ancienne Lorette, Quebec until June 6, 1942. He earned an 83.5% and was fourth in his class.
He was then sent to No. 5 SFTS Brantford, Ontario June 7 until October 23, 1942. John passed with a 79.8% and was first in is class. He received his Pilot's Flying Badge and commission on September 24, 1942.
In Toronto on September 26, 1942, John married Marjorie Rhoda Watkins of Calgary. Marjorie submitted a letter from her priest at St. Stephen's Anglican Church, dated September 3, 1942. "In connection with the application of LAC John Barrett for permission to marry Miss Marjorie Rhoda Watkins, I have the pleasure in bearing testimony to her good character and respectability. Miss Watkins lived here before going to Toronto, her home is in my parish and her family are well known to me. I have no hesitation whatever in recommending her a s a girl of very excellent character and I know of no impediment whatever to the proposed marriage."
He was to be posted No. 2 Flying Instructors School in Vulcan, Alberta. According to newspapers, before going to Vulcan, John and Marjorie were on their way to visit his parents and had booked passage aboard the SS Caribou, a ferry with the Newfoundland Railway that ran between Port aux Basques, Newfoundland and North Sydney, Nova Scotia. The ship traveled this route three times a week.
The night of October 14, 1942 was very dark with no moon. Sixty kilometres off the coast of Newfoundland, the SS Caribou on her starboard side was torpedoed by German U-boat U-106. On board were 73 civilians (eleven children, 118 military personnel) and a crew of 46. The passengers were thrown from their bunks, several lifeboats and rafts were destroyed or could not be launched, as the ship sunk quickly, reports stating only three minutes. Many passengers were forced to jump overboard. Over 135 people perished. Fifteen of the crew survived, many of them local men from the Channel/Port aux Basque area.
Marjorie survived and after her recovery, returned to her parents' home in the Scarboro neighbourhood in Calgary. In April 1943, Marjorie received John's RCAF Officer's Commission Script. A month later another letter arrived informing Marjorie that John, for official purposes, was to then have been presumed to have died on October 14, 1942.
In January 1947, Marjorie remarried and resided in Vancouver, BC.
In January 1948, a memorial was erected at Port-aux-Basques, Newfoundland, in memory of those who died in the torpedoing of the S. S. Caribou.
A letter dated January 6, 1956 arrived at Marjorie's bank in Vancouver from W/C Gunn informing her that since John had no known grave, his name would appear on the Ottawa Memorial.
For additional information, please click on the links below.
Two of the survivors, Aircraftmen Frank Earl Burton and Frederick Anthon Langley, perished in the fire at the Knights of Columbus hostel in St. John's, Newfoundland, December 12, 1942. Ninety-nine people were killed, with 80 of them military personnel. Critically wounded: 109.
LINKS: