James William Paul Skidmore J5105
December 13, 1918 - December 29, 1941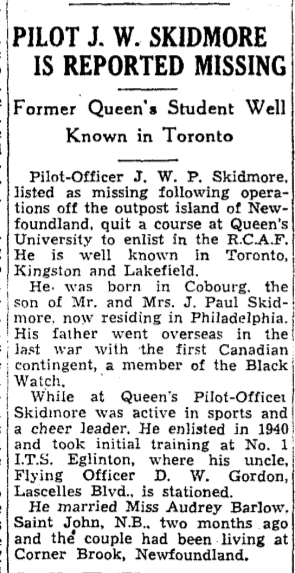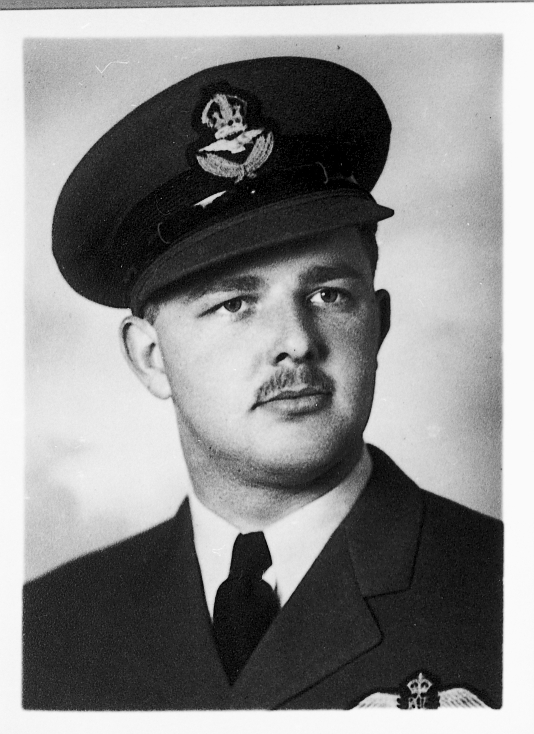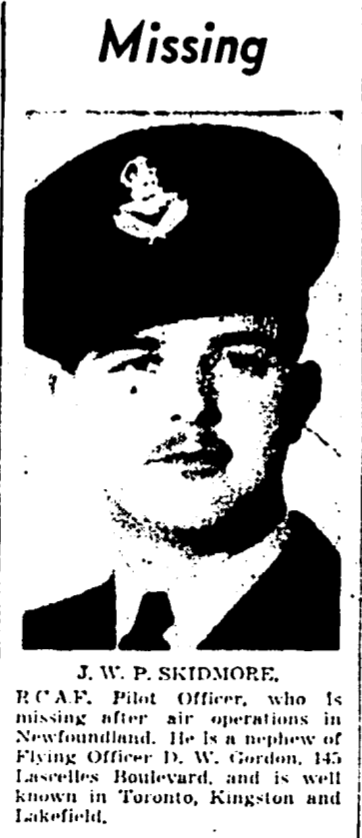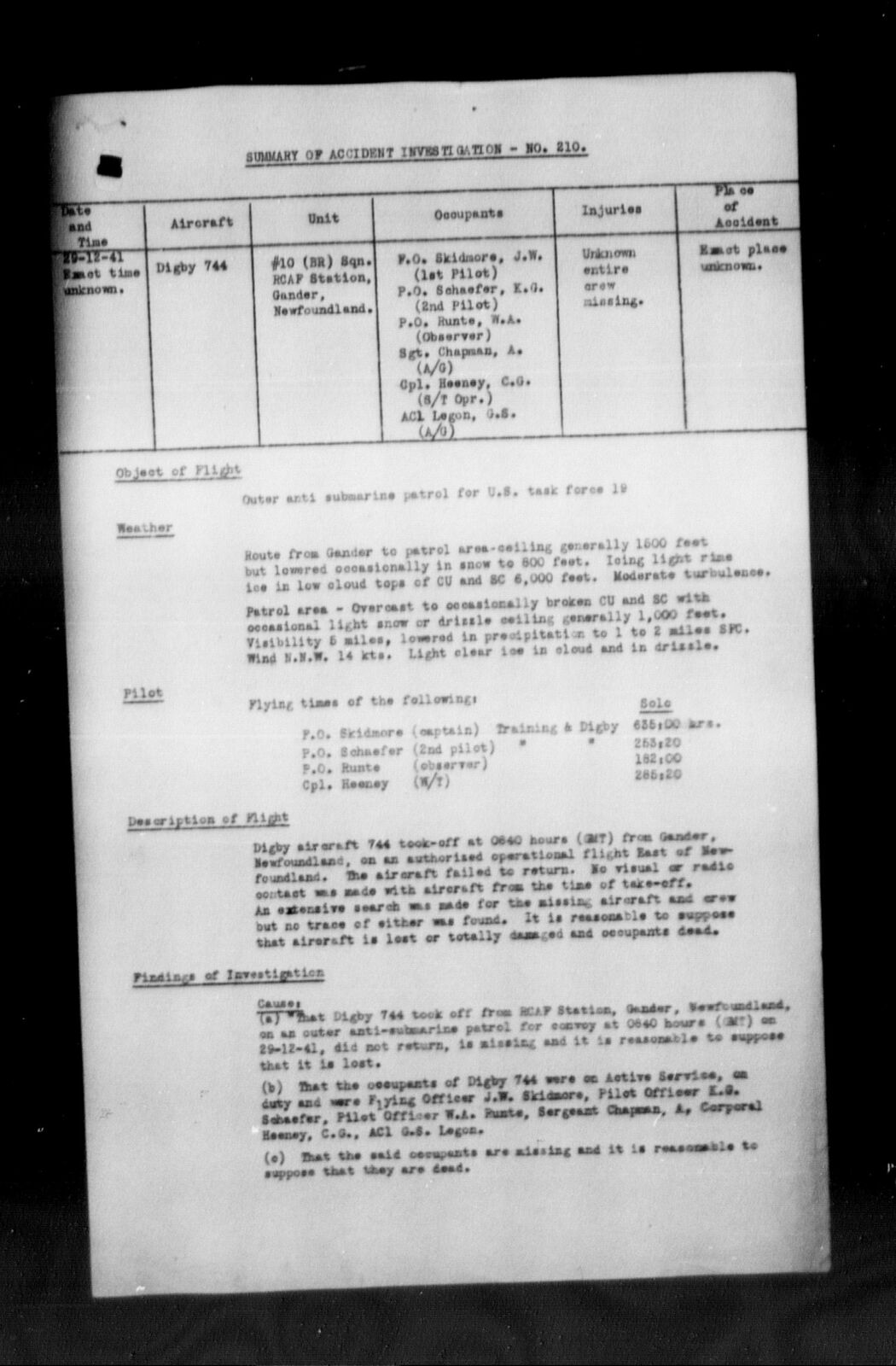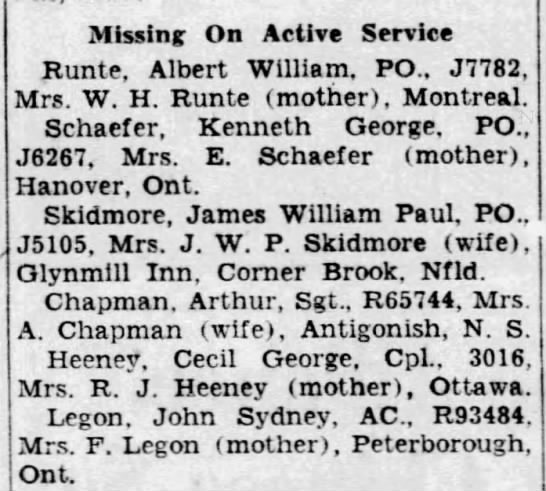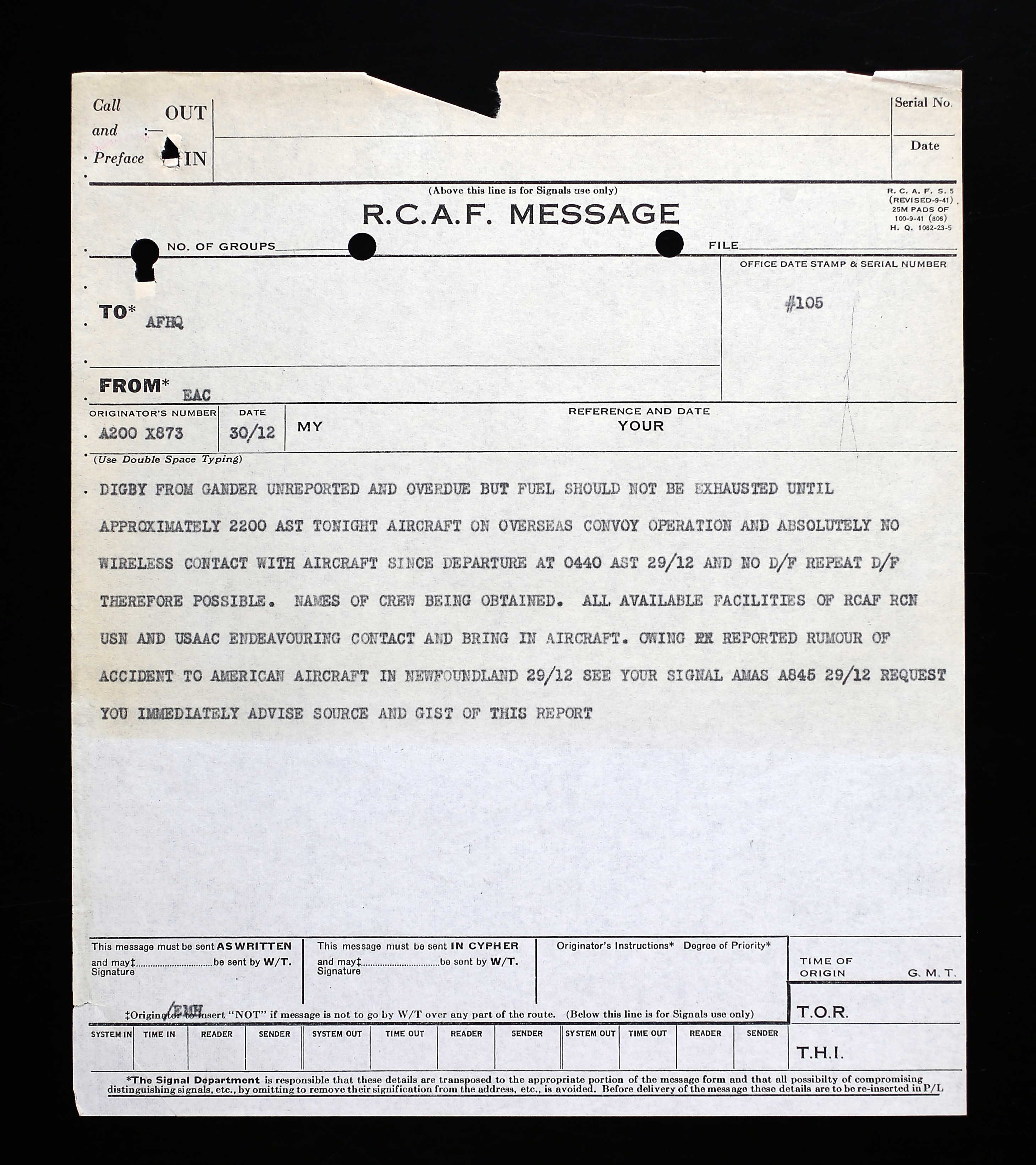 'Daredevil type' with a private pilot's license joined RCAF after earning a B.A. and B. Sc. at Queen's University. With No. 10 BR Squadron, he and crew aboard Digby 744 were lost on an outer anti-submarine patrol with icing conditions present
James William Paul Skidmore, born in Cobourg, Ontario, was the only surviving child of James Walter Paul Skidmore, treasurer (banking), and Gerda Fillmore (nee Cane) Skidmore, of Drexel Hill, Pennsylvania. (His parents were both born in Canada.) The family was Anglican. James had two sisters who died in infancy.

Known as Bill, he spoke English and had French in his first year of college. James was a cadet with COTC from August 1937 to April 1940. He attended Queen's University, Kingston, Ontario, earning a B.A. and B.Sc. He worked in the summers as a lifeguard and maintenance man at Llanerch Swimming Pool. He liked to swim, play water polo and football, and was involved in track.

On his medical examination, he stood 5'8" tall and weighed 196 pounds. He had hazel eyes and light brown hair, with a dark complexion. "Candidate is heavy set and very muscular. Not obese." A transverse scar at the base of his right thumb, plus a vertical scar on his left knee were noted, as was a mole on his right abdomen. "Has been putting on weight recently but is not obese. Steady. Stolid." Bill smoked the pipe once in a while, and drank socially, occasionally. (In his personal belongings, Bill had three pipes.)

Bill had his civilian pilot's license from Patco Flying Field in Conshohocken, Pennsylvania, with 42 hours in 1940 and 23 hours in 1941. He completed two parachute jumps at some point.

"Good character. Daredevil type. Athletic, rugged build. Fairly intelligent. Well dressed and pleasing personality." James wanted to return to college after the war. His widow wrote, "Deceased made application to the post-war airforce (RCAF). Future posting would determine future home."

He started his journey through the BCATP at No. 1 Manning Depot, Toronto, Ontario on July 2 until August 16, 1940. From there he was at No. 118 CAC, St John September 27, 1940, then returned to Toronto to attend No. 1 ITS. "8th out of 224 in class, 91%. High type, keen and hardworking. Officer material. Excellent material for pilot. Second service recommendation: air observer."

From there, he was sent to No. 4 EFTS, Windsor Mills, December 29, 1940. "Above average. Very good pilot, had previous experience, keen and interested in his work." He was 4th in his class of 30.

No. 8 SFTS, in Moncton, NB was his next stop until April 19, 1941. "Has shown excellent progress in all his flying and is very keen and quick to learn, has a tendency to skp details, but is overcoming this and is a very capable all-round pilot. Instrument: Tended to let his heigh and course wander at first, especially if not reminded and was a little rough but has become a confident and able instrument pilot. GROUND TRAINING: bright and quick to learn." Overall he was 3rd in his class of 57. "This pupil possesses a very marked degree of leadership. He is keen and very energetic. Should be excellent officer material."

From there, he was taken on strength at No. 10 (BR) Squadron, Dartmouth, NS, April 21, 1941. The squadron then moved to Gander, Newfoundland.

Bill married Audrey Georgena Barlow, on October 13, 1941, in Saint John, New Brunswick. (She remarried and became Mrs. MacLeod as of May 1950. She resided in Sydney, Nova Scotia.)

At 0840, December 29, 1941 Digby 744 took off with the crew PILOT F/O J. W. Skidmore, J5105, SECOND PILOT P/O K. G. Schaefer, J6267, OBSERVER P/O Albert William Runte, J7783, AIR GUNNER AC1 John Sydney Legon, R93484, AIR GUNNER Sgt. Arthur Chapman, R65744, and WIRELESS OPERATOR Cpl. Cecil G. Heeney, P3016, with No. 10 BR Squadron, and flew out of Gander. They failed to return through cause or causes unknown. That no known visual or radio contact was made with aircraft 744 after departure from RCAF Station, Gander, Newfoundland. That at the time of take-off of aircraft, light icing conditions existed between approximately 1500 feet and 5500 feet in the area of his patrol. The cause of the accident: That Digby 744 took off on an outer anti-submarine patrol for convoy did not return, is missing and it is reasonable to suppose that it is lost. That the occupants of Digby 744 were on Active Service on duty…that the said occupants are missing and it is reasonable to suppose that they are dead."

A Court of Inquiry was struck. [Microfiche T-12340, Image 4644] Seven witnesses were called. DESCRIPTION OF FLIGHT: Digby aircraft 744 took off at 0640 hours from Gander, Newfoundland on an authorized operational flight east of Newfoundland. The aircraft failed to return. No visual or radio contact was made with aircraft from the time of take-off. An extensive search was made for the missing aircraft and crew, but no trace of either was found. It is reasonable to suppose that the aircraft is lost or totally damaged and occupants dead. The third witness, S/L Albin Laut, C861, Officer Commanding of 10 BR Squadron stated that he felt the captain and crew of Digby 744 were fully qualified in all respects. [He was killed on October 3, 1943, while on a cross country flight near Sydney, NS flying Ventura PV-1 2148.] The sixth witness, P/O Bertrand Hutchinson, J5063, pilot at No. 19 BR Squadron stated, "I was detailed as Second Pilot in Digby 745 to do a submarine patrol on US Convoy Task Force 19. We took off just after Digby 744 which was proceeding to the same convoy as ourselves. We did not see Digby 744 at all, but at position 50 degrees 00 N, 50 degrees 30 W, when it was still dark, I saw a flame float on the water about 3 or 4 miles to our starboard side. It stopped burning just after we passed it. Other than this, I saw nothing of Digby 744. We proceeded on our patrol, searching for the convoy until our time was up and then returned to base." FINDINGS OF INVESTIGATION: CAUSE: (a) That Digby 744 took off from RCAF Station, Gander, Newfoundland on an outer anti-submarine patrol for convoy at 0640 hours, 29-12-41, did not return, is missing and it is reasonable to suppose that it is lost. (b) That the occupants of Digby 744 were on Active Service, on duty…(c) that the said occupants are missing, and it is reasonable to suppose that they are dead. CONCLUSION: Aircraft failed to return for reasons unknown, probably due to icing conditions. All maintenance regulations were complied with by those responsible. L14 and relevant Log Books were impounded by the Commanding Officer immediately after report that aircraft was missing. RECOMMENDATION: That aircraft on operational flights be allowed to exchange call signs with base on receipt of the hourly weather reports when NOT within 75 miles of convoys or friendly ocean shipping." Aircraft of the unit and of the US Army Air Corps searched for three days with no result. They had later been grounded due to weather.