James Robert McLean J22444
January 8, 1922 - April 21, 943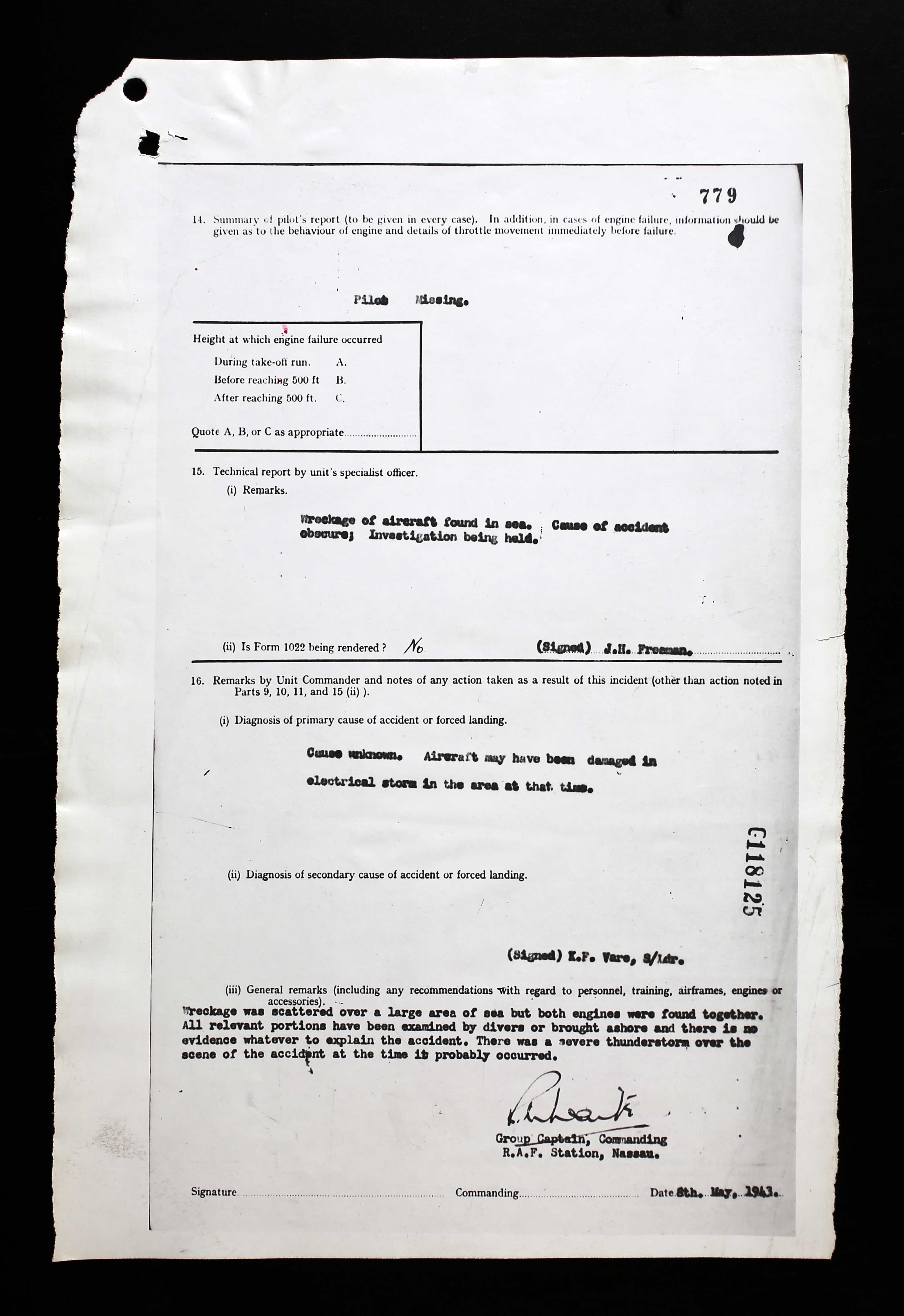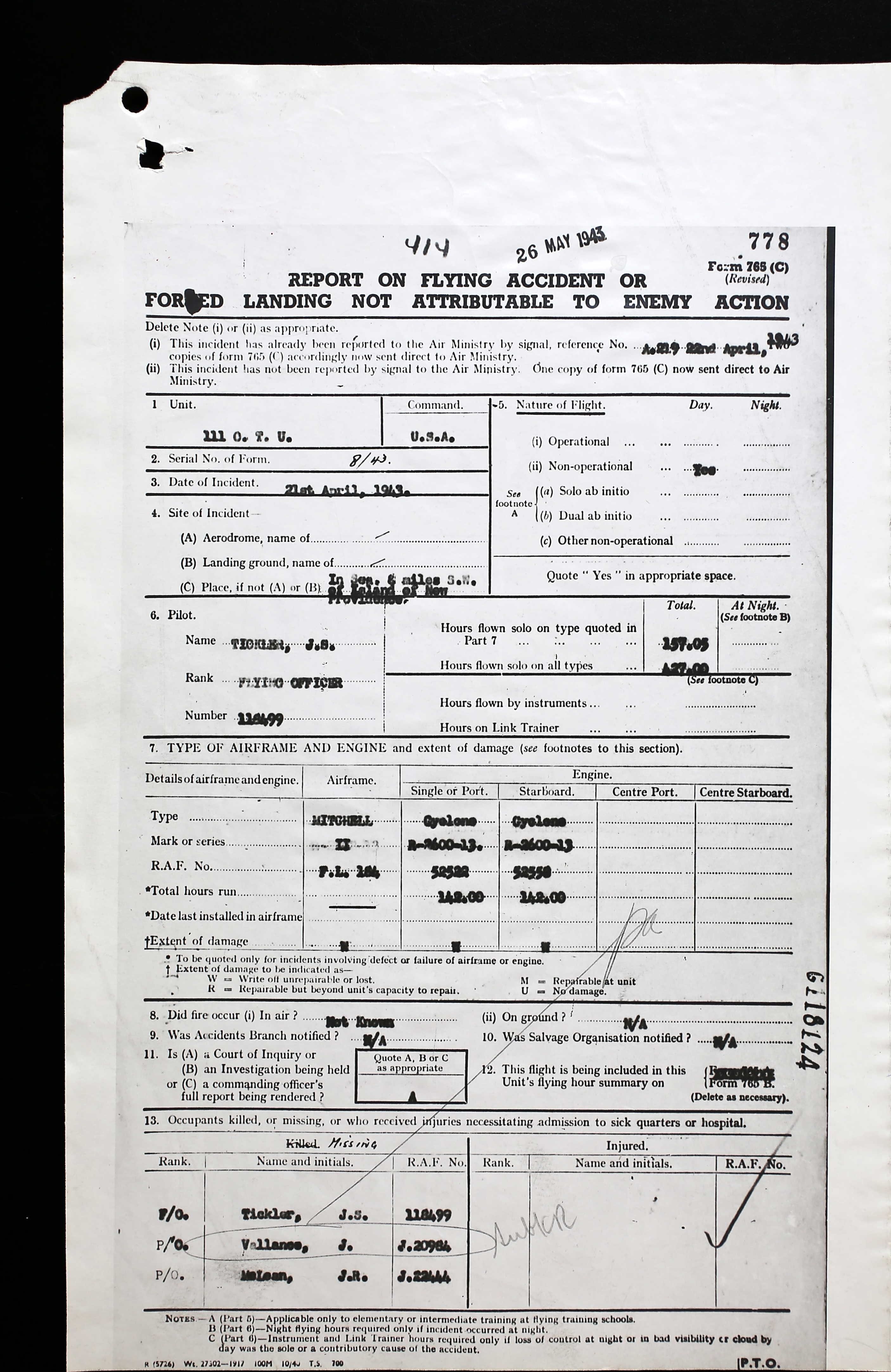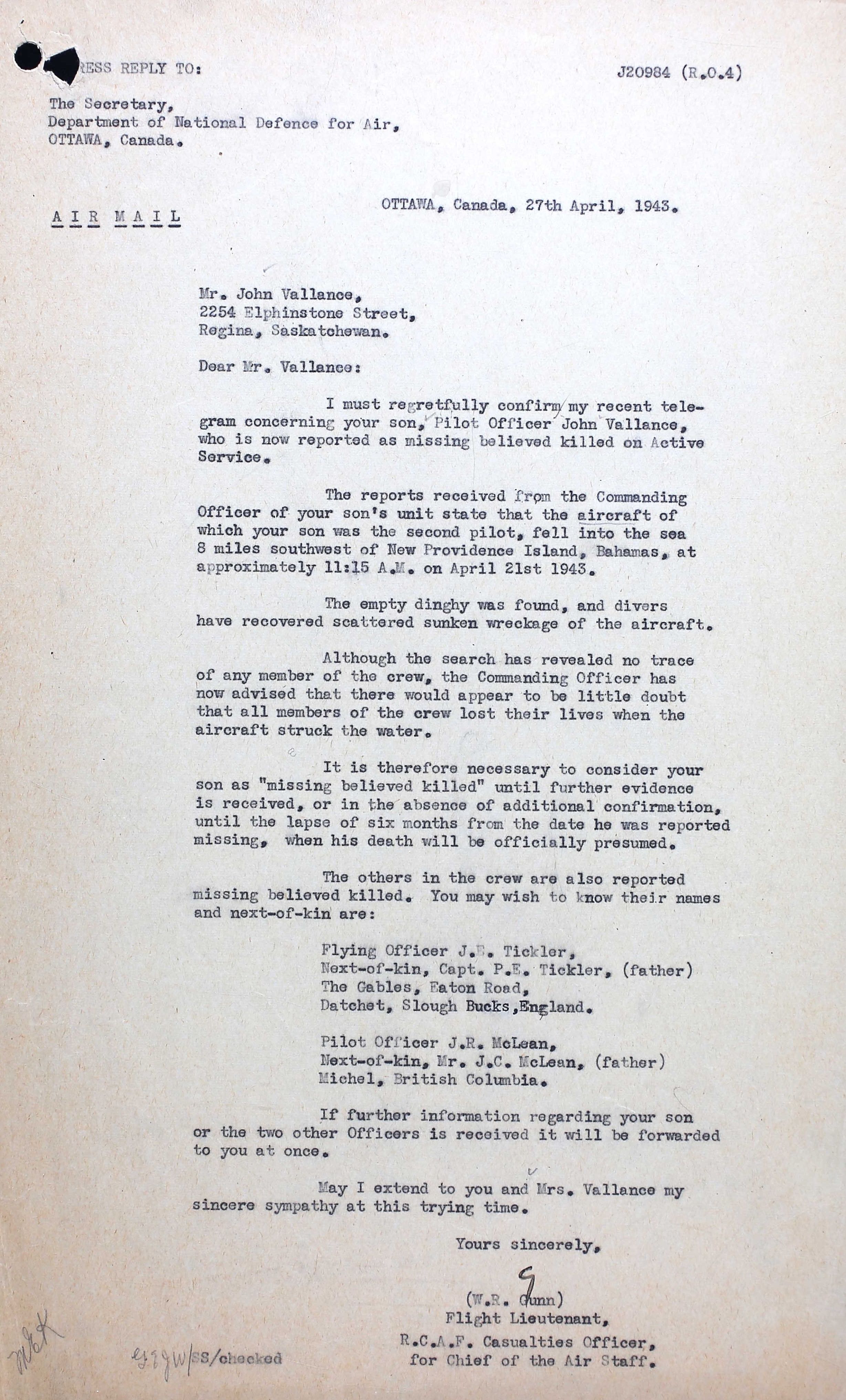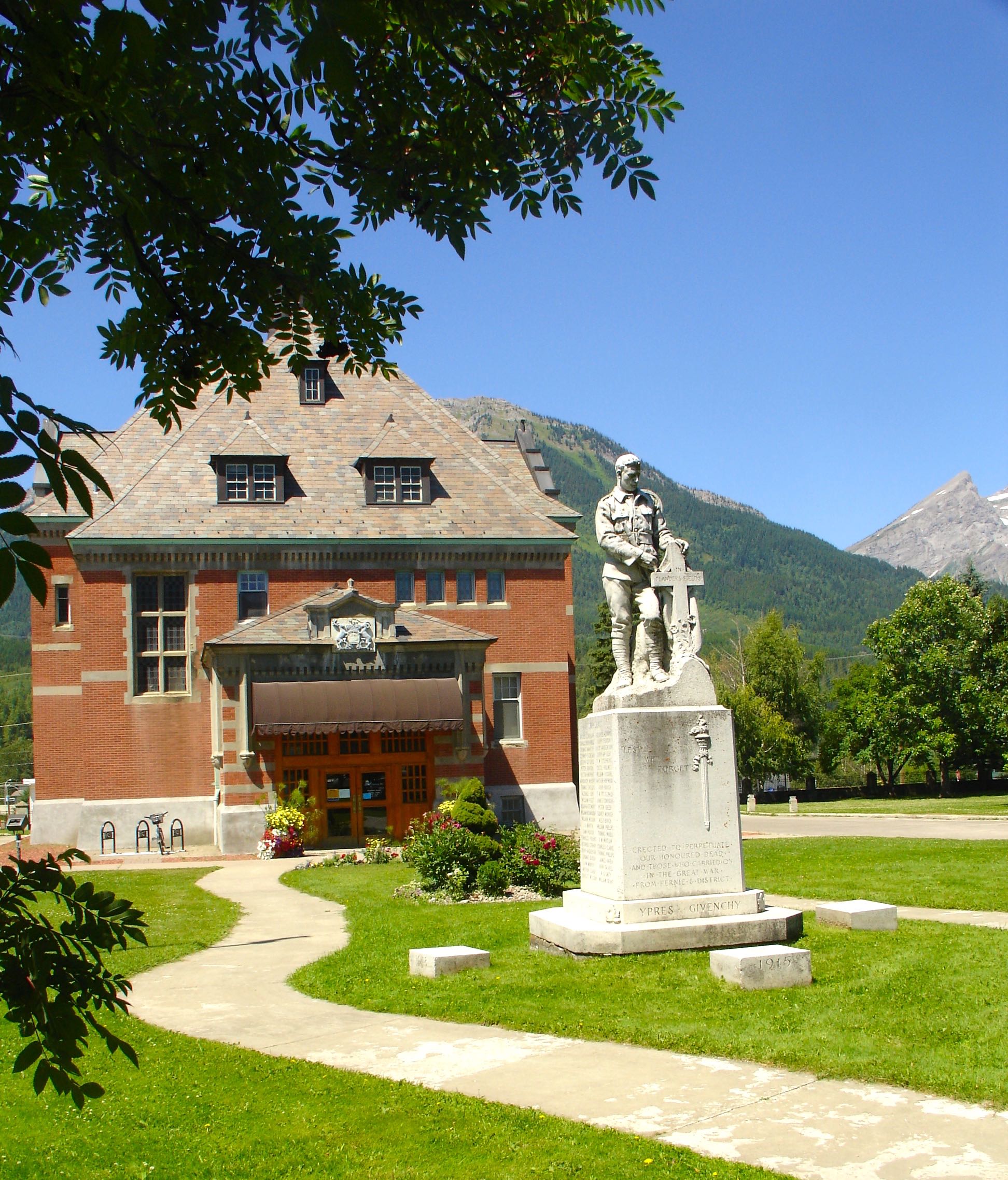 Coal and forestry worker became student, then joined RCAF as a navigator. Aboard Mitchell FL184, the plane fell into the sea eight miles southwest of New Providence Island, Bahamas during a severe thunderstorm. Wreckage and empty dinghy found, but no survivors.
James Robert McLean was the son of James McLean and Agnes A. McLean of Fernie, British Columbia. He had two brothers and one sister: Betty, Donald, and Allan. In 1931, Allan died of polio. Betty enlisted in the RCAF (WD).
Known as Jim, he graduated Grade XII from Fernie High School, where he was vice president of the school council. He was a boy scout and a cadet.
He worked for almost a year after high school, first as a labourer in the coal industry, working around the hot coke, he wrote, then as an assistant forest ranger before becoming a student at the University of Alberta.
He enlisted with the Royal Canadian Air Force in Edmonton at the beginning of February 1942, desiring to become a pilot. Jim had put in one and a half years into his studies. He wanted to return to university and become a chemical engineer once the war was over. He indicated that math and chemistry were his favourite subjects; he did not enjoy French, Physics or English. He was part of the Canadian Officers Training Corps at U of A.
Jim liked to repair watches and electrical appliances and participate in sports in his spare time. Jim enjoyed basketball, being part of the team in Fernie as well at U of A, badminton, baseball, hockey, swimming, and skiing.
He smoked between 15-20 cigarettes a day and drank alcohol occasionally. He stood 6' 1¼" tall and weighed 158 pounds. He had a fair complexion and had blue eyes and brown hair. On his evaluation with the RCAF, he was rated as a "clean cut boy. Neat, well-mannered, quiet, reserved. Excellent physical condition. Above average air crew material." The RCAF saw him as a candidate for pilot or observer, but not air gunner. "Fit. Average material. Stable, intelligent, composed. Moderate enthusiasm. Not too robust. Average pilot material. Not WAG. 73 inches tall."
Jim stayed in Edmonton, first going to No. 3 Manning Depot. Then he was sent to Calgary for about a month of sentry duty until the RCAF could find a place for him to continue his training. He returned to Edmonton to No. 4 Initial Training School from May 25 to July 17, 1942. Here he was evaluated, as "quiet, likeable, slightly tense and immature, but with training and experience should develop into excellent material. Has made very good progress at this school. 89%. "He was ranked 2nd out of 85 in class.
He travelled to No. 1 Central Navigation School, Rivers, Manitoba and was there from July 20 - November 20, 1942. "Capable and efficient both in ground and air work. An average bomb-aimer. Although rather young, this trainee has shown aptitude for the work. He is intelligent and competent. Possesses a pleasant personality."
Jim did more travelling, this time to No. 7 Bomb & Gunnery School, Paulson, Manitoba, located two hours north of Rivers, just outside of Dauphin. He was there from November 23 - December 30, 1942. "Dependable and conscientious. Favours bombing. Keen in the air on application. Good type. Has proved himself in both theory and practical end of his training. Very steady and conscientious." Here Jim earned his Air Observers Badge on December 12, 1942. He was now a navigator.
From Paulson, he took the train to Moncton, New Brunswick on his way to his posting at 111 Operational Training Unit in Nassau, Bahamas, but Jim might not have known where he was headed until he arrived. He departed Moncton on March 7, arriving in the Bahamas ten days later. No. 111 OTU served as a conversion unit for those training, but also for the RCAF to crew up with RAF counterparts to ferry needed aircraft across the Atlantic Ocean. More often, though, qualified crews were posted to the Far East. In the Bahamas, they, like in Canada, had the space in which operational flying training could be carried out without worrying about being shot down by the enemy.
Pilot Officer J. R. McLean, navigator, along with his pilot F/O Tickler, and student pilot P/O Vallance headed out for a daytime flight on April 17, 1943 aboard Mitchell FL194, 111 O.T.U., crashing ten miles east of Nassau, Bahamas (8 miles southwest of New Providence Island).
From a letter that Mr. Vallance received dated April 17, 1943: "The aircraft, which your son was the second pilot, fell into the sea eight miles southwest of New Providence Island, Bahamas, at approximately 11:15 am. Although the search has revealed no trace of any member of the crew, the Commanding Officer has now advised that there would appear to be little doubt that all members of the crew lost their lives when the aircraft struck the water. It is therefore necessary to consider your son as 'missing believed killed' until further evidence is received, or in the absence of additional confirmation, until the lapse of six months from the date he was reported missing, when his death will be officially presumed." The names and next of kin of the other crewmembers were provided. The McLean family would have received a similar letter.
An investigation ensued and a Court of Inquiry was struck. "On inspection, we found the main wreckage to be badly broken up, indicating that the aircraft struck the water at high speed." Both engines were found. "All relevant portions have been examined by divers or brought ashore and there is no evidence whatever to explain the accident. There was a severe thunderstorm over the scene of the accident at the time." The aircraft was "flying in the area of the storm. The reason why the aircraft was at this altitude is not known. Cause of accident: unknown. Aircraft may have been damaged in electrical storm in the area at that time. Stress has been laid on the danger and violence of electrical storms in this area."
By October 12, 1943, the crew was presumed dead. On January 7, 1944, Pilot Officer James Robert McLean's death was recorded in the Vancouver Sun. Jimmy McLean has no known grave and his name in on the Ottawa Memorial. He is also commemorated on the cenotaph in Fernie, BC. Mount McLean is located southeast of Shark Tooth Mountain, Kootenay Land District at 50°02'37''N, 115°33'49''W.