James Murray McColman R150762
January 27, 1922 - February 3, 1945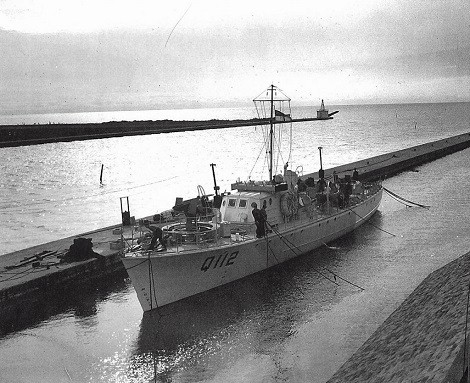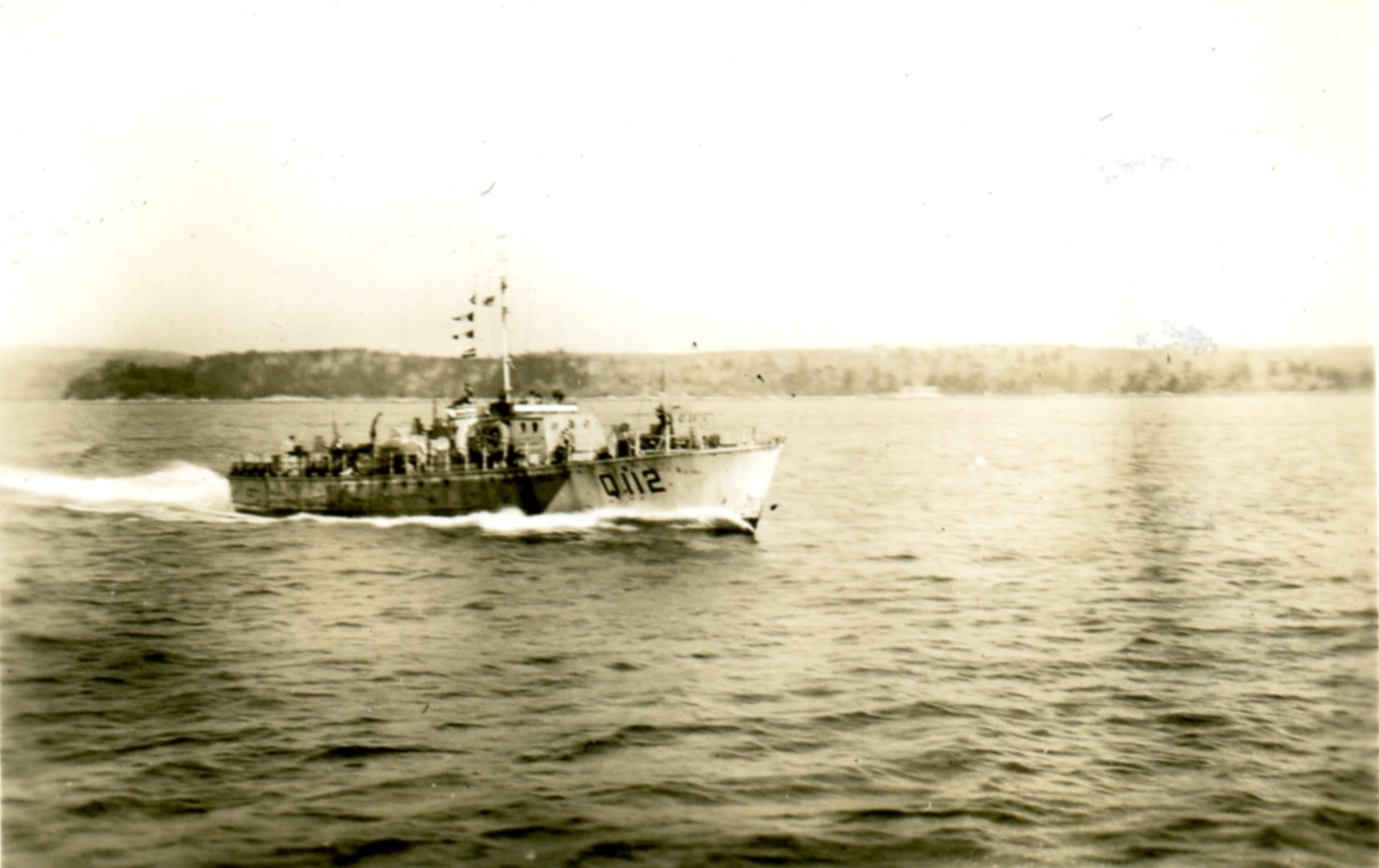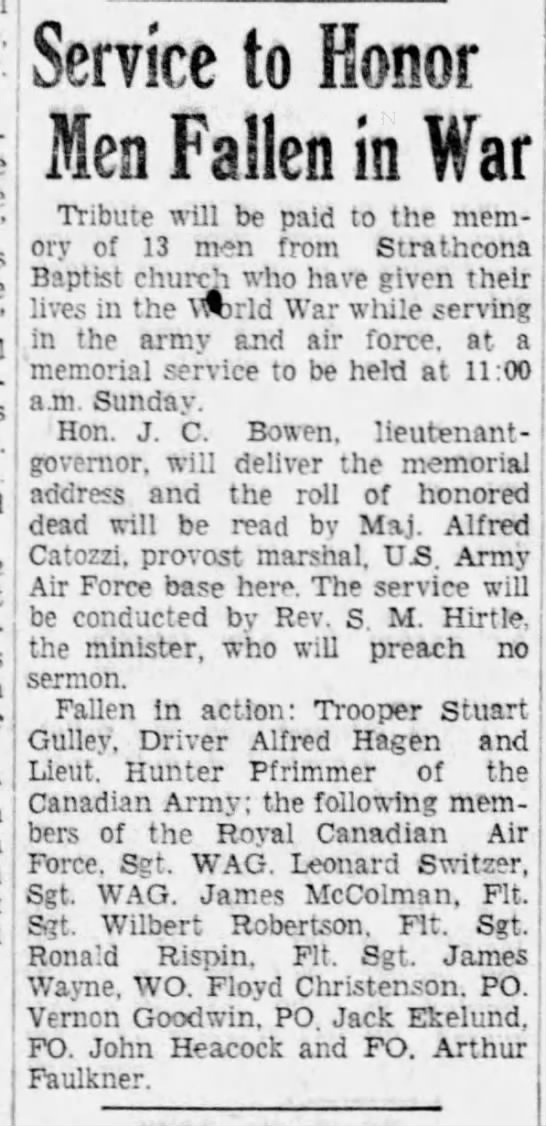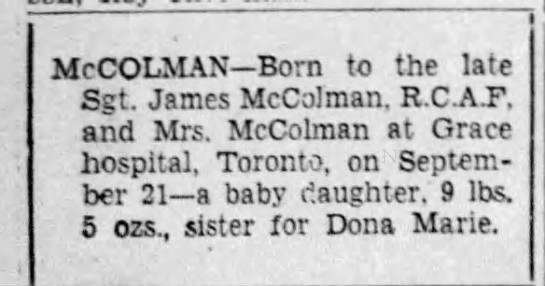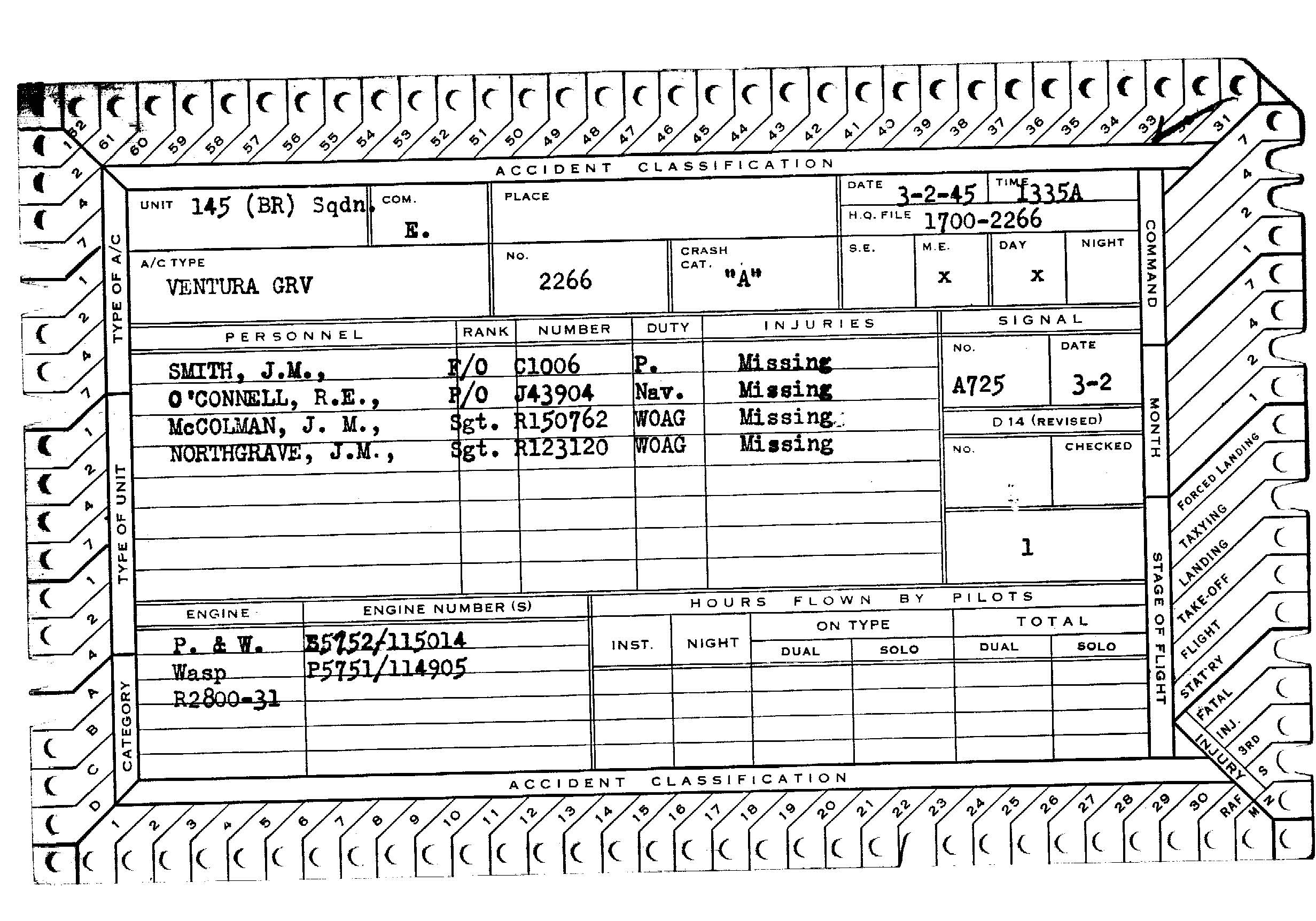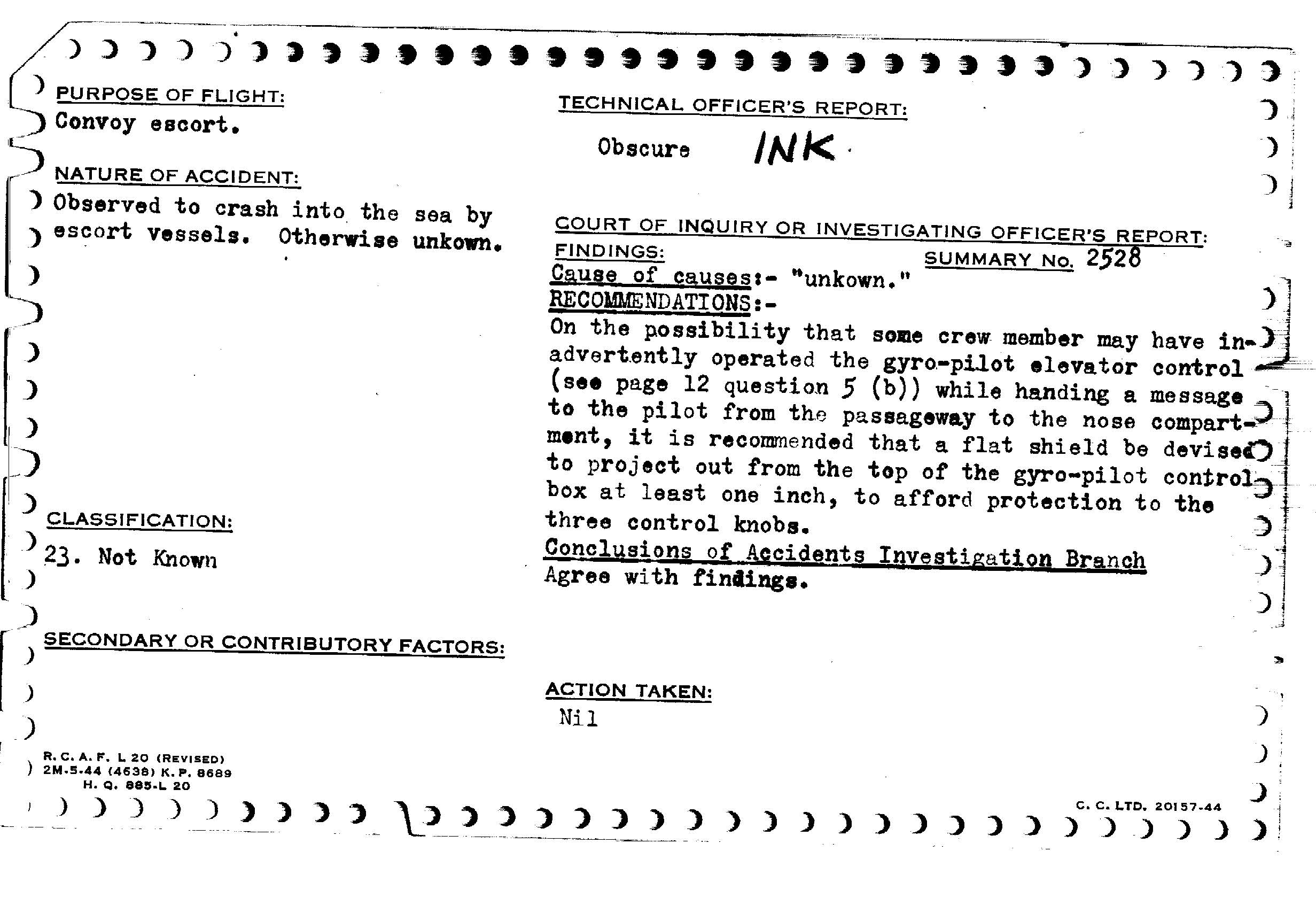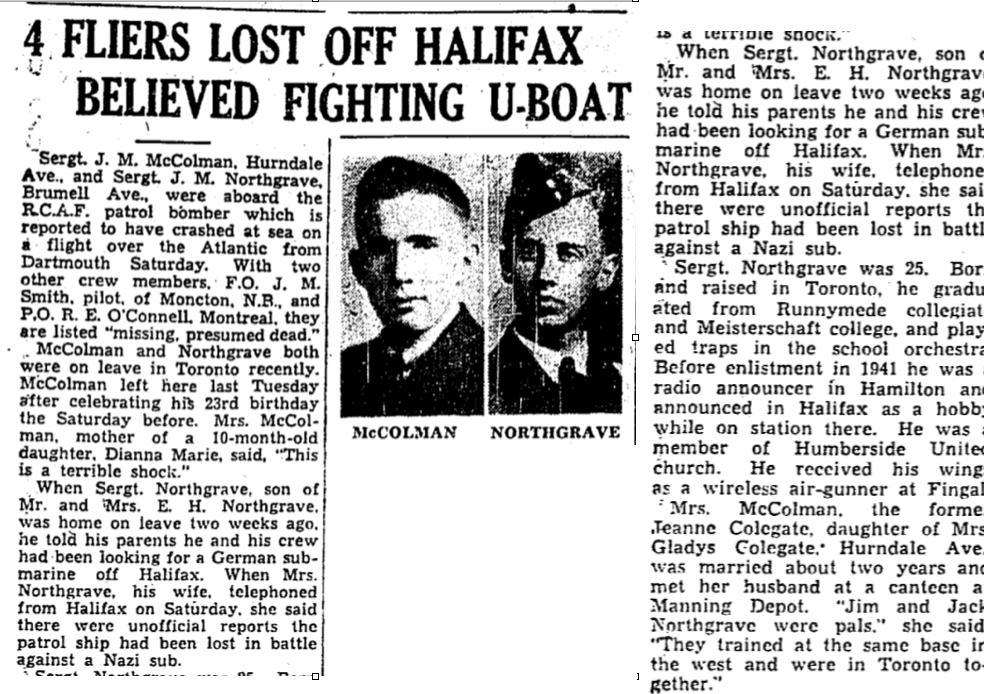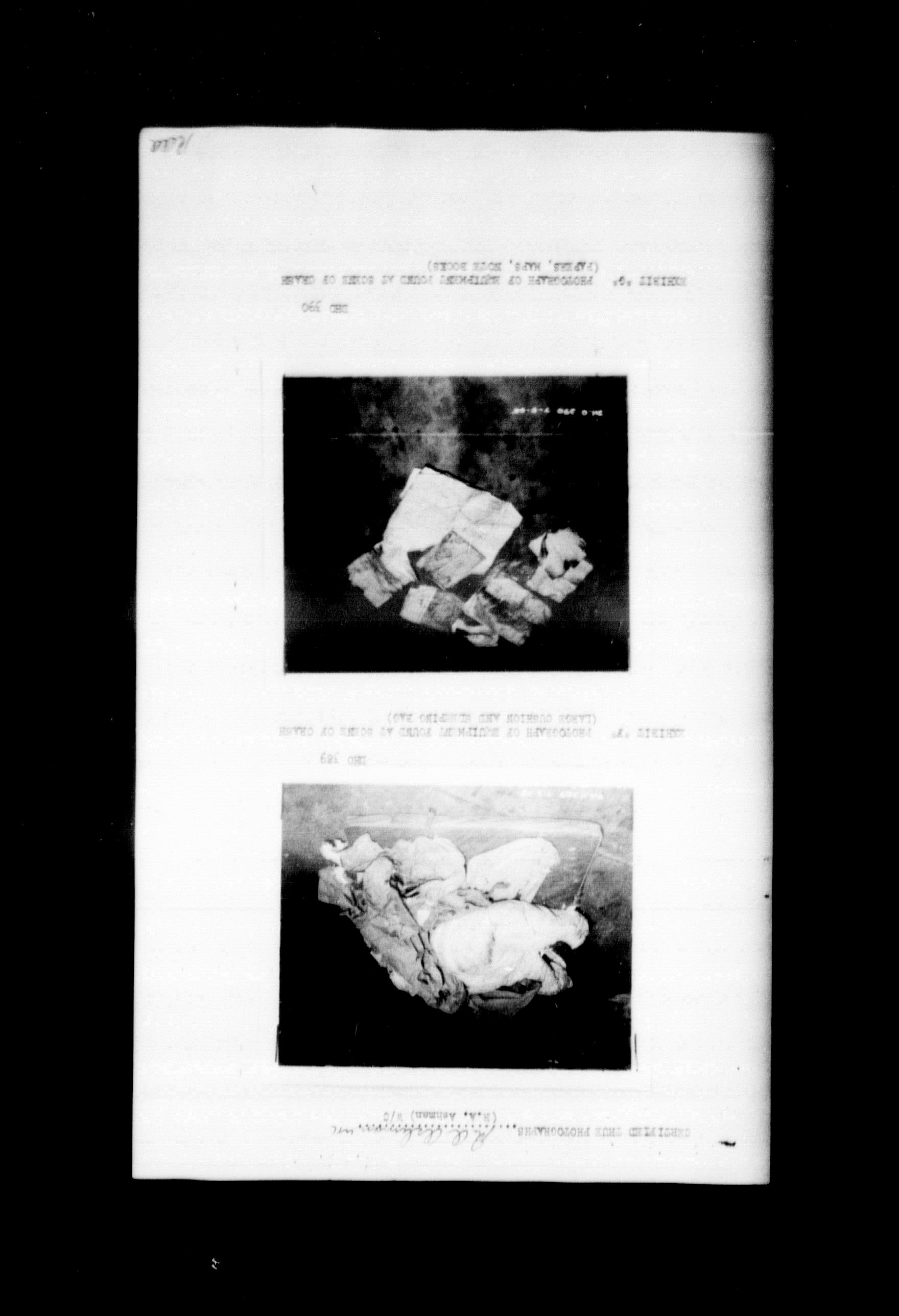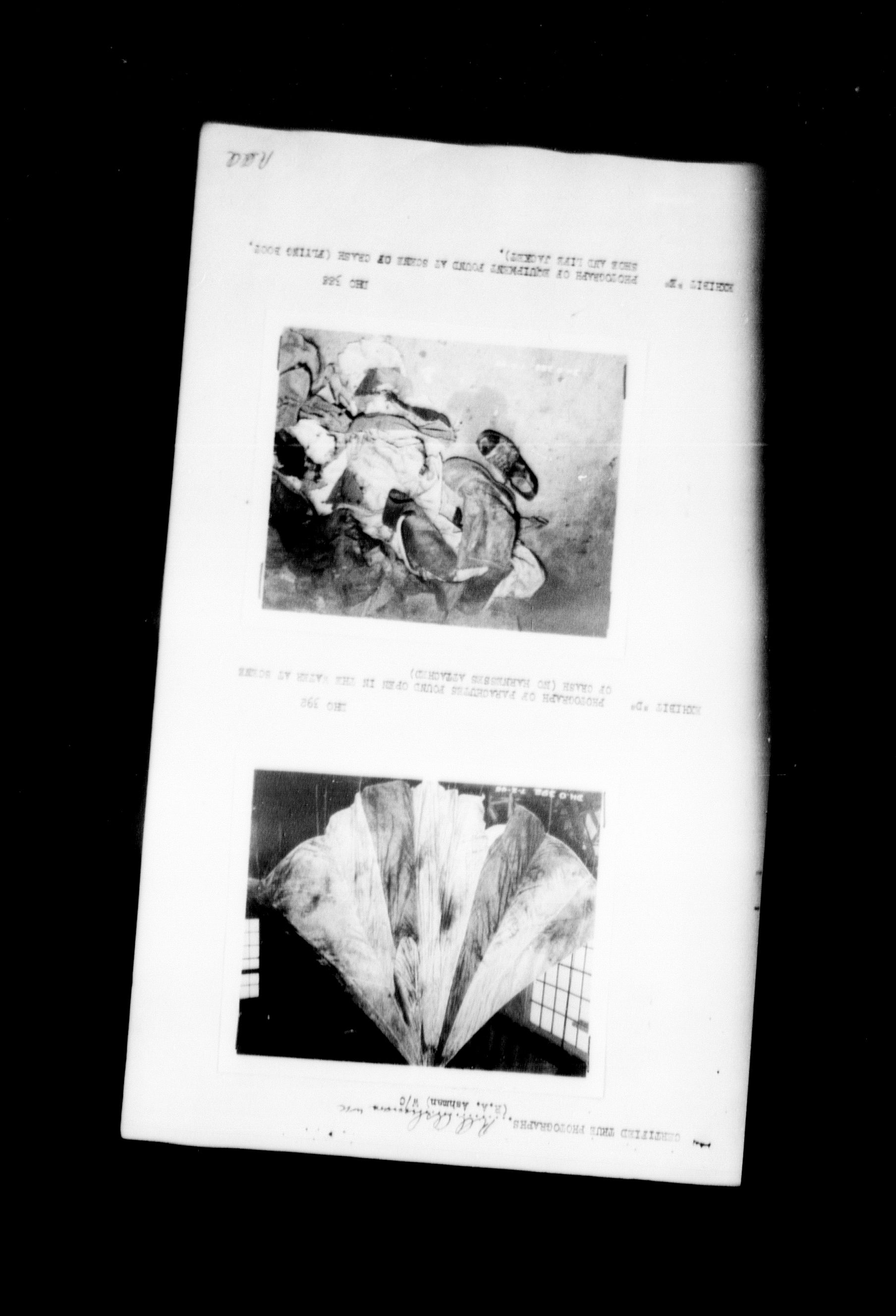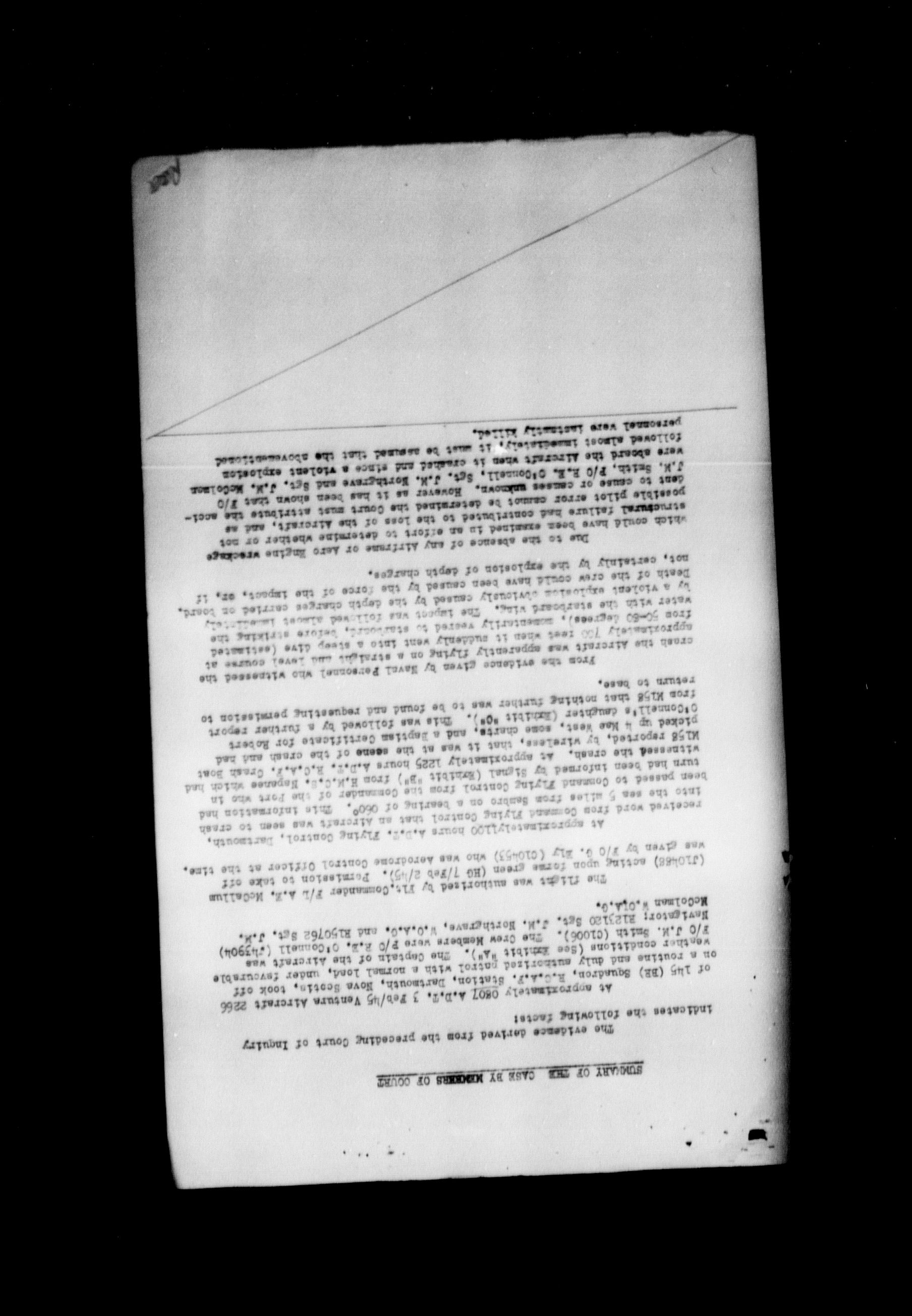 Student who was working at odd jobs joined RCAF first as a security guard, then remustered as Wireless Air Gunner. Aboard Ventura 2066, he and crew were lost off Dartmouth during convoy duty, when the plane crashed and burst into flames.
James Murray McColman was the son of Charles McColman (1890-1968), Castor, Alberta, farmer, a WWI veteran and pensioner, and Isabella (nee Cockburn Murray) McColman (1895- 1952). He had two brothers, Charles Andrew McColman (1918-1939) and David Ronald McColman (1932-1934) and two sisters, Susan Isabella Hooper, and Sylvia Evangeline McColman. One brother died of appendicitis and the other, by accident. His mother and one sister later lived in Vancouver. The family was Presbyterian.
Prior to enlistment in October 1941, Jimmy worked as a golf helper for four months, as he was a student. He had two years of high school. After the war, he hoped to become a machine shop apprentice. The RCAF accepted him in February 1942 as a security guard. He remustered a year later for Wireless Air Gunner training.
Jimmy liked baseball, hockey, and football, as well as hunting. He smoked between 7 and 10 cigarettes per day and moderately drank alcohol. He stood 5'10" tall and weighed 166 pounds. Jim had blue eyes and light brown hair. A burn, the size and shape of a half dollar was noted in the middle of the anterior right thigh.
He married Jeanne Ida Colgate, May 1943, Toronto. They had two daughters, Donna Marie and Carol Ann. Carol Ann was born seven months after her father went missing.
Jimmy was at No. 2 Wireless School from October 28, 1943 to May 5, 1944. He was 170th out of 189. He earned 73.2% and was authorized to wear a Wireless Badge. He was then sent to No. 4 B&G School from May 8 to June 16, 1944. "Rather slow but conscientious and reliable. Worked hard." He was considered above average on Drill and Ceremony with 85%.
Jimmy had three offences written up: September 9 to 11, 1942, No. 4 B&G, Fingal, Ontario: AWL for two days, four hours, 30 minutes. He received 96 hours' detention and forfeited three days' pay. March 31, 1943, 31 RDFS, RAF, Clinton, Ontario: Absent from duty in the Station Compound from 1845 hours until seen at 1955 hours in the vicinity of the Station Theatre, absent one hour ten minutes. He was confined to barracks for fourteen days. February 21, 1944, No. 2 WTS, Calgary, Alberta: AWL from 0700 hours February 21, 1944 to 1445 hours February 21, 1944. Time absent: seven hours, forty-five minutes. Confined five days to barracks.
Jimmy was at Pennfield Ridge, NB July 1, 1944 then was taken on strength at 145 Squadron, Dartmouth, Nova Scotia, November 1, 1944. While at Pennfield Ridge: "Showed no outstanding abilities. Lacks confidence and could improve with a little encouragement. Average air worker, showed lack of interest in his work."
On February 3, 1945, Ventura 2266, 145 BR Squadron was on a routine flight [convoy patrol] over the Atlantic from Dartmouth and was thought to have crashed at sea. CREW: Sgt. James Murray McColman (R150762), Toronto, Sgt. John Milne Northgrave (R123120), Halifax, F/O Robert Emmett O'Connell (J43904), Montreal, F/O John Moody Smith (C1006), pilot, Moncton, NB. All men's names appear on the Ottawa Memorial.
According to the newspaper, "searchers for the plane found only small pieces of the wreckage. Unofficial reports said the aircraft was lost as the result of action against a German submarine."
Ventura 2266 Microfiche T12343, Image 246
Fourteen witnesses were called during the Court of Inquiry which was held in Halifax and Dartmouth between February 5 – 9, 1945.
First witness, Lt. Wallace Rowe Duggan, RCNVR, Commanding Officer HMC Motor Launch 112 stated: "On January 3, 1945, HMC ML 112 was screening convoy which was inbound toward Halifax. I was aboard HMC ML112 as Commanding Officer and at 1130 hours GMT, I was released on watch by Lt. H. J. Dow, RCNVR, Executive Officer…I then proceeded to the wheelhouse and was looking at the chart when I heard a very loud explosion and was called to the bridge by Lt. Dow. Lt. Dow explained to me that an aircraft had crashed into the water approximately 200 yard off our starboard bow. By the time I had seen the water rise about 150-100 feet above the water, and flames on the surface of the water. I immediately stopped engines, rang action stations on the ship's alarm bell. After waiting 2 minutes for any other explosions that may have followed, I closed the area of the crashed plane, and put my sea boat into the water. At this time, I flashed by V/S to HMCS Charlottetown who was closing me, that a plane had crashed, and I was looking for survivors. I had my W/T rating code up a message, to be sent to COP. But as he was about to send the message, HMCS Charlottetown had just started to send one, and as he was senior officer of a group of frigates, I didn't think it necessary for me to send a signal also. I then flashed by V/S to HMC ML 120, my senior officer, that a plane had crashed in close vicinity. I then picked up debris in the vicinity which included: 2 parachutes, one boot, one glove, one lifebelt, two mattresses, and one leather cushion. At 1355, HMCS Charlottetown closed me, and put over HC boat. I then flashed by the V/S, the debris we had picked up, and that, as far as I know, the type of plane that had crashed was a hurricane, which was what Lieutenant Dow, who was on watch at the time thought it was. At approximately 1405, two hurricanes flew over the area of the crash, and were followed by a Digby. I was not in V/S or R/T touch with these planes at anytime. At 1415 ML 120 Closed me and told me to carry on to harbor, taking into consideration I presume, that we were no longer needed on the scene. I then took my C boat and proceeded for Halifax in company with ML 120. At 1545, I secured alongside ML 065 at CVD berth, and I then went over to HMCS Ventura and made my report to commander T. C. Derry, commander MLs, who in turn me to report to COP."
Second witness, Lt. Herbert J. Dow, RCNVR stated: "On February 3rd, 1945, I was aboard ML112, as first Lt. immediately prior to the plane crash I was on watch on the bridge; Ships course N 40 W magnetic. I first saw the plane when it appeared suddenly find on our starboard bow. The plane was diving steeply, approximate angle 75 to 80 degrees estimated height 300 feet, distance 250 yards. The plane appeared to turn slightly to starboard just before it dove into the sea. I immediately altered course toward the scene of the crash. The plane appeared to dive into the water and about one second later there was a violent explosion. A large column of water and debris was thrown about 150 feet into the air. When this settled the surface of the water about the crash burst into low yellow flames which burned for two to three seconds. By the time the off duty men of the ships company were on deck, scramble Nets were lowered and the men were instructed to keep a good lookout for survivors. The area about the crash was covered by a slight oil slick and there was a strong smell of gasoline. They were large numbers of dead fish in the water in an area about 200 yards in diameter. A great deal of debris was observed in the water including maps. At 1345, 5 minutes after the crash, the sea boat was lowered and parts of the plane in equipment were recovered from the water. Although the wind was blowing toward the ship no sounds of engine were heard.
Third witness, Gerald Merette, V4292, serving aboard HMC 112 as able seaman stated: "on the 3rd of February, at approximately 1340 G. M. T., I was on watch in the wheelhouse. At this time I saw an aircraft at about 600 yards, diving down at the height of 6 to 700 feet. I saw the aircraft turned to starboard when it was the height of about 100 feet. Shortly before he turned, I saw a flash, in front of the aircraft, which only lasted a second. There was only one flashed. The flash was about the same size caused by a 3 inch gun firing. One wing had dropped just before it hit while he was turning. When he hit, pieces of the aircraft flew in the air; A couple of seconds later the explosion occurred. Threw a plume of water at about 150 feet in the air. Afterwards I went on deck, and saw all the wreckage around the spot and the smell of gas fumes.
Fourth witness, E. I. Seihrig, V39705, aboard HMC 112 stated: "on February 3rd I was on deck and saw twin motored aircraft on patrol at approximately 1200Z. Saw at 1340 what was presumably the same aircraft taken almost vertical dive at 200 mph toward the sea, before losing altitude it had been heading in a southeasterly direction at a height of about 600 feet. While it was diving and as it neared the water, it took a half turn to starboard at 100 feet and struck the water starboard wing first. It exploded about 2 seconds after striking the water and the plume of water and debris rose to approximately 200 feet. A body rose with the explosion to a height of 50 to 75 feet. We arrived on the scene about 5 minutes later. There was a strong order of gasoline and a considerable amount of debris floating about. Quite a number of dead fish floating about in the immediate area. Debris consisted of mattress is, 3, life jacket, 3, parachutes, 2, green covered with leather cushion, also a dress cap, and a great number of pieces, splinters, books and papers which sunk before they could be picked up. We picked up the two parachutes, two mattresses, leather gauntlet and one leather cushion. Left the scene approximately 1415 hours."
The fifth witness, Lt. George A. Powell, RCNVR, Commanding Officer HMCS Napanee stated: "I was on the bridge when the crows nest lookout reported a plane crashed dead ahead on February 3rd, 1945. Upon turning around, I saw a large water plume darken colour approximately 200 feet in the air interspersed with red tracers. I closed the position of the crash at full speed. Two frigates and two Fairmiles were already there searching for survivors. At 12:15, I was ordered by HMCS Charlottetown to carry out a one-mile search around the crash position. The search was carried out… during the search, an RCAF boat B114 was in the area. A torn flying suit, one flying boot with a black Oxford inside and loose papers were picked up. These were turned over to B114. The crash was reported by signal."
The sixth witness, B. DesCotes, V41312, aboard HMCS Napanee, leading hand of the watch (forenoon) stated: "I was standing by on the bridge with glasses on February 3rd, 1945 at about 1335Z. Our course was 2291 spotted aircraft dead ahead crossing from left to right approximate height 4000 flying on a street level course approximately north towards shore. Plane seemed to dip right wing level off and then a straight plunge into water at an angle of 80 degrees or more period time was approximately 1335Z. Plane exploded immediately upon hitting water. Water explosion and red hot debris (tracer form) rose to a height of 200 feet. Aircraft was approximately 7 miles away, reached the scene about 1/2 hour after crash. There was no immediate evidence of floating debris, although some gear did come to surface two or three hours later. Aircraft arriving on the scene where two Hurricanes followed by a Digby and later still, a Hudson; three or four hours later there were Ansons."
The seventh witness, Able Seaman Graeme Ferrier, V61053, employed aboard HMCS Napanee stated: "I was on watch from 8:00 AM to 12 noon on the morning of the crash, Saturday February third period I was in a position to see the accident being in the crow's-nest from 10:00 AM to 11:00 AM, the accident occurring at 1335 zed time. The aircraft was flying from our left to our right when I spotted it, the angle of sight was approximately 10, the altitude approximately 1000 feet. The plane course was north. The description of the flight before crashing is as follows: plane was flying on an even keel..., right wing dipped and plain commenced falling very steeply; Striking the water with its nose down. The explosion was almost immediate and a plume of 200 feet could be seen. Tracer sparks were seen in the plume. Our distance was approximately 7 miles, and we reached the vicinity in 1/2 an hour. There was no immediate evidence of wreckage, but papers were picked up later. Two aircraft, one Hurricane in one Digby, arrived at the scene approximately 1/2 hour after the crash."
The eighth witness, LAC William Clifford Yeo, R118897, airframe mechanic at Dartmouth stated that the plane was found serviceable. He did note that during the inspection, he found that on previous checks, he and others had found excessive fraying in part of the aircraft control cables.
The ninth witness, LAC Roy Henry Ramsay, R112212, aero engine mechanic at Dartmouth, said he found everything in order during his daily inspection of Ventura 2266.
The tenth witness, LAC William Monteith Rennick, instrument mechanic at Dartmouth, said that there had not been any recent incidences in which the gryo-pilot required more than normal maintenance. In other instances, he noted that in the case where the unit or any of its ancillary parts were severely damaged, then attention would be given, and could be caused by mal-operation by the pilot if the elevator index card were not properly aligned before engaging the unit, by excessive operation, intentional or not, of the elevator control, and if the aircraft had been trimmed nose heavy while the gyro-pilot was engaged.
The eleventh witness, F/L Arthur Erroll Campbell, J10488, Flight Commander, No. 145 Squadron, RCAF Station, Dartmouth, NS stated that he authorized the flight. "The aircraft was fitted with a normal operational load of 6 - 250 sixteen depth charges. Flying Officer Smith has been a fully qualified first pilot on Ventura aircraft for approximately 2 months."
The twelfth witness, LAC John Winford Simpson, R176347, aero engine mechanic in Dartmouth, stated that he started up the engine on Ventura 2266 on February 3, 1945. "After starting the engine's, the pilot, Flying Officer Smith, took over preparatory to taxing out to the end of the runway. As I left the aircraft, I passed the three other members of the crew who were aboard at the time period from the time I came out of the aircraft until it taxied away, no one else either entered or left the aircraft."
The thirteenth witness, F/L Edwin Thomas Marriott, J7031, F/C of No. 145 Squadron, Dartmouth Station, stated that he had flown with F/O Smith in an instructional capacity. He felt that Smith was an average pilot of Ventura aircraft.
The fourteenth witness, F/O George Herchner Mills Ely, C10453, Flyiing Control Officer Dartmouth stated that Ventura 2266 called up and requested taxi clearance to take-off position, he was on duty. "This was granted and the aircraft proceeded to this position. After pre-flight run-up, Ventura 2266 called the Tower requesting take-off clearance which was given. The aircraft was airborne at 0807 ADT."
In the summary, it was noted that "death of the crew could have been caused by the force of the impact, or, if not, certainly by the explosion of depth charges." It could not be determined if structural failure contributed to the loss of the aircraft, pilot error could not be determined. Other comments: "It is a possibility that some crew member may have inadvertently operated the gyro-pilot elevator control while handing a message to the pilot from the passageway to the nose compartment. It is recommended that a flat shield be devised to project _____ from the top of the gyro-pilot control box at least one inch to afford protection to the ____ control knobs."
G/C F. S. Wilkins, CI Accidents in April 1945 wrote: "I cannot agree with the theory that this accident was caused by interference with the controls of the gyro pilot. I have examined similar aircraft personally in company with an experienced venture a pilot, and the possibility of inadvertent interference with the gyro pilot control knobs is so remote and the risk that such interference would be dangerous, even more remote, that I do not consider any such shield necessary. The possibility that the engines quit as a result of running out on one tank is very more likely and would satisfy the evidence much closer than the theory put forward." Additional discussion about this can be found in the microfiche.
Cause of Accident: Unknown.