James Brewer McArthur J21930
December 10, 1922 - July 13, 1943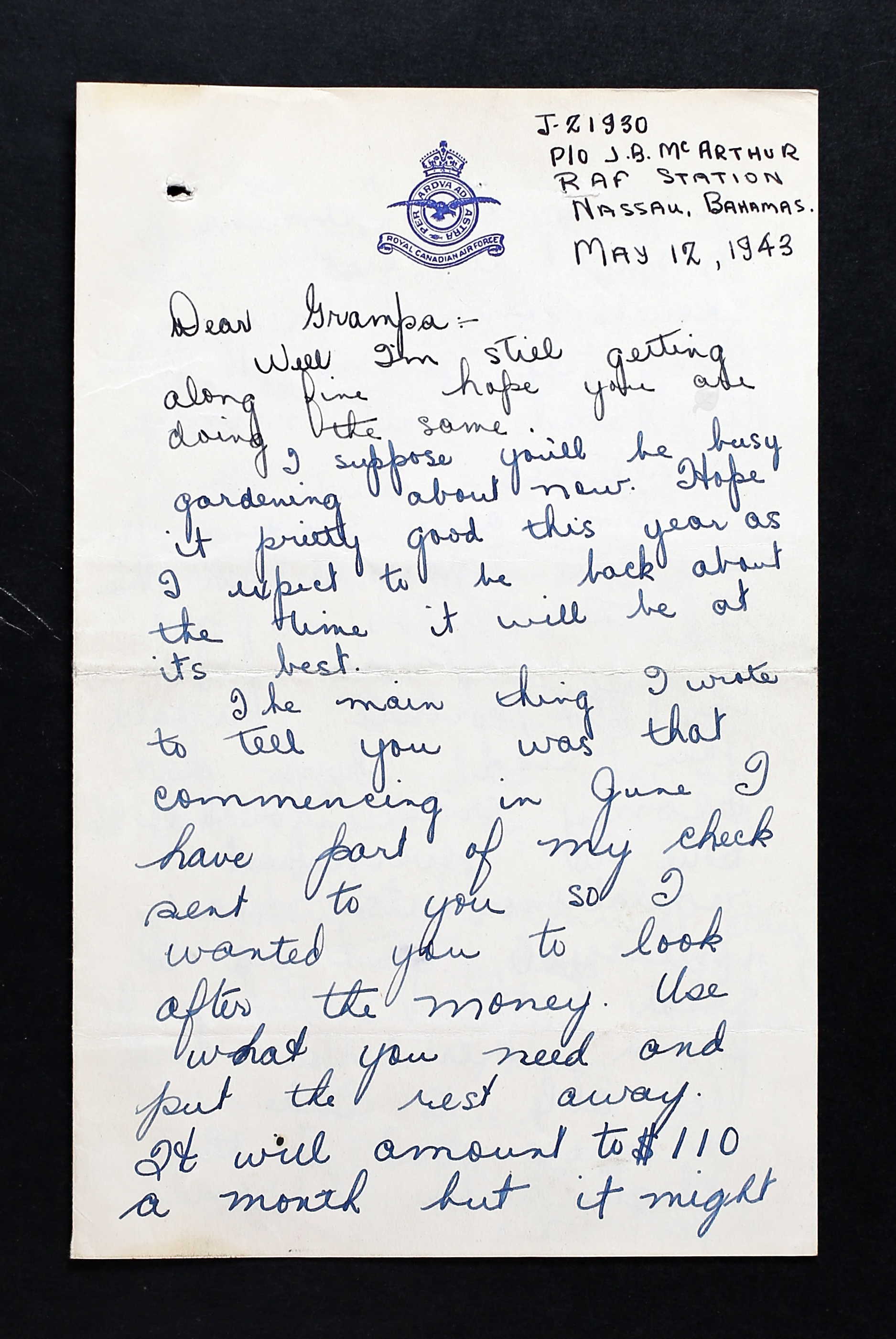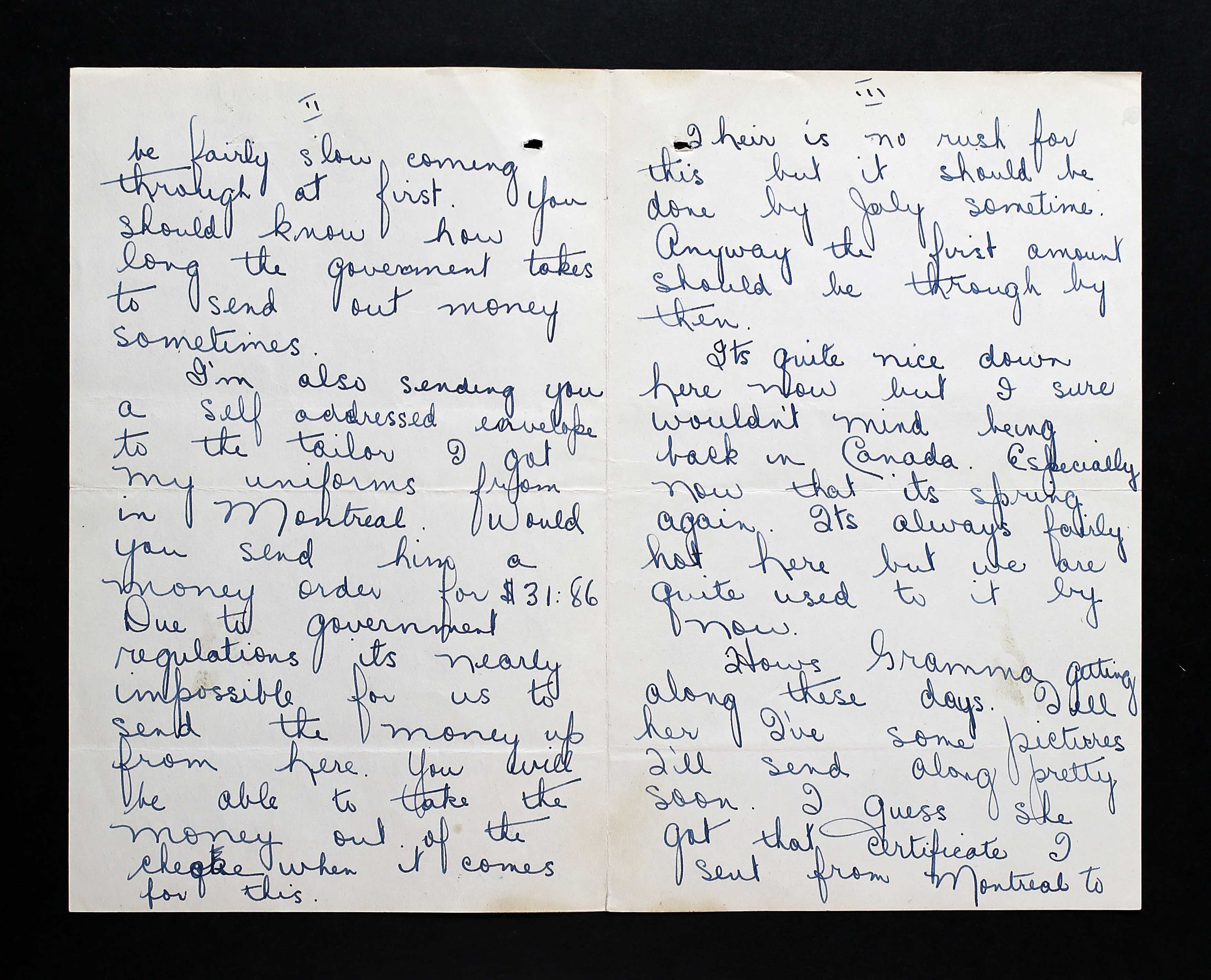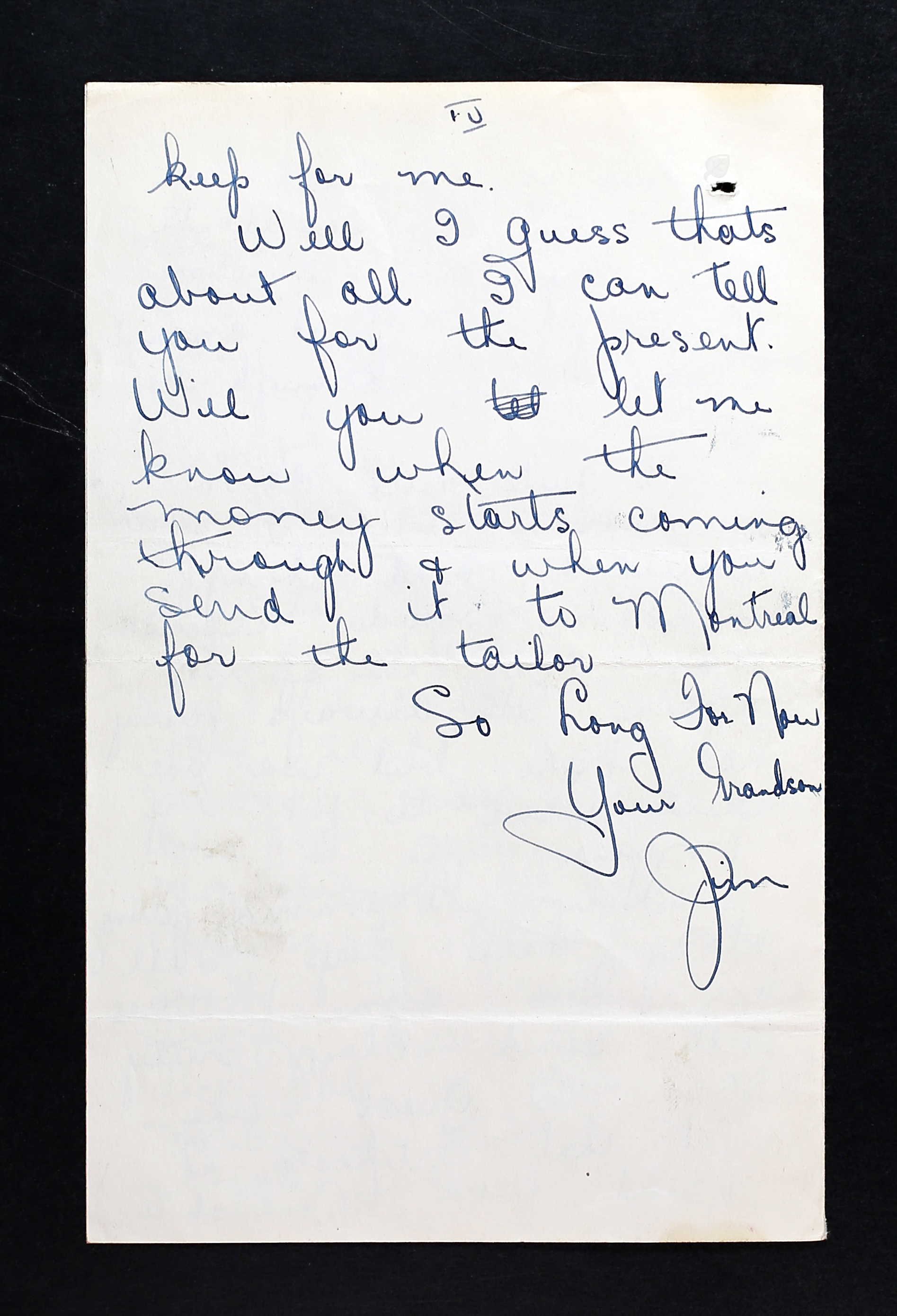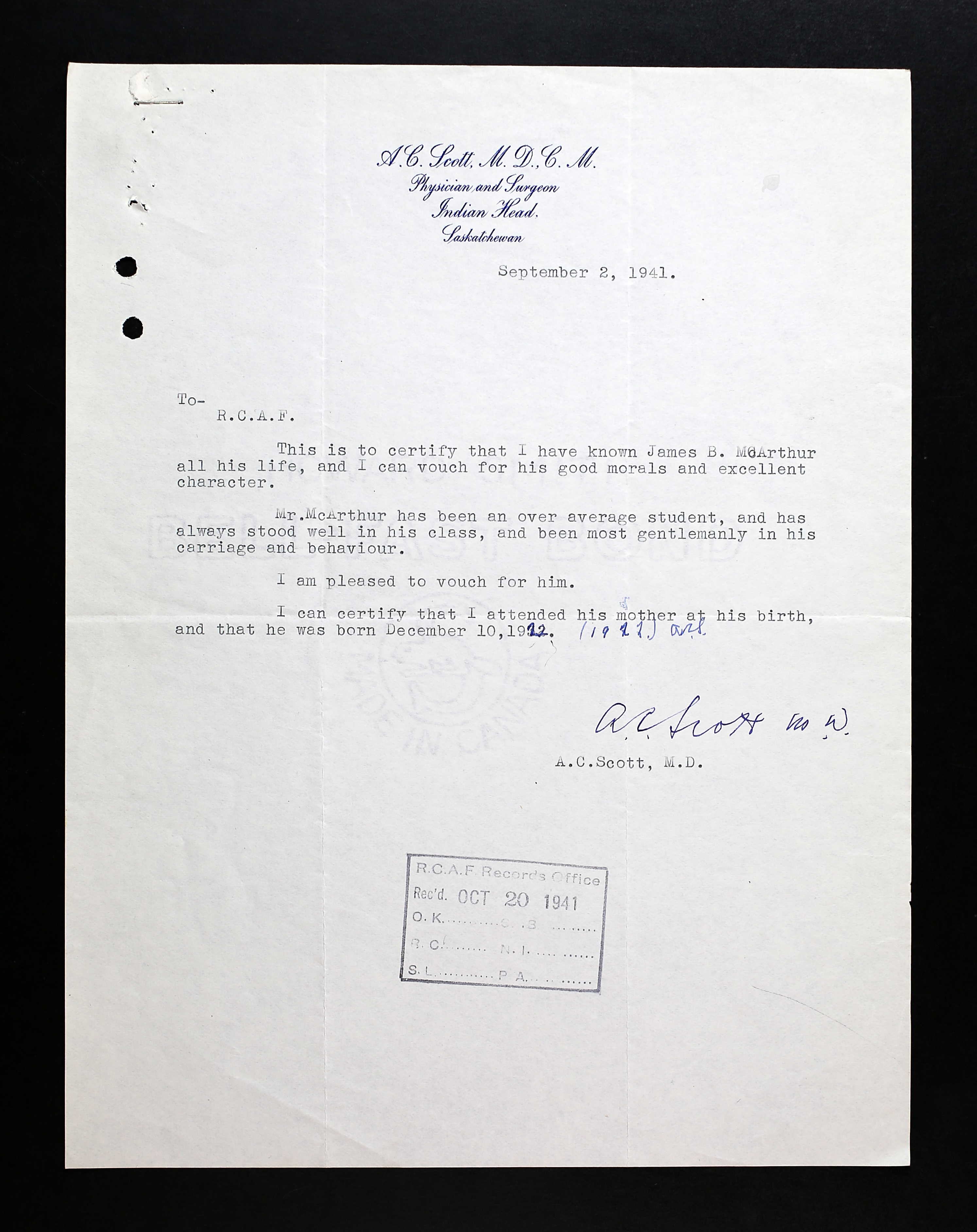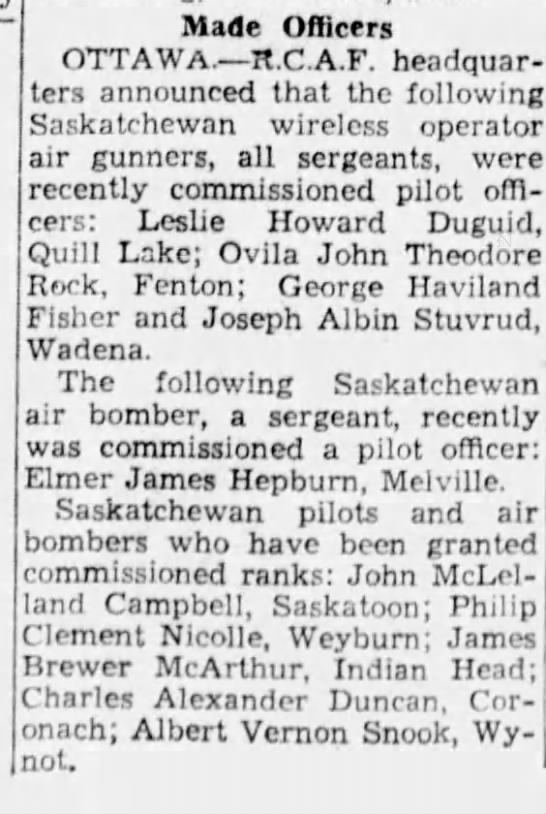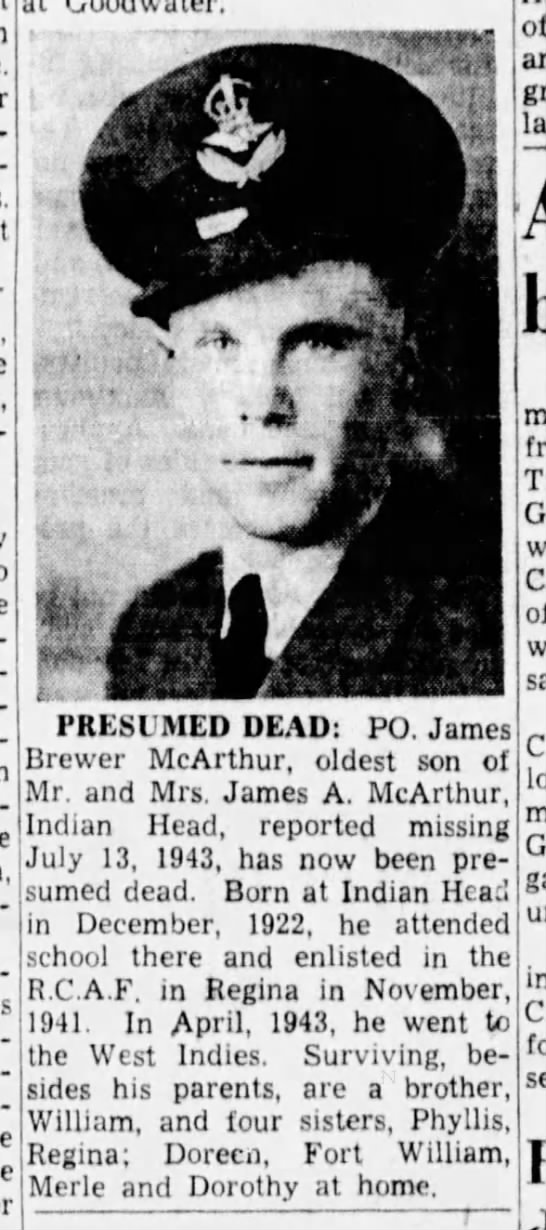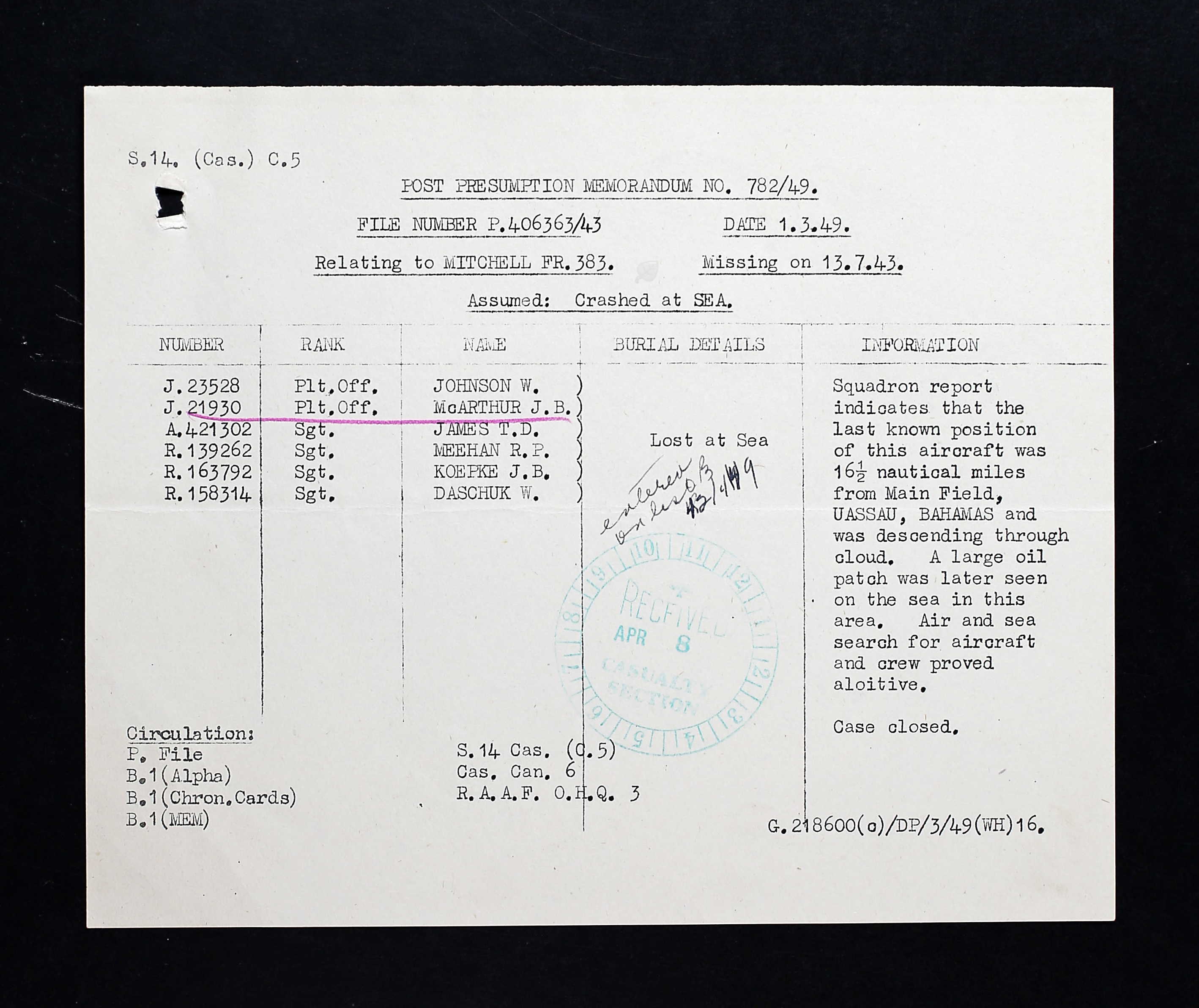 Store clerk became pilot with RCAF. Posted to Nassau, Bahamas, aboard Mitchell FR383, he and crew were lost during a five-hour navigation and patrol flight.
James 'Jim' Brewer McArthur, born in Indian Head, Saskatchewan, was the son of James Albert McArthur (1899-1957), farmer, and Mabel Ellen (nee Fox) McArthur (1903-1970). He had one younger brother, William and four sisters: Phyllis, Doreen, Merle, and Dorothy (d. 1926). The family was Presbyterian.
Jim enlisted with the RCAF in Regina on October 15, 1941. "A good type of lad. He is young in his ways but keen and ambitious. He appears to be intelligent and should turn out all right." With a Grade XII education, he had been working as a clerk and delivery boy in a general store for R. A. Weden, for one year prior. He hoped to "engage in commercial aviation" after the war. He liked hockey and baseball, and reading, did not smoke, nor drink alcohol. Jim stood 5'4" tall and weighed 126 pounds. "Palms sweaty. Hands rather cyanosed and tremulous. Burn scar R.L. 1" wide. Scar mid forehead."
Jim was at No. 2 ITS, Regina from March 17 to July 4, 1942. "18th out of 145 in class. 87.8%. In time this airman will develop into top material. He is clever and learns quickly. He is most willing to work and is cooperative. He is dependable, cheerful and a very good team worker. When he matures, he will go a long way. he should make a good pilot." Other comments: "Very eager to fly. Alert. Physically fit except pulse responses and fatigue tests that are at upper limits of normal. These should improve in the service. Fairly intelligent, immature of body and mind. Rather tense. Has never been in a plane. Does not drive car. No chance. School record fair. Average type of material. Wants pilot. Apprehensive in chamber; trouble with ears; observer though him a 'damn fool.'" -- March 25, 1942.
Then he was at No. 15 EFTS, Regina, July 4 to August 28, 1942. "11th out of 18 in class. 82%. Good average type of student; conscientious and has worked hard; courteous and likable personality. A little immature." From there, he was at No. 7 SFTS, Macleod, Alberta from August 29 to December 18, 1942. "26th out of 55 in class. 70.4%. A good average student both in Ground School and flying. Industrious and intelligent. Recommended for a commission." He had experience flying the Tiger Moth and the Avro Anson.
While at Manning Depot, Jim was at the hospital from December 30 to January 4, 1942, then again February 28 to March 2, 1942.
At GRS, Charlottetown, PEI January 18 to March 20, 1943: "13th out of 23. 72%. Very capable, but under confident. His results have been satisfactory in all respects but he needs plenty of experience before he can be considered as a GR captain. Underdeveloped as an officer due to his age, but has ability and works hard. Should, with service experience, prove a good GR pilot. It is doubtful, however, if he is mature enough for the responsibilities of long-range GR aircraft. Recommended for short-range LB GR; 2nd: CC fighters."
Jim had one $4.00 War Savings Certificate and two life insurance policies. "His grandfather paid for clothes as per letter attached as he could not take it out of $110 cheque which did not come." Jim owed $31.86 to T. B. McArthur, his grandfather.
By mid-April, Jim was in Nassau, Bahamas, at 111 O.T.U.
On May 12, 1943, James written to his grandfather from Nassau. "Dear Grampa, Well, I'm still getting along fine hope you are doing the same. I suppose you'll be busy gardening about now. Hope it pretty good this year as I expect to be back about the time it will be at its best. The main think I wrote to tell you was that commending in June I have part of my check sent to you so I wanted to look after the money. Use what you need and put the rest away. It will amount to $110 a month, but it might be fairly slow coming through at first. You should know how long the government takes to send out money sometimes. I'm also sending you a self addressed envelope to the Taylor I got my uniforms from in Montreal. Would you send him a money order for $31.86 please due to government regulations it's nearly impossible for us to send the money up from here. You will be able to take the money out of the check when it comes for this. There is no rush for this but it should be done by July sometime. Anyway the first amount should be through by then. It's quite nice down here now but I'm sure wouldn't mind being back in Canada. Especially now that it's spring again. It's always fairly hot here but we are quite used to it by now. How's Gramma getting along these days. Tell her I've some pictures I'll send along pretty soon. I guess she got that certificate I sent from Montreal to keep for me. Well I guess that's about all I can tell you for the present period will you let me know when the money starts coming through and when you send it to Montreal for the Taylor. So long for now, your grandson Jim."
On May 19, 1943, Jim was at the Nassau RAF hospital until the 27th of that month.
At 1200 hours on 13 July 1943, Mitchell FR383 took off from Nassau detailed to carry out a five-hour navigation and patrol flight. Wireless communication with the aircraft ceased at 1545 hours and the aircraft failed to return to base. Searching aircraft located an oil patch and wreckage in the sea five miles southwest of Clifton Point, but no survivors were found. A surface vessel recovered small pieces of wreckage only. All the crew members are lost at sea.
The crew members of FR 3983 were: *Sergeant Billy Daschuk (R/158314) (RCAF) *Sergeant Thomas David James (421302) (Observer) *Pilot Officer Wilfred Johnson (J/23528) (RCAF) *Sergeant John Barth Koepke (R/163792) (RCAF) *Pilot Officer James Brewer McArthur (J/21930) (RCAF) *Sergeant Robert Paul Meehan (R/139262) (RCAF)
Mrs. McArthur received a letter dated October 24, 1955 informing her that since Jim had no known grave, his name would appear on the Ottawa Memorial.