James Temple Blackwood Martin J9859
February 1, 1921 - February 14, 1942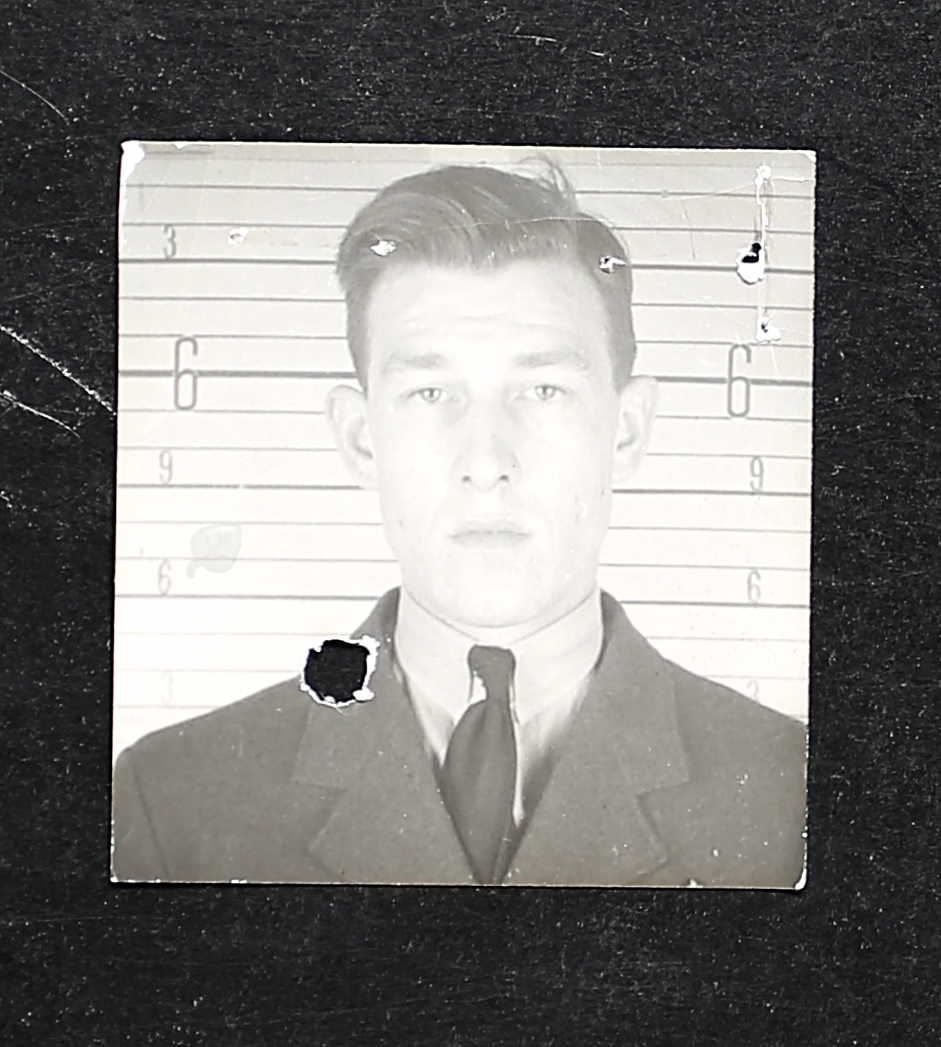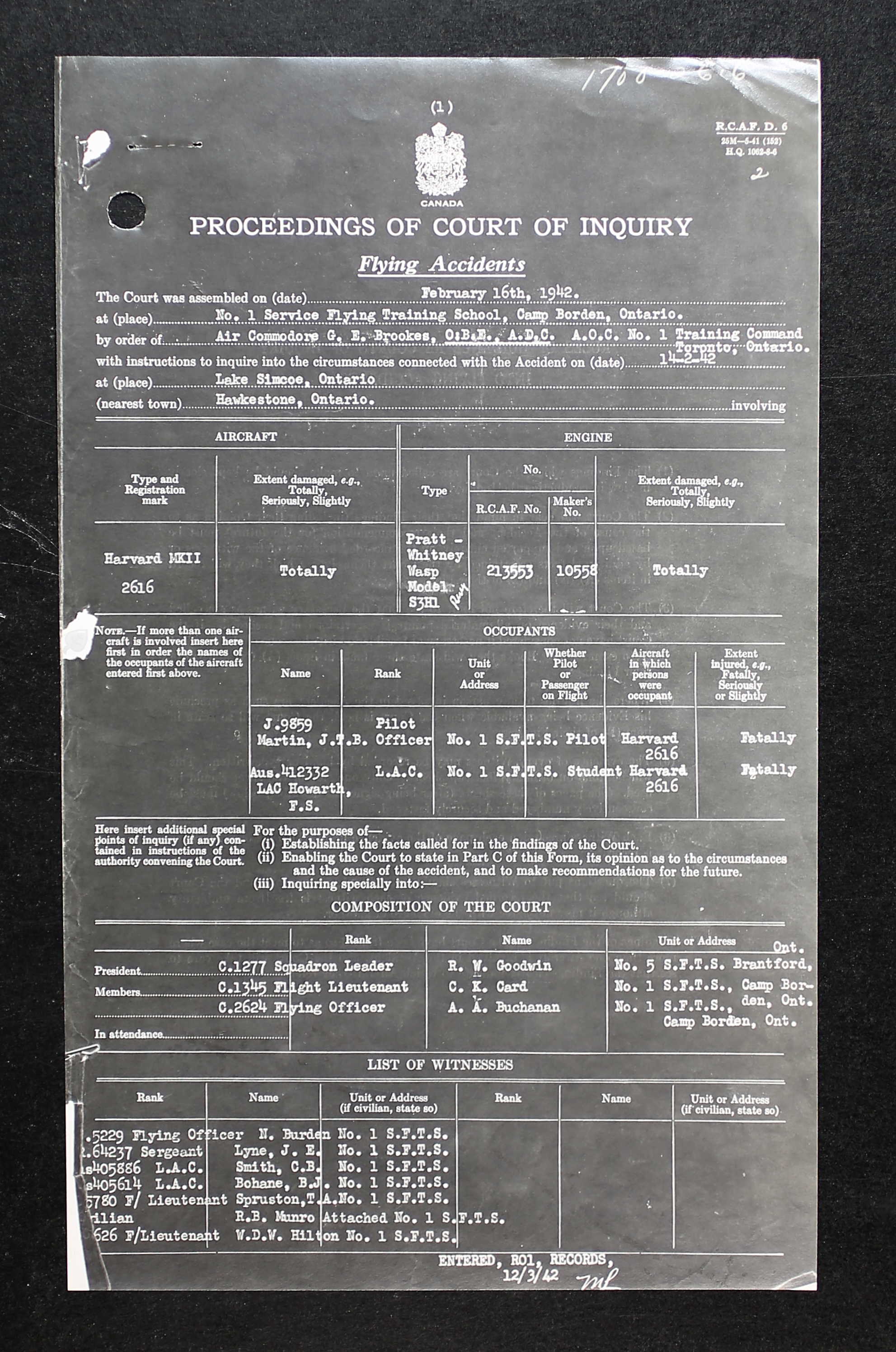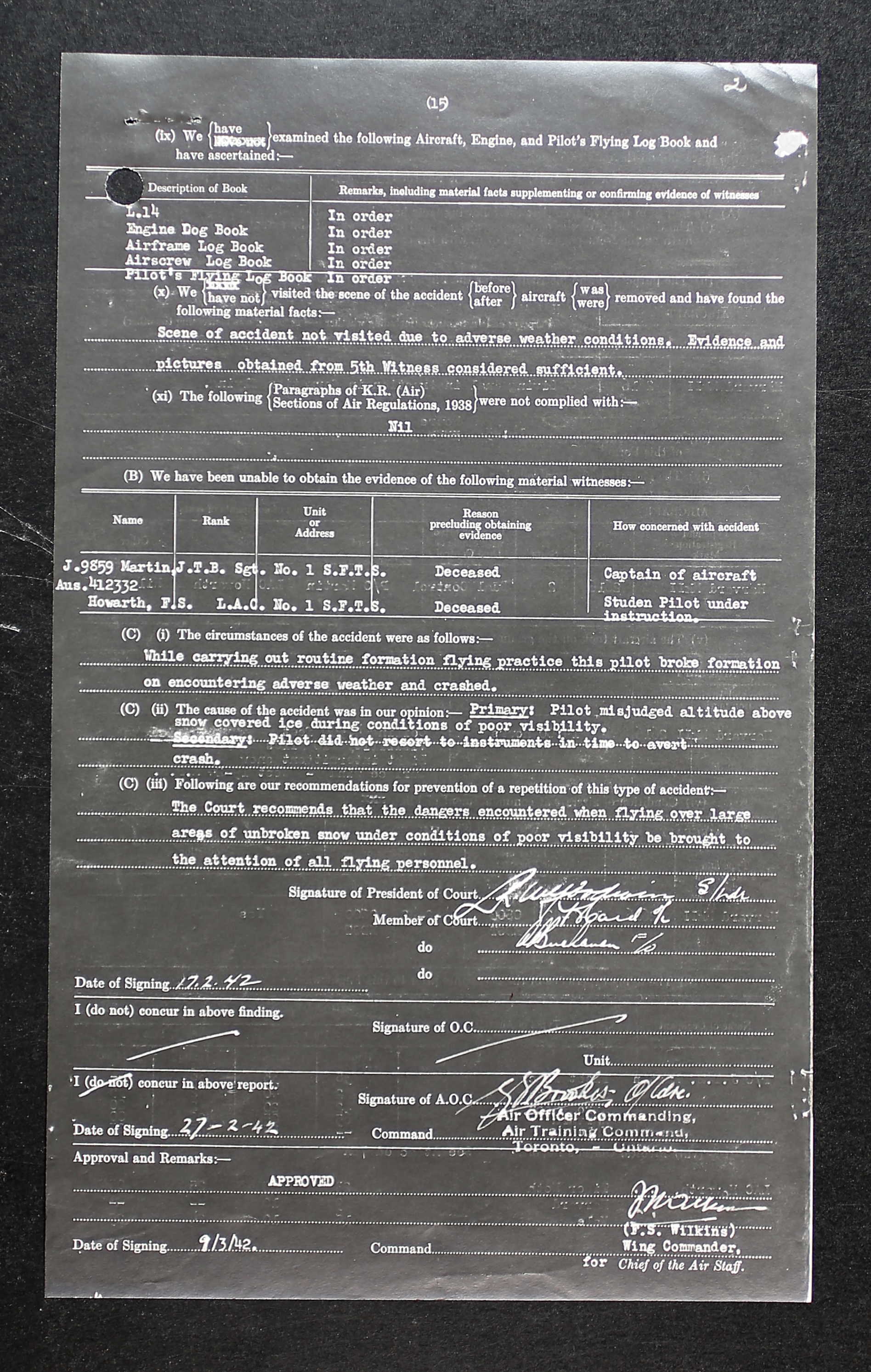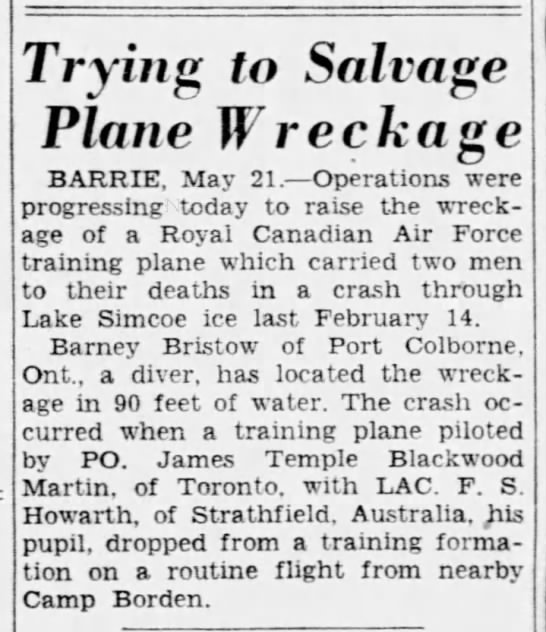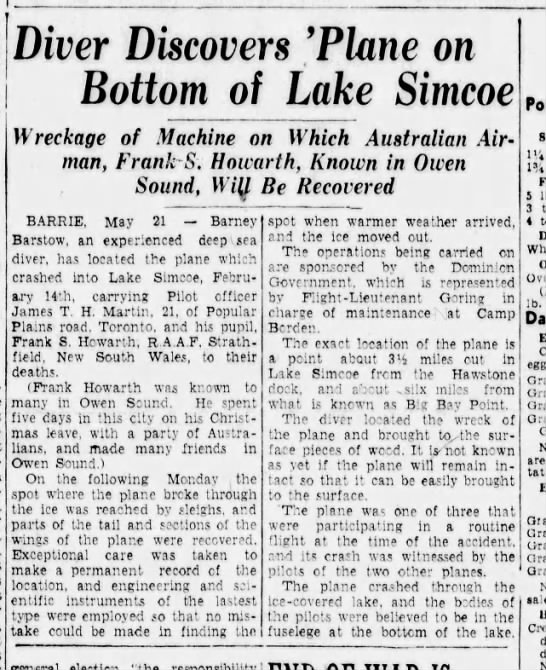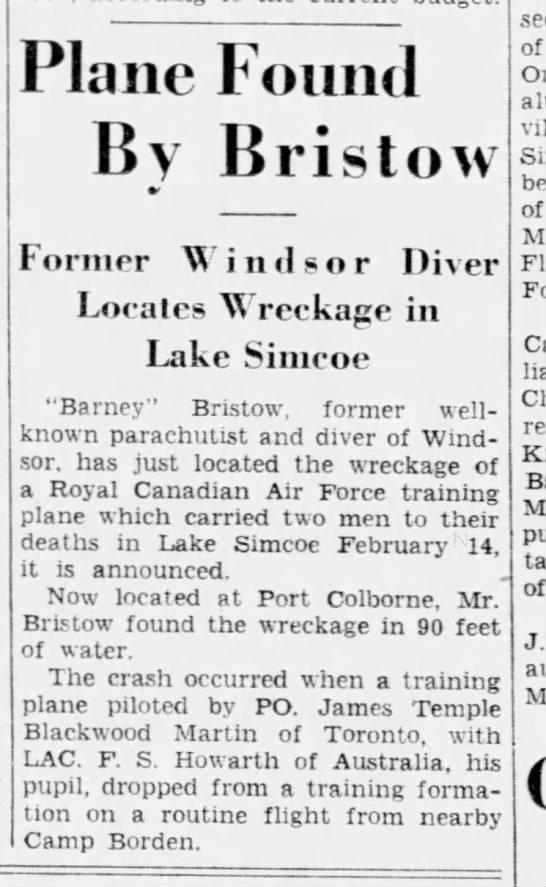 Office worker joined RCAF and became pilot, then instructor. On Valentine's Day 1942, he and his Australian student pilot, Frank Simpson Howarth, crashed into frozen Lake Simcoe aboard Harvard 2616, during poor weather. Wreckage of plane was found in 90 feet of water in May 1942.
James Temple Blackwood Martin was the youngest child of Selby Blackwood Martin, retired bank manager, and Florence (nee Erie) Martin of Toronto, Ontario. He had two older brothers and one older sister. The family was Anglican.
Known as Temple, he worked as a service man, then as an office boy in 1939-1940. Temple had one year of pre-med at the U of T when he first applied to the RCAF in October 1939. He enjoyed swimming, skiing, and tennis, plus hunting and natural history. He smoked 7-8 cigarettes a day and drank socially. He weighed 168 pounds and stood 6'3" tall. Temple had blue eyes and dark brown hair, with a dark complexion. A 1" scar on the left wrist was noted in May 1940. "An intelligent, experience young man; fairly aggressive, good idea of responsibility. Wants to be a pilot; might be suitable as pilot, bomber." Temple was seen as "gentlemanly and conscientious. Applicant has likeable manner. Very keen to get started."
Temple's training started at Brandon, Manitoba March 1940, then on to No. 1 ITS, May 27 to June 22, 1940. He then went to No. 4 EFTS, Windsor Mills, June 24 to September 1, 1940. "Only one to finish Ex. #7. Very good rudder and a/s control. Started very well, slowed down, and picked up again. Excellent as instructor pilot." Then he was at No. 2 SFTS, Ottawa, September 4 to December 1, 1940. "An average pilot with good ability who has made steady progress." In ground training: "Above average and distinctly commission material. Has initiative and is a willing and hard worker. His appearance is smart." He was 5th out of 38 in his class with 79.4%. Temple took an instructor's course May 24 to July 12, 1941, at CFS, Trenton, Ontario. "Should become an excellent instructor." A note on one of his forms: "Anxiously desiring overseas posting."
Temple accepted a commission while at Camp Borden, Ontario, on October 1, 1941. He had been an instructor there since December 16, 1940.
Harvard 2616 crew: LAC Frank Simpson Howarth (412332) Student Pilot, RAAF, Pilot Officer James Temple Blackwood Martin (J9859) RCAF, Pilot.
From the Aviation Museum Western Australia: "Harvard 2616 was flying at 15,000 feet in a formation of three on a training exercise on 14 February 1942. The formation encountered a heavy snowstorm towards the end of the exercise in the vicinity of Lake Simcoe. Harvard 2616 went out of control and dived into the sea crashing through the ice and disappearing. The position was about 6 miles offshore, and some 7.5 miles north east of Big Bay Point, Lake Simcoe, Ontario. The pilots of the other aircraft flew over the crash scene, but no sign was seen of the aircraft or crew members."
The Court of Inquiry [Microfiche T12344] stated that the circumstances of the accident were as follows: "While carrying out routine formation flying practice, this pilot broke formation on encountering adverse weather and crashed. CAUSE: PRIMARY: Pilot misjudged altitude above snow covered ice during conditions of poor visibility. SECONDARY: Pilot did not resort to instruments in time to avert crash. RECOMMENDATIONS: The Court recommends that the dangers encountered when flying over large areas of unbroken snow under conditions of poor visibility be brought to the attention of all flying personnel."
The wreckage of the plane was found in May 1942 in 90 feet of water. However, it was unknown if the plane was intact as the diver could only bring pieces of wood to the surface.
J. Temple. B. Martin, 21, is remembered on the Ottawa Memorial. Frank S. Howarth, from Strathfield, New South Wales, aged 20, is also remembered on the Ottawa Memorial, and also on the Australian War Memorial in Canberra.
Mr. Martin wrote in March 1942, "The only assets he is known to possess, exclusive of outstanding pay and uniform allowances due by the Dominion Government are his interest in his policies with the Canada Life Assurance Company, payable to his mother, which will yield return of premiums paid plus 3% interest, in all approximately $350.75 + interest and stocks and shares having a present market value of $300."
LINKS: