James Francis Kelly R141186
November 25, 1921 - January 1, 1944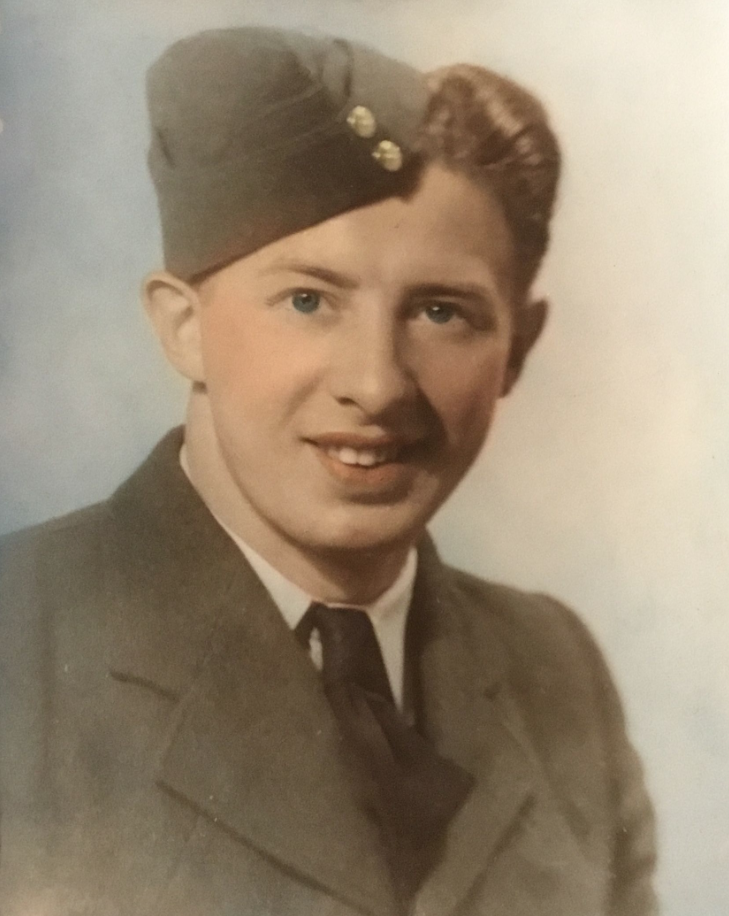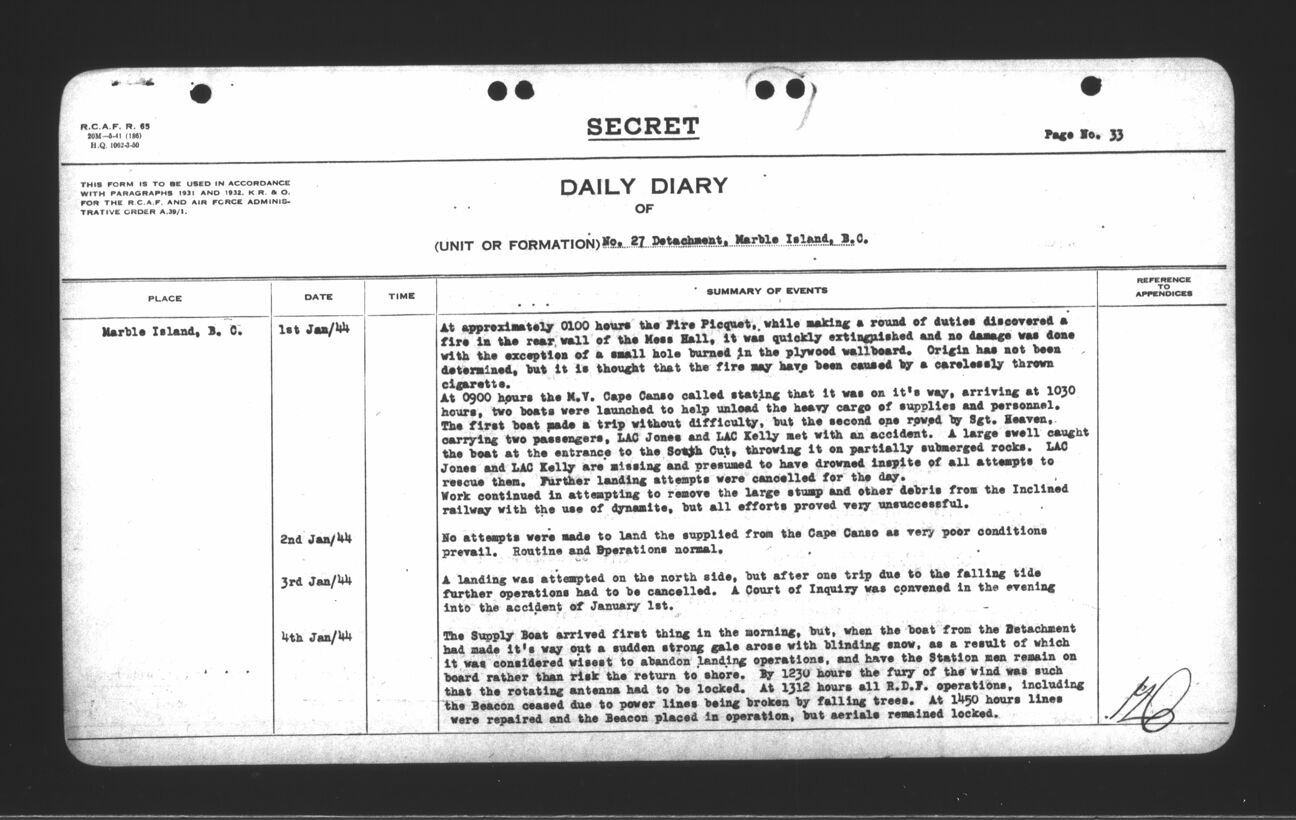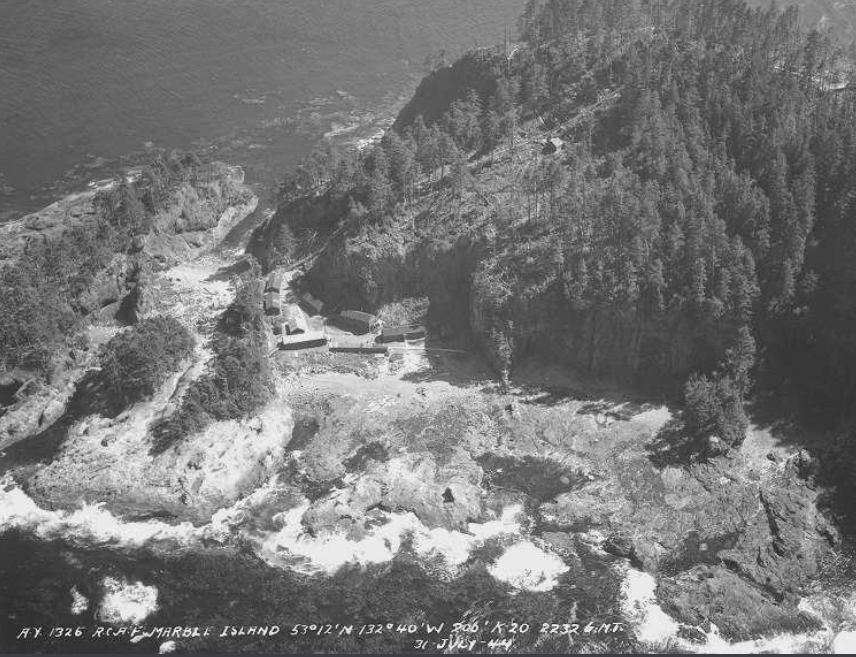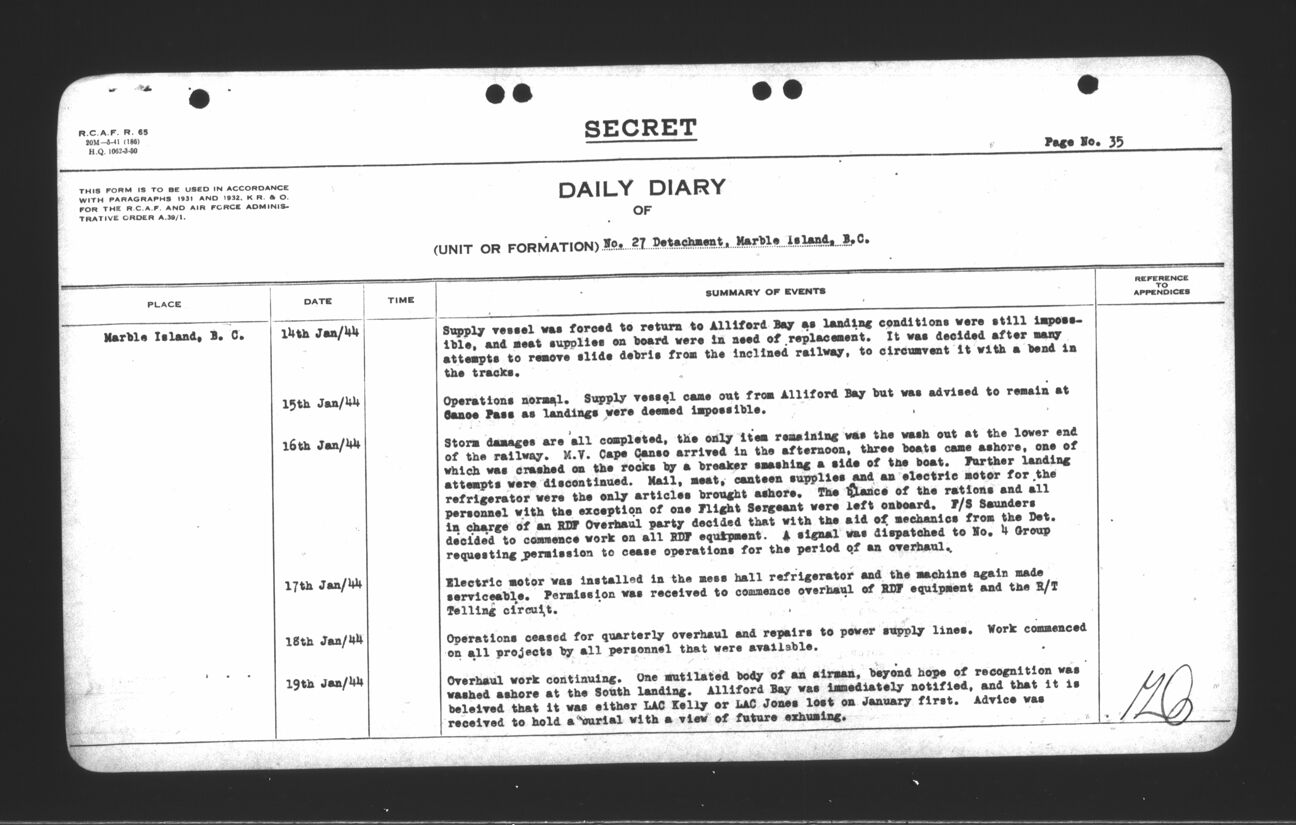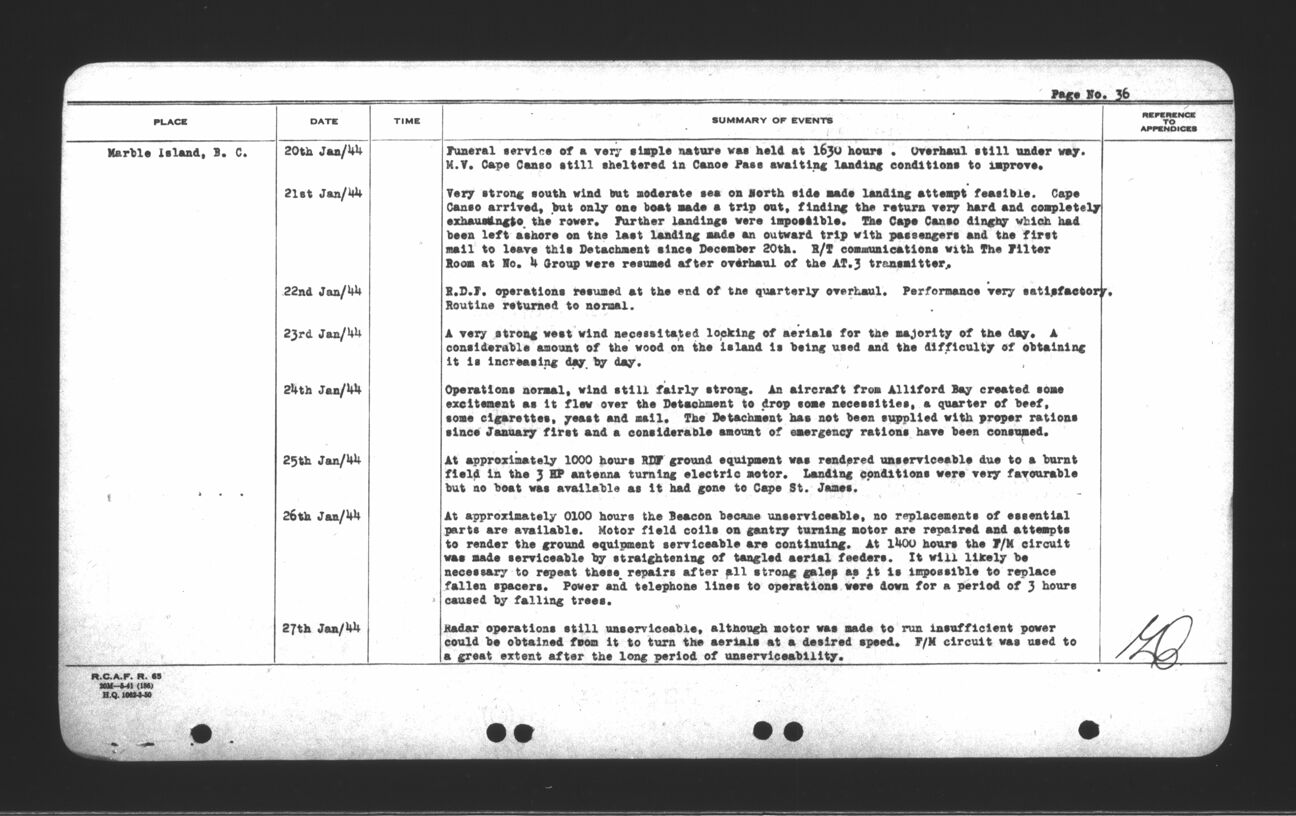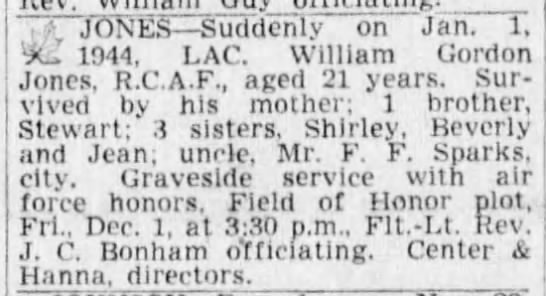 RCAF guard drowned at Marble Island, Haida Gwaii
James Francis Kelly was the son of Bryson Leo and Winnifred Ann (nee Marley) Kelly of Stayner, Ontario, Simcoe County. James had three brothers. The family was Roman Catholic. (Bryson, known as Brian, died on March 20, 1927, at the age of 29. (He was a veteran of WWI.) Winnifred remarried and became Mrs. William Coyle. Winnifred and William Coyle had two sons and two daughters together.)
James attended public school starting in 1927 for ten years. He finished 'First Form' with nine subjects. From 1936 until 1940, he was farming for William Coyle in New Lowell, Ontario, but "grew tired of it" and changed to sawing logs for Art Woods from 1940-1941 and left, as the job was complete.
He enjoyed swimming and ball. He felt he was suitable for Ground Duties with the RCAF, possibly a mechanic, as noted on his attestation papers dated October 1, 1941. The RCAF seemed of similar mind. "Standard Tradesman, satisfactory. Mechanical work."
James stood 5'10", weighed 140 pounds. He had a medium complexion, had blue eyes and brown hair. The condition of his mouth and teeth were considered healthy. He had had measles and a long scar on his left buttock.
He started out at No. 1 Manning Depot, Toronto, and then went to Trenton, as a standard tradesman. By January 3, 1942, he travelled across the country to Patricia Bay, on Vancouver Island as a guard and from there was posted to the present day Haida Gwaii (former Queen Charlotte Islands) at Alliford Bay on Marble Island as of July 12, 1943. The military residents of Marble Island referred to it as Alcatraz. (See plaque for more information.)
From his General Conduct Sheet: February 1942, he was confined for two days to barracks for leaving his room in a filthy condition, as well as failed to report for duty that day, necessitating another man to take his duty. For this, he forfeited one day's pay. On April 5, 1942, he was late for Parade and was confined three days to barracks. In August 1942, he was AWL for 22 hours and 20 minutes and forfeited one-day's pay, plus was confined to barracks for three days. On August 30, 1942, he failed to obey an order by his superior in that when ordered to get out of bed by 10 am, he failed to do so. Three more days confined to barracks. On March 24, 1943, he was charged with neglect of his duties while on Sentry. He was confined to barracks for seven days and forfeited a 48-hour pass.
He was admitted to station hospital at RCAF Allisford Bay, Marble Island, on December 26, 1942 and discharged on January 23, 1943.
From the Daily Diary of the 27 Radio Detachment, Marble Island, BC, January 1, 1944: "At 0900 hours the MV Cape Canso called stating that it was on its way, arriving at 1030 hours, two boats were launched to help unload the heavy cargo of supplies and personnel. The first boat made a trip without difficulty, but the second one rowed by Sgt. Heaven, carrying two passengers, LAC Jones and LAC Kelly met with an accident. A large swell caught the boat at the entrance to the South Cut, throwing it on partially submerged rocks. LAC Jones and LAC Kelly are missing and presumed to have drowned in spite of all attempts to rescue them. Further landing attempts were cancelled for the day."
F/L Rothwell wrote James Kelly's medical sheet: "Presumably drowned while going ashore at No. 27 Detachment, Marble Island, BC in a rowboat accompanied by another airman. One body, mutilated beyond identification, found January 18, 1944 and buried on island January 20, 1944 (could not be removed from storm-bound island before it was completely decomposed). Other body was found, so identification in this case may never be made."
In the list of James's belongings, he had pyjamas, a sweatshirt, three black ties, four pair of blue wool sock, five pair of black sock, three towels, more shirts, two belts, slippers, a leather cigarette case, one pair bathing trunks and a padlock. He had eleven letters and two books: practical electricity and automotive engineering. His mother was his sole beneficiary.
William Gordon Jones of Choiceland, Saskatchewan, was the second man who drowned on January 1, 1944 at Marble Island. A ring found on the body washed ashore identified him.