James McLean Johnson R115270
May 7, 1918 - September 13, 1942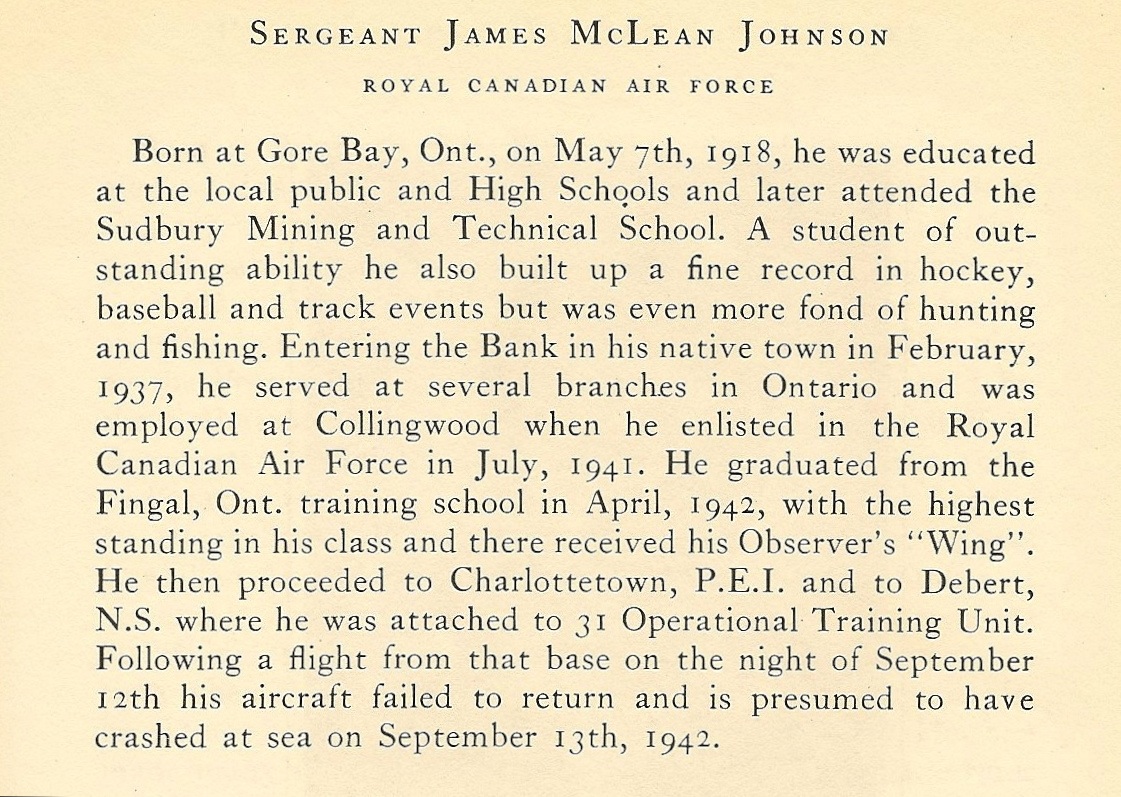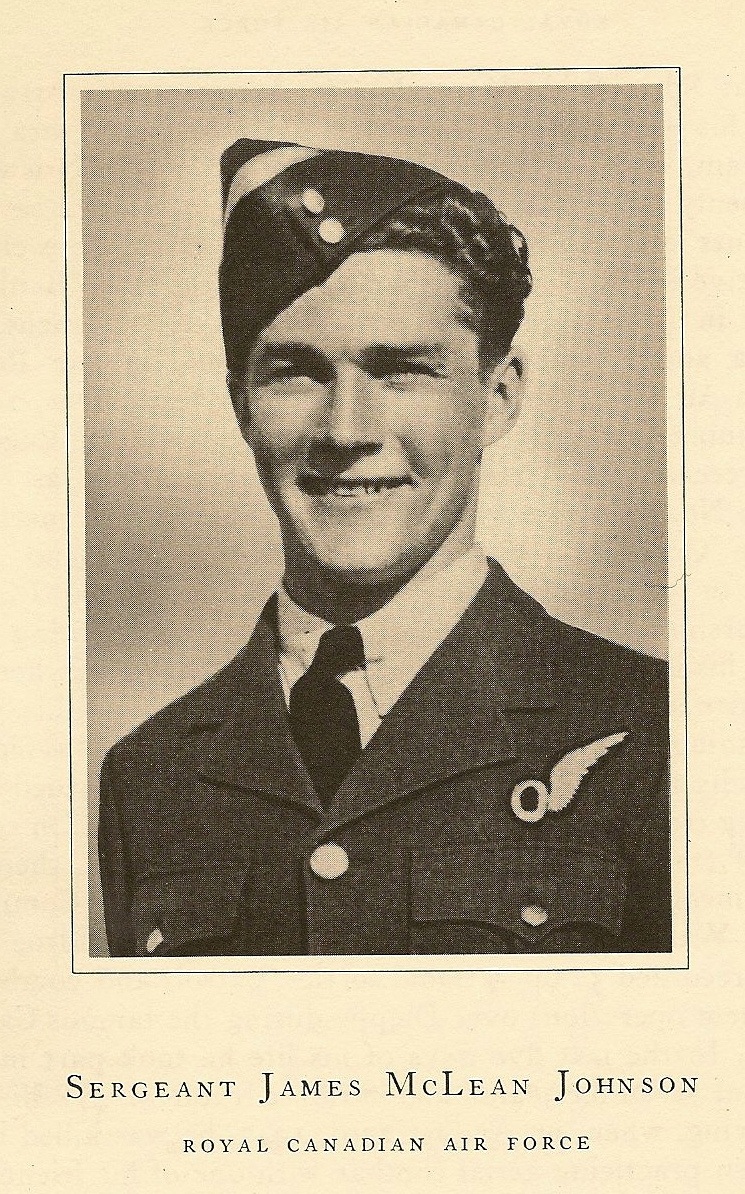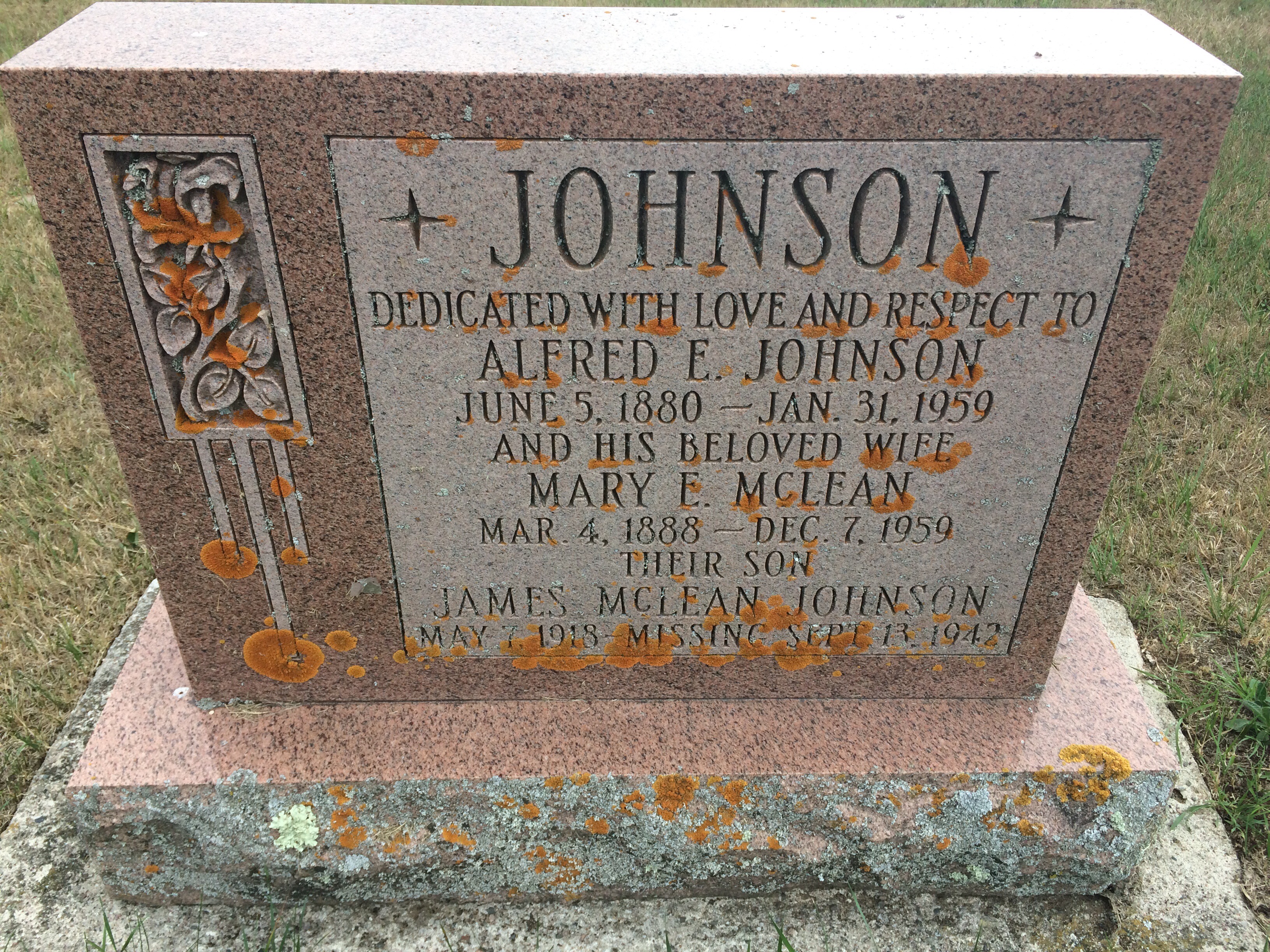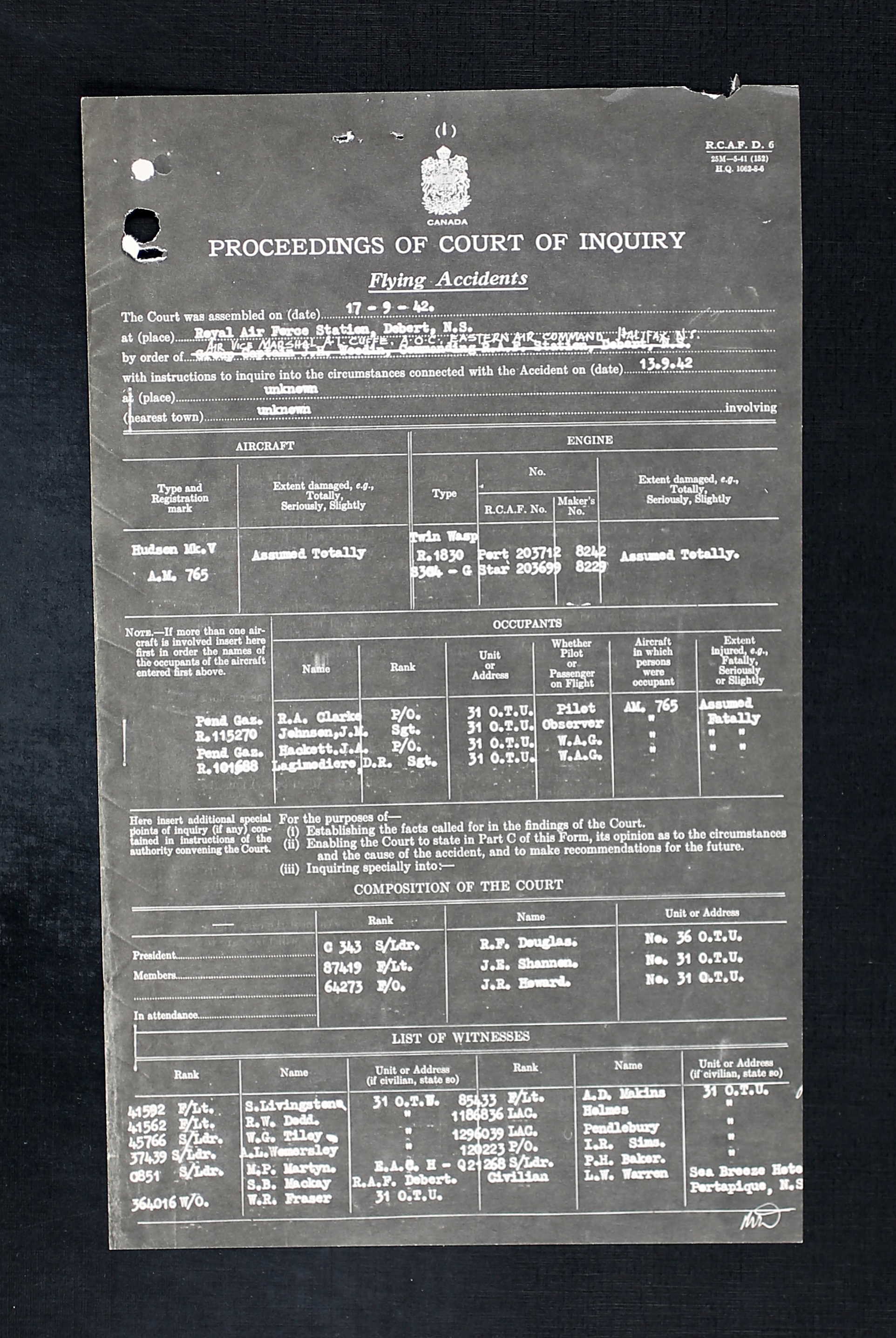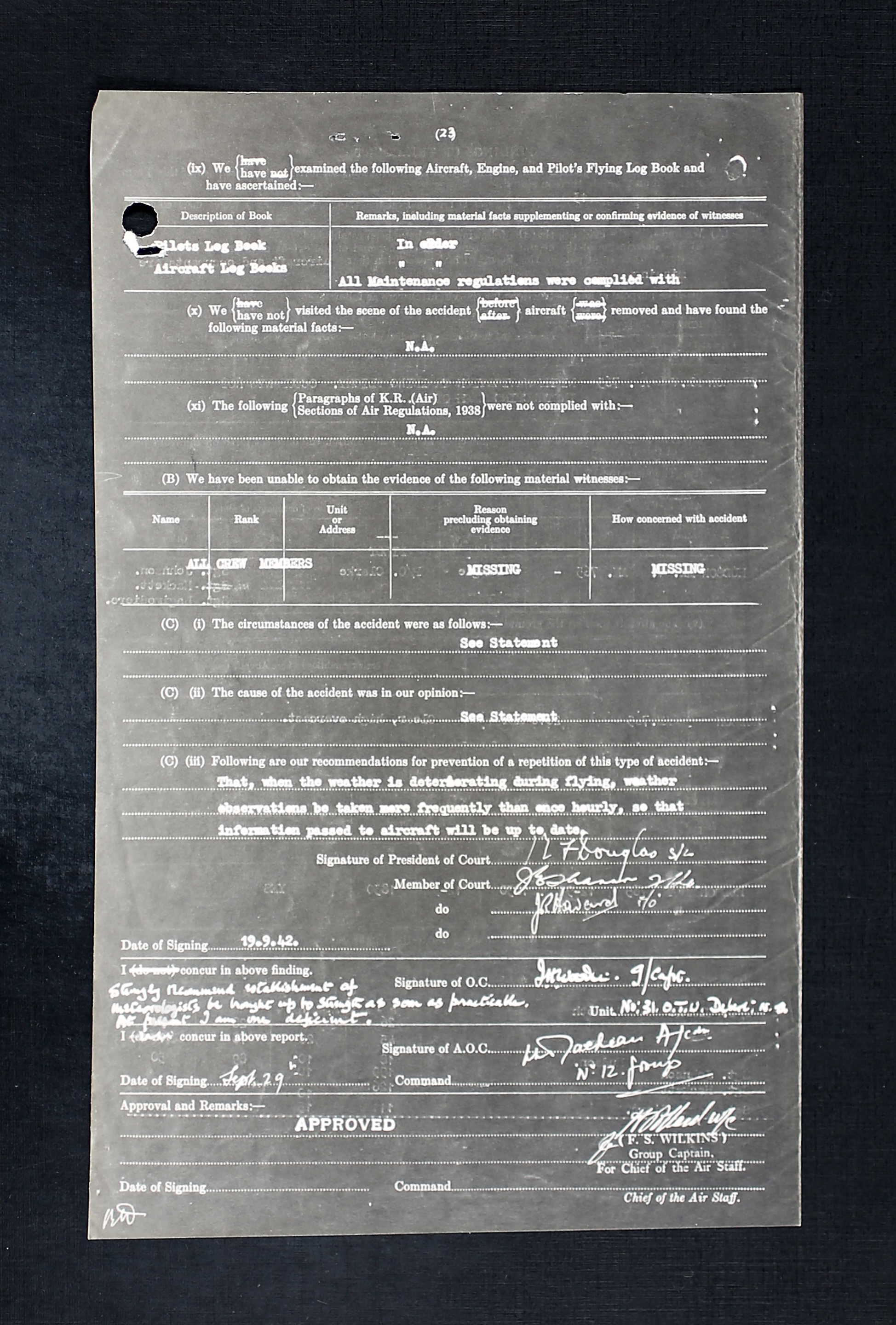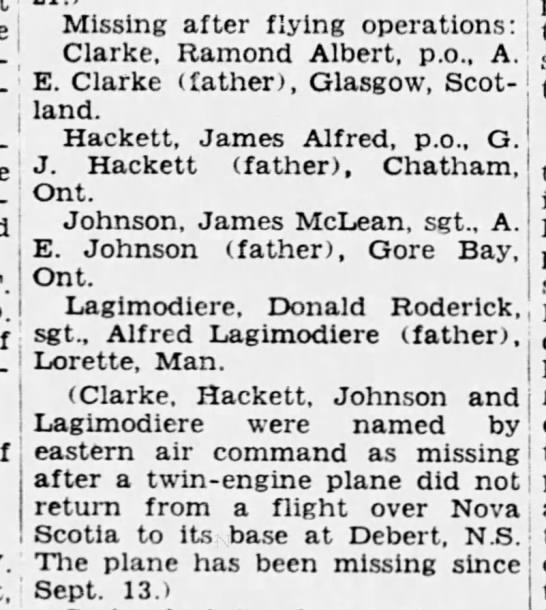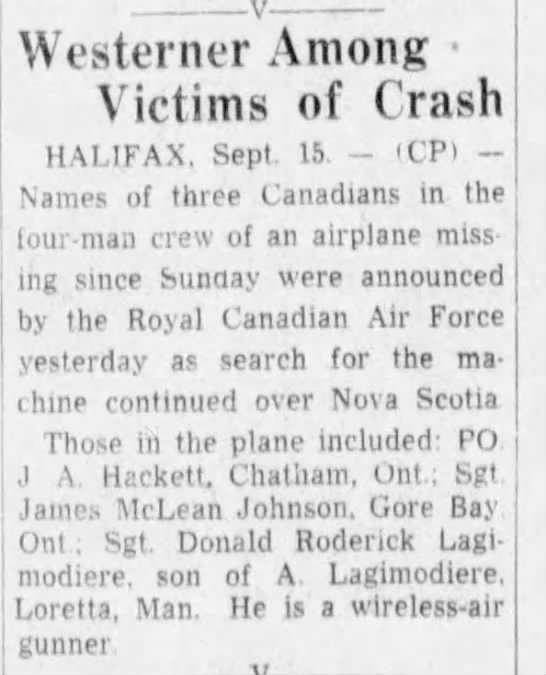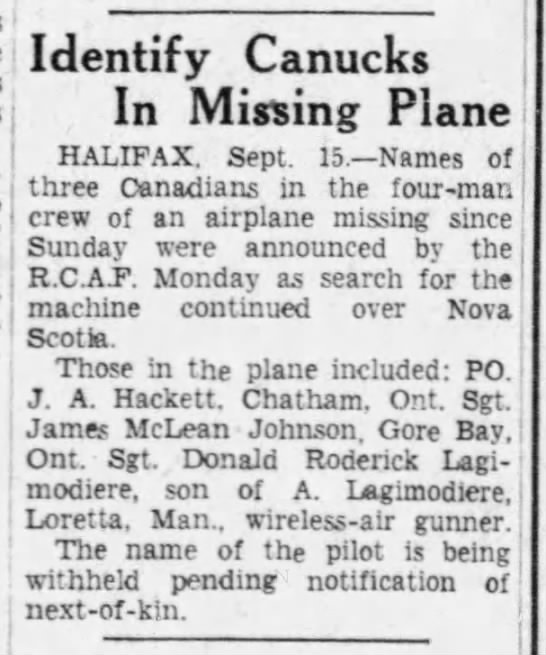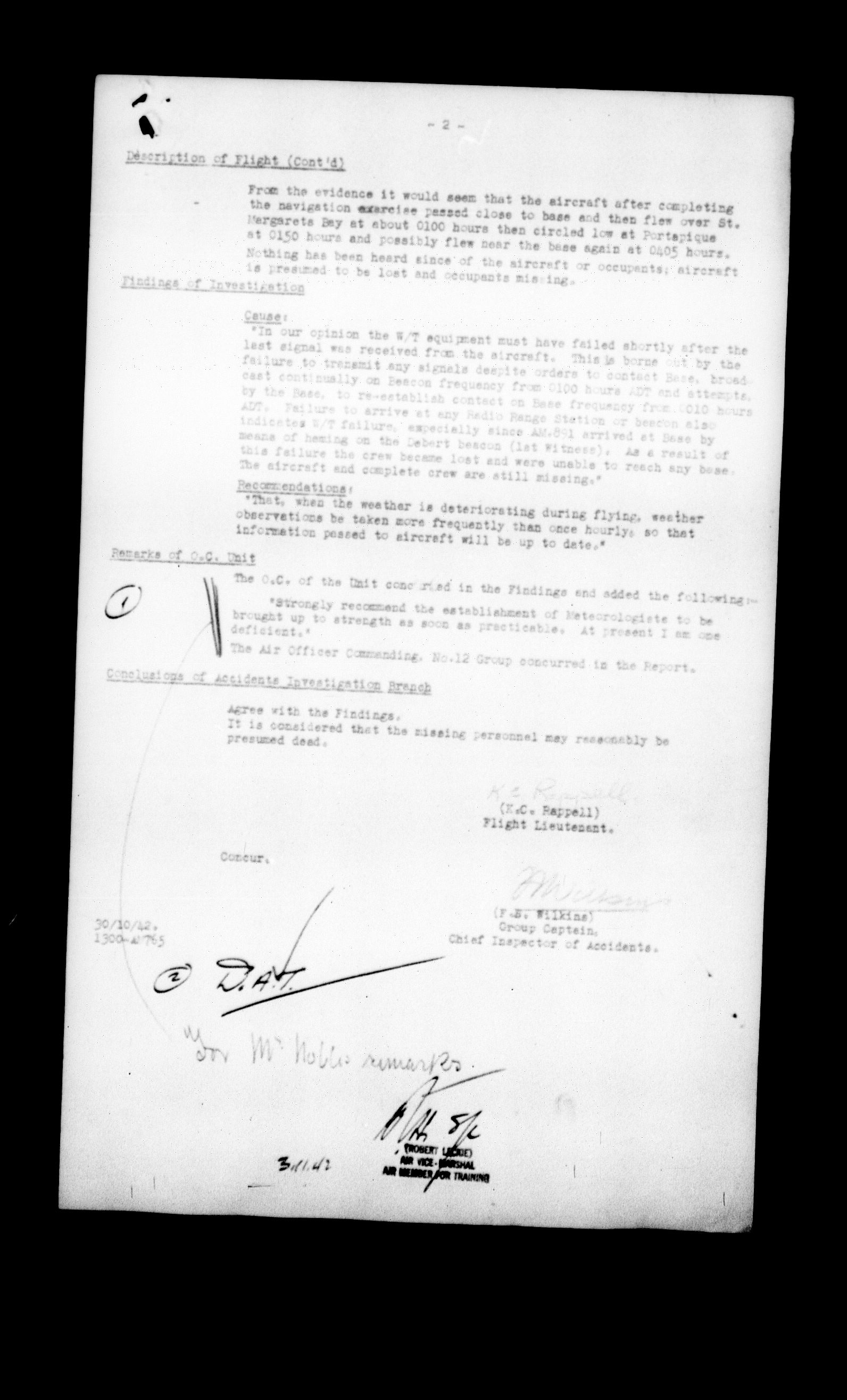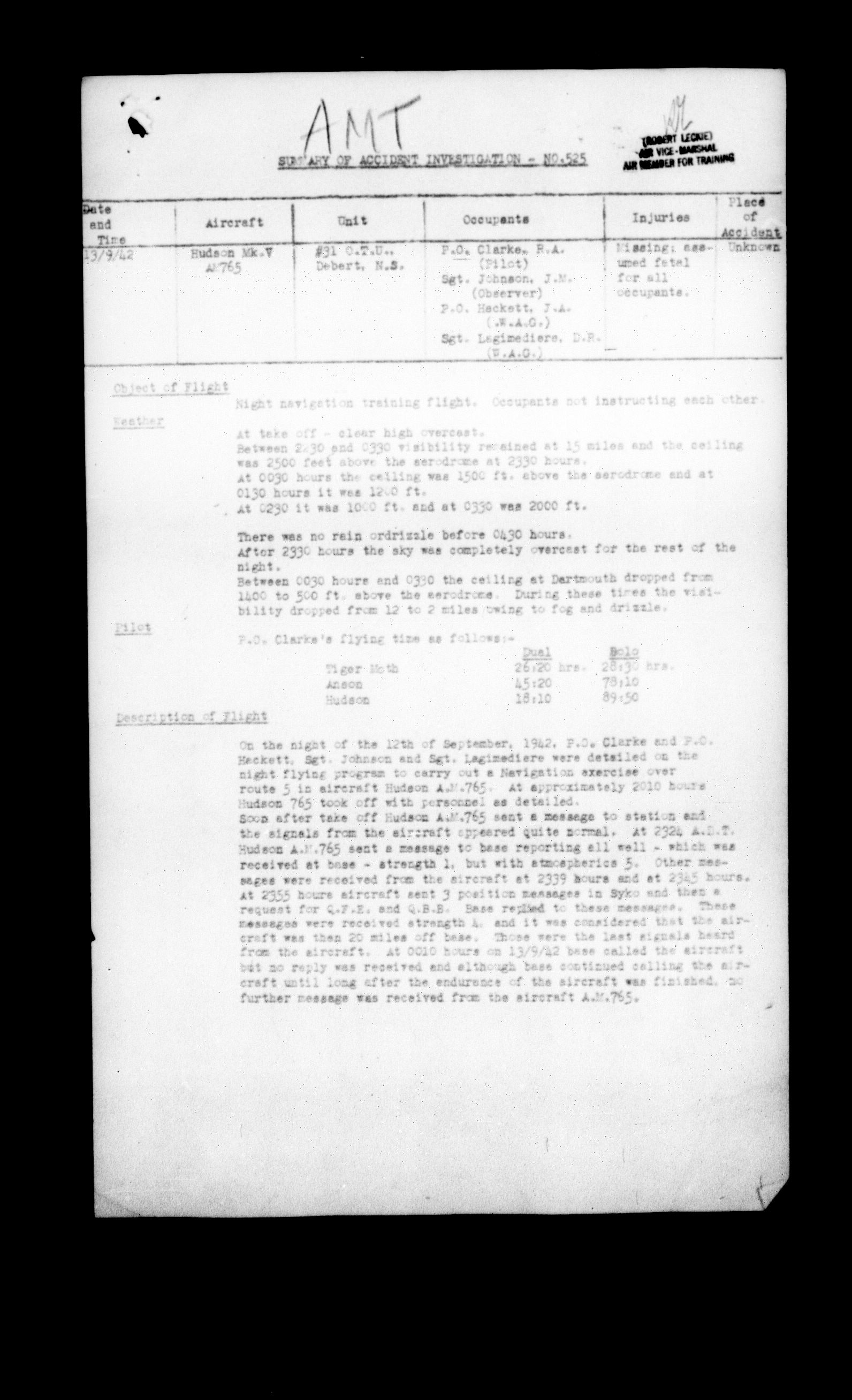 Bank clerk joined RCAF and became observer. Aboard Hudson AM765, he and crew went missing after a night cross country flight exercise in September 1942.
James McLean Johnson was the son of Alfred Edward Johnson (1880-1959) and Mary Elizabeth (nee McLean) Johnson (1888-1959), of Gore Bay, Ontario.
From the Manitoulin (Island) Expositor, 1994: "He worked with the Bank of Montreal in Ontario and was at Collingwood when he enlisted in the RCAF in July 1941. He graduated from the Fingal training school with his Observer's Wing. Following a flight from Debert, NS, September 12, 1942, his aircraft failed to return and is presumed to have crashed at sea September 13, 1942."
See documents above for more information about James.
On a training flight aboard Hudson AM765 [details found on Microfiche C-5934, starting at image 5414] CREW: *P/O James Alfred Hackett, Chatham, Ontario, WAG, *Sgt James McLean Johnson, Gore Bay, Ontario, observer, *Sgt. Donald Roderick Lagimodiere, Lorette, Manitoba, WAG, and *P/O Raymond Albert Clarke, RAF, parents residing in Surrey, England, were lost on September 13, 1942. It was a night cross country, "Route 5."
From Court of Inquiry: DESCRIPTION OF FLIGHT: On the night of the 12th of September 1942, P/O Clarke and P/O Hackett, Sgt. Johnson, and Sgt. Lagimediere [sic] were detailed on the night flying program to carry out a navigation exercise over Route 5 in aircraft Hudson AM765. At approximately 2010 hours, Hudson 765 took off with personnel as detailed. Soon after take-off, Hudson AM765 sent a message to station and the signals from the aircraft appeared quite normal. At 2324, Hudson AM 765 sent a message to base reporting all well, which was received at base. Strength 1, but with atmospherics 5. Other messages were received from the aircraft at 2330 hours and at 2345 hours. At 2355 hours, aircraft sent 3 position messages in Syko and then a request for QFE and QBB. Base replied to these messages. Both messages were received strength 4 and it was considered that the aircraft was twenty miles off base. Those were the last signals from the aircraft. At 0010 hours on 13/9/42, base called the aircraft by no reply was received and although base continued calling the aircraft until long after the endurance of the aircraft was finished, no further message was received from the aircraft AM765."
There was no rain or drizzle before 0430 hours. At take-off: clear high overcast.
P/O Clarke's flying time was noted on Tiger Moth, Anson and Hudson. Hudson: 18:10 hours dual and 89:50 solo.
It would seem that the aircraft after completing the navigation exercise passed close to base and then flew over St. Margaret's Bay at about 0100 hours then circled low at Portapique at 0150 hours and possibly flew near the base again at 0405 hours. Nothing has been hear since of the aircraft of occupants. Aircraft is presumed to be lost and occupants missing.
CAUSE: In our opinion, the W/T equipment must have failed shortly after the last signal was received from the aircraft. This is borne out by the failure to transmit any signal despite orders to contact base, broadcast continually on Beacon frequency from 0100 hours and attempts by the base to re-establish contact at Base frequency from 0010 hours….RECOMMENDATIONS: That, when the weather is deteriorating during flying, weather observations be taken more frequently than once hourly so that information passed to aircraft will be up to date." It was also recommended that the establishment of meteorologists to be brought up to strength as soon as practical. The station was one deficient.
James is commemorated on the Ottawa Memorial as well as on his parents' headstone at the Gordon Cemetery, Manitoulin District, Ontario.