James Parsloe Jenkins J38700
December 16, 1920 - January 3, 1945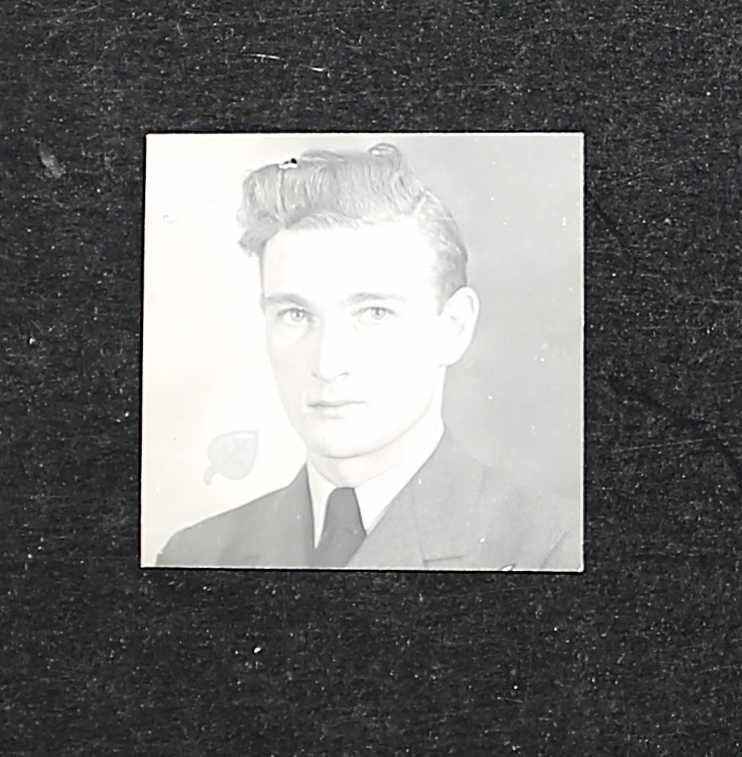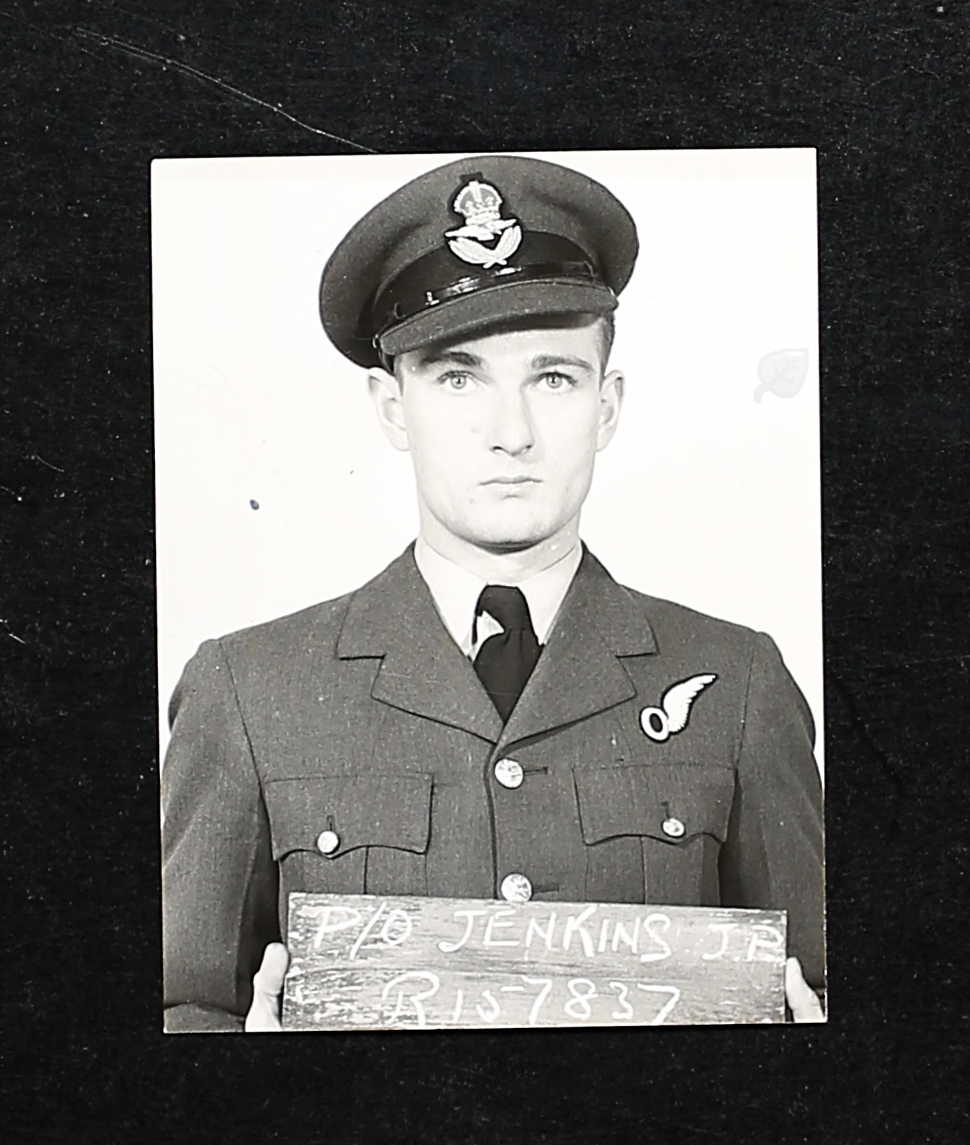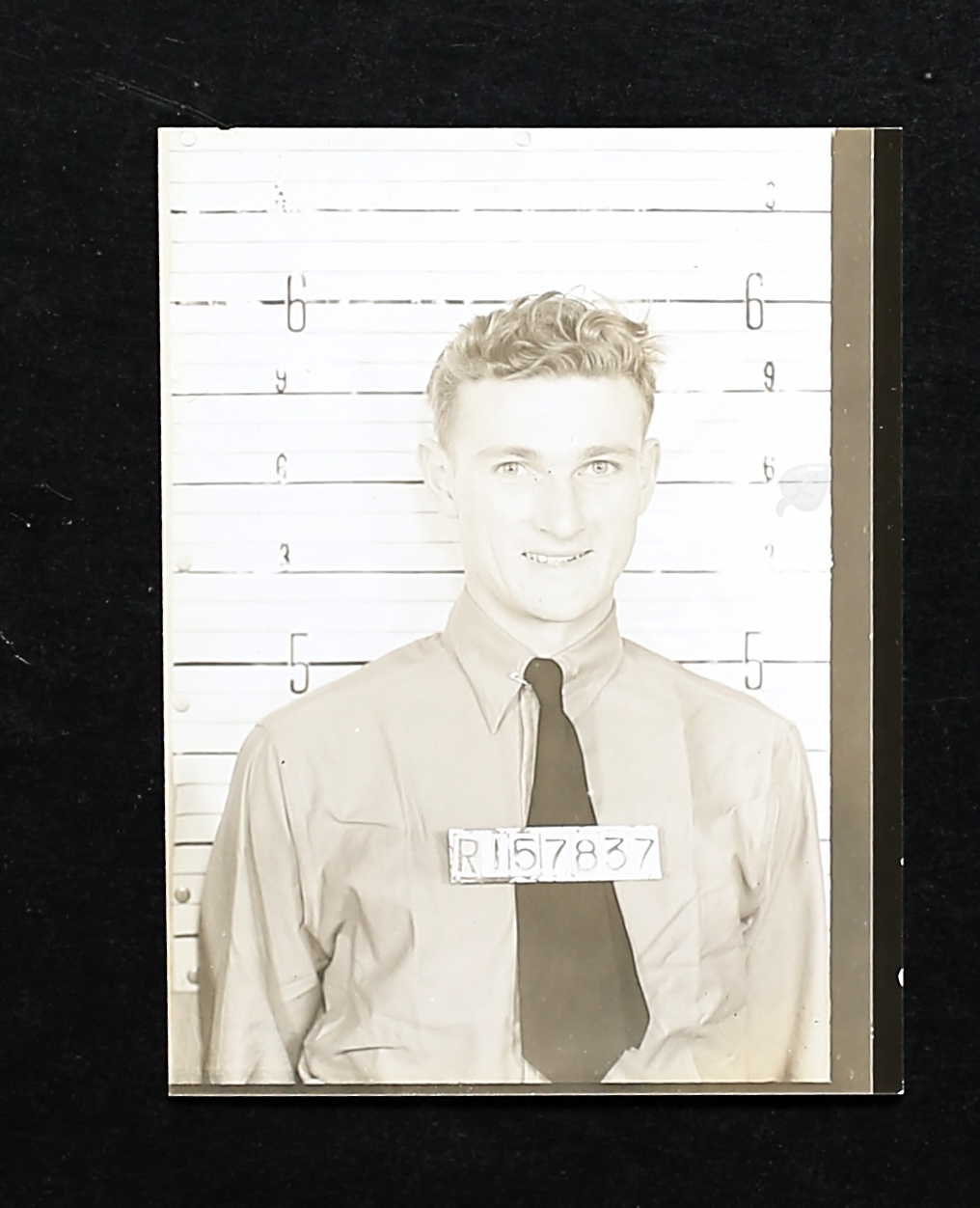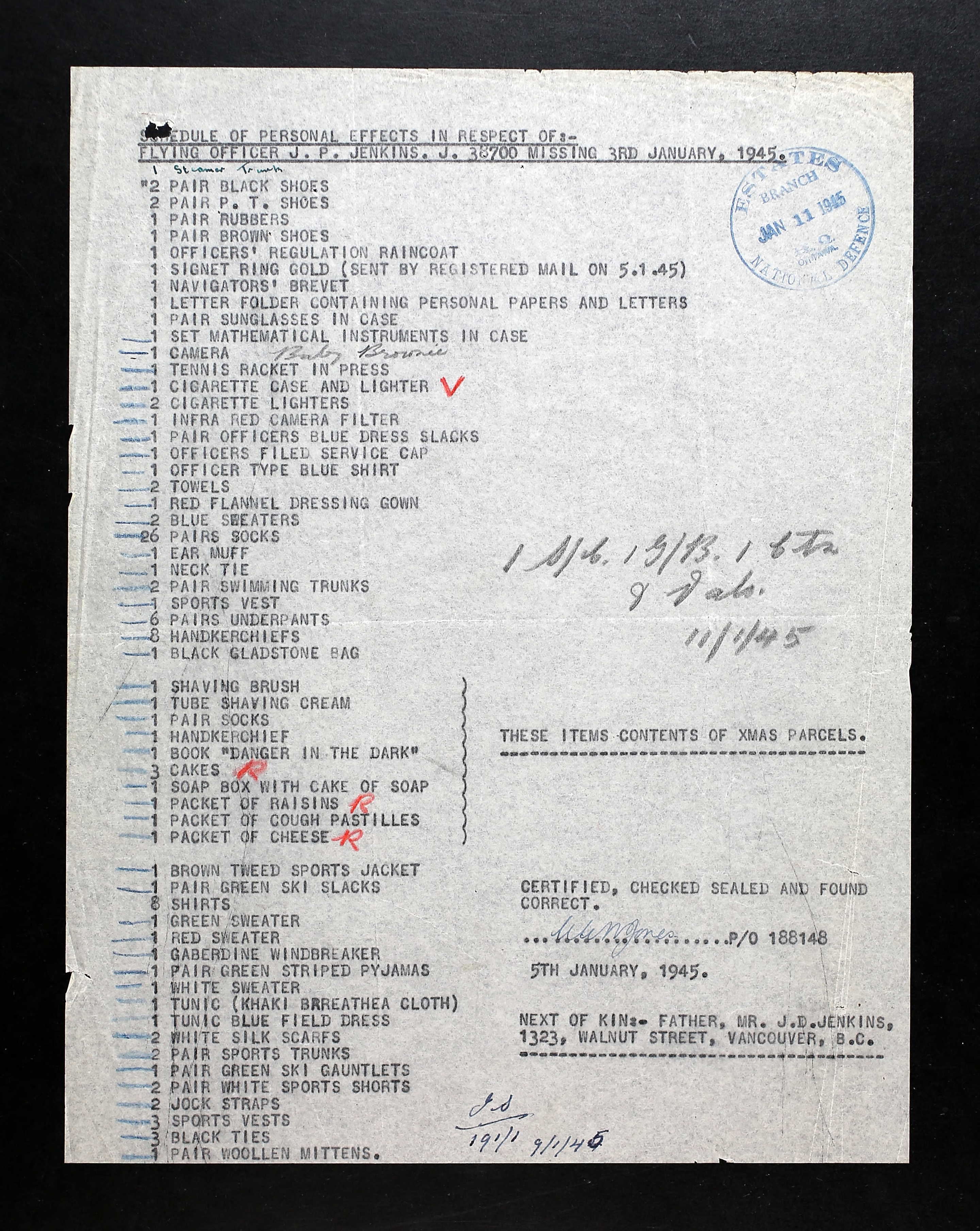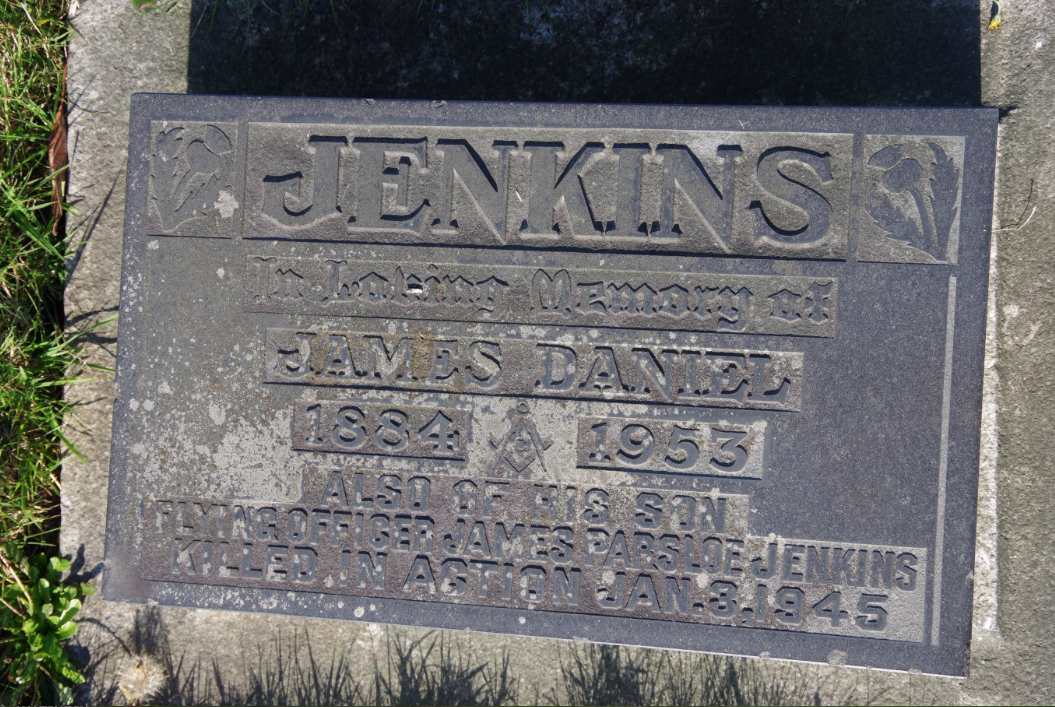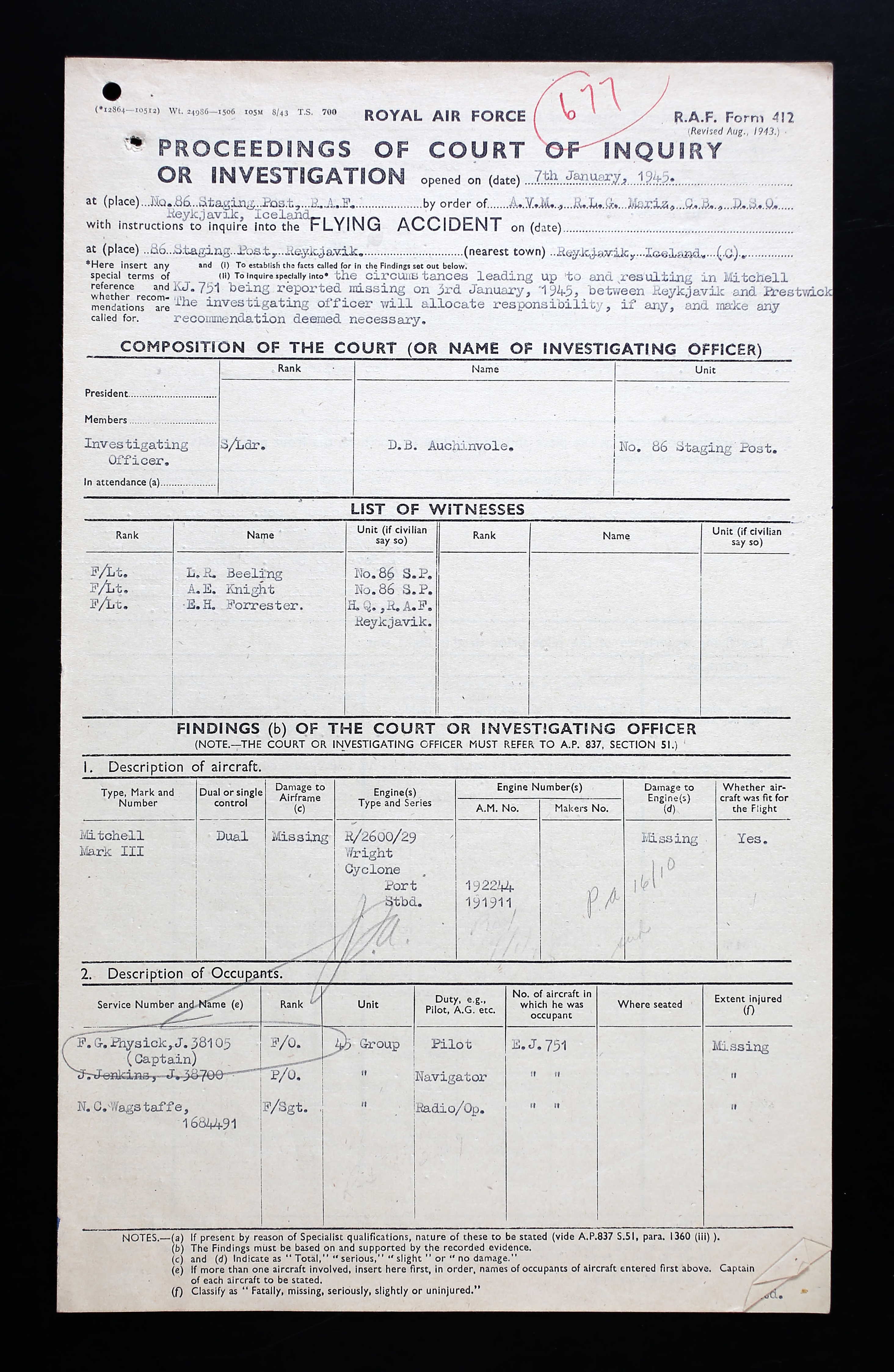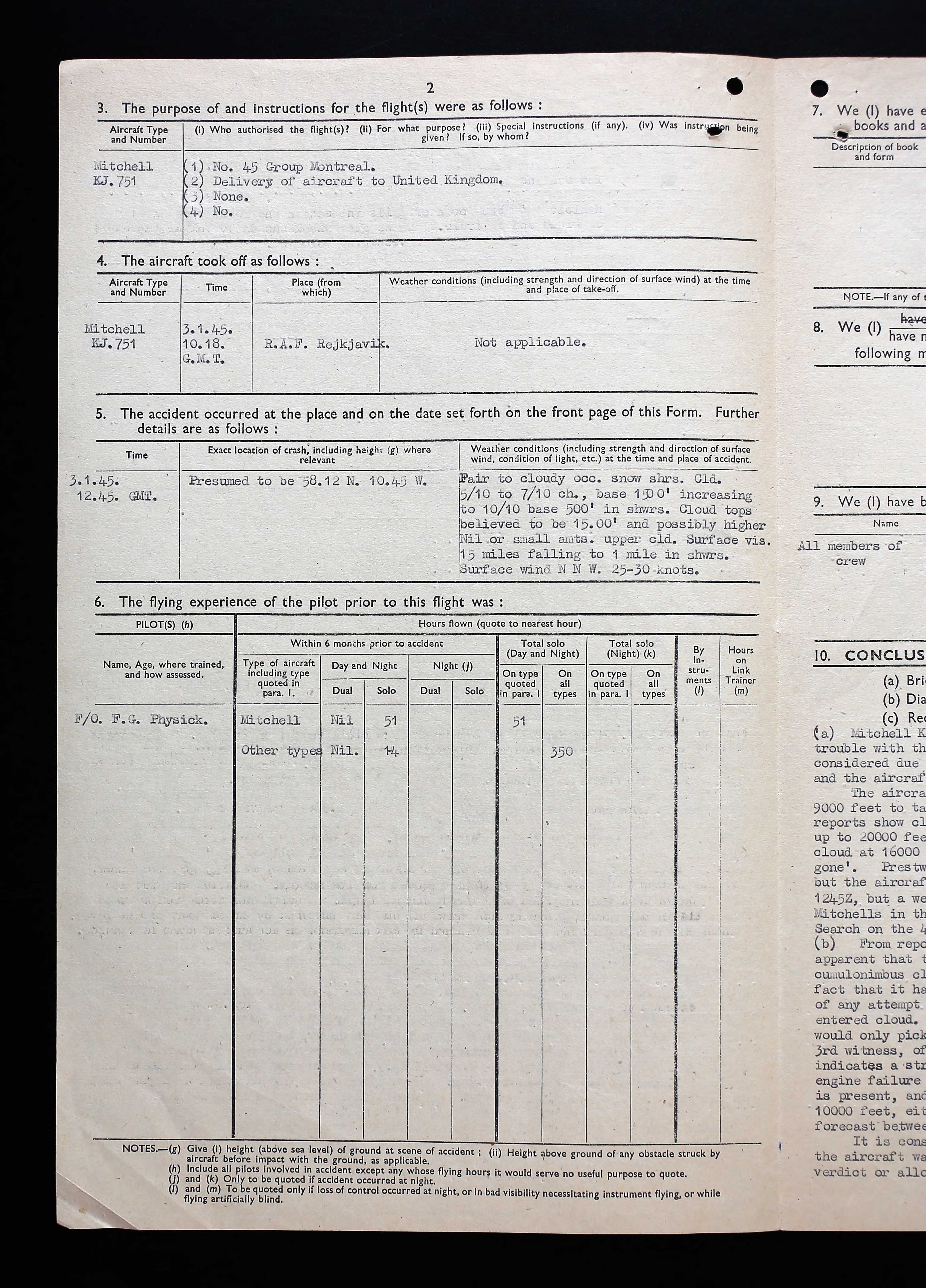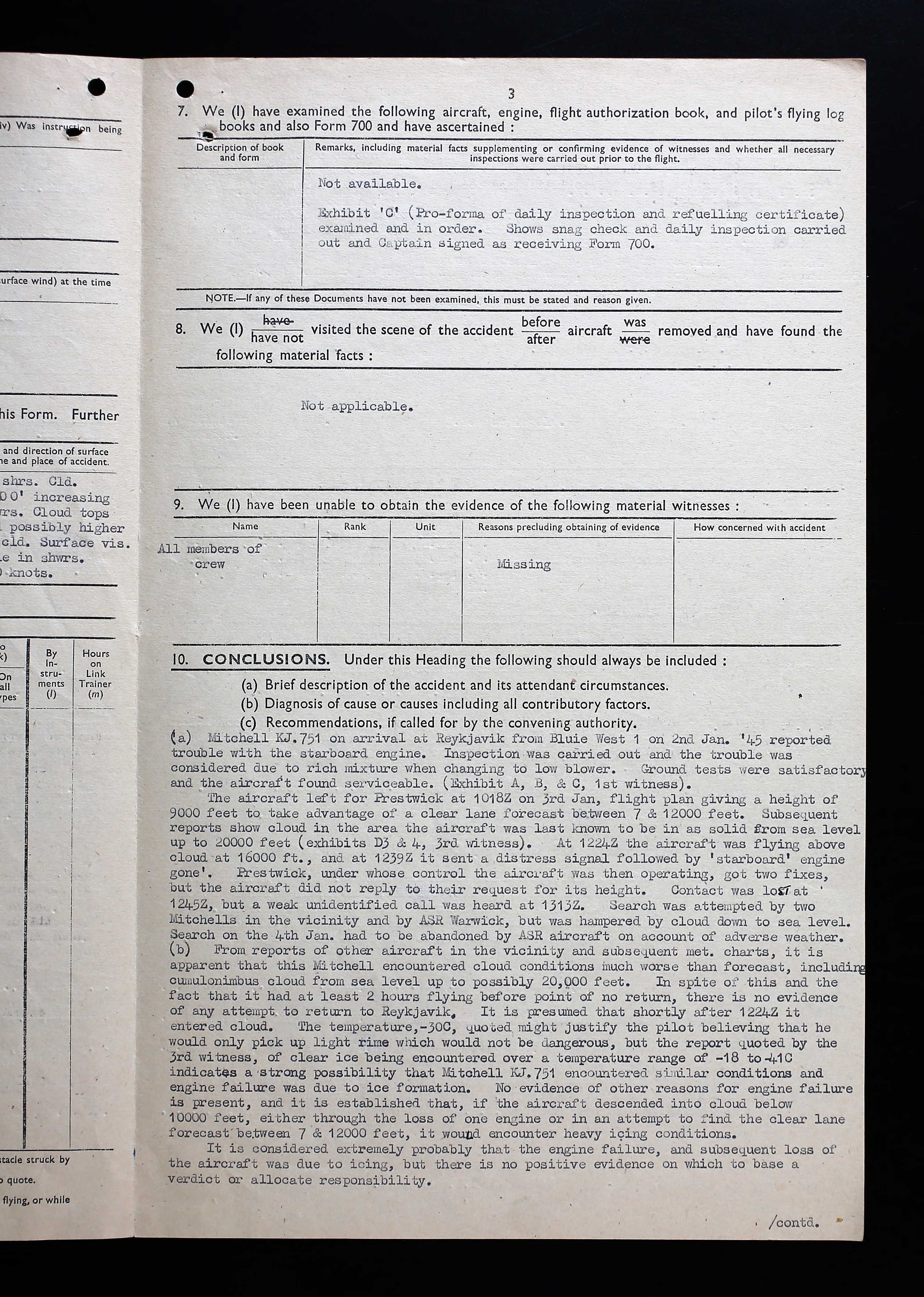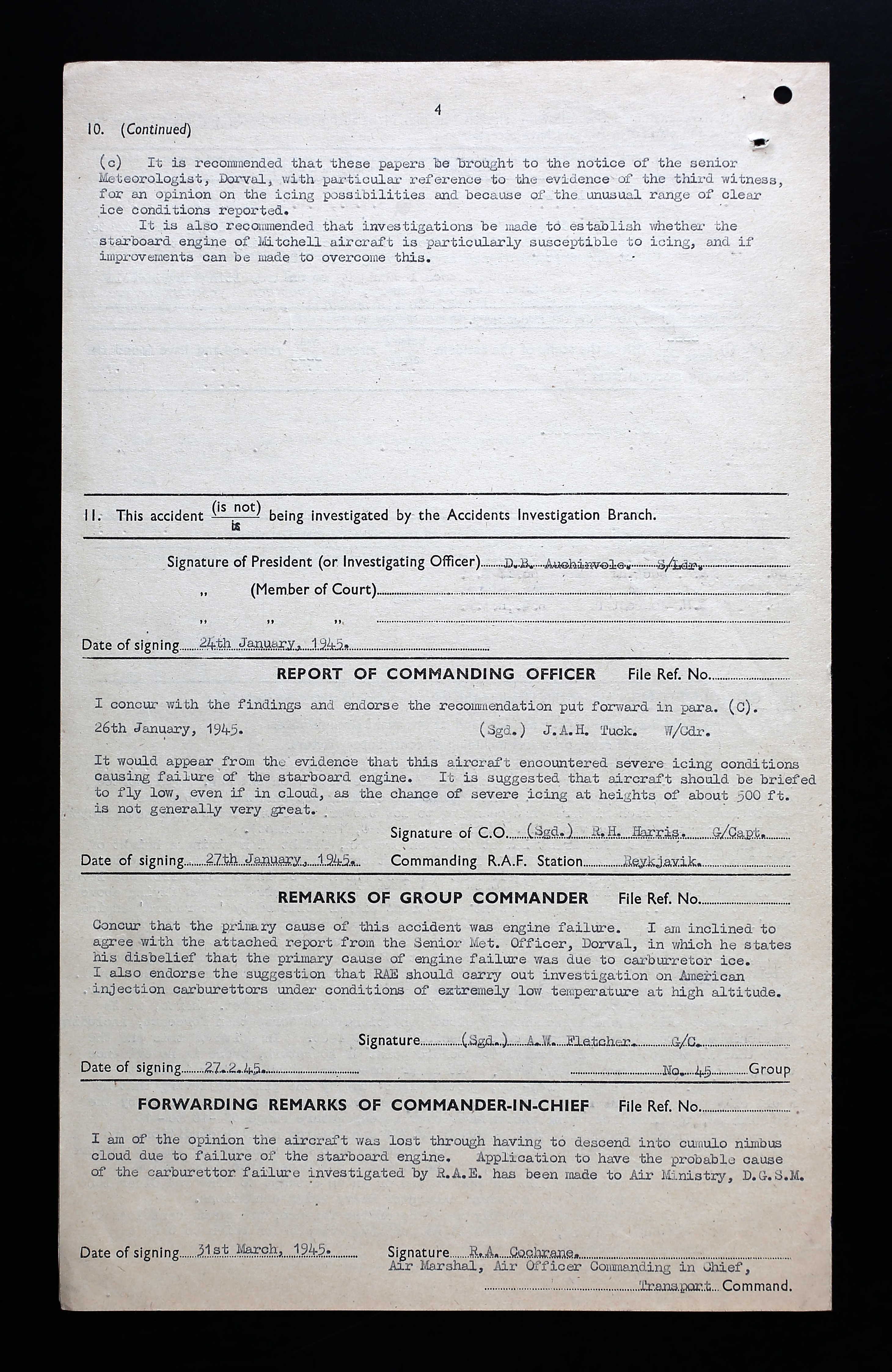 Accounting clerk wanted pilot; became navigator. Aboard Mitchell KJ751, he and crew were lost between Iceland and Scotland during a ferry flight.
James 'Jim' Parsloe Jenkins, born in Glasgow, Scotland, was the son of James Daniel Jenkins (1884-1953), mechanic, and Violet Mary (nee MacKinnon) Jenkins (1884-1941) of Vancouver, British Columbia. He had one sister, Elizabeth Helen Jenkins (1915-1931) who died from possible kidney disease. The family was Presbyterian.
Jim liked to ski, play tennis and basketball. He had worked as a stock keeper/cost clerk and an accountant from 1939-1942 with Langley Manufacturing Co., Vancouver, BC, a business that manufactured switchboards. From 1937-1939, he was an office boy/sales for Kirkland & Rose, Vancouver. He collected stamps as a hobby. He smoked about ten cigarettes per day but was reducing to about four cigarettes weekly. He was an abstainer from consuming alcohol. Jim had some previous military experience with the Seaforth Cadets for one year. He stood 5'10" tall and weighed 152 pounds in March 1942. A mole "LLQ of body; mole 4" from left nipple" was noted. "Physically fit for aircrew. Alert and intelligent. Fit. Wants pilot. Quiet youth, deliberate in speech and action. Reserved. The hard type to assess. First applied RCAF two years ago. No word from application. States he is willing for any aircrew position. Not overly enthusiastic re: service. Average athlete and student." Jim indicated on his application to the RCAF that he was supporting his dependent father.
Jim enlisted with the RCAF in Vancouver and was taken on strength March 20, 1942. He was then sent to No. 3 Manning Depot, Edmonton, Alberta May 20, 1942, until August 29, 1942. He was then sent to No. 7 ITS, Saskatoon, Saskatchewan. He was 2nd out of 115 in his class with 92.3%. "Cool, dependable, reserved. Good student, should make A-1 pilot."
No. 6 EFTS, Prince Albert, Saskatchewan was his next stop in his journey through the BCATP. He was 14th out of 34 in his class, with 82.9%. He was rated average. "Low average pilot. Weak on instruments. Could put forth a better effort."
He was at No. 4 SFTS, Saskatoon from January 10 to January 30, 1943. "This student's flying training was discontinued because of inability to land. He, however, has good mathematical ability and should make a good air navigator, for which he is recommended." Other comments, "This student is of good character. He is keen to work. Has a good attitude towards extra duties and is well-liked by instructors and students."
Jim was sent to KTS, Trenton, Ontario until May 1, 1943, when he was remustered and sent to No. 6 B&G School, Mountain View, Ontario May 2 until July 10, 1943. BOMBING: "Rather erratic; must settle down." GUNNERY: "His air firing results were average." GENERAL: "Very Quiet, but a keen, hard worker with good mind." He was 20th out of 68 in his class.
From there, he was sent to No. 8 AOS, Ancienne Lorette, Quebec July 10 to December 10, 1943. He earned his Navigator's Badge on November 26, 1943.
He was then at No 34 OTU, Pennfield Ridge, New Brunswick December 11, 1943 until March 11, 1944.
He was sent to I Y Depot, Lachine February 11, 1944 and attached to RAF 45 Air Transport March 12, 1944, based out of Dorval, Quebec.
He went missing aboard Mitchell KJ751 January 3, 1945. Crew: Flying Officer James Parsloe Jenkins, J38700, Flying Officer Gerald Physick, J38105, and Flight Sergeant Norman Charles Wagstaffe, 1684491 RAF. The plane ditched during a ferry flight between Reykjavik, Iceland and Prestwick, Scotland.
Proceedings of Court of Inquiry or Investigation dated January 7, 1945, at No. 86 Staging Post, RAF Reykjavik, Iceland to determine "the circumstances leading up to and resulting in the Mitchell Kj751 being reported missing January 3, 1945, between Reykjavik and Prestwick. The investigating officer will allocate responsibility, if any, and make a recommendation deemed necessary." Three witnesses were called. The weather was fair to cloudy, with occasional snow. Surface visibility 15 miles falling to one mile in showers. Surface wind NNW 25-30 knots. "On January 2, 1945, the airport reported trouble with the starboard engine. Inspection was carried out and the trouble was considered to be 'too rich mixture when changing to low blower.' Ground tests were satisfactory, and the aircraft was found serviceable. The aircraft left for Prestwick at 1018Z on January 3rd, flight plan giving the height of 9000 feet to take advantage of a clear lane forecast between 7 and 12,000 feet. "Subsequent reports show cloud in the area the aircraft was last known to be in as solid from sea level up to 20,000 feet. At 1224Z, the aircraft was flying above cloud at 16,000 feet, and at 1239Z, it sent a distress signal followed by 'starboard engine gone.' Prestwick, under whose control the aircraft was then operating, got two fixes, but the aircraft did not reply to their request for its height. Contact was lost at 1245Z, but a week unidentified call was heard at 1313Z. search was attempted by two Mitchells in the vicinity and by ASR Warwick, but was hampered by cloud down to sea level. Search on January 4th had to be abandoned by ASR aircraft on account of adverse weather… there is no evidence of any attempt to return to Reykjavik… temperature, -30C, quoted might justify the pilot believing that he would only pick up light rime which would not be dangerous, but the report quoted by the third witness of clear ice being encountered over a temperature range of -18C to -41C indicates a strong possibility that Mitchell KJ751 encountered similar conditions and engine failure was due to ice formation. No evidence of other reasons for engine failure is present, and it is established that, if the aircraft descended into cloud below 10,000 feet, either through the loss of one engine or in an attempt to find the clear lane forecast between 7 and 12,000 feet, it would encounter heavy icing conditions. It is considered extremely probable that the engine failure, and subsequent loss of the aircraft was due to icing, but there is no positive evidence on which to base a verdict or allocate responsibility." The conclusion was made that the primary cause of this accident was engine failure, possibly carburetor failure.
Mr. Jenkins wrote many letters to the Director of Estates RCAF in Ottawa after Jim's death, involving life insurance policies and savings accounts, as well as a dependent's allowance that he received, a portion of Jim's pay, "used for my support as I am crippled and unable to do any work with arthritis. My son made no assignment of pay to anyone else. I am the only surviving relative of J. P. Jenkins." Jim owed the Robert Simpson Co. Ltd. $26.00, settled after Jim died.
Jim's name appears on the Ottawa Memorial and he is remembered on his family's grave marker in Pacific Heritage Cemetery, Burnaby, BC. "He is not dead but sleepeth."