James Alfred Hackett J12097
November 3, 1920 - September 13, 1942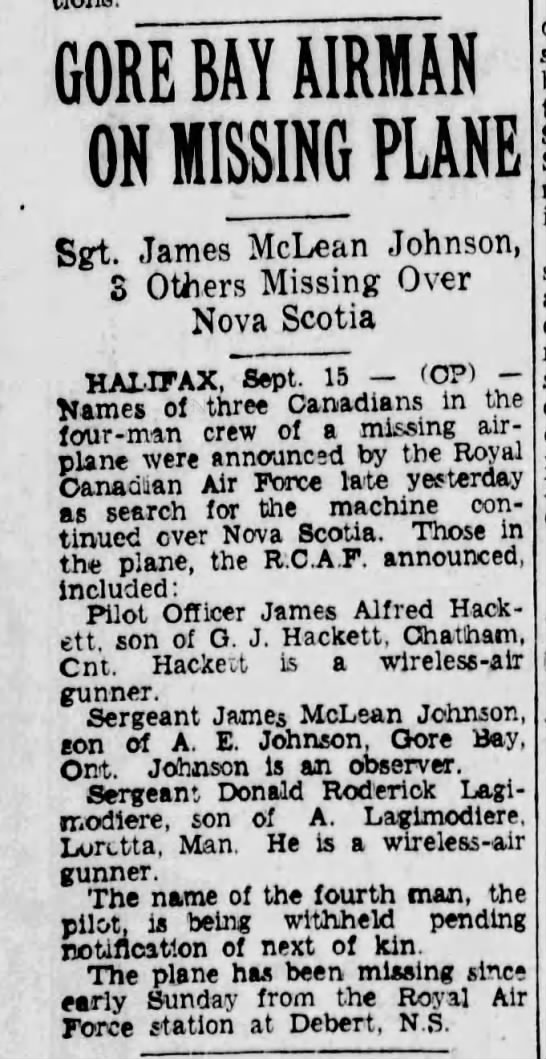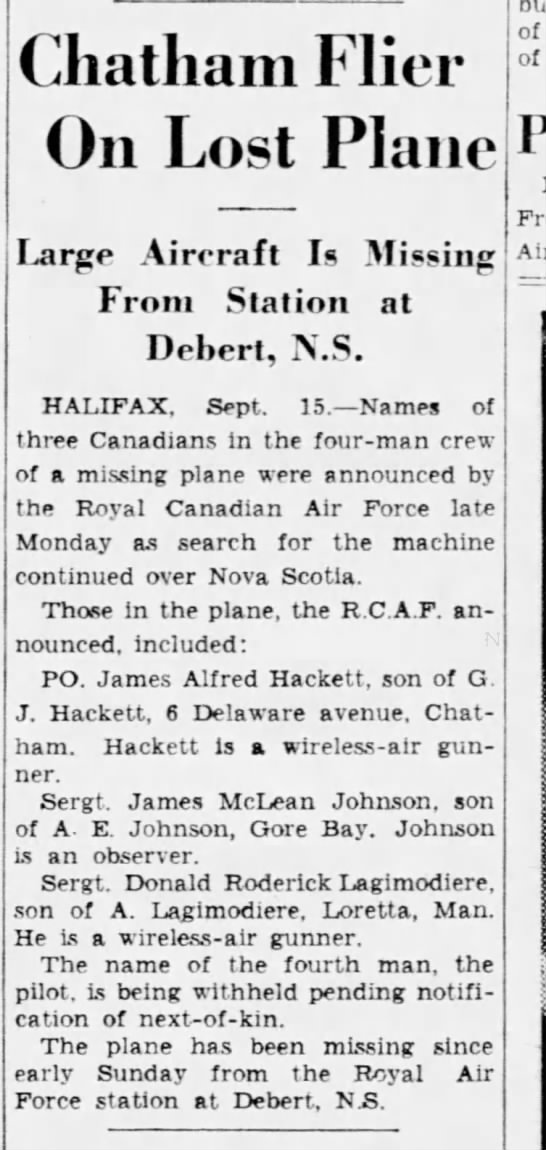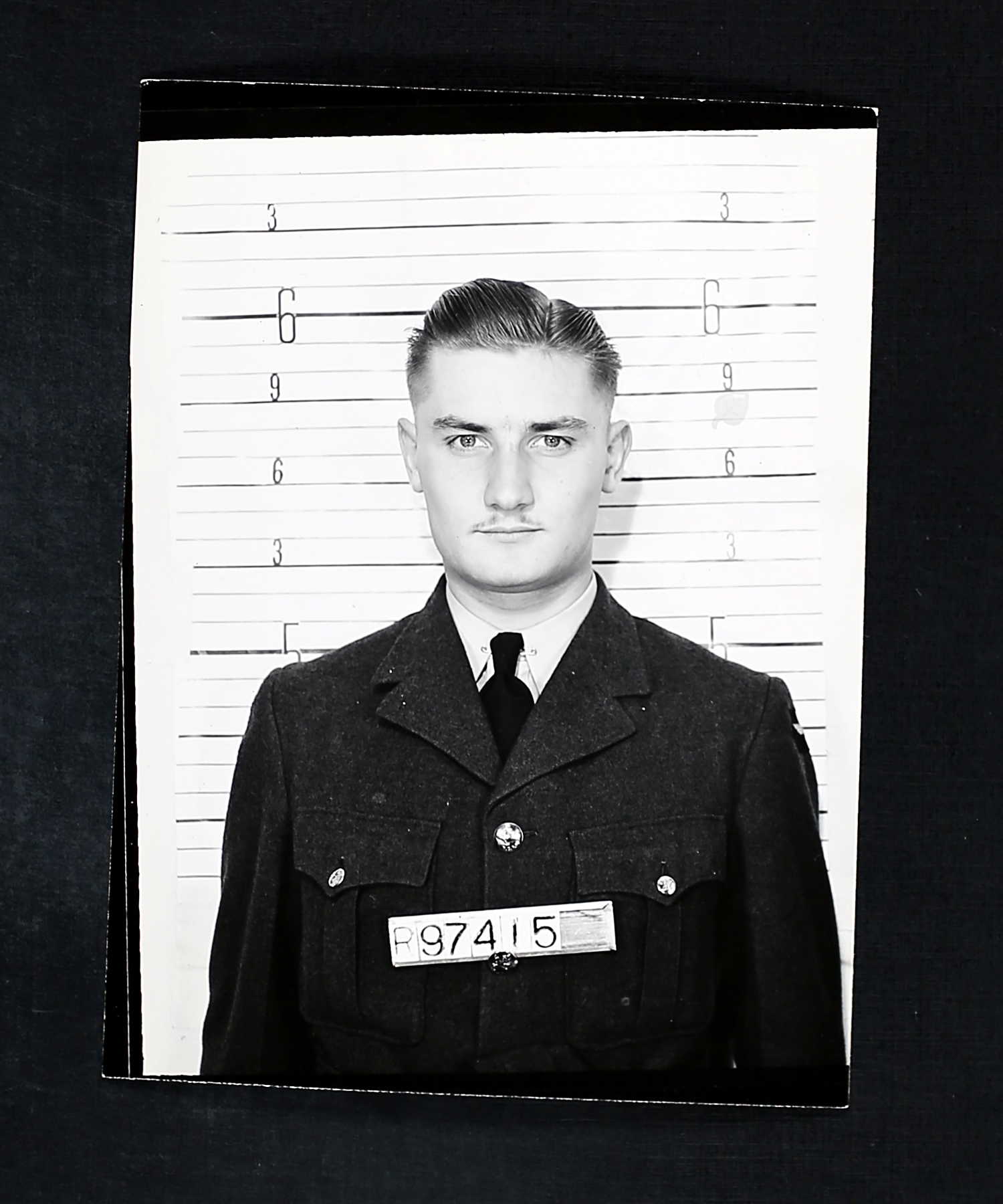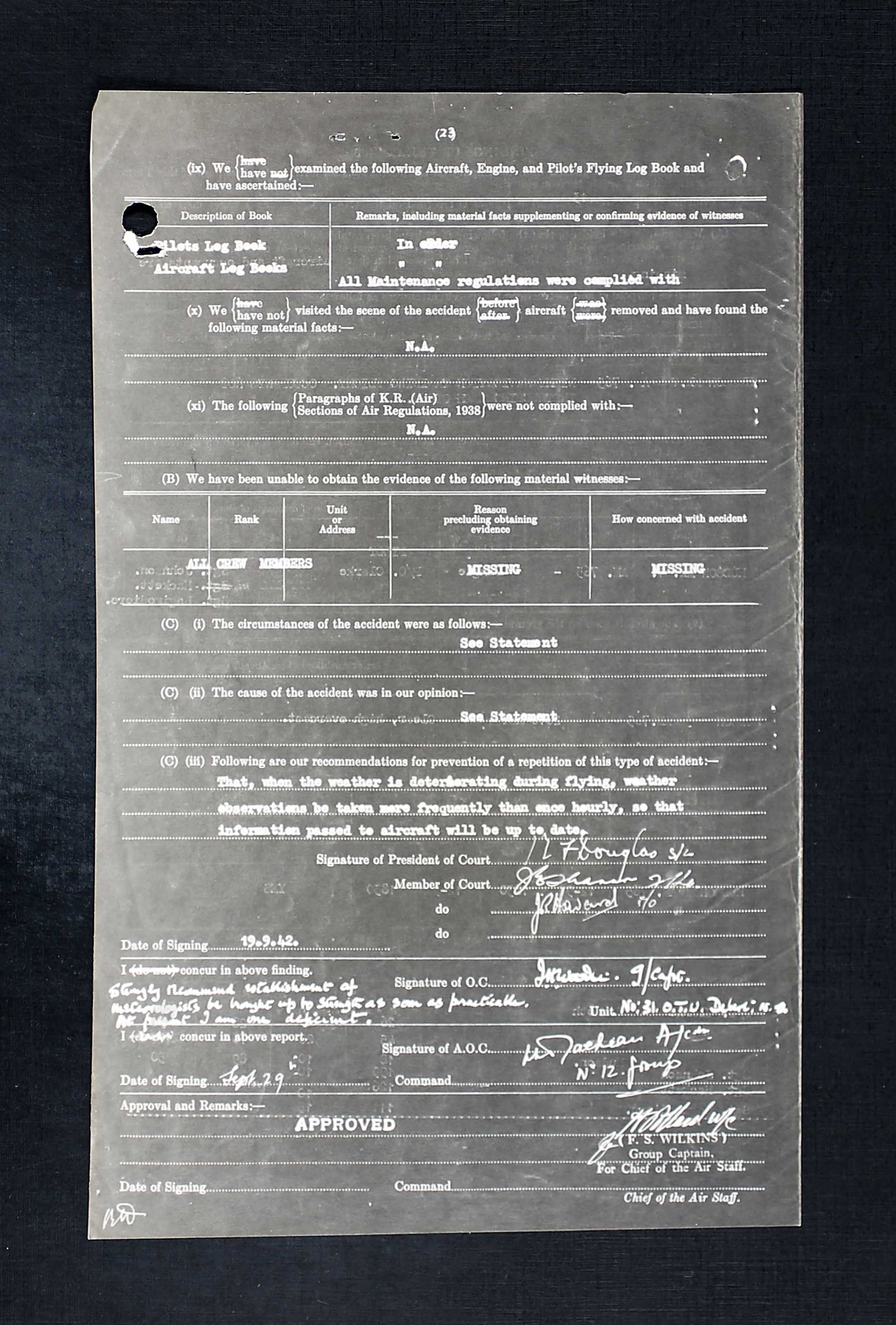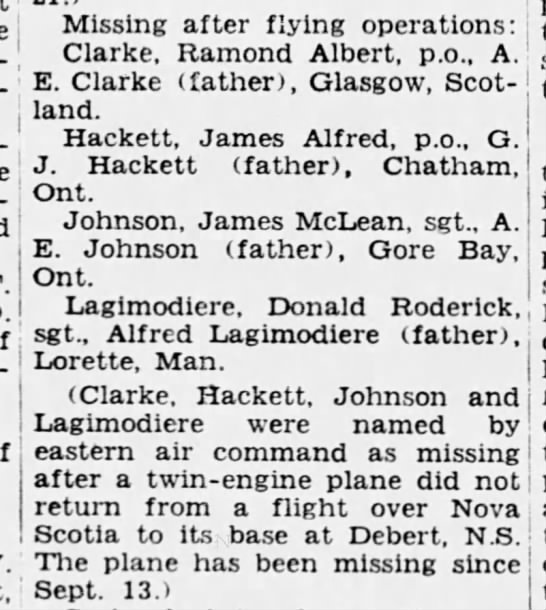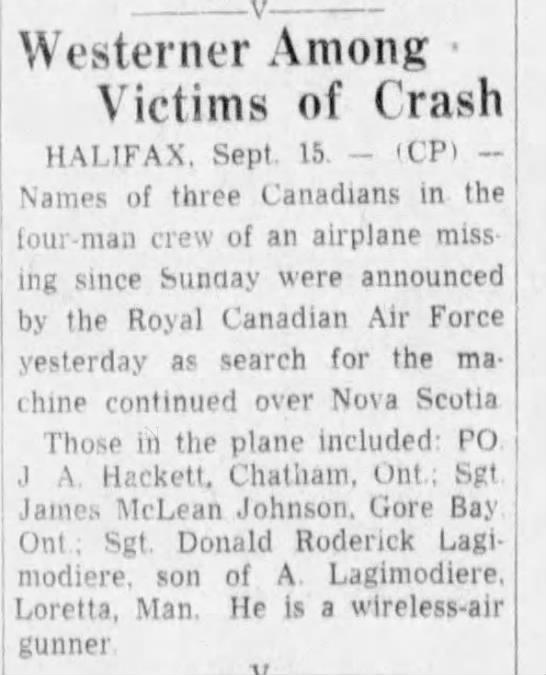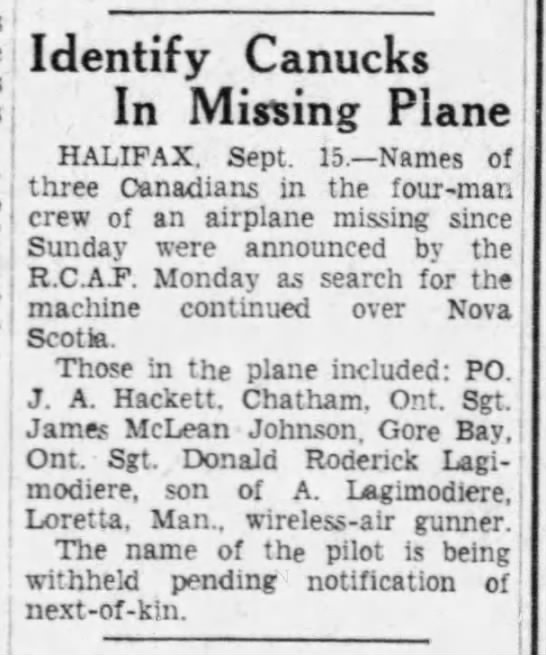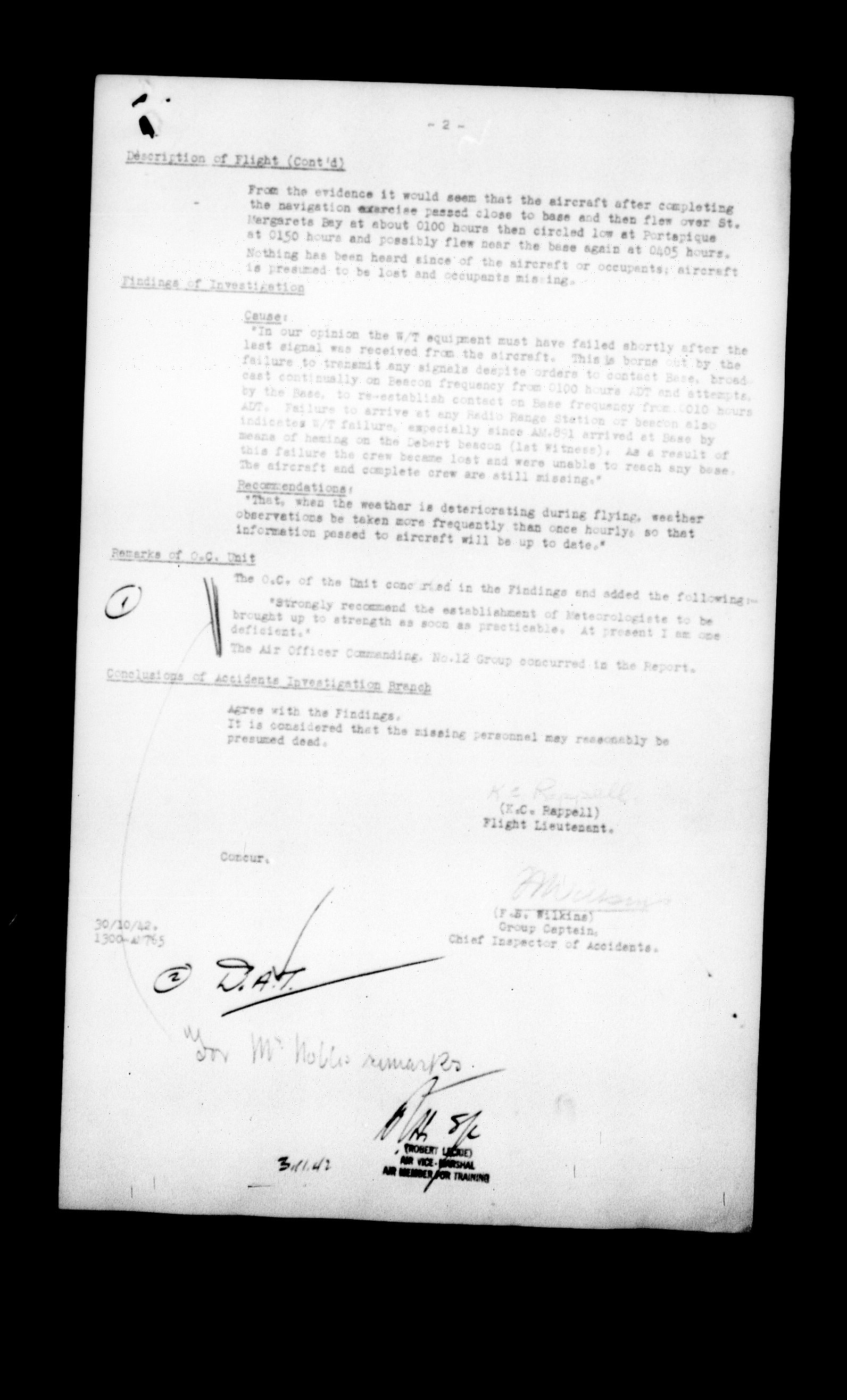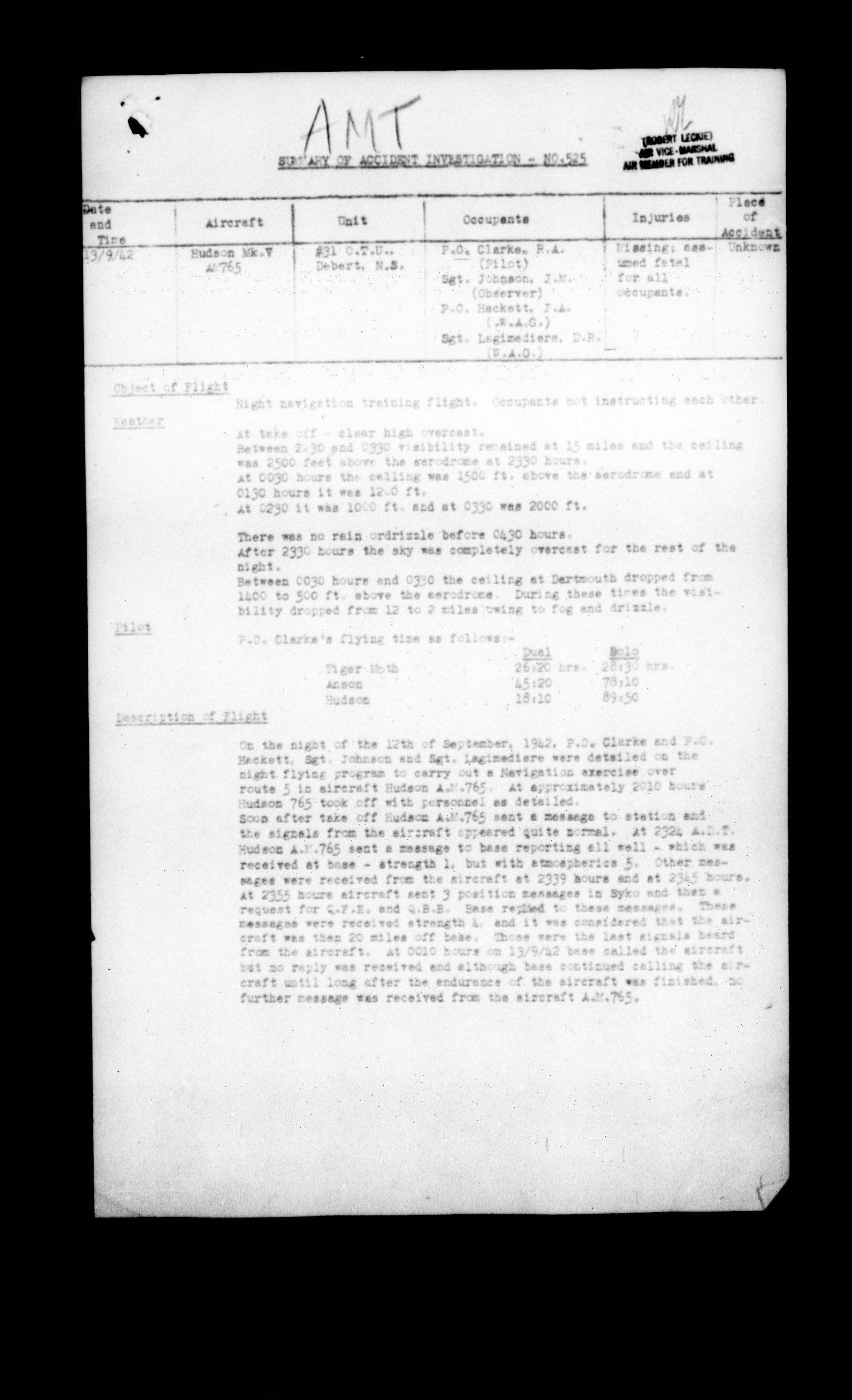 Office clerk joined RCAF and became WOAG. Aboard Hudson AM765, he and crew went missing after a night cross country exercise near Nova Scotia.
James Alfred Hackett, born in Stratford, Ontario, was the son of George James Hackett (1892-1981), a WWI veteran, and Kate 'Kitty' Annie (nee Wildgoose) Hackett (1887-1926), pneumonia) of Chatham, Ontario, later of London, Ontario. He had three younger brothers: Roy, Donald, and Kenneth. He had one younger sister, Kathleen Mary, and younger one-half sister, Mildred. The family was Roman Catholic.

James took night school, commercial, for two years. He was an office clerk for three years at Massey Norris Co. Ltd. in Toronto from 1937-1940… "a young man of good moral character, ad an industrious and efficient clerk." Additional comments: "Mr. Hackett has been employed on several types of office work and has shown himself industrious and ready to learn. His father has been a member of our warehouse staff in Chatham for a considerable number of years and our acquaintance with the family has been very favourable. Mr. Hackett is a valued member of our staff and we believe that any work to which he might apply himself will be handled quite successfully." James had previous military experience: 2nd Bttn 48 Highlanders, NPAM July 19, 1940 to March 12, 1941. After the war, he hoped to study medicine.

"Clean cut boy, intelligent. Keen and alert; smart appearance; reliable and conscientious type. Will work hard and develop into good aircrew material." James fractured his left clavicle at age 4. He liked to play the violin and was a member of the Don Rowing Club. He swam and boxed occasionally. He smoked cigarettes rarely and drank one glass of alcohol every two weeks. A 1" scar on the bridge of his nose and vertical scar on his forehead were noted. A cyst was removed from his face as an infant. He stood 5'11" tall and weighed 151 pounds. "Wiry, alert. Very fit considering he had a herniorrhaphy quite recently [Feb 1941]." He had blue eyes and light brown hair.

James started his journey through the BCATP at the Toronto Recruiting Centre on March 13, 1941. He was then sent to No. 1 Manning Depot, Toronto, July 7, 1941. From there, he was at No 1 E. D. Toronto August 1, 1941, then sent to No. 4 Wireless School, Guelph, Ontario, October 26, 1941. He was tenth in his class of 118 with 90.1%. He earned his WO badge on May 8, 1942.

James was at No. 1 B&G School, Jarvis, Ontario May 10 until July 3, 1942. He was first in his class of 34 and passed with 83.8%. He earned his AG badge on June 8, 1942. "An excellent student both keen and intelligent. Conscientious and most reliable, quick to size up situation and take the initiative."

He was then sent to No. 31 O.T.U., Debert, Nova Scotia.

On a training flight aboard Hudson AM765 [details found on Microfiche C-5934, starting at image 5414] CREW: *P/O James Alfred Hackett, Chatham, Ontario, WAG, *Sgt James McLean Johnson, Gore Bay, Ontario, observer, *Sgt. Donald Roderick Lagimodiere, Lorette, Manitoba, WAG, and *P/O Raymond Albert Clarke, RAF, parents residing in Surrey, England, were lost on September 13, 1942. It was a night cross country, "Route 5."

From the Court of Inquiry: DESCRIPTION OF FLIGHT: On the night of the 12th of September 1942, P/O Clarke and P/O Hackett, Sgt. Johnson, and Sgt. Lagimediere [sic] were detailed on the night flying program to carry out a navigation exercise over Route 5 in aircraft Hudson AM765. At approximately 2010 hours, Hudson 765 took off with personnel as detailed. Soon after take-off, Hudson AM765 sent a message to station and the signals from the aircraft appeared quite normal. At 2324, Hudson AM 765 sent a message to base reporting all well, which was received at base. Strength 1, but with atmospherics 5. Other messages were received from the aircraft at 2330 hours and at 2345 hours. At 2355 hours, aircraft sent 3 position messages in Syko and then a request for QFE and QBB. Base replied to these messages. Both messages were received strength 4 and it was considered that the aircraft was twenty miles off base. Those were the last signals from the aircraft. At 0010 hours on 13/9/42, base called the aircraft by no reply was received and although base continued calling the aircraft until long after the endurance of the aircraft was finished, no further message was received from the aircraft AM765."

There was no rain or drizzle before 0430 hours. At take-off: clear high overcast.

P/O Clarke's flying time was noted on Tiger Moth, Anson and Hudson. Hudson: 18:10 hours dual and 89:50 solo.

It would seem that the aircraft after completing the navigation exercise passed close to base and then flew over St. Margaret's Bay at about 0100 hours then circled low at Portapique at 0150 hours and possibly flew near the base again at 0405 hours. Nothing has been hear since of the aircraft of occupants. Aircraft is presumed to be lost and occupants missing.

CAUSE: In our opinion, the W/T equipment must have failed shortly after the last signal was received from the aircraft. This is borne out by the failure to transmit any signal despite orders to contact base, broadcast continually on Beacon frequency from 0100 hours and attempts by the base to re-establish contact at Base frequency from 0010 hours….RECOMMENDATIONS: That, when the weather is deteriorating during flying, weather observations be taken more frequently than once hourly so that information passed to aircraft will be up to date." It was also recommended that the establishment of meteorologists to be brought up to strength as soon as practical. The station was one deficient.

James was engaged to Catherine Barron of Toronto. She was the sole beneficiary of his will. Mr. Hackett was the beneficiary to the life insurance policy. James had an extensive list of personal belongings.

At the end of October 1955, Mr. Hackett received a letter informing him that since James had no known grave, his son's name would appear on the Ottawa Memorial.