James John Pierre Hector Doran J11496
June 29, 1912 - August 17, 1942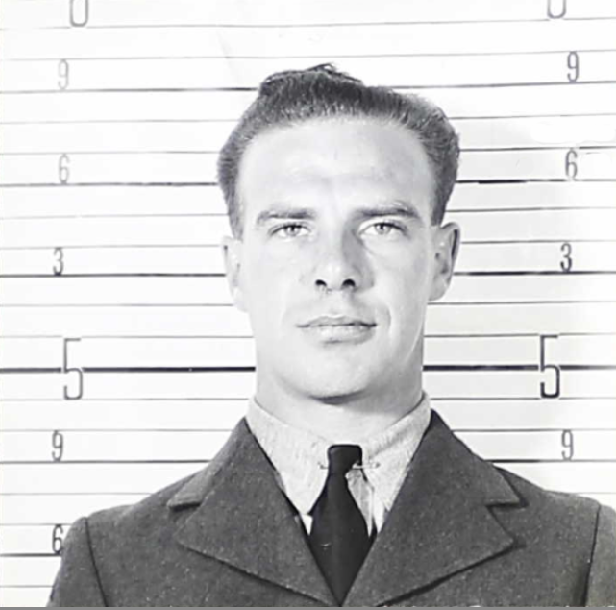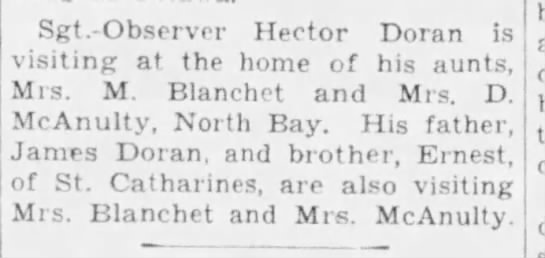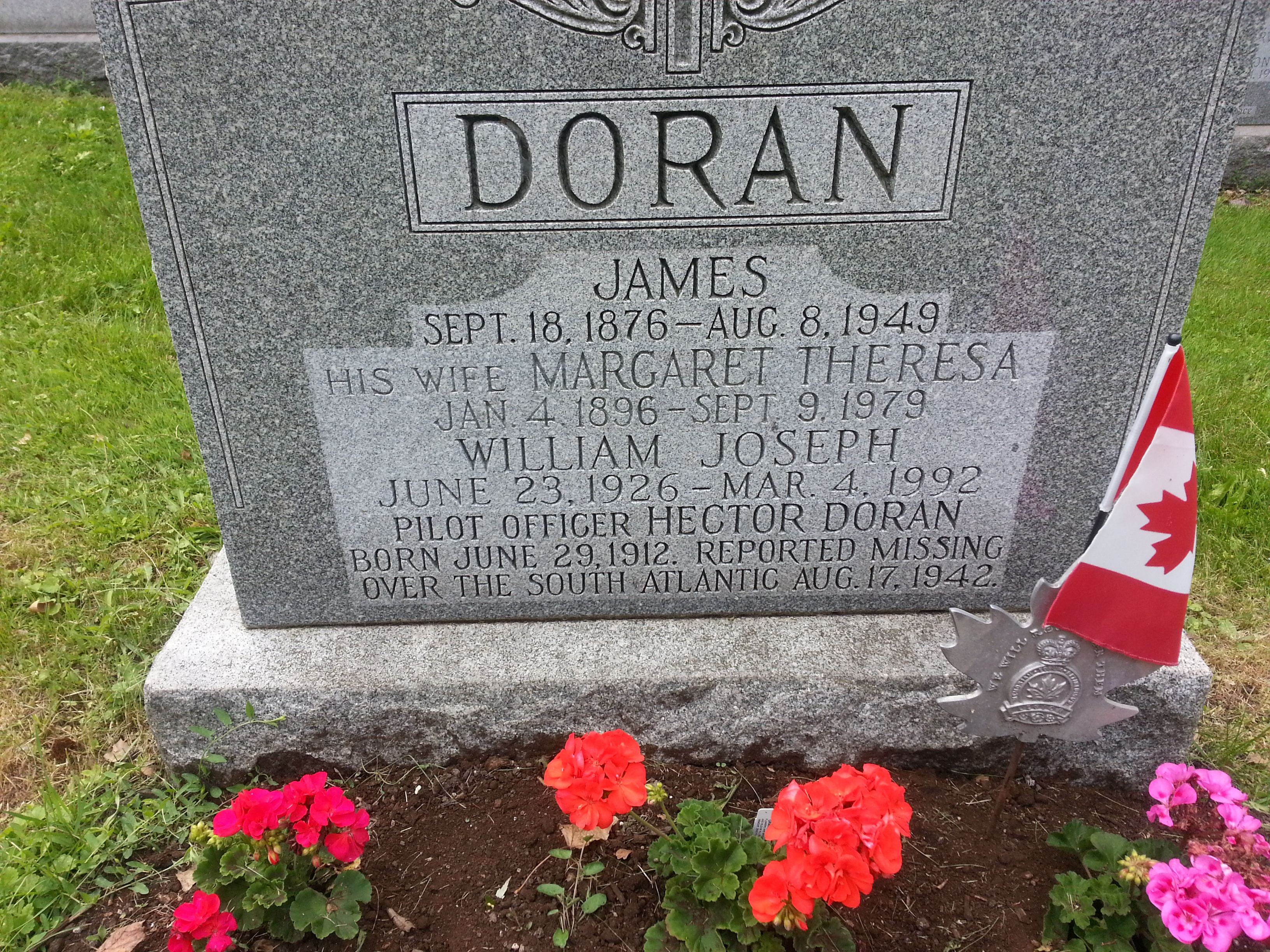 Sub-station operator became observer with RCAF. Soon after being posted to Ferry Command, he and two others were lost aboard Marauder FK119 over the Atlantic Ocean.
James John Pierre 'Hector' Doran, born in Fort William, Ontario was the son of James Doran (1876-1949), locomotive engineer, and Mary Josephine Leronie (nee Belanger) Doran (d. 1914). His stepmother was Margaret Theresa Doran (1896-1979). He had one half-brother, William Joseph (1926-1992) and a full brother, Ernest. He also had a sister, Mrs. Mac Spenser, plus two half-sisters: Doreen and Lola. The family lived in Merritton, Ontario, and later in St Catherines. The family was Catholic.
In school, Hector was first in British and Ancient History, plus Algebra. He worked for Spruce Falls Power and Paper Co Ltd. since June 1929, as an assistance sub-station operator, electrician, and motorman, in the electrical department. He had $689.63 at the Imperial Bank of Canada in Kapuskasing, Ontario, plus 3-$5.00 War Savings Certificates and $100 in Victory Loan Bonds. He also had four life insurance policies. He also held many mining stock certificates.
Hector enlisted in North Bay, Ontario on May 22, 1941, hoping to fly for the RCAF. On his interview report, he had school cadets as previous military training. He liked tennis, badminton, skating, skiing, and sports in general. "This young man qualified for air crew duties as to education. Well built. Mannerly, intelligent. Should develop into a good air crew member. Best fitted for pilot or observer."
Hector stood 5'8" tall and weighed 148 pounds. He had blue eyes and brown hair, with a fair complexion. He had a partial upper dental plate. "Divergent squint in left eye."
At No. 3 ITS, Course 36, Victoriaville, Quebec, from September 13 to November 7, 1941: "2nd out of 20. 89%. Responsive, rugged type. Good background. Mature and serious. Very good material. Commission." He was passed to No. 8 AOS until February 16, 1942. "A very reliable navigator with a sound background of theory. Did well in armament although with more attention could have done better. Responsible. Pleasant personality. Older than average. 10th out of 25 in class. 78.3%." James was then sent to No 4 B&G School, Fingal, Ontario. "6th out of 31 in class. 72.5%. Straight forward. Takes a keen interest in his work." He earned his Observer's Badge on March 28, 1942.
At No. 2 ANS, Pennfield Ridge, NB, from March 30 to April 27, 1942: "A very hard worker. Inconsistent in ground school. Was expected to show better results in examinations. 39th out of 97 in class. Older man, well matured, steady and reliable. Practical. Should make a suitable officer."
He was sent to 1Y Depot, Halifax April 29, 1942, then to No. 31 O.T.U. Debert, Nova Scotia proceeding to Gander, Newfoundland June 15, 1942.
He travelled back from the UK by boat on June 26, 1942. On July 27, 1942, he proceeded by air to the UK and again in August 1942. Aboard Marauder FK119 along with two other men, they were lost ferrying the aircraft over the Atlantic Ocean on August 17, 1942.
Hector's name appears on the Ottawa Memorial as well on the family headstone at Victoria Lawn Cemetery, St. Catharines, Ontario.
Squadron Leader Geoffrey Robinson (RAF) 40020 and George Frederick Lyman-Dixon (RAF) 1227812, were also lost aboard Marauder FK119. Their names appear on the Runnymede Memorial in the United Kingdom.