James Wyreman Charles R255007
February 25, 1924 - May 4, 1944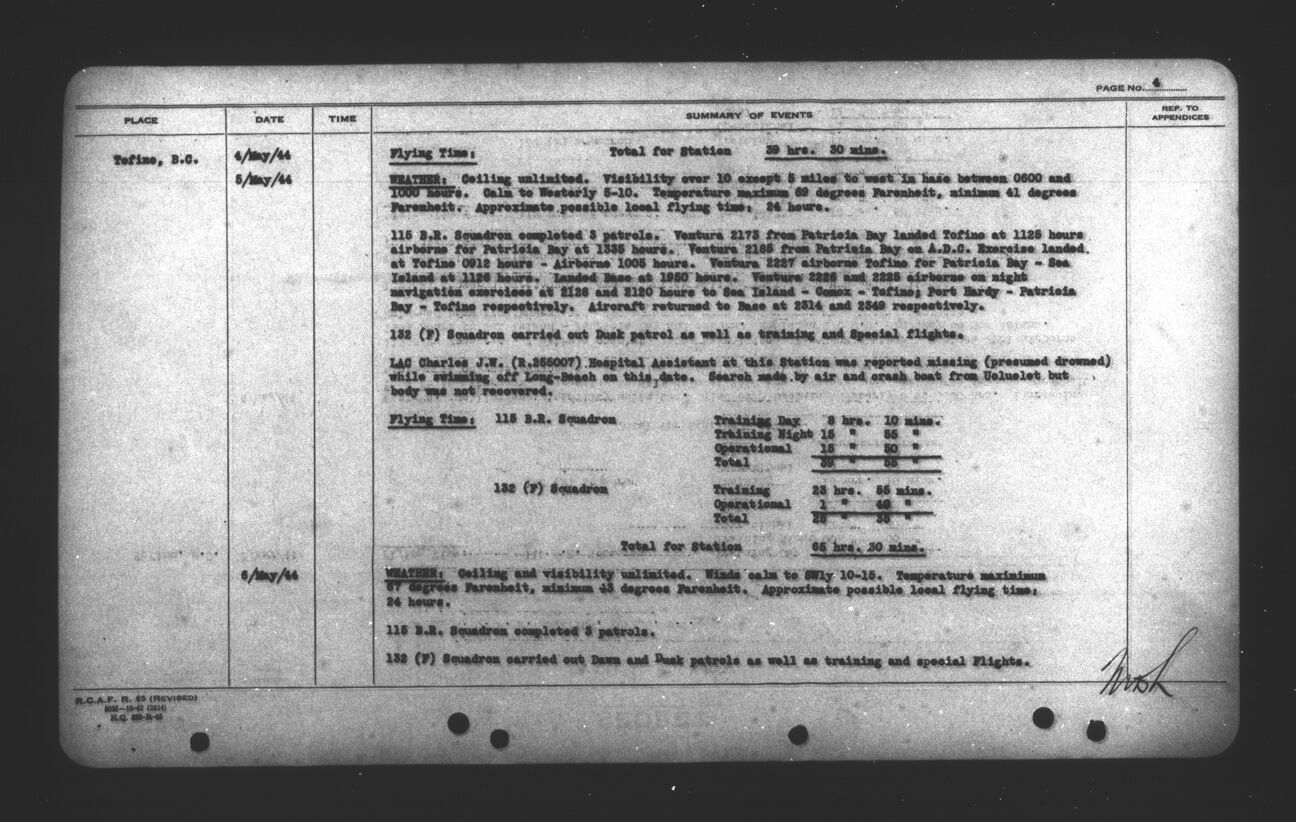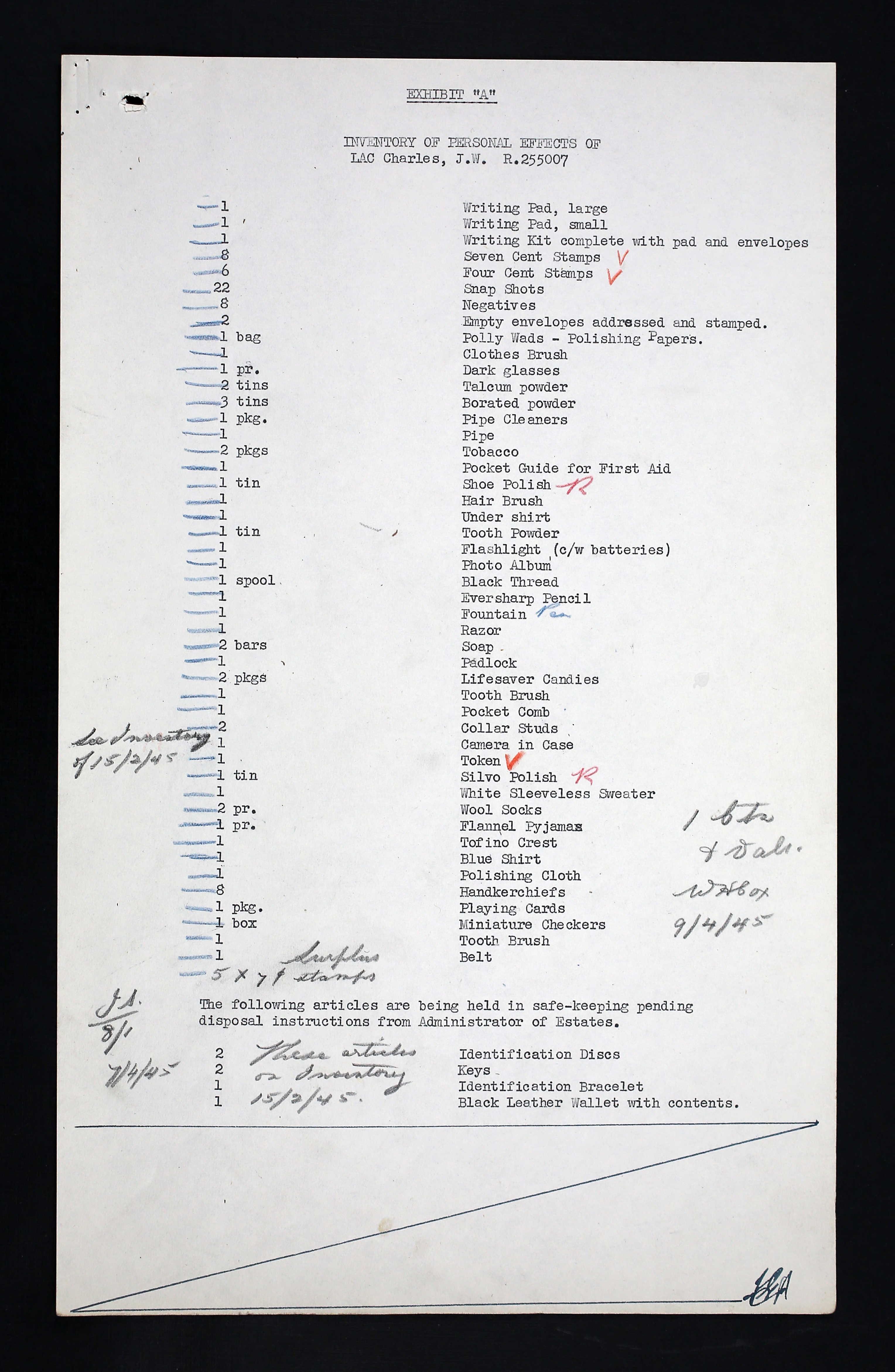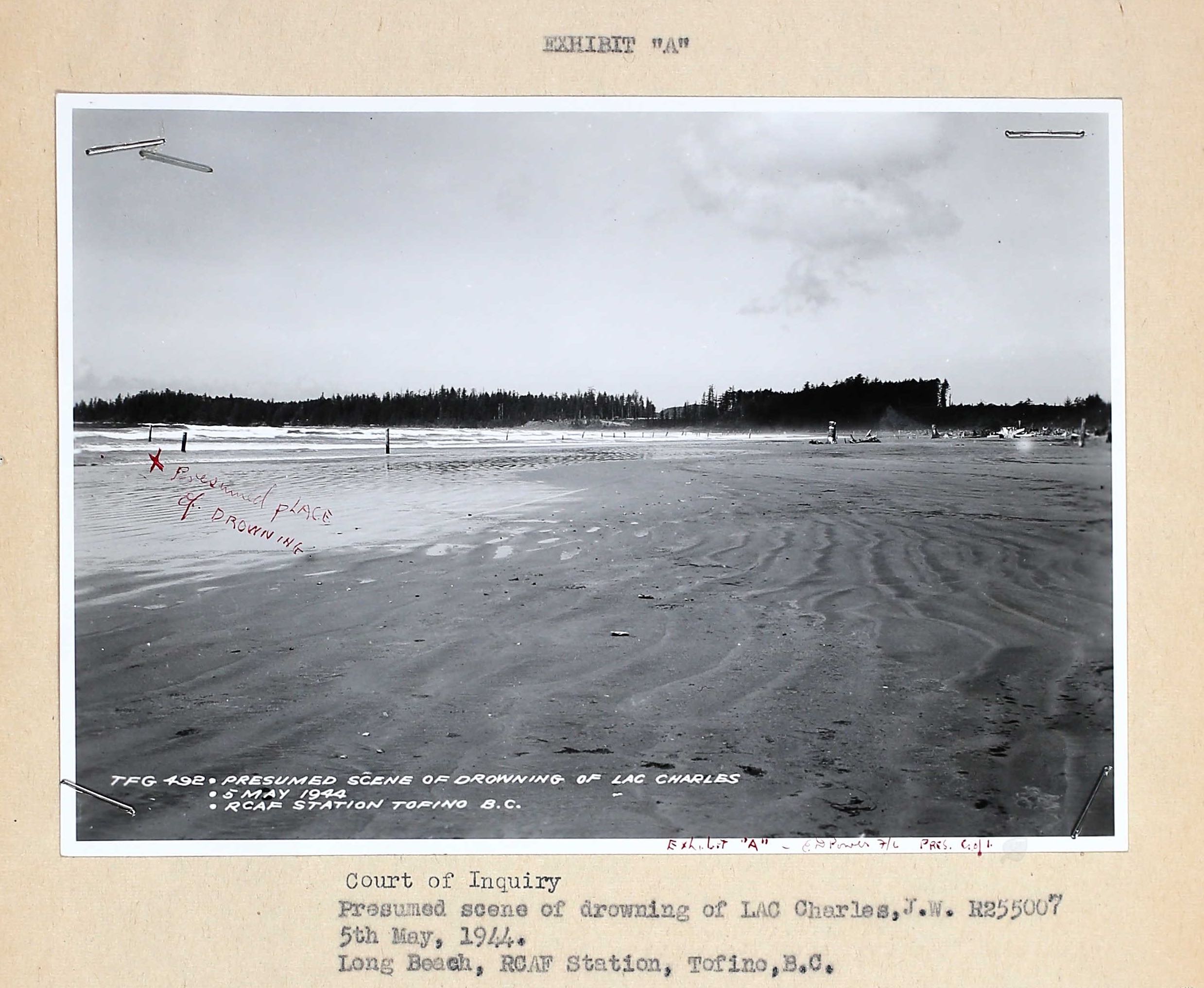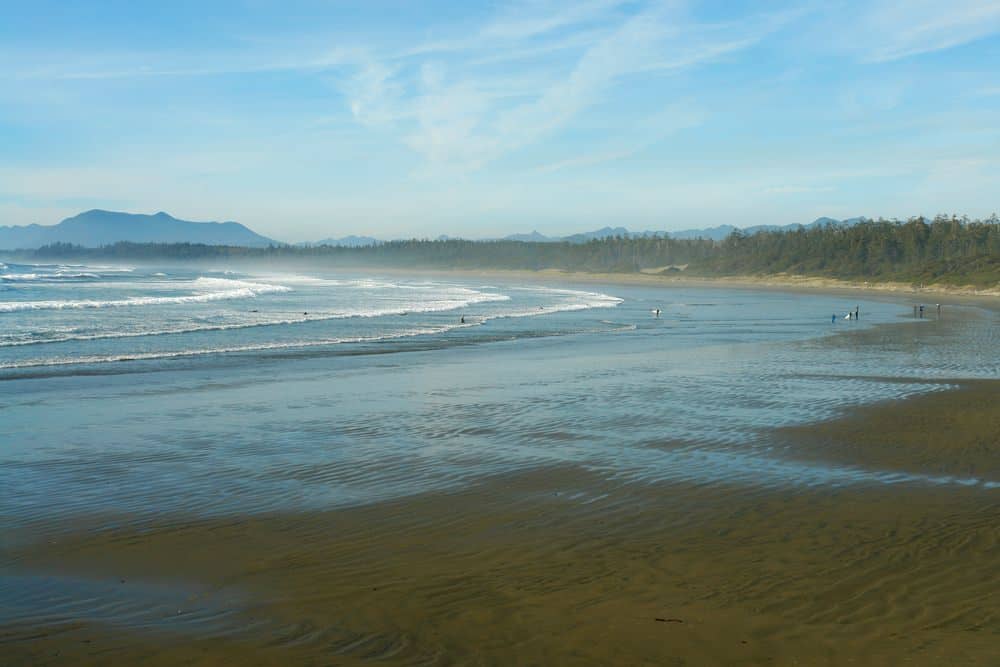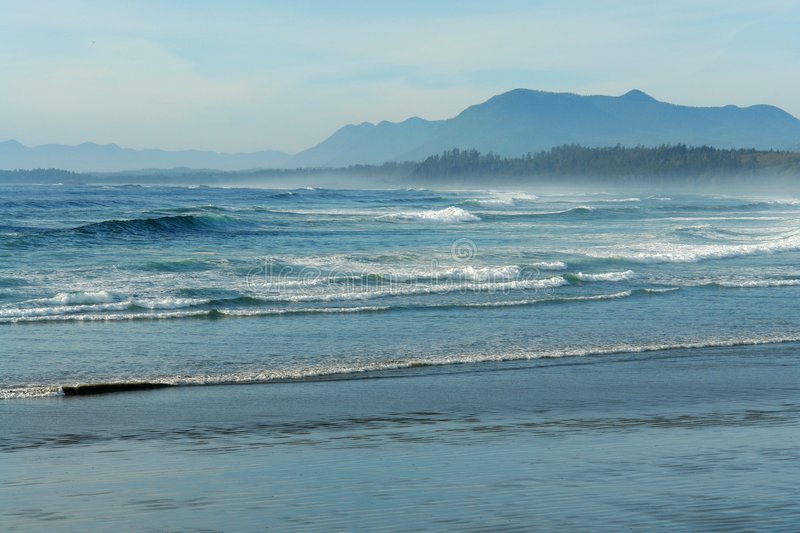 Leading Aircraftman drowned while playing in the waves at Tofino, BC.
James Wyreman Charles was the son of William James Charles, pharmacist, and Elizabeth Turner (nee Shultis) Charles of Toronto, Ontario. He had one brother, William, and four sisters: Lucy, Isabel, Mary, and Grace Hunt. One sister, Doris, died in infancy in 1922. The family was Anglican. Elizabeth was a widow when her son enlisted in the RCAF. Her husband died in October 1928.
He had a Grade 12 education, attending school in Ontario up until 1943 and liked rugby and hockey, skating and gym, noting he was a manager for the sports teams. He liked to do woodwork and collect stamps. He weighed 110 pounds, 5' 4 ½", medium complexion, brown eyes and dark brown hair. He had two small scars on the centre of his forehead. He was recommended for ground duties.
No. 11 Recruiting Centre, Toronto, Ontario: January 25, 1943: F/L M. Powell stated: "Not quite 19. Average sort of chap. Pleasant, easy manner, assured and moderately assertive. Intelligent and alert. Keen to fly and fight. (A pal was shot down and taken prisoner.) Accepts any category aircrew. Moderately active in sports. Does not look very strong, but is wiry and quick-witted. Good average material if physically accepted." He was considered underweight, but had a good health history.
"Unfit aircrew on account of eyes. Now desires hospital assistant. Interviewed by S/L Bell and found acceptable as experienced hospital assistant since he holds Sr. St. John's Ambulance Certificate." March 20, 1943, F/L R. W. Philp
Hospital Assistant's Course: May 7, 1943 - June 7, 1943: 68.6%. Passed. 16th out of 49 in the class. Assessment: Average. Nursing Sister M. L. Hargrave, No. 1 KTS, RCAF, Trenton: "A satisfactory type of airman, interested and co-operative. Will do very satisfactory work. Certificate of St. Johns Ambulance obtained."
From Trenton, he arrived in Vancouver on July 1, 1943 and was sent directly to the RCAF Station, Tofino, BC.
June 10, 1943: RCAF Tofino: "This airman is very emotional. He shows marked immaturity with unstable reactions. Considered unfit." F/L J. E Bradley.
Mrs. Charles received assigned pay from James. She was his sole heir, but if she predeceased him, his niece, Shirley Ann Hunt, and her brother, Charles Thomas Hunt, were to share his whole estate.
At 1800 hours, May 5, 1944, at Long Beach, British Columbia, James drowned while off duty swimming, 'an accident due to a cause within his own control.' Court of Inquiry struck and was held in Tofino and Ucluelet from May 12 - May 26, 1944. It resumed again on June 9, 1944 for one hour.
First witness, LAC William Crosby Roy, Chef at Station Hospital, Tofino, BC stated: "On Friday, May 5, 1944 May fifth, I the hospital to swim with LAC Charles. We have been in the water about 20 minutes playing around in water up to our waists. He started to go out further although I warned him not to, when suddenly a big wave about 7 feet high came right over us. It days to me and when I looked around, he was about 10 feet away. I can see he had been washed off his feet and was in trouble, his arms were thrashing about in the air and his mouth was open. I swam over and got a hold of him when another wave hits us and I lost him. I got a hold of him again and the same thing happened. The third, I grabbed his hair but he was washed away for me and went under and I never saw him again. "By this time we have been watched several hundred feet down the beach. I couldn't see him anywhere and I was pretty far gone myself, so I swam ashore and ran up to the hospital. I found Dr. Sharpe in the canteen and told him what happened and then I fainted. There was no one else on the beach at the time. I am used to swimming in this water but leading aircraftman Charles came from Toronto and was not accustomed to big surf." When asked further questions, LAC Roy stated that he and LAC Charles had supper at 1700 hours on May 5, 1944. "I do not believe that LAC Charles could swim at all."
The second witness, F/L William David Sharpe, Medical Officer on temporary duty at RCAF Station Hospital, Tofino, BC stated: "At approximately 1800 hrs. on May 5, 1944fifth nineteen forty-four, I was informed by LAC Roy that LAC Charles have drowned. Roy had run from the beach to the hospital and after making his statement, fainted. I for assistance patrol the beach for one hour in the ambulance. At the end of that time there was about 20 persons patrolling the beach area, and I consider that undoubtedly the eight key for said Charles had been drowned. I arrange for a boat from Ucluelet to continue to search and got the squadron to send out a plane."
Third witness, S/L Robert Norman Dick, Senior Medical Officer, RCAF Station Tofino stated: "LAC Charles was employed under my command as a hospital assistant. He was off duty as of 1400 hrs. on May 5, 1944. While swimming at Long Beach engaged in recreation, it would not be considered as part of his physical training leading to physical fitness with approval of the commanding officer and under the general supervision of sports or similar officer. The drowning could have been caused by an attack of cramps."
The fourth witness, S/L James Adamson Thompson, Commanding Officer No. 132 (F) Squadron, RCAF Tofino, stated: "On May 5, 1944 to approximately 1840 hrs., I received a request from Flt Lt. Sharp, medical officer at Station Hospital, to initiate a search for LAC Charles who had been drowned off Long Beach. I searched in the Harvard for one hour and 55 minutes when Flying Control recalled me. I covered the full length of the beach and about half a mile out to sea, but did not see any sign of the body."
The fifth witness, WO2 Edward Daykin, Master of RCAF Marine Crft M235 'Huron' of the RCAF Station, Ucluelet, stated: "I departed from base at 1825 hrs. on receiving phone message from medical officer, Ucluelet to proceed and search an area approximately half a mile off shore: Wickaninnish Bay. 1910 hrs.: arrived on position commenced cruising in area for. Of one hour and 47 minutes, during which time nothing was seen of the body or of any object which might have reasonable anybody. 2056 hrs.: received signal from Ucluelet to return to base and returned at 2136 hrs."
The sixth witness, WO2 Peter James Ernest Taylor, Station Warrant Officer, RCAF Station, Tofino stated: "Accompanied by F/S E. K. McMillan, I proceeded to long beach comment phenol, at approximately 1830 hours, May 5, 1944 , making a car patrol and on foot until darkness. I then proceeded back to the station leaving the service police personnel on the beach. I was in touch with the station adjutant and was instructed by him to form a party and proceed to the beach with the searchlight tender. We have a crew with the Searchlight tender patrol the beach all night without avail. The crew was relieved at 0800 hrs. and the relieving crew patrol the beach all day, and I also checked periodically during the day. In the evening that crew was relieved by another patrol who carried out a search throughout the night. The following day accompanied by a patrol, I went on a walking tour from Wreck Bay to Schooner Cove. No results for found that day, so instructions were given to the service police to make periodic patrols of long beach. On the ninth and 11 May, I made another patrol in a motor transport vehicle along the beach. On 10 May, the service police me periodic patrols. The reason for the lapse of time of not making foot . Since 11 May, the service police have been making periodical patrols of Long Beach."
The seventh witness, FS Earle Kitchener McMillan, NOC, in charge of Service Police, RCAF Station, Tofino stated: "At approximately 1830 hrs. on May 5, 1944, Cpl. Peterson with the service police informed this witness that an airman LAC Charles, employee in the hospital have been swimming in long beach just below the hospital and had apparently drowned. Accompanied by WO2 Taylor, station warrant officer, I immediately proceeded to the beach in the service police patrol car. The car was then driven up and down the beach as close to the water as possible in an effort to cite and recover the body, if possible. This search was carried out until darkness without avail. I then left word with the service police that at daybreak, a further search was to be conducted. This was carried out in a special crew was taken to search rocks, etc., at the east end of the beach. Since the 5th, the beach has been patrolled periodically by the service police without results. The British Columbia police were notified of the tragedy."
A photograph was produced as Exhibit A taken of the location of the presumed drowning of LAC Charles. Corporal Henry Gaeton Tissot, was the photographer in the Photographic Section, RCAF, Tofino.
The ninth witness, LAC Joseph Rosaire Francois Xavier Boyer, driver transport, stated, "At approximately 2030 hours, May 5, 1944, I was detailed to proceed on an authorized run with LAC Doyle as driver of the floodlight tender to Long Beach for the purpose of patrols from 2100 hours, 5th of May, 1944, until 0700 hours, 6th of May 1944. During this time, I was in charge of the floodlight. I did not see anything."
The tenth witness, LAC Michael Thomas Doyle, Driver Transport, RCAF Station, Tofino, BC stated: "I was detailed for driver of the floodlight tender at 2030 hours May 5, 1944 to proceed on patrol at 2100 hours. We then proceeded to patrol the area, approximately five miles of shoreline. We travelled at about five miles per hour and during that time nothing was seen of the body or of any object that would resemble a body. Several times during the night at that part of the beach which is rocky, we stopped the floodlight tender and investigated the crevices among the rocks with flashlights."
The Court of Inquiry recommended: "that swimming in this area be restricted to such sections of the beach which may be considered safe." The findings: "LAC Charles is presumed to have met with death by drowning. LAC Charles was not on duty at the time of presumed drowning. It is presumed that the drowning was due to his own carelessness in that he ignored the dangers of that particular part of Long Beach."
On June 9, 1944, the Court of Inquiry reassembled and submitted the additional findings: "A contributing cause to the drowning may have been a seizure of cramps caused by going in the extremely cold water too soon after eating. LAC Charles was presumed to have drowned at an approximate place on Long Beach, RCAF Station Tofino, BC, at approximately 1800 hours on Friday, May 5, 1944. LAC Roy was the only person present with LAC Charles. No negligence can be attributed to LAC Roy."
Mrs. Charles wrote to the Secretary of the Department of National Defense for Air in Ottawa in April 1945, scolding them for the delay. "I would like the rest of my son's personal things which I was told a long time ago I would get. Also his balance of pay which is $69.02...it is nearly a year now, and this should be settled. Also I am entitled to his gratuity as I received assigned pay before he lost his life. I would like the rest of his personal things. I have written so many times, that I do hope I receive everything this time." James's sister, Lucy, a WREN, also wrote a letter asking similar questions on behalf of their mother.
A letter was sent to her promptly. Besides the $69.02, she received a $50 Fifth Victory Loan bond. James's personal belongings were located at his unit after he was reported missing reached Ottawa and would be forwarded to her within the next few days in a carton, prepaid express and a parcel by registered mail.
James's personal belongings included a Kodak Jiffy Camera, an Oris wristwatch, a wallet, one package of letters, a bicycle license, his identity discs and a key, an identity bracelet, an unemployment car, an ARP card, a Parkdale Collegiate card, and RCAF identity card and two streetcar tickets.