Jack Murray R26076
August 29, 1924 - October 3, 1944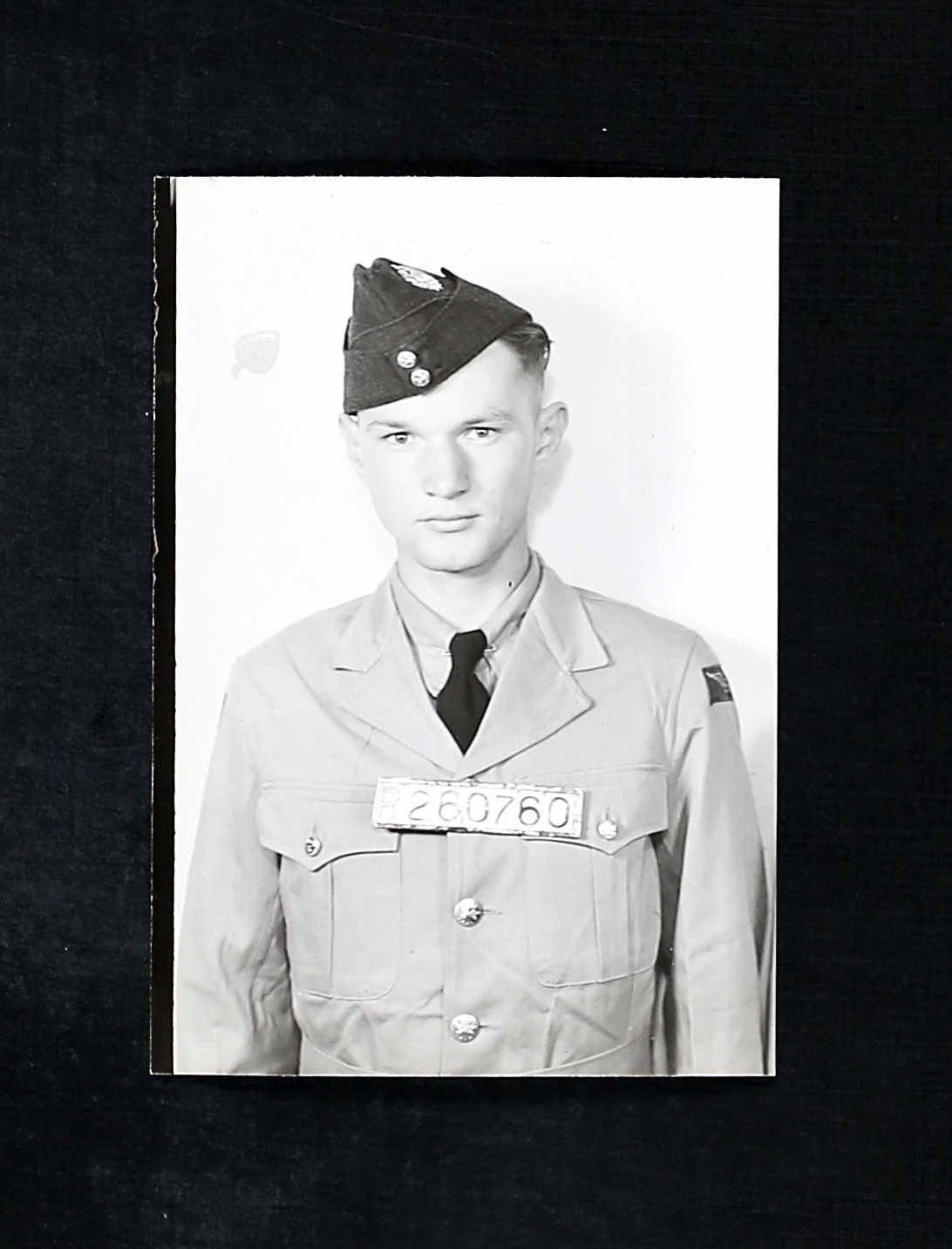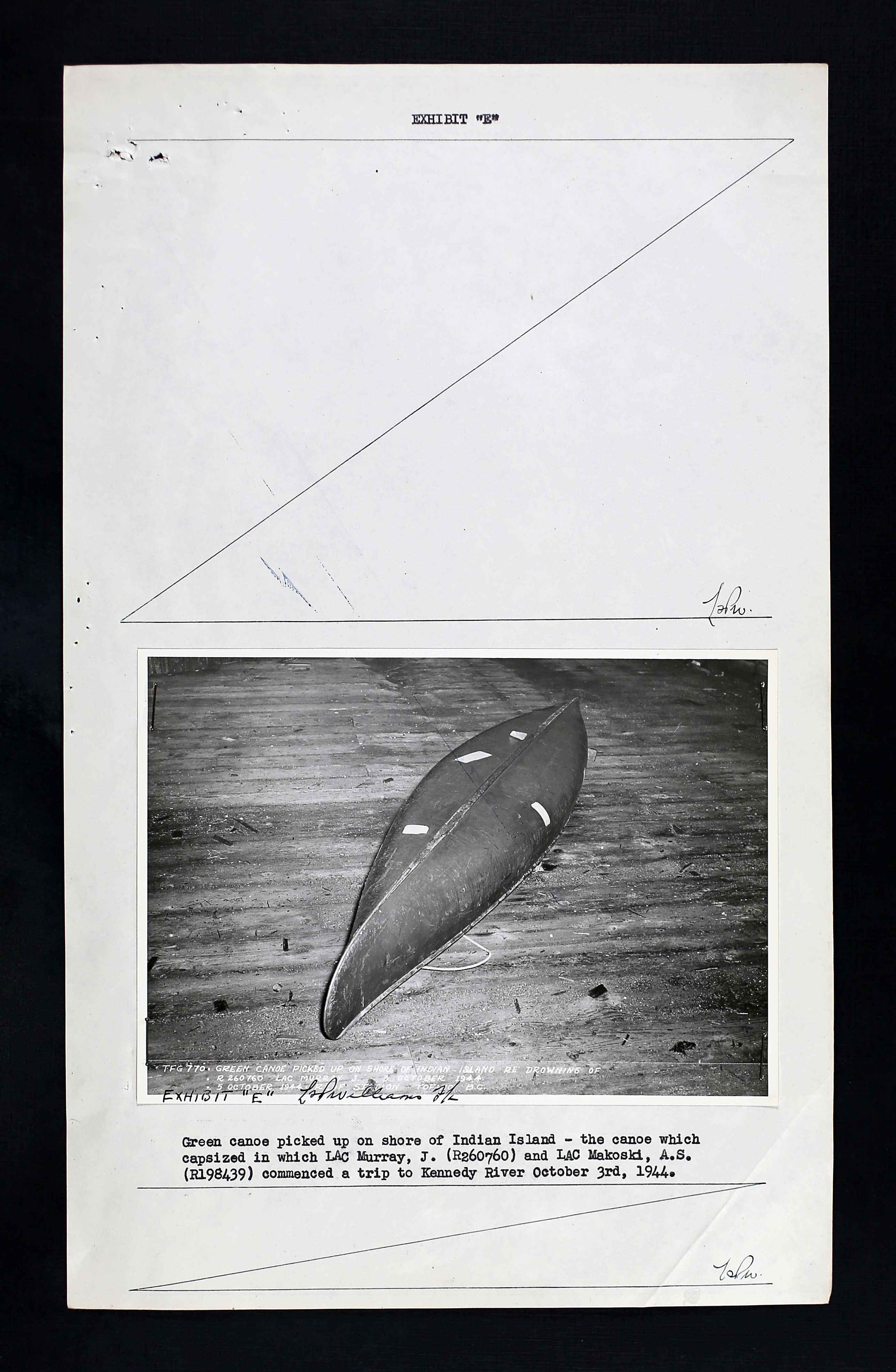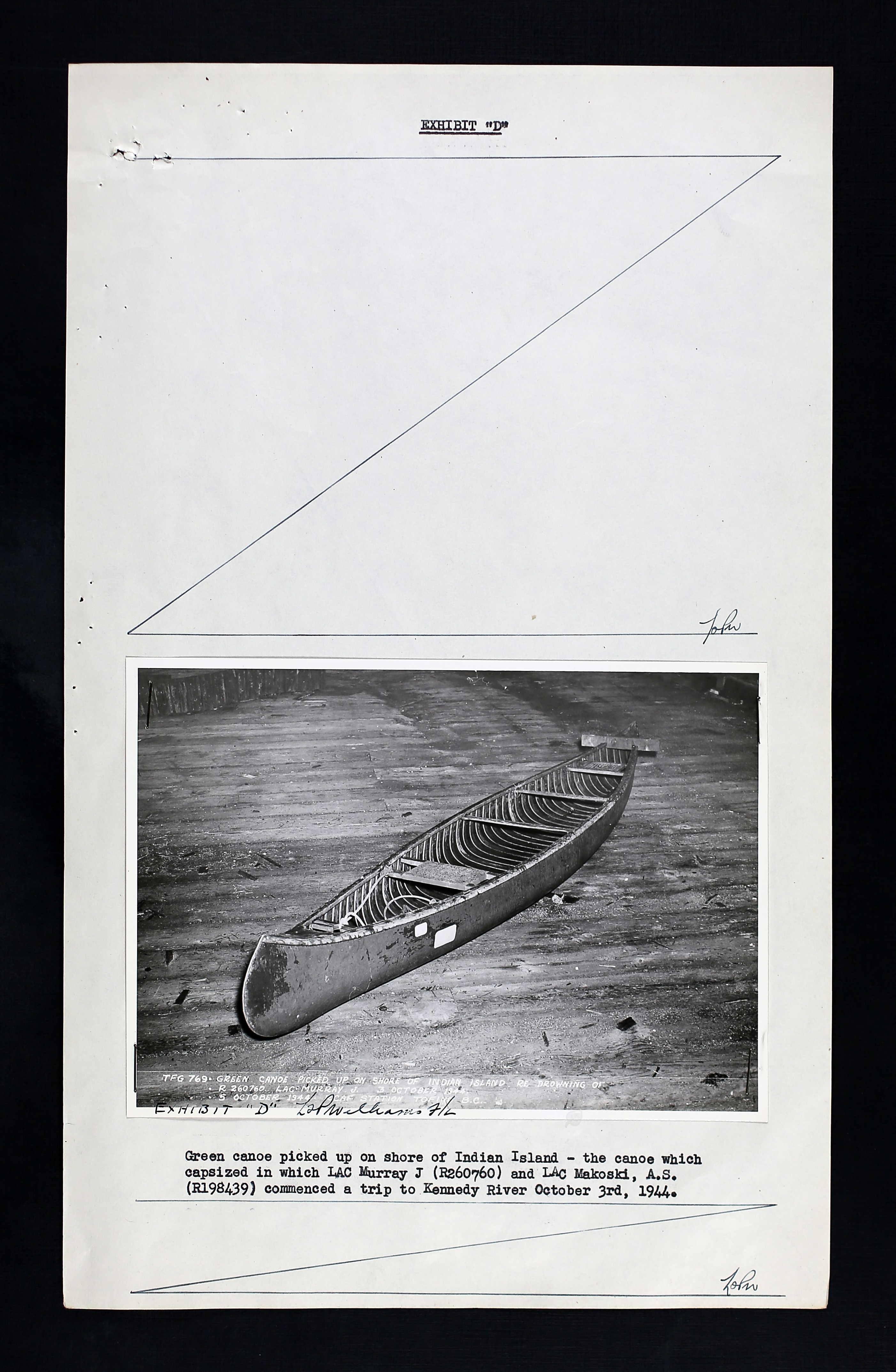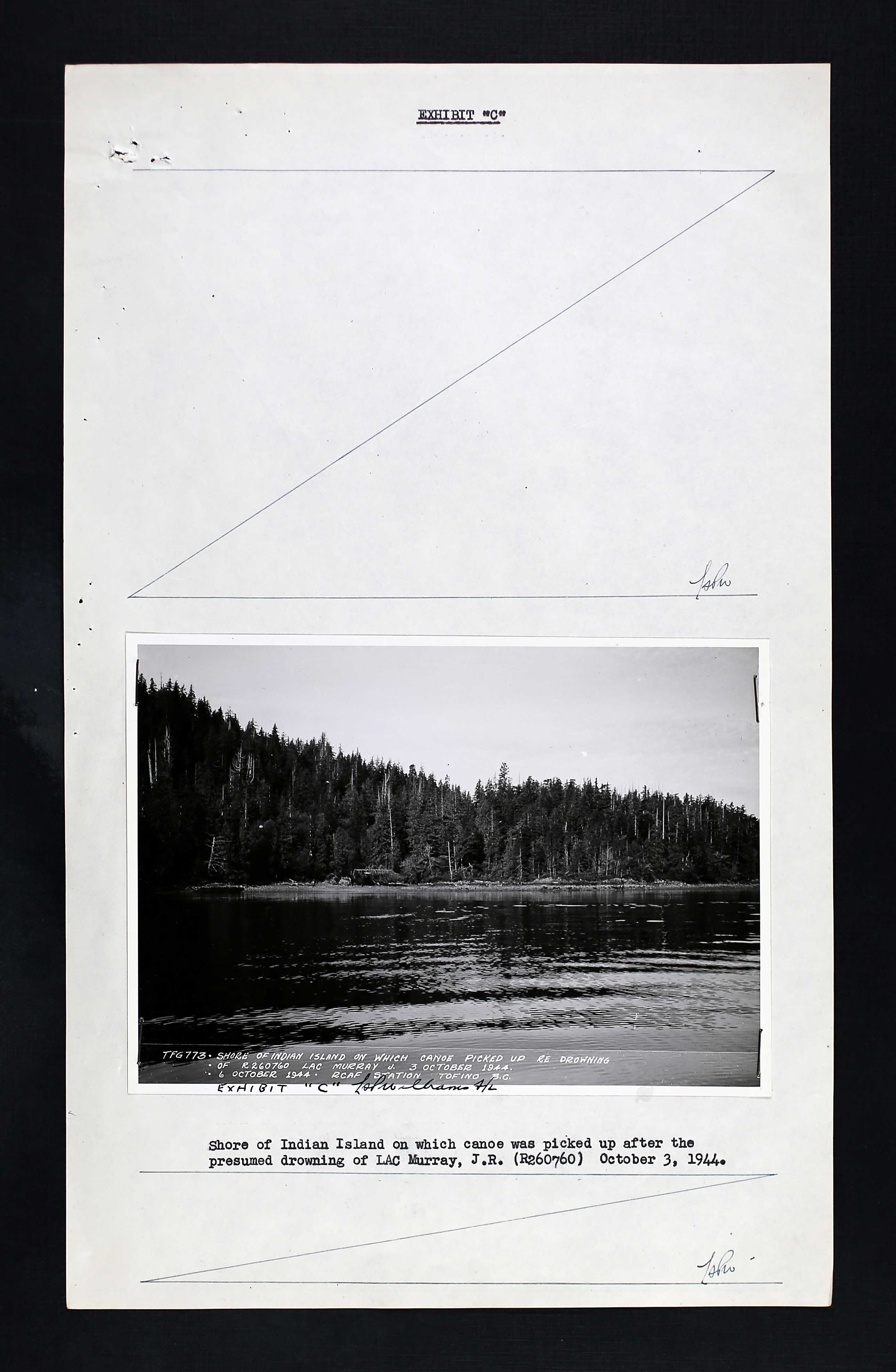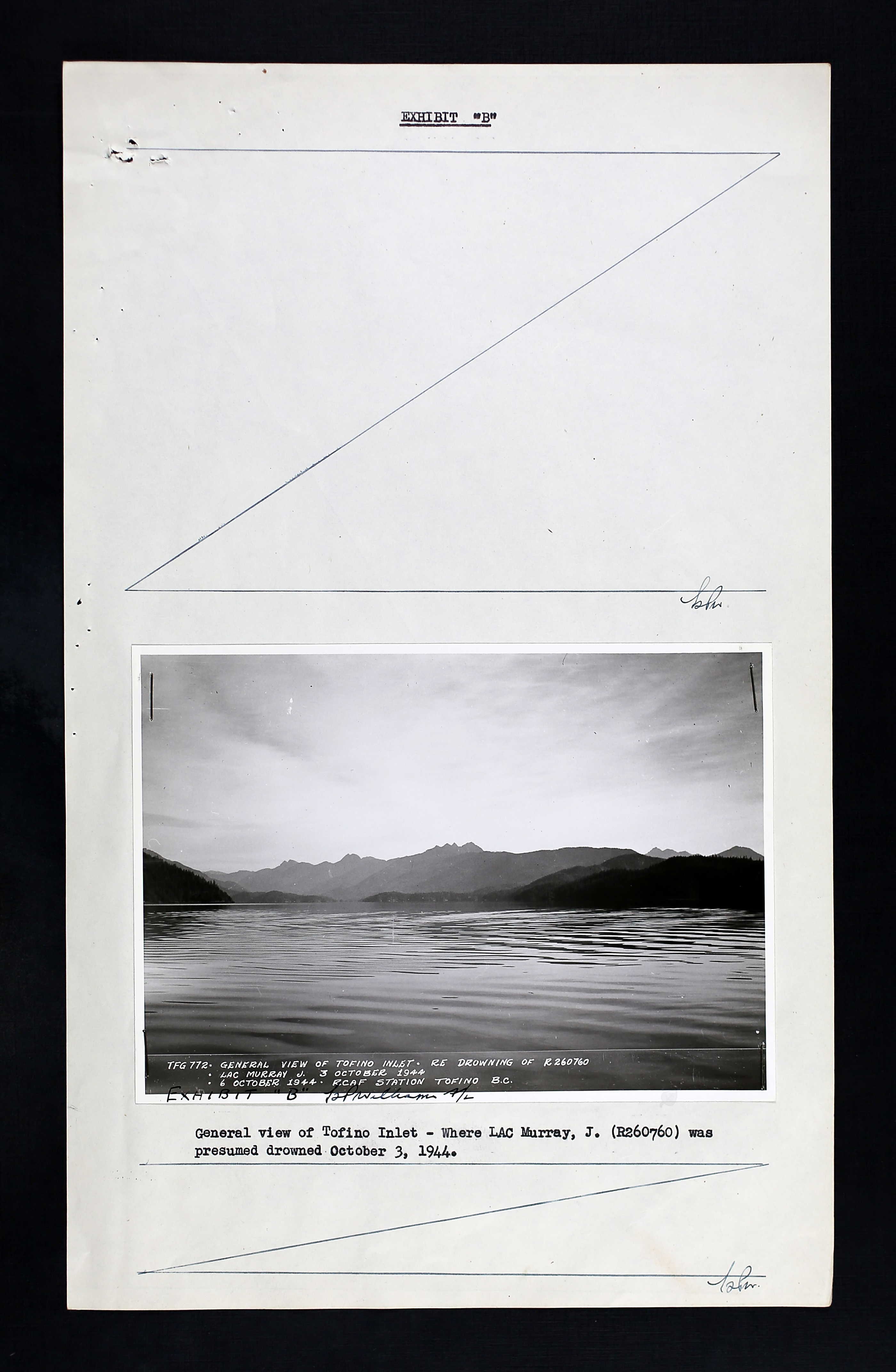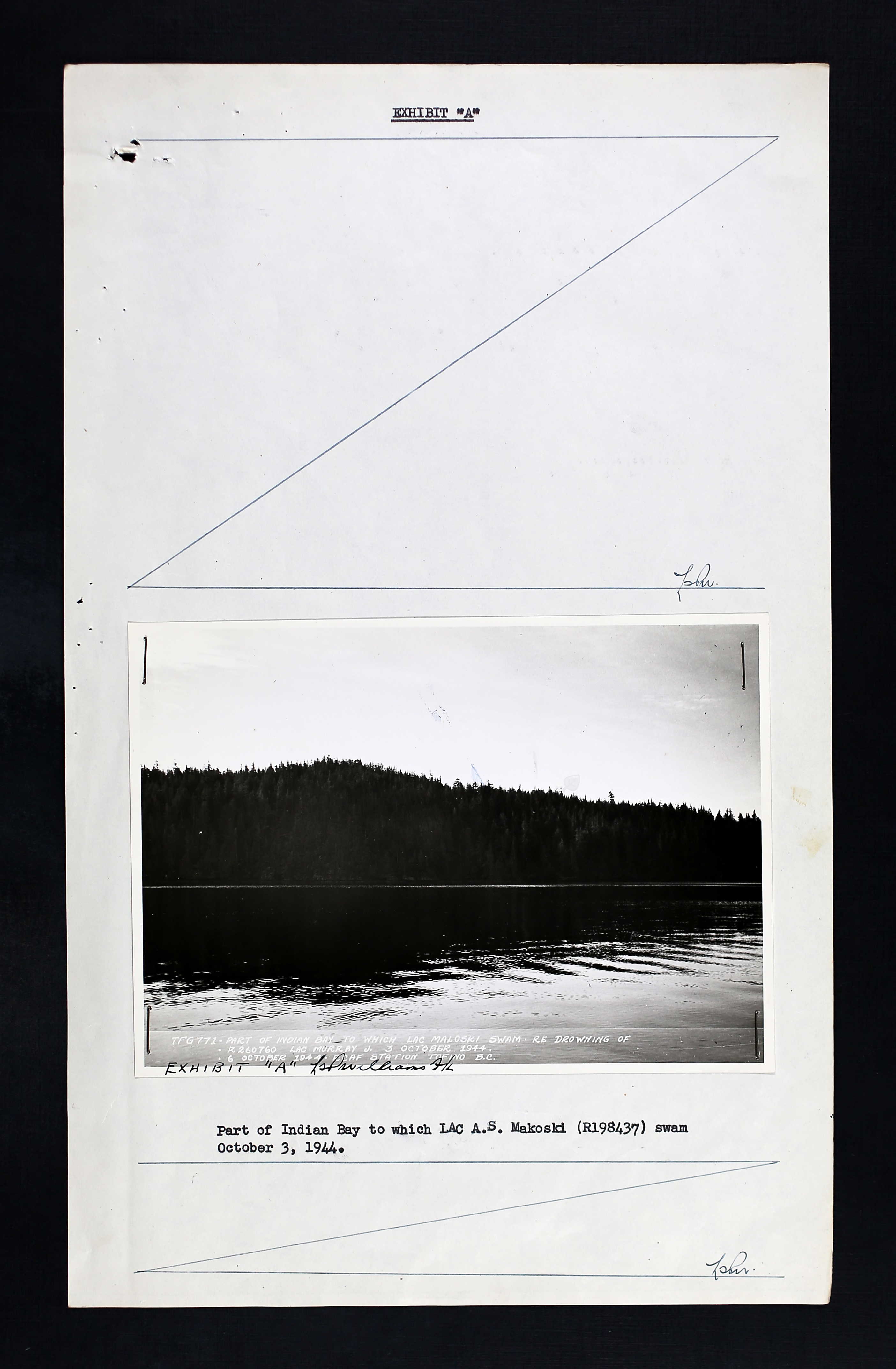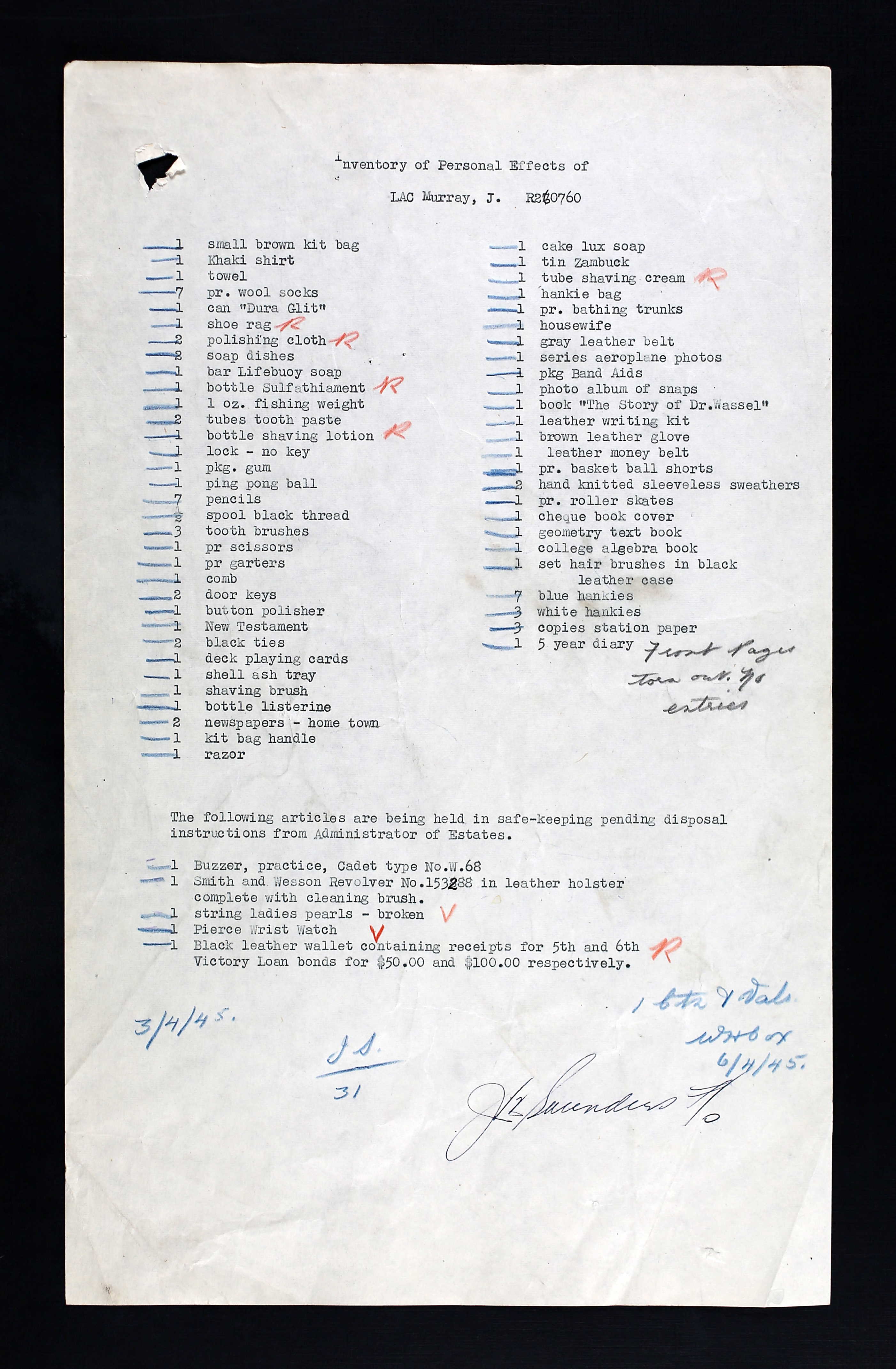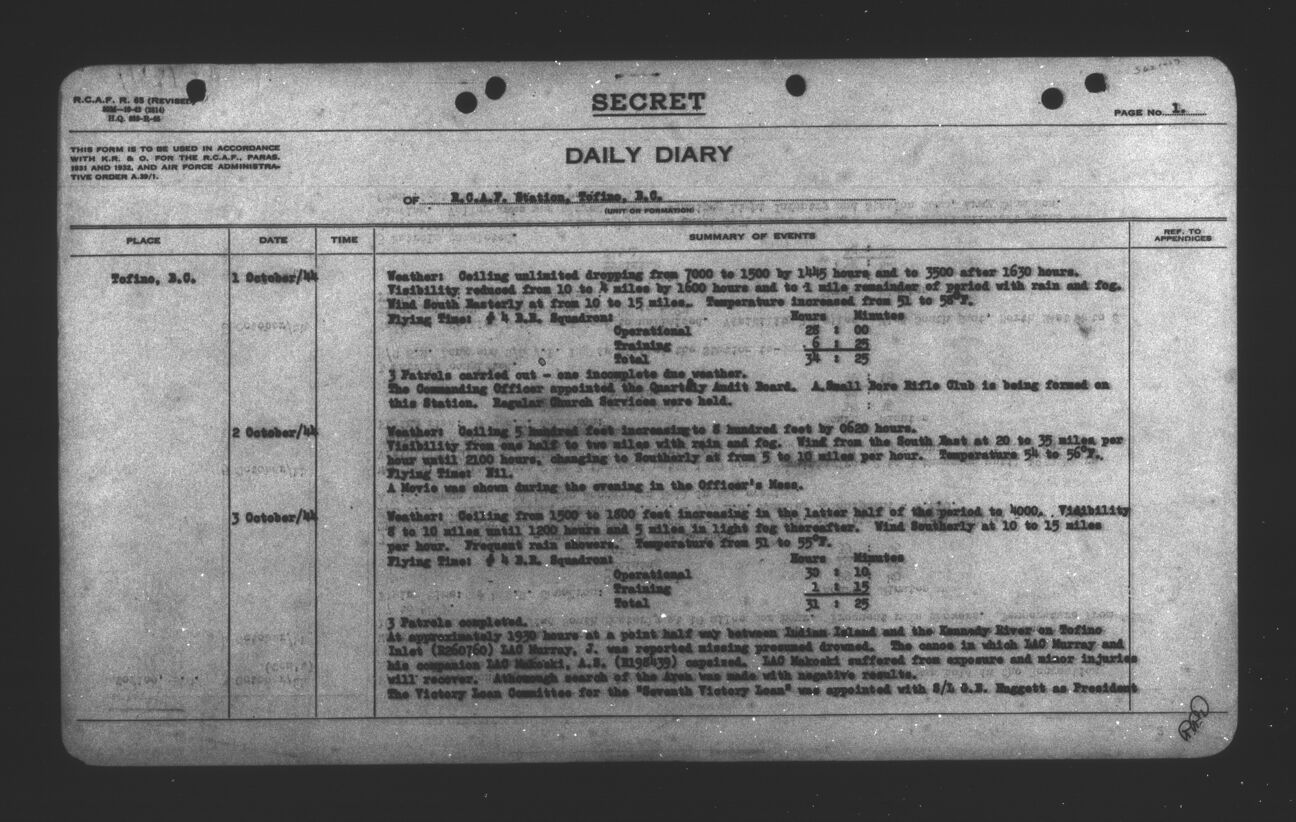 Young Albertan drowned while on a hunting trip near Tofino, BC.
Jack Murray was the son of John Albert Murray, farmer, and his wife, Stella (nee Foreman) Murray of Forestburg, Alberta. Jack had one younger brother, James Keith, and two older sisters, Jean Ella and Mavis. They were Protestant (United).
Prior to enlistment in early July 1943 at No. 3 Manning Depot, Edmonton, Alberta, Jack had been helping his father on their farm. He had received a Grade XI education. He liked high jump, baseball and softball, noting swimming as occasionally. "Good average type. Seems alert and confident enough. Should do alright." In August 1943, a different medical officer added, "Age 18, student, farm lad, weak in maths, non-athletic, pleasant. Just average stuff." Jack had hoped to enlist for Flying Duties.
"Parents not encouraging but he is determined to enlist in aircrew. Should prove a fair student but he is not strong in mathematics. Average aircrew -- prefers fighter pilot." F/O A. L. Glenn recommended him for Standard Aircrew.
Jack stood 5'9" tall, weighed 133 pounds, had a fair complexion, brown eyes and dark brown hair. He had had the measles and mumps as a child, plus had his tonsils removed at age 17.
From August 23 to October 29, 1943, he was at No. 4 Initial Training School, Edmonton. His highest marks were in armament with a 78% and law, discipline, administration and organization with a 68%. Overall, his marks averaged to 50%. His assessment of qualities of character and leadership: 53%. Due to overall low marks, Jack ceased training and was posted to No. 2 Manning Depot, Brandon, Manitoba. "Difficulty retaining knowledge. Unable to cope with this course. Pleasant and good appearing, alert, average material."
After Brandon, he was sent to No. 3 Repair Depot, Vancouver November 1943, then sent to RCAF Station, Tofino, BC, December 9, 1943, performing general duties.
On October 3, 1944, he and fellow airman, Albert Makoski decided to go hunting and used a canoe to get to their destination.
Statement by LAC Albert S. Makoski: "After supper, at approximately 1630 hrs, Tuesday, October 3rd, when Murray and myself ate together, we talked about going up Indian River to do some shooting, but not after game. Left Airmen's Mess Hall and went to Quarters where I picked up my service rifle and 24 rounds of service ammunition. I was wearing fatigue pants, fatigue shirt, tunic and raincoat. Murray was wearing similar clothing, but no raincoat. He had a box of ammunition, probably about 20 rounds. I carried my ammunition in my tunic pocket. I think he was carrying his ammunition in his tunic pocket. We came out of the Airmen's Barracks together and we went down the pipeline to the pump house. The tide was fairly high and going out. Not much wind then. It was not raining. This would be about 1730 hrs.
"When we got to the pump house, the canoe was on the bank near the wharf. I knew it was there as I had seen it lots of times before. I didn't know who the canoe belongs to. I had never used the canoe before. The tide was so high we knew we couldn't walk across, so we took the canoe. I was carrying the rifle. We put the canoe in the water. Murray was in the bow and I was in the stern. We were both kneeling and sitting on the thwarts. I had loaded the rifle when we were walking down the pipeline. I had filled the magazine–– nine shells and one shot in the breach. Murray was a few feet ahead of me and I pointed the rifle to one side and loaded it. I put the safety catch on. Murray went down the bank first and I handed the rifle down to him. Then I went down, then I took the rifle and slung across my back. We emptied the canoe of water and put it in the water. The tide was about halfway out then. When I got in the boat, the rifle was still slung across my back. We headed across towards Indian River. We were both paddling. About halfway across, as it was awkward paddling with a slung rifle, I took it off and put it in the bottom of the canoe with the muzzle pointing forward. I undid the sling and looped it over the thwart in front of me and did up again. The rifle was resting on the bottom of the boat.
"About this time, about halfway across Grice Bay, we changed our minds and decided to go up to Kennedy River. I have been up there before in a fishing boat with some coast construction men to fish. When we decided to go there, it would be somewhere between 1745 1800 hrs. There was not much wind and just small waves. When we got to the channel between Indian Island and the mainland, there was a tide-rip; it was pretty bad but didn't bother us. We stayed in the middle of the channel. We got through the channel by bucking the tide and headed across the mouth of Indian Bay. When we got through the channel, we hit a cross wind from our right –– there were some whitecaps. When about three quarters of the way across the mouth of Indian Bay, the canoe tipped to the left and went over. We both got clear of the canoe and came back about 5 feet. I was about the middle of the canoe. Murray got back to one end–– I don't know whether it was the bow or the stern. I saw both paddles and a tunic and raincoat floating. The raincoat and tunic started to go down. Murray got the tunic and one paddle which were near the canoe–– about 5 feet away. The other paddle and raincoat were about 20 feet away. I was not wearing any tunic. It was in the back of the boat with me. I don't remember seeing it after we upset. I told Murray to hang onto the paddle and I would try to right the canoe and empty it. I turned the canoe right side up and try to get the water out by depressing one end and shoving it ahead. Murray was hanging onto the paddle but was not hanging onto the canoe. The canoe was too heavy and the waves were coming in and I couldn't do it. I tried about four times.
"With the canoe right side up, Murray got on one side and I got on the other and we tried to push the boat to the point at the north end of Indian Bay. When we upset, I would say we were about one third of a mile from the point. The wind and tide were against us, and after pushing for about 10 minutes, we rested. Then I took off my boots. Murray just rested. It took about five minutes to get my boots off, and during this time we drifted out and down towards Indian Island. We figured we had better try to get to land around the southern point of Indian Bay. We pushed the canoe again for a while – – perhaps another 10 minutes. We were tired. I had a cramp in my left leg, and Murray told me he had a cramp in his leg. We decided then to swim up for it. We were about a quarter mile from Indian Bay. We swam along, side-by-side, for about five or 10 minutes when I noticed Murray was getting tired and breathing hard. I told him to put his arm on my shoulder and about every two minutes he would take it off and go on his own. After the third time, he took his arm off my shoulder; I got about 10 feet ahead and I looked back and saw Murray splashing with his hands to keep above water. I went back to him and told him to get going. He did not answer me. I took him by the back and tried to shove him forward. I talked to him. He was tired right out, but did not say anything. He went down beside me. As he went down, I grabbed him by the hair. He was still splashing with his hands. I went under with him. I pulled him up a little way, then had to let go. I came up to the surface. I saw Murray's hands moving just underneath the water right beside me. He did not grab me. Then I reached down and got him by the back of his collar. I couldn't lift him up, so I tried to pull him along sideways. I tried for about a minute but couldn't do it as I was going under, so I let him go. He didn't seem to be splashing or moving. This is the last I saw of him. I still felt the cramp in my leg, but it wasn't very bad."
"Then I swam hard and then rested on my back; then swam again and got to shore at a little point in Indian Bay. I figure it was about 1930 or 2000 hours when the boat upset. The sun had just gone down over the horizon. It was getting dusk. I think I was swimming along for about fifteen minutes before reaching shore. I can only guess, but I think it was about twenty-five minutes from the time the boat upset until I had to let go of Murray. I can only guess at these times by trying to figure it out backwards.
"I swam until I hit rocks with my hands. Then I crawled ashore and rested about ten minutes. It was dark then. There was a full moon and I could see pretty well. When I was grabbing Murray, I noticed the canoe some distance away in the direction of the channel. After resting, I started west along the shoreline and after travelling for a while, I found the coast too steep, so I cut inland along a tip of a ridge. It was fairly heavily wooded, but I could just see enough to travel. I guess about 0200 hours on Wednesday, October 4th, I came to a bank and could see some bushes down below. So I started down, hanging on to brush and rocks. I had gone a little way when the twig I was hanging on to broke, and I dropped to a ledge about five feet down, or it may have been a rock. I bounced off that, made a backward flip, and landed in some bush and rocks mixed up. I fell quite a distance -- I should say about forty feet all told. I cut my mouth and injured my knee. The ground was sloping so I crawled down about ten feet and got by a tree and stayed there until daylight. I was not knocked out.
"In the morning, I climbed back up the bank, about forty feet, then I went along the top of the ridge. I could just see Indian Island from the ridge. I broke out onto the shore on the north side of Grice Bay. I would say it would be about 1030 hours. The tide was fairly low when I hit the shore and travelled southeast along the shoreline until the tide was too high, somewhere about noon. I had to travel slow on account of my knee. I stayed there for about four hours, until the tide went out enough to travel along the beach. I reached the Army Camp at Indian River at 2015 hours, Wednesday, October 4, 1944."
The RCAF Station Diary, Tofino reported on October 3, 1944: "At approximately 1930 hours, at a point half way between Indian Island and the Kennedy River on Tofino Inlet, LAC Murray was reported missing presumed drowned. The canoe in which LAC Murray and his companion, LAC Makoski capsized. LAC Makoski suffered from exposure and minor injuries but will recover. A thorough search of the area was made with negative results. On November 30, 1944, F/L John Harris McClinton, a former member of the BC Provincial Police, part of the RCAF Investigation Section, Provost and Security Services reported: That the airman was believed drowned while on a hunting trip with LAC Makoski when the canoe they were in was swamped at Indian Bay, Vancouver Island, BC, approximately 1900 hours, October 3, 1944. Extensive search made for body without results believed owing to the strong tides in that area. Investigated by BC Provincial Police who arrived at the conclusion that foul play did not enter into the accident."
When Jack's father filled out the Estates form, Mr. Murray noted that a .38 calibre revolver would most likely be with his son's personal effects. Jack also had one $50 bond and two $50 6th Loan bonds.
In Jack's list of possessions: a five-year diary, with front pages torn out. No entries. The Smith and Wesson revolver in a leather holster, complete with cleaning brush was held in safekeeping pending instructions from the Administrator of Estates. A broken string of ladies' pearls, a Pierce wrist watch, and a black leather wallet containing receipts for the bonds were also noted in this part of the list, as was a buzzer, cadet type No. W68 so Jack could practice signaling.
In late October 1955, Mr. and Mrs. Murray received a letter from S/C Gunn telling them that Jack's name would appear on the Ottawa Memorial.