Jack Douglas Hearfield R146033
September 3, 1917 - July 24, 1943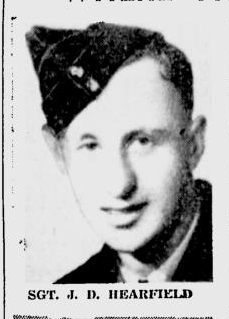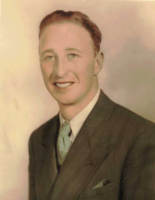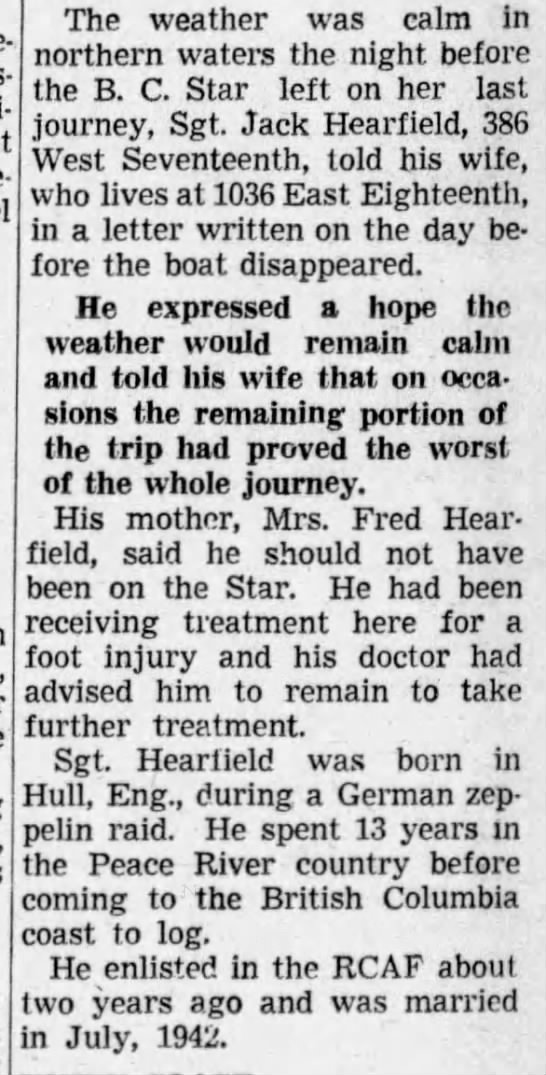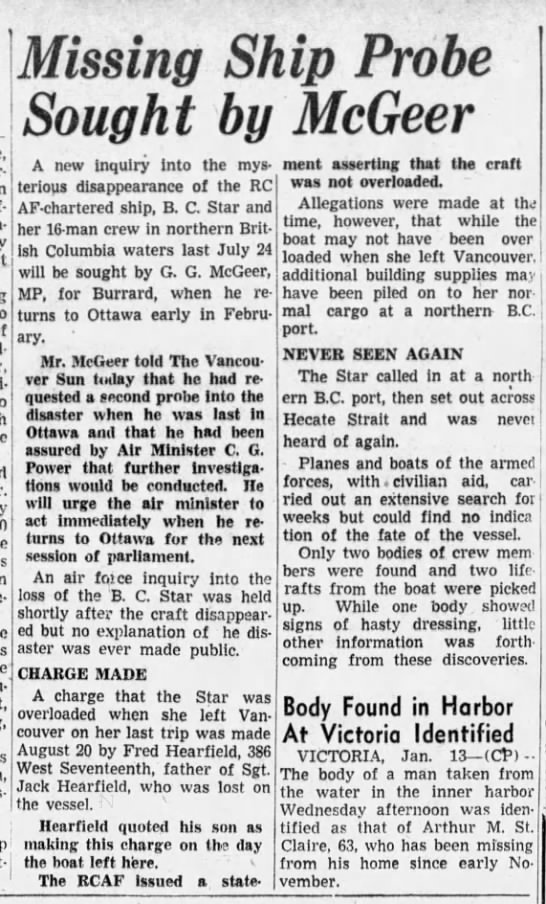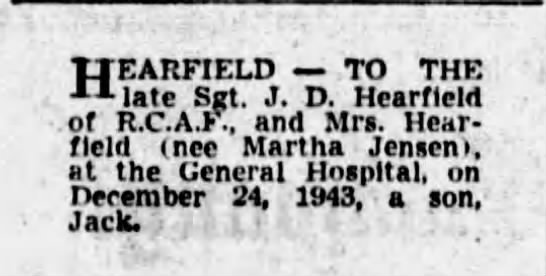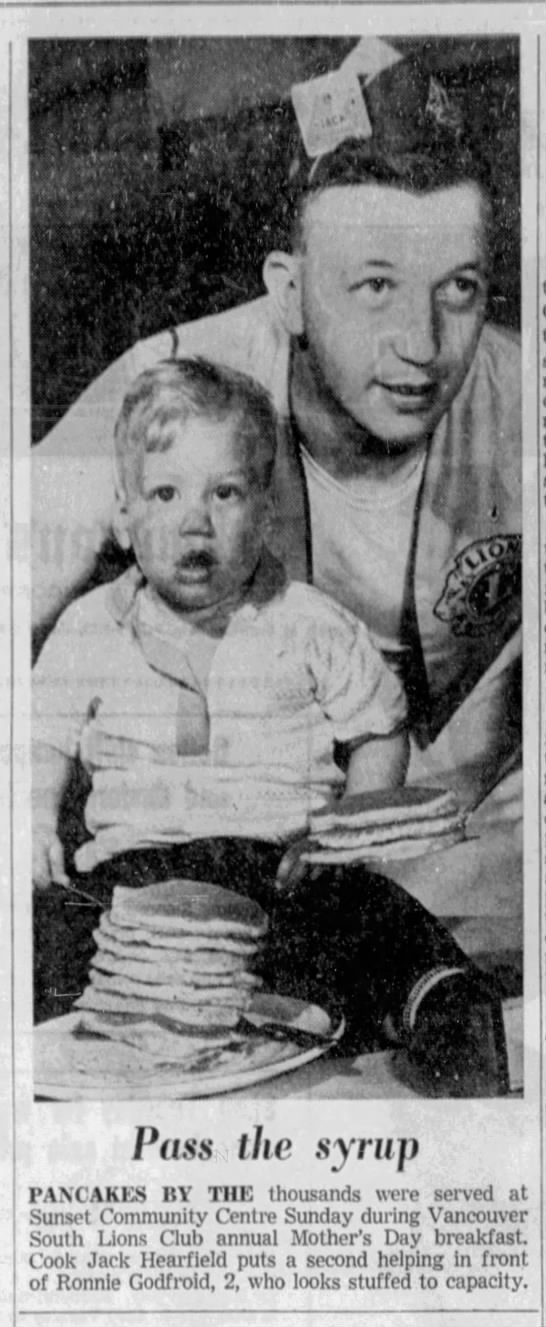 Truck driver joins army, then RCAF. The son he never met joined the RCN.
Jack Douglas Hearfield, born in Hull, Yorkshire, England, was the son of Frederick Hearfield (1894-1963), engineering supervisor for the Federal Government, and Harriet (nee Hudson) (1895-1974) Hearfield. He had one brother, Thomas Frederick Hearfield (1915-1993), and one sister, Joyce May La Favor (1933-1987). The family attended the Church of England.
Jack and his family immigrated to Canada when Jack was five years old, first residing in Alberta.
He had a Grade VIII education at Lambert, Alberta, leaving school in 1934. He lost his big right toe due to frostbite in 1934, but had no resulting disability. He lived in the Peace River, Alberta area from 1934 to 1938 before moving to British Columbia.
He was a truck driver in Vancouver when he enlisted in January 1941 with the 2nd Seaforth Highlanders of Canada, service number K575410. He had blue eyes and brown hair, stood 6'2" and weighed 174 pounds. He had 30 days' training.
Jack then enlisted with the RCAF in December 1941. He was in debt, owing part on a bedroom suite. He noted his job was truck driver, logger, and foundry helper. He did not list any hobbies or sports that he liked. A large birthmark on the back level of the middle of his scapula (shoulder blade) was noted. Jack wanted to return to driving trucks after the war.
Jack was taken on for standard general duties with the RCAF.
Jack started in Vancouver, then was posted to No. 3 Manning Depot, Edmonton, returning to Vancouver. On January 2, 1942, he was admitted to station hospital for two days.
He was taken on strength at the Ford Motor Plant December 22, 1941. Jack was in the hospital again for three days in late January 1942.
On July 10, 1942, Jack married Martha Houston Jensen, 22, bookkeeper at a paint wholesaler. F/L H. S. McDonald performed the ceremony. He took out $1000 in life insurance, with Martha as the sole beneficiary.
On November 27, 1942: "A very capable NCO. Handles men. Well recommended." No. 9 Construction and Maintenance Unit, Vancouver, BC.
Langdon, Victoria, Vancouver, Prince Rupert, Rose Harbour, Kennedy Lake Camp, Gordon Head, Cape St. James, Spring Cover, Ucluelet, and Langara Island, BC (No. 1 Works Construction Unit) were all places he was posted. In April 1943, he qualified as a Ground Warfare Instructor.
Jack was admitted to the Shaughnessy Hospital for over a week in late June 1943. By July 20, 1943, he returned to duty aboard the BC Star.
On an Estates Branch form, "Previously reported 'missing' July 24, 1943. Life rafts only. Wreckage found. Presumed vessel sunk. Marine operations RCAF vessel BC Star left Vancouver, BC, 0100 hours. Now 'presumed dead' July 24, 1943 for official purposes."
Please see links for more information.
On December 24, 1943, Martha gave birth to a baby boy, naming him Jack, after his late father.
In January 1944, an article in the Vancouver Sun stated that Jack told his father that the Star was overloaded when she left Vancouver on her last trip. The RCAF asserted that the craft was not overloaded. "Allegations were made at the time, however, that while the boat may not have been overloaded when she left Vancouver, additional building supplies may have been piled on to her normal cargo at a northern BC port."
On March 8th, 1944, a letter to Martha stated that Jack, for official purposes was presumed to have died on July 24, 1943. Condolences were offered.
In late October 1955, Martha received another letter letting her know that since Jack had no known grave, his name would appear on the Ottawa Memorial.
Son, Jack, was a cook with the Royal Canadian Navy, making the newspaper in May 1964.
LINKS: