Jack Duffy R76773
October 30, 1921 - September 6, 1942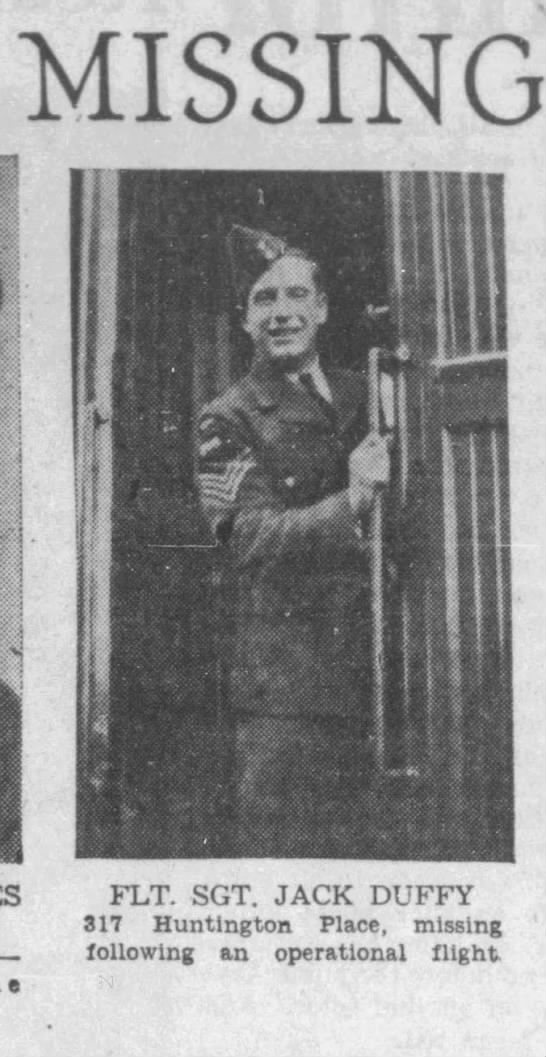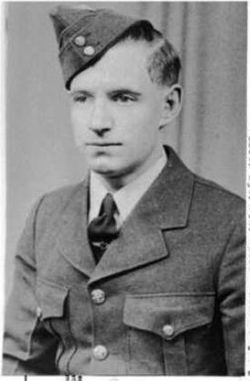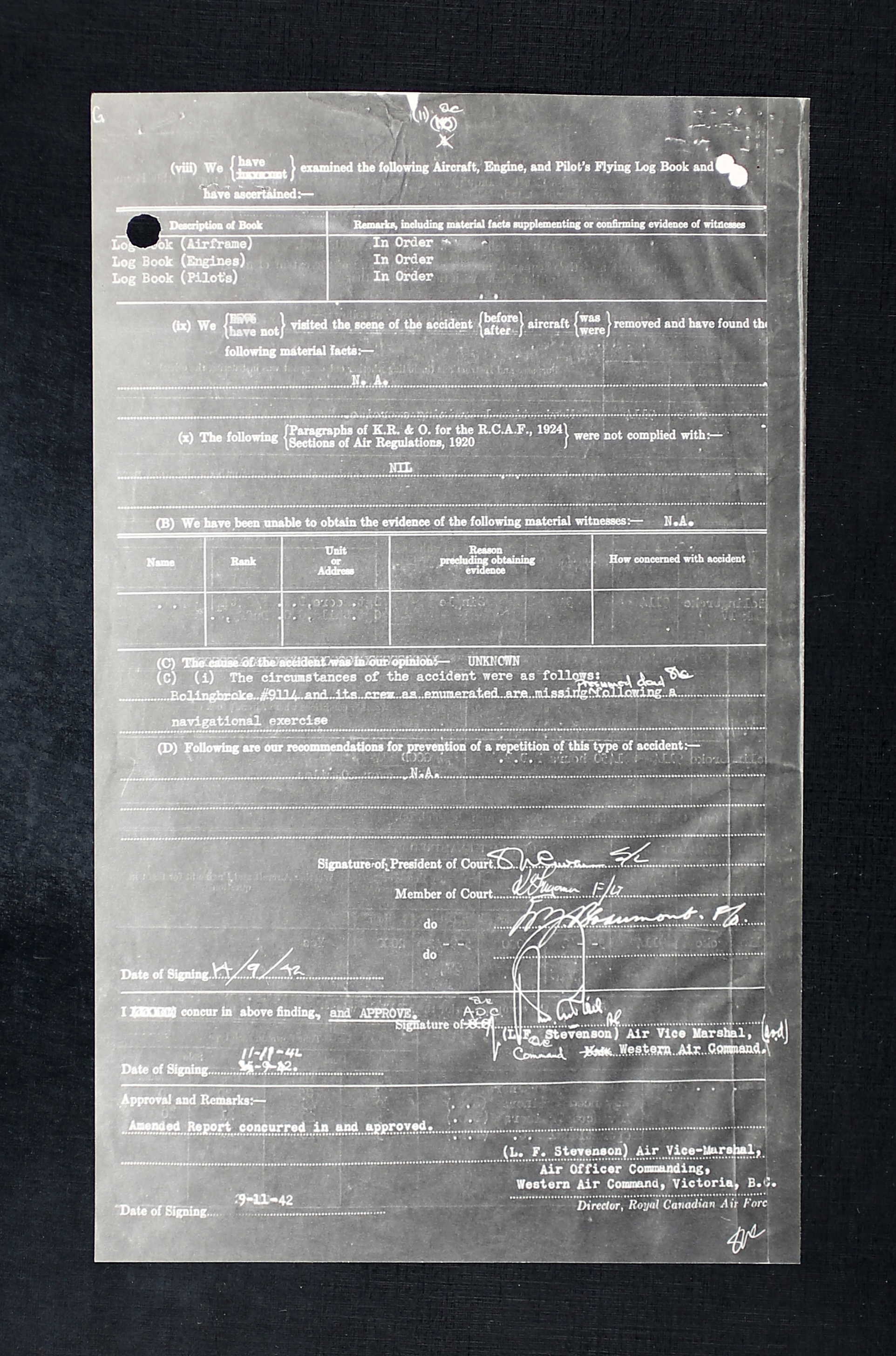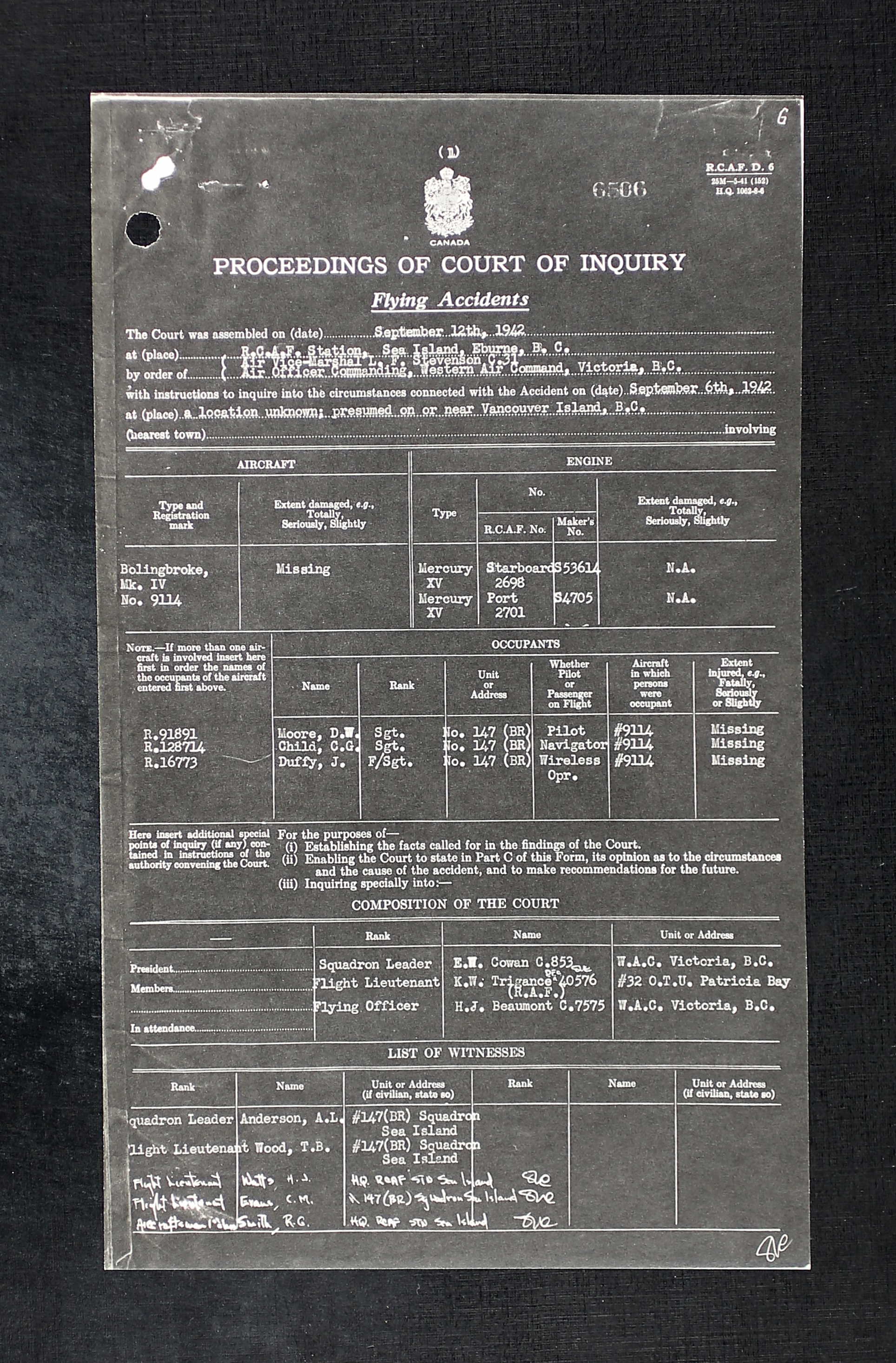 Grocery store clerk became exceptional WOAG. Aboard Bolingbroke 9114, he and the crew were lost during a cross country navigational flight between Sea Island and Vancouver Island.
Jack Duffy, born in Grande Prairie, Alberta, was the son of John 'Jack' Duffy (1878-1965), wholesaler, Grande Prairie, Alberta and Gertrude Emily (nee Lee) Duffy (1887-1968) of Victoria, British Columbia, later of Kelowna, BC. He had two brothers, Charles George 'Bill' Duffy (1914-1997) and Roy Duffy (1920-2006), No. 7 Canadian Provost Corps, Canadian Army, overseas. He had one sister, Beulah Emerson. The family was Anglican.
He was a grocery store clerk (1939-1940), but had to stop due to sickness, then was a relief worker as a wholesaler before enlisting with the RCAF. "Very keen to serve in any capacity. Has all the necessary qualifications for Air Crew duty as Wireless Operator (Air Gunner). Well recommended." He liked hockey, baseball, softball, and tennis. Jack was 18, stood 5'8 ½" tall and weighed 145 pounds. He had his senior matriculation with Honours. He had an extensive burn scar on his buttocks. He smoked three cigarettes per day and did not drink alcohol.
Jack started his journey through the BCATP at No. 2 Manning Depot, Brandon, Manitoba, November 23, 1940 to January 2, 1941. He was then sent to No. 10 Repair Depot, Calgary until March 15, 1941 when he was sent to Winnipeg and No. 3 Wireless School until August 3, 1941. "10th out of 44 in class. 88.1%." He was in the Royal Victoria Hospital, Montréal, November 15, 1941.
At No. 32 O.T.U., December 15, 1941 to February 13, 1942: "Air Operating: A very capable pupil in all aspects of his work, particularly the practical side. Above the average. Armament: Good average pupil. Shows more inclination to wireless than gunnery. Will stand up well to any emergency. This pupil was not given a full O.T.U. course being posted here for operational crew duties. He has however, been given a throrough training as W/T Operator, but the lack of instructional turrets and target towing facilities has made his training necessarily incomplete." He was in Course No. 1.
Jack graduated from No. 7 B&G School, Paulson, Manitoba, Course No. 13 on September 1, 1943. He was recommended for commission. "Good type. Intelligent, confident, reliable, quick in thought." Jack was first in his class of 30. "Exceptional."
He was sent to No. 31 O.T.U., Debert, Nova Scotia September 21, 1941 then sent to Western Air Command, Victoria, December 14, 1941. Jack was posted as a wireless air gunner with No 7 BR Squadron, Prince Rupert, BC. June 24, 1942: "Very good type. Keen and reliable. Manner and appearance excellent. Trade proficiency: superior." Jack also was in Vancouver, Patricia Bay, and at Sea Island.
At Annette Island Station while in Norseman 697 on July 6, 1942, Pilot WO2 Avent and two others, including Jack, were involved in a minor accident. Jack stated, "I was getting ready to let down the ladder as the aircraft was approaching the landing when the ship's speed suddenly increased forcing the open door back against my. head. I was dazed for about a minute, but did not lose consciousness." He received a 2" superficial linear abrasion, in mid-line of anterior part of scalp, just behind the anterior hair line, with no swelling or tenderness.
While on a cross country flight navigational training flight over the southern tip of Vancouver Island, Bolingbroke 9114 failed to return, departing Sea Island at 1450 hours. The last message heard was at 1510 hours. Aboard were Observer Sgt Colin Gartrell Child, R128714, WOAG, Flight Sergeant Jack Duffy, R76773 and Pilot, Sergeant David Wayne Moore, R91891. A Court of Inquiry was struck on September 12, 1942. [Microfiche T-12353, Image 5121].
The first witness, S/L Alton Lester Anderson, C1309, Officer Commanding No. 147 BR Squadron, Sea Island stated: "At approximately 1800 hours on 6 September 1942, I received a telephone call informing me that Bolingbroke 9114 had failed to return from a cross-country flight originating at Sea Island, thence to Cape Flattery, 207 degrees magnetic, distance of 92 miles; thence to Tofino, 295 degrees magnetic, distance of 61 miles; thence to Sea Island, 59 degrees magnetic, distance of 112 miles…this flight normally takes one hour, 45 minutes. At approximately 1900 hours, I took off in Bolingbroke 9052 with P/O R. A. Dalton, in an effort to search as much of the area as possible before darkness. I was forced to turn back from Cape Flattery owing to rain, low clouds, and darkness. Further details of the search for this aircraft up until time of the sitting of this court have been organized and ordered by the Controller, WAC. Subsequently, the entire Vancouver Island has been searched up to Latitude 50 degrees North. Approximately 80 hours of searching has been done by this squadron which has been severely hampered by poor visibility due to smoke and no trace of the missing aircraft has been located. In my opinion, the pilot was a very even-tempered man, self-contained, and a competent pilot. The weather on the day of the cross country was considered suitable for flying over the greater portion of Vancouver Island. Small patches of fog were reported over the western edge of the island and all pilots had been duly cautioned not to fly through adverse weather but to return to base, turning back if necessary over the route they have previously followed. Rapidly deteriorating weather had come in very fast from the northwest and by darkness had covered the entire island…no trace of the aircraft could found found, nor had anyone seen the missing aircraft during its flight prior to its disappearance, after examining all the pilots and observers concerned with the search."
"OBSERVATIONS: The aircraft was serviceable, complete with equipment, including dinghy, and captained by a competent pilot. The area where the aircraft was scheduled to fly in has subsequently been searched. FINDINGS AND RECOMMENDATIONS: A search has been undertaken for this aircraft without success, hence inability on the part of the Court to submit findings and recommendations." CONCLUSIONS OF ACCIDENT INVESTIGATION BRANCH: "The pilot, comparatively inexperienced on operational aircraft with a crew of two failed to return from a cross country flight, half of the course being over water. CAUSE: Unknown. No trace has been found of the missing aircraft and three occupants after 14 days. It is considered that the occupants may reasonably be presumed to be dead."
In January 1942, category C damage while at Yarmouth, NS was noted, probably due to storage. Bolingbroke 9114 then was at No 4 Repair Depot, Scoudouc, NB and issued from storage on June 1, 1942 to No. 119 BR Squadron, Sydney, NS. Then to WAC, July 20, 1942 for use by No, 147 BR Squadron which formed at RCAF Station, Sea Island, July 1942. Noted: October 6, 1942: struck off, reduced to spares and produce.
In late October 1955, Mrs. Duffy received a letter informing her that since Jack had no known grave, his name would appear on the Ottawa Memorial.