Irwin Edward Stillwell Robinson J10872
January 23, 1918 - November 29, 1942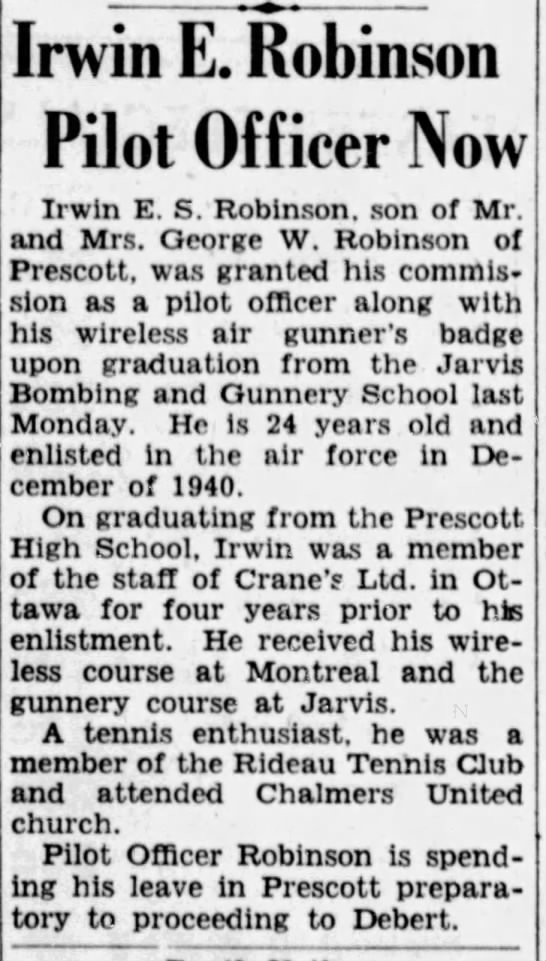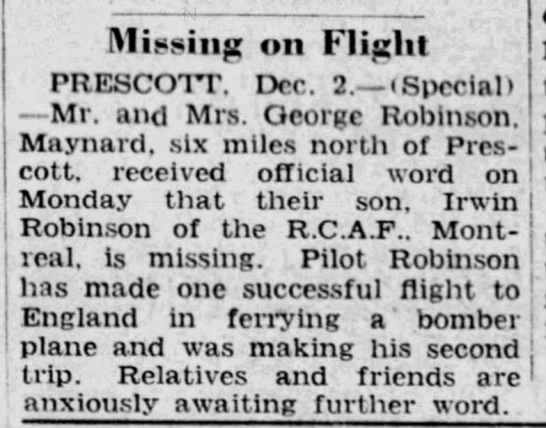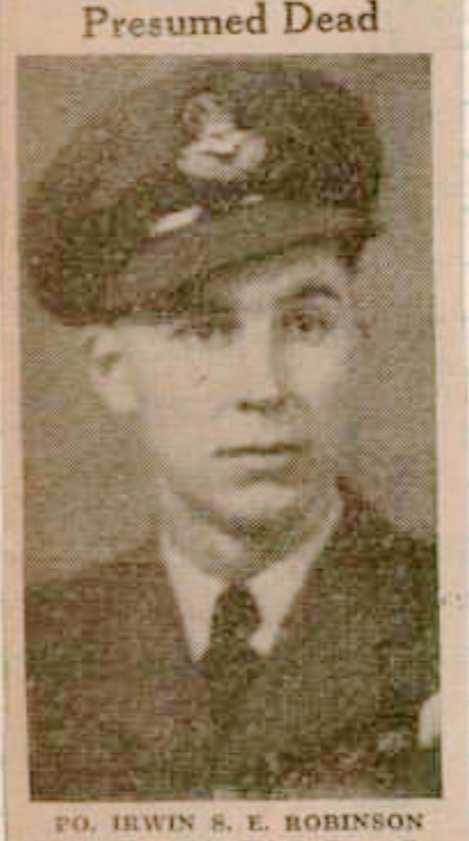 Warehouse worker became Wireless Operator/Air Gunner with RCAF. On ferry flight, plane went missing.
Irwin Edward Stillwell Robinson was the son of George William Robinson (1881-1958), agriculturist (dairy farm), and Mary Mellissa (nee Stillwell) Robinson (1883-1966) of Prescott, Ontario, later of Ottawa. He had two brothers, John Melville (1921-1982) and Elliot, plus two sisters, Gertrude and Edith, all of Prescott. Gertrude May (1906-1926) , Edith Irene (1908-1930) and Elliott Alexander (1910-1925) all passed away when Irwin was quite young. The family attended the United Church.
He had junior matriculation at Prescott High School and took night classes in 1938 at the High School of Commerce in Ottawa in typing and bookkeeping.
Irwin stood 6' 1/4" tall and weighed 160 pounds when he was with the 4th Princess Louise Dragoon Guard in July 1940. He had been in the cadets while in high school in 1935, rank of corporal.
He worked for Crane Ltd. as a clerk and warehouse salesman handing plumbing supplies. "Very successful in business. Tall, alert, very confident with Air Force training should qualify as a pilot or air gunner. Very keen." Irwin wanted to remain the RCAF after the war.
Irwin enlisted with the RCAF in July 1940 and was accepted in December of that year. He requested pilot.
Irwin indicated he had hypertropia, where one eye deviates upwards compared to the other eye, caused by imbalanced eye muscles. He wore glasses for two years for reading. A scar of a wound on his left leg above his kneecap was noted. At this time, he was 6' tall and weighed 156 pounds. He had brown eyes and hair, with a fair complexion.
On December 1940, he agreed to train as a Wireless Operator Air Gunner (standard).
Irwin indicated he left his employment for two reasons: to help with the war and as an opportunity to learn aviation. He had knowledge of mechanics and an interest in aviation, with a high standing in marksmanship. He obtained top marks in advanced high school literature and composition. He liked baseball, skiing, swimming, but tennis and hunting were his key sports.
He started his journey through the BCATP at No. 1 Manning Depot, Toronto December 31, 1940 and remained there until he was sent to No. 1A Manning Depot, Picton January 22, 1941.
A letter dated March 8th, 1941 to 1A Manning Pool, Picton, Ontario stated: "This airman arrived home on leave on the night of March 7, 1941. His home is on a farm several miles out in the country and I was called to see him this morning at which time I found him to be suffering from Scarlet Fever, running a temperature, covered with a rash, etc. His home has been placed under quarantine and I am attending him there and have given him Scarlet Fever antitoxin and treatment. I will forward you a report weekly regarding his condition and will notify you at the end of his period of quarantine." Dr. R. P. Walker
He was initially thought to have been AWL.
From there he returned to No. 1 Manning Depot, Toronto until April 24, 1941, then to No. 4 MD in Quebec until May 3, 1941. He was then sent to RCAF Stn Sydney until July 19, 1941, then to Montreal.
He found himself at the station hospital from June 20 – 23, 1941, then at the Royal Victoria Hospital in Montreal August 26 to September 4, 1941.
He forfeited pay as he was AWL September 26, 1941.
He was at No. 1 Wireless Training as from July 20, 1941 until February 28, 1942. He was 24th out a class of 116, with an 84.8%. "Keen, hard worker rather slow but reasons everything out thoroughly. Has a strong sense of responsibility."
Irwin then was sent to No. 1 Bomb and Gunnery School, Jarvis, Ontario by March 1942. "A likable man, and can be depended upon to see any job through." He was 2nd out of 28 with a 79.5%. Here he was at the station hospital again from March 13 to March 17, 1942. Here he earned his Air Gunner's Badge on March 30, 1942.
He was sent to 31 O.T.U., Debert, Nova Scotia April 19, 1942, then attached to No. 5 MD, Lachine, Quebec before returning to Debert. He was taken on strength with RAF Ferry Command July 1, 1942.
He and his crew went missing November 28, 1942 after leaving Gander, NFLD aboard Hudson VI FK593.
Crew: • Flying Officer Albert Moore Carey, J10622, Captain Pilot • Flying Officer Irwin Edward Stillwell Robinson, J19872, Radio Operator • Sergeant Eric Hanway Swanston, 572926 (RAF) • Pilot Officer Norman Alexander Allen, J11491, Air Observer/Navigator • Joseph P. Kiernan, First Officer Captain – employed by RAFFC – American from NJ (On Runnymede Memorial, Surrey, England)
Aircraft: • Hudson VI FK693 • RAF Ferry Command out of Dorval, Quebec; after departing Gander, missing • Purpose: Delivery trip to UK; aircraft missing at sea; cause of accident unknown • Crash location: Atlantic Ocean
Mr. and Mrs. Robinson received a letter dated February 27, 1943 informing them that their son was reported missing by RAF Ferry Command, no further information received concerning him. They were told that every effort was made to trace Irwin and upon any news, they would be informed.
In October 1943, Mrs. Robinson filled out the estates form. She indicated he had $1000 in life insurance.
In October 1955, they received another letter informing them that since Irwin had no known grave, his name would appear on the Ottawa Memorial. It is unknown if they were at the ceremony.
LINKS: