Ian Alexander Macdonald R138318
September 16, 1905 - January 3, 1942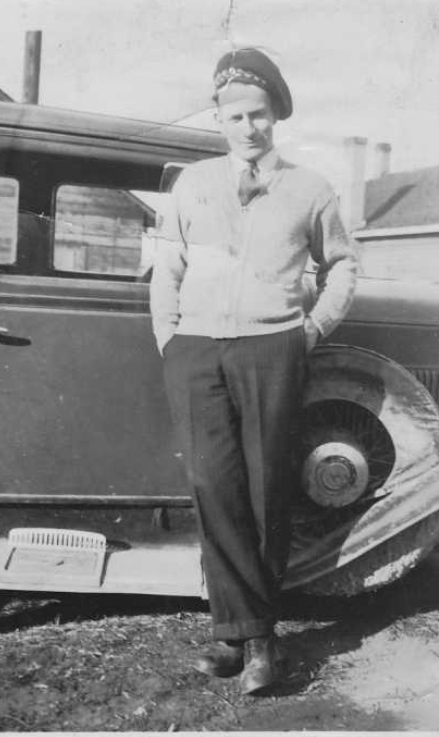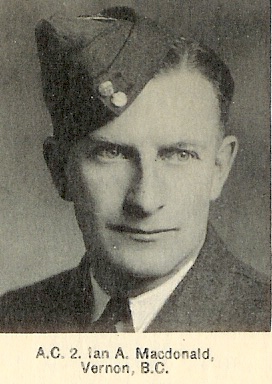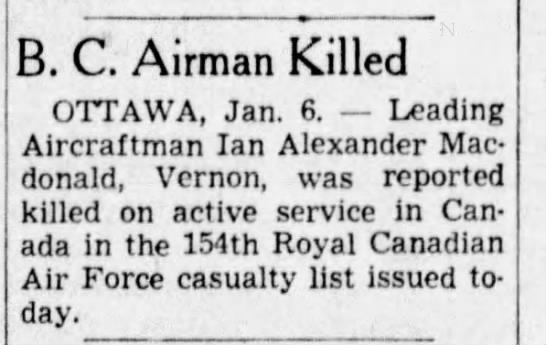 Dinghy capsized at Bella Bella, BC and LAC drowned
Ian Alexander Macdonald was the son of Robert Henry and Ida Estelle (nee Falconer) Macdonald. Ian had two brothers and four sisters. The family was noted as attending the United Church.
He married Mabel Grace Shields in Penticton, British Columbia on August 3, 1929. They had four children: Mabel Estelle (1930-2012), Gertrude, Robert (Bob) and Joan, ranging in age of 11 to 5 in 1942.
He noted his employment as being a clerk at Foote's Grocer, Vernon, BC from 1936 to 1937, plus a foreman (farming) of a packinghouse at Macdonald and Sons, Vernon, BC from 1920 to 1941 prior to enlisting with the RCAF in October 1941.
From 1927 to 1930, he had been in the local militia in Vernon as a Corporal. He noted that he knew about motorboats and engines that would be helpful to the RCAF as he had owned a boat for three years and was handy with tools and thus felt he was qualified as a motorboat crewman, ground duties with the RCAF. "Reliable, mature and steady," was noted on his enlistment papers, Vancouver, BC.
Ian enjoyed playing baseball, playing hockey and golf occasionally. He stood 5'6" tall, weighing 147 pounds. He had a fair complexion, blue eyes and brown hair. A scar caused by a boil on his right buttock near midline was noted.
Ian was posted to RCAF Station, Jericho Beach, in October 1941, then to Bella Bella, BC, located on Campbell Island, north of Vancouver Island at the end of December 1941, where he earned $1.30 per day.
On January 3, 1942, Ian Macdonald was drowned while on duty as part of a motorboat crew when the boat came into collision with Stranraer 949 belonging to No. 9 (BR) Squadron, Bella Bella, BC. A court of inquiry was held.
Entries from the Station Diary: "January 3, 1942: A gloom was cast over the entire station at 0930 hours when AC2 Macdonald of the Marine Section lost his life through drowning. The dinghy in which he was riding capsized as he was pulling away from Stranraer 949, taxiing out for a take-off. Pilot Officer Dewar jumped into the icy water in an attempt to rescue Macdonald but both men were wearing heavy clothes. Dewar's heroic act was unsuccessful. Macdonald sank out of sight in some 13 fathoms of water and although dragging operations were carried out on throughout the day, his body was not recovered."
A Court of Inquiry comprised of F/L Sorenson, P/O J. Harrison, and P/O W. West was convened to investigate the tragic affair. A Committee of Adjustment to handle the affairs of the deceased was formed with S/L L. Devine, President and F/O Green and F/O Patterson as members.
January 4, 1942: Dragging operations continued throughout the morning in an effort to recover the body of AC2Macdonald, who lost his life in the marine accident. Unfortunately, our efforts were still unsuccessful. The Committee of Adjustment prepared an inventory of the deceased's personal effects and another telegram was despatched to the next-of-kin regarding development.
January 5, 1942: Inspector Bond of the BC Provincial Police arrived with his assistant and Mr. Hill, the coroner, from Ocean Falls, to investigate the fatal drowning of AC2 Macdonald.
Mabel had been living in Vernon when Ian enlisted, then moved to Vancouver. In February 1942, she asked when she would be receiving her husband's personal belongings, including their marriage certificate, their children's birth certificates as well as Ian's birth certificate. In the list of Ian's belongings, they were not noted, but a photo of Mabel and the children were. By April 1942, she had moved to Summerland, BC and indicated she would be living there for the duration of the war.
On August 13, 1945, Mabel wrote to the Secretary, Dept. of National Defense for Air in Ottawa. She was applying for the service gratuity she was entitled being the widow of LAC2 Ian Macdonald, which amounted to $15.00, equivalent to just over $220 in 2021. She indicated she remarried on February 10, 1944 to James (Jim) L. Brown, who became a stepfather to her four children. They resided in Summerland, BC.
By October 1955, Mabel Brown, living in Vancouver, received a letter from W/C Gunn telling her that since Ian had no known grave, his name would appear on the Ottawa Memorial. Mabel died in 1974. Her second husband, Jim, predeceased her.
(On many of his forms, Ian's last name was misspelled using a capital D versus a lower case D.)