Howard Ferguson O'Connell J24652
December 29, 1918 - April 22, 1943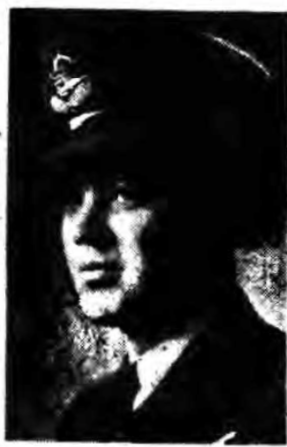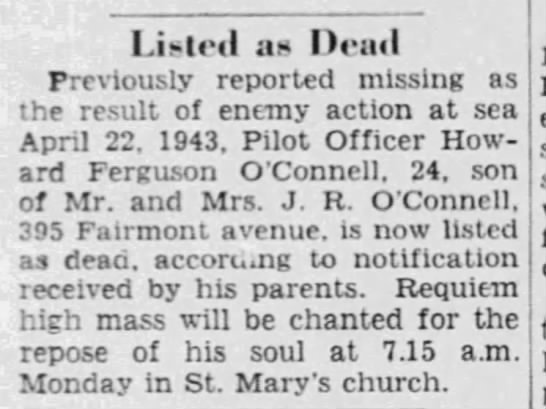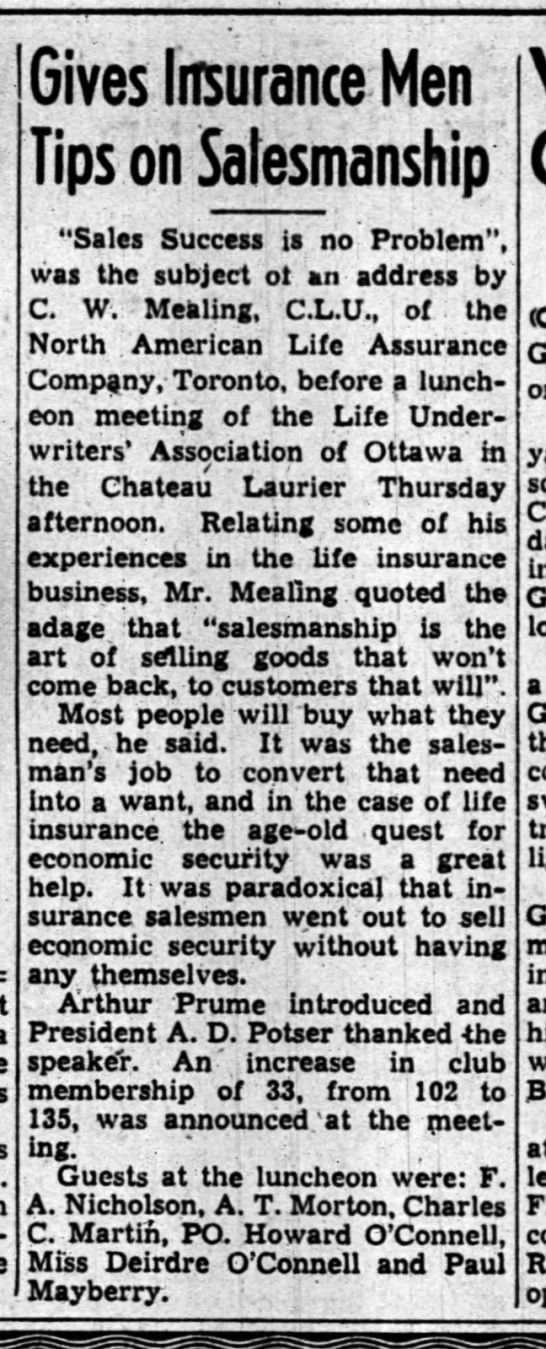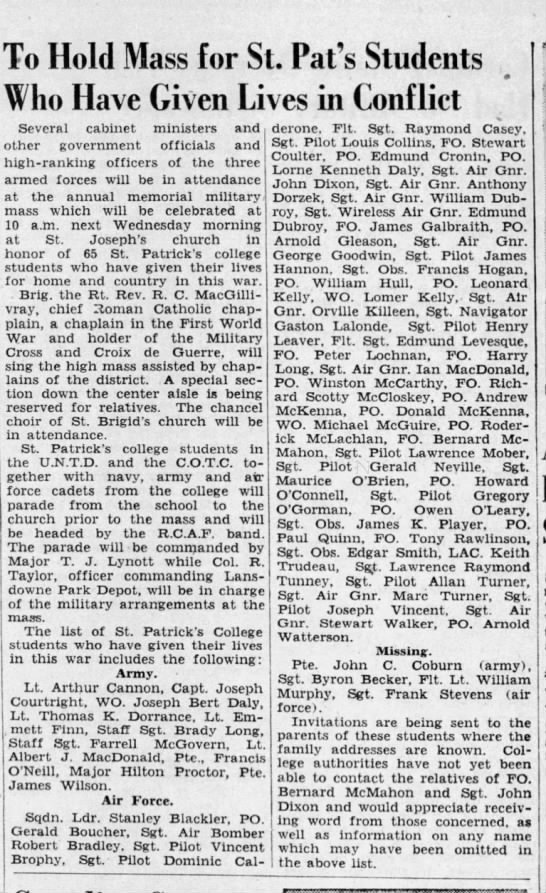 Insurance salesman wants pilot, but becomes bomb aimer.
Howard Ferguson O'Connell was the son of John Richard O'Connell, chief map draftsman, and his wife, Agnes Imelda (nee Smith) O'Connell of 303 Fairmont Avenue, Ottawa, Ontario. He had one brother, Donal Kevin, and one sister, Elizabeth Deidre, who worked at the Ottawa Journal. The family was Roman Catholic.
He attended La Salle Academy. "Intelligent, ambitious and steady at work," plus joined the cadets corps.
After school, Howard was a salesman for Ottawa Light Heat & Power from July 1929 to August 1941, then joined National Life Insurance Co., Ottawa until he enlisted with the RCAF. He thought he would like to have a job in advertising after the war.
Howard joined the Canadian Army in August 1940, 1st Corps Troops, RCASC, Lance Corporal. At that time, he stood 6' 1 ½" tall, weighed 175 pounds. He had a brown birth mark over his left wrist.
On November 17, 1941, he joined the RCAF at No. 12 Recruiting Centre, Ottawa. His weight dropped to 158. He had blue eyes and brown hair, with a fair complexion. He was in the station hospital from December 27 to 31, 1941.
He noted rugby, hockey, tennis and canoeing as sports he enjoyed. "Bright Canadian youth, good appearance. Keen and well mannered. Should make good material for Pilot Observer. Well recommended." Commission was possible.
Howard was at No. 2 Initial Training School from March 14 to May 9, 1942. "A bright, mature, well-balanced airman. He is self-assured and confident. He is responsible and cooperative." He was 58th out of 145 in his class in Ground School and earned an 81.5%. In Flying: 31st out of 26 in class, with a 65.5%. "A bright, mature, well balanced airmen. He is self-assured and confident. He is responsible and cooperative. He is good natured and respected and liked by the flight. He has been a good influence on the flight. He has ability but must continue to apply himself. His character and qualities should make for leadership. He is recommended for a Commission."
He was at No. 19 EFTS, Virden, Manitoba from June 21 to August 14, 1942. He was 29th out of 36 in his class with a 71.71%. He was an average pilot. "Slow to progress but appears to retain instruction well. Little rough on controls. Instrument flying average. This pupil does very little work on classroom subjects, hence his low marks but we think he has fair ability. Discipline and deportment good."
Howard was then sent to No. 12 SFTS, Brandon, Manitoba, August 31 to October 12, 1942. He had no examinations, nor tests, as he was washed out of pilot training. 'A mature, confident, well-spoken type. Keen to get overseas. Would like to be wireless air gunner."
Howard was sent to Toronto to No. 1 Manning Dept to remuster either at another ITS or at a wireless school. "Airmanship, co-ordination, judgement, and instrument flying poor."
He was then at KTS, Trenton from October 13 until November 7, 1942. Then he was sent to No. 8 B&G School, Lethbridge, Alberta.
He was at No. 2 AOS in Edmonton, Alberta, from February 7 to March 19, 1943. "Worked hard through course, but slow learner. Average bomb aimer. Good personality and neat appearance." He was 25th out of 27 in his class with a 70.5%. Howard was awarded his Air Bombers Badge on March 19, 1943.
By April 4, 1943, Howard was at Y Depot, Halifax, awaiting transport overseas. Sometime later, he, with 36 other RCAF airmen, boarded the Amerika. On April 22, 1943, near Greenland, a German U-boat torpedoed the Amerika. Howard was not one of the survivors.
Mr. and Mrs. O'Connell received a letter dated June 25, 1943 from F/L W. R. Gunn, RCAF Casualties Officer for Chief of the Air Staff. "Since my letter of May 6th, no additional news has been received. Attached is a list of the names and next-of-kin of sixteen Royal Canadian Air Force officers who embarked on the same ship as your son and following enemy action at sea were safely landed in the United Kingdom. The following official statement was made in the House of Commons....'I have been in receipt of communications from a number of members of this house and from people outside with reference to rumours regarding the recent loss of a number of members of the RCAF by the sinking of a ship in the north Atlantic and I desire to make the following statement on the facts. The vessel in question was a ship of British registry of 8,862 tons, designed for peace-time carriage of both passengers and freight, and having a speed of fifteen knots. She carried a crew of 86 and the passenger accommodation consisted of 12 two-berth rooms with bath and 29 other berths, providing cabin accommodations for 53 passengers. She was fitted with lifeboat capacity for 231 and travelled in naval convoy. Under the recently revised regulations agreed to by the United States authorities, the joint United Kingdom and United States shipping board, the Admiralty, the Air Ministry and the Canadian authorities, a vessel of this description travelling in convoy is permitted to embark as crew and passengers a maximum of 75% of the lifeboat capacity. The lifeboat capacity as stated above was 231, 75% of which is 173. Personnel on board consisted of the crew of 86, and RCAF personnel numbering 53, a total of 139, well within the prescribed limits. Because of the superior type of available passenger accommodation, the speed of the ship and the provision of naval convoy, the offer of the entire available space to the RCAF was immediately accepted. Rumours to the effect that this was a slow freighter not suitable for passenger accommodation are, of course, not in accord with the facts. Every precaution was taken to safeguard the lives of these gallant young men. It should be pointed out that on account of the serious shipping shortage every available berth on such ships must be used, and had the space not been taken up by the RCAF officers of the other arms of the services would have been placed on Board. It should also be stated again that the submarine is still the enemy's most powerful weapon and that the Battle of the Atlantic is not yet won. Any ocean trip today in any part of the world is fraught with danger and I think I may safely say that our record in transporting our soldiers and airmen to the United Kingdom is one of while we may all be proud. No one deplores more than I do the loss of 37 of the finest of our young men who gave their lives for their country as surely as if they had done so in actual combat with the enemy, and I extend my deepest sympathy to their loved ones in their bereavement.' If further information becomes available, you are to be reassured it will be communicated to you at once. May I again extend to you my sincere sympathy in this time of great anxiety."
In early January 1944, the O'Connells received another letter from S/L W. R. Gunn that Scottie would now be presumed dead for official purposes.
Mr. O'Connell filled out the Estates form on March 5, 1944. "A war bond, amount unknown was bought by my son during his training out West…the bond was bought through Air Force facilities at one of his training schools. I think it was Lethbridge, Alberta. Very early in 1943, I received a letter from my son telling me that the bond had been made payable to me and that I would get it in April. I have heard nothing further about it and would greatly appreciate anything you do to trace it. I would also appreciate it if you could arrange that I do NOT receive a letter asking if my son made any will overseas. As he was lost actually in transit on his first voyage overseas, it is quite impossible that any such will exists. The following is an excerpt from a letter from my son dated April 7, 1943: 'Regarding pay deductions I was into Accounts yesterday and had $35 made out to you monthly." I have never received anything and I trust this will be taken care of in his pay account."
In October 1955, another letter from W/C W. R. Gunn was mailed to Mrs. O'Connell informing her that Howard's name would appear on the Ottawa Memorial as her son had no known grave.