Howard Watson Guinter R66016
November 22, 1917 - May 21, 1943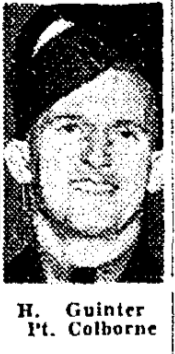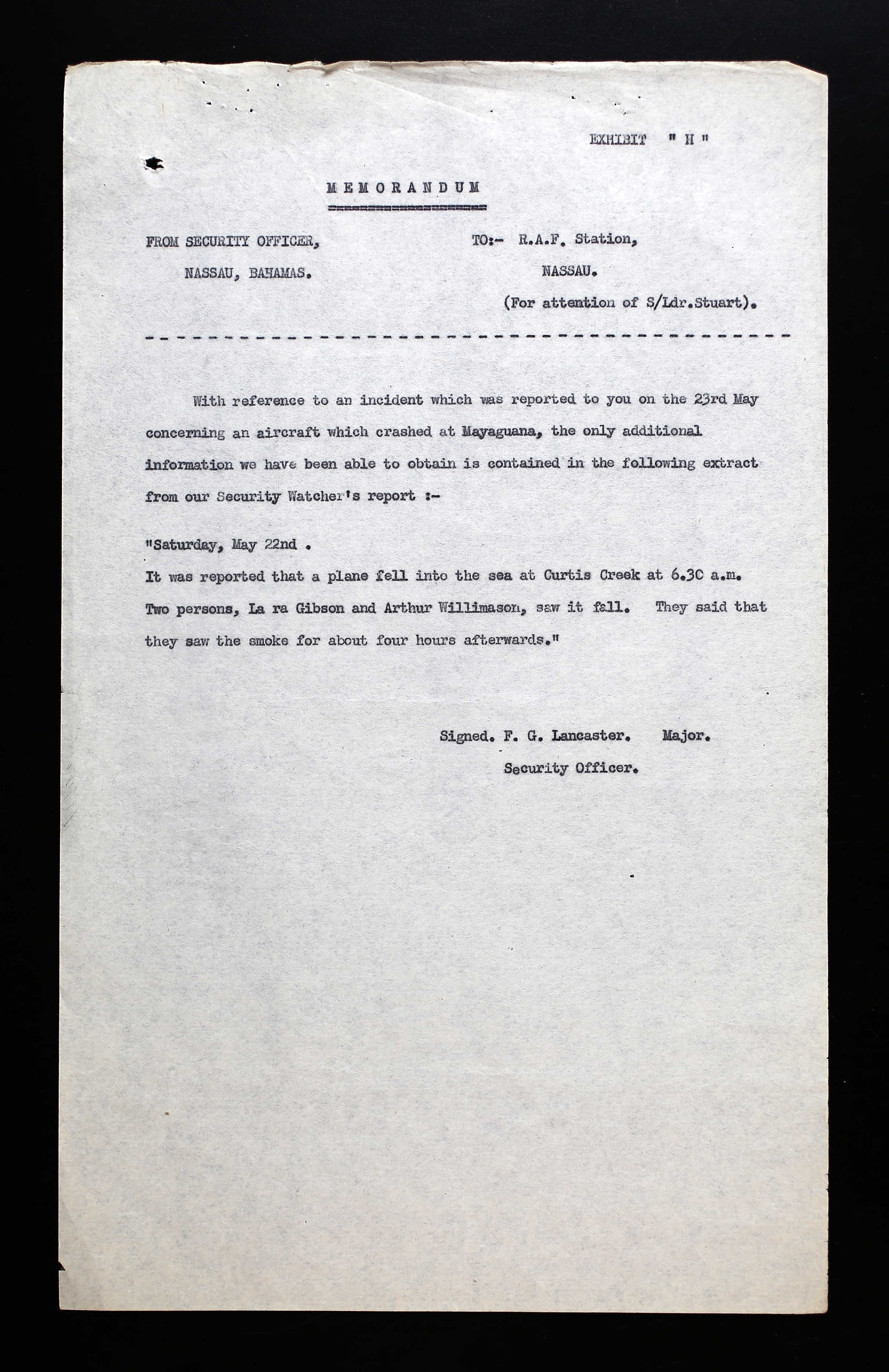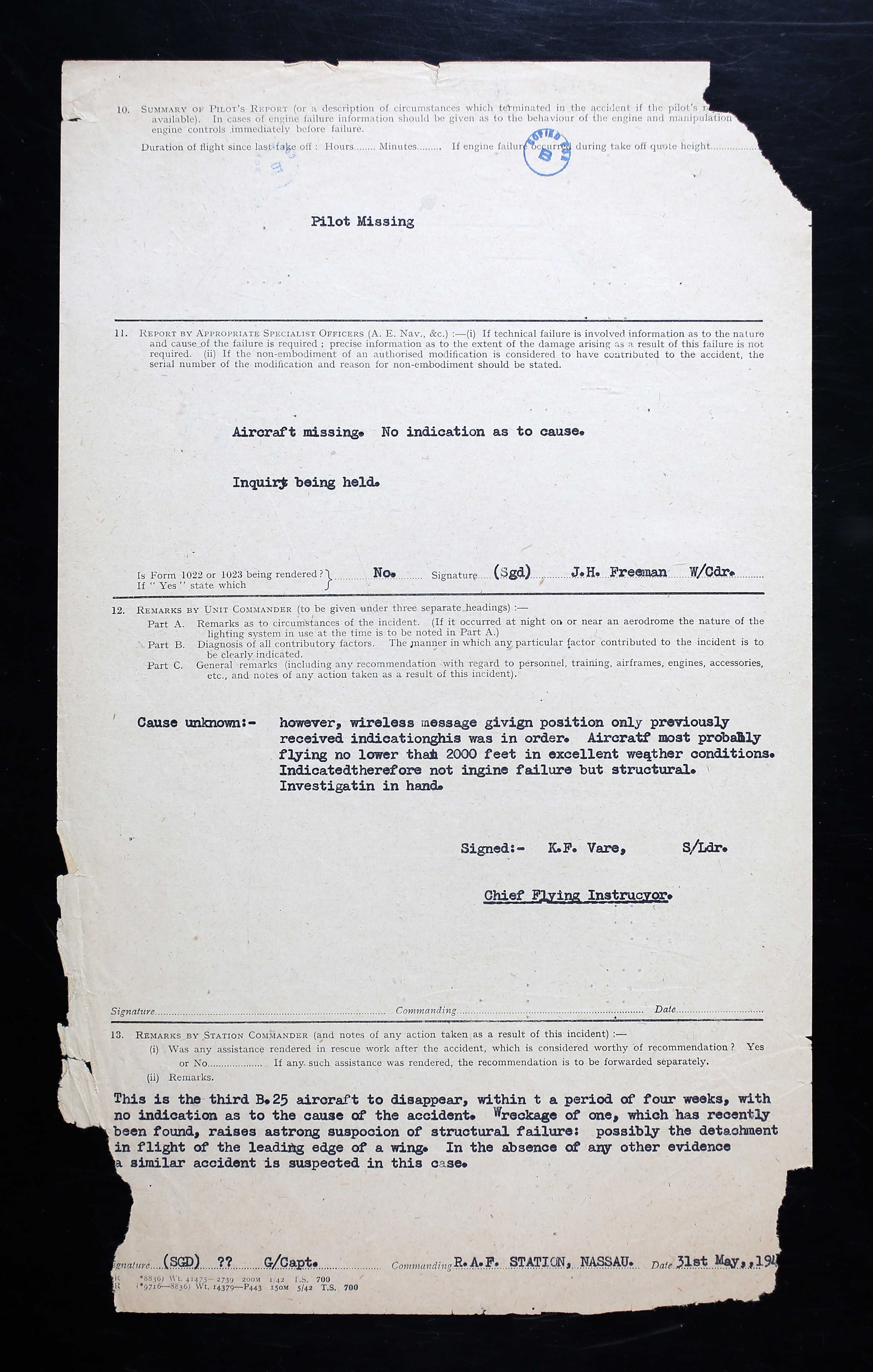 Married sign painter joined RCAF and became meteorologist, then remustered to WOAG. Posted to Nassau and 111 O.T.U., he and crew were lost aboard Mitchell FR365.
Howard Watson Guinter was the son of Watson Jacob Guinter, disposal engineer, and Mary Ann (nee Ashenden) of Port Colborne, Ontario. He had three sisters, Gladys Viola Murray (1899-1979), Muriel Louise Harper, and Ethel Dorothy Guinter. One brother died. His name was Clyde LeRoy Guinter. The family was Anglican.
Howard worked with boilers, was a shoe stitcher, then a crane operator before a route salesman and truck driver, then a sign painter. He liked swimming, hockey, was an 'expert' motorcyclist, a scoutmaster and taught signalling and first aid before he enlisted with the RCAF at Niagara Falls, Ontario on June 13, 1940. "Would like to learn any branch of aviation. Believe I would make a good dispatch rider." He was qualified as a standard airframe mechanic (wood). After the war, he wanted to study meteorology or return to painting signs.
He fractured his right femur in 1938 as the result of a motorcycle accident. He liked to paint in oil and with water colours. He smoked ten cigarettes a day and drank beer occasionally. Howard stood 5'6" tall and weighed 150 pounds. "Athletic and alert. Brownish birthmark dorsum right wrist. Scars just above right ankle result of pin for traction on broken right femur." Other comments: "Not in very good condition but should improve with more outdoor work." Howard had an upper dental plate and no lower molars.
He married Vivian Mae McInnis on August 27, 1938 in Simcoe, Ontario. Howard and Vivian had two children, Joy Marie, born November 11, 1938 and Howard Grant, born September 9, 1942.
Howard's journey through the BCATP began at No. 2 Manning Depot, Brandon, Manitoba on June 13, 1940 until he was sent to No. 2 SFTS, Ottawa, July 31, 1940. He took meteorology courses in September 1940, earning 50% and tried again in February 1941, earning 86%, becoming a meteorologist with the RCAF. He remustered in May 1942. "Desirable type of aircrew. Very sincere and eager. Wants pilot, observer, or air gunner. Night visual acuity below average. Good material, anxious, knows what is required." He was found acceptable for WOAG.
He was taken on strength at No. 1 Wireless School, Montreal June 21 until July 3, 1942. He was then sent to No. 4 Wireless School, Guelph, Ontario until January 22, 1943. He was 4th out of 94 in his class with 88.3%.
Howard was AWL: August 9 - 12, 1940, July 17, 1942, August 6, 1942, February 16, 1942 (failed to report for inoculation parade) and again October 1, 1942 (charged with conduct to the prejudice of good order and air force discipline). Punishment ranged from being confined to barracks three to fourteen days. He was at the station hospital from July 21 - 23, 1942.
From Guelph, he was sent to No. 1 B&G School, Jarvis, Ontario until March 8, 1943. "An energetic and determined man." He was tied for 15th in his class of 24. "Very persevering and confident."
Howard was sent to Moncton, NB before being posted to Nassau, Bahamas in the middle of March 1943.
Crew aboard Mitchell FR365: F/S Thomas William Vincent Atkins-Tallentire, 1256272, RAF, F/O Alastair Grant Cleary, 421022, RNZAF, Sgt. Ernest William Durrant, 1146794, RAF, Sgt. Meg Gedelian, R144402, RCAF, Sgt. Howard Watson Guinter, R66016, RCAF, F/O John Ewart Thomas, 107956, RAF, P/O Eric Douglas Todd, J24069, RCAF. All are commemorated on the Ottawa Memorial.
111 O.T.U., RAF Nassau, Bahamas: Mitchell II FR365 took off at 1745 captained by F/O J. E. Thomas, RAF, being the only one of five aircraft engaged on the five-house exercise which failed to return on May 21, 1943. Last heard from at 1951 about 120 miles NE of Nassau. A search using ships and aircraft failed to find out what happened. Noted on RAF Commands: "Although an exercise, four depth charges were also carried for use against enemy submarines, should they be sighted." Another document noted that the flying accident was about 120 miles northeast of New Providence, Bahamas.
A memorandum: "With reference to an incident which was reported to you on the 23rd of May concerning an aircraft which crashed at Mayaguana, the only additional information we have been able to obtain is contained in the following extract from our Security Watcher's report: 'Saturday, May 22: It was reported that a plane fell into the sea at Curtis Creek at 6:30 am. Two persons, Laura Gibson and Arthur Williamson, saw it fall. They said that they saw smoke for about four hours afterwards."
In the Court of Inquiry: "This is the third B25 aircraft to disappear within a period of four weeks with no indication as to the cause of the accident. Wreckage of one, which has recently been found, raises strong suspicion of structural failure; possibly the detachment in flight of the leading edge of a wing. In the absence of any other evidence in a similar accident suspected in this case." May 31, 1943.
Vivian remarried. She received a letter in late October 1944 informing her that since Howard had no known grave, his name would appear on the Ottawa Memorial.