Horace Brougham Hillcoat C21305
March 17, 1913 - December 15, 1944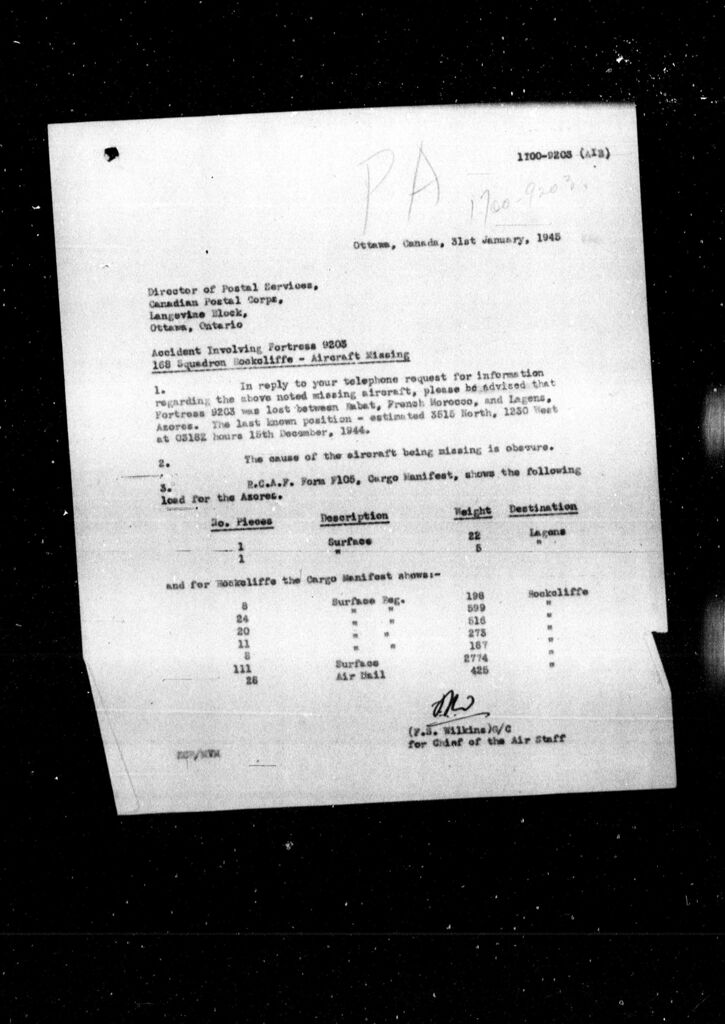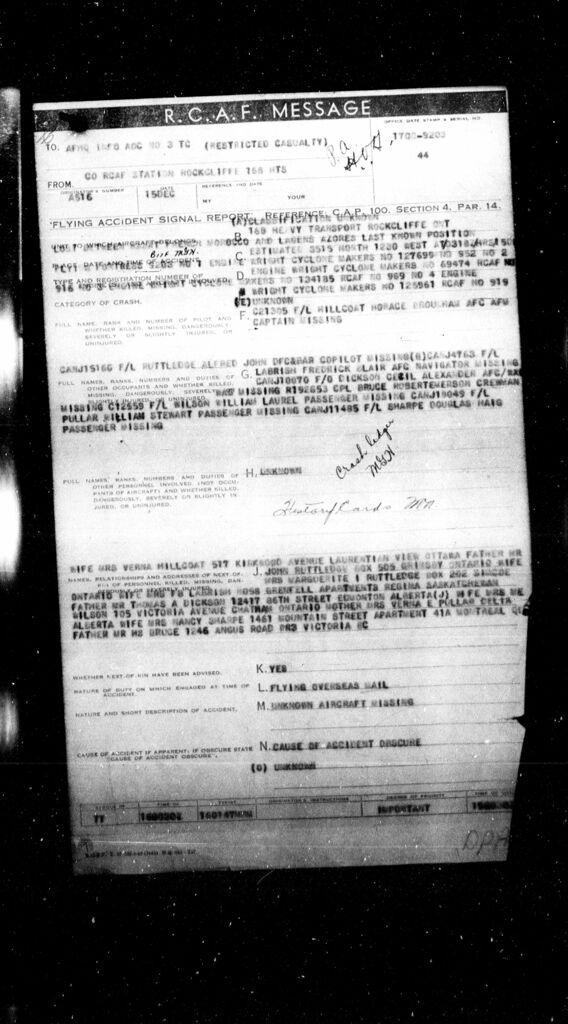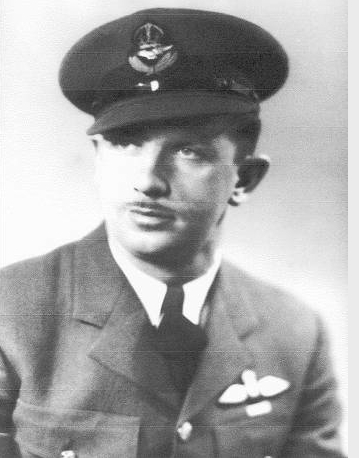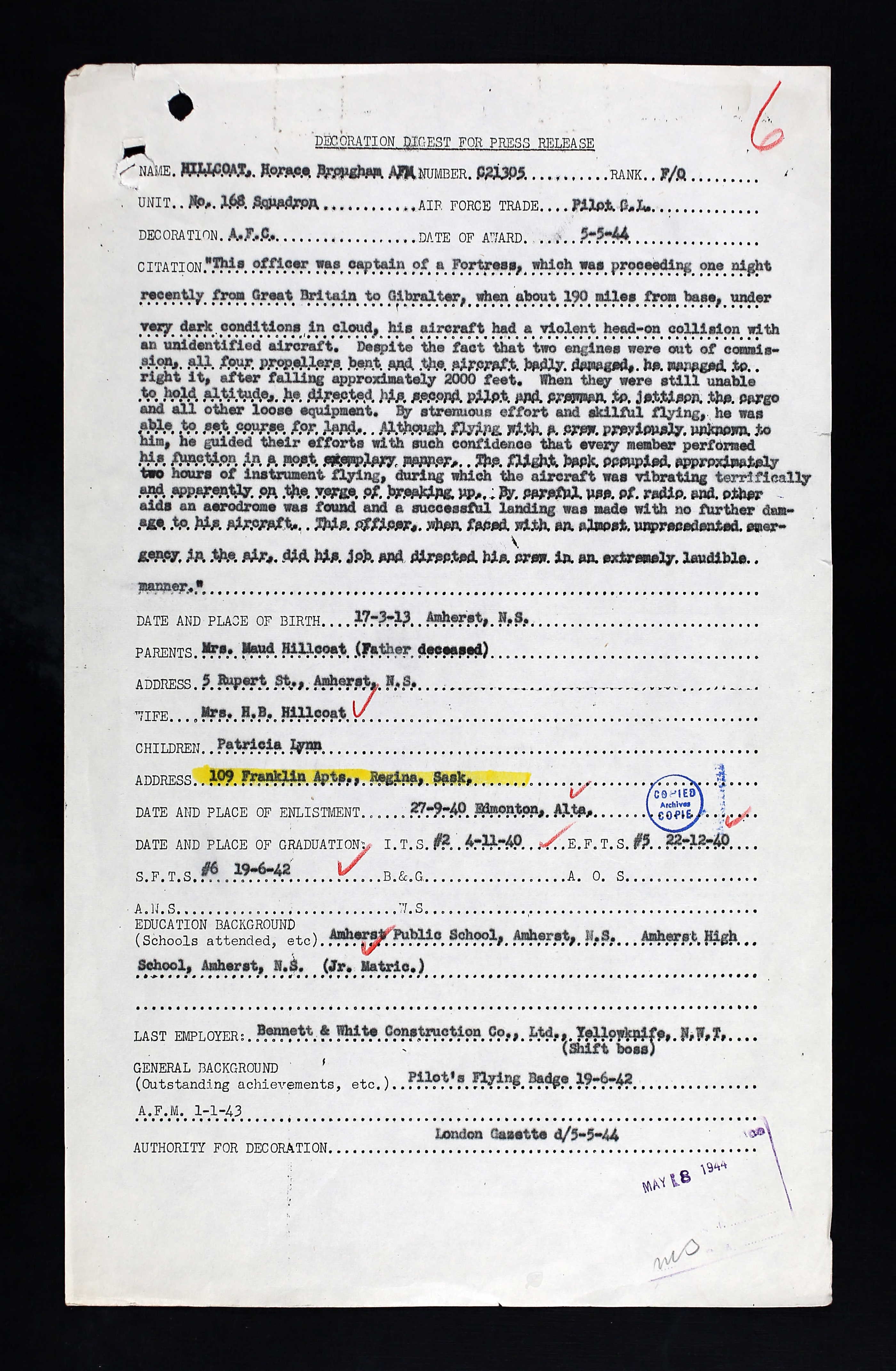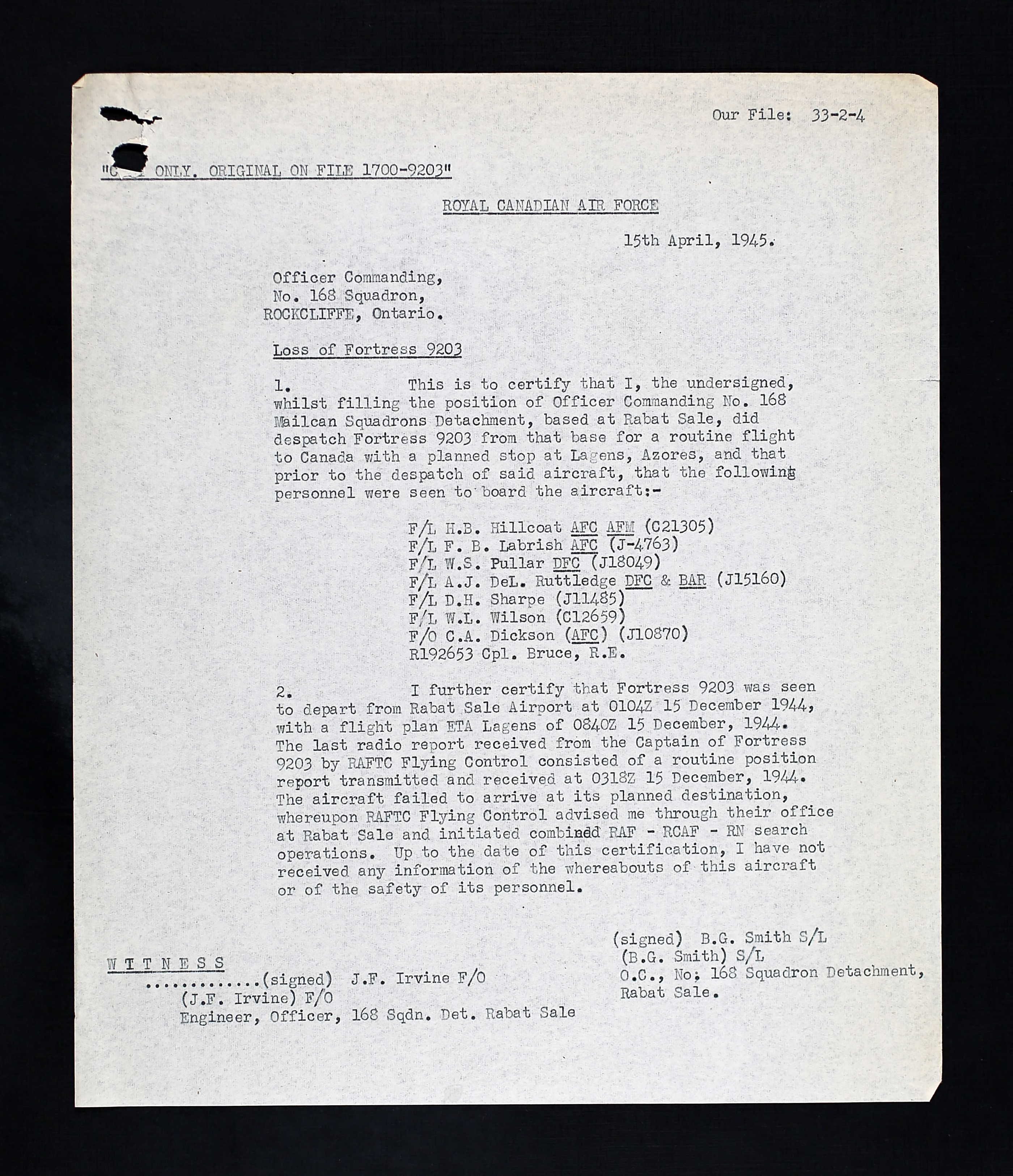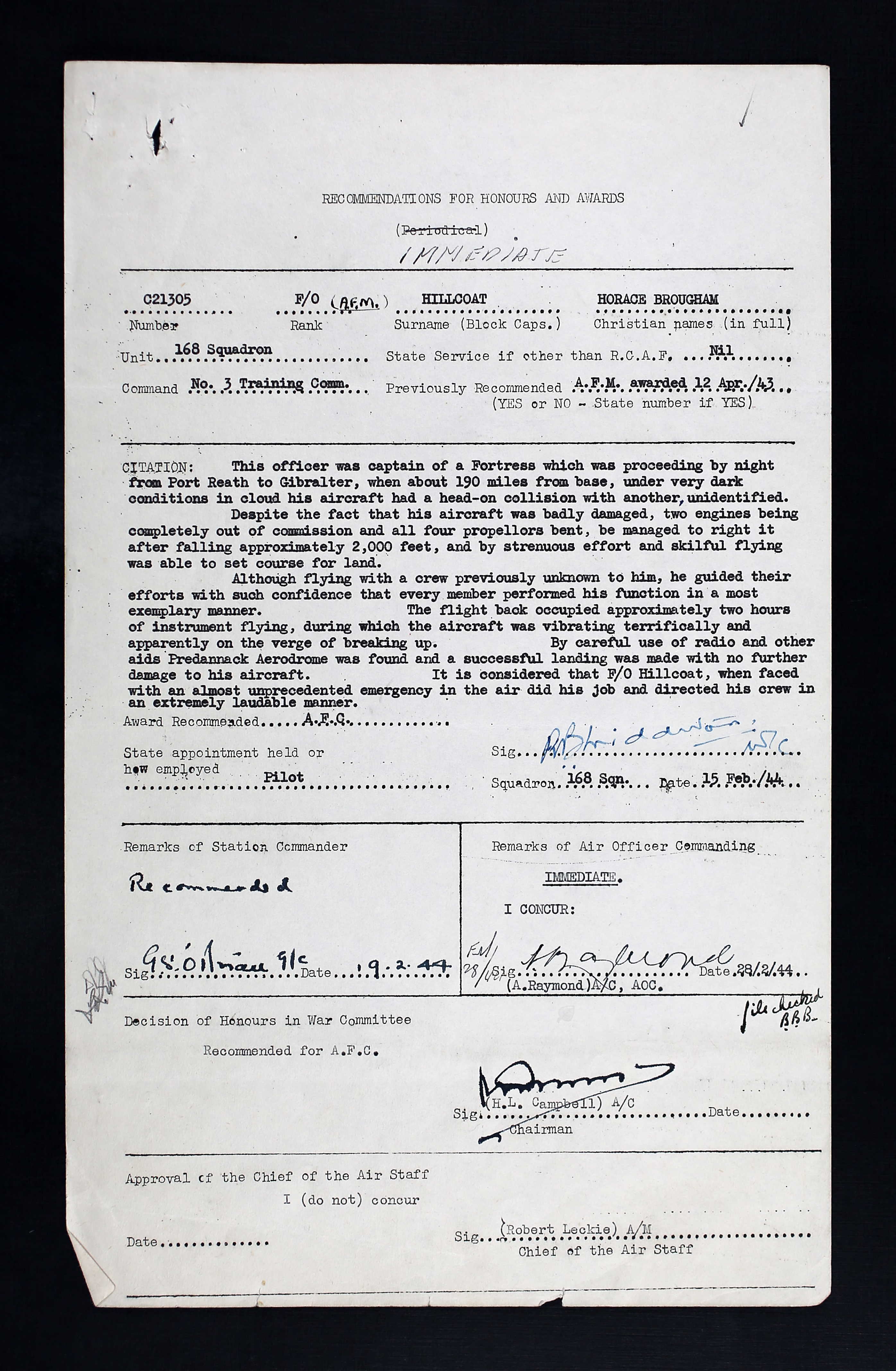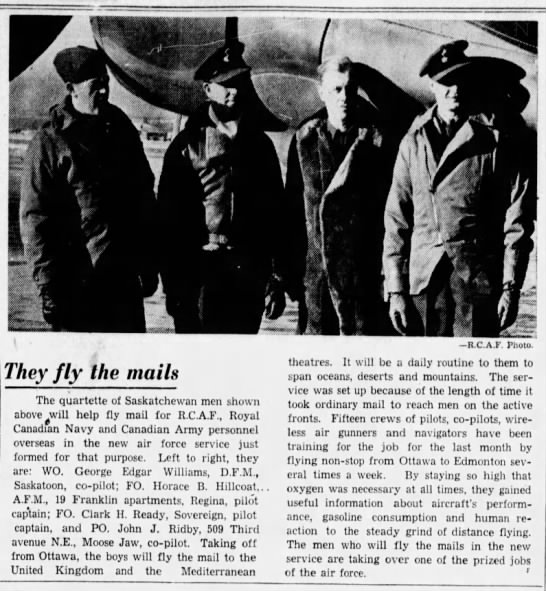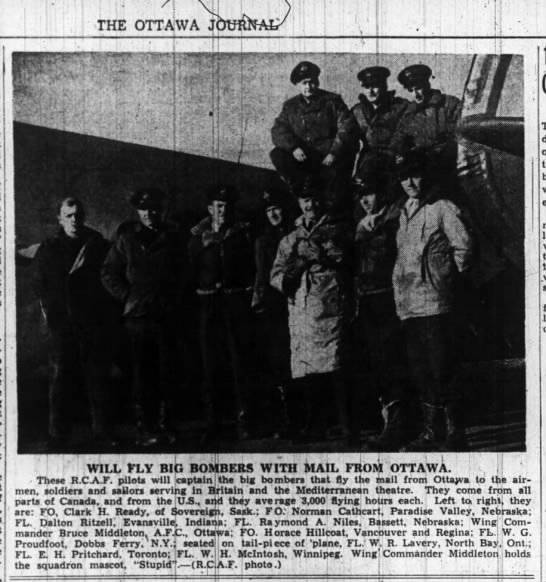 Mine boss joined RCAF and became flying instructor; then decorated service pilot, later with No. 168 Squadron delivering mail from Canada to overseas and back. Aboard Fortress 9203, he and crew and passengers were lost over the Atlantic Ocean.
Horace 'Pat' Brougham Hillcoat was born in Amherst, Nova Scotia, the son of Harry A Hillcoat (d. age of 72), musician, and Maud (nee Bent) Hillcoat (d. 1945). His parents predeceased him; his only sister, Wray, died in 1931 of Typhoid fever at the age of 26. The family was Anglican.
He worked as a clerk at the Bank of Montreal for two years, then was a shift boss, construction/mining in Yellowknife, NWT prior to enlistment with the RCAF in Edmonton, Alberta in September 1940. He also was a part-time agent with Confederation Life. "Very keen to fly and willing to serve in any capacity. Considerable flying experience and should be an excellent acquisition to the service. Well recommended."
He liked hockey, badminton, and golf extensively. Tennis, rugby, baseball, moderately. His hobby was aircraft modelling and light engines. He did not smoke and drank less than one pint of beer a week.
Pat stood 5'9" tall, weighing 170 pounds. He had blue/grey eyes and brown hair. He had a scar on his left upper arm.
He had attended No. 2 ITS: "Good type, willing and keen." He was 17th out of 105 in his class. No. 5 EFTS: "Steep turns and forced landing poor. Airmanship is good and uses good judgment. High average as a pilot. Ground training: serious type, mature, good bearing, conduct very good."
He was a flight instructor at Virden, Manitoba at No. 19 EFTS from April 1941 to March 1942. "The airman is one of the original instructors drawn from the aircrew of the BCATP to act as instructor. He has been employed by this school since its inception and was promoted to Flight Commander five weeks later, which position he has held since. His devotion to his work has been outstanding and through very hard work, he has assisted materially in raising the standard of aircrew product turned out by the school. He had flown a total of 853 hours." The Air Force Medal was recommended at this time.
April 1941: "A capable instructor in all elementary sequences." May 1941: "Monotone voice. Should make an average instructor with more experience. Manner nice. A borderline test. Recommend check within three months. General flying rough and not sufficiently accurate."
Pat married Verna Phyllis (nee Brown) Hillcoat (1918-2014) on June 28, 1941 in Brandon, Manitoba. She lived in Ottawa and then later resided in Moose Jaw and Regina, Saskatchewan, and then Lethbridge, Alberta. He had two daughters, Patricia Lynn, born April 1943, and Beverley Jean, born June 1945.
August 1941: "This instructor has a tendency to deviate from the instructional patter although he does bring out all the important points. No other outstanding faults."
Pat was posted to No. 6 SFTS, Dunnville April 26, 1942 until July 3 of that year. He was then sent to Western Air Command attached to 132 (F) Squadron at Sea Island and Patricia Bay, then to Tofino, BC where he remained until May 12, 1943.
From there, he was sent to Rockcliffe, 12 Squadron, then in August 1943, he was with 165 Squadron. "This officer is a captain at this unity and is doing a very good job. He works hard and continually. He is one of the steadiest captains in the squadron. I strongly recommend he be promoted to Acting Flight Lieutenant and his retention in the service." September 14, 1943
Pat was part of the mail delivery for the RCAF with 168 Squadron. In 1944, he received the Air Force Cross when he and his crew were involved in a collision at 5,000 feet with a Wellington aircraft on a flight from Britain to Gibraltar early in the year. [See articles.]. "All engines shock-loaded and propellers damaged. Extensive skin damage to fuselage, port and starboard side forward of centre section. A part of a Wellington rudder with trimming tab attached was found affied to port main plane."
By April 1944, he was on Temporary Duty in the UK. In June 1944, he was at Dayton, Ohhio, then in July 1944, at Patterson, NJ. Dorval and Scoudouc, NB, as well.
Pat, his crew, and passengers were lost on a transatlantic flight from French Morocco to Canada via the Azores. A few mailbags were spotted floating on the surface during the search.
CREW: • F/L Horace Brougham 'Pat' Hillcoat, Pilot, Ottawa, Ontario • F/L Frederick Blair La Brish, Navigator, Regina, Saskatchewan • F/L Alfred John De Laune. Ruttledge, Co-pilot, Simcoe, Ontario • F/O Cecil Alexander. Dickson, WO, Edmonton, Alberta • Cpl. Robert Emerson Bruce, crewman, Victoria, BC • F/L William Stewart Pullar, passenger-Pilot, Delia, Alberta • F/L Douglas Haig Sharpe, passenger-Navigator, Montreal, Quebec, • F/L William Laurel Wilson, administrative officer, Chatham, Ontario
(See Dave O'Malley's article. for additional information and photos.)
July 9, 1945: "The situation is that the RAF look upon this as an operational flight, concerning which they usually take no action beyond a circumstantial report. No. 9 Group can produce witnesses' statement showing that the personnel concerned were actually in the aircraft when it left Rabat, that no other call was made enroute and that nothing further is known of the aircraft since its disappearance."
F/L Hillcoat is remembered on the Ottawa Memorial as well as at the Mountain View Cemetery in Lethbridge, his name is etched below his wife's name.
LINKS: