Hibbert Douglas Frye J13257
January 9, 1918 - December 22, 1943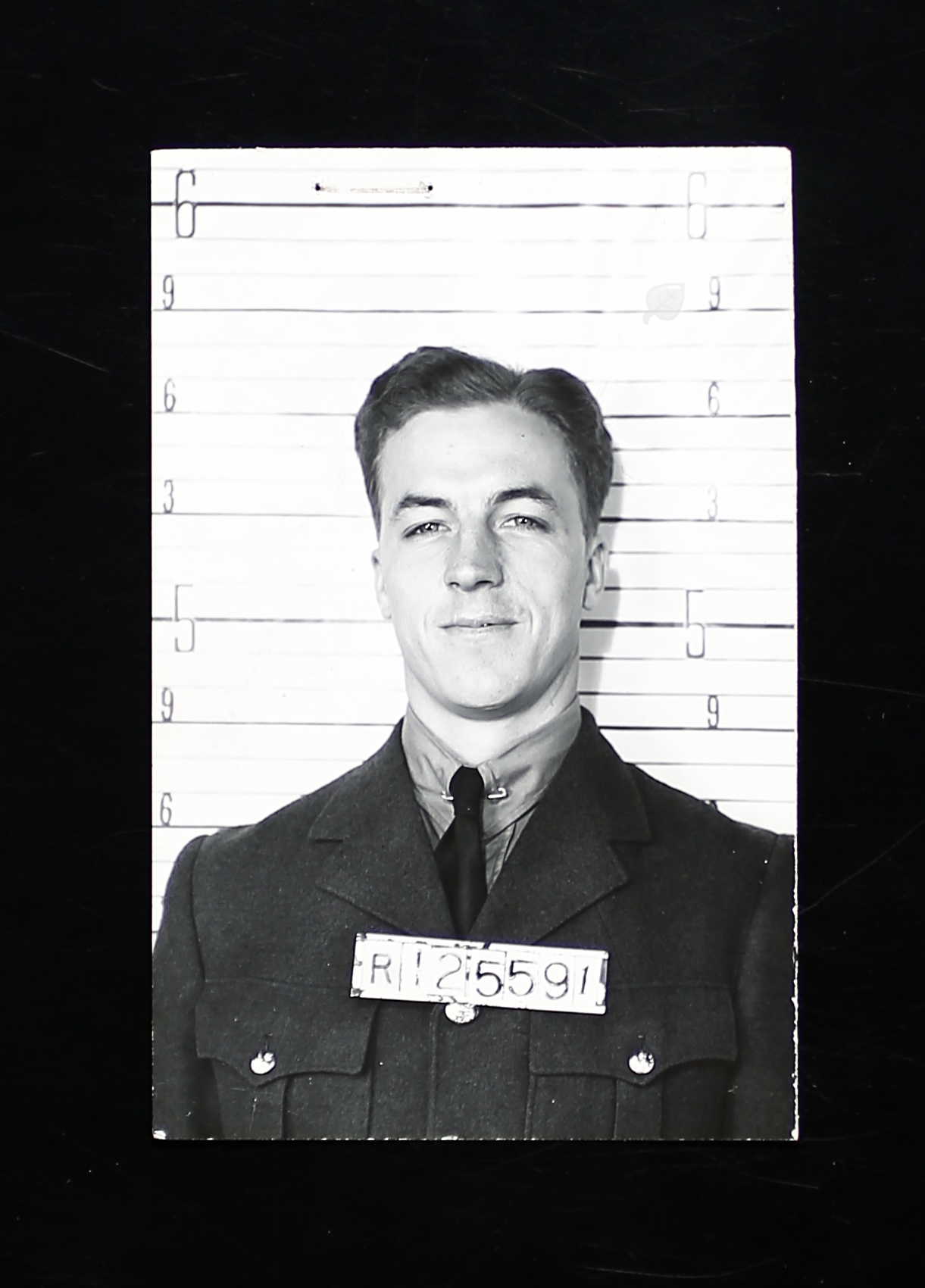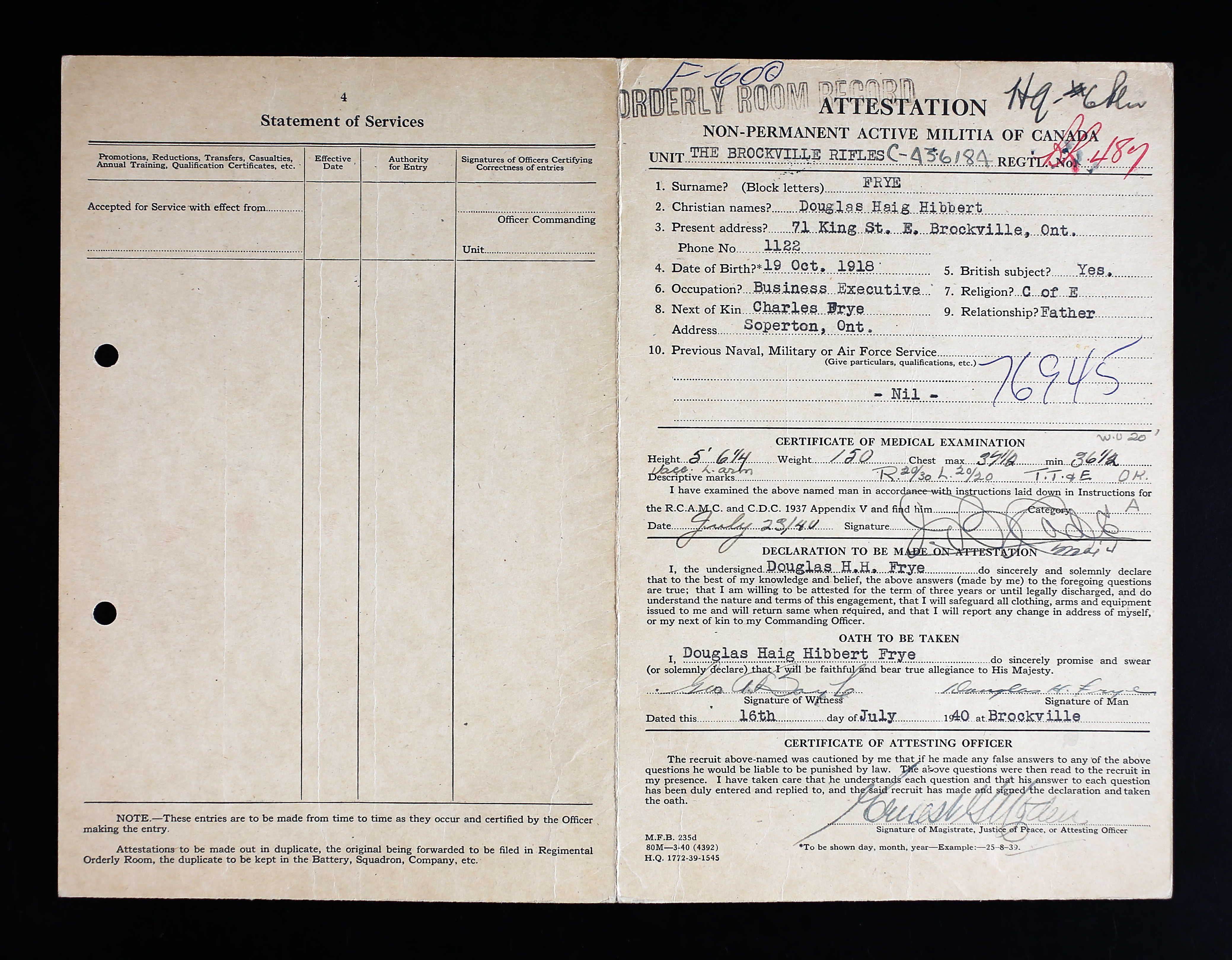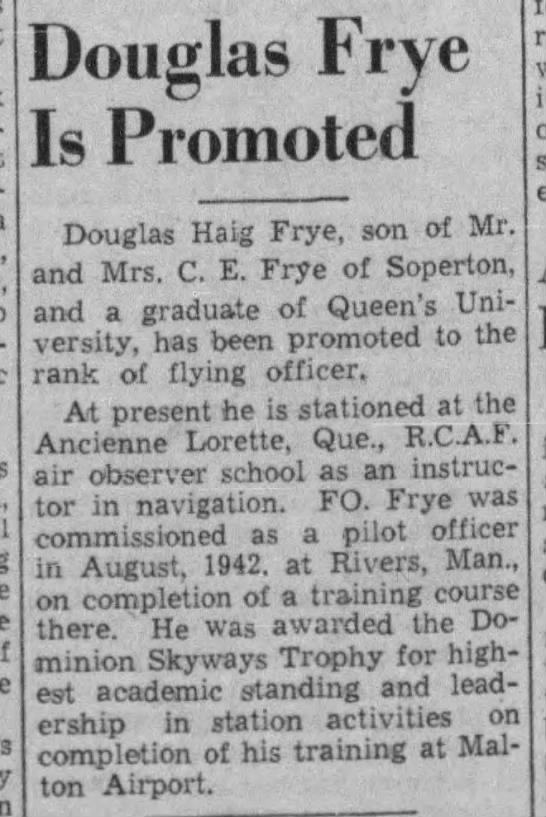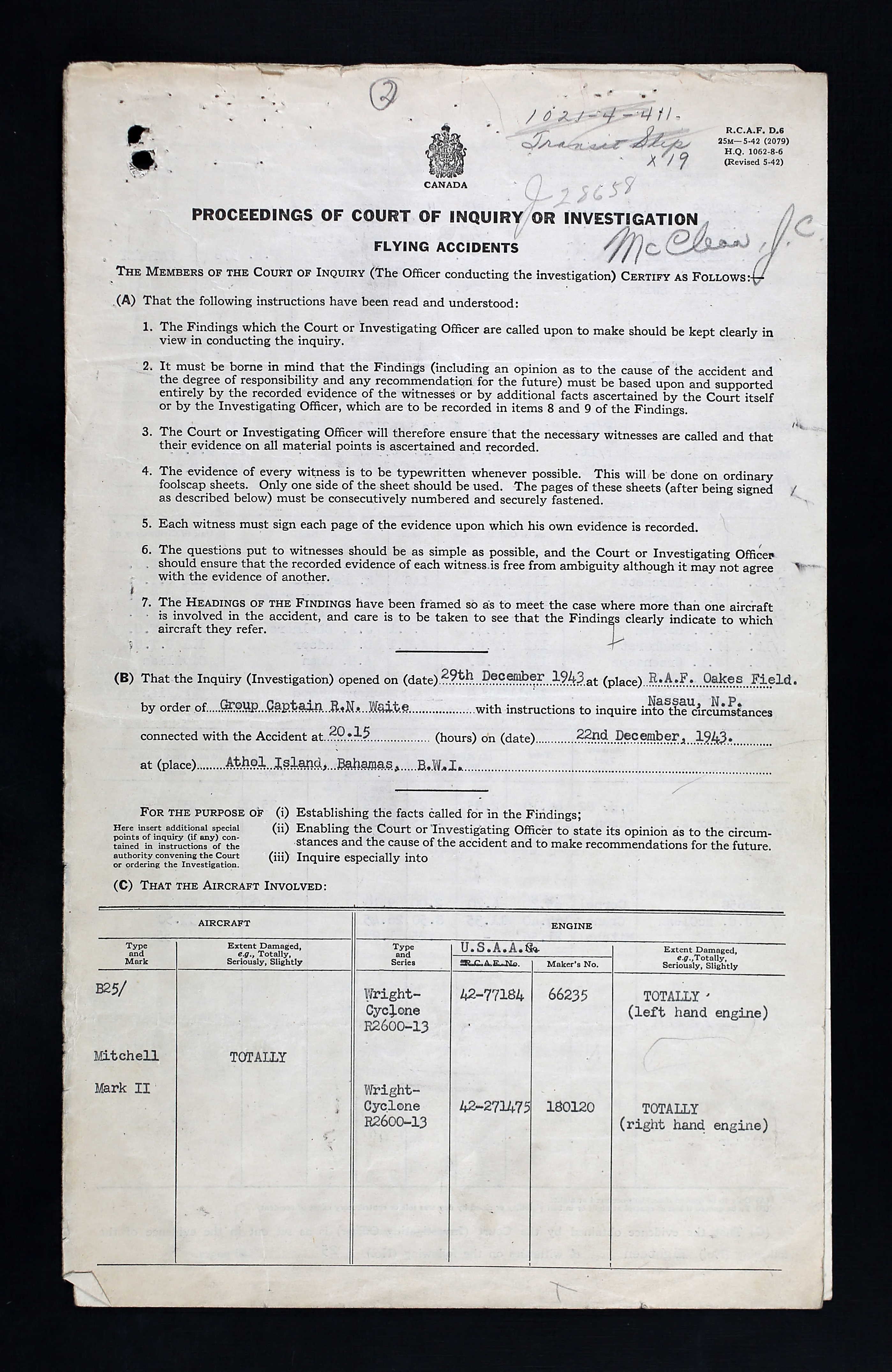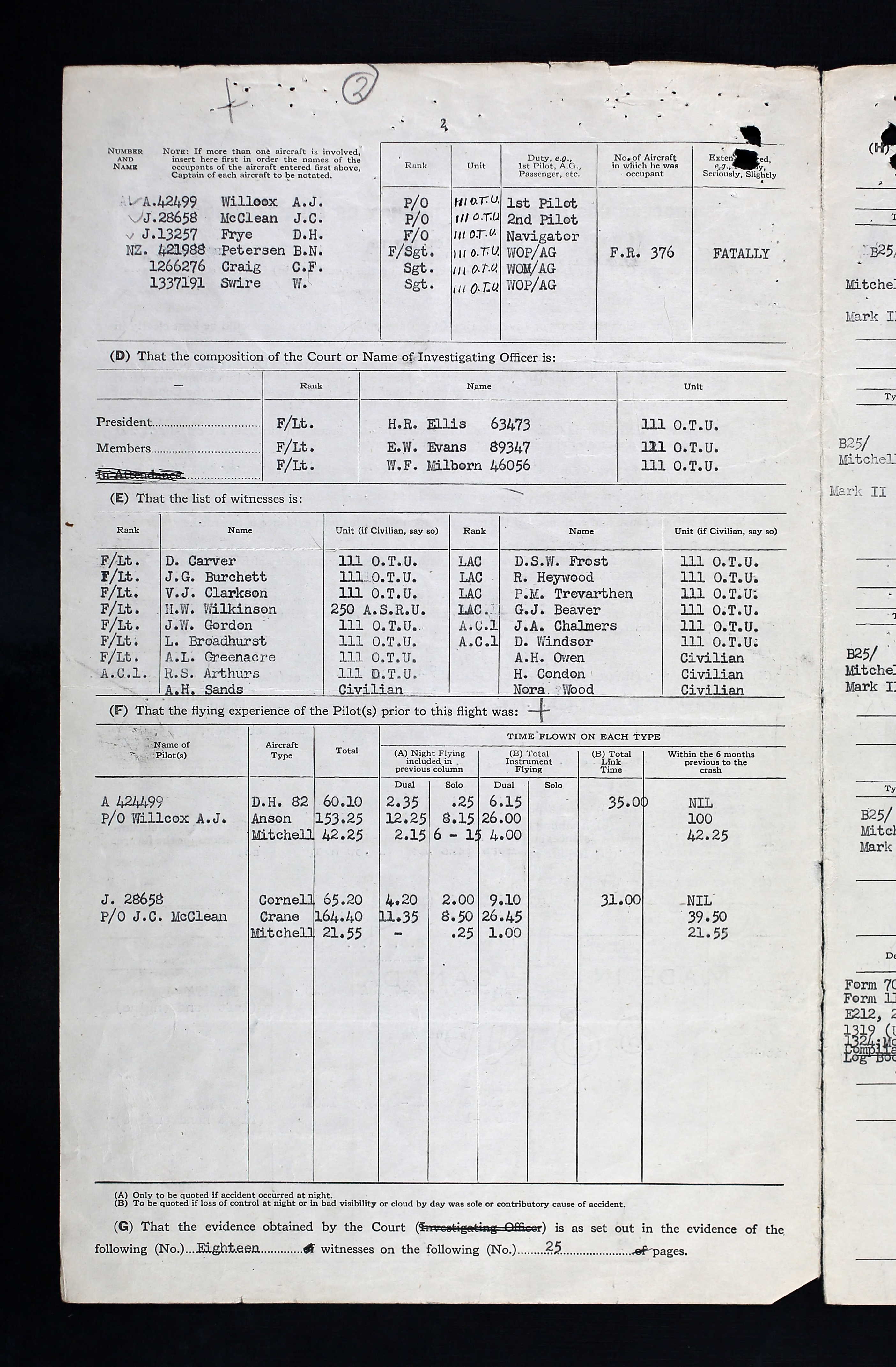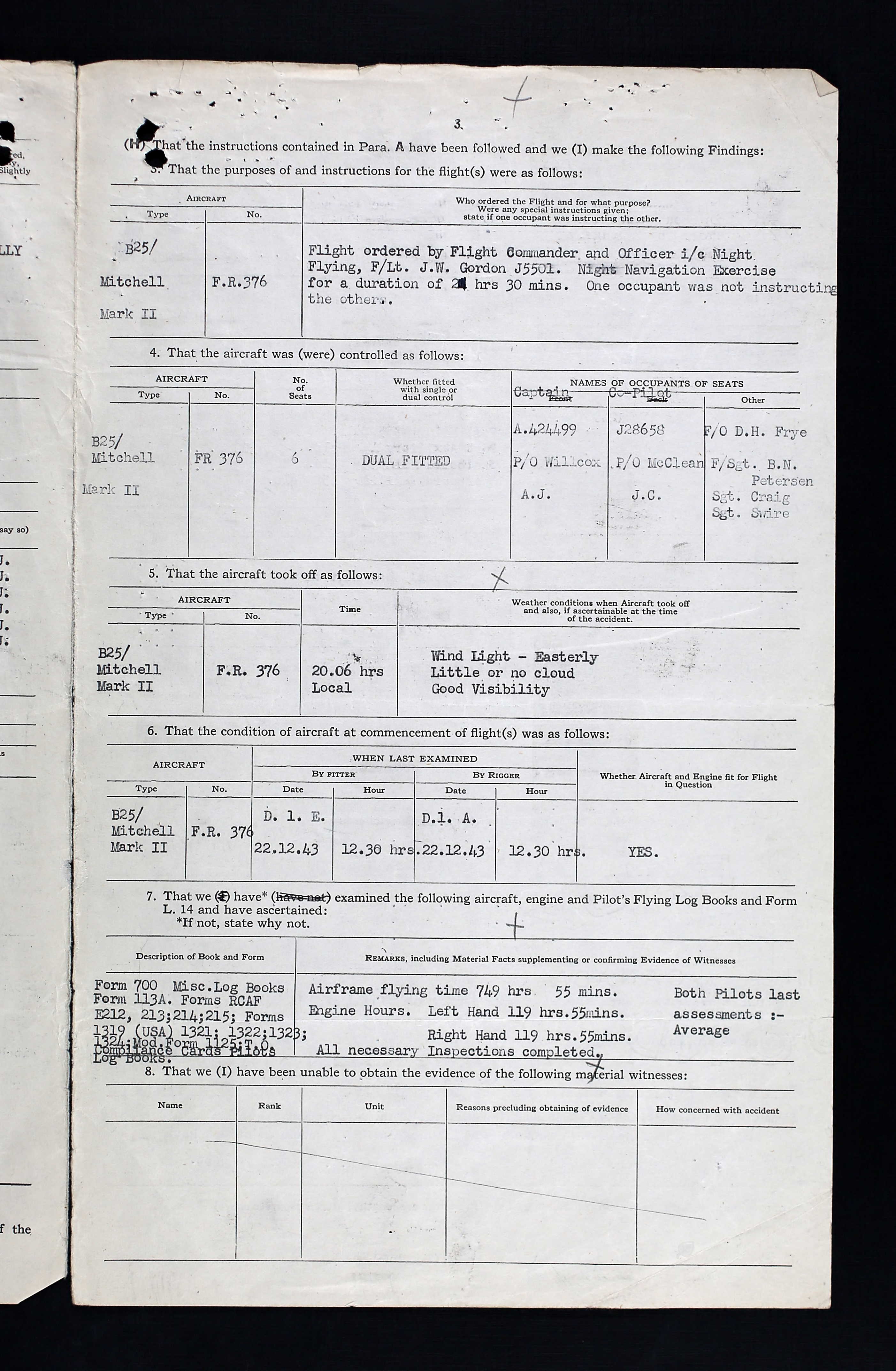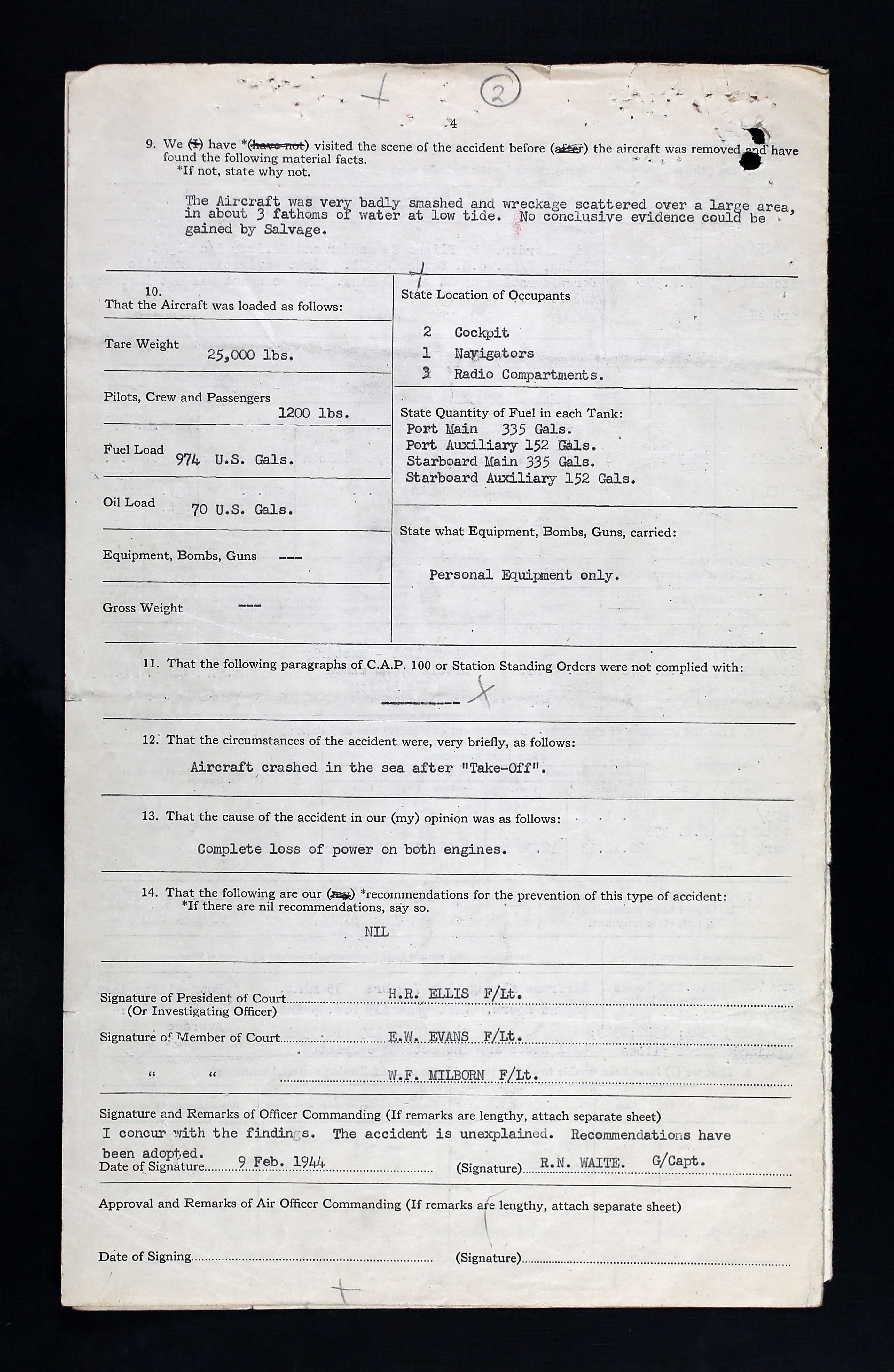 Sales executive with B.Comm degree joined RCAF and became an above average navigator then instructor before being posted to Nassau, Bahamas. Aboard Mitchell FR376, he and crew were lost between Andros and Exhuma Islands. Wreckage of the plane was found.
Hibbert Douglas Frye [also noted as Douglas Haig Frye] was the son of Charles Evans Frye, farmer, and Eva (nee Johnson) Frye of Soperton, Ontario. He had two brothers, Albert William and William Charles, who also enlisted in the RCAF), and one sister, Helen (nee Frye) Russell. A third brother, John Waldron, passed away from streptococcus on April 23, 1940. The family was Anglican.
Known as Douglas, he attended Queen's University for three years towards his B. Comm. in Finance and Administration. While at university during the summers, he worked in mining and construction. He worked as a sales executive for J. B. Stetson, a hat manufacturer in Brockville, Ontario for over 10 years. [His brother, John, also a graduate from Queen's University, worked for the same company.] After the war, Hibbert hoped to return in sales. "Excellent candidate. Splendid educational background. Should make good pilot or observer."
He liked to play hockey and was a good golfer and enjoyed sailing. He did not smoke, nor did he drink. "Athletic and alert." He stood 5'6" tall and weighed 143 pounds, had blue eyes and brown hair. "Good average material. Wants pilot. Well educated. Best observer?" He had previous military experience in 1940-41 with the Brockville Rifles, where he trained weekly and participated in a military camp for two weeks. He was engaged in model aircraft during his time at high school.
Enlisting in Ottawa on August 27, 1941, he started his journey through the BCATP at No. 1 Manning Depot, Toronto, Ontario, August 27, 1941. He was then sent to No. 31 B&G School, Picton, Ontario September 14 until November 10, 1941. From there, he was at No. 1 ITS, Toronto, November 11, 1941 to February 2, 1942. "Far above average type. Capable, keen, efficient. Good educational background. Commission material." He returned to No. 1 Manning Dept for about three weeks before being sent to No. 1 AOS, Malton, Ontario until May 9, 1940.
Douglas was then at No. 1 B&G School, Jarvis from May 10, 1942 o June 20, 1942. "Active, industrious, persevering, learns quickly." He was 5th out of 23 in his class with 70.6%. "Gunnery: Fairly good. Bombing: Good."
He was then sent to No. 1 CNS, Rivers, Manitoba, June 21 to August 26, 1942, when he was sent to No. 8 AOS, Ancienne Lorette. On February 1, 1943 at No. 8 AOS, Ancienne Lorette: "P/O Frye is above average as an instructor and as an Officer. This officer has a good appearance and deportment and is highly popular with his fellow officers and with his pupils." In September 1943, he was sent to No. 1 GRS, Summerside, PEI September 2 to October 30, 1943, then attached to 111 O.T.U, Nassau, Bahamas. "Keen and quick. Well above average. Will be an asset to a GR Squadron." He was also recommended for flying boats. "Former AOS Navigation Instructor. Worked hard and achieved very good results. Should do well in a squadron."
Fellow crewmember, John Charles McLean also attended Queen's University, earning a B.Comm.
Douglas had $148.41 in his Bank of Montreal account in Athens, Ontario as well as $400 in Victory Loan Bonds, plus life insurance policies.
On April 8, 1943: "F/O Fry is a capable instructor whose interest is always in the progress and welfare of the course of which he is in charge. Recommended that he be retained in the service in his present capacity."
From RAAFA Aviation Heritage Museum's website: "Mitchell FR376 took off from Oakes Field at 2000 hours on a non-operational flight on 22 December 1943 with a student crew to do a routine 2.5-hour navigational night exercise. A ground test of the radio before take-off was the last contact with the aircraft which did not use radio after take-off, and it did not return to base. The wreck of the aircraft was subsequently discovered in 10 feet of water, seven miles east of Nassau, Bahamas, and about 6.5 miles from the airfield. The aircraft had completely disintegrated, and there was no trace of any survivors. There were strong tides running in the crash area. In 1949 it was recorded that the missing crew had lost their lives at sea. Their names are commemorated on the Ottawa Memorial, Canada." Another document indicates that the flying accident occurred between Andros and Exhuma Islands.
Crew aboard Mitchell FR376 that were lost off the Bahamas on December 22, 1943: *Sergeant Charles Fairweather Craig (1266276) (RAFVR) (Wireless Operator/Air Gunner) *Flying Officer Hibbert Douglas Frye (J/13257) (RCAF) (Navigator) *Pilot Officer John Charles McLean (J/28658) (RCAF) (Second Pilot) *Flight Sergeant Bernard Norman Peterson (421988) (RNZAF) (Wireless Operator/Air Gunner) *Sergeant William Swire (1337191) (RAFVR) (Wireless Operator/Air Gunner) *Pilot Officer Arthur Jack Willcox (424499) (Pilot)
Douglas's brother, F/L William Charles Frye was involved in a parachuting accident near Zweibruecken, West Germany in early 1957, after his Sabre aircraft collided with another.
LINKS: