Herbert James Martin C1479
March 18, 1913 - January 17, 1943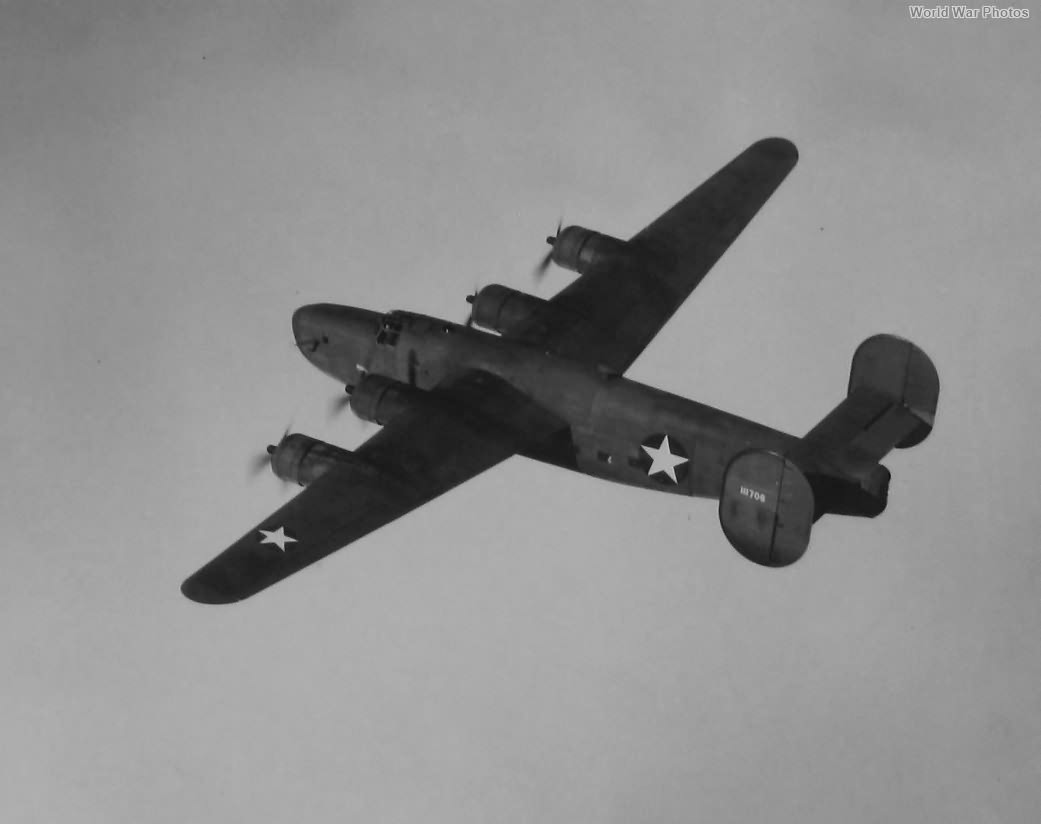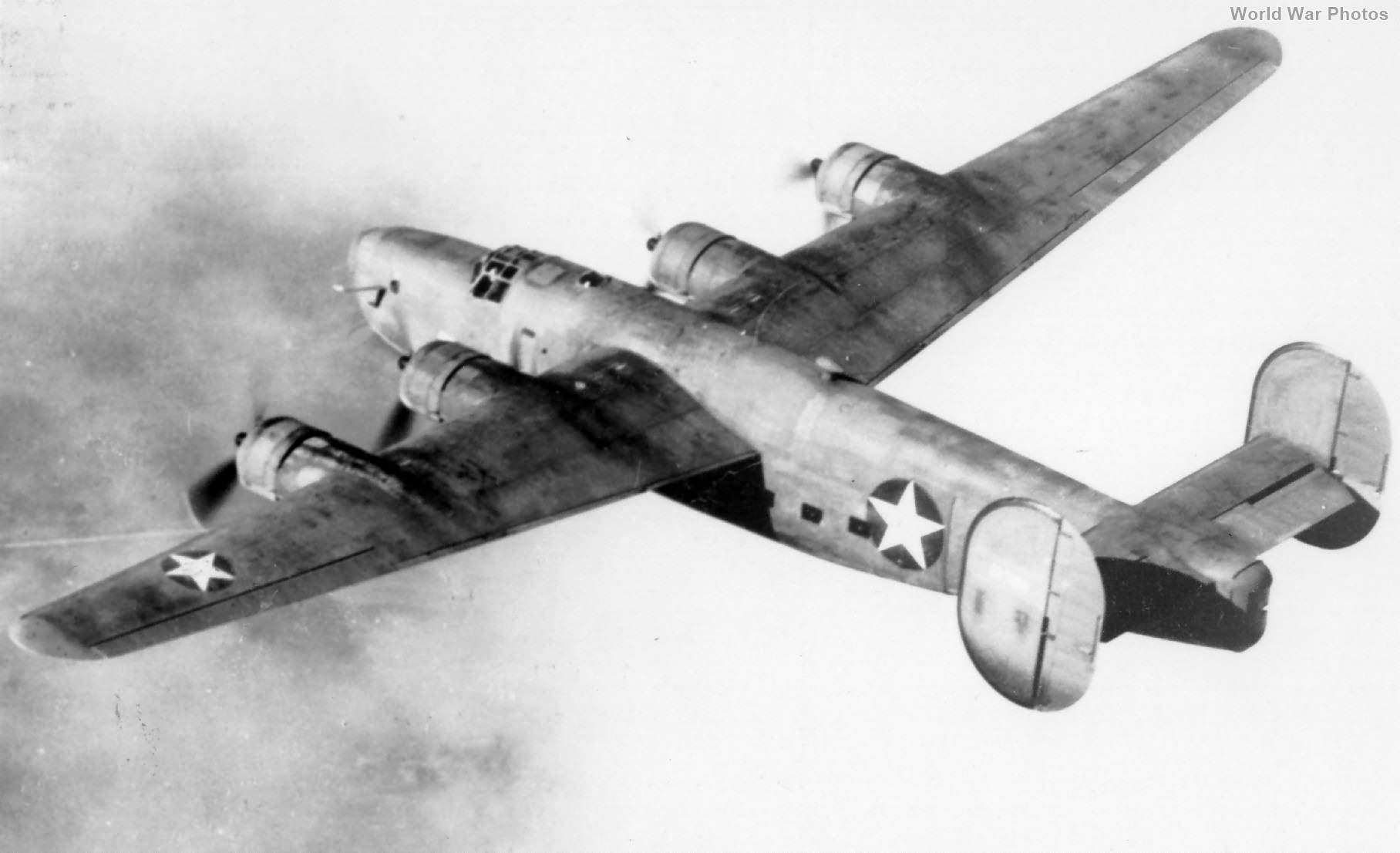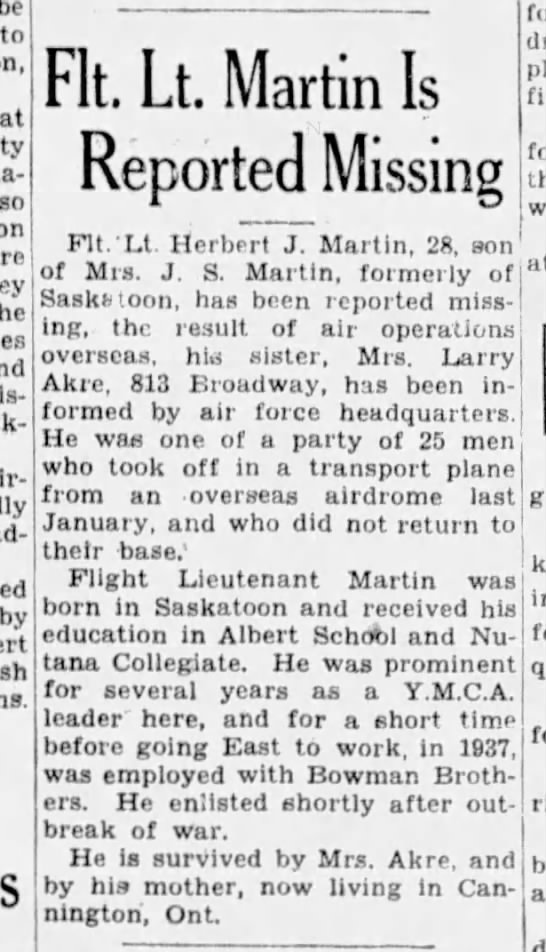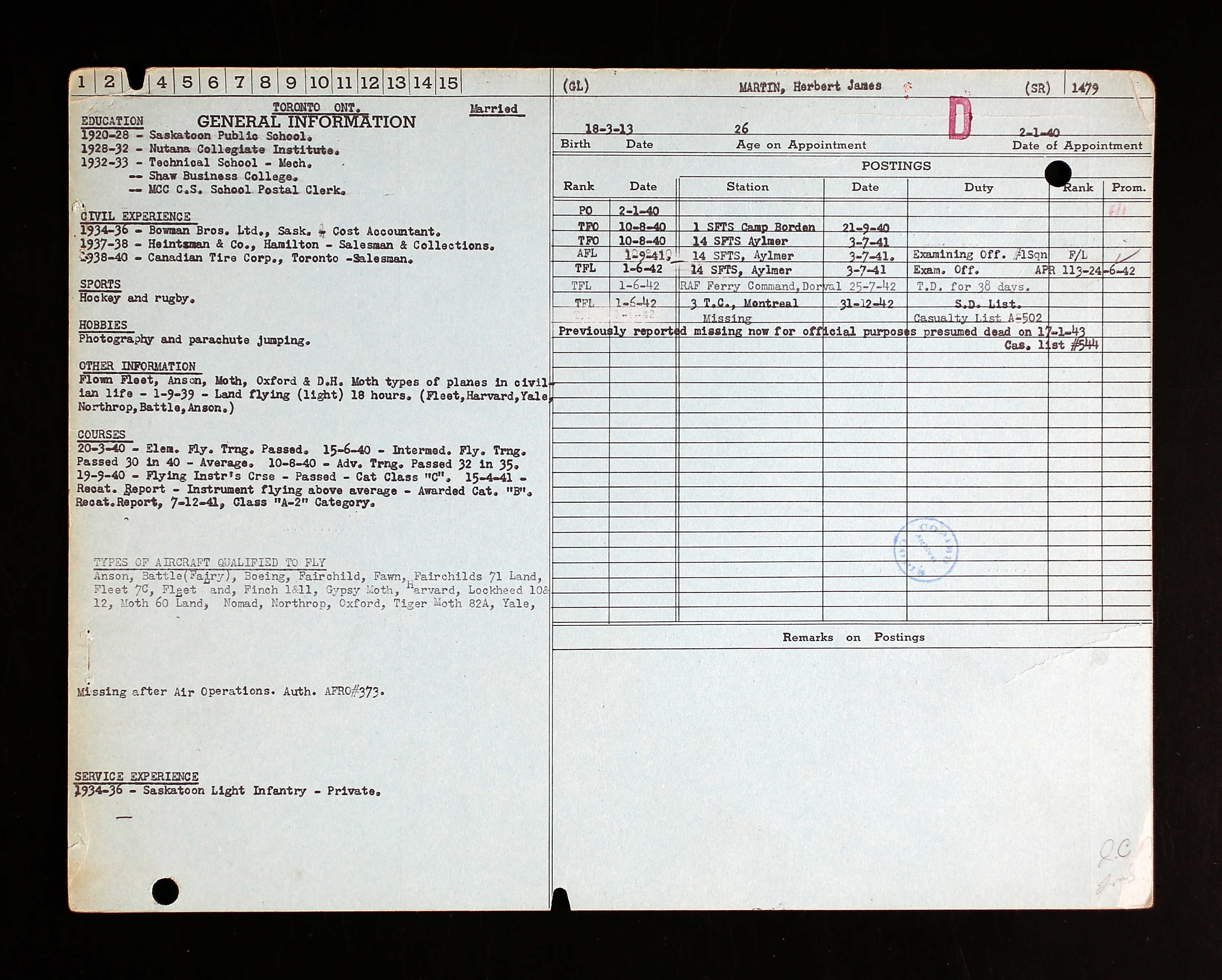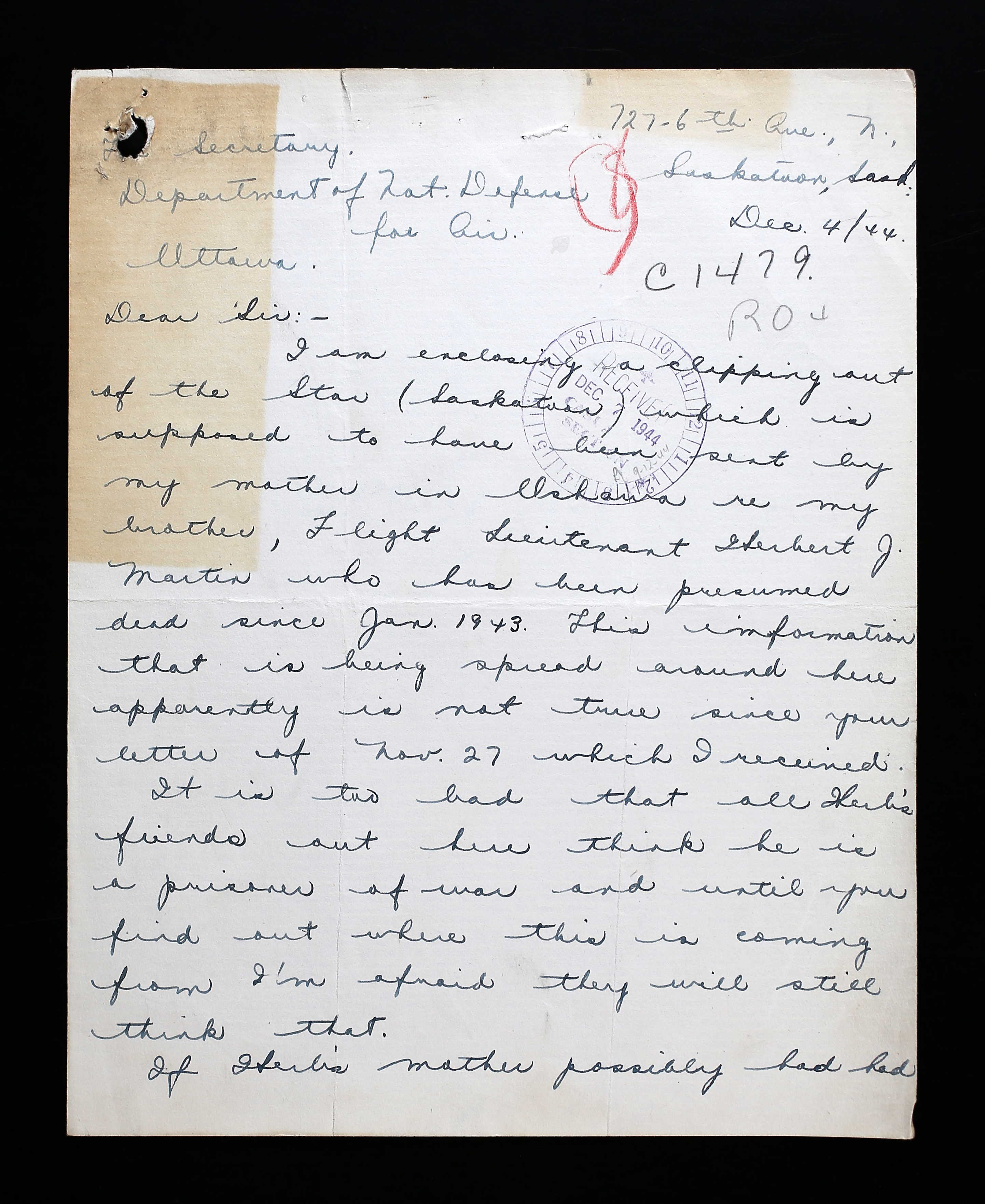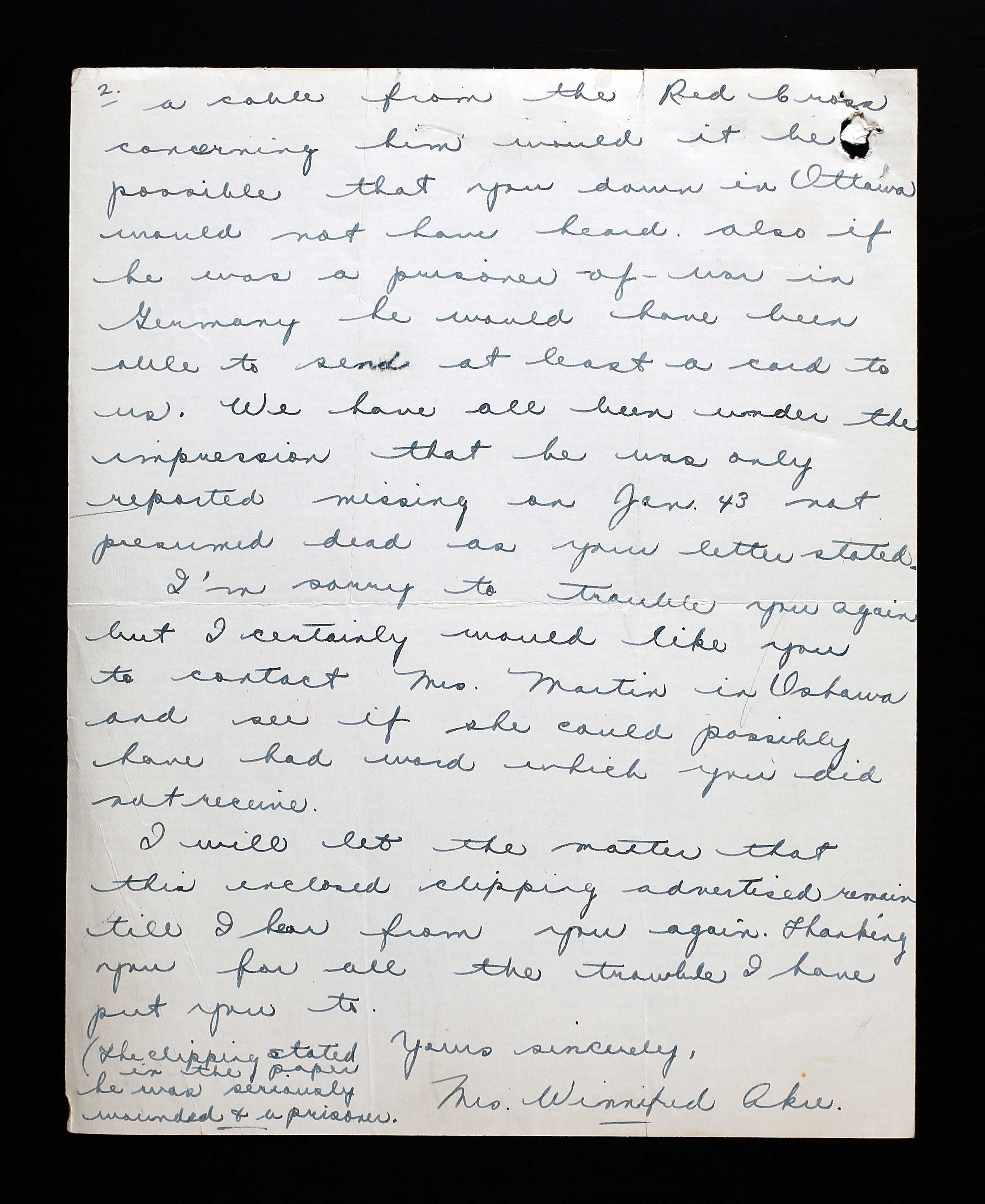 Salesman became pilot with RCAF, first as an instructor, then with RAF Ferry Command. There were issues with his flying. While a passenger aboard Liberator 41-11708, he lost his life off the coast of Brazil, along with 25 other men. He was thought to have survived a fiery flying accident overseas, then made POW.
Herbert James Martin born in Saskatoon, Saskatchewan, was the only child of James Smith Martin and Evelyn Mabel (nee Vale) Martin. His father died in an accident at the age of 45 in June 1933. Mrs. Martin wrote, "We raised and educated two little girls, neither were relatives ad we did not adopt either." They were Presbyterian.
Known as Herb, he was working at Canadian Tire Corp. as a department manager (sales) in Toronto prior to enlisting with the RCAF on September 10, 1939. He hoped to remain in the RCAF after the war or the aviation industry, flying.
He fractured his left index finger in 1931, but its function was not impaired. He liked photography, aviation, and parachute jumping. He had been with Saskatoon Light Infantry in the machine gun section for three years. He liked hockey, rugby, and was a YMCA instructor. He smoked cigarettes (light) and did not drink alcohol.
Herb married Mary Gladys Brennan of Toronto on une 9, 1938 in Hamilton, Ontario. They had no children. They divorced in October 1942. She remarried, according to her former mother-in-law.
Herb was at No. 1 SFTS Camp Borden, No. 14 SFTS Aylmer (examining officer) and then by the summer of 1942, he was with RAF Ferry Command out of Dorval, Quebec. By December 31, 1942, he was with No. 3 TC, Montreal. He was in the hospital three times: May 1940 for three days (pharyngitis), March 1941 for three days (dermatitis venenata), and July 1942 for two days (influenza).
He was at Camp Borden, No. 1 SFTS, Course 4A from June 17 to August 10, 1940. "32 out of 35 in class. 65.9%. Sound type who worked very well throughout his course. His quiet manner has been misleading."
He took the Flying Instructors' Course at CFS Trenton from August 12 to September 19, 1940: "Fair pilot. I.F. average. Aerobatics OK on elementary type. Poor on advanced. Slightly indifferent attitude. Good knowledge of sequence. Good voice. Needs more Harvard back seat time. Recommend 'C' category." Report by CFI: "A good pilot, weak on aerobatics. Handling of aircraft in the air satisfactory from rear seat but poor on landings."
December 4, 1940: "Keen, hard worker, rather lacking in flying ability. Employed as a flying instructor for approximately three months. Displays below average ability. Fair power of command. Professional; relatively below average." May 5, 1941: "Has been on this unit for 8 months in the capacity of Flying Instructor with a "B" Category. He has shown keenness in his work especially with the progress of pupils and is conscientious in carrying out his duties. Recommend that he be promoted to the next rank." (No. 1 SFTS). By August 1941, Herbert "was filling position very capably." (No. 14 SFTS). December 1941: "A capable and conscientious examining officer. Would make an efficient operational pilot. Is very keen to be posted overseas."
In April 1942, Herb was involved in three accidents at No. 14 SFTS. "During his ten months' service, only one of which could be a considered a direct reflection on his professional ability. Has carried out his duties in a conscientious and satisfactory manner here and there is no doubt that he is a capable pilot. Unfortunately, he appears somewhat lacking at times in his judgment of situations. He is 29 years old and has now completed 1330 hours flying in the service of which approximately 400 hour has been carried out at this unit. He is next in priority on the recommendations for overseas postings submitted by this unit on January 26, 1942. It is recommended that a posting to a Fighter Squadron is obtained for this officer as soon as possible."
In August 1942: "This officer has ability but is too irresponsible to use it for any length of time for the benefit of his work on the RCAF. He needs steady disciplining. This officer's weaknesses have been drawn to his attention on several occasions with no apparent results."
From RAAFA Aviation Heritage Museum: "On January 17, 1943, Liberator 41-11708 went missing on an operational flight. The aircraft departed from Accra, Ghana, at 2330 hours on a flight to Natal, Brazil, but failed to reach its destination. The aircraft was crewed by personnel from US Transport Command and carried RCAF, RAAF and civilian passengers, a total of 26 men. One body may have been found on a life raft in the vicinity of Natal, but no trace of the other passengers or crew was found. In 1948 it was recorded that the missing personnel had lost their lives at sea."
Another account: The night of Jan 18th the Consolidated C-87 Liberator 41-11708, with a crew of six and 20 passengers left Acrra-Kotoka Airport in Ghana for Natal Airport in Brazil. It crashed into the sea. On Feb 5th one of the passengers, Major Mills, washed ashore in a raft at Natal, Brazil. Major Mills had died two days prior. Six dog tags and a notebook belonging to 1Lt. Byler were found with Major Mills' body.
The links below provide further information within the men's Find a Grave pages.
CREW: 1. Capt. Orval Eknes, Scanlon Minn. pilot of the transport. 2. Capt. Felton B. Lancaster, Mexia, Tex. co-pilot. 3. Second Lt. Joseph F. Peoples, Jersey City, N.J. navigator. 4. Master Sgt. Alvin A. Young, Bossier City, La. radio operator. 5. Sgt. James N. Clauss, Washington, Ind. crew member. 6. Master Sgt. Charles W. McKain, Franklin, Pa. crew chief.
PASSENGERS: ATC PERSONNEL: 7. First Lt. John A Byler, navigator 8. First Lt. Hugh P. Minor, Co-Pilot 9. Major Arthur Mills, 1st Pilot (These men were returning from having delivered a B-17 to Africa from Miami.) 10. Corporal Joseph P. Braniff 11. Corporal Grover K. Trees (Board at St. Erval, United Kingdom) 12. Lt. Col. Russell Reed Brunner 13. Col. Douglas C. MacKeachie
RAF and RCAF: 14. Pilot F/L Herbert James Martin, RCAF 15. RO Sergeant H.V. Lamb (ferry command for 8 months) 16. Navigator John Henry Warman, RCAF 17. Captain Paul Bleecker Makepeace 18. RO Clinton Berry 19. Navigator Peter Charles Zoephel, RCAF 20. Captain G.A. Clegg 21. Radio Operator Norman Patrick Drury, RCAF, 22. Navigator Pilot-Officer W.T.B. Smithson 23. Sergeant John Lowery Bell (107899) (RAFVR) 24. Mr. William Richard Nixon (Pilot) Canadian Civilian 25. Air Commodore Desmond Herlouin De Burgh (RAF) -- on the Alamein Memorial, Egypt 26. Radio Operator Otway Cecil McCombie -- also remembered on his family's headstone in New Westminster, BC.
From Bureau of Aircraft Accidents Archives: While overflying the Atlantic Ocean by night, on the leg from Georgetown (Ascension Island) to Natal, while on a flight from Accra to Natal, the aircraft disappeared into the Ocean around 2300LT. SAR operations were conducted for several days but eventually suspended as no trace of the aircraft nor the crew was found. Two life vests were discovered on a Brazilian beach few days later. Probable cause: US military authorities reported that at the time of the accident, whose causes remain unknown, weather conditions prevailing above the center of the Atlantic Ocean were marginal due to the presence of thick clouds and heavy rain falls. It is also reported that lifeboats were found on seas nearly 100 km east of Recife on February 4, 1943, with dead bodies on board. This means that some passengers escaped the accident and managed to take refuge in dinghies. Analyses carried out on the bodies determined that the last survivor died of fatigue, hunger and thirst on February 3, 1943, two weeks after the accident. Without concrete elements, no part of the aircraft having been found, investigators were unable to determine the exact cause of the accident.
On the estates form, Mrs. Martin wrote that Norman "had been Ferrying bombers and was due for leave in January 1943. In his letters, he stated he would pay my hospital and doctor's account. (In December 1942, I had a serious illness and double operation.). He also stated that he had some pleasant surprises for me, as well as some very find souvenirs. He was Ferrying from Nashville, Tennessee, and they were not permitted to give any information either personal or otherwise that might help the enemy or injure themselves so his letters tho regular were short."
A newspaper clipping from the Star-Phoenix dated November 20, 1944, noted that Captain Herbert Martin and navigator G J. Warman on his crew escaped with their lives from a burning aircraft. "We were on bombing duty over ____ when flak got us. One of our engines went to pieces and fire developed. The plane went practically out of control. We were at 5,000 feet and Herb gave the order to bail out. We made very good jumps, thanks to your son, who steadied the kite as best he could. He had no alternative but to ride the plane down to almost sure death. But God and good luck were with Herb for, on hitting the ground, he was thrown clear through the cockpit and plane. It is a miracle he is alive and thanks to his courage and devotion, the rest of us are alive. An only child, Captain Martin was born and raised in Saskatoon. He was a member of Knox Church and a senior leader in the YMCA. He enlisted in 1939 and received his wings at Camp Borden, remaining there for two years as a flying instructor before going on Transport Command. He was reported missing for months."
A letter dated December 4, 1944, addressed to the Secretary, Department of National Defence for Air in Ottawa written by Mrs. Winnifred Akie (sp??), possibly one of the girls raised by Mrs. Martin: "I am enclosing a clipping out of the Star which is supposed to have been sent by my mother in Oshawa, re: my brother, Flight Lieutenant Herbert J. Martin who has been resumed dead since January 1943. This information that is being spread around here apparently is not true since your letter of November 27 which I received. It is too bad that all Herb's friends out here think he is a prisoner of war and until you find out where this is coming from, I'm afraid they will still think that. If Herb's mother possibly had had a cable from the Red Cross concerning him, would it be possible that you down in Ottawa would not have heard. Also if he was a prisoner of war in Germany, he would have been able to send at least a card to us. We have all been under the impression that he was only reported missing on January 43 not presumed dead as your letter stated. I am sorry to trouble you again, but I certainly would like you to contact Mrs. Martin in Oshawa and see if she could possibly have had word which you did not receive. I will let the matter that this enclosed clipping advertised remain until I hear from you again. Thank you for all the trouble I have put you to. The clipping stated in the paper he was seriously wounded and a prisoner."
In late October 1955, Mrs. Martin received a letter informing her that since Herbert had no known grave, his name would appear on the Ottawa Memorial. A note in Herbert's files shows that the mother's cross was returned to medal section DVA August 20, 1971.
For more information, please see the links below.
LINKS: