Henry Harold Healey C22656
January 4, 1912 - April 22, 1943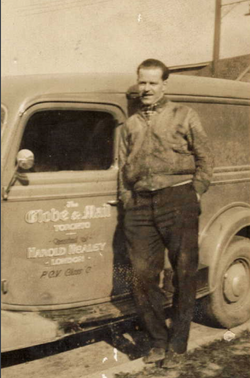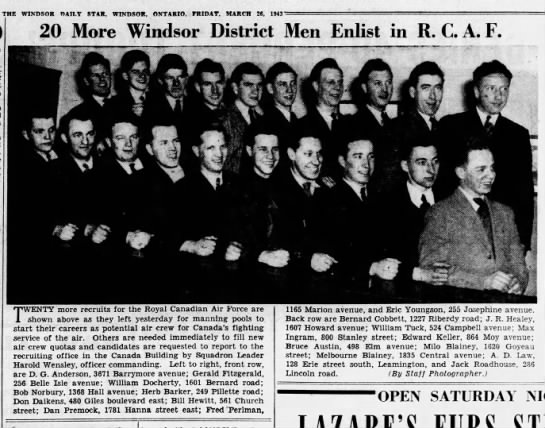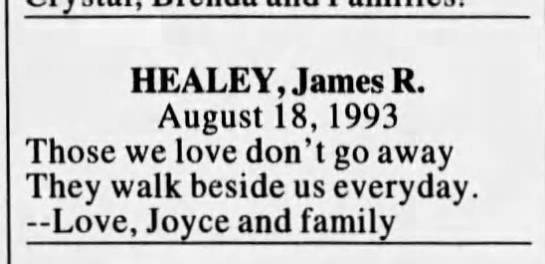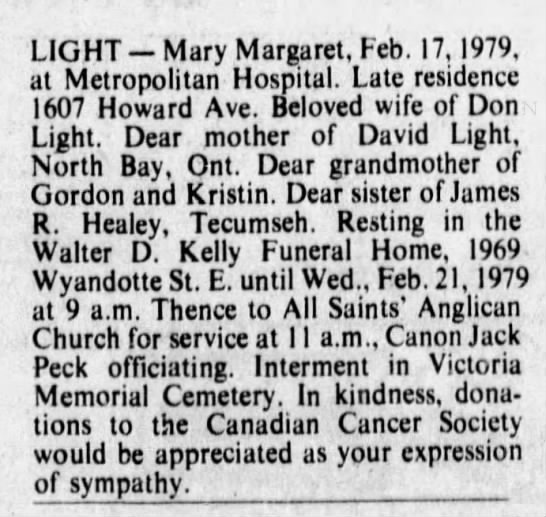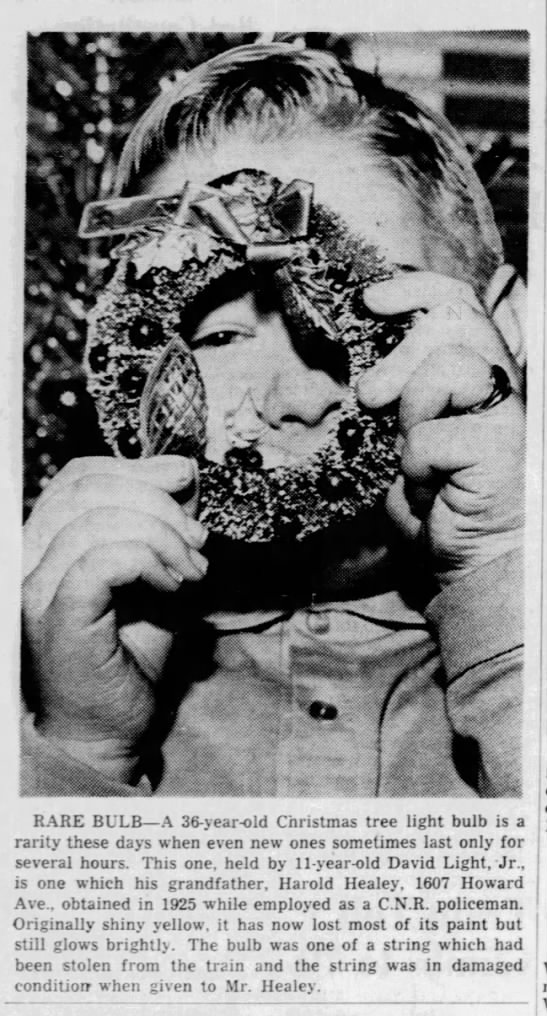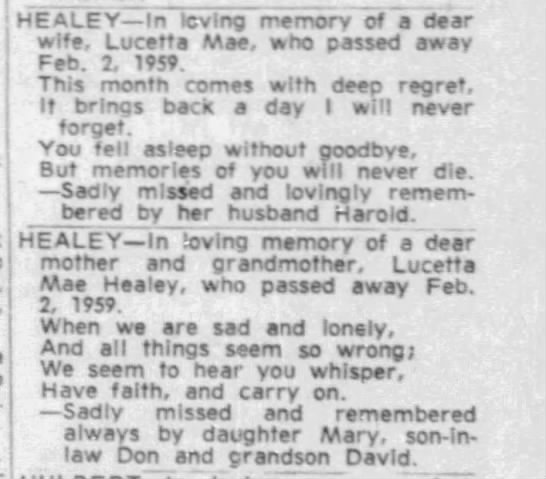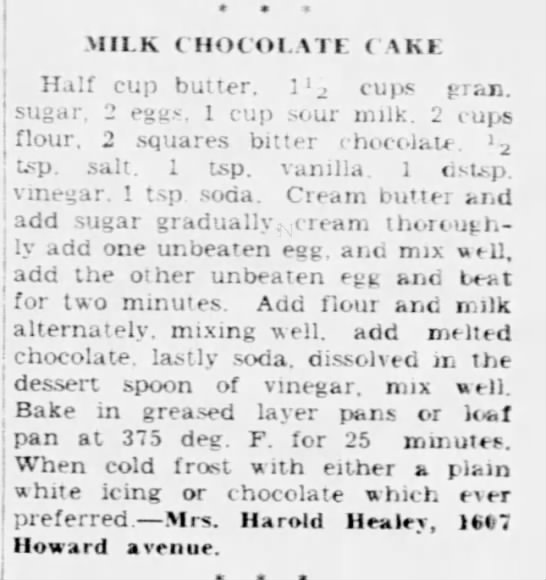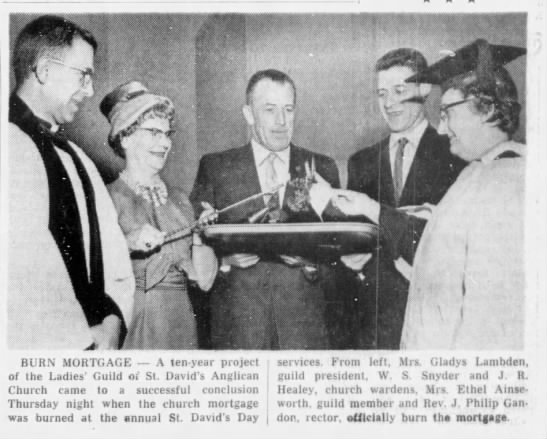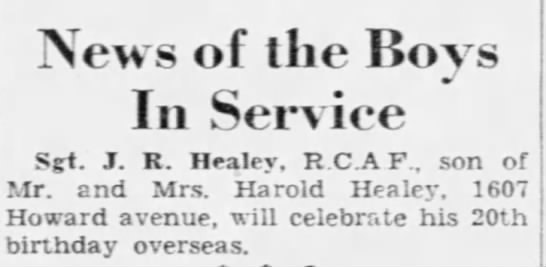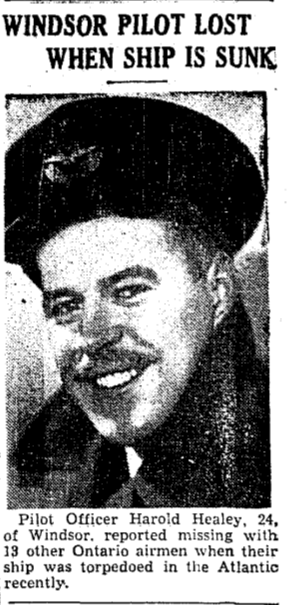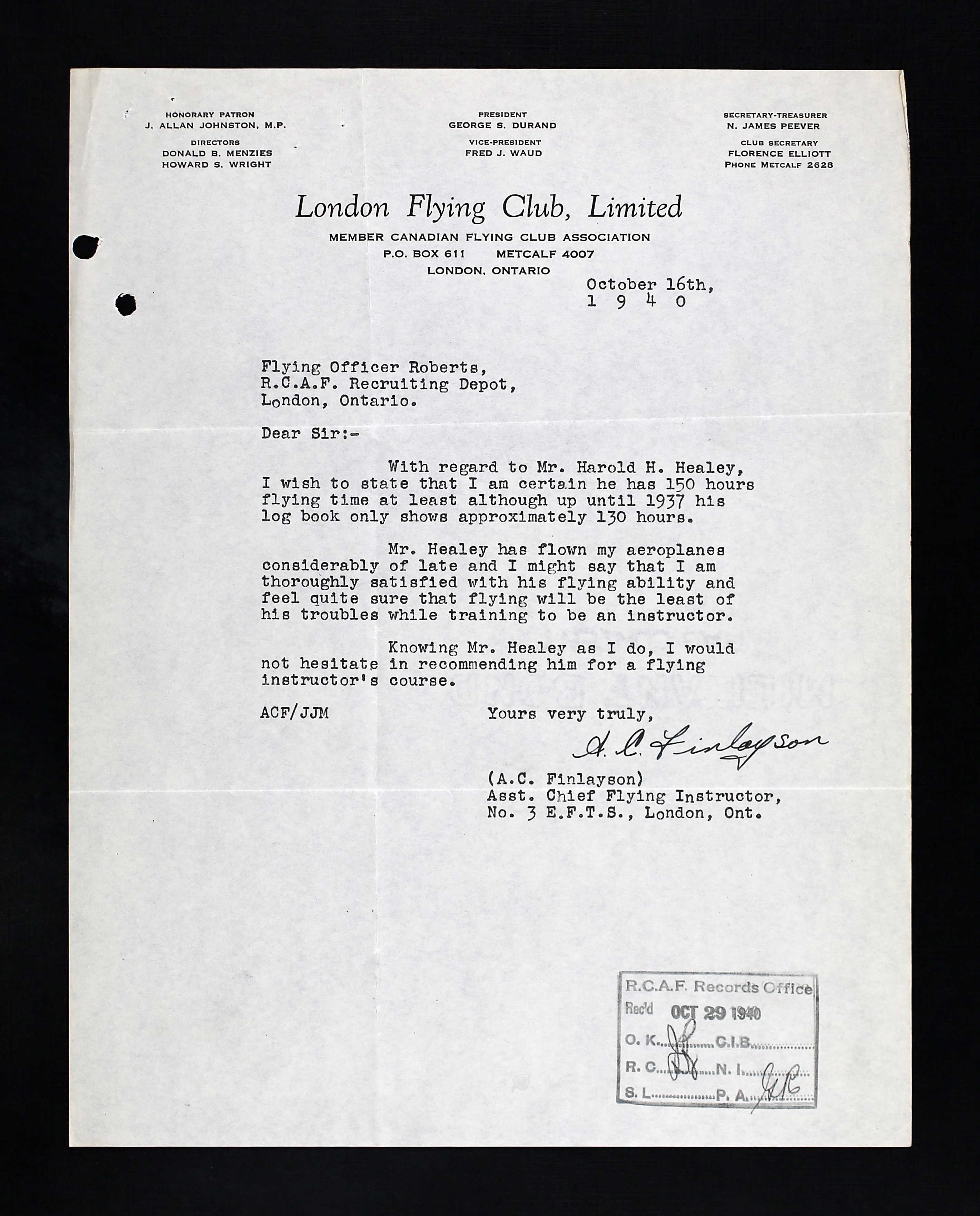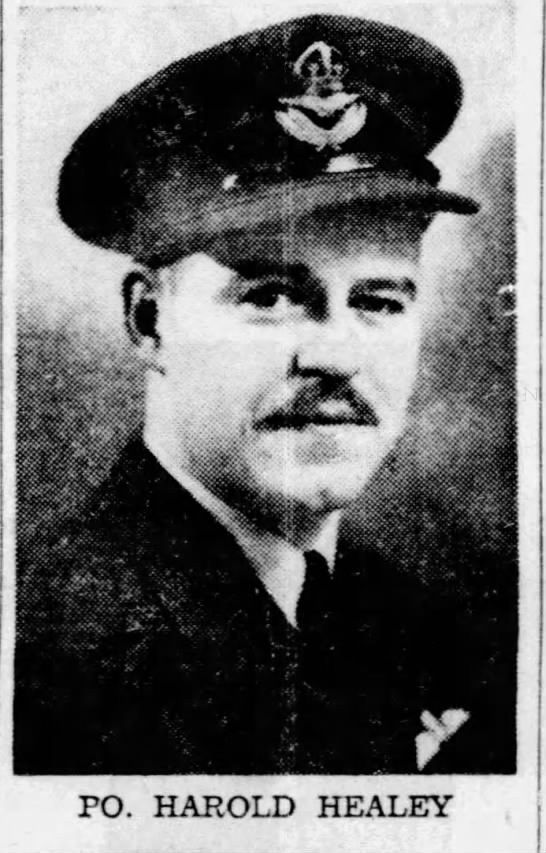 Truck and bus driver, civilian pilot turned instructor. Life went on.
'Harold' Healey was the son of Harold Healey and his wife, Lucetta Mae (nee Culp) Healey, Windsor, Ontario. He had one younger brother, James, and a younger sister, Mary Margaret. A brother, Marshal, died in 1916, one year old. The family was Anglican.
He attended Hon. J C. Patterson Collegiate Institute in Windsor from September 1925 to January 1928. He also attended the Windsor Technical School for one year.
In 1934, he fractured his left arm, but it healed well, leaving him with a scar near his elbow. A mole on his left cheek and a scar over his right eyebrow were his distinguishing marks.
Harold married Olive Raison in January 1939 in London, Ontario. They resided at 35 Duke Street, London, Ontario. They had one daughter, Clara Mae, born on April 23, 1941. Henry took out a $3000 life insurance policy made payable to Olive. $160 worth of War Savings Certificates and $400 in household assets were part of his net worth.
Harold had worked at a service station for five years for his father, then driving a truck for the Globe and Mail for six years, in circulation for five months, then was a Canadian Greyhound Lines bus driver for six months, but had been let go. He wore tinted glasses at that time. "A seasonal decline in business has necessitated his being furloughed...his character and ability as an employee are above reproach." Letter dated September 26, 1940.
Harold had been a member of the London Flying Club. He had 150 hours flying time up until 1937. "Mr. Healey has flown my aeroplanes considerably of late and I might say that I am thoroughly satisfied with his flying ability and feel quite sure that flying will be the least of his troubles while training to be an instructor," wrote A. C. Finlayson, Assistant Chief Flying Instructor, No. 3 EFTS, London, Ontario, October 16, 1940. "Mr. Healey was well liked by all the members of the London Flying Club and I always found him to be a man of excellent character."
He was 28 years and seven months old when he applied to the RCAF mid October 1940. He stood 6' tall and weighed 185 pounds. He had gray eyes, brown hair, and a medium complexion. He liked to swim and play golf, plus skated. He listed mechanics as a hobby. He indicated he had "a fair general knowledge of mechanics. High school cadet training. Boy Scouts, five years, 1st class." His appearance: rugged, healthy, tall, ordinary, clean. His dress: tasteful, conservative, clean and neat, smart. Intelligence: deliberate, organized, accurate. Personality: confident, mature, pleasant. "Applicant creates a favourable impression. Has a good appearance. Frank, good address. Holds private license. Favourably reported on. Recommended for Elementary Flying Instructor's Course." September 28, 1940.
Harold was at Trenton October 24 to November 30, 1940 on an instructor's course. "Aircraft: Finch I. Sequence: good. Voice: good. Manner: confident. Ability to impart knowledge: just average. Ability as pilot: low average. Remarks: Weak on aerobatics. Good worker. Average pilot. Voice good. Instrument flying and aerobatics average. With experience, should make a good instructor." Another evaluation a month later: "Weak on aerobatics. Requires earnest and plenty of practice on all flying, particularly aerobatics. Give thorough test on re-categorization. Doubtful case." December 22, 1940.
He was posted to No. 3 EFTS, London, Ontario where he had 1050 hours instructing, May 1942. "Fleet aircraft. Sequence: Average. Voice: Loud and clear. Manner: Confident. Ability to impart knowledge: Average. Ability as pilot: High average. remarks: A capable instructor. Can improve ability by study of A.P. 129, Chapter III."
He was supposed to go to No. 12 EFTS, Goderich, Ontario in September, but then sent to No. 5 Manning Depot, Lachine, Quebec for about a month. Then he was posted to No. 6 SFTS, Dunnville, Ontario by October 1942 until January 22, 1943. He passed with 79.7%.
Harold received his commission on December 30, 1942.
From January 25, 1943 until March 27, 1943, he was at General Reconnaissance School flying Anson aircraft at Summerside, PEI. 65.3%. He was 13th out of 37 in the class. In Ground Instruction: 78.9%. Flying: 77.9%. He was ranked average or above average in his flying aptitude. "Steady and reliable type. Capable, confident, and with good leadership qualities. Recommended for commission."
"An ex-civilian and EFTS instructor who worked through this course after very little service navigation or examination of any type. He has worked well paying great attention to ground subjects but found many difficulties, more than the average. These he tried hard to overcome to produce an average result. His airwork was average due to slowness, and a lack of confidence. His flying experience should prove invaluable on long range land based aircraft." Recommendation: Long-range land based ground reconnaissance, flying boats, and fighter reconnaissance. "This pupil has had considerable flying experience and should make a steady and reliable GR pilot."
On April 11, 1943, Harold was waiting in Halifax to prepare to head overseas. Aboard the Amerika on April 22, 1943, a U-boat off the coast of Greenland torpedoed the ship. He was not one of the survivors. Thirty-six other RCAF airmen perished.
Olive Healey received a letter from W/L W. R. Gunn in June 1943. "Since my letter of May 6th, no additional news has been received. Attached is a list of the names and next-of-kin of sixteen Royal Canadian Air Force officers who embarked on the same ship as your son and following enemy action at sea were safely landed in the United Kingdom. The following official statement was made in the House of Commons....'I have been in receipt of communications from a number of members of this house and from people outside with reference to rumours regarding the recent loss of a number of members of the RCAF by the sinking of a ship in the north Atlantic and I desire to make the following statement on the facts. The vessel in question was a ship of British registry of 8,862 tons, designed for peace-time carriage of both passengers and freight, and having a speed of fifteen knots. She carried a crew of 86 and the passenger accommodation consisted of 12 two-berth rooms with bath and 29 other berths, providing cabin accommodations for 53 passengers. She was fitted with lifeboat capacity for 231 and travelled in naval convoy. Under the recently revised regulations agreed to by the United States authorities, the joint United Kingdom and United States shipping board, the Admiralty, the Air Ministry and the Canadian authorities, a vessel of this description travelling in convoy is permitted to embark as crew and passengers a maximum of 75% of the lifeboat capacity. The lifeboat capacity as stated above was 231, 75% of which is 173. Personnel on board consisted of the crew of 86, and RCAF personnel numbering 53, a total of 139, well within the prescribed limits. Because of the superior type of available passenger accommodation, the speed of the ship and the provision of naval convoy, the offer of the entire available space to the RCAF was immediately accepted. Rumours to the effect that this was a slow freighter not suitable for passenger accommodation are, of course, not in accord with the facts. Every precaution was taken to safeguard the lives of these gallant young men. It should be pointed out that on account of the serious shipping shortage every available berth on such ships must be used, and had the space not been taken up by the RCAF officers of the other arms of the services would have been placed on Board. It should also be stated again that the submarine is still the enemy's most powerful weapon and that the Battle of the Atlantic is not yet won. Any ocean trip today in any part of the world is fraught with danger and I think I may safely say that our record in transporting our soldiers and airmen to the United Kingdom is one of while we may all be proud. No one deplores more than I do the loss of 37 of the finest of our young men who gave their lives for their country as surely as if they had done so in actual combat with the enemy, and I extend my deepest sympathy to their loved ones in their bereavement.' If further information becomes available, you are to be reassured it will be communicated to you at once. May I again extend to you my sincere sympathy in this time of great anxiety."
In early March 1945, Olive received a letter from the Estates Branch, Ottawa, regarding her husband's belongings. "The whole amount ($389.00) will be paid to you as sole beneficiary named in your husband's will. It is regretted that according to the final report received from Overseas, your husband's personal effects were all lost at sea as a result of enemy action. We, have, however, recovered baggage insurance on the same to the amount of $335.25, which has been duly credited to the Service estate as above indicated."
Life continued on for the Healey family after Harold's death. James celebrated his 20th birthday as air gunner overseas, returning home in January 1946. Harold's sister, Mary Margaret married in 1947, with Olive as her maid of honour; James was groomsman. An article stated that "little Bonnie Healey" was the flower girl. James married in 1948 and became involved in labour unions, moving to Sarnia, Ontario with his family, later returning to Windsor.
In late October 1955, Olive Healey received a letter from W/C Gunn informing her that since her husband had no known grave, his name would appear on the Ottawa Memorial.
Harold's mother passed away February 2, 1959.
Mary and her husband, Don, moved into her parents' home in Windsor, where they resided until she passed away in 1979, her husband: 2006. James passed away in August 1993; his wife died in 2011.