Harry Leo Teasdale R140182
October 28, 1922 - February 19, 1945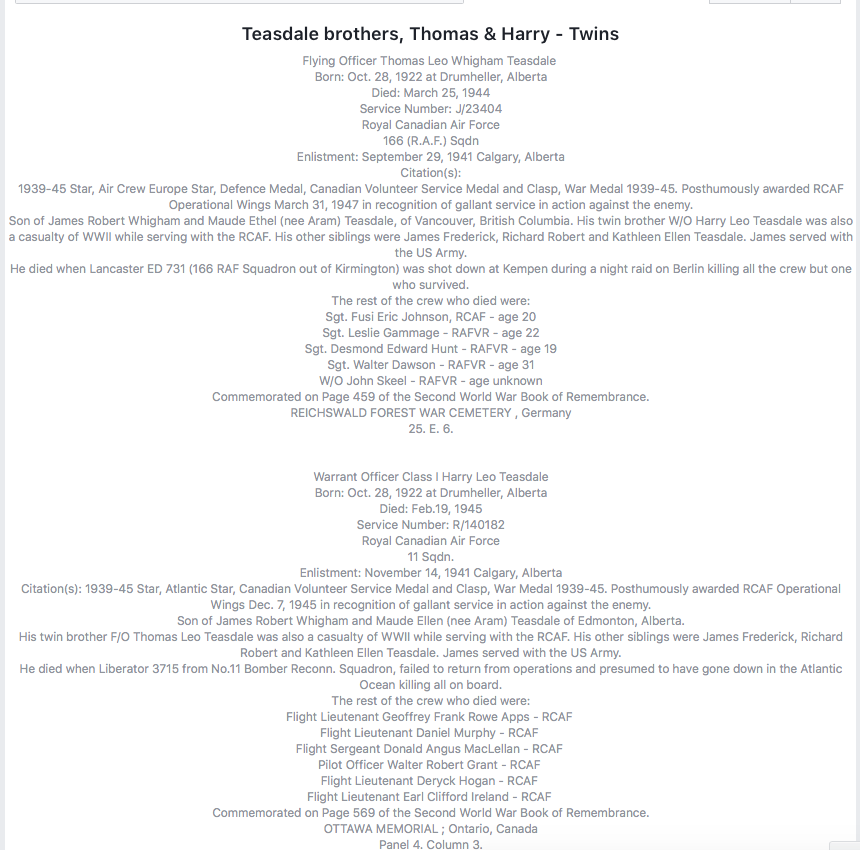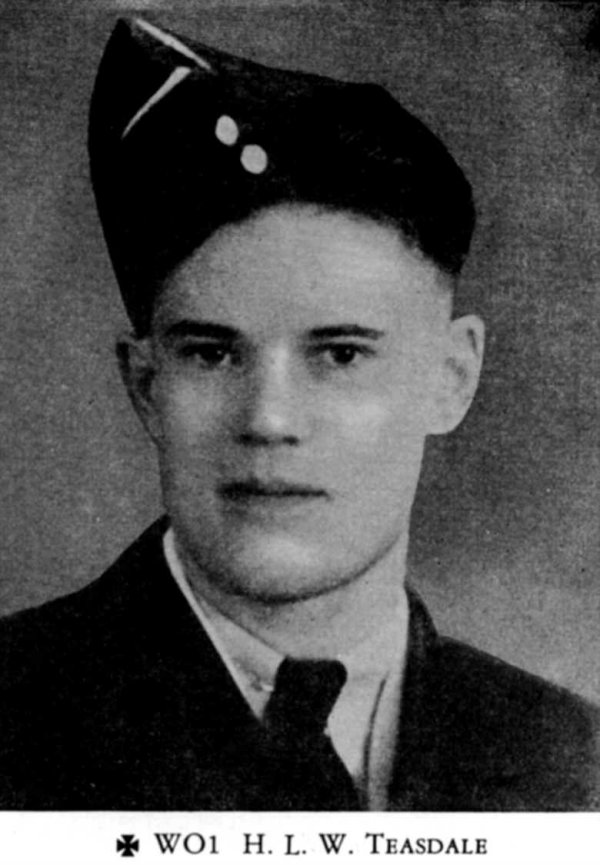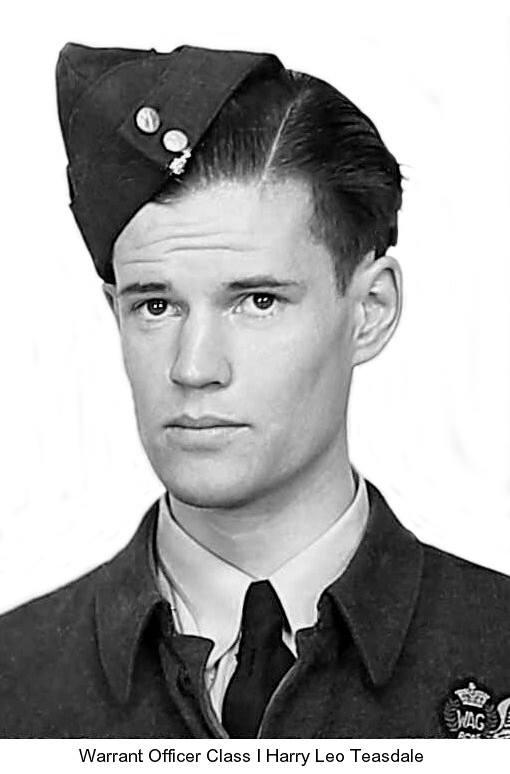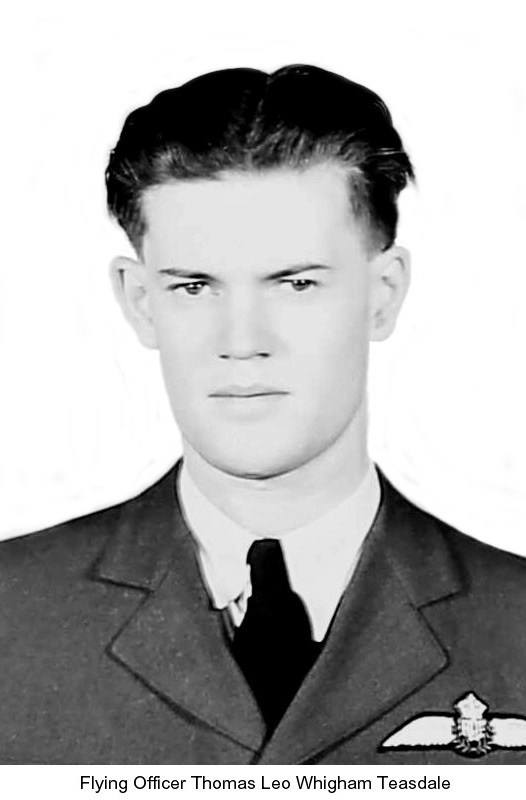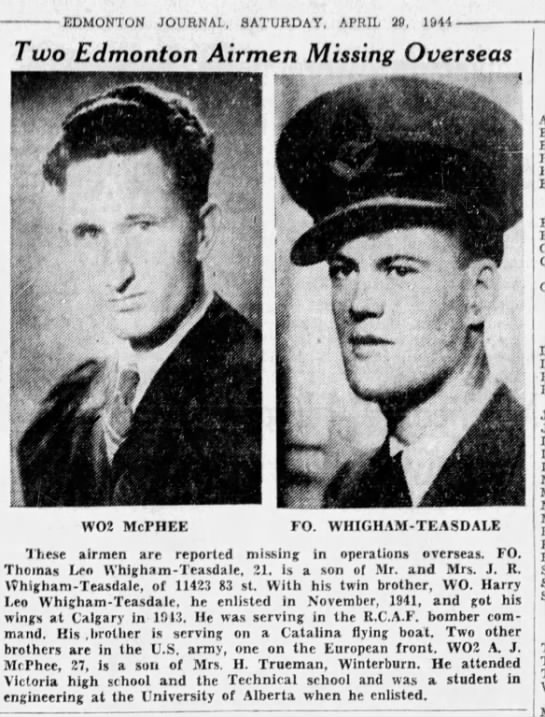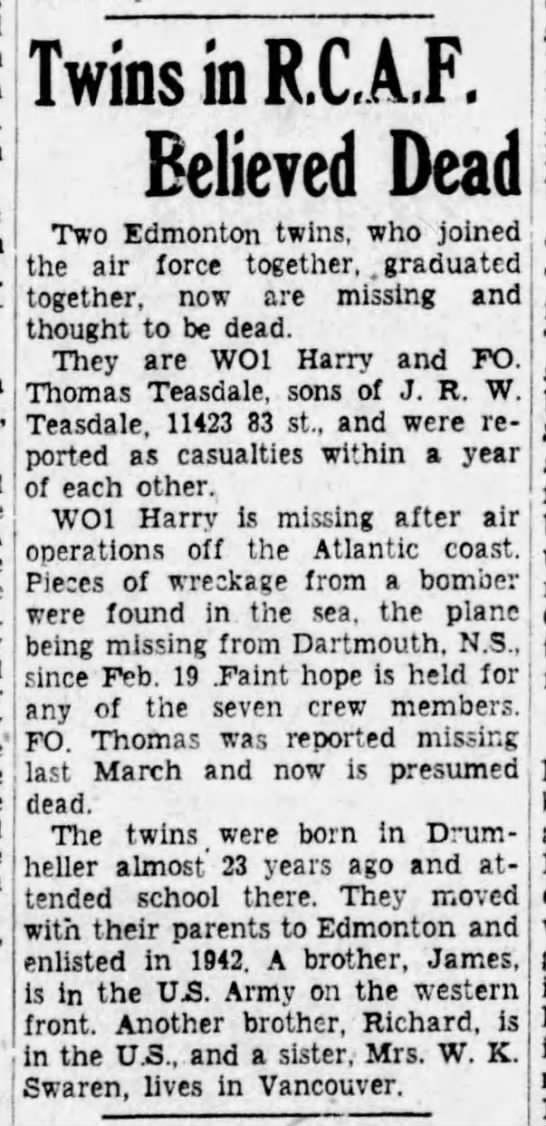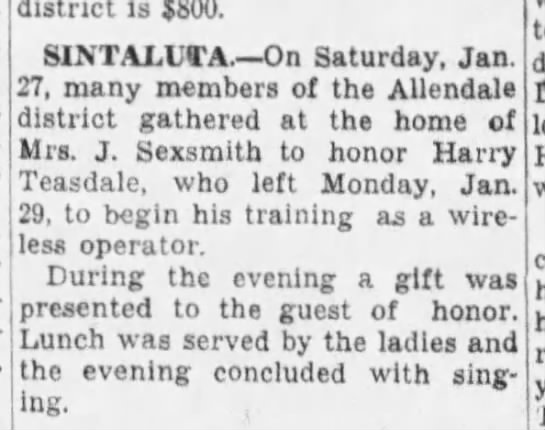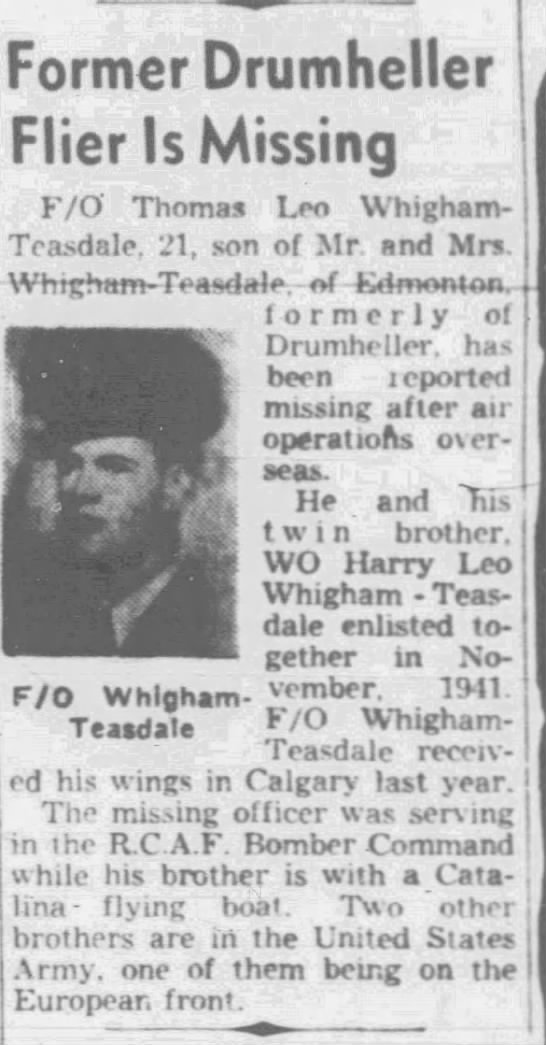 Bank teller joined RCAF as Wireless Operator/Air Gunner, lost at sea aboard Liberator 3715. Twin brother killed in March 1944, buried in Germany.
Harry Leo Whigham-Teasdale, born in Drumheller, Alberta, was the son of James Robert William Whigham-Teasdale, civil engineer, surveyor/assessor, and Maude Ethel (nee Oram) Whigham-Teasdale of Edmonton, Alberta. He had a twin brother, Thomas 'Tommy' Leo Whigham Teasdale as well as two other brothers, James Fredrick, Richard Robert, and one sister, Mrs. Kathleen Ellen Swaren, of Vancouver. The family attended the United Church.
He was nineteen years old when he enlisted in Calgary, then was sent to No. 3 Manning Depot, Edmonton, on November 21, 1941. He stood 6 ½" tall, weighed 138 pounds, had brown eyes, brown hair and a fair complexion. "Wiry and alert." Harry had senior matriculation and had been working at the Canadian Bank of Commerce in Hanna, Alberta as a cashier and ledger keeper for one year. He hoped, after the war, to get into commercial aviation. Harry indicated he was interested in the wireless and was engaged moderately in sports. He hoped to become a pilot or observer. "Low average pilot material. Immature. Below average night visual acuity."
On his medical form, he had had poliomyelitis when he was five years old, with a complete recovery but his left leg was affected. The condition of his mouth was noted: "Teeth bad, cavities and pyorrhea." Also: "moderate lumbar lordosis [curvature of spine] with a little splinting on flexion – extension. None on torsion or abduction. No tenderness."
From No. 3 Manning Depot, Harry was sent to No. 15 SFTS Claresholm, Alberta on February 1 until March 28, 1942, then to No. 4 ITS, Edmonton until June 16, 1942. He was sent to KTS, Trenton, for remustering. From there, he was sent to Calgary to No. 2 Wireless School from July 18, 1942 to February 5, 1943. Then he was sent to No. 5 B&G School, Dafoe, Saskatchewan until March 19, 1943.
Harry was posted to Eastern Air Command to No. 31 O.T.U., then to Halifax by June 30, 1943. He was a member of 161 Squadron, Dartmouth, then at Gaspe, then at Summerside, PEI. On October 24, 1944, Harry was with 11 Squadron, Dartmouth.
Harry was in the hospital from April 23 – 27, 1942 and again May 12 -14, 1942.
Harry had $1500 in a life insurance policy, his mother beneficiary.
On February 19/20, 1945, Liberator 3715 used by No. 11 (BR) Squadron at Dartmouth, Nova Scotia was lost at sea.
Members of the crew were: • F/L Geoffrey Apps, Pilot, Cannington, ON • F/L Deryck Hogan, 2nd Pilot, Rockingham, NS • F/L Earl C. Ireland, Navigator, Edmonton, AB • F/O Daniel J. Murphy, WOAG, Sydney, NS • WO1 Harry Leo Teasdale, WOAG, Edmonton, Alberta • F/S Walter Grant, WOAG, Saskatoon, SK • F/S Donald Angus MacLellan, Flight Engineer, Antigonish, NS
The search began on February 20 and ended on February 22, 1945 involving five Liberators. Two Hudson aircraft were sent out as were two Venturas. One of the Venturas sighted a nose wheel, an empty dinghy, sonobuoys, and other debris floating in the area near Sable island. A number of Cansos also took part in the search. On February 21, two sleeping bags were found washed up on the beach at Sable Island, plus a bomb bay gas tank and two empty dinghies.
Harry's twin brother, J23404 Thomas Leo Whigham Teasdale, pilot, was killed on March 25, 1944 over Germany and is buried in the Reichswald Forest War Cemetery, Kleve, Germany.
In early March, 1945, Mr. and Mrs. Teasdale received a letter from W/C W.H. Swetman, Officer Commanding, No. 11 Squadron, Dartmouth, NS. "Further to my letter of February 22, your son is now listed as "missing believed killed." His personal effects have been collected and will be forwarded in the near future to the Administrator of Estates, Estates Branch…Ottawa, Ontario, who will contact you further concerning disposal of same. Again, may I extend my most heart-felt sympathy in your bereavement on behalf of myself, Officers, and Airmen of this Squadron and Station."
Teasdale, Harry Leo Whigham - Warrant Officer, Class 1. Born October 28, 1922, at Drumheller, Alta. Educated at Drumheller. Entered the service of the Bank 12th November, 1940. Served at Drumheller and Hanna, Alta. Enlisted 8th November, 1941, from the latter branch in R.C.A.F. Sergeant in April, 1943; Flight Sergeant in September, 1943; Warrant Officer, Class II, in June, 1944; Warrant Officer, Class I, in January, 1945. Trained at Edmonton and Calgary, Alta., and Debert and Dartmouth, N.S. Served with 161 Squadron based at Dartmouth. Posthumously awarded R.C.A.F. Operational Wing by Chief of Air Staff "in recognition of gallant service in action against the enemy." Missing when the bomber on which he was flying was wrecked over the Atlantic Ocean on 19th February, 1945. Officially presumed dead 8th August, 1945. -From a memorial booklet prepared by the Canadian Bank of Commerce.